Gemma left her job at Greggs yesterday and so today was a bit of a landmark – her first Saturday off (except for those taken as holiday) in about 4 years... so what better way to celebrate than go for a decent walk. We didn't really know where we were heading when we left home just before 7, other than 'up to Keswick' which was fine by me – I haven't been up there for a while.
As we got to the bottom of Windermere it was clear the forecast was right, there was a good mist forming at a low level, but I was fairly confident we would walk through it, so we powered on to Keswick. The forecast did suggest that as the morning went on, the haze and cloud would disappear. Only when we got to the roundabout where you turn right to Bassenthwaite, or straight on to Braithwaite did we make a decision – we would go towards Orthwaite and attempt a route up Skiddaw over Ullock Pike and Longside Edge. Last time I did this route had been Easter 2011 so I was happy with this choice, and the weather then was pretty poor so I was looking forward to doing it in decent conditions! Especially as in my opinion it is the best route on to one of my top fells – Skiddaw! Unless you are tying Skiddaw up with a fell like Blencathra, this is the best route to the top and bizarelly less busy than the long, painful haul from Keswick!
As we start off though it is looking like it will be a hazy first couple of hours at least... we get across the early fields quickly (although I got a stern telling off for following a wall and then realising the gate was on the other side of it, resulting in about 10m of height loss finding a way through another gate!!) and get a view over Ullock Pike, as well as along Longside Edge and Carl Side, with the bulk of Skiddaw looming to the left. One thing I love about this walk is that you can see virtually the entire route all the way around! As you can see from the first picture, the weather doesn't lend itself to photography today! To the right in this picture is "The Edge", which leads up to the distinctive Ullock Pike.
At the bottom of The Edge the sun was baking us even at this early stage, so we had to have a good wrestle with Todd to get his sun cream on!! He has very little fur in places and gets quite badly sunburnt bless him. But he also hates having sun cream on! From this point on we were walking directly into the sun, hence the lack of pictures!! But I like this black and white one looking on to Ullock Pike, Longside and Carlside. I think the contrast gives a good effect?
And here is a fairly miserable looking chap about the sun cream we have just had to put on him!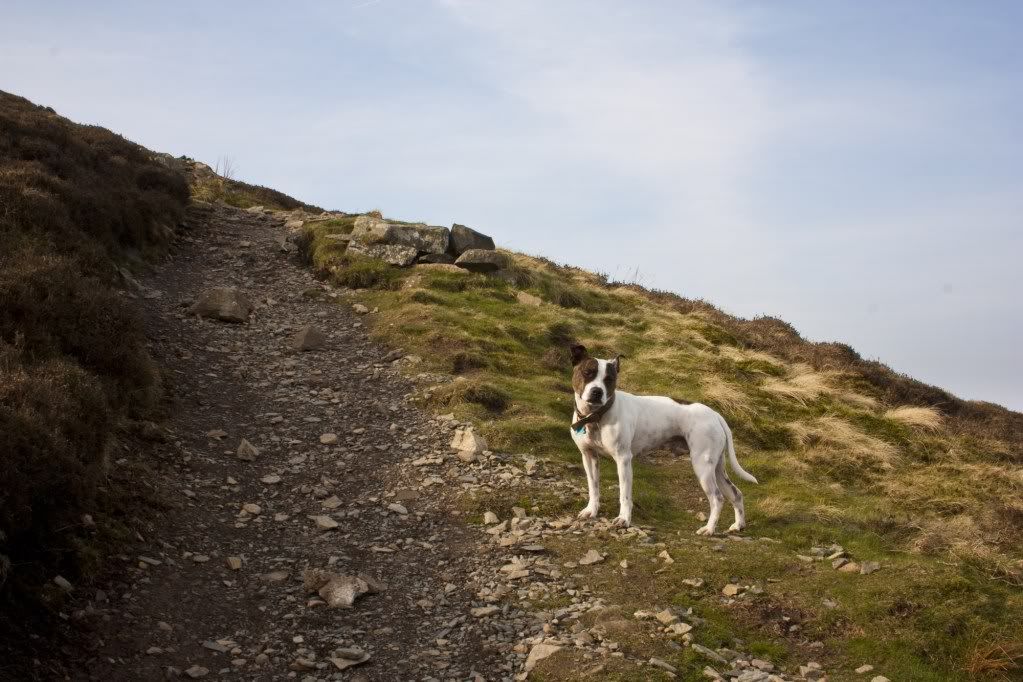 The Edge is a fairly steady climb – not too steep and fairly enjoyable. However, the final ascent up to Ullock Pike is anything but steady, it is rocky, steep and slippy! It doesn't require hands particularly but it can help, especially as by this point you are keeled over thanks to how steep it is. Unsurprisingly Todd had got over his sun cream snub and was up and down like a yo, yo... here he is guiding us up!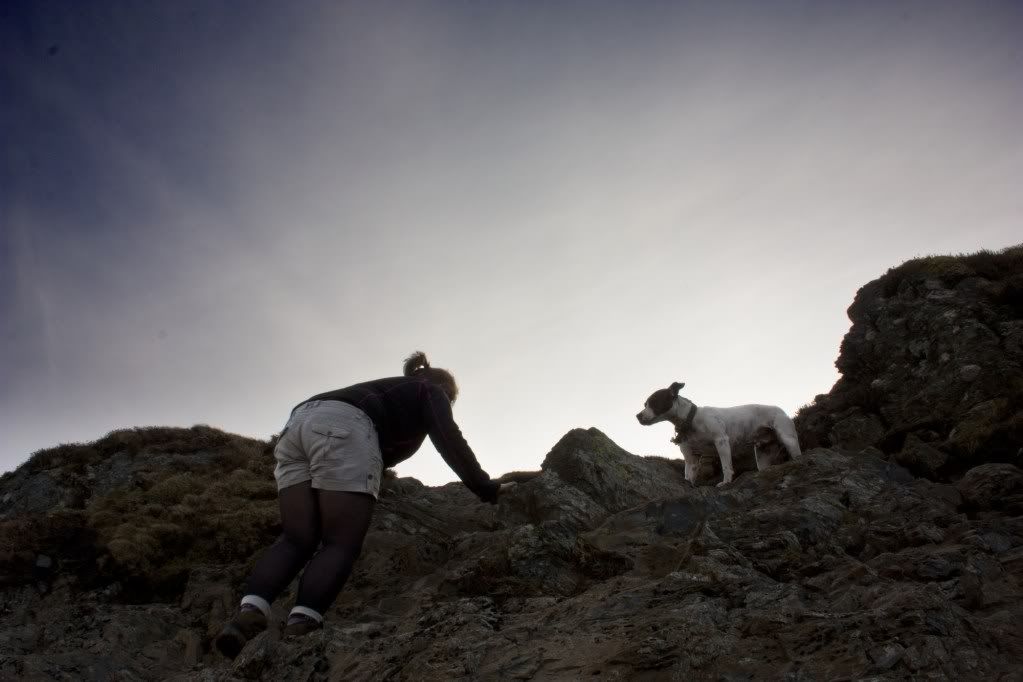 Atop Ullock Pike you look out over the next stage of the route – Longside Edge, Carl Side and Skiddaw. Quite bizarre how this picture came out – with Skiddaw Little Man bright white?! It was looking at this point that we would be relying on the haze lifting if we were to get any sort of views – it didn't look like we would walk through it. A quick check of the weather here suggested it was about 15 degrees hence why the climb had been so difficult – this was the first really warm day of the year! It only got hotter as the day went on, with the car suggesting 20 degrees when we got down – and that was in the shade!
A short walk along Longside Edge ends far too quickly as it is one of the best ridge walks in the Lake District in my opinion – it is literally over within about 10 minutes! Looking back you get a nice view of what has been climbed – even more so today as you can actually see it without being blinded by the sun as we had been up until now!! You can see the grey haze line that is prominent in and ruining literally every photo!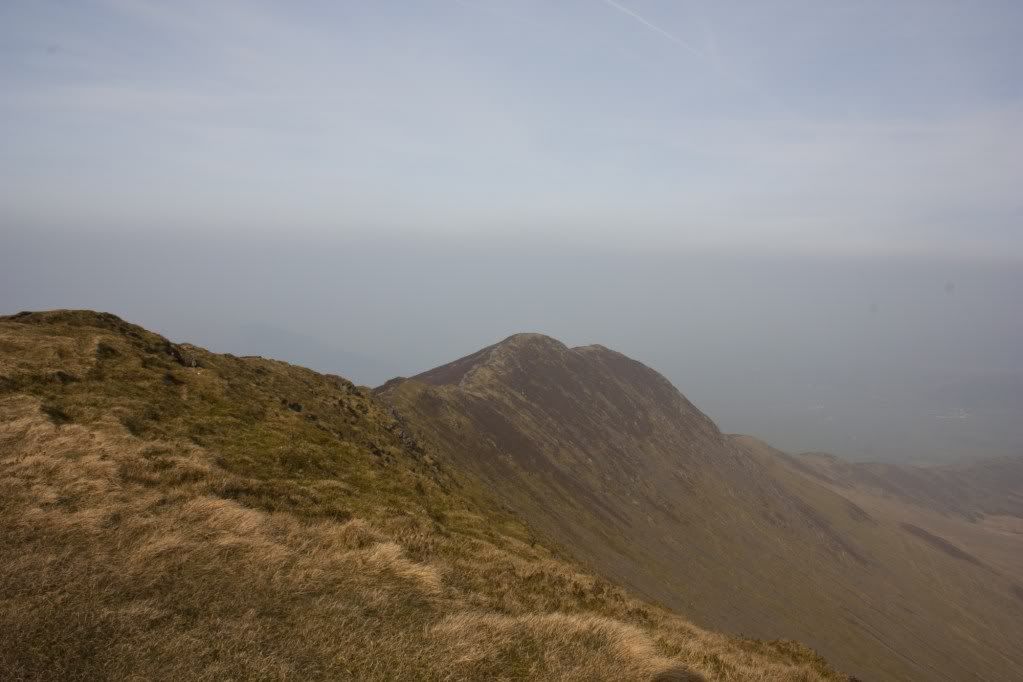 Again a short walk from the summit of Longside gets you to Carl Side – the third Wainwright for the day, and the most 'felly'. From here you have a choice, either turn right and head down towards Dodd, or turn left and head up to Skiddaw – along what Gemma described as the 'path from hell'. It is fairly hellish, 250m of steep, loose scree. We would be doing the latter today to visit the fourth highest summit in the Lake District. She loved it really!!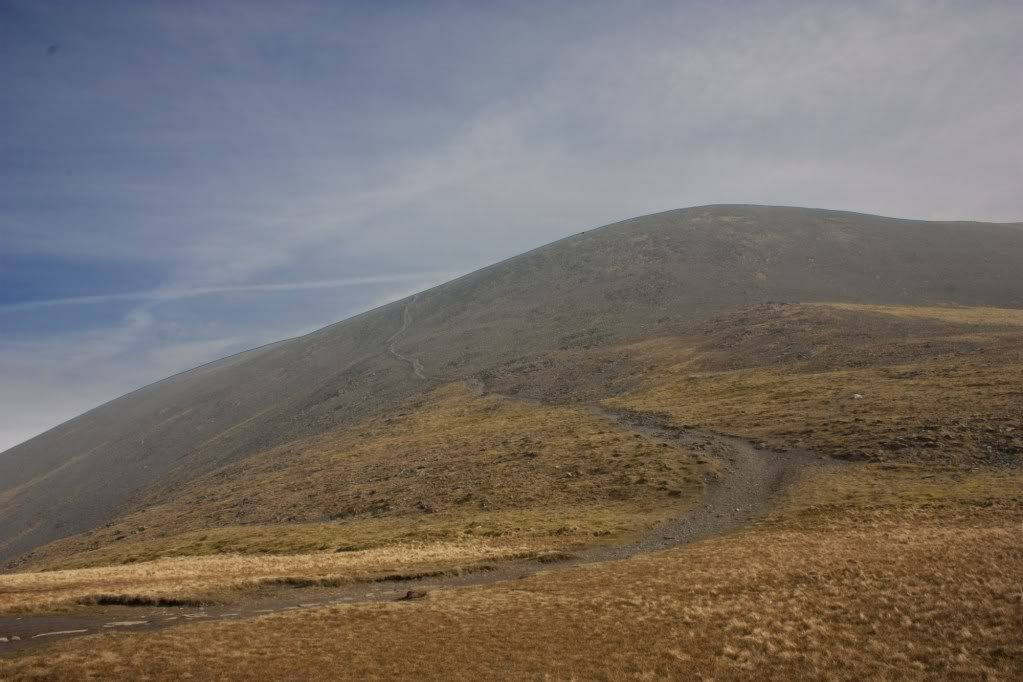 Although as you continue to climb to Skiddaw it does offer good views back over Longside and Ullock Pike, which gives a good excuse for a few stops, which were much needed as it was roasting!! By now it was about 10am so there were a steady stream of people following us up to Skiddaw – it could have been worse I guess, Helvellyn would have been a nightmare on a day like this. Again though the views were relatively poor, with just the near fells visible.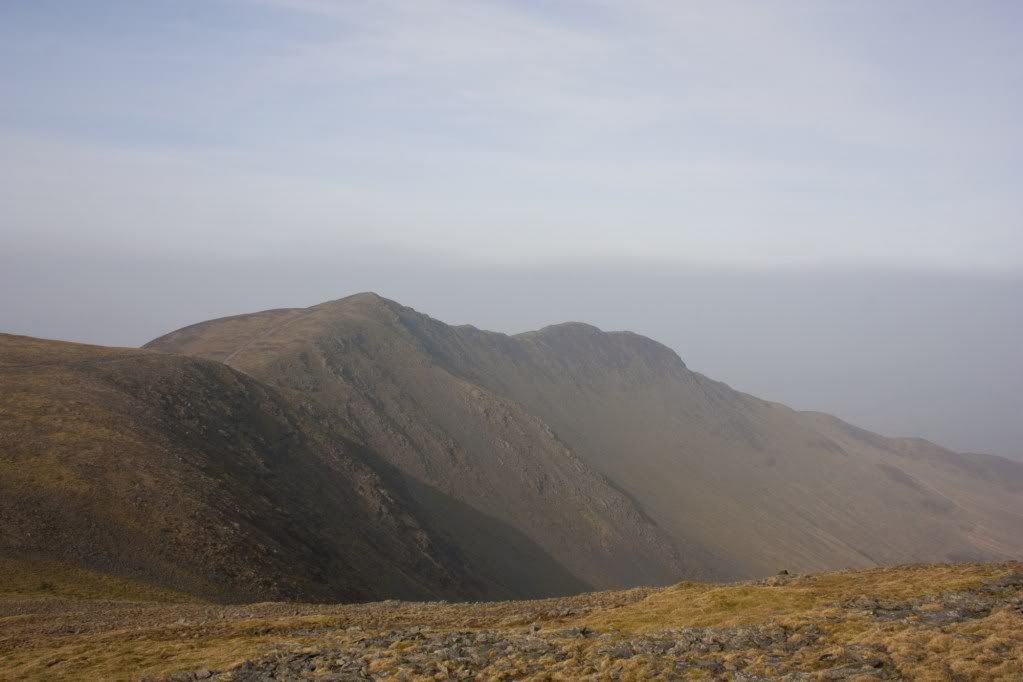 This next picture gives an idea of the 'path from hell' as it has been described!?
As we reached the summit ridge of Skiddaw, I was beginning to think the haze might burn off, with a few of the North Western fells beginning to poke through... I quite like the effect I got with this picture?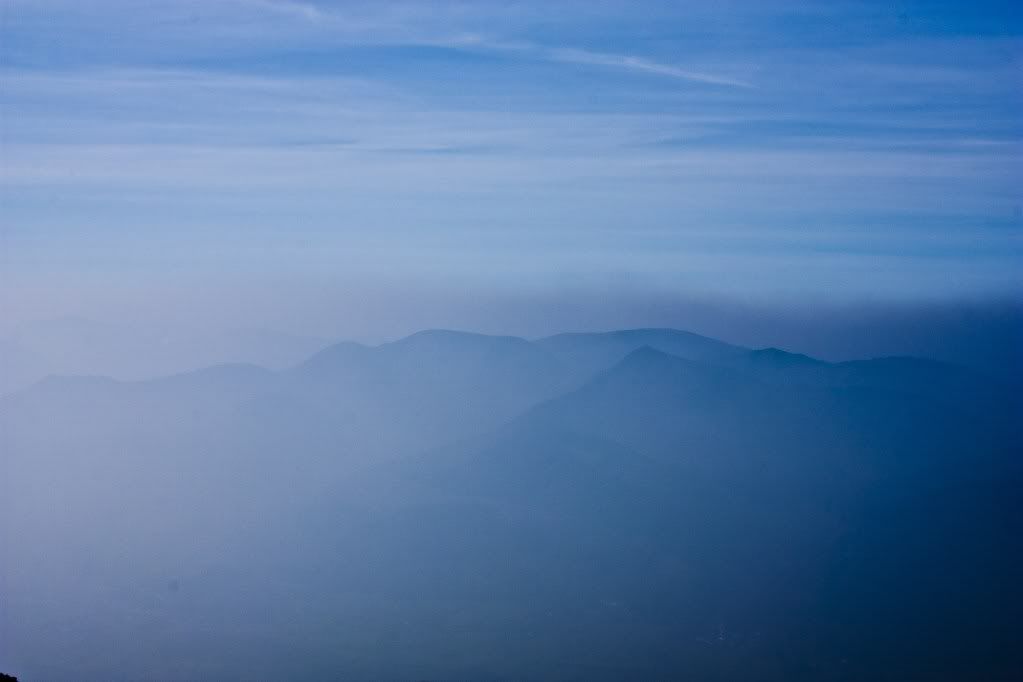 Alas if it had only lifted this far in 3 hours, the chances of it burning off completely whilst we were on the summit seemed pretty slim. In this next picture looking East, it almost looks like Blencathra is floating in the haze.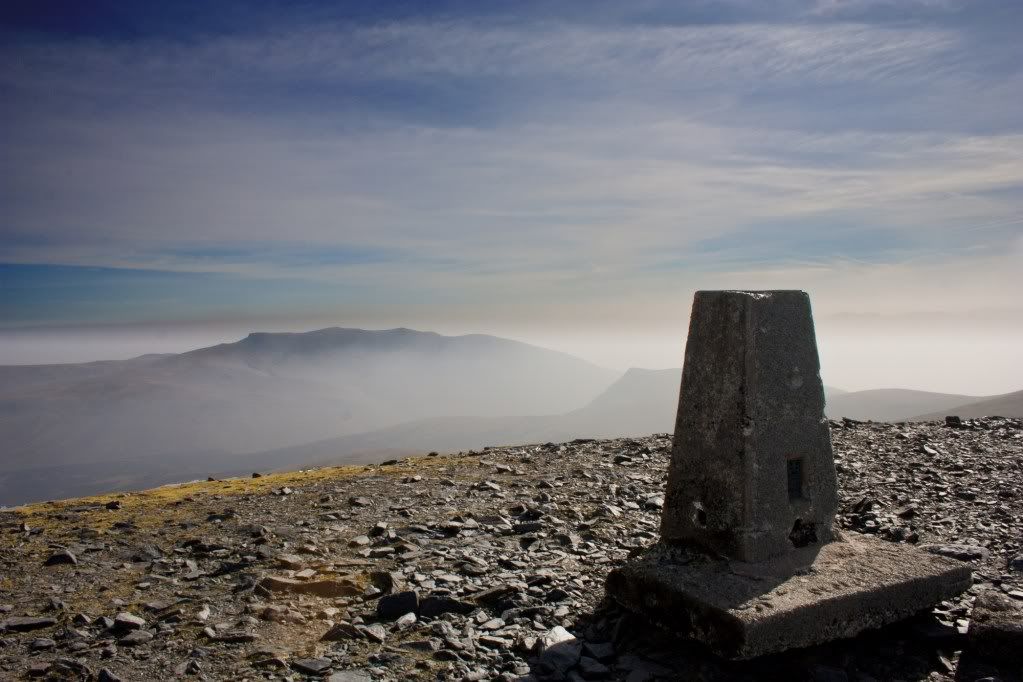 We stopped for a good 30 minutes on the summit of Skiddaw and then decided to move on – in the 20mph winds it was fairly cold to say the least. Added to that were views to the West which were going to take much longer to clear – if at all, so we agreed to move on.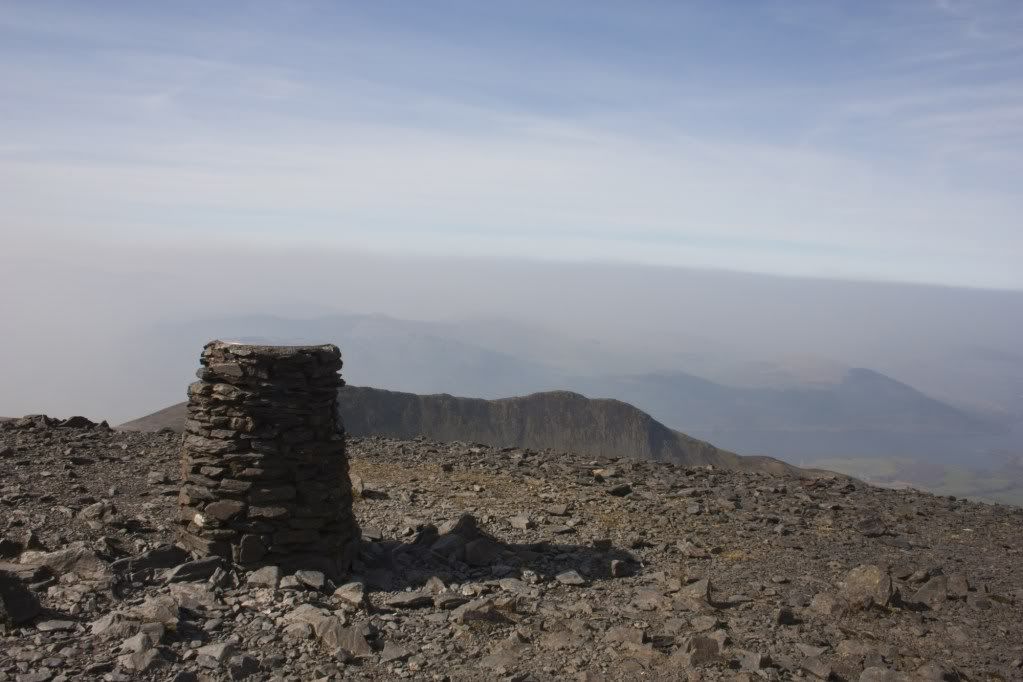 We would descend the North end of Skiddaw towards Broad End, before dropping off the end and back across the two valleys to the car. This is probably the 'flattest' approach of any to Skiddaw, and also the quietest if you fancy a big fell, but without the crowds. This is Todd on his way down towards Broad End – we followed the path to the summit and went over the front left of this image.
Looking back to Skiddaw you get the more familiar view of it – where it looks like the pointed shape you see from Keswick. Somewhat different to the long, lumpy hulk that you see when ascending over Ullock Pike!
We followed a series of cairns off Broad End, which result in another 'path from hell'. A steep descent down a scree'y path...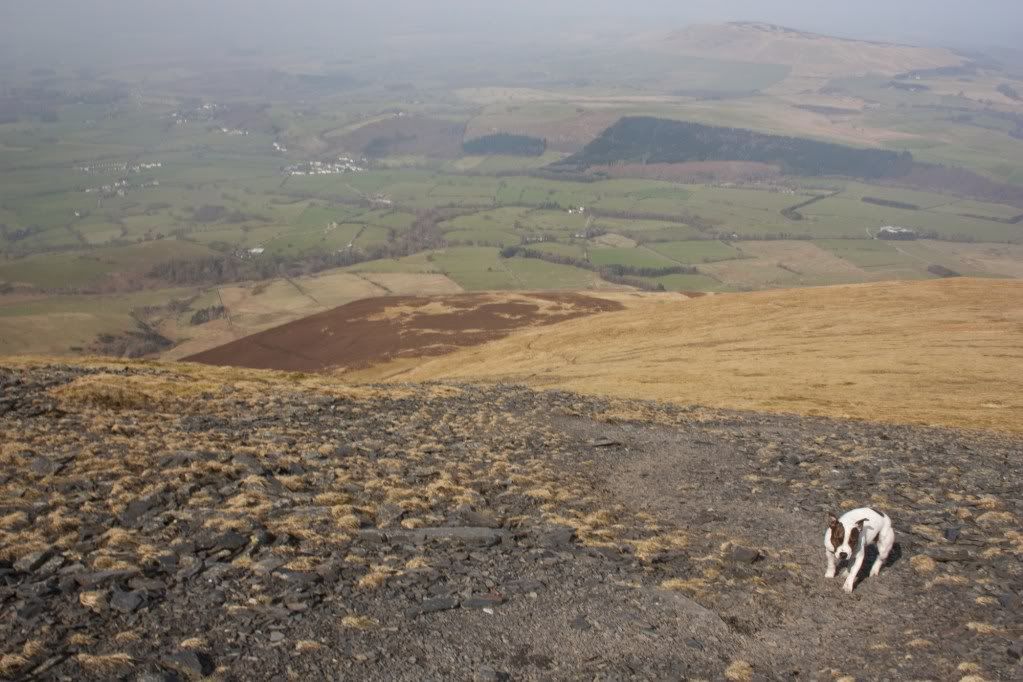 As you get a little lower this soon turns back to fellside an the path becomes a bit easier under foot. I forget I am in company and turn around to see I might have left Gemma and Todd behind - whoops!!
So I wait a bit for them to get a bit closer... and then give Toddy a shout. He looks happy!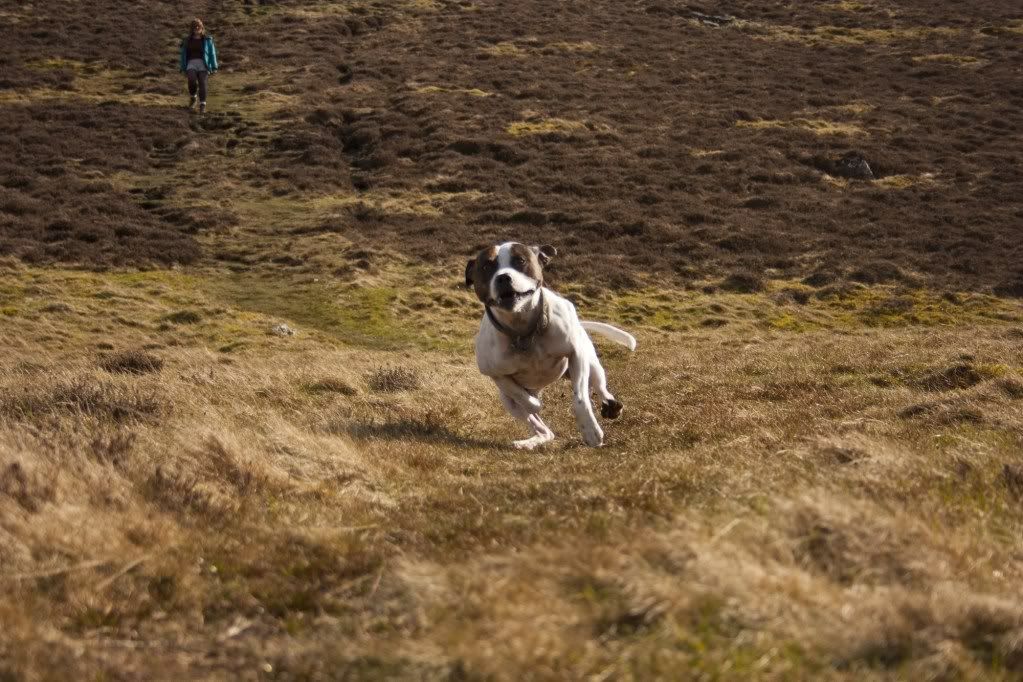 And now he looks peaceful!
We cross the first valley and then just have to walk across the bottom of the next to pick up the track we started the day on. This is Watches, which is on The Edge just before Ullock Pike (which is on the left just out of shot), so we cut off to the right just on front of this, which takes us into the fields we crossed earlier. It is a beautiful little fell!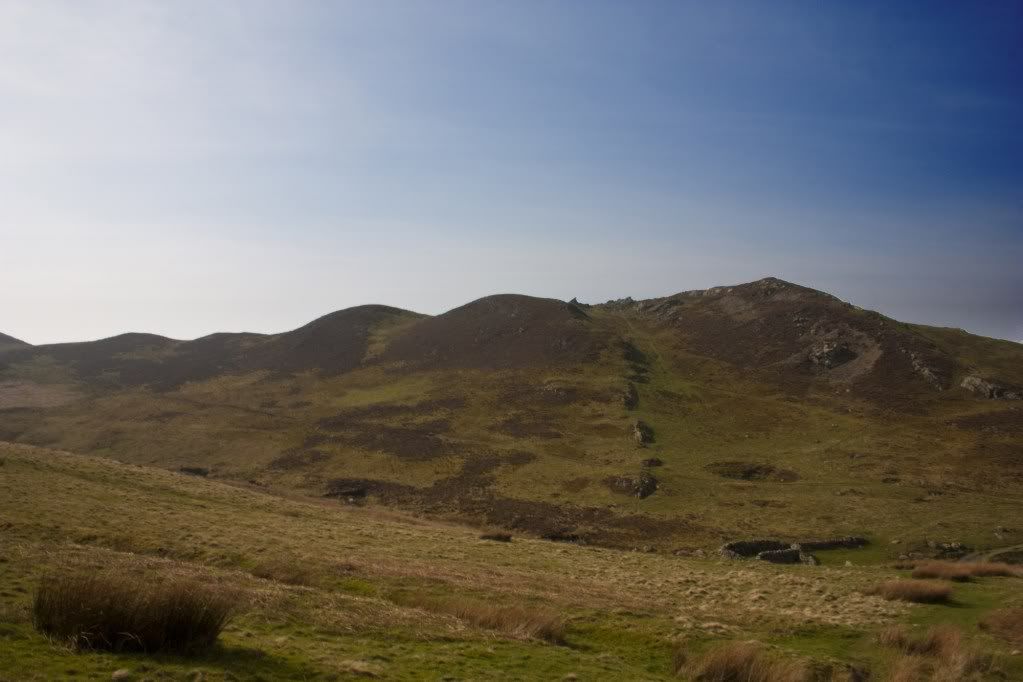 Before you can reach the track you have to cross Southerndale Beck – luckily the track continues and there is a nice bridge to cross at so no wet feet today.
The other side of the beck you get a nice view back of the route of descent, with Broad End in the top left (Skiddaw centre), with our route of descent on the near side through the heather. We then followed the wall across the two valleys.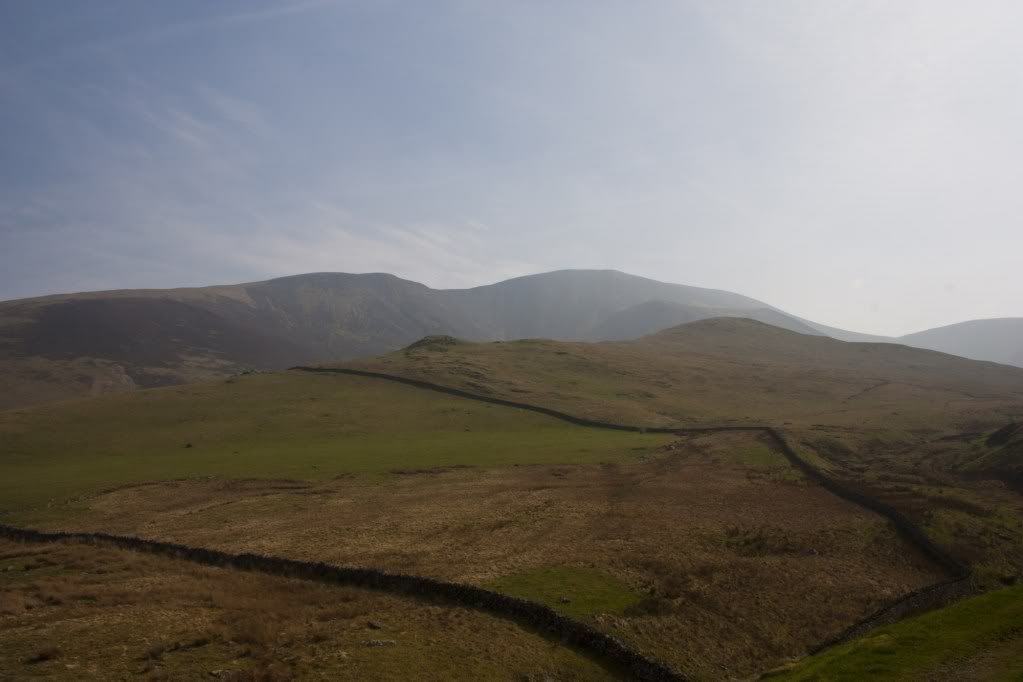 Once across the river, it is less than 10 minutes back to the car. Another enjoyable walk – it was just a shame the haze didn't lift or burn off throughout the morning as the forecast suggested. That said it did make a very nice change to need sun cream and t-shirts, as opposed to waterproofs and hot drinks!! Two good weekends in a row, hopefully we will get a couple more as Easter approaches. A well deserved ice cream in Grasmere topped off another decent day on the fells! One of the finer ridges in the lakes, one of my favourite fells and my favourite ice cream... what more could anyone ask for in a day?!