A beautiful Saturday morning greeted us and having decided the night before that we fancied a lie in - the Coniston's were a good bet for a walk, only being 30 minutes from home. We decided the first point of call would be the Old Man and see where we ended up - as it happened this was all we did as it was a bit cold on the tops and we had visitors arriving in the afternoon.
Parking in Walna Scar car park there were a number of other cars already parked with limited spaces available thanks to some fairly inconsiderate parking by others. A quick put on of the boots and we were off, looking up to the Old Man with beautiful blue skies above it.
We began by walking towards The Bell and The Coppermines valley - there are plenty of routes up the Old Man, but this one via Low Water etc is my favourite and a good tick off walk - first the turn off up the hill, then the mine workings, followed soon after by the dramatic Low Water and then the final drag to the summit. A good route if you are tired!!
We also wanted a view in decent weather of The Coppermines, where we will be getting married in June. And as expected they were looking beautiful - with some lucky soul having a wedding this week! Fingers crossed for weather like this in a few weeks!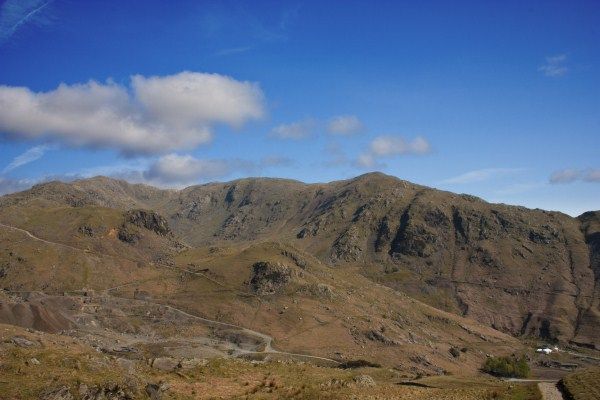 Seemed like a good place for the first stop of the day, admiring the valley and the views back to Coniston. The day before we had a pre-wedding shoot from our photographer - who I had been getting a few tips from... "Have you ever had a sun star?" he asked... well I had, but not deliberately... "Shoot at ISO 100, 1/100 and F22 straight into the sun and have a look at the result"... ok, here goes. I added a bit of flash to, to illuminate Gemma.,,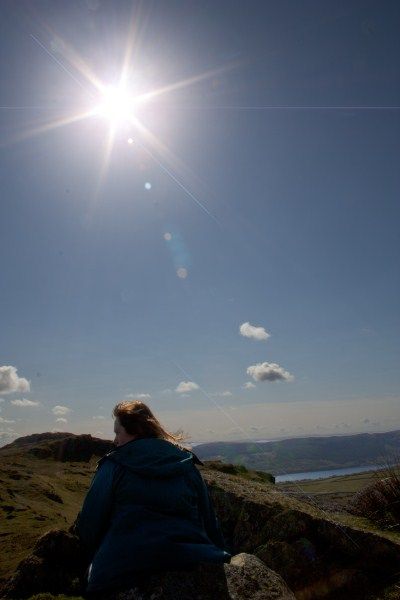 Hmm not bad!
Todd was enjoying the company from the hoards as we continued up the slopes, with brilliant blue skies overhead. The next stop would be the mine workings - a drink and food stop there is the norm on the Old Man for us.
A steep slope with wires crossing signals the arrival at the old mine workings. Fairly easy to get through today, not so 6 months ago when there was 3 feet of snow and the snow blowing into our faces down the slope - that was definitely a day that Todd will be happy to forget... Until next winter lad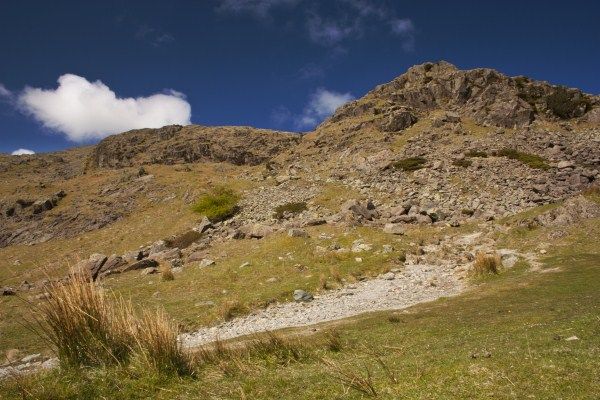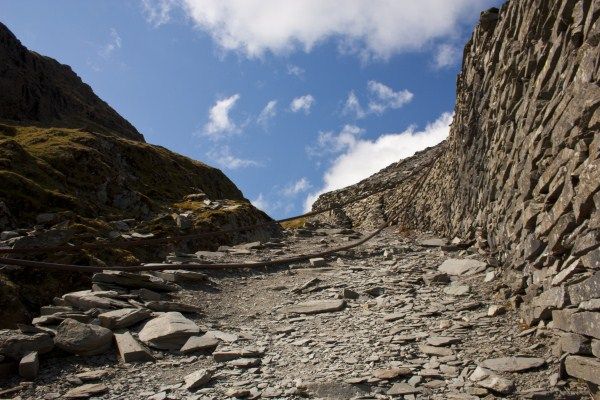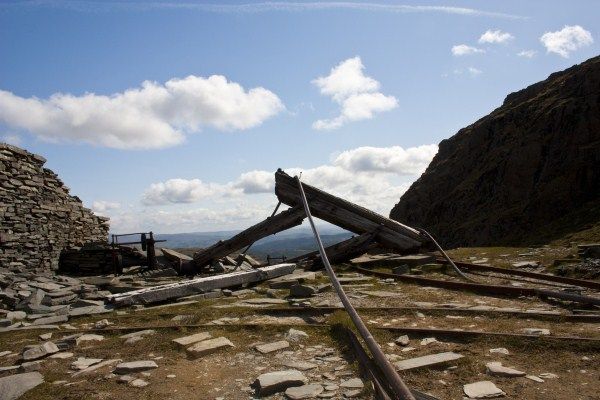 After the mine workings it is a short hop to Low Water, a dramatic lake surrounded by the fells from Coniston Old Man - Brim Fell. I particularly like the sun catching this pair of rocks in the water...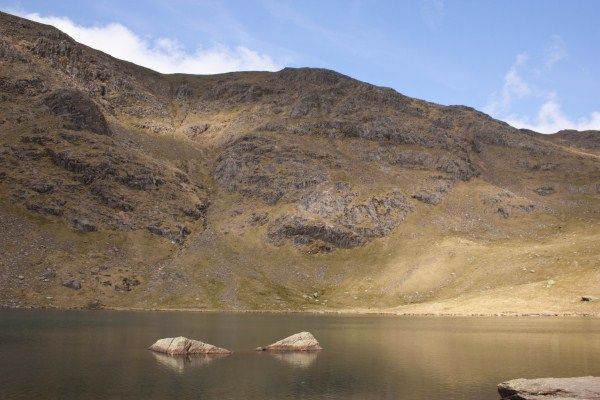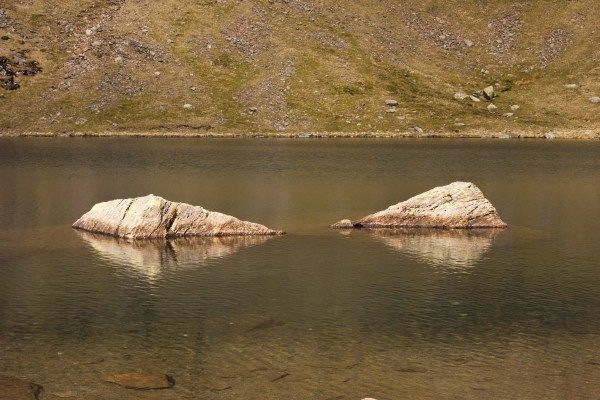 I also like this shot of Gemma and Todd admiring the view across Low Water.
I always say it is about 30 minutes at a reasonable pace from Low Water to the summit of the Old Man and that is about what is was today, with the odd stop off en-route for Todd to sniff and eat whatever faeces he could find and for us to catch our breath. Low Water is soon left behind as you climb the fells, admiring the height gained whenever you stop for a gander.
And before you know it, the summit is reached. Sadly it was fairly busy - so no typical summit cairn pictures as somebody was sat on it and no pictures of the trig point as again - someone was sat on it! So here is a picture looking along the Coniston ridge to Brim Fell, with the Scafells visible in the distance.
As we had guests coming to stay we decided to call this a day, by descending to Goats Water and then ambling back to the Walna Scar road. So just time for a quick shot out to sea, with Sellafield and Harter Fell in the foreground, followed by a shot of the sheepish Scafells (get it?).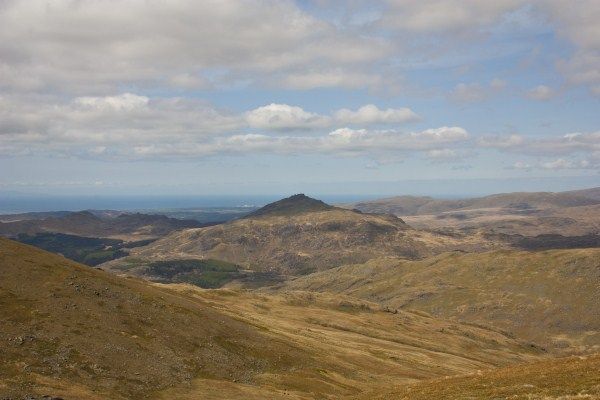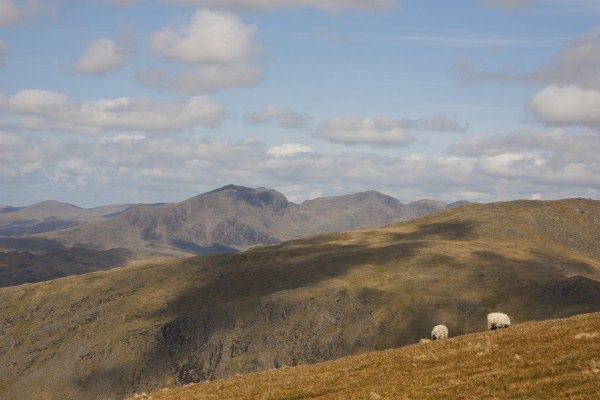 Next stop was the descent down to Goats Hause, where you get impressive views onto the cliffs of Dow Crag. On a day like this it was easy to pick out all of the rock climbers strutting their stuff. Todd was more interested in the hundreds of other people and dogs making their way up the hillside - insisting on saying hello to everyone! Just right of centre you can make out the South Rake on Dow Crag.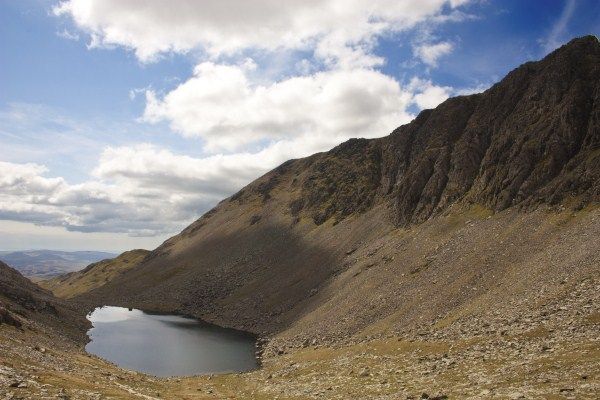 We stopped just after this point for a quick bar of chocolate and the token picture of Todd looking thoroughly miserable!
And down at the side of Goats Water, looking across to the various buttresses of Dow Crag - beautiful.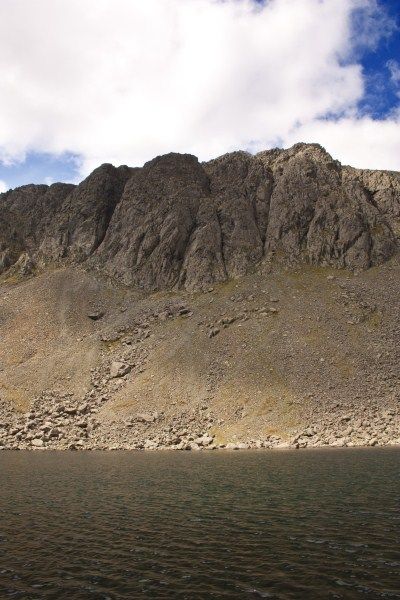 And a quick panorama looking back from the end of Goats Water.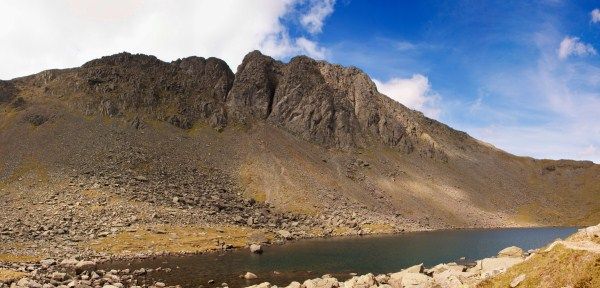 All of a sudden the tranquillity was broken by the unmistakable thud of a Sea King... where is it, where is it? All of a sudden there it was, coming towards the Old Man and straight overhead, sending strong gusts down on us even from a few hundred feet!
It hovered over the Old Man for a while - didn't see it pick anyone up etc - before heading off and then suddenly turning back around towards us. Hmm camera ready, might get a nice shot of him coming around in front of Dow Crag...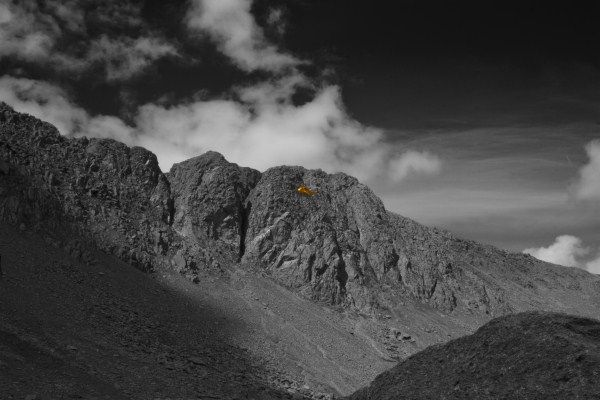 Yep that will do! I don't envy the climbers up there now - I can just about picture them clinging with all their strength to the rocks! One more identical round from the chopper suggested it was just a training flight, before it flew away into the distance - oh well, a bit of excitement! This left us with a relatively simple walk back to Walna Scar road, just before the corner I got another shot of the beautiful Dow Crag - this is the one Coniston fell I have only done once and you might have guessed, I can't wait to go back!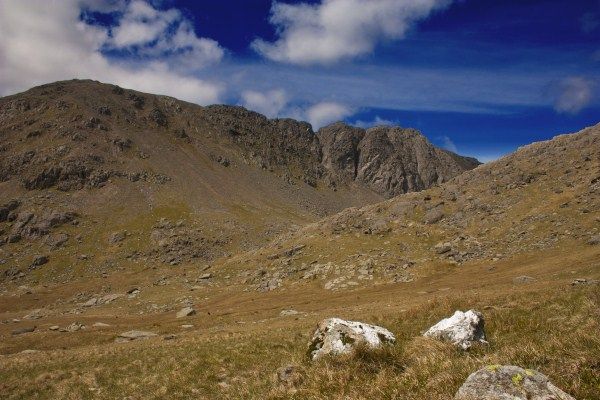 From the Walna Scar road it is a 2km back to the car, so this is about 30 minutes. The views are impressive across Coniston Water and to the East beyond Windermere. This is looking up into the Coniston fells which we were in earlier today. I am not sure if this is a particular fell but it looked pretty cool!
A few minutes before the car is what is know as Boo Tarn - not Bhutan - which is notoriously a tarn that has very little if any water in. Although it is also a place where Todd has history of running into thinking it was grass, and nearly drowning!! I had to get this picture today as there was actually visible water in there! Don't let the South see this though, they will want our water for their droughts!!
And a final shot which I thought was pretty cool - looking towards Wetherlam with the sun illuminating one smaller fell in the foreground! Again I am not sure what it is - maybe Willy Scrow or something in that area? Either way it looks pretty cool.
That was that, a fairly short walk but nevertheless entertaining and a good chance to scout out the wedding venue. Fingers crossed for a day just as good as this in June eh!