On the map this looked a fairly leisurely option after our big day on Hermansdalstinden. However, the sketchy path south from Kjerkfjorden was either overgrown or non-existent as we had to more and more find our own way along the coast which also got more and more bouldery.
Quite a steep ascent to the 400m bealach through bracken and boulders wasn't exactly easy going either but soon over and made more bearable by the steadily unfolding views. The peaks overlooking Kjerkfjorden village looked particularly dramatic -large vertical walls jutting out of the flat surrounds.
An easy walk up the ridge to the Helvetestinden summit followed but the connecting ridges beyond looked better left admired than tackled -indeed I later read that the onward route is difficult and unpleasant on step, loose and exposed ground. Not my cup of tea!
view from the magical Reine ferry -Helvetestinden the leftmost peak
a closer view shows some of the boulders we'd soon be wandering through
looking south east to Seiltinden, the peak that dominates the east side of the fjord
the string of peaks behind Kjerkfjorden village
the struggle up through the boulders to the beallach is eased by the unfolding wonderful views, this one east to Seiltinden
at last, up on to the bealach, ready to head north
surreal vertcial walls rise up from the flat surrounds
towards Reine
img040
by
John Little
, on Flickr
img039
by
John Little
, on Flickr
View south east back down the ascent ridge.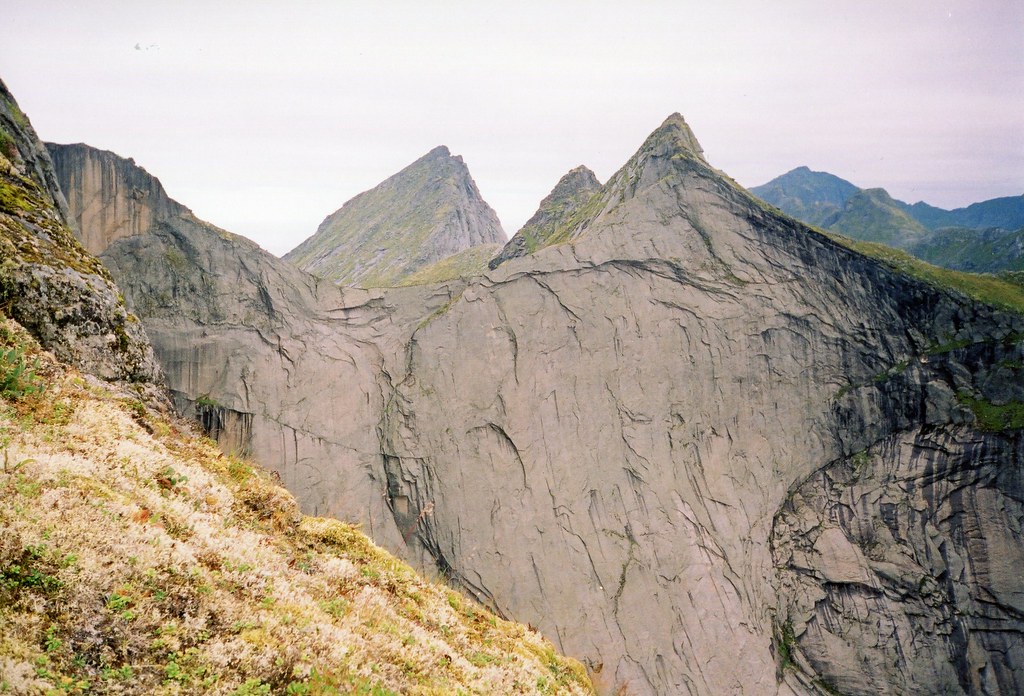 img022
by
John Little
, on Flickr
Dramatic walls and ridges beyond to the west.
img021
by
John Little
, on Flickr
img049
by
John Little
, on Flickr
view down to the beach at Bunes -possibly the more usual starting point
img041
by
John Little
, on Flickr
On the way back down.