Ambleside 2018 (Day 3) - Heaven really is a Place on Earth!
Posted:
Sat Apr 28, 2018 10:12 pm
After almost 9 hours on the Whiteside to Rannerdale Knotts circuit yesterday, Dave had downed tools and declared he was not walking today. He was going for a bike ride instead. Rest his knees and the soles of his feet, punish his butt cheeks instead!
Robin agreed to do likewise, although I suspect that was more a case of what he thought he should do rather than what he really wanted to do.
I was having none of it. Quite apart from anything else, I didn't have a bike with me! I was going solo hillwalking. Robin made me promise not to do any of his red balloons and again, this wasn't a showstopper by any stretch given the number of red balloons I still had left.
I toyed with heading straight up onto the Fairfield horseshoe from Ambleside but in the end I opted for the drive back over the Kirkstone Pass to Patterdale and Place Fell and co. I parked up in the large parking area opposite the Patterdale Hotel and paid my rather steep parking charge for the day before shouldering my pack and heading back along the road to the bridge over the river leading to the houses at Rooking and then onto the path that gently climbs up to Boredale Hause.
Patterdale getting ready for another week
I still wasn't 100% clear what my route was going to be or where exactly it might take me. I certainly wanted to do Place Fell which I had admired from my day on Red Screes and co a couple of years ago and more recently from the Mell Fells two days ago. I also wanted to swing by Angle Tarn and so an obvious circuit looked like heading out as far as Brock Crags and Rest Dodd to the south and Beda Fell to the north.
As I climbed towards Boredale Hause, the summits of the great Helvellyn range to the west began to show themselves above the cloud inversion and below an almost cloudless deep blue sky. Surely this is what the back of 9 on Monday mornings should be all about! I tried not to think too much about the fact that exactly one week from now to the very minute I would be sitting in an almost inevitably tedious whole staff meeting at the start of a Monday INSET day.
The start of the path climbing from Rooking towards Boredale Hause
Ghostly tree
Helvellyn and friends poking through the inversion
So good I snapped it twice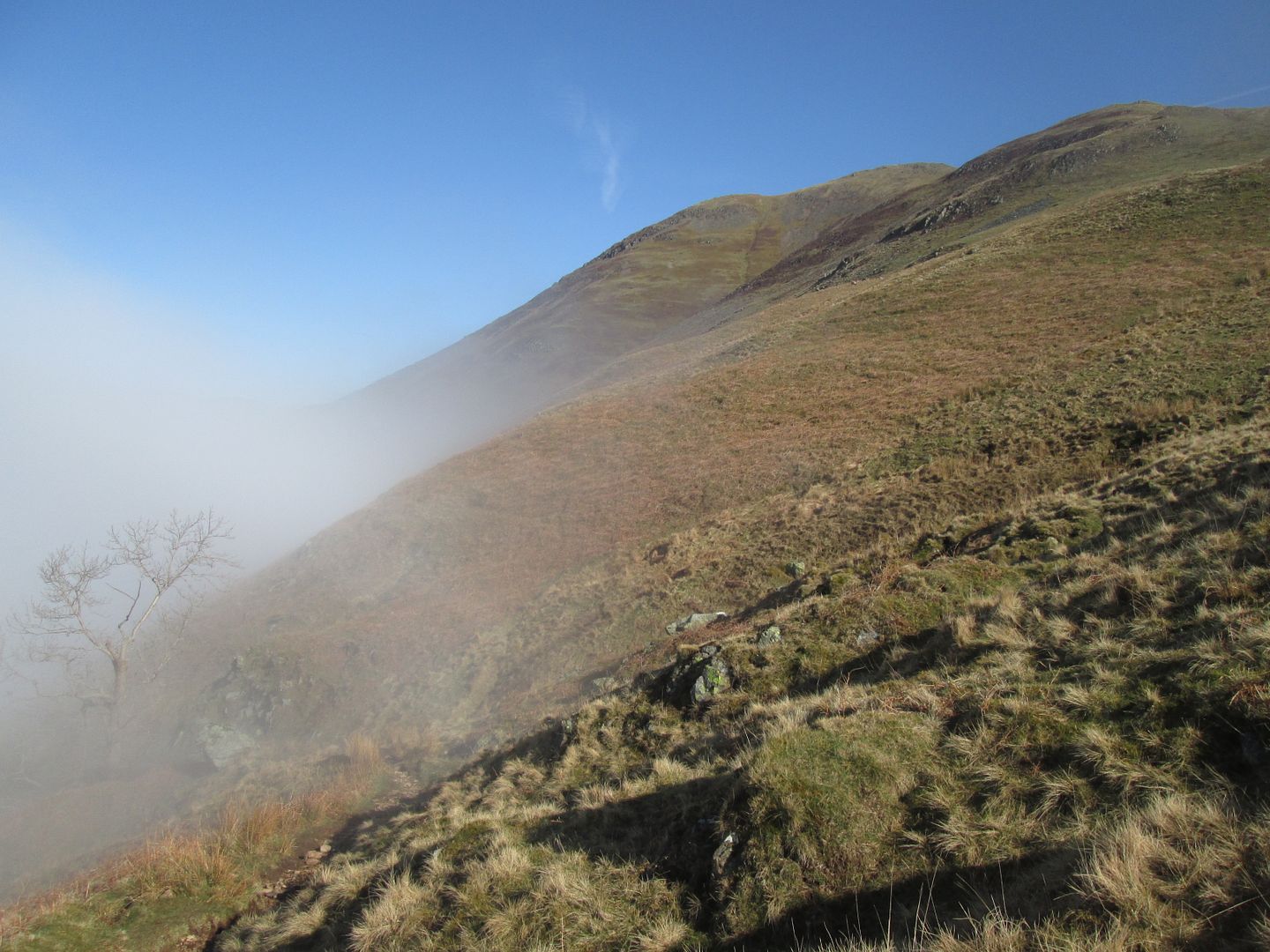 The western slopes of Place Fell
At Boredale Hause I had to make a decision and without too much thought on the matter I found myself heading south towards Angle Tarn.
Across Patterdale to the Helvellyn range from Boredale Hause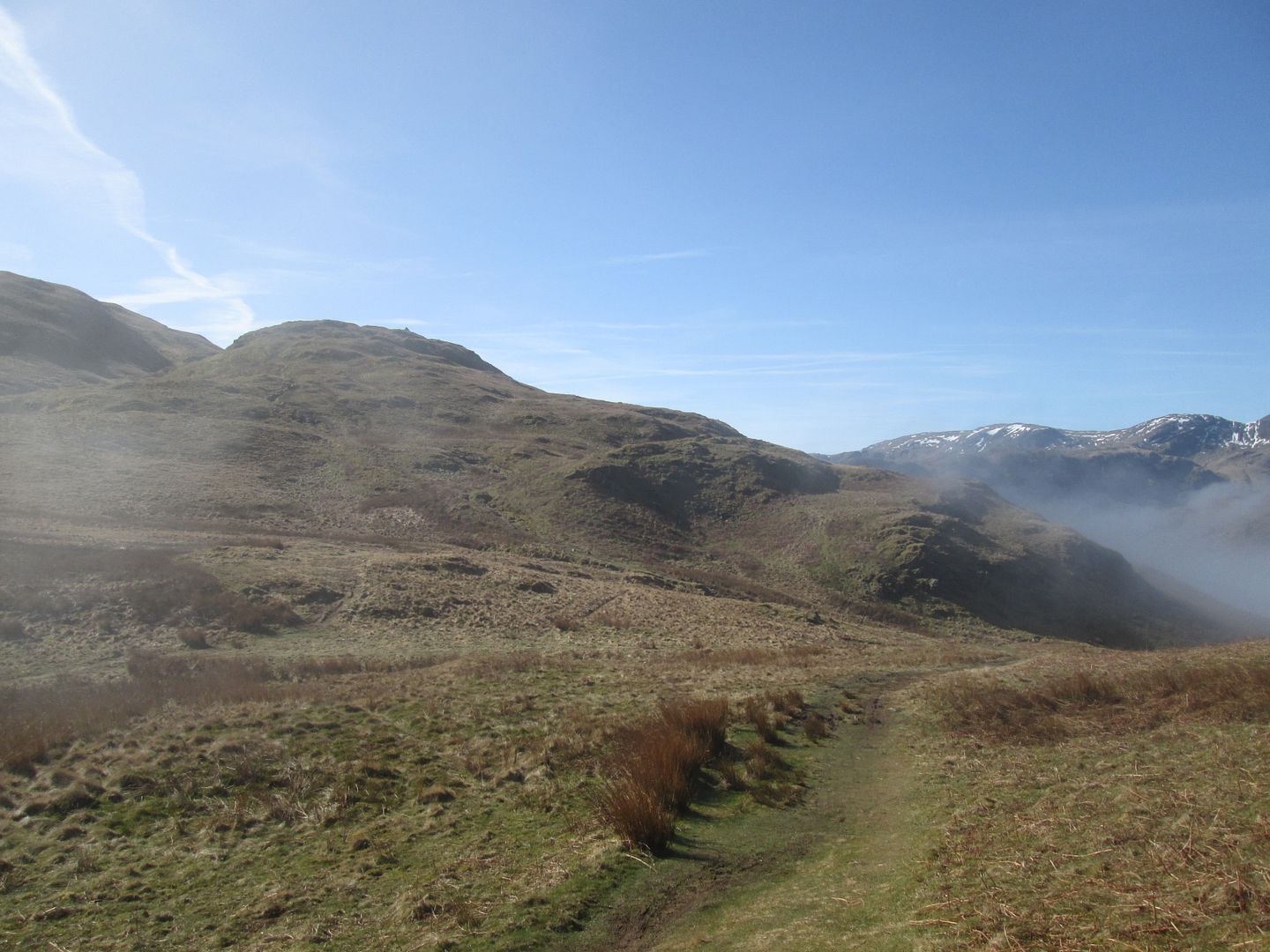 Towards Angletarn Pikes from Boredale Hause
This was probably about as good as a Monday morning can possibly be. I seemed to be all alone with no signs of fellow fell walkers. I guess not everybody can be up here on a Monday morning! The views behind me were opening up to reveal Ullswater and ahead of me the Brothers Water and surrounding fells soon came into view and brought back fond memories of my first Lakes experience.
Back to Place Fell
And again from a bit further up the path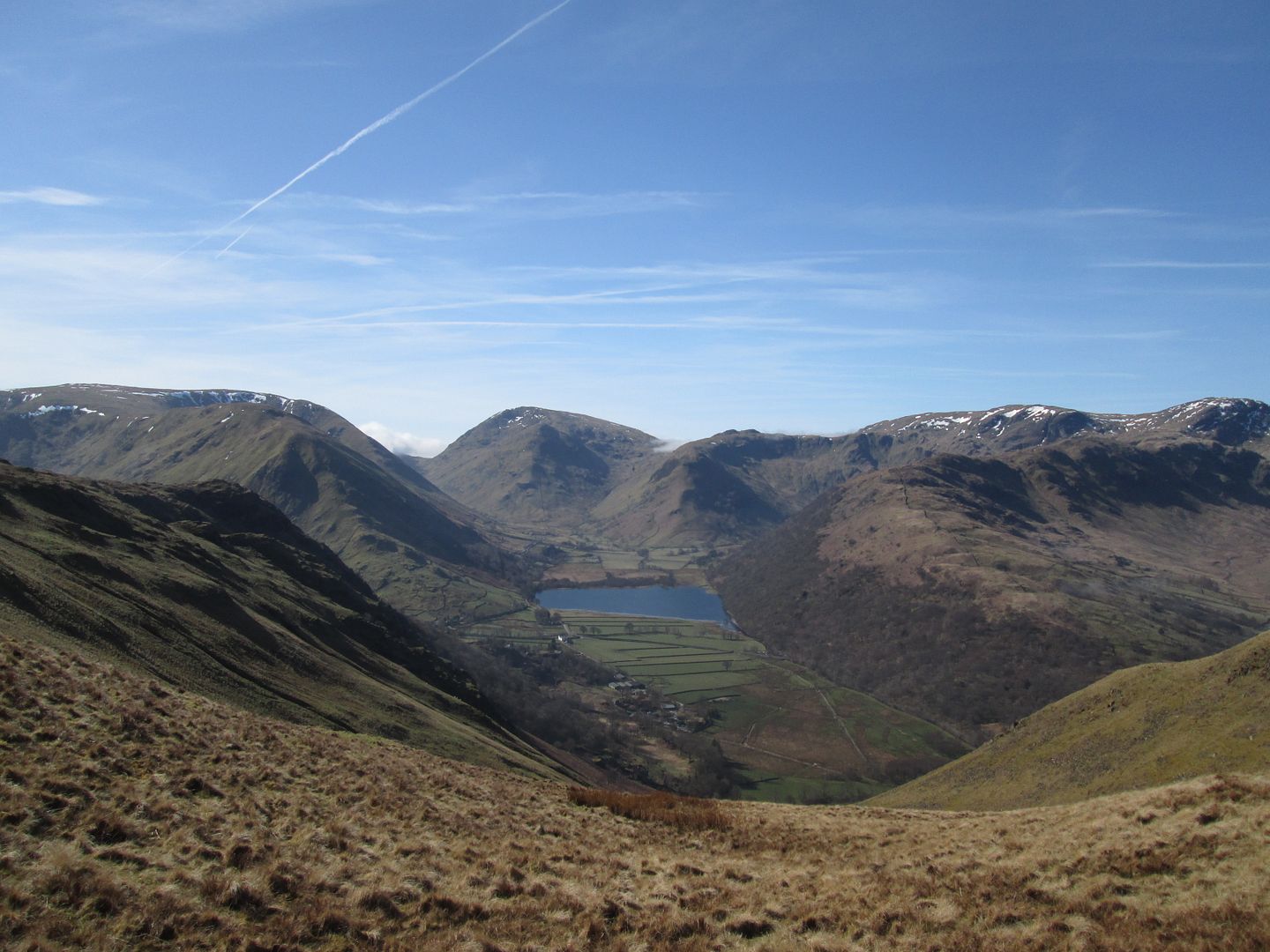 Brothers Water from just below Angletarn Pikes, my very first Lakeland route behind and to the right
Angletarn Pikes
Place Fell and a gang of locals
Place Fell and the southern end of Ullswater from below Angletarn Pikes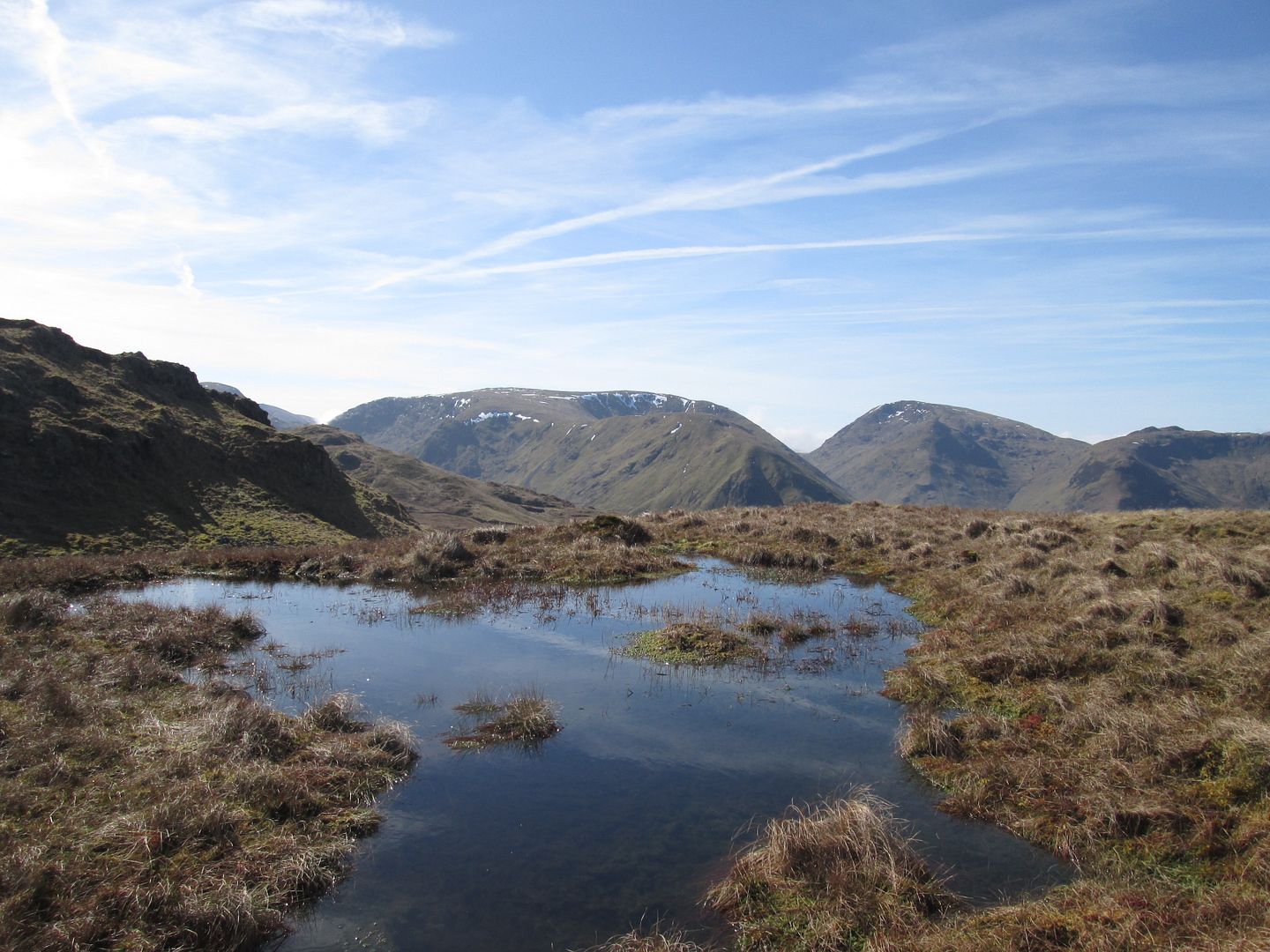 Hartsop Dodd, Stony Cove Pike, Middle Dodd, Red Screes, High Hartsop Dodd and Little Hart Crag
Angle Tarn
The summit of Angletarn Pikes was alive with the sound of the local wildlife on the tarn (as Kev had said it would be) and their cacophony accompanied me a good way towards my next target, Brock Crags.
Angletarn Pikes and Place Fell between Angle Tarn and Ullswater from the summit of Brock Crags, Blencathra in the far distance
St Sunday Crag centre stage from Brock Crags
South east from the summit of Brock Crags - High Street, Hayeswater and Gray Crag
Brock Crags selfie
From Brock Crags the route starts to feel a bit more remote as it turns east and heads past Satura Crag and onto the summit of Rest Dodd, where I had to avoid any temptation to head over onto Rampsgill Head and co.
Satura Crag and Rest Dodd
Angle Tarn
Rest Dodd
Down Bannerdale
High Street, Hayeswater and Gray Crag
Brock Crags from Rest Dodd, Dovedale peaks, St Sunday Crag e.t.c. in the background
North towards God's Country from the summit of Rest Dodd
West to another God's country
Rampsgill Head from Rest Dodd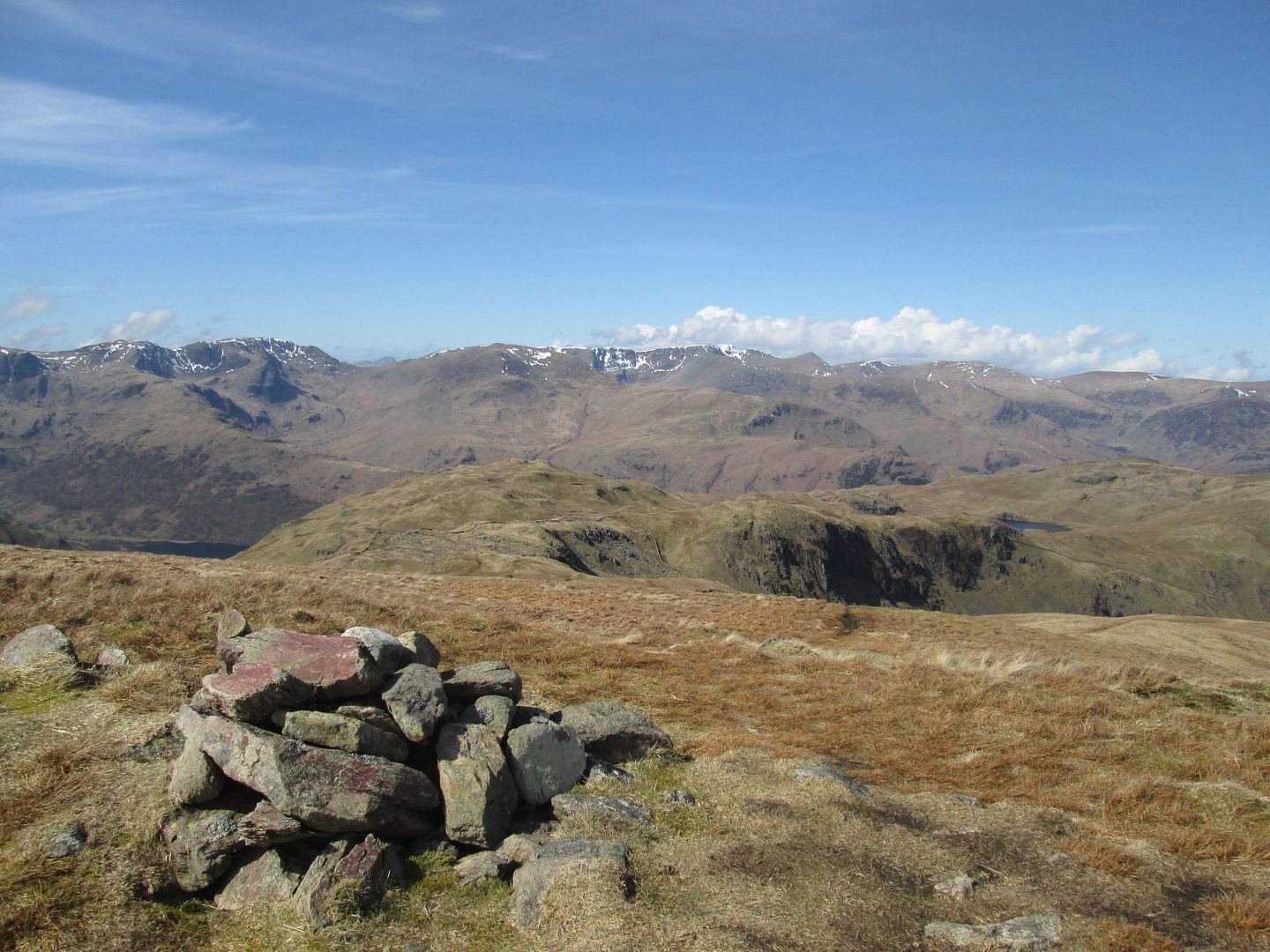 Brock Crags and that other God's country again
A north turn took me down to the peat hag riddled approach to The Nab and its very understated summit infrastructure.
Descending north to The Nab
The Nab between Bannerdale and Ramps Gill, well guarded by peat hags
Rampsgill Head, The Knott and Rest Dodd from the understated summit cairn on The Nab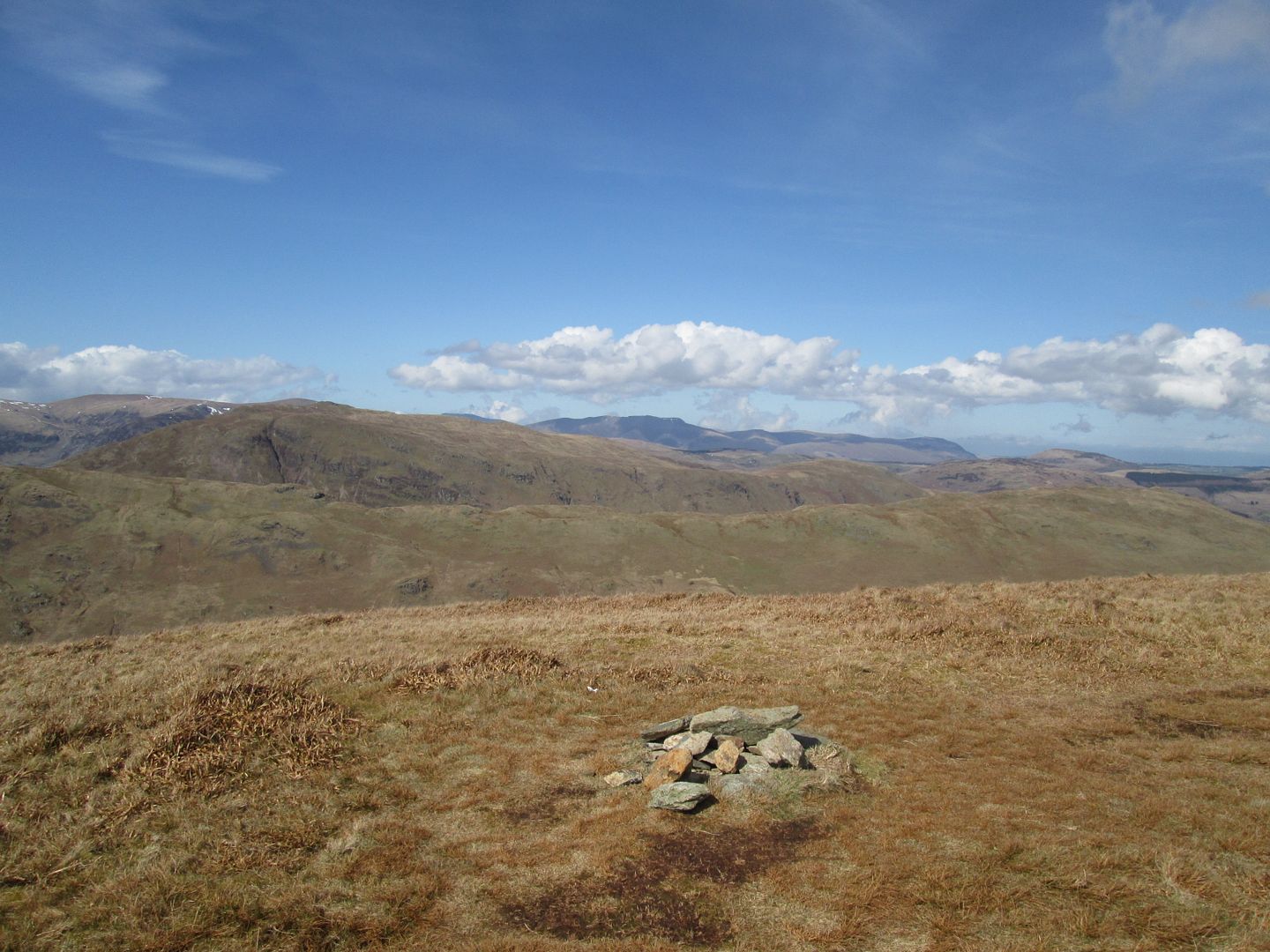 Place Fell across Beda Fell from The Nab, Blencathra in the background
I found a nice wee flat rock on the descent down the north face of The Nab where I had lunch above Martindale Common and pondered the rest of my route onto Beda Fell and then to Place Fell.
Martindale Common from the descent north off The Nab
Beda Fell from the descent off The Nab
I headed for the little bridge over the beck and then doubled back to a field free from livestock which took me up onto the path running below Beda Fell.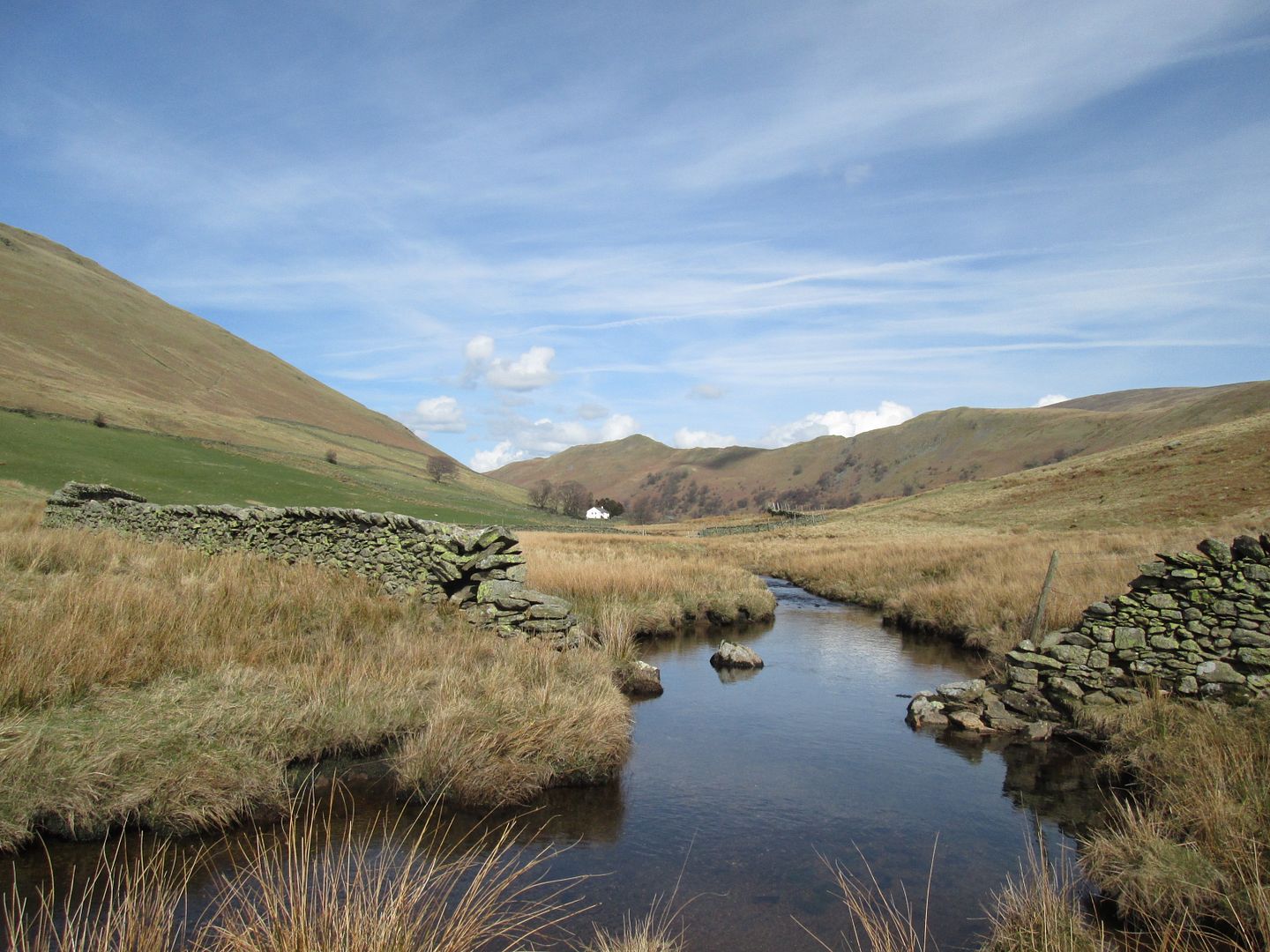 Dale Head and Bannerdale Beck
Upper Bannerdale
The ascent onto the Beda Fell ridge was surprisingly hard work. Maybe yesterday was affecting my legs by this stage! I was soon onto the ridge however and could see the summit a good distance away to my right. Most surprisingly of all however was a first human sighting since leaving the houses at Rooking, an elderly couple coming along the ridge from the Boredale Hause direction towards me. I guess some other people really do have nothing better to do on a Monday!
The Nab and Rest Dodd from the ascent of Beda Fell
Onto the long Beda Fell ridge looking northeast to the summit
I guess people are a bit like buses. You wait all day for a sighting then two come along in quick succession. And so it was on Beda Fell. I reached the summit well ahead of the elderly couple behind me to see a family of four humans and one canine ascending from the north. I quickly took some photos and turned to retrace my steps before they could reach the summit.
Hallin Fell and Ullswater from the summit of Beda Fell
Southwest from the summit of Beda Fell - Place Fell, Birks, St Sunday Crag and the head of the Fairfield round
The Nab and Rest Dodd across Bannerdale from the summit of Beda Fell, High Raise, Rampsgill Head, High Street e.t.c. in the background
Descending back to Boredale Hause, Arnison Crag, Birks and St Sunday Crag straight ahead
As I dropped down towards Boredale Hause, I could see a few people homing in on it from various directions. I clearly no longer had the place to myself. I cut the corner in the path to pick up the path onto Place Fell on which I rather surprisingly met nobody all the way to the summit and back down.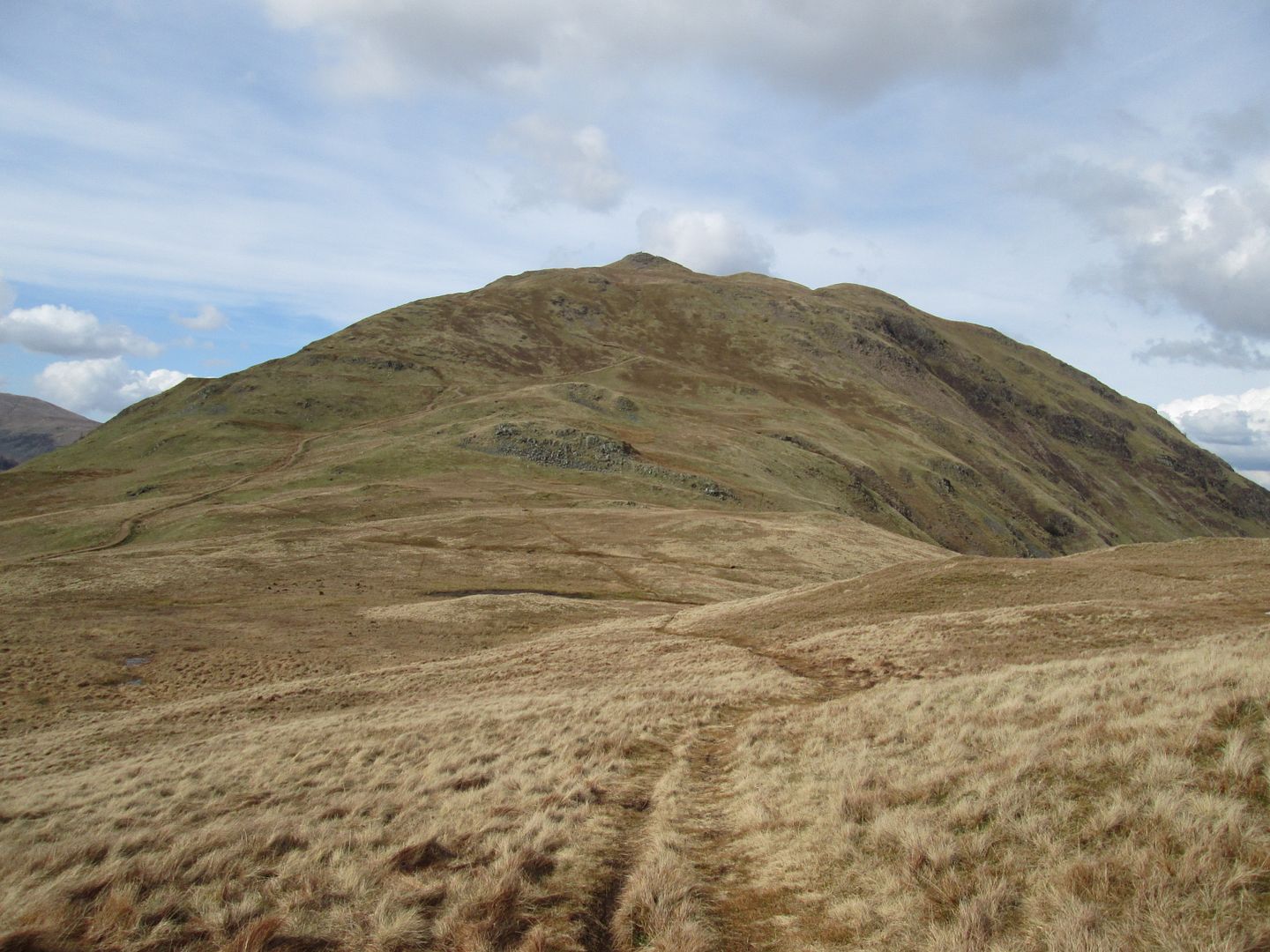 Cutting the corner to Place Fell
Brothers Water and surrounding Fells from the ascent of Place Fell
Almost at the last summit of the day
The north end of Ullswater and Penrith from the summit of Place Fell
Red Screes to St Sunday Crag - south from the summit of Place Fell
Place Fell summit selfie
Glenridding and St Patrick's Well
Just as I was leaving the summit of Place Fell to return to Boredale Hause a few spots of rain started to fall and they threatened to become more serious all the way back to Patterdale but fortunately that is all they did and I made it back without the need for additional layers.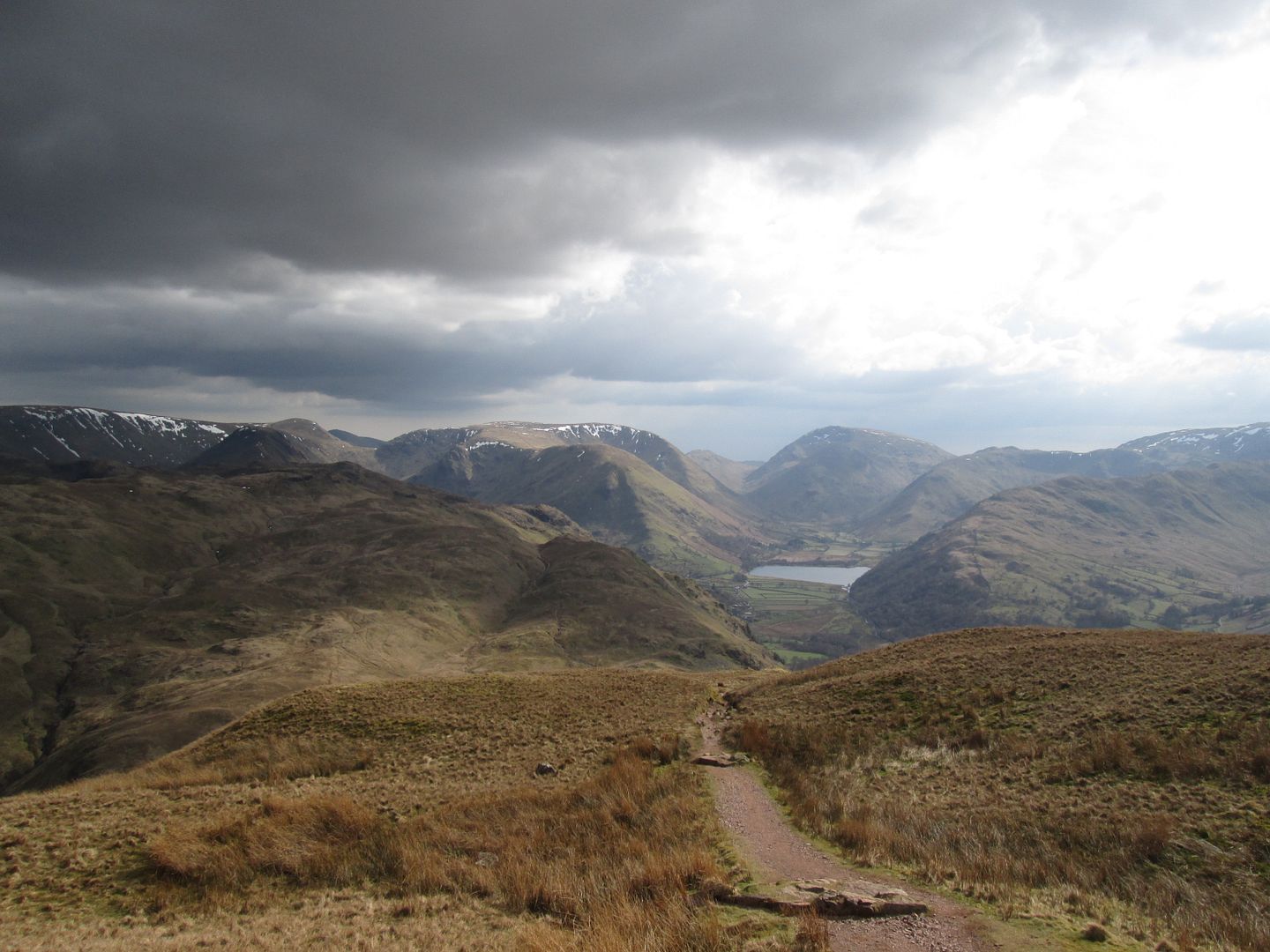 Darkening skies and God's Country all around - time to head off!