As it is a Fife School holiday today I decided to take a day off and get out on the hills with Cameron. Cameron's munro count was sitting on 9 and was looking to get into double figures. With the weather forecast looking fairly good we decided to go for the Glen Lyon horseshoe. It was going to be a longer day on the hill than normal but we thought it would challenge us both.
Now anyone who read our report of Ben Vorlich and Stuc a Chroin will know that Cameron was spotted looking a bit grumpy in one of the pictures. Cameron claimed that there were mitigating factors to this but was willing to let it go and would make an effort to smile on the summits today. On the whole he did a good job, it was minging for a bit around Carn Mairg and there was a suspision of a frown but he still managed to carry it off.
Early start for us and we made good progress up through Perth and the A9. We didn't even get caught in traffic over to Aberfeldy. First ones in the car park at Invervar at 8:15 and on our way for 8:30 working our way up the landrover track. We were going clockwise with Carn Gorm the first target.
Cameron smiles before the off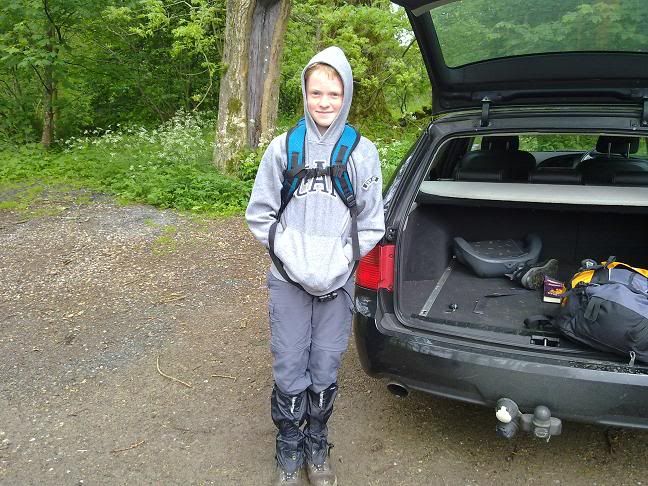 Someone else mentioned the tree that had fallen down over the track. It took a minute to work out how to get over but we were soon on our way again.
The path takes you up the side of the trees and you get your first view of Meall Luaidhe (not that we were going anywhere near that today).
The infamous bouncy bridge.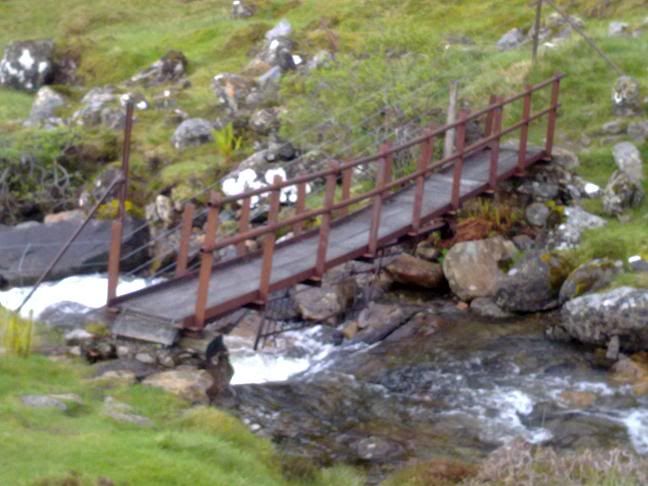 You don't see Carn Gorm (at least we couldn't because of the clouds) but we did get a few glimpses of An Sgorr (we had a decision to make later on)
Its quite a pull up to the first summit. There are a couple of demoralising false summits but at least you know that it is the hardest part of the day. The clouds closed in again as we made the top so we saw none of the views of the Lawers range that I had hoped for.
Cameron on Carn Gorm Summit - still smilling (although neither of us were on the way up)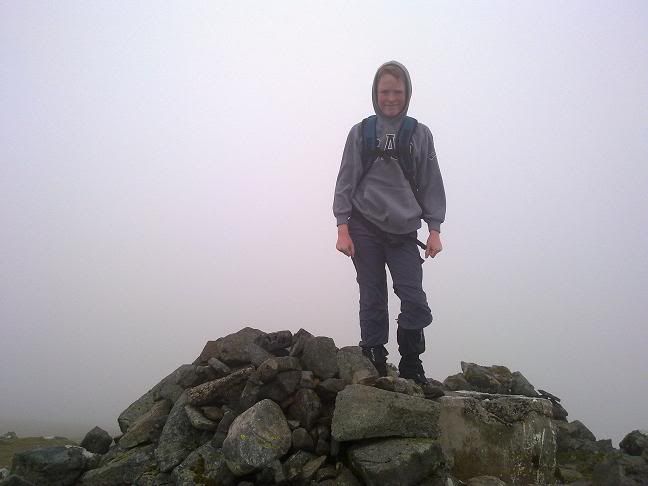 No hanging around we dropped off towards Meall Garbh when we came across the fork. The left hand one going around An Sgorr and the right hand one going straight up to the Top. Now, I was on strict orders from Mrs D to not push it too hard so I deligated the decision to Cameron. Cameron asked if we were planning to come up again anytime soon? As I responded negatively he told me that we were going up. Thats my boy!
Next up was Meall Garbh. I had to take a photo of the fence.
Meall Garbh Summit (still smiling)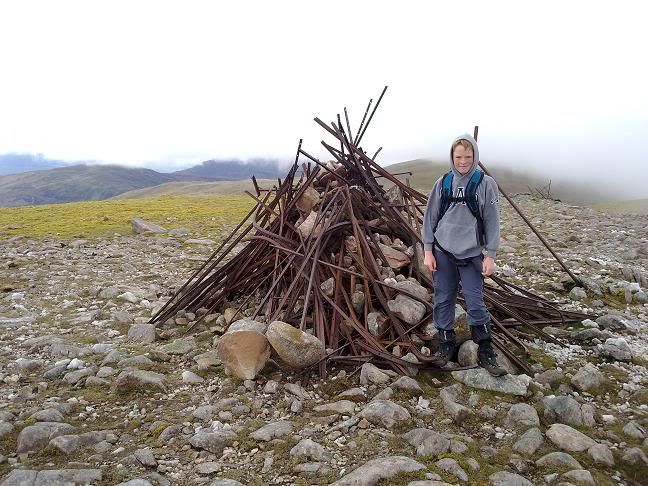 Generally the cloud was at about 900m all morning but it was really closing in now. We kept going along to Meall a'Bharr , and oher than the photo, we just carried straight through to Cairn Mairg.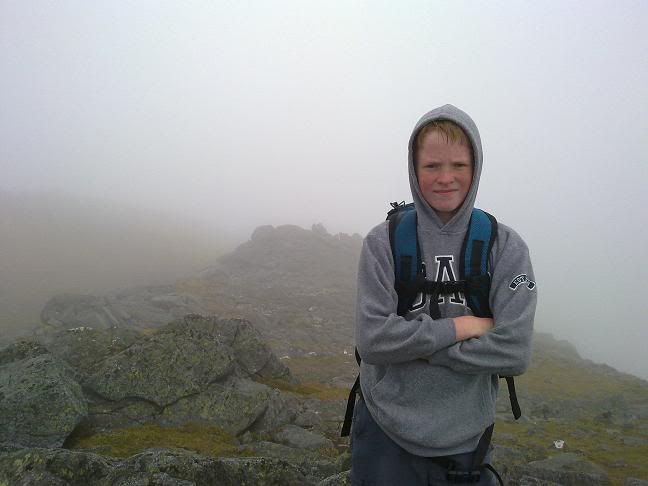 As we dropped down from Carn Mairg we had another one of those decisions. Meall Liath was tempting Cameron so he called the shots again and we found ourselves heading up for another Top.
We had lunch at Meall Liath before heading towards the final hill of the day. Meall na Aighean was actually relatively painless considering what had gone on before.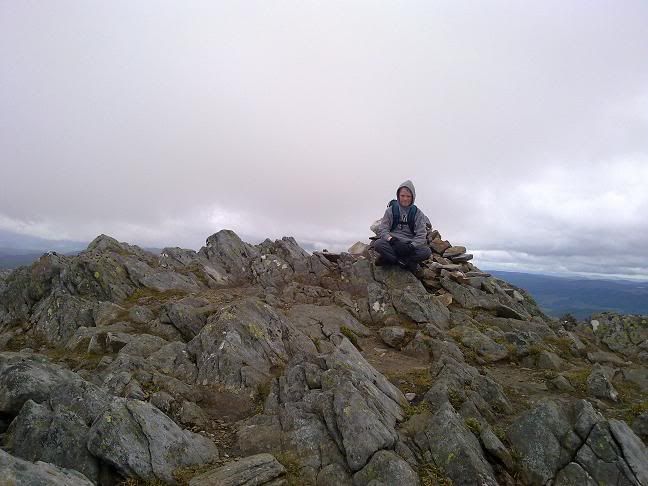 Things were starting to clear up so we managed to get a nice view of Carn Gorm as we were heading down back to the carpark.
It was a fantastic day, we managed the four munros and the extra tops (Cameron's wall chart includes the tops too). I'm very proud of him as he was calling the shots and we got a few smiles for the photos.