One of the many activities to do on Skye is sea-kayaking. On my previous visit in 2009, I had spent a day paddling with Skyak Adventures, a local, Skye-based outfitter. This was my first experience sea kayaking, and I found it to be very fun and different than my typical beat of whitewater boating. So for the 2011 vacation, I was in contact early with Gordon & Morag Brown who are the owners of Skyak. My agenda for this outing was to paddle from Skye to the mainland and bag a munro from the boat. They had recently been to St. Kilda filming for an upcoming instructional sea-kayaking DVD. Morag was to be my partner for this trip, and she has climbed all the Munros. She was a very keen hill-walker when she was stricken with the sea-kayaking bug, which delayed her completion of all the summits by some years. We launched from right in front of my cottage into Camuscross Bay: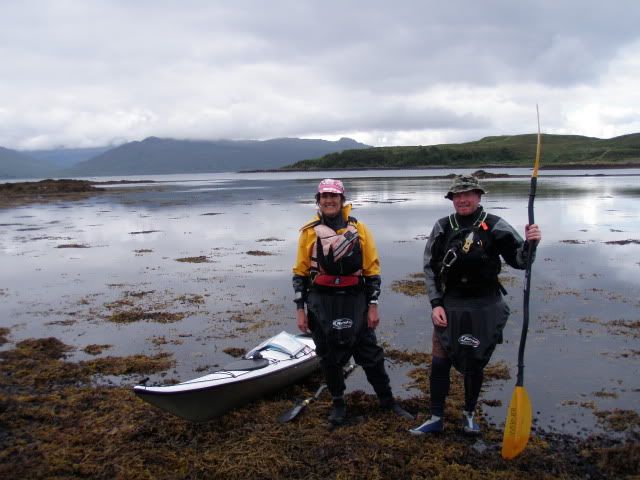 This is not at all a typical trip for a beginner. I was able to book this trip because I am an experienced paddler and fit. Just a few weeks before I was on Skye, the Mallaig Lifeboat had been summoned to retrieve a solo sea kayaker who had capsized, swam, and ultimately died of exposure to the cold waters. So do not attempt a trip like this unless you are a competent sea kayaker, prepared physically, mentally, and have partners who are capable of rescue in open water.
The forecast sounded good for the day, but the summit of Beinn Sgitheall evidently didn't get the memo:
Eilean Iarmain lighthouse and the hills of Kylerhea beyond:
Looking back at the Cuillins behind Sleat: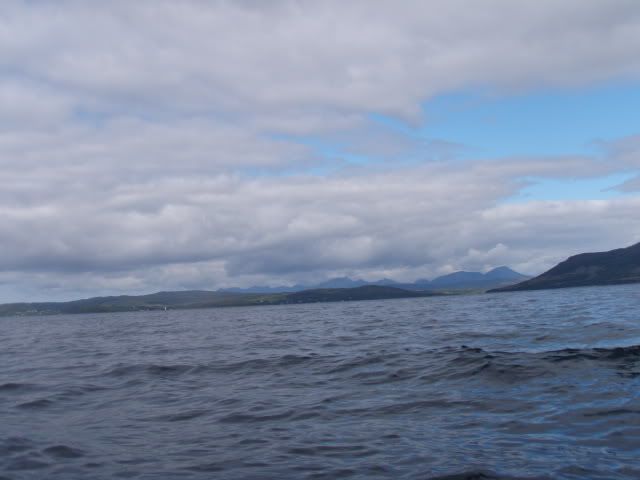 After crossing the Sound of Sleat and entering Loch Hourn, Beinn Sgithheall was lit up: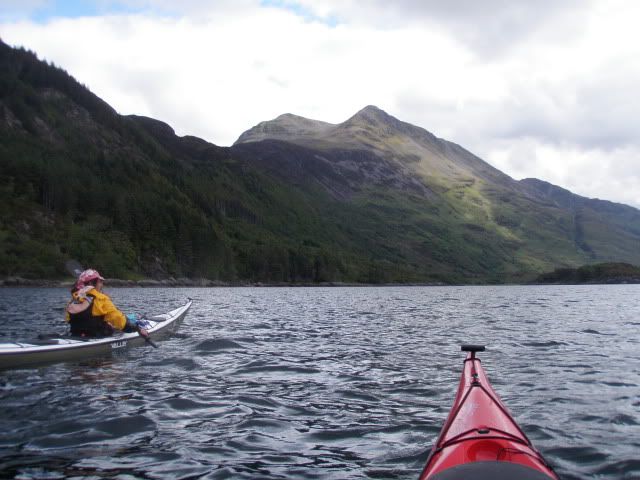 Morag in her office: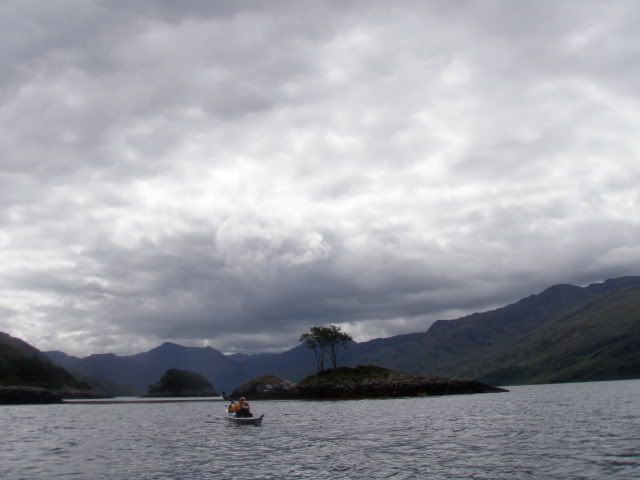 I was enjoying her office as well: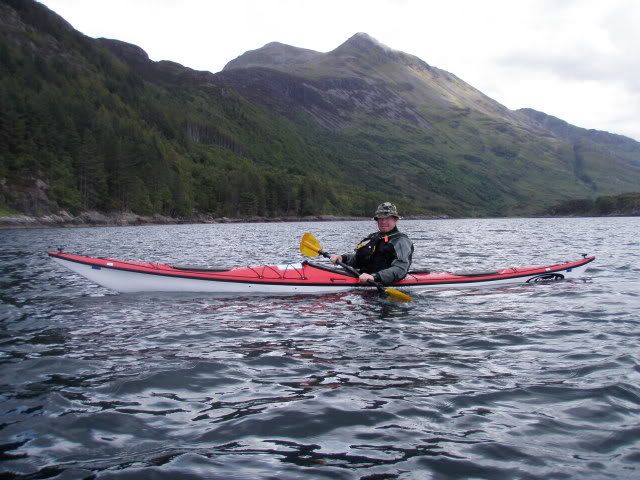 We landed the boats, and changed into walking attire. On the way up, with changing light, Loch Hourn looked tropical:
A fast moving storm from Skye caught us as we reached the main ridgeline: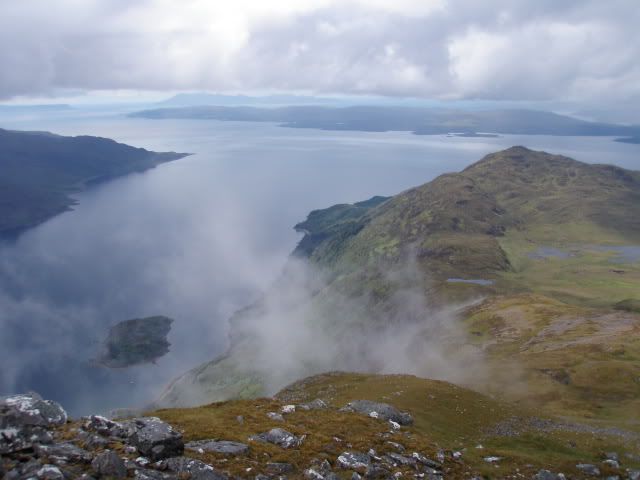 It looked like it might clear off as we neared the top:
But the top was clagged in, with some hail added for fun:
The views were sublime:
It was very cold on top, and we didn't linger. We set off for Arnisdale and the boats. About twenty minutes after leaving the top, the clag had lifted: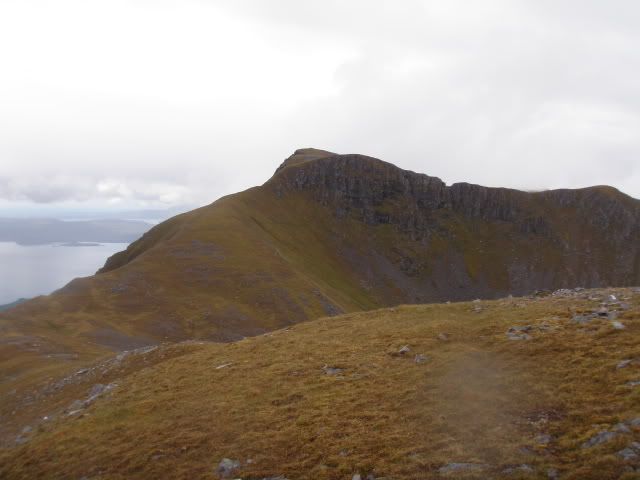 Boats at anchor in Arnisdale Harbour: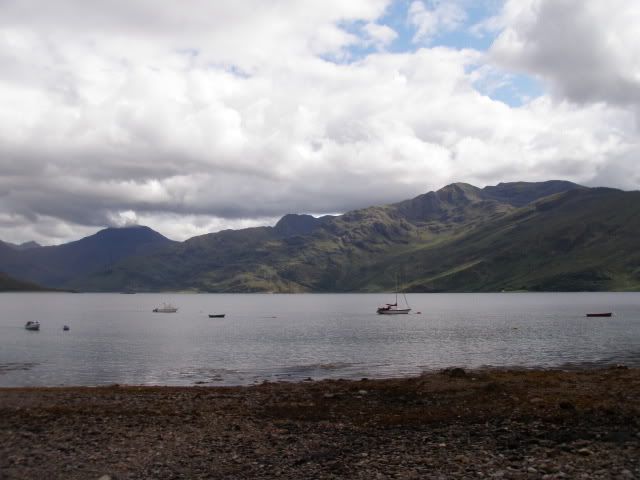 The return paddle looked promising: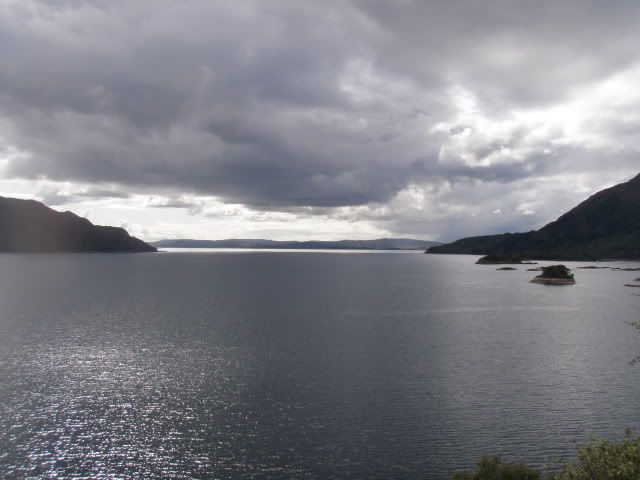 This was a light show I'll not soon forget: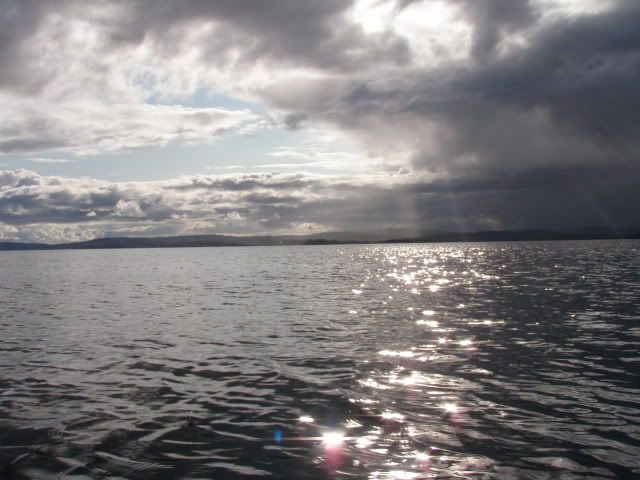 Stunning views were in all directions: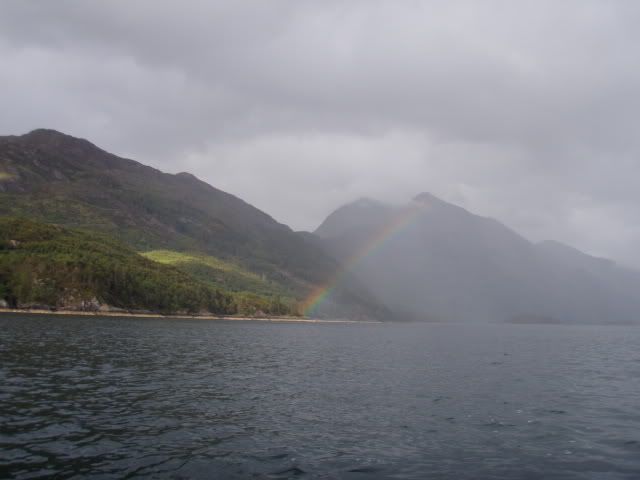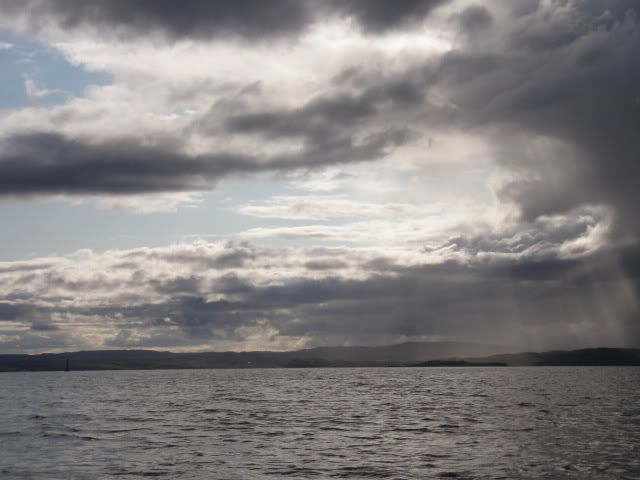 S towards Eigg:
Bla Bheinn and the Red Hills over Isle Ornsay: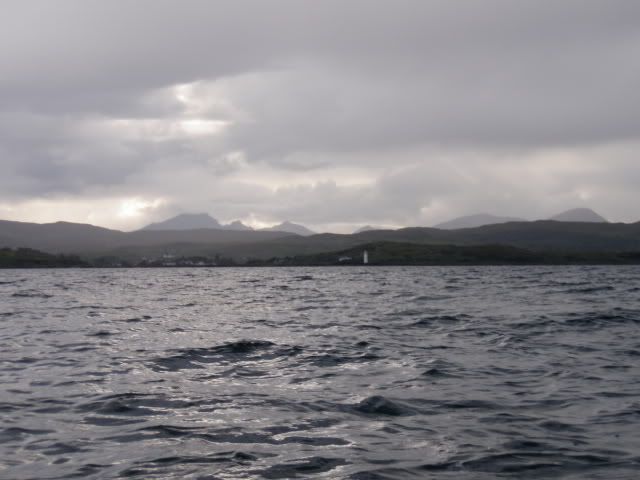 I've spent three weeks of my life on Skye near Eilaean Iarmain, and there is a small pub, the Praban, right near the water. This is a small working harbour, and over my visits I've witnessed fishermen and sailors come in to have a pint, right off their boats. Still wet from my trip, I too wanted to take my place among the boatmen: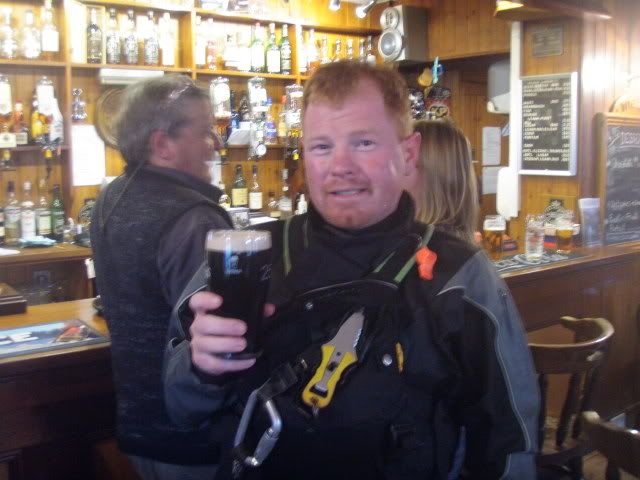 After many miles of paddling and walking, a refreshing drink. Beinn Sgitheall peeks over Ornsay: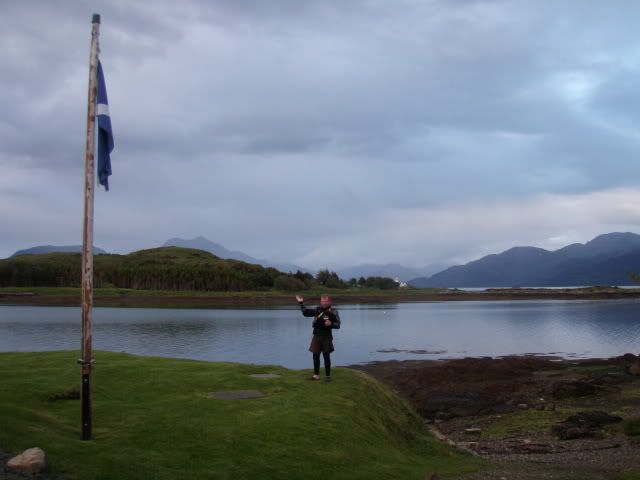 This was my 8th Munro and I was now 4 out of 8 with summit views. I had been spoiled in the Cairngorms with clear skies and four summits. Major clag awaited on Nevis & CMD, and on Skye the clouds rolled in twice just before I reached the top of Blaven now Beinn Sgritheall. I only had one more day on Skye, and a last chance to walk and get a view...