My first Munro and my first report, so please bear with me
Was dragged outta bed by my cat at 5am, so went downstairs to prepare the last bits and pieces to take along. Left home about 6.20am and made our way to Loch Lomond....for some strange and unknown reason Mr. B took a wrong turn somewhere and instead of turning around he went on, and it took us slightly longer to get there lol...Men
Anyway, it was overcast when we got there and slightly drizzling (that much for the forecast) but oh well...just after 8am we started our long climb up. The first bit was ok going up steadily and I thought to myself that if this keeps going like that, it'll be a piece of cake....oh how wrong I was lol
. We passed over the wide path and kept on climbing, finally reaching the first gate.
Shortly after we met a nice chap on his way down. He told us it only took him 1 1/2 hours to get up to the top....I was very impressed I have to say, no way I was going to make it anywhere near that lol. But upwards and onwards we went. By that time I had taken my rainjacket out as it was raining more heavly, but quickly took it off again as it was just too hot.
As expected I had to stop and catch my breath quiet often and the higher we went the more often I had to stop. Poor Mr. B, he could have just walked up without stopping and I kept holding him back. But bless him for stopping all the time. Didn't take many pics on the way up as it was very cloudy and you could only see a few yards ahead at times. People started to catch up with us and of course overtaking us. At some point we were overtaken by a dad with his wee kid.....couldn't believe it, was rather annoyed with myself lol. However they didn't make it to the top, weren't exactly dress for the occasion
. We also came across a couple of guys running down the mountain? What's up with that? It's challenging enough walking down lol.
Eventually, after being overtaken by lots of different nationalities and me asking myself 'why am I doing this?' we made it to the top. Oh and how stunning it was. The bit just before the last climb, where it falls down on both sides is absolutely stunning. We made our last scramble to the busy summit, sat down for a bit, took some pics and then decided to have lunch at the nice bit below. We reached the summit at noon!
Had a spot of lunch, eventho I was surprisingly not hungry at all, but nontheless had half a sandwich and a cereal bar. We filled up my camelback which I emptied on the way up (2liters) and just then the cloud started to lift and we had a lovely view over the Loch and all the islands....absolutely stunning, pictures do not do justice to it unfortunately. I could have stayed up there forever, but it was absolutely freezing. So did a little Munro-Strip and put on a fleece instead which was nice and dry (and Mr B's jacket).
1pm we started our decent. Was a bit of a scramble and I was really glad we had our sticks with us, they did give a bit of stability....well sorta, Mr. B took a wee tumble lol...was quiet funny, as I'm usually getting an earful for being the clumsy one
. After the first initial hard going bit we made it to the wider not so steep path and picked up speed a bit. My knees and feet, well actually everything below my hips started to get a bit sore. But what choice did I have but to push on. By then the clouds were gone and it became a nice sunny day. Getting to the gate I had to sit down a few minutes to adjust my toes
. The last third of the journey down was really hard I have to say, I was exhausted and starting to get cranky
.
All in all we had a good laugh on the way down tho, met loads and loads of people and dogs. I still can't believe how busy this mountain is.....astonishing really. And a shame that so many people just don't pick up their rubbish
.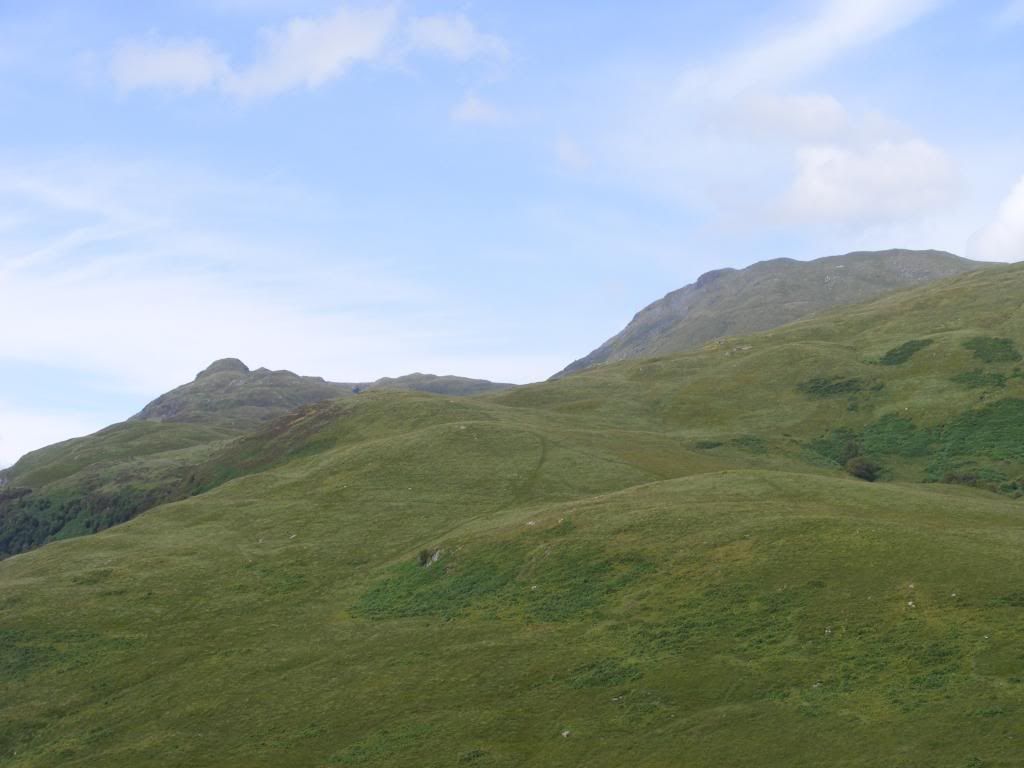 Well, made it to the carpark just after 3.30pm. How glad I was to sit down and get out of my boots. Talked Mr B into driving home as well so I could just sit barefoot in the car and moan about my feet for a while lol. Of course we hit the M8 in rushhour, but eventually made it home and after crawling up the stairs I could soak in the bath.
Pheew, this turned out more to a diary entry than a walk report, but I hope you enjoyed it a bit. I don't want to put anyone off going up Ben Lomond. I must add that I'm on the heavier side and therefore not as fit as I want to be (eventho the skinny person inside of me is slowly winning the fight). It is definetely worth climbing up to the summit, it's beautiful and peaceful. I absolutely loved it and once my knees stop hurting I will be back to my cheerful self hehehe