How did they ever manage to get cattle to go up there ?
Posted:
Wed Nov 09, 2011 7:00 pm
Hills: Bidean nam Bian, Stob Coire Sgreamhach
Date: Sunday 6 November 2011
Distance: 12km
Ascent: 1,400m
Attendees: me
It had been nearly 2 months since I last set foot on a hill
– various reasons with which I won't bore you but suffice to say I was rather keen to get back out. Didn't manage to set off as early as I'd hoped and pea soup fog from Paisley to Loch Lomond also served to slow me up. Only car in the car park just NE of Gearr Aonach in Glencoe and I started walking around sunrise.
Picked up the track from the car park which took me down over a wee bridge from where I could see the track winding its way up into Coire nan Lochan. Stob Coire nan Lochan clearly in the distance.
Followed the track up into the coire along the side of the stream. It's a constant incline which makes for straightforward walking but never really got steep. Views back to Am Bodach and the ridge.

Waterfalls on the way with the rising sun starting to light up Stob Coire nan Lochan.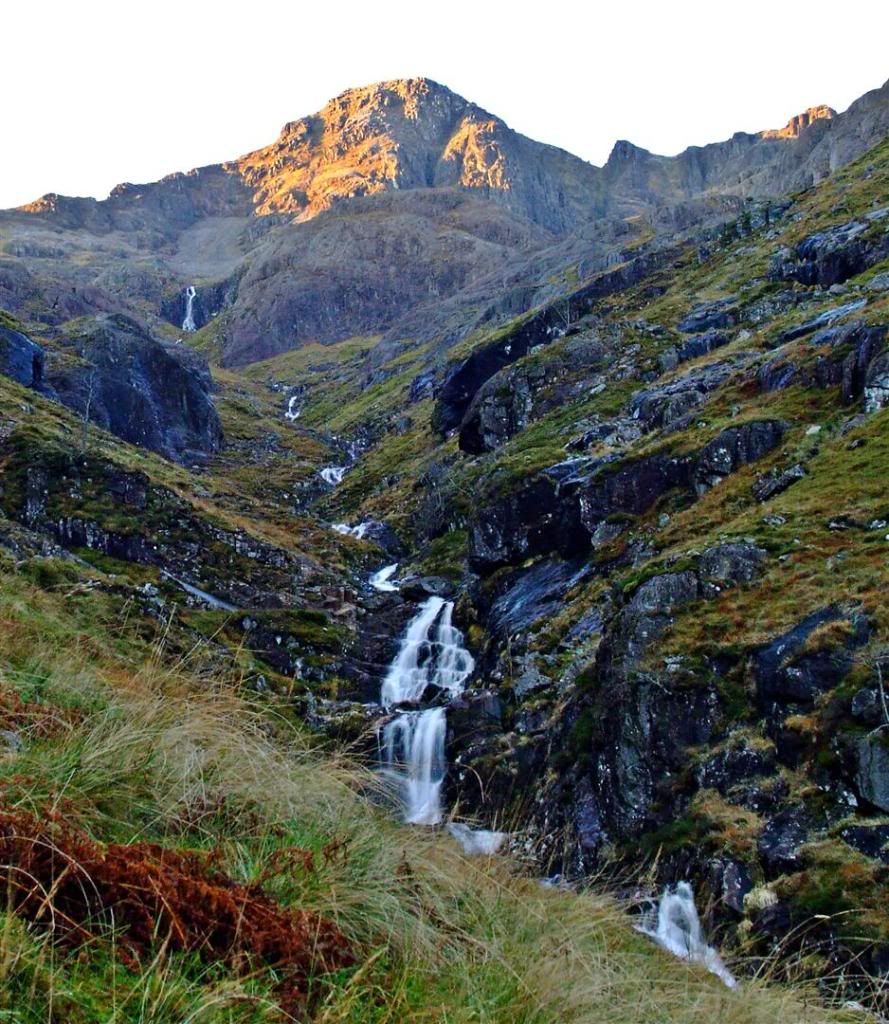 Sky getting lighter looking back to Glencoe.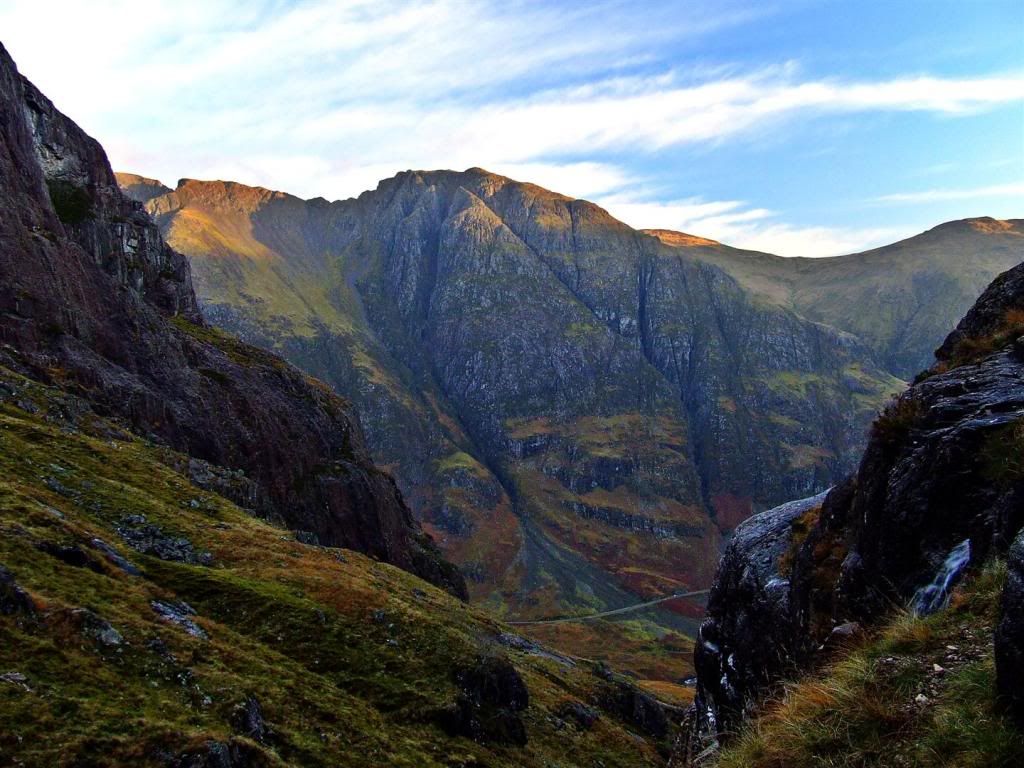 Some deer appeared on the other side of the stream but there wasn't enough light to get a decent photo. I continued walking until the track came to a junction with the stream at around NN155554.
I now had a choice of approach to Stob Coire nan Lochan – whether to head south then west and scramble up or go NW up on to its shoulder and then go south up to the top. I opted for the latter approach to get closer views of the crags and over to Ballachulish.
The mist was coming and going with the sun starting to light up the rocky crags leading up to Stob Coire nan Lochan.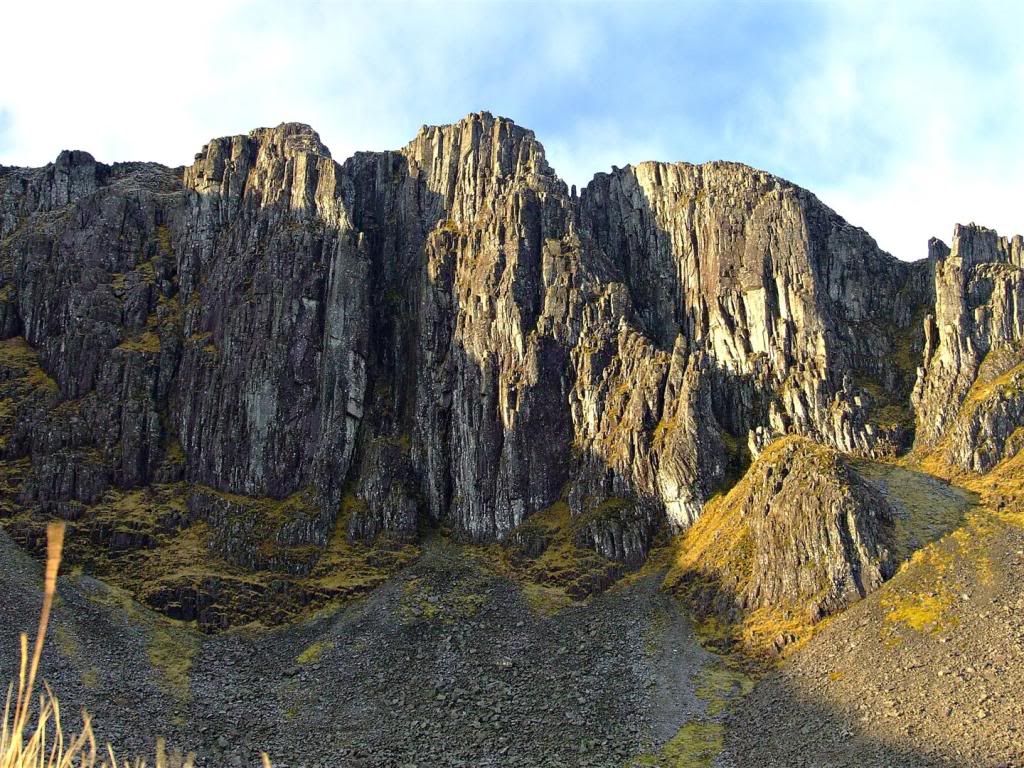 The views back to Glencoe.
As I walked further up the mist started swirling up the hillside – bit worried that it would get thicker but it didn't really come to much.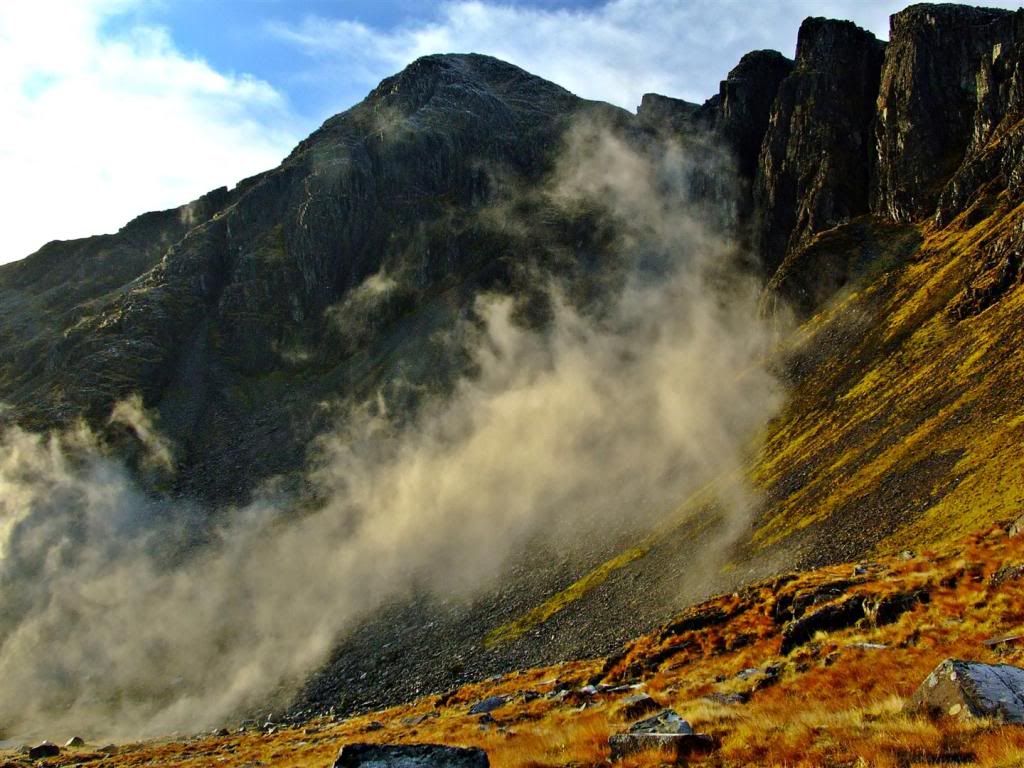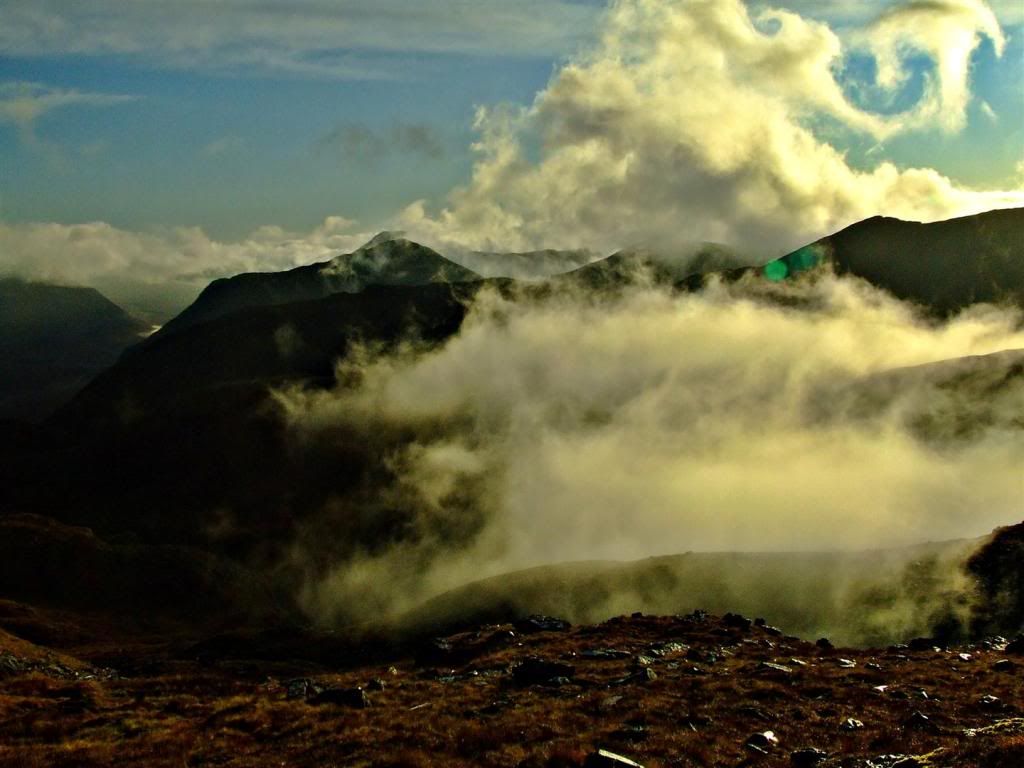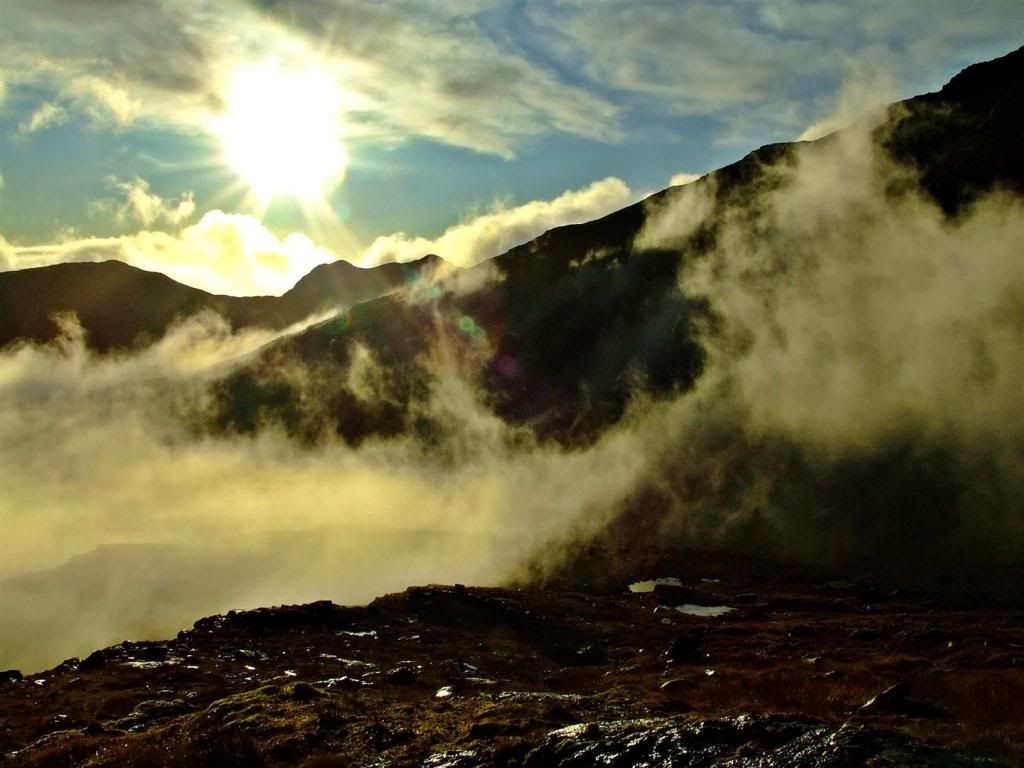 Got to the start of the shoulder and started the climb up Stob Coire nan Lochan.
View over to Beinn a'Bheithir.
And the Aonach Eagach ridge with Ben Nevis peeping through in the background.
From here to the top the ground was covered in rocks and boulders. Normally this would be a straightforward case of "rockhopping" but, being out of the sun, they were covered in frost and very slippy. Took it carefully.
Got to a sheer drop and had to double back a bit to avoid it.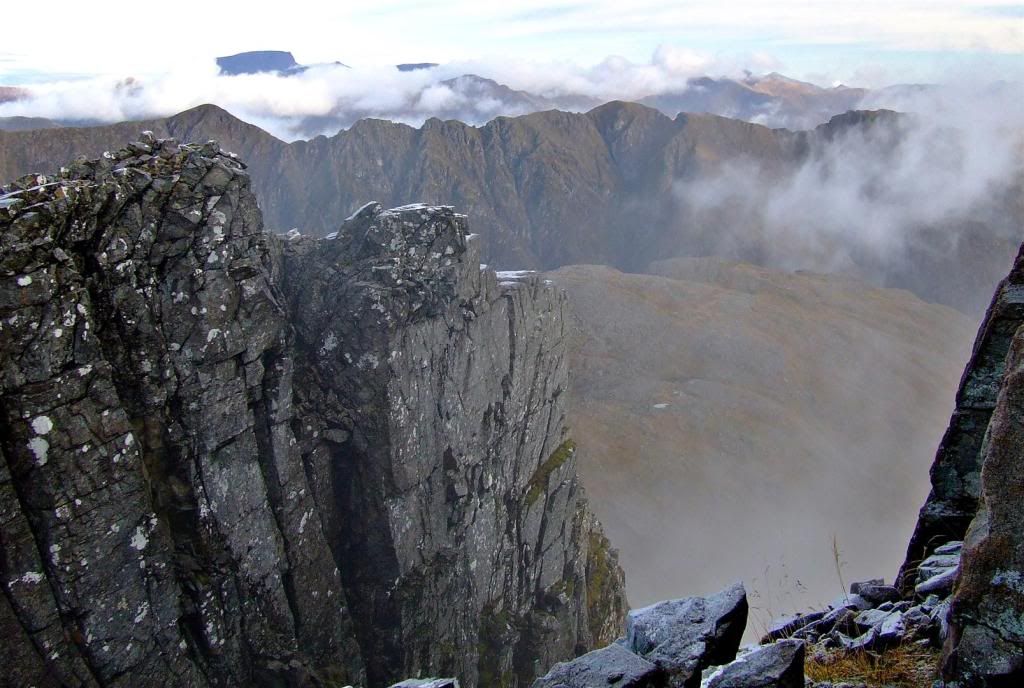 View over to Loch Leven.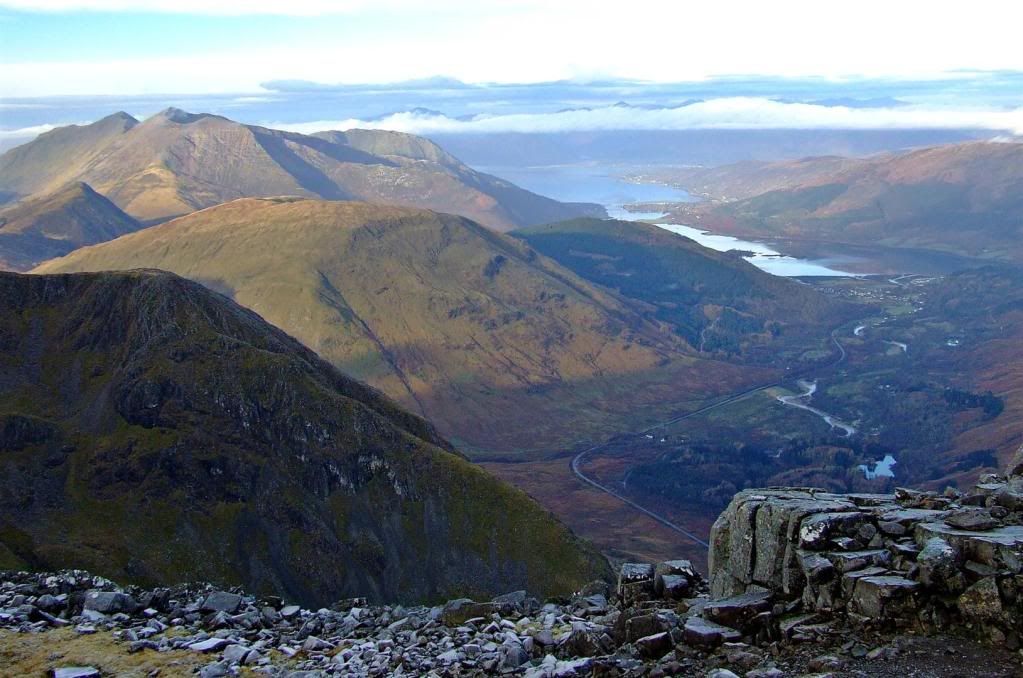 Back down over the lochans to Gearr Aonoach.
Arriving at the top of Stob Coire nan Lochan, Ben Nevis was clearing in the distance.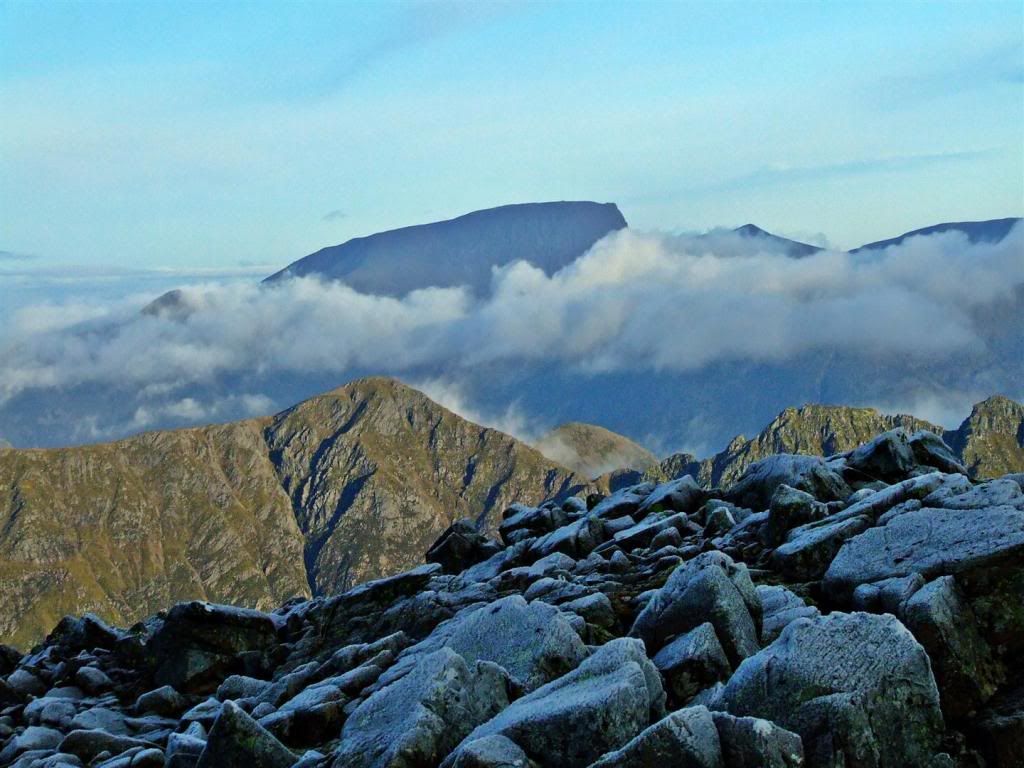 I now had a clear view of the rest of the way up to Bidean nam Bian. It reminded me a bit of the ridge from Meall a'Bhuiridh to Clach Leathad en route to Creise – initially looks rather daunting but, once on it, it's actually quite straightforward.
Got to the top of Bidean nam Bian.
View back the way I'd come.
On towards Stob Coire Sgreamhach
Over to Loch Creran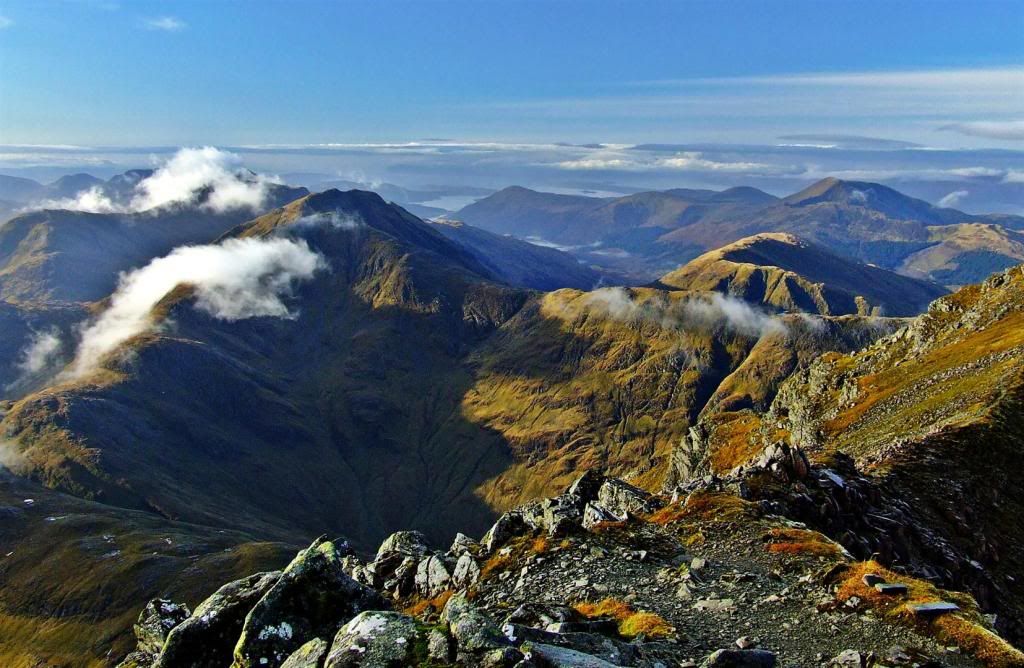 Down to Loch Etive
Ben Nevis
And the Herdsmen of Etive beyond Beinn Fhada
I spent a fair bit of time up there but eventually had to move off SE towards Stob Coire Sgreamhach
This was easy enough and I was shortly down low enough to get a good view of the lost valley.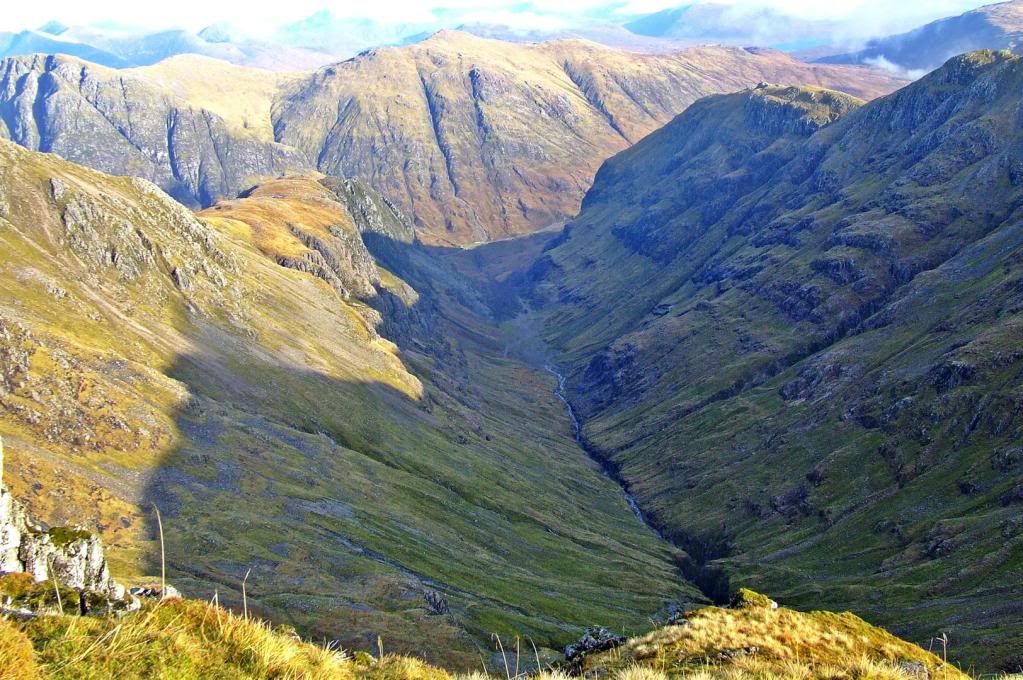 I could also now see the start of the red scree decent track to the left below the route up to Stob Coire Sgreamhach.
Straightforward walk up to the summit – a bit rocky in places and with some scree but didn't find it difficult. Met a couple of walkers on their way down.
Didn't take long to get to the top.
Back to Bidean nam Bian and Stob Coire nan Lochan.
Down loch Etive to Ben Cruachan with Ben Starav on the far left.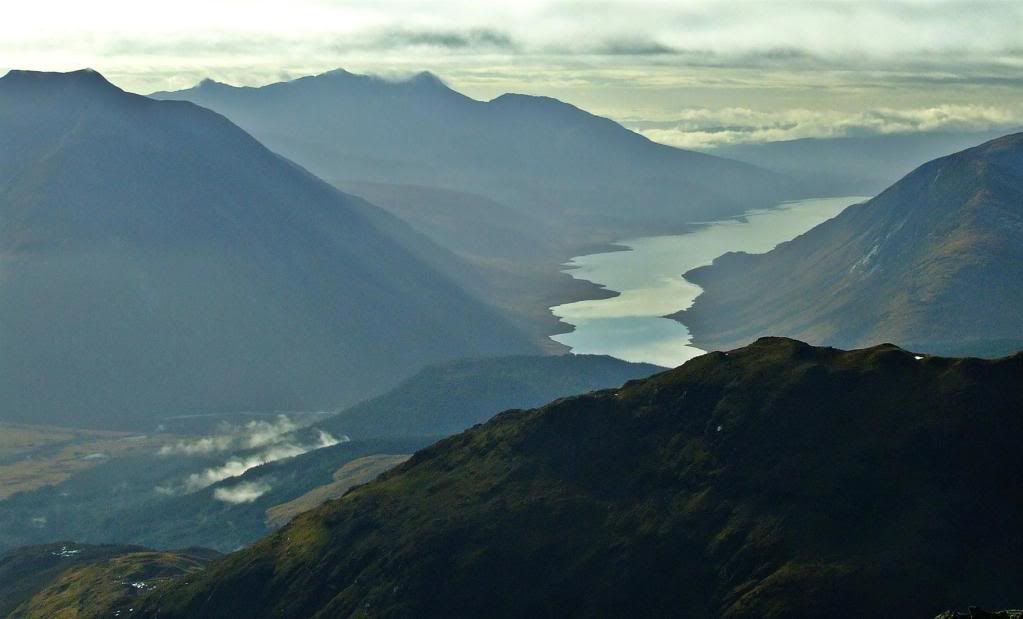 Beinn a'Bheithir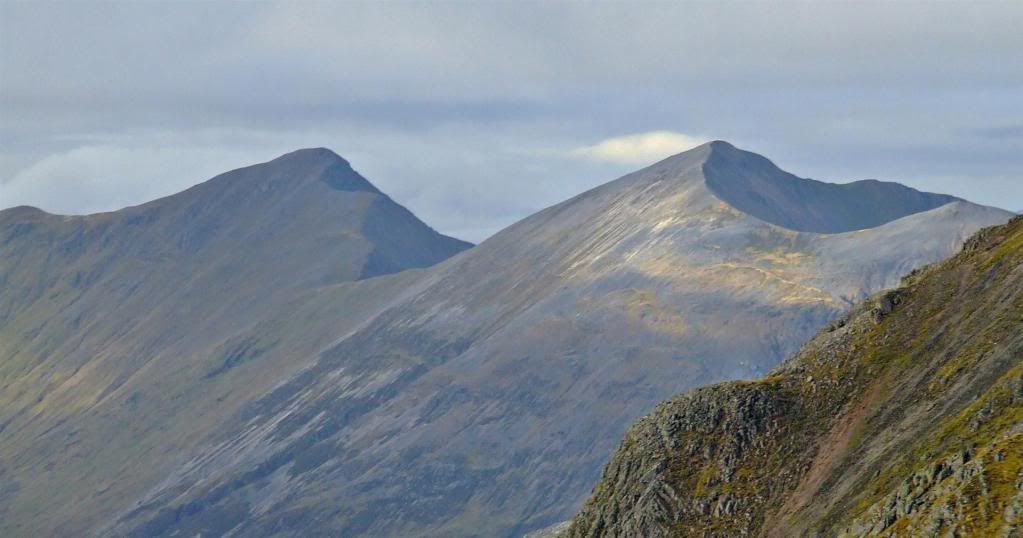 The Herdsmen getting closer.

Wee panorama of Glen Etive.
Northwards to Glencoe.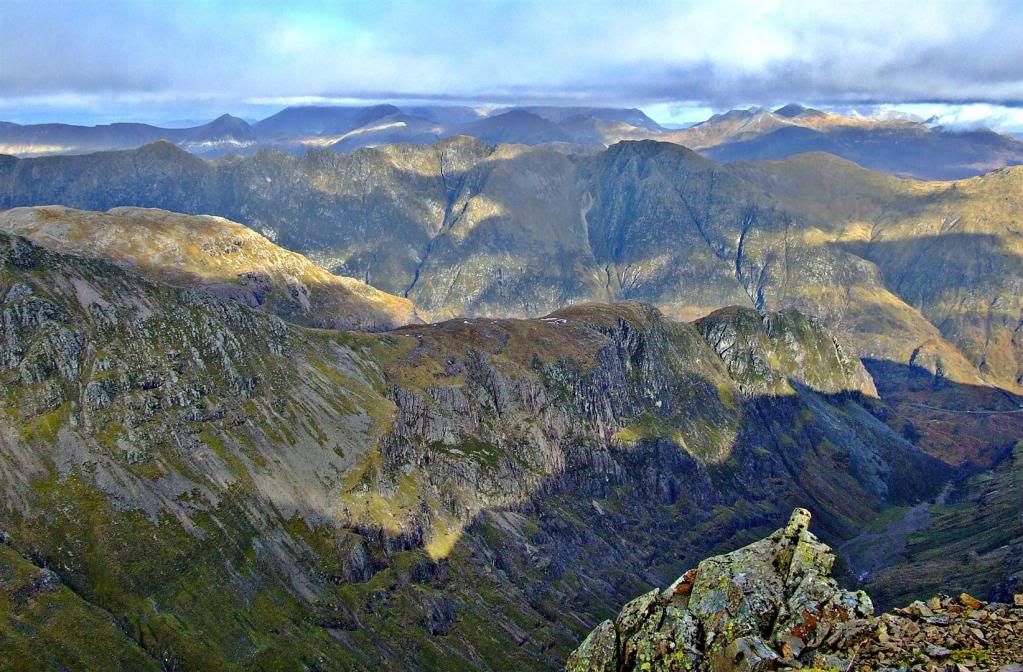 Just can't get enough of Glen Etive.
After spending quite a bit of time just looking at the views, somewhat reluctantly I headed back down Bealach Dearg and the top of the red scree descent. I had previously been thinking about walking NE along the top of Beinn Fhada and then finding a way to drop down into Coire Gabhail. However, the sides looked very steep and, given that they were hidden from the sun, I suspect likely to be very slippy.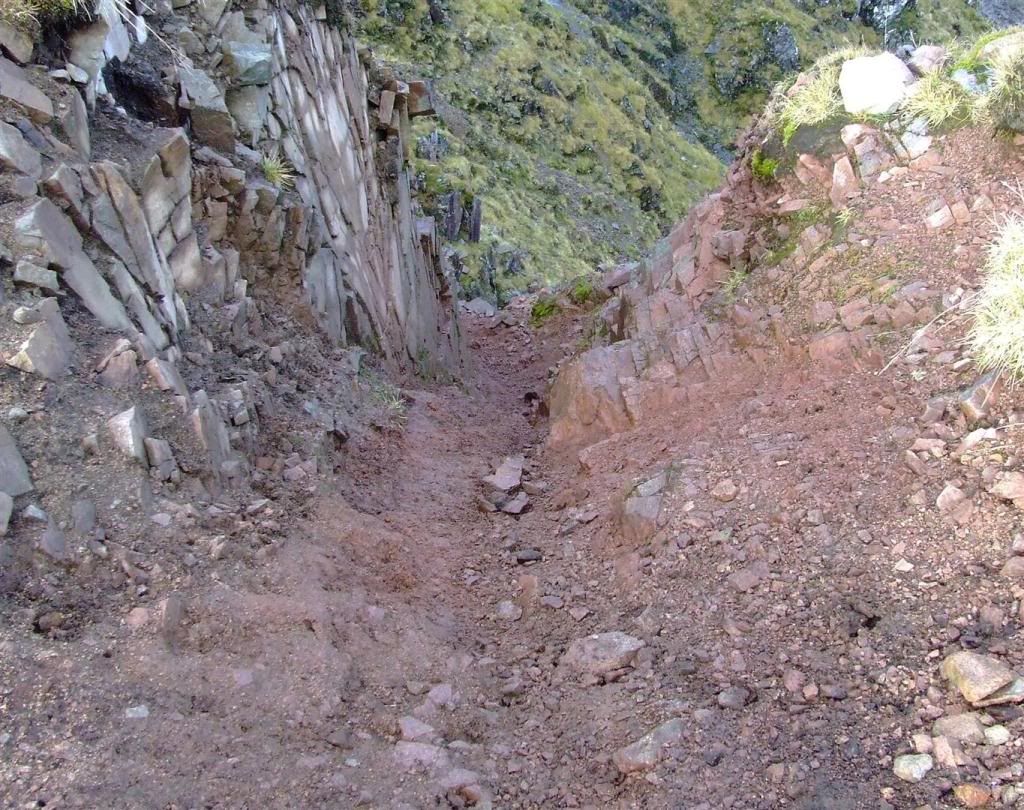 The descent route is initially steep but then less so lower down. There were also some steps cut into the rocks in some places. With rocks on one or both sides I was able to get a lot of handholds initially and it turned out to be a lot easier than I thought.
Further down there's a winding track in places before getting down to the valley floor – met and spoke with quite a few walkers on their way up. I then got towards the end of the coire and the large rocks which are littered about.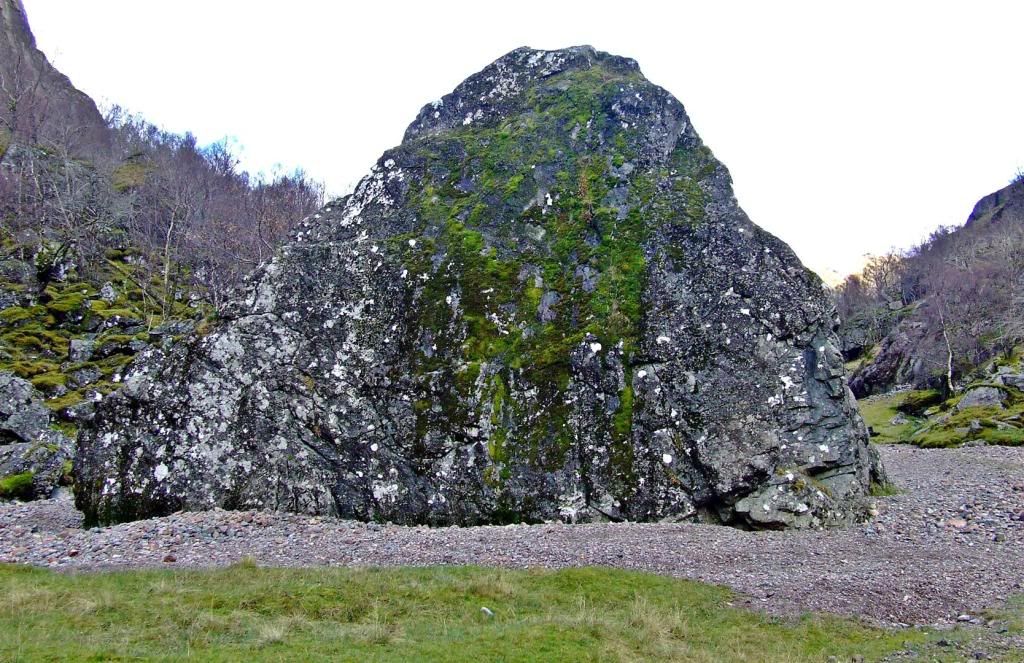 Looking back up I could see the cloud starting to roll in and was glad that I'd set off earlier.
I now had to exit the lost valley – knew there was a path somewhere but couldn't find it. Met another walker who was now also going back as he'd started later but decided not to go on as the cloud was coming in. We made our way down over the large boulders which block the start of the valley and had to cross the stream. This was probably the hardest part of the day oddly enough as the boulders were wet and covered in extremely slippery moss with large gaps among them. Probably a lot easier if we could've found the path.
Thus I exited the lost valley and walked back to the car park. Assuming these boulders and rocks have been around for centuries, I really do not understand how our ancestors could have driven cattle up into the lost valley - but guess they must have somehow.
Back to the car, got changed and drove back to Glasgow by mid afternoon. This walk was somewhat shorter than many of my recent walks which probably made it all the more enjoyable – no time pressures and lots of stops for photos, looking at the views, contemplating life etc. Really must do this again.