I am reliably informed by Kev that Queen Victoria bagged a total of 9 Munros in her time. She was however impure, assisted as she was by pony and trap. Kev and I on the other hand are (well we were anyway) exponents of the pure art of the long walk in and back out. Purity is a fine ideal but one that often has to be hard earned. Is it any wonder that impure thoughts were crowding our frazzled brains and our crippled frames by the end?
I suspect Confucius never did any bagging, let alone any overnight bothy trips, but he probably did have a thing or two to say about walking. I am (rather less reliably, it has to be said) informed that the following words of wisdom can be attributed to him: "Man who walk in front of car get tired, man who walk behind car get exhausted". Now, I don't know what he would have had to say about "Man who leave car at Dalwhinnie and walk 55km and do over 2000 metres of ascent in 24 hours carrying big overnight pack" but I suspect it would be something along the lines of "Man who do this be very silly!" Kev and I say "Man who do this end up wheelchair case, especially silly man who not go home after but do more walk next day".
If you have read Kev's report on this outing then you will have gotten the gist already – a classic, but one which extracted its pound of flesh from us in the process. Most of it from the soles of our feet, which were pretty much ground-down stumps by the time we got back to our cars at Dalwhinnie. But heh, we're purists, you know? What can you do? One sometimes has to suffer for one's art!
Joking aside, I have no issue with people cycling in where the route allows it. Their achievements are in no way diminished by so doing, ours in no way more worthy of merit. I just prefer walking the whole way, even if it means I cover less ground and suffer that little bit more by the end.
Anyway, to the walk itself. We met up at the level crossing at Dalwhinnie on Friday night, Kev having already headed north on Friday morning to visit family in the north east and pop up the Graham Creag Ruadh (next to the Munro Meall Cuaich) en route. A tiddler really, and a wise choice in hindsight, given what we were about to undertake.
We left Dalwhinnie at 6.10pm and arrived at Culra some 3 hours of purity later, having walked through the dark but in the process having shed some little light on some of the great mysteries of life and the cosmos.
The place was deserted – as we had expected given the lack of cars in the parking area – and we bagged the little room front left. A group of 5 or 6 impurists did turn up around 10 o'clock and bagged the big room out the back, but that was it and we were the only people who sailed on the good ship Culra that night. We cracked open the two bottles of Loch Fyne ale that Kev had carted in and he got his chilli con carne on the go (how that would come back to haunt him the next day, and me too when I got downwind of him). Having already had my dinner courtesy of a stop off at the Plaice to Be in Pitlochry, I set about getting a fire going – just a small one to take the chill off and provide some additional light. It wasn't that cold and we hadn't carried in much fuel, and what was there already looked pretty damp, so it was not quite the epic fire of Duinish Bothy last November, which gave off sufficient heat to be detectable by heat seeking radar on aircraft flying at 30,000ft!
Now, I dunno if a previous resident has become lodged in the chimney or what, but most of the smoke ended up swirling back into the room. It might be prudent to carry in breathing apparatus and a carbon monoxide detector if planning on firing up in there. This might be easier to do if you are impure. Maybe these impurists have got it sussed right enough!
Two cans of my cooking lager later and the lights were out, we were tucked up in our bags and the fire died. And we nearly did too from carbon monoxide poisoning.
Anyway, we survived and were conscious enough to hear the 5.30 alarm. After quickly packing up, having breakfast and refilling water bottles from the river, we were off up Carn Dearg by 6.25 carrying only a map, compass and cameras.
Even without packs on it was a steep old haul but almost immediately the views opened up as the pale grey watery light of a November day began to spread across the land, revealing Lochs Pattack and Ericht, the Lancet Edge of Sgor Iutharn, and our primary objectives for the day ahead – Ben Alder and Beinn Bheoil. As we got higher, more distant peaks to the south popped up including Schiehallion, the only Munro to be visible from other continents.
Our timing was perfect, arriving at the Carn Dearg summit just in time to see the sun burst over the horizon to the east.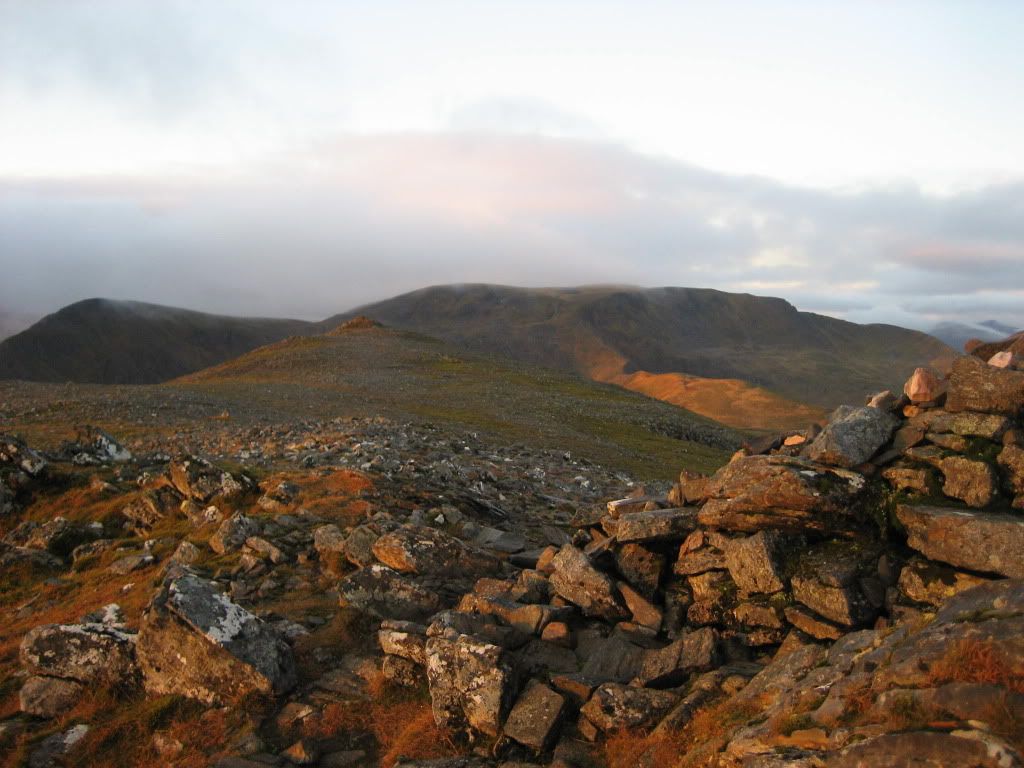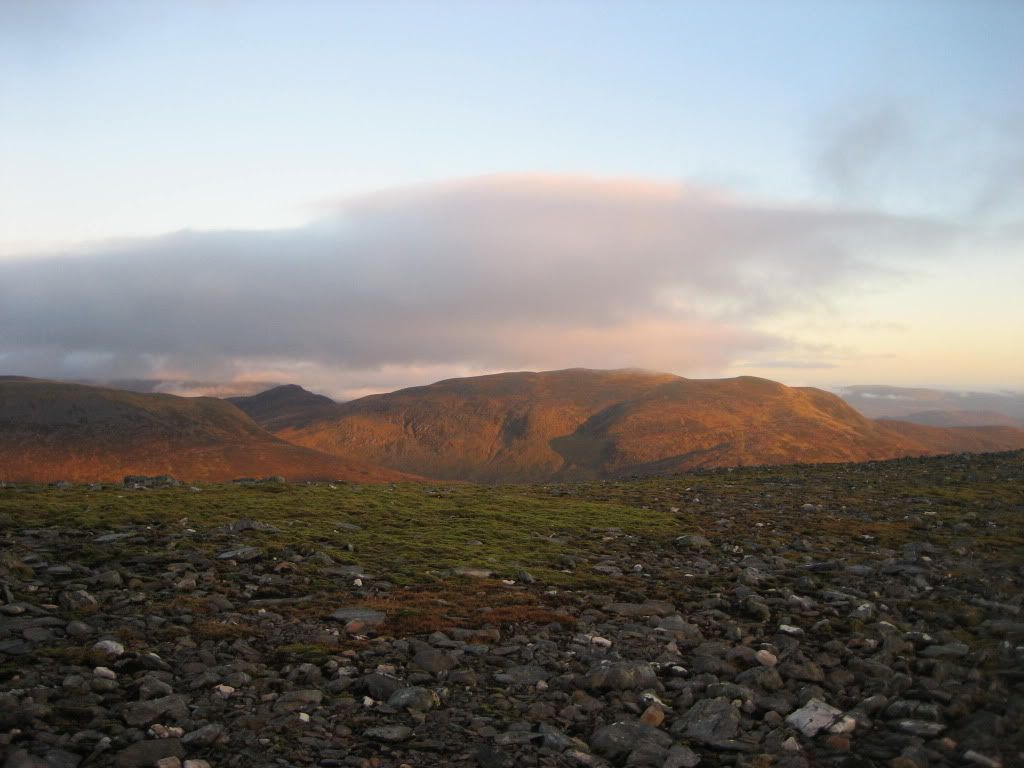 We headed the short distance further south west towards Diollaid a' Chairn which afforded views down into the bealach cradling Loch an Sgor, backed by the stunning Lancet Edge. Kev suggested we make a dash for Geal Charn. Tempting. It wasn't far at all and we were travelling light. But then Aonach Beag would be in our sights and where would it end? It would scupper our chances of doing Alder and Bheoil today and leave us potentially looking at a very shortened day. Maybe in hindsight ………
We dropped back down to Culra to collect our packs. 9am and we were heading back to the bridge and over onto the stalker's path heading for the foot of the Long Leachas Ridge.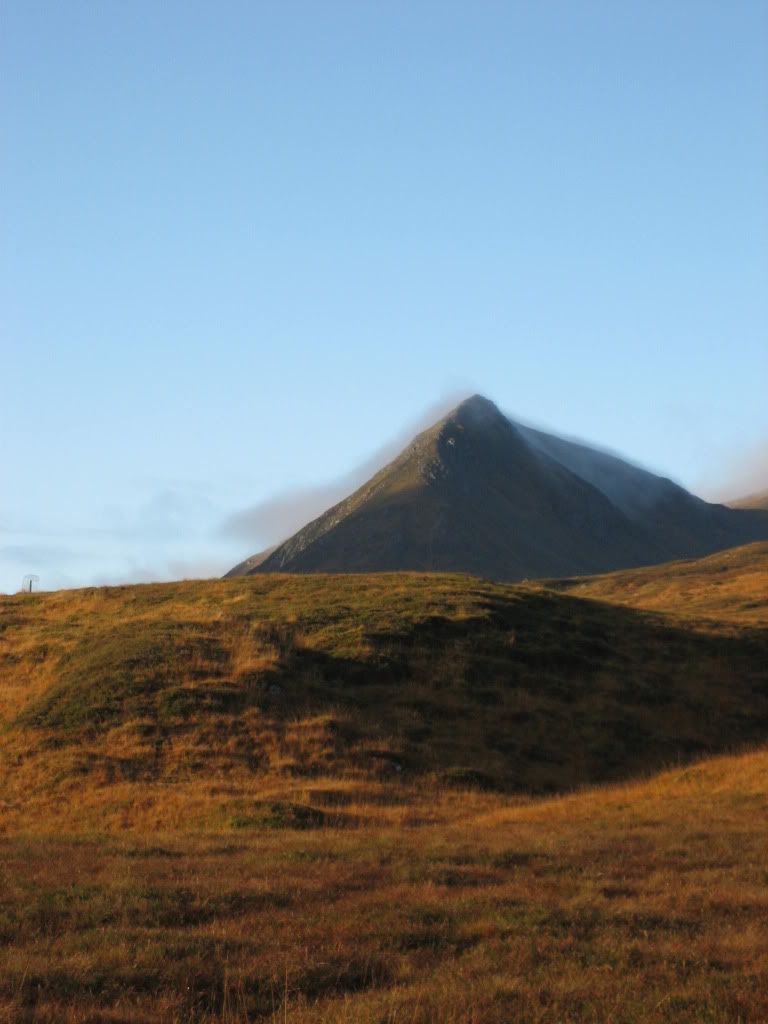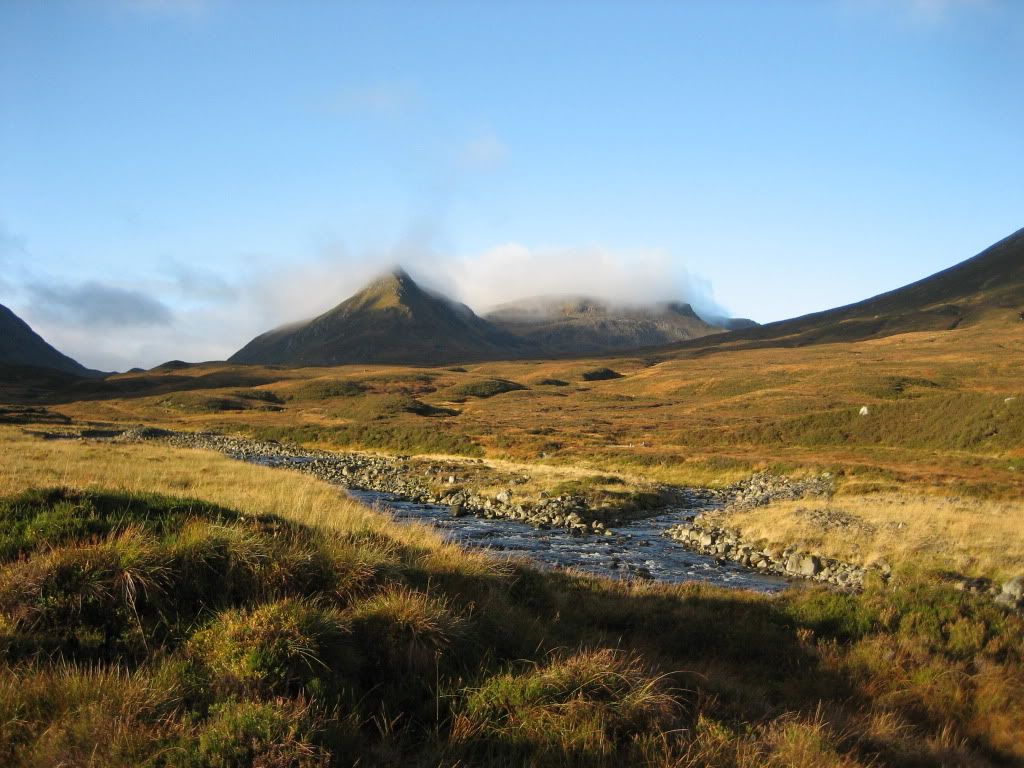 A bogfest and a botched river crossing later and we were on the ridge. It takes a bit of time to fully open up, but once it does, it is a fantastic airy scramble up onto the vast Alder plateau for the gradual pull up to the summit trig point and big shelter cairn.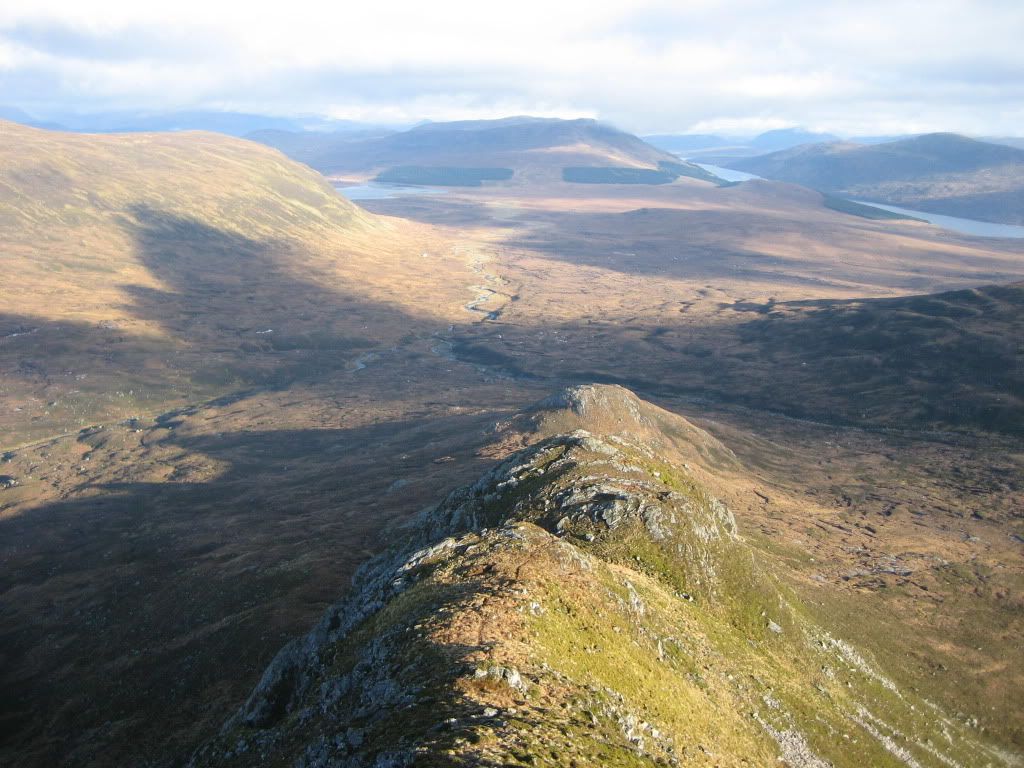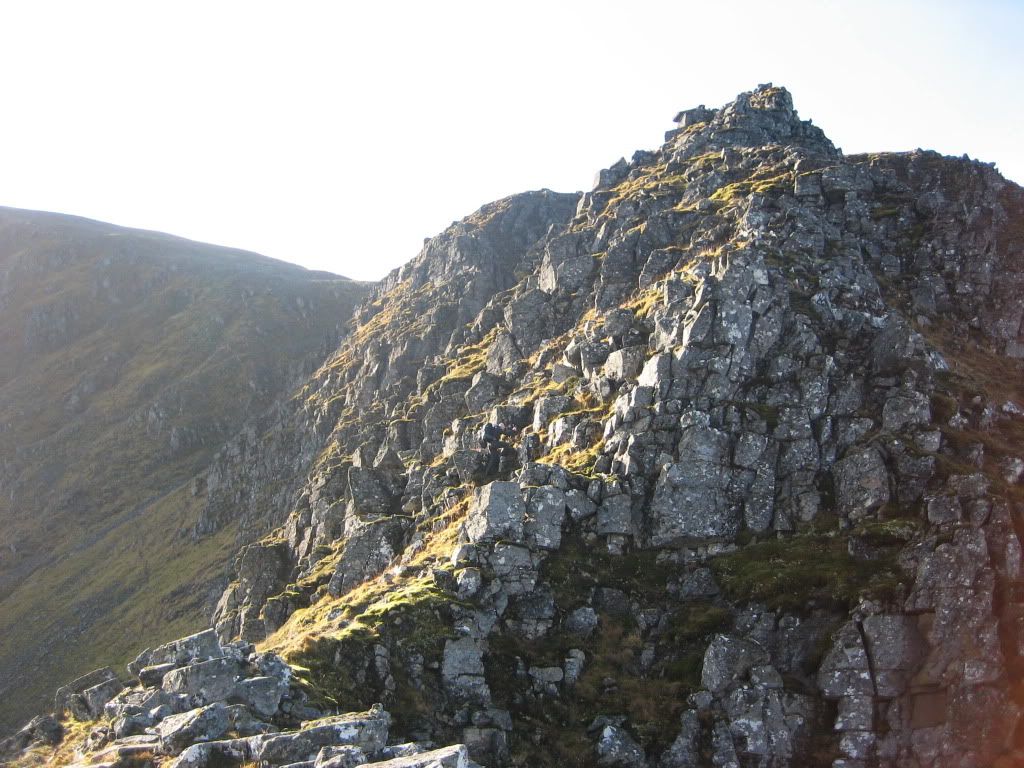 We met a family and their two collies at the summit of Alder and compared our routes in. They were purists too, having walked in the previous evening from Bridge of Ericht to Ben Alder Bothy. As we sat amongst the stones of the shelter cairn having a bite of lunch, the impure but seriously nice-guy Iain Watson turned up from the direction of the Leachas Ridges and promptly collapsed before us. Despite the use of two wheels to reach Culra, he was clearly knackered. He soon revived sufficiently though to join us for the walk round to Beinn Bheoil.
The weather threatened to close in on us but never really did, the fat end of Loch Ericht came and went through the swirling mist, we descended on eroded ground to the bealach beyond the southern end of Loch a' Bhealaich Bheithe and climbed up towards Sron Coire nah-Iolaire, a magnificent rainbow framed our ascent of Beinn Bheoil and Kev and I got a good close up across Loch Ericht of the Corbett Stob An Aonaich Mhor which had evaded our grasp on the Duinish trip. One day. One sweet day.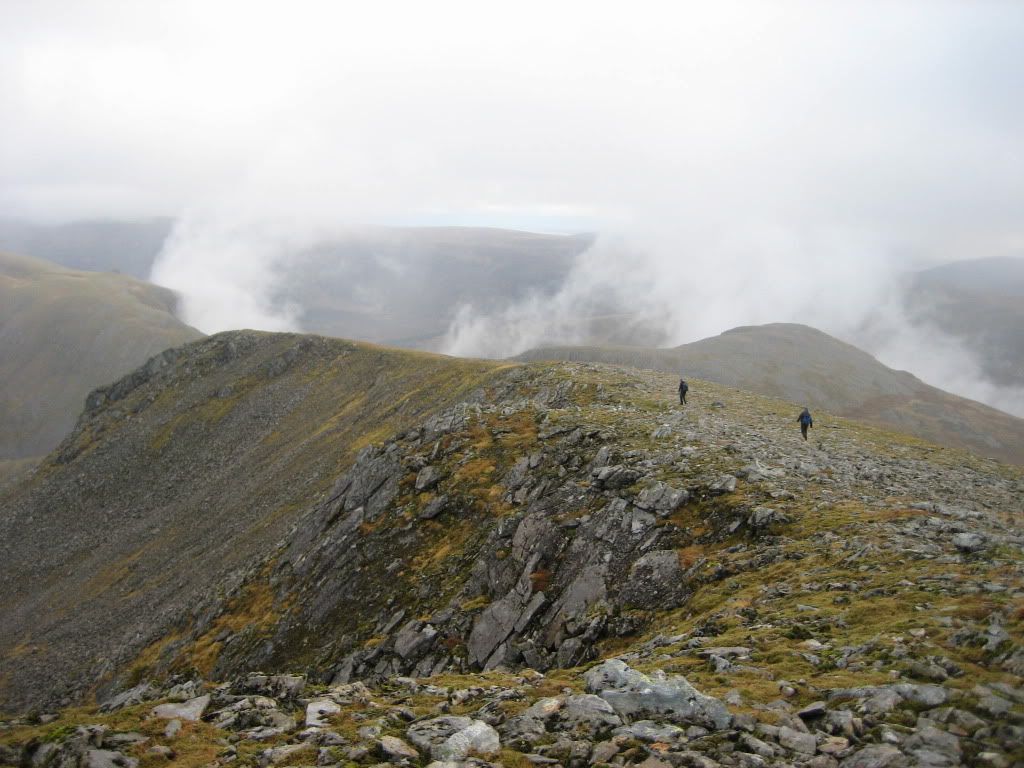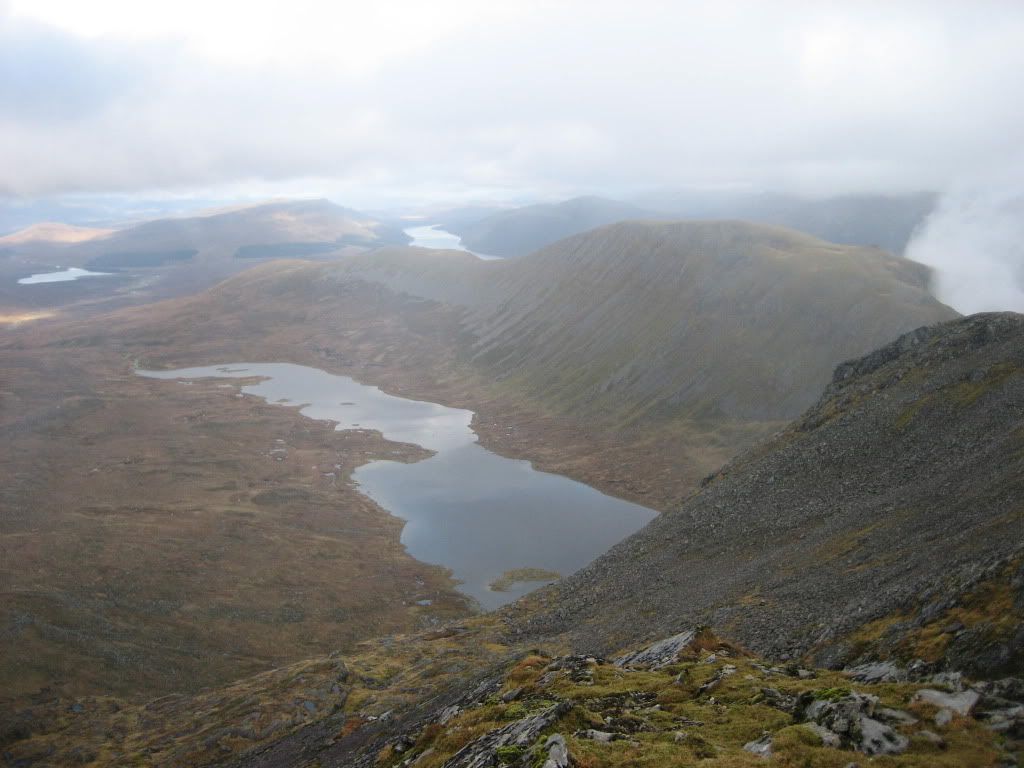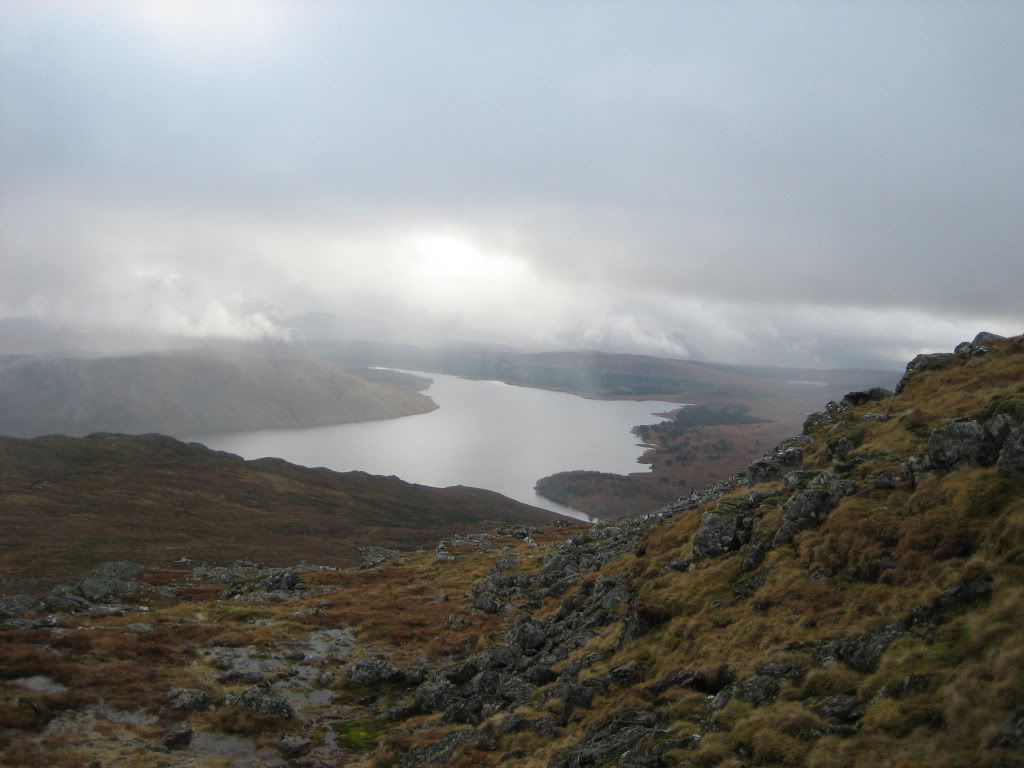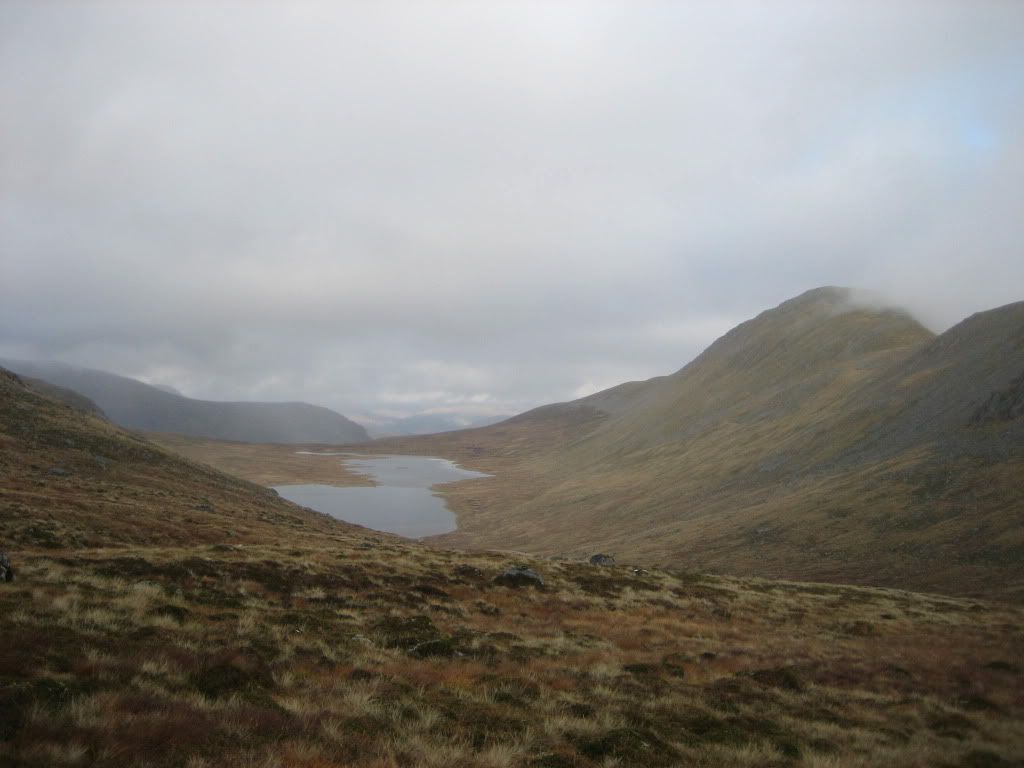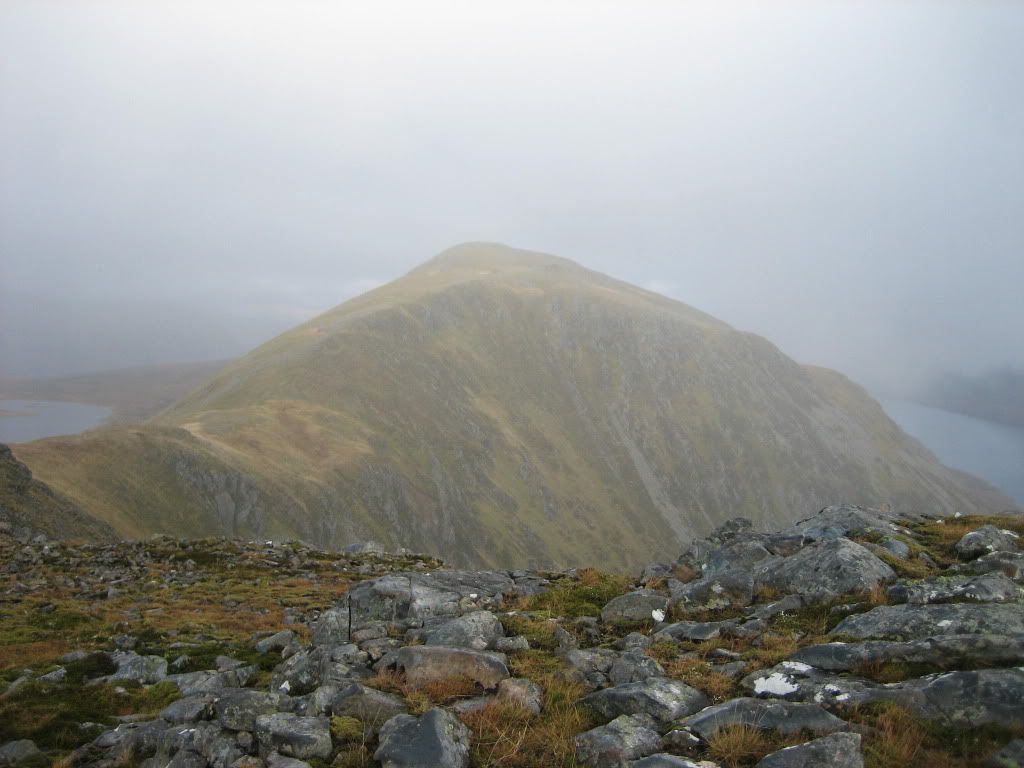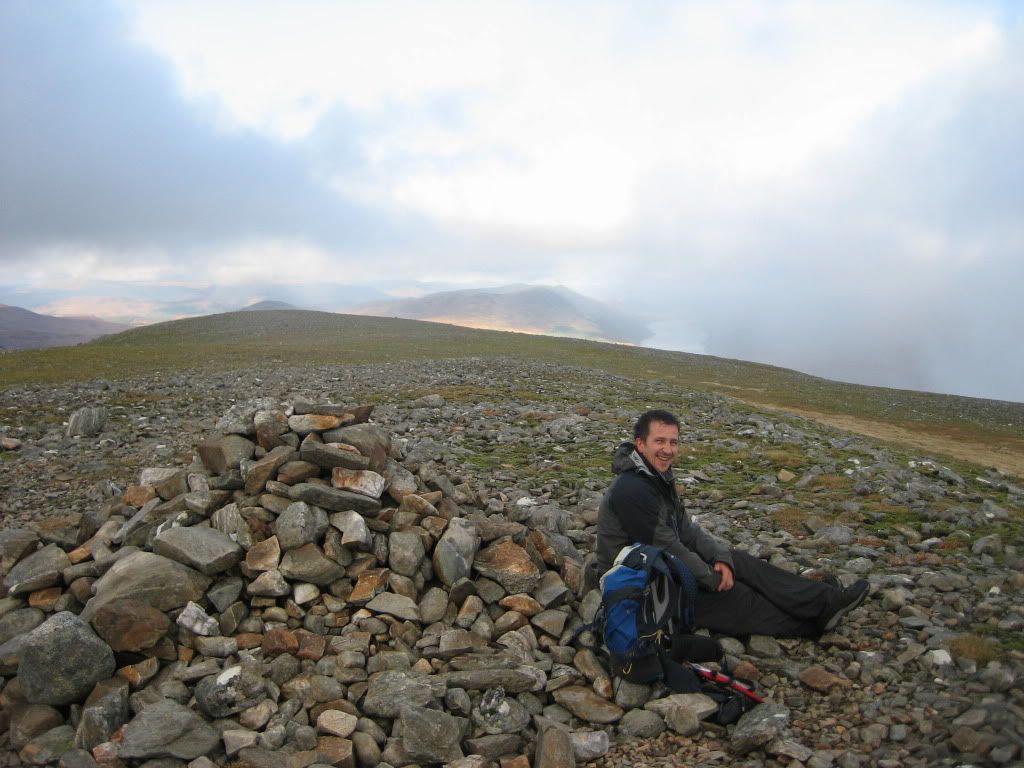 Kev and I left Iain at the summit and headed off back towards the stalkers track, but the hare soon passed the tortoises and that was the last we saw of him. There appeared to be some sort of impurist convention taking place in Culra tonight, judging by the human and bicycle exodus heading that way.
As our will to live faded, so did our conversation. It was sporadic, delivered in short sharp bursts, then nothing for a while, only the sounds of our increasingly laboured and painful movement. Stopping was inadvisable, each time requiring a greater physical and mental effort to get back into any sort of stride. Teeth were gritted and just like the sky above us, what now passed for humour became blacker by the minute.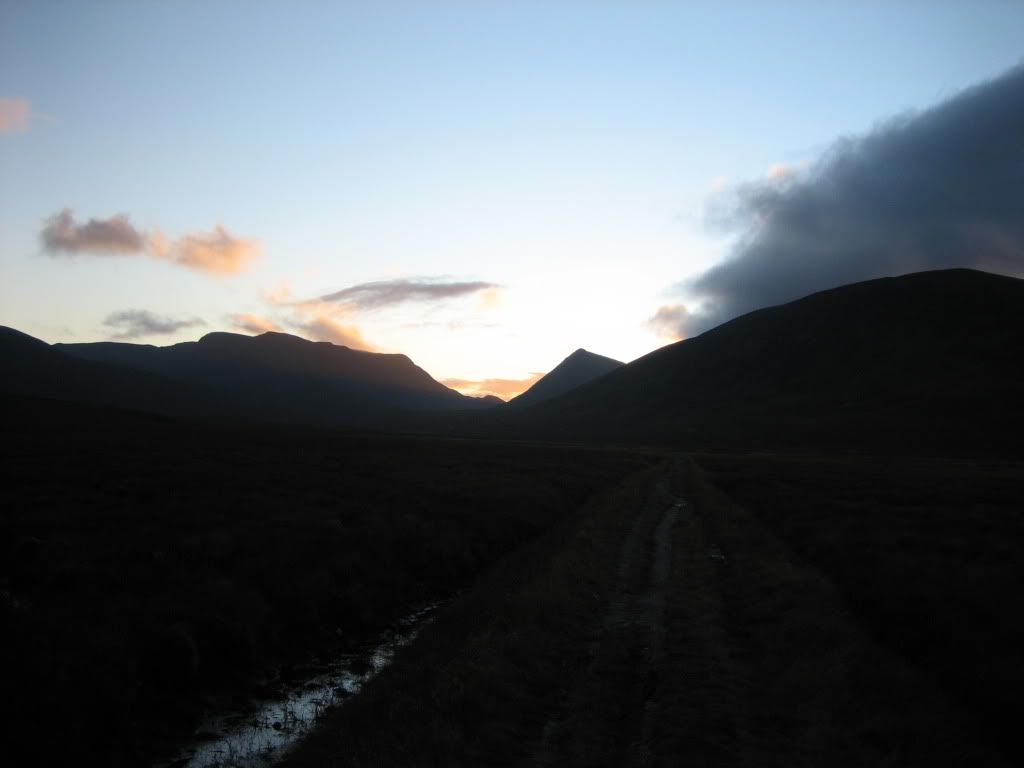 Several estate landrovers passed us between Ben Alder Lodge and the end of Loch Ericht but not one of them stopped. Had one done so, we would instantly and gleefully have caved in to impure thoughts and sold our sorry souls to Beelzebub. Clearly the estate workers in these parts take a hard-line purist approach to these things!
We had to dig deep for the last few kilometres. Scraping the bottom of the barrel and then some. Kev's mobile rang. It was Mrs P. He talked as we walked. The conversation (on his side at any rate) was brief. It went something like this: "Yep". "Nearly". "Uh-huh". Then there was a six letter expletive beginning with the letter F. Then "Uh-huh". "OK". "Yep". "Szechuan Chilli Chicken please". "Fine". "About 9". "OK, bye". It was the mention of Chinese Takeaway that got me, hook line and sinker. Kev was heading home, my tent and I were heading to Glen Lyon with some leftover beef curry for dinner. However, it was cold and dark, and that six letter expletive more than adequately summed up how I felt right now. It would be late on before I was successfully ensconced in my tent in Glen Lyon and I could do without cooking. Plan B swung into operation – stop off again in Pitlochry. There must be a Chinese Takeaway there.
Kev reckons this one tops anything he has previously done for sheer, debilitating exhaustion by the end. I don't know, but it's in my Top 3. Along with the descent off the South Glen Shiel Ridge in September with Polly and Thomas. And the never ending walk out Glen Slugain from Ben Avon and Beinn a'Bhuird with Kev and CurlyWurly a year past in August, having come in the day before over Brown Cow Hill from Cock Bridge. I'd be hard pushed to rank them 1,2, 3 though.
We bade each other farewell, Kev heading for Glasgow and me heading for the back door of Meall Ghaordaidh via the Lotus Chinese Takeaway in Pitlochry. Pitlochry was a quiet place this Saturday evening, so there were few witnesses to my practically falling out of the car and crawling into the Takeaway before almost inhaling a Chicken Chow Mein.
Driving through Grandtully and Aberfeldy I felt like I was featuring in a remake of The Fog. Clarity returned as I drove deeper into Glen Lyon, although the fog remained in my head and I felt like my limbs had become fused with the steering wheel and pedals. The temperature gauge was showing below freezing. What was I thinking of? Surely discretion would be the better part of valour? Go home to your wife and daughter man! Well, I would have done, had it not been for the fact that my daughter would already be tucked up in bed, my 4 year old niece who was staying over with her mum would also be asleep before I got back, my wife and her sister would no doubt be sitting up 'til goodness knows when drinking wine and chatting, and I'd probably be as much company as a corpse. Besides, they were all heading through to Glasgow early the next day anyway, and Debbie and Ailsa wouldn't be back until after 6, so I was as well making full use of the weekend pass, even if it was liable to kill me.
The sky was a blanket of stars as I pulled in beside the bridge over the River Lyon just east of Stronuich Reservoir. Bright moonlight lit up Creag Loaghain and Creag an Tulabhain, the two northern spurs of Meall Ghaordaidh. It was a beautiful sight, but one that was going to make for an uncomfortable night. I quickly donned as many extra layers as were at hand and pitched the tent next to the car, certainly not the most expertly erected tent I have ever been responsible for, but it did the job. I jumped into my sleeping bag, rather unwisely swilled a can of super-cooled lager and jumped into my sleeping bag wondering if I would still have the use of my legs in the morning.