People : Me , Gaz
Dogs : None left charlie at home today.I really did not think he would mange it. He would off managed it with a harness on . Just going up Sgurr na Banachdich he would manage no problem
Weather : MWIS for north west 80% of a cloud free munro
After being off work on tuesday. I had Gaz round at my house. He had left his wallet in my car. From our last trip down at Blair Athol. After him telling me. He had tomorrow off Wednesday. I decided to change my work. So i would have the wednesday off as well. Time to start planning a walk. First thing look at MWIS. To see where the best weather would be. We soon decided to go North west. But where am slowly started to run out off munros. On the mainland. So we decided Skye. I have only been there to do Bla Bheinn. That was back in march. Had no views that day. Apart from that had only ever been on skye twice. Used to have a couple of friends. That stay in Glen dale. Just past dunveggan but that was a very long time ago.
Next stage where to walk. I still had the cullin ridge to do. So after looking through walk highland. I thought
Leithysuburbs
excellant report doing 3 munros here.
http://www.walkhighlands.co.uk/Forum/viewtopic.php?f=9&t=11722
. So this would be our walk for the day. we thought it would take us 8 hours to do the walk. So we thought to get back to the car. At 5pm at the very latest. We would have to start walking at 9am. So on to google route planner. Says 2 hours 30 minutes. So that would mean picking Gaz up at 6.30am.
So with the alarm set for 5.45am. Every thing packed car filled up with petrol night before. Map and decription printed off walkhighland. Also SMC skye scrambles and harvey cullin map. I was up at 5am. I always get up before the alarm goes off. If i know am going hill walking. The next day. Car out of the garage tempature says 4 degrees. Soon drops to 1 degree. Round to pick up Gaz. He stay no far away from me. On the way down pass Clunie tempature soon drops down to -4. I then have all these thoughts going though my head off. If we get up there the rock is very wet and has ice on it. Would we manage it. If it was i had a back up plan to do a corbett. But this would not be the case.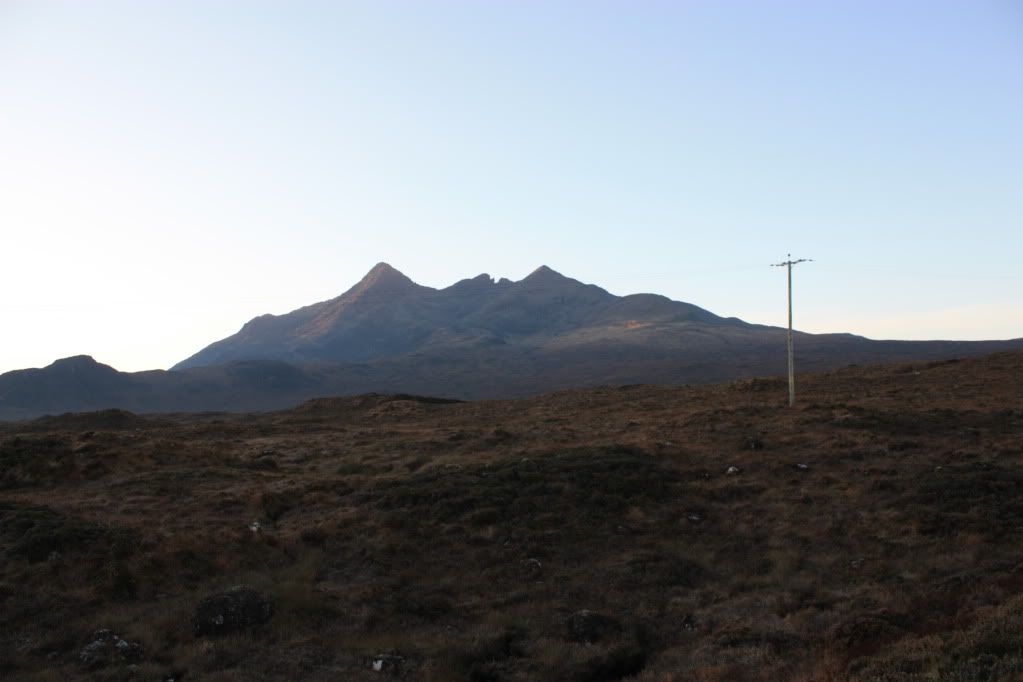 Arriving at Glen Brittle camp site. Just before 9am there was 1 car parked up. But plenty of room for a few cars. I decided to leave gaiters off for a change. Walkhighland has this at bog factor 3. But i would say it is less. Really did not need them. Barely got any dirt on my trousers. Also left the walking poles in the car. As i thought it would be more hands on for the day. I was right. But the poles would of helped for the decent from Sgurr na Banachdaich. The final munro of the day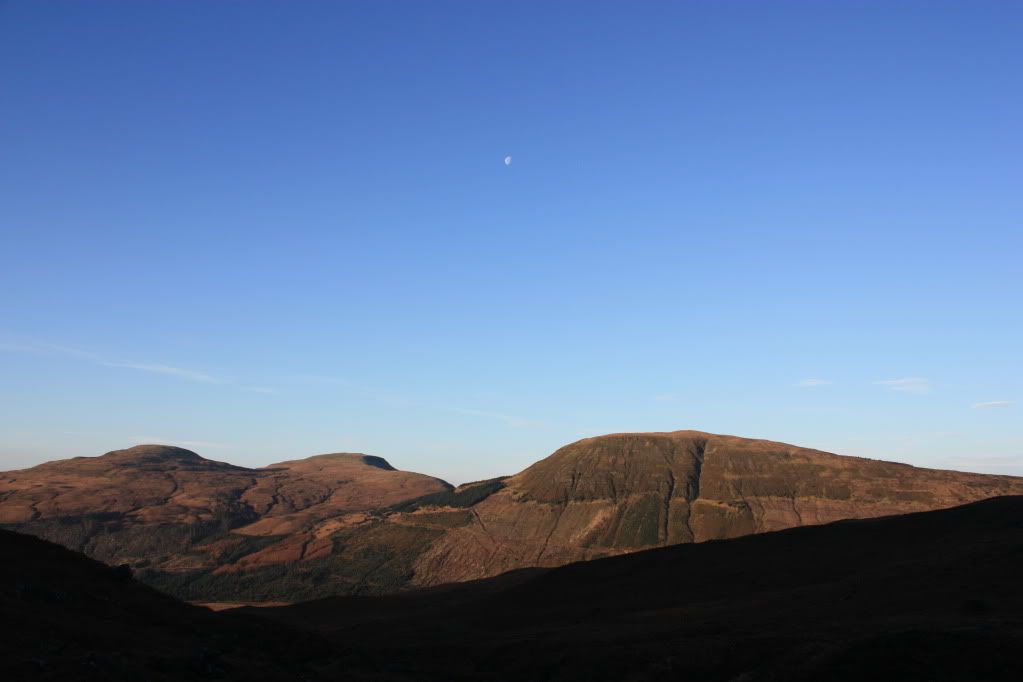 So we where off walking at 9am. Kept to the right hand side of the stream. On a very well constructed path. Passed a few waterfalls. Till we got to Coire a' Ghreadaith. Roughly about 100m above sea level. The sun was slowly starting to come down the hill to our left of Sgurr Thulim (881m). We knew it was going to be a cracking day. Once we got further up Coire a' Ghreadaith. Roughly about 500m. It soon became. A scree bolder field. We could then see. Where we were going up to An Dorus.. We could see lower down to keep to the right of the scree. Heading up to An dorus This was me slowly getting to the stage. Of me asking Gaz to stop nearly ever 1minute. So i can get my breath back. WOW what a pace he can walk at. But i was determind. To push myself a wee bit. So we could spend more time. At the tops. Bits of the scree was slow. As your feet would slowly slid back down. Making for very slow progress. Well for me it was. Not for Gaz. Once we got over the scree. We got to our first bit of scrambling. Would of been about the last 10-15 meters. To the top of An Dorus. Not of this was to hard as the incline was not to steep. Also plenty of foot and hand holds.
Once at the top of An Dorus. We stopped while i go my breath back. Gaz then says to me. I think you should lead the way. As i think he was a bit nervous. At what we where going to come up. There is a route. When you are looking up towards Sgurr a' Mhadaith. Just slightly to the right. There is a path. Once further up we could see lots of wee scree paths leading up to the summit. But we just went our own way to the top. With some scrambling.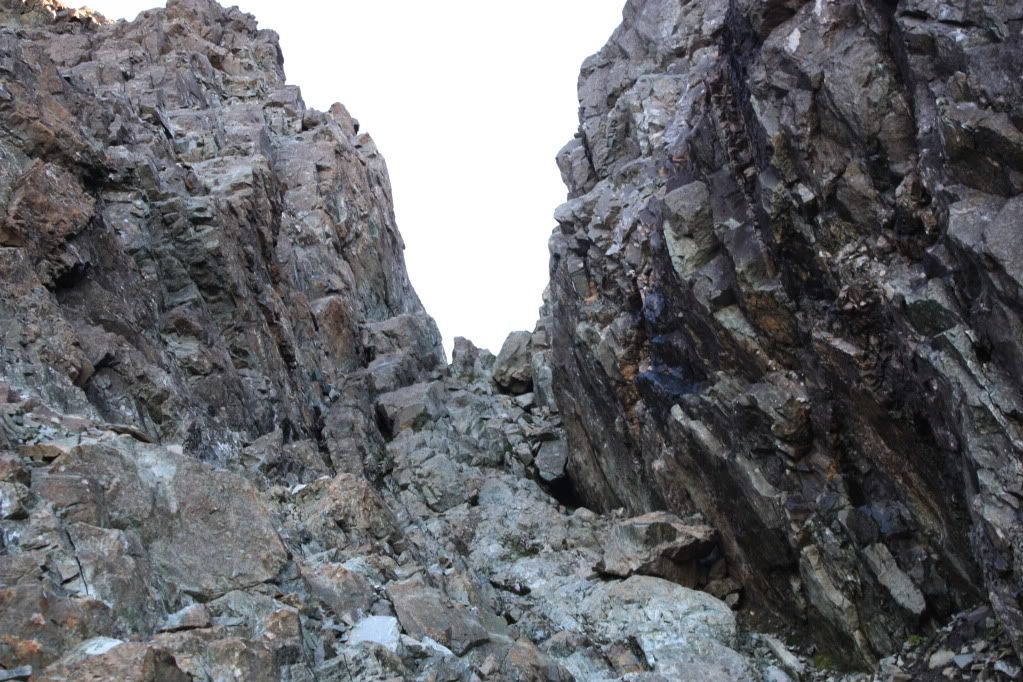 Once at the top of Sgurr a' Mhadaith. The views really did take my breath away. I have only day views/ weather like this. I could count on my fingers. Not very many. We had superb views of the cullins. North of us. To the south. The sun was breaking through them. Also over to Bla Bheinn. We stopped for some thing quick to eat and something to drink. Then decided to head on with our hike. So it was back to An Dorus. Carefully watching as we where going down.
Back at An Dorus. We where soon on our way up to Sgurr a' Gheadaith. Our second munro of the day. Once again i was route finder. As Gaz was not to kean on leading the way. First wee bit. Comming out of An Dorus was a scramble. But am sure i seen a slighly easier route. To our left. Once over the first bit. It was easier going. But i could see easier bits to walk. Rather than scramble to our left.
We soon got to the wart as its called. Gaz is saying to me. How the f##k. Are we going to get over that. I rembered from reading walkhighland the day before. To keep to the right off it. It was no problem getting up to the top. Once above the wart. Soon became a bit of a scamble. Over the ridge. The odd wee bit of a scramble. Getting to a bit where there was a drop. Which looked awkward. So turn back a bit. To drop down slightly to our right. Where it looked a bit more easier going.
We where soon at the top of Sgurr a' Gheadaith (973m). At 12.15pm. We then headed to the south top. Where we met our first walker. Who was doing the same walk as us. But in reverse. After a quick chat be decided to drop. Down a wee bit from the summit. To more a ledge. To get out of the cold wind. While i had something to eat. Dont think Gaz was to happy. Sitting on it his hands where sweating. His legs where trembling with fear.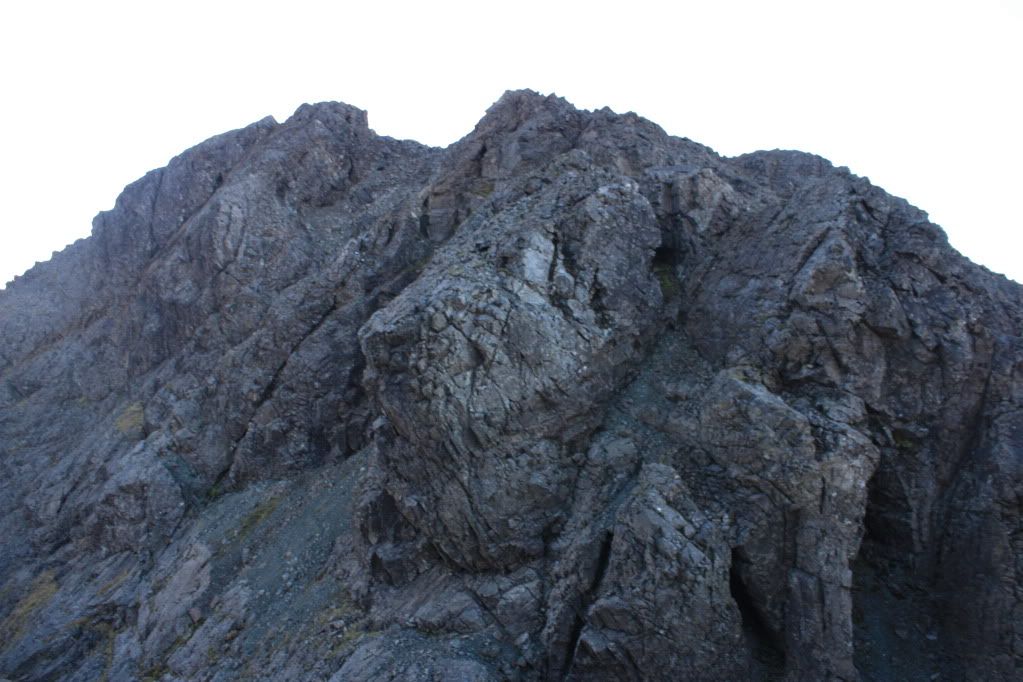 We then headed off to traverse the ridge to Sgurr na Banachdich. Me skipping over it Gaz holding on for dear life. Nothing difficult till we got to the 3 teeth. A wee bit of care was taken. But there is a bypass to the right. We where soon at the top of Sgurr na Banachdich by 1pm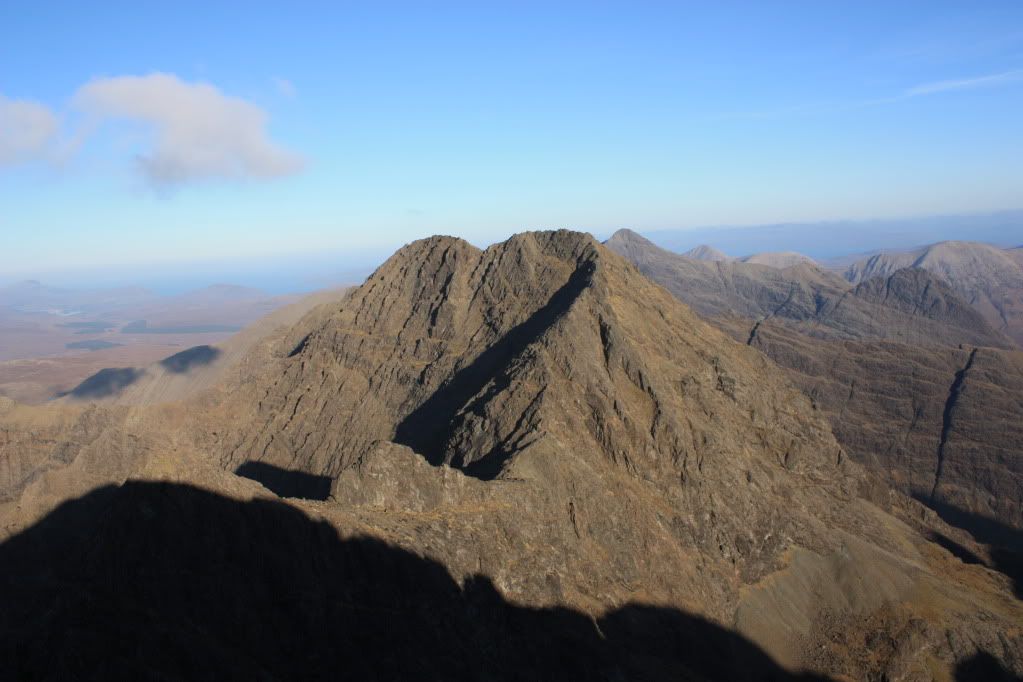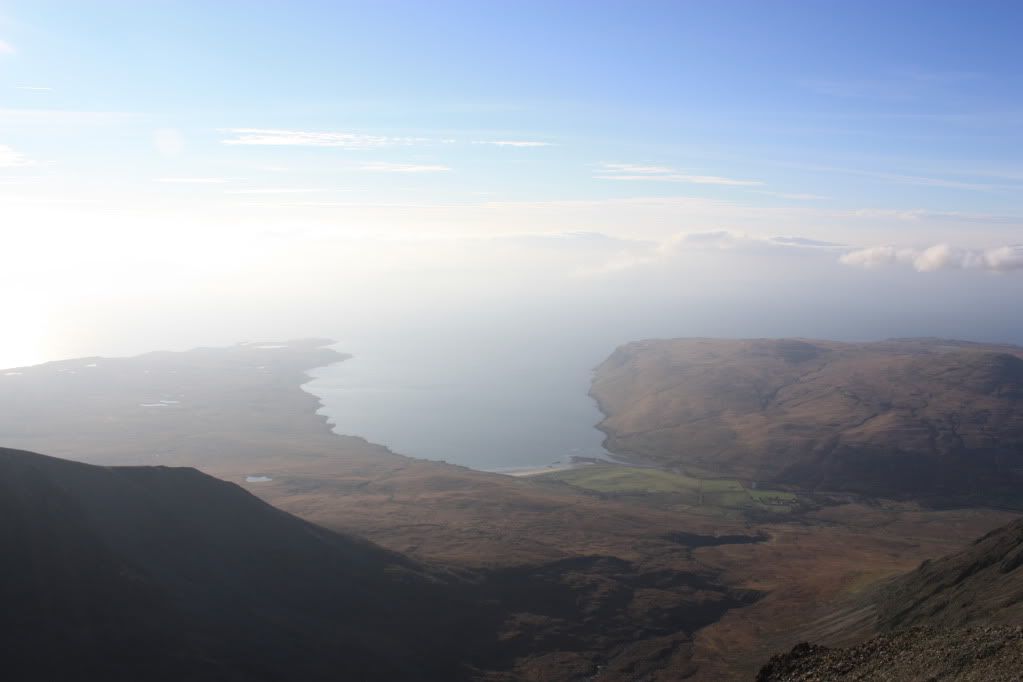 Time for some lunch and relax take in the views. We could see from a distance a group of people climbing the Inn pin. The wind was getting cold. So we decided to head back to the back. The route down Sgurr na banachdich is stright forward. But with the loose scree. We where slipping and sliding a bit.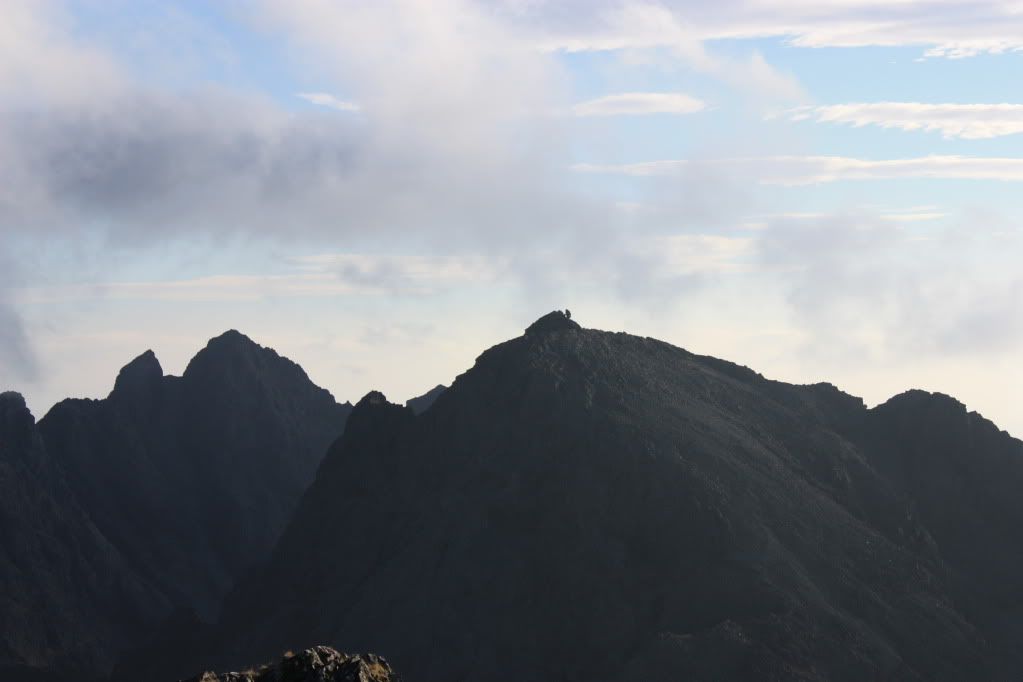 Once back at the car. The cloud soon came over the cullin ridge. We had timmed it well. Would not like to be up there with the clag.We spoke to the walker who passed us earlier in the day. He was telling us he was on his 3rd round of the munros.
Overall a great day. Weather was good wind was a bit cold. Route finding was no problem. Its given me a taste of the cullins. But cant see me getting up there again this year