Hills -
Ben Macdui
Route -
Approach from North (Cairngorm Ski Centre car park) - ascend Coire an t'Sneachda and meet path on east side of Cairn Lochan. Continue on to main summit of Ben Macdui. Return via path on west side of Cairn Lochan down the ridge with Coire on Lochain on our right and back to car park.
Weather -
Good. Clear on all but the highest sections. No rain. Breezy at times; mostly light winds.
Attendees -
Me & Colin + Roy Stark (
http://www.aultsighadventures.com
) who we'd hired for 2 days of training on Navigation/Hill Skills (referred to at times in the report as "teacher"!)
Time -
6 hrs 45 mins
Distance -
15.5 km
Ascent -
800 m
Max Altitude -
1309 m
Ben Macdui was done on day 2 of a 2 day course on navigation + hill skills with Roy Stark. The course involved a mix of navigational skills such as:
Pacing
Map reading/orienting
Contour interpretation
Route choice
Map scales and measuring distances
Aiming off, attack points, collecting features, handrails.
Grid references
In amongst all the "standard" advice (gear, etc, etc), Roy also has an interest in and wealth of knowledge on the surrounding flora & fauna. As we were walking along Roy was spotting things we'd never have noticed....all sorts of different plants, moss, trees, etc - it really makes the whole experience more interesting and educational. There's so much good stuff to learn about the environment around you in these places - Roy's a good man if you want to ensure you get this from a guide; I must get back in touch with him to find out the name of the small green clover leaf type plant that tasted like apple - will eat more of that again!. Overall it was a great trip; Roy was a good laugh and made everything safe and enjoyable. We'll certainly be going back to see him in the future for some hard scrambling / rock climbing / Skye/Inn Pin / ice climbing (lol...one step at a time). For long periods I ignored the camera as we concentrated on navigation excercises; but of course I managed a few snaps along the trip...........
For those interested, I have a report of Day 1 spent at low levels in the Cairngorm area -
Loch Morlich / Glenmore Forest Park (Cairngorms)
Okay, Ben Macdui....
We leave the car park and head along the path towards the Northern Corries:
Some moss on the rock: (I forget the interesting fact about it....)
Bogwood; apparently 6000 years old:
Cool little caterpillar on the path (Emperor Moth Caterpillar)
Emperor Moth Caterpillar
Northern Corries:
Looking back towards Loch Morlich:
Northern Corries - Coire an t-Sneachda
Can you spot the 3 climbers at the bottom of their pitch?
[no climbers here] but a nice looking rock face...
Top of Coire an t-Sneachda - looking North:
Top of Coire an t-Sneachda - looking NW:
Top of Coire an t-Sneachda - looking NE:
Top of Coire an t-Sneachda - looking South (we took a path veering off to the right of the pic)
The teacher points out some things to his pupils.....
Never mind the hill in the background with lumps on top (something to do with the glaciers...i forget), down there is the crag "Hells Lum"
, of interest to me as an armchair rock climber - it's where Dave Macleod filmed a climb shown on the BBC a few years ago. The climbing route is named "
To Hell and Back
", graded at E10 (
). Most important part of climb description: "A fall from anywhere on the second half of pitch one is unlikely to be survivable". There are however about 30 climbing routes down there of all grades. Oops...I'm on a walking forum aren't I....
Right, sorry, back to the walking....
The camera was put away for a while (you're not missing much!), as we got higher and met up with the clag (to the teachers delight and the pupils dismay
) - then followed was a blur of map reading, path finding, bearing taking, lunch, then before we knew it...
Summit of Ben Macdui. At the summit we met a couple, of which the lady was doing all the Munro tops and deleted tops! Good on her. I told her we were on Munro 002
As I went to leave the cairn, I shockingly realised that Caberfeidh must have snuck up behind me and performed an amputation!!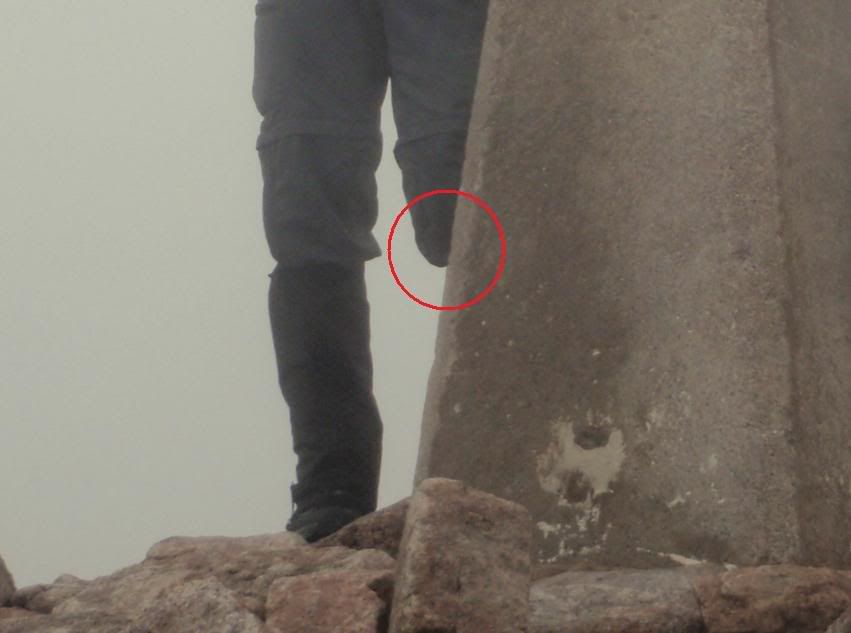 Is this the way out? Time to test the navigation skills.....
The summit of Carn Toul appearing in the background through the cloud:
Braeriach ridge (will give that a go sometime...)
We continue along the path...
Can't help but take another look at Braeriach ridge:
Another couple of Km's along the path and we hit the west ridge of Coire an Lochain:
Prone to a good avalanche in winter I'm told...
And the home leg to the car park begins:
The teacher pointing out another interesting fact (can I remember it at the momemnt?
)
Right, lets crack on to the car park:
Done! (met some left overs of the Thunder in the Glen biker event)
Someone brought the wrong type of vehicle to the event:
(some pics from the day before in Aviemore)
Look at the biker chick on the back of that
She's disgusted, but he looks like he wants one...