It had been my intention this holiday to get up to height to watch a sunrise. Ben Gulabin seemed a perfect candidate - a really short walk with a great vista, particularly down Glen Shee to the SE. So it was that I was kicking myself for forcing my body to get up at 5am - I was pretty impressed that I managed to avoid the snooze button on my alarm!
Anyway, I arrived at the Spittal just after 7am, planning to pop straight up the south rib to get up there to see the sunrise. Although it was dark, however, I could see that the summit was shrouded in cloud; perhaps not so promising after all.
I initially started walking with a headtorch, but soon realised that the moonlight was enough to get by with. There was surprisingly little snow - up to approximately 500m I could get away with just following ribs of vegetation through the patches of snow. So I made fairly quick progress up the side, to the enchanting sounds of all the grouse singing (perhaps 'grunting' would be a better choice of word) and a gradually improving view back down Glen Shee. I took a load of photos here, but unfortunately my shaky hands meant that most of them looked more like abstract art than landscape photos!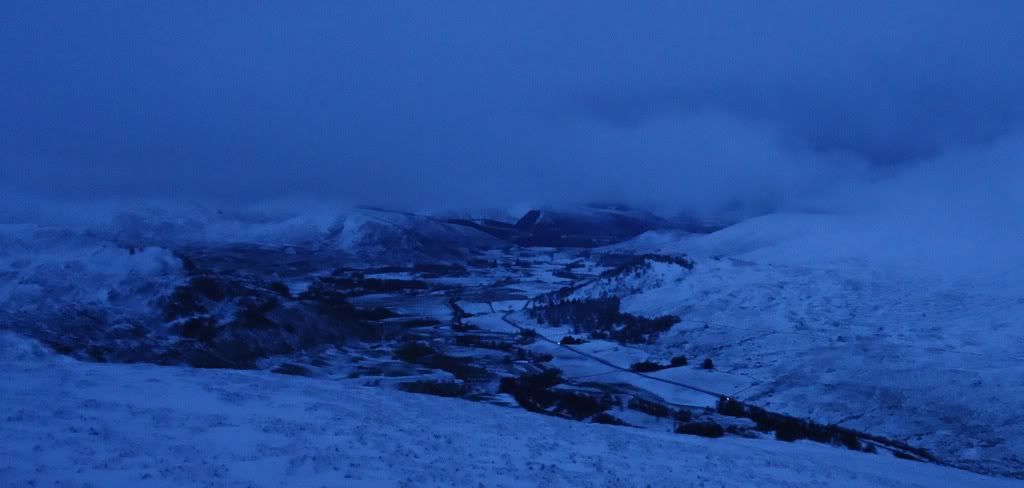 My sole survivor
Just as I reached the cairn at 765m, the clag came in. I had been waiting for this moment, but had been wildly hoping that the gods of Shee would be looking favourably upon me and would get rid of the cloud.
Unfortunately not. So I planned to head to the summit and hope that the clag only covered the 30m or so between here and there, and that I would arrive at the cairn with a glorious sea of cloud below me.
Unfortunately that didn't happen either, and I was sitting on the summit just after 8.30am wondering what on earth had driven me to get up at some obscene o'clock simply to come and eat a pear on a cloud-covered snowy mound. Nevertheless, there was a glimmer of hope - I could tell I wasn't far below the top of the cloud, as it was very bright and there was a tiny patch of blue sky directly above me. If only someone had had the urge to build a Macdui-style enormous cairn, I could be sitting on top of it above the cloud now!
The summit
Wishful thinking perhaps. Anyway, I planned to cut down to just below the cloud level to see what the view was like from below. Just as I was heading off the summit, however, I caught a glimpse of some trees down to my right. Just a brief glimpse, but it was enough to convince me to wait at the summit for another couple of minutes. Just as I decided to do so, the entire wash of cloud on the summit ridge began to shift and I could see glimpses of views all around, in between the waves of cloud.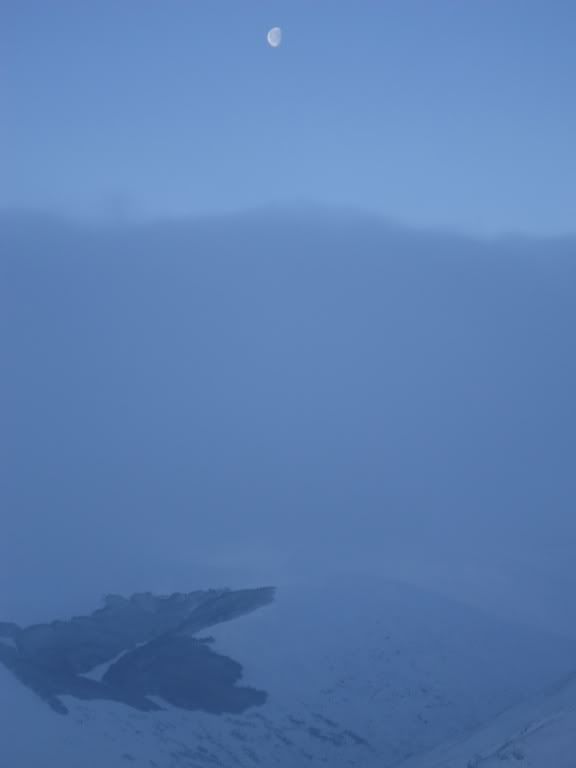 My first view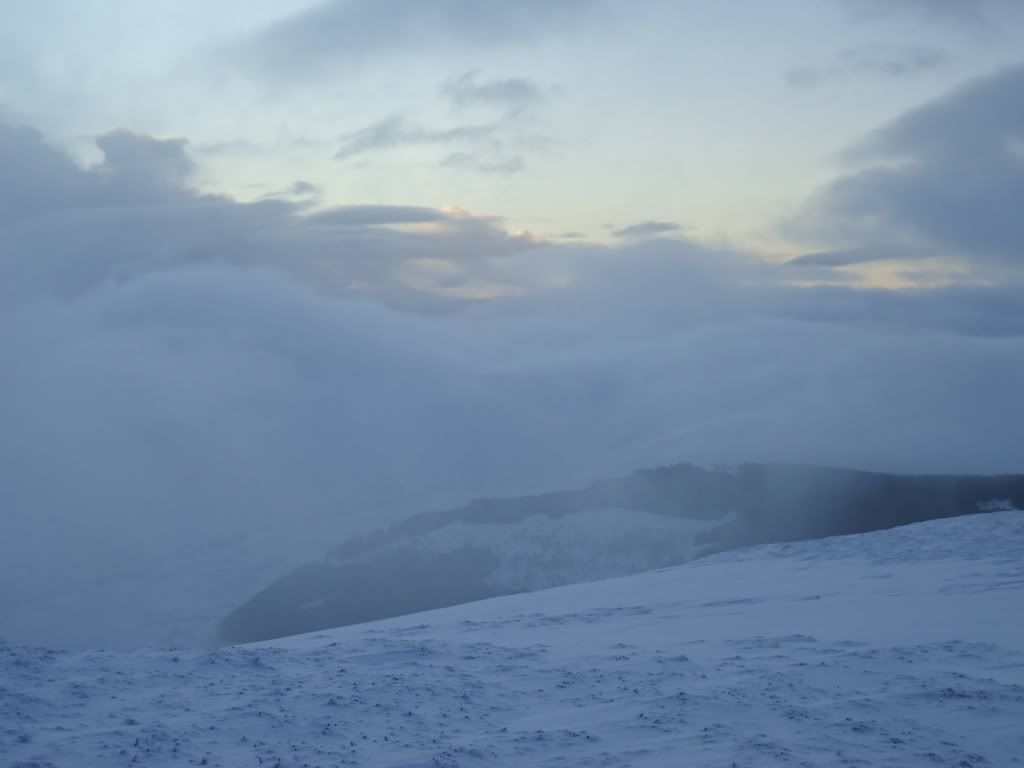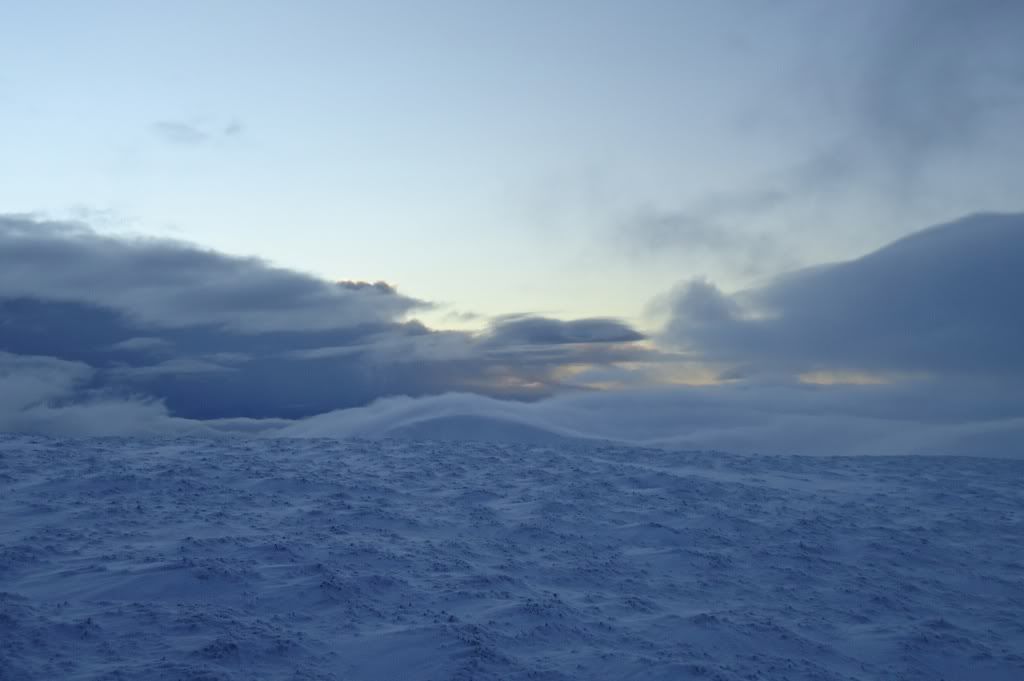 Looking south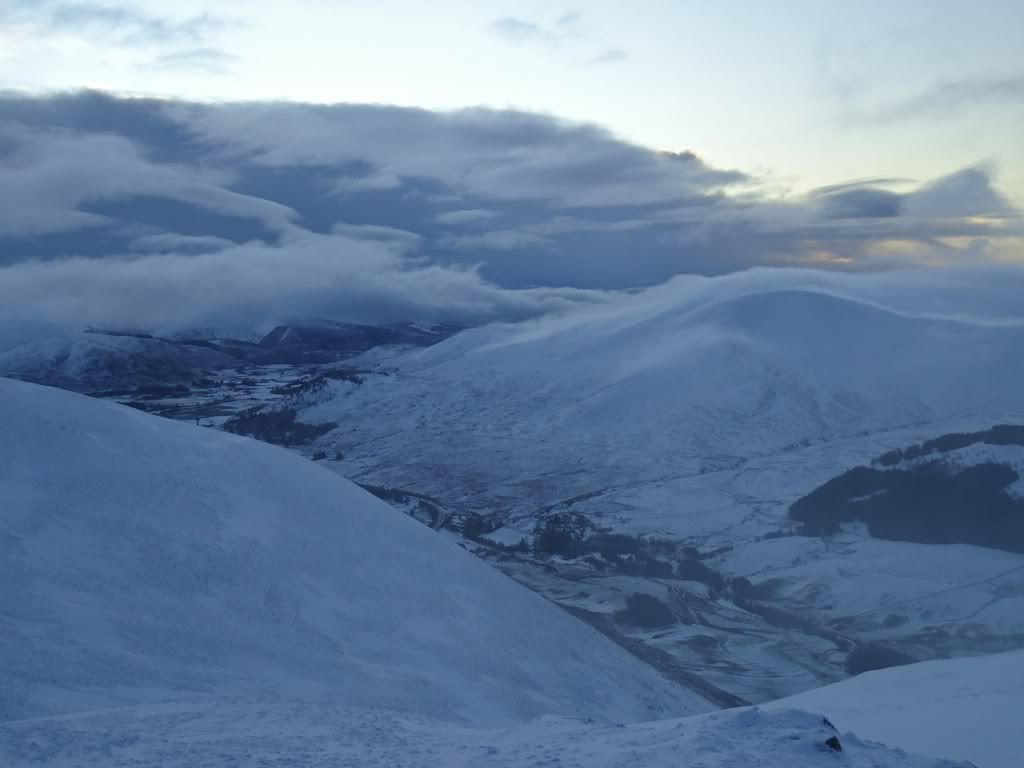 Down into Glen Shee
Gradually the entire sheet of cloud began to disintegrate, and I couldn't believe my luck! I headed back to the 765m top to watch the sun emerge above the view right down Glen Shee. The amount of cloud about meant that I was never going to get the proper sun-emerging-over-the-horizon views and the pink snow, although they were still an incredibly exciting few moments.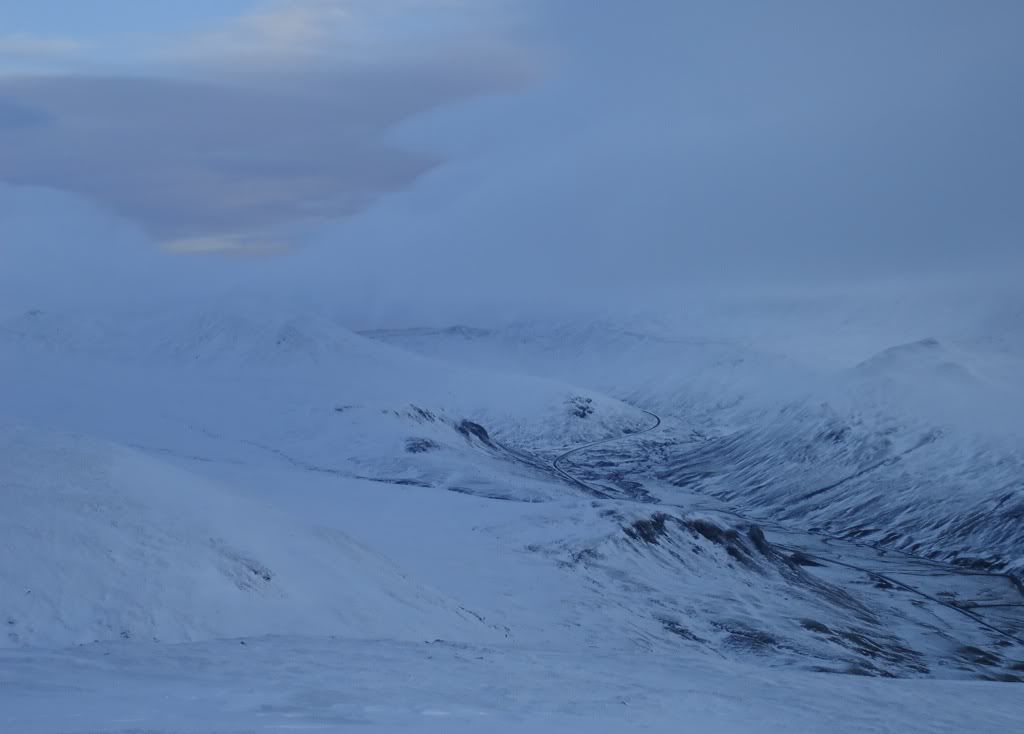 North towards Cairnwell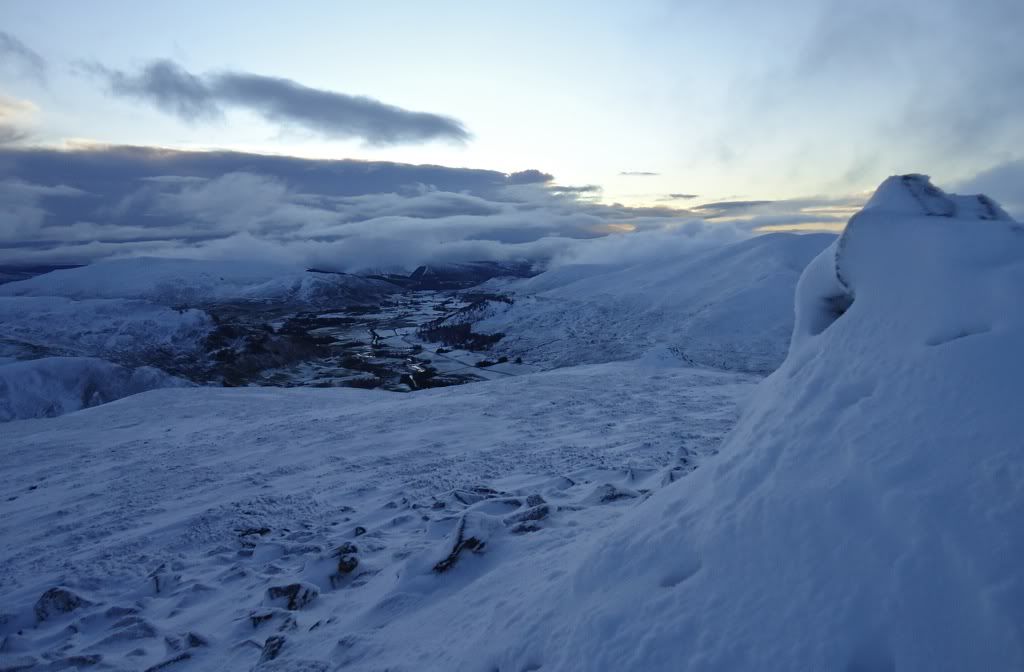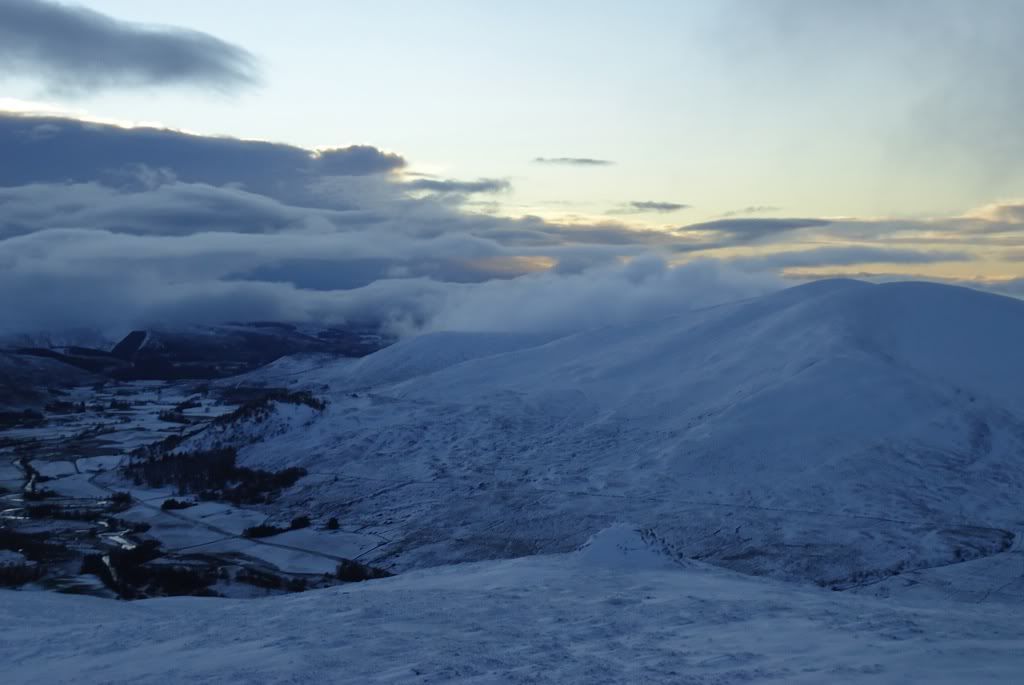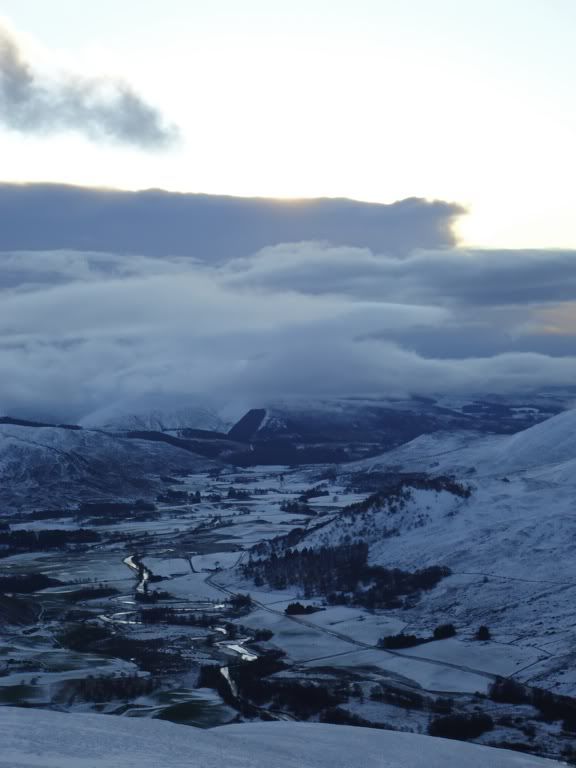 South from 765m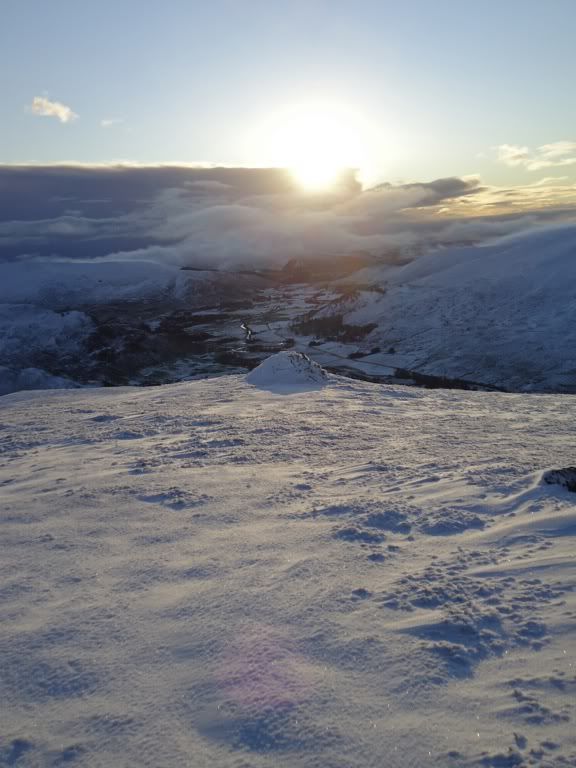 The sun appears
SW to Meall a' Choire Bhuidhe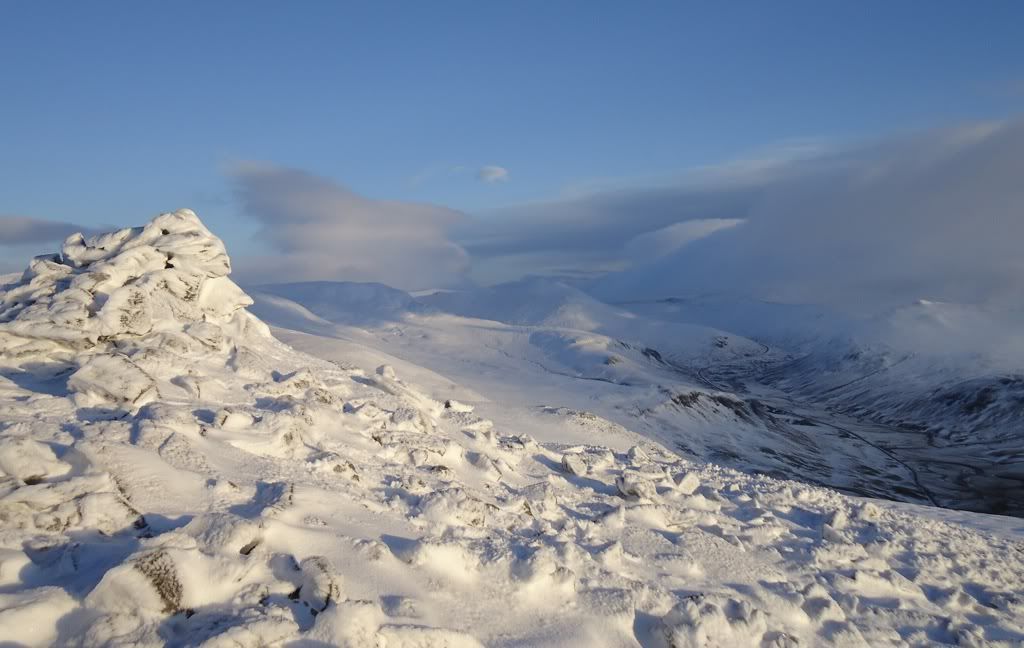 Towards Cairnwell
I dandered about the summit ridge for more almost a further hour, just taking in the views and my flask of hot chocolate.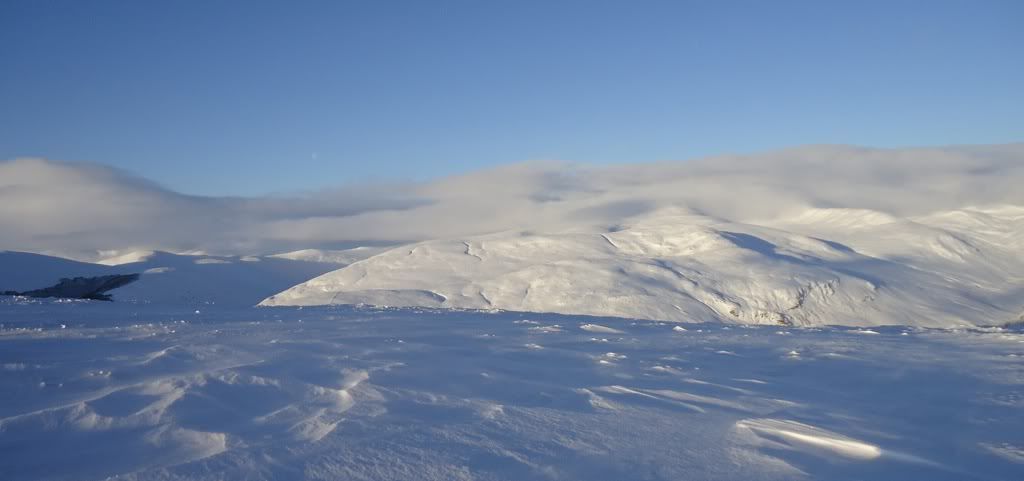 Looking NW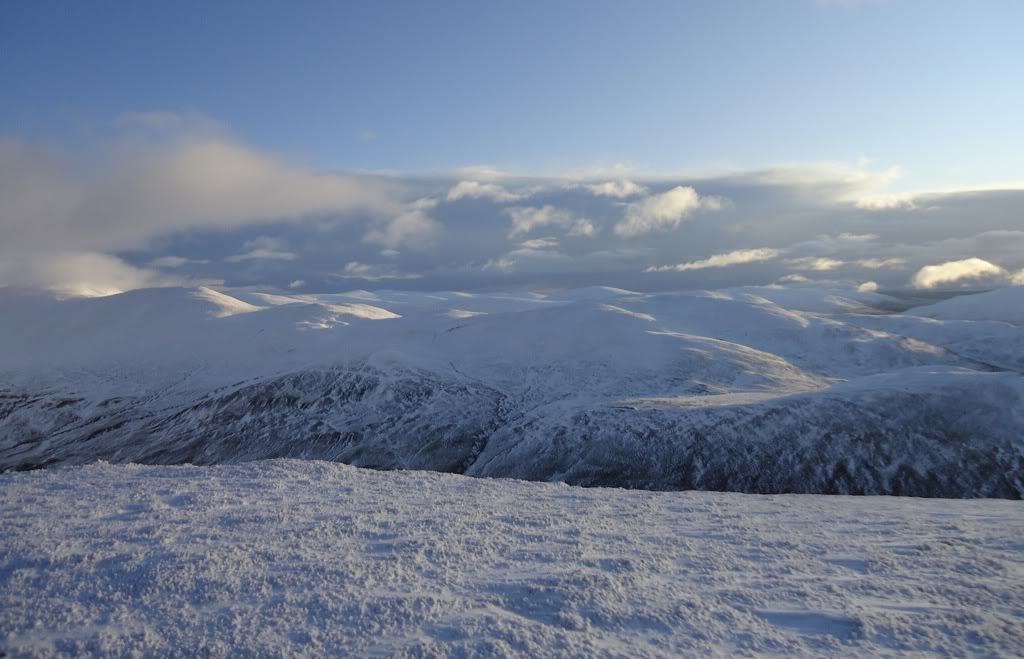 Looking E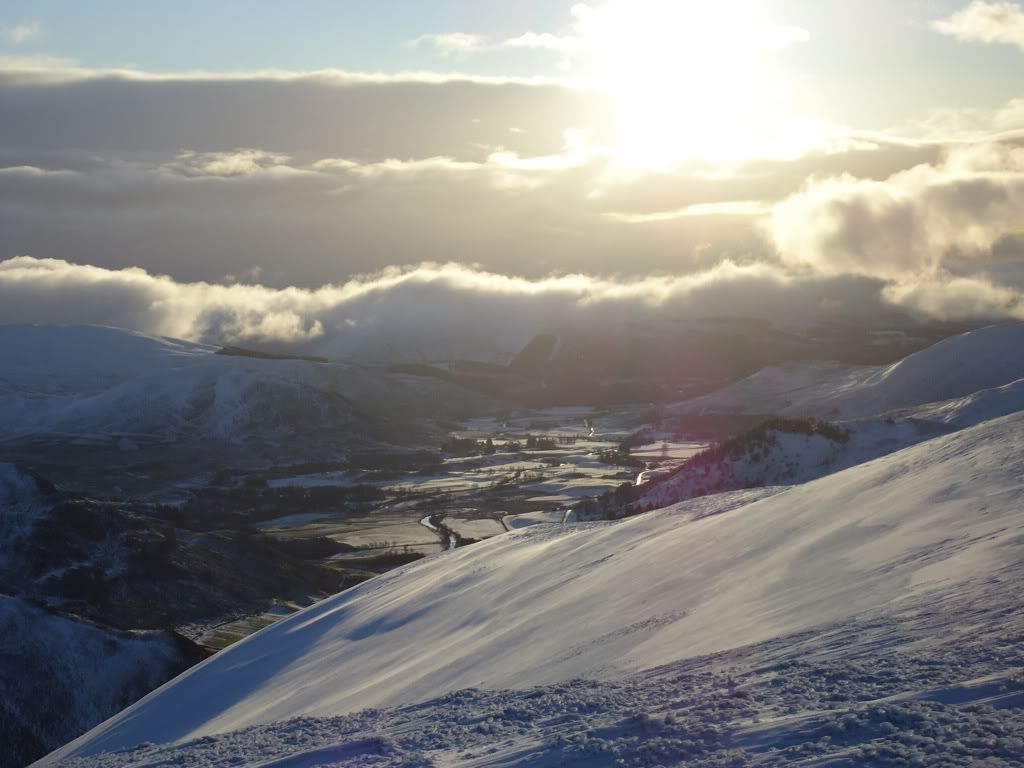 Glen Shee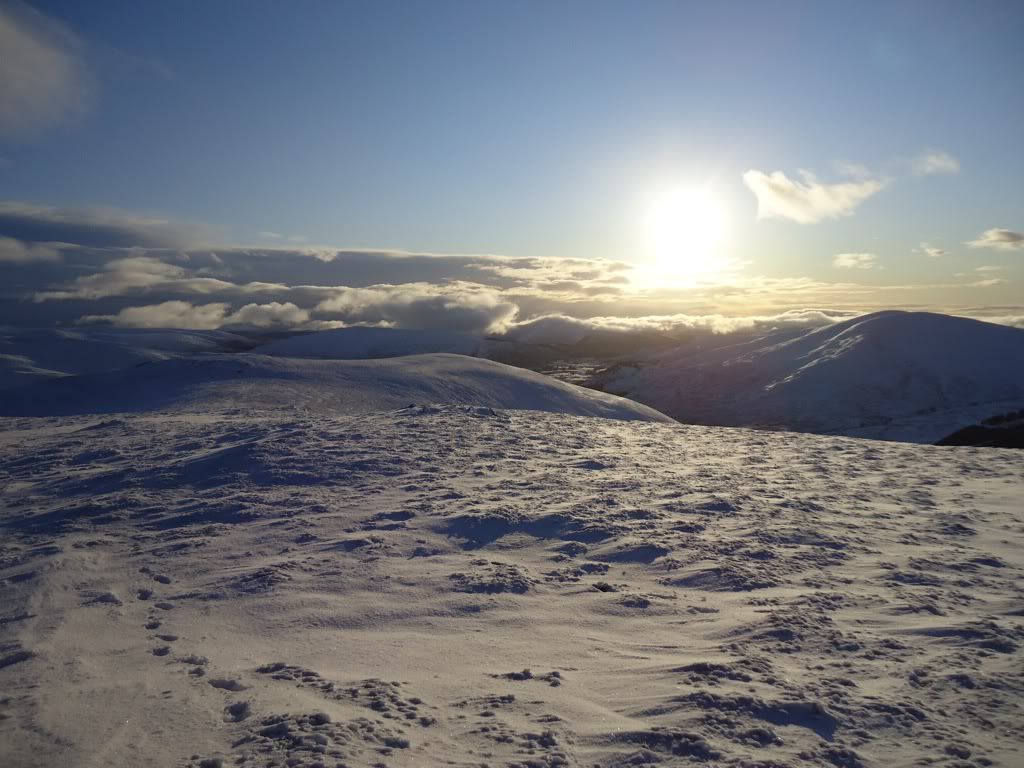 The summit plateau
Eventually I decided to head down the SW ridge from the summit to take in a bit of different ground. The ridge was nice going, with some interesting crags and new views to the west. I had a mountain hare only 3 or 4 metres in front of me at one point - I think I must have startled it - but unfortunately it was too quick for me to get a photo. I guess I could've taken a photo of its footprints, that's not quite the same though.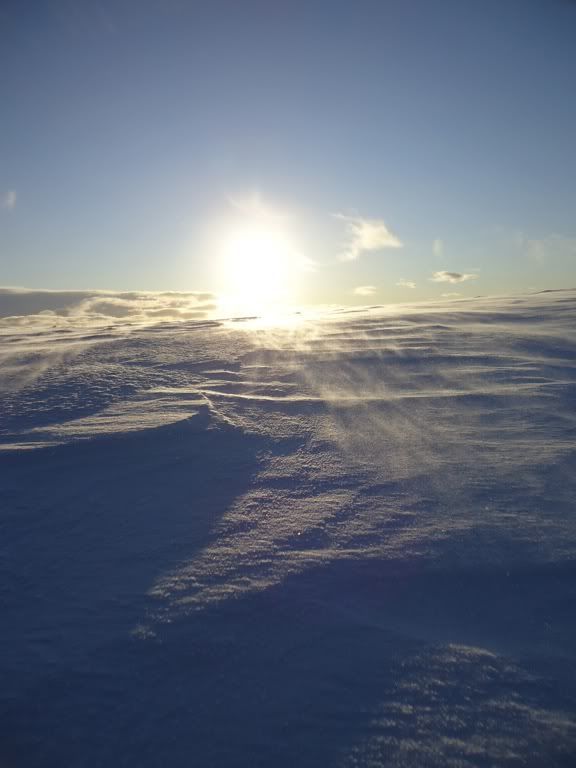 A little spindrift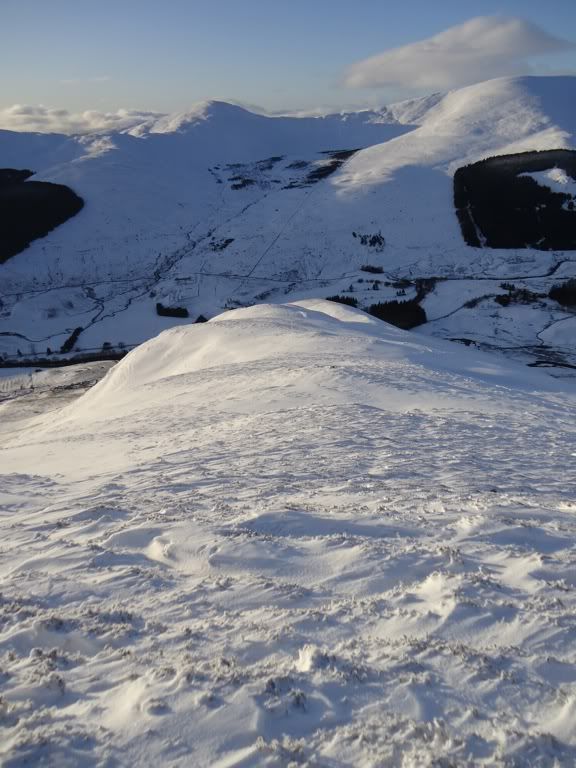 The way down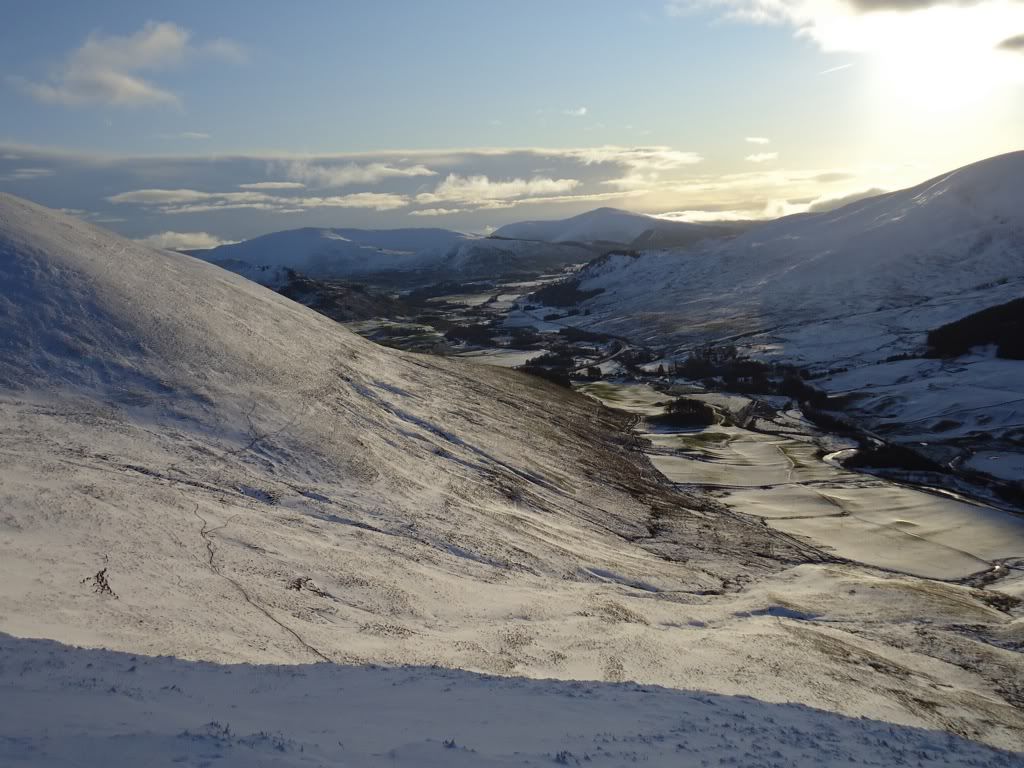 Glen Shee (note the herd of deer in the bottom left corner)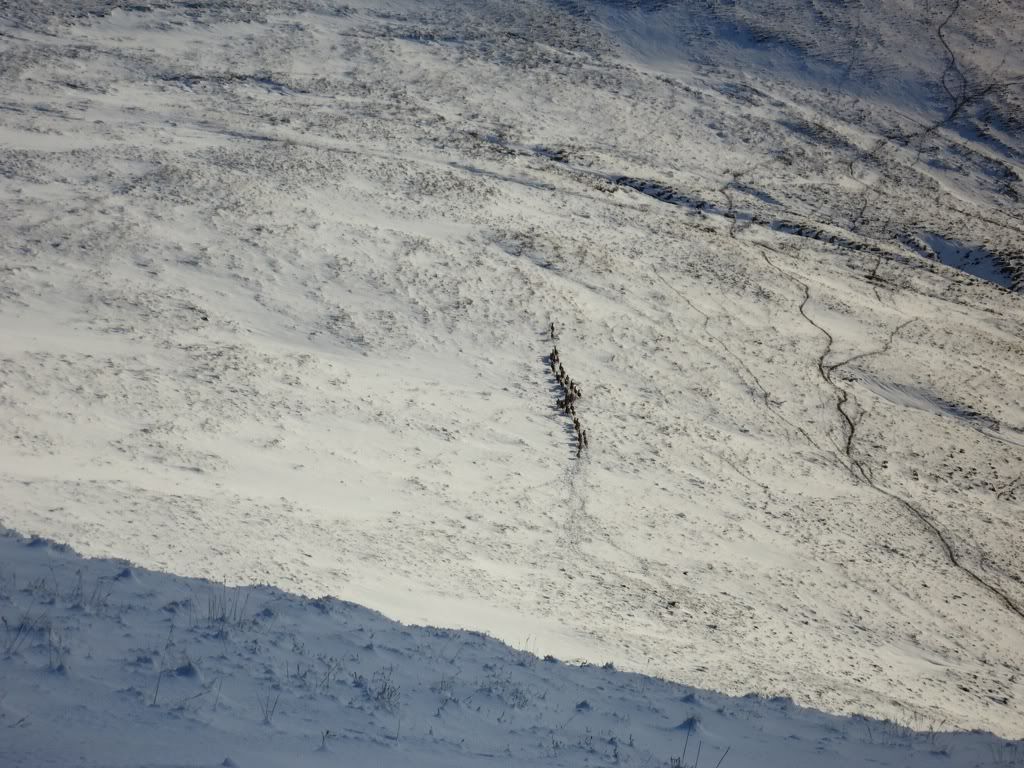 Those same deer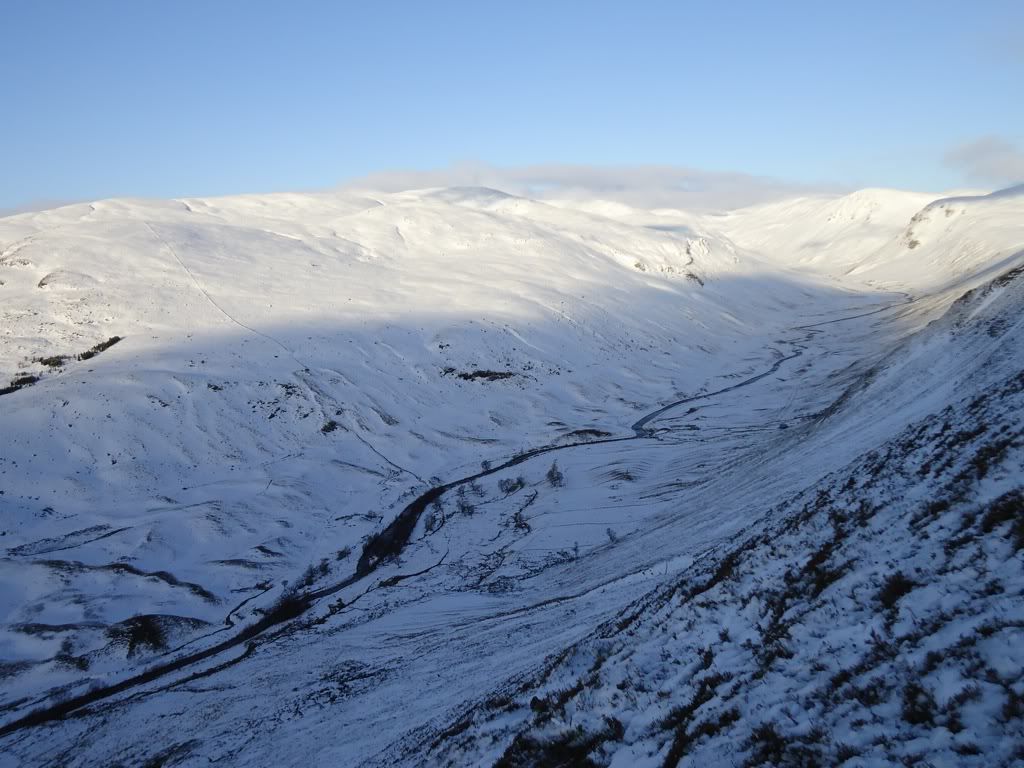 Up Gleann Taitneach - the way up to Loch nan Eun
I eventually reached the track through the Glen after negotiating my way round a few of the crags on the ridge. 20 minutes along the track and I was back at the car just after 11am - a whole day ahead of me!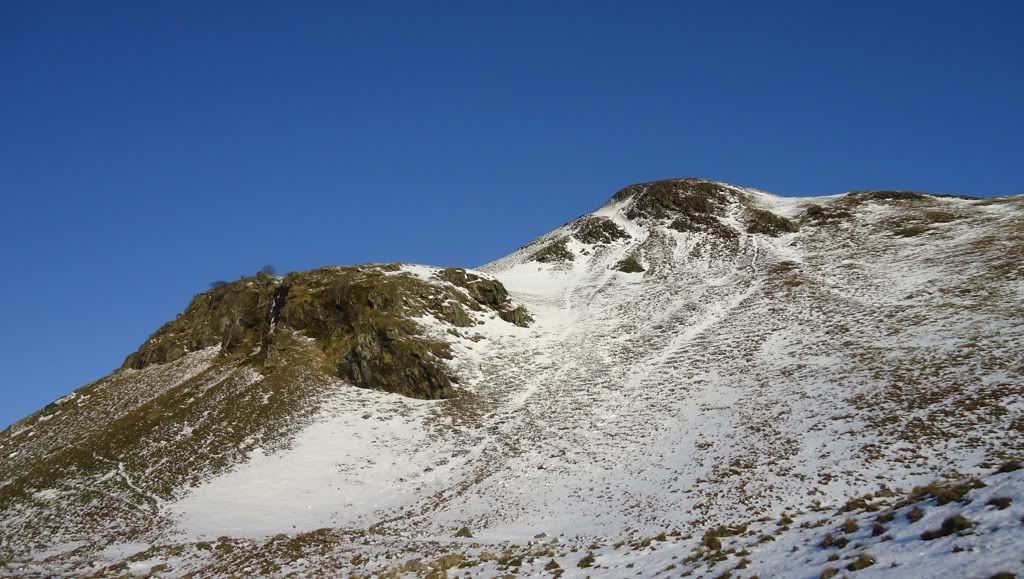 The ridge in retrospect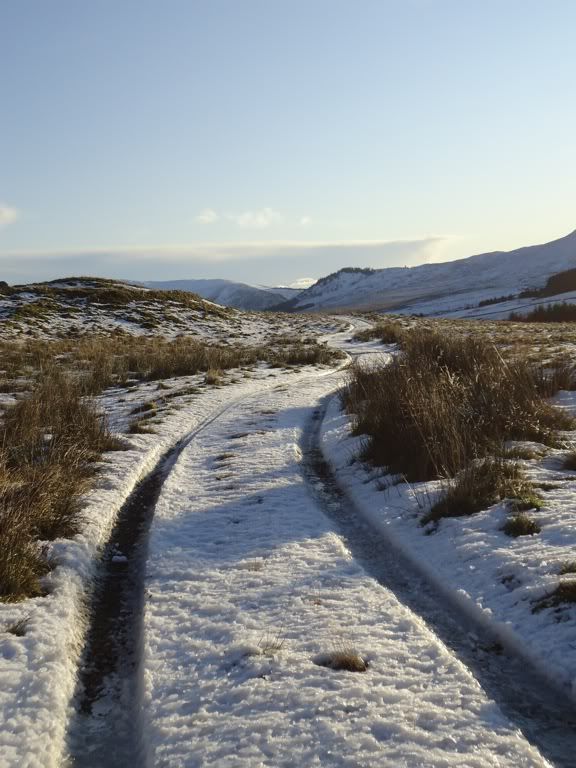 The (not very) long road home
The Glen from the Spittal
After a nice lunch in the car, I decided that it would be a shame to drive away from such glorious weather and conditions, so I planned to drive round to Glen Isla and pop up Monamenach from there.
I had my boots back on less than an hour after taking them off at the Spittal, ready to set off from Auchavan. Before long, I found that this route was much more difficult than that up Ben Gulabin: the track up from Auchavan had deep snow filling it up. Fortunately, a couple of guys were up ahead of me, so I could follow their footsteps to an extent.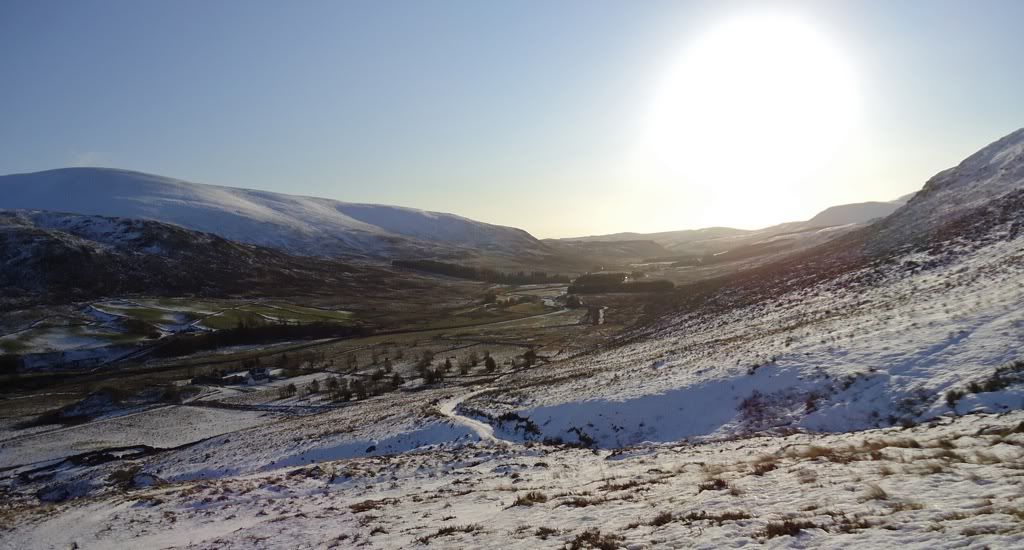 Looking back down Glen Isla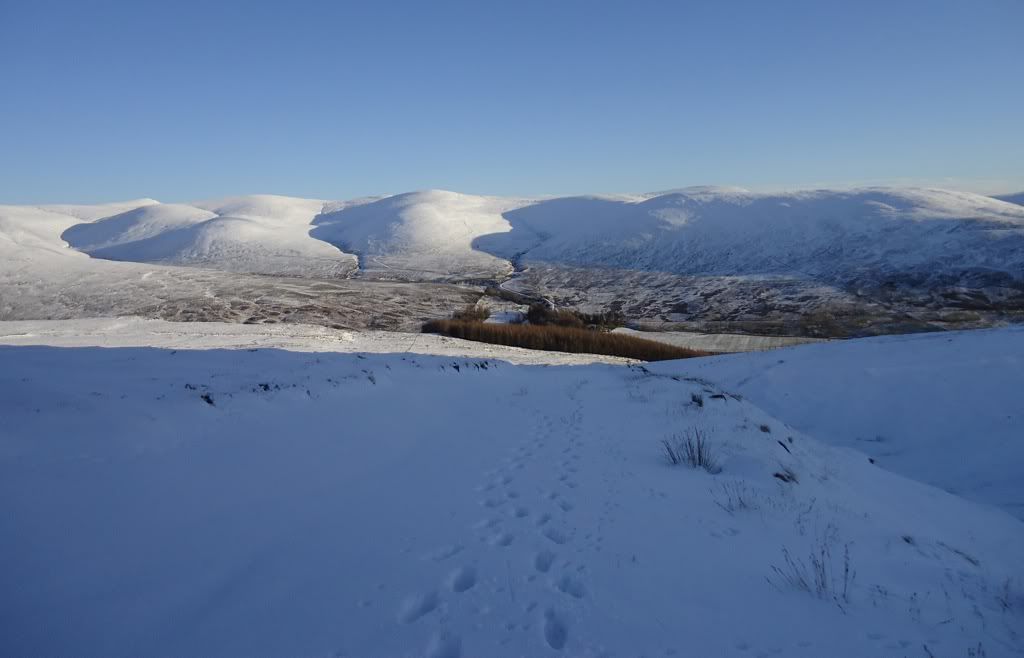 Back across to Badandun Hill
The track meandered its way up to a very snowy col, with some interesting snow formations about.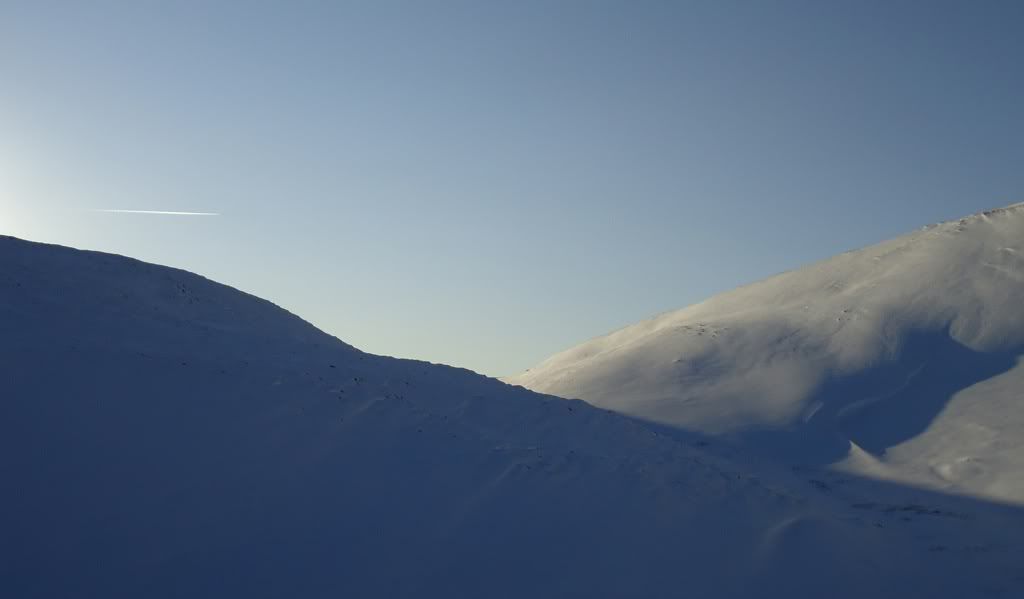 Near the col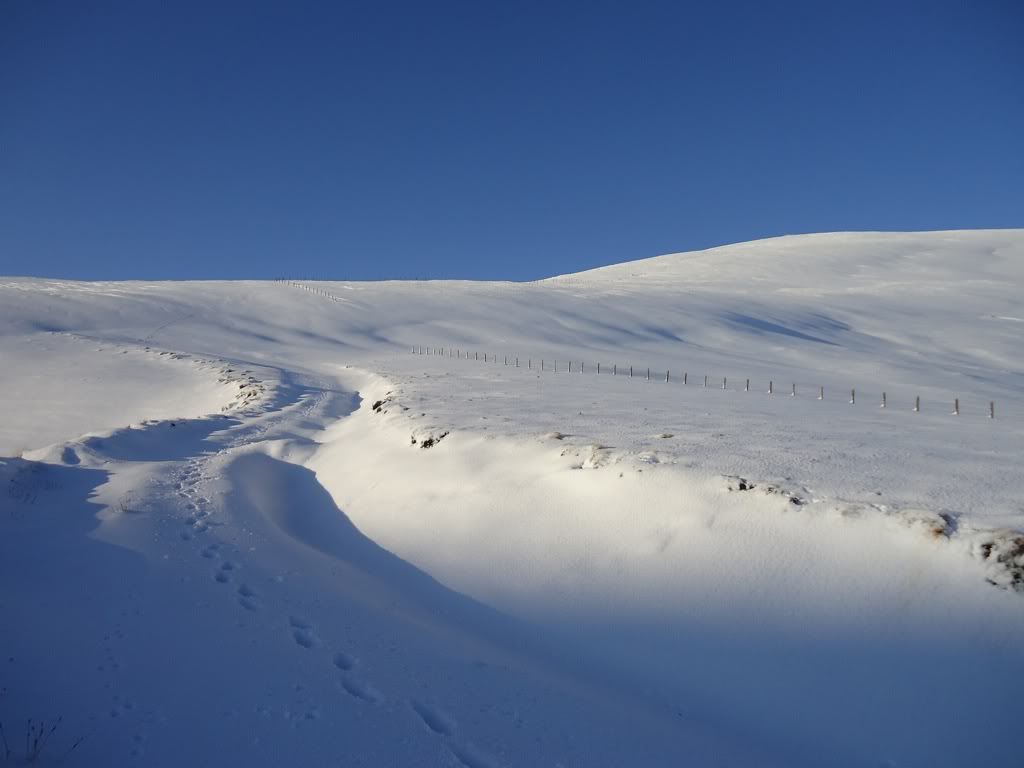 The track
The Glas Maol crags up Glen Isla
From the col, it was a very straightforward ascent up a fairly relentless slope to the summit. The snow had firmed up by this point, so it was much easier to walk on top of it.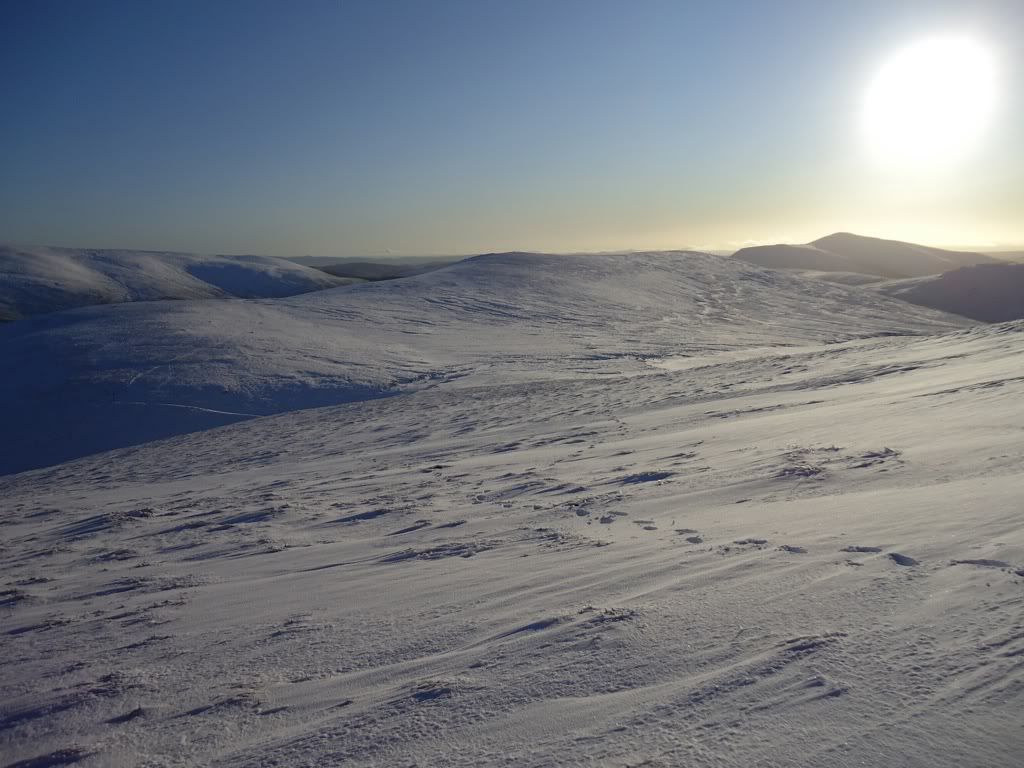 The plateau - looking towards Creagan Caise Hill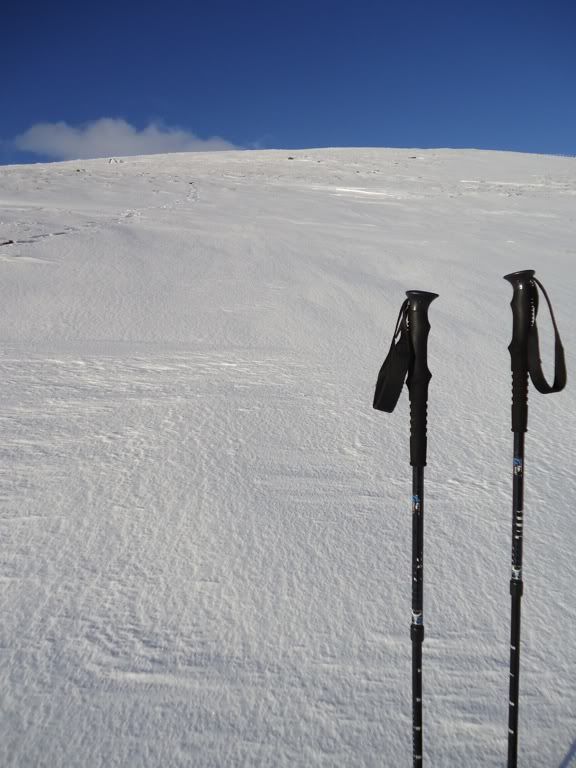 The final slope
I reached the summit just over an hour after leaving the car, and met the two guys that had made the footsteps ahead of me. As it turned out, someone had been up before them and made the footsteps. To that unknown person I will remain eternally grateful.
Some nice views from the summit gave me an alternative angle on many of the hills I had seen earlier, as well as wider views to the south.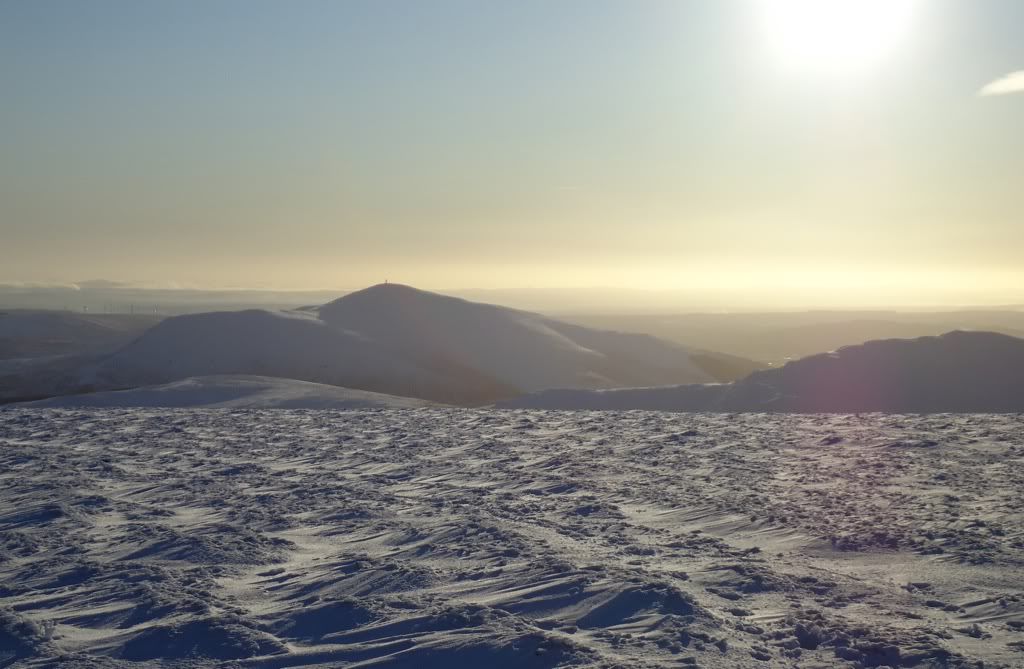 Towards Mount Blair
Near the summit
Up Glen Isla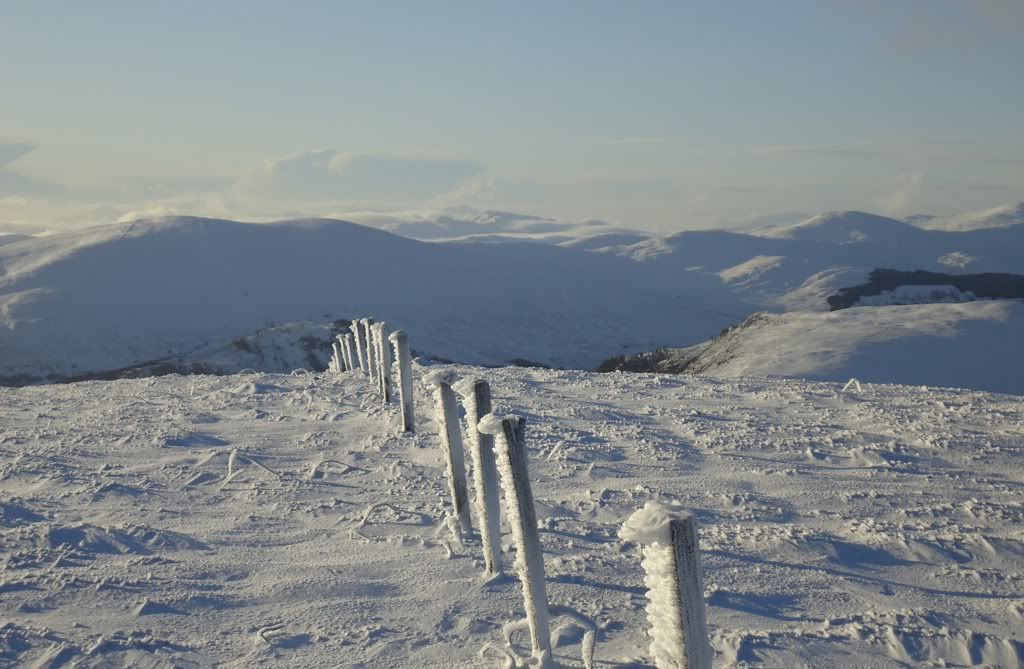 W from the summit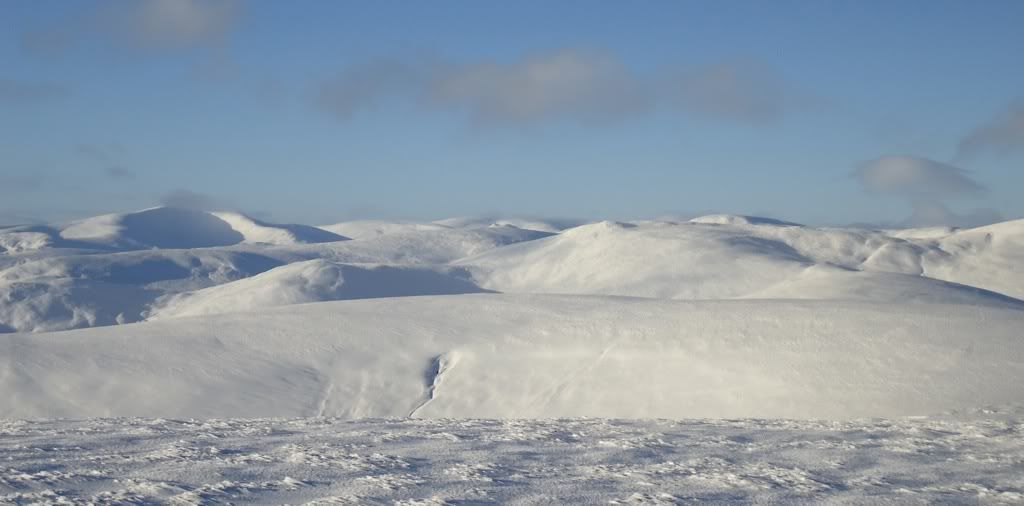 NW to a prominent Glas Tulaichean
After finishing off my lunch, I headed back down to Glen Isla. Although I fancied staying up there to watch the sunset and complete the day cycle, to be honest I really wanted to get home for a nap. Or, to put it more succinctly, I couldn't be a***d sitting in the cold for two hours!
The track on the descent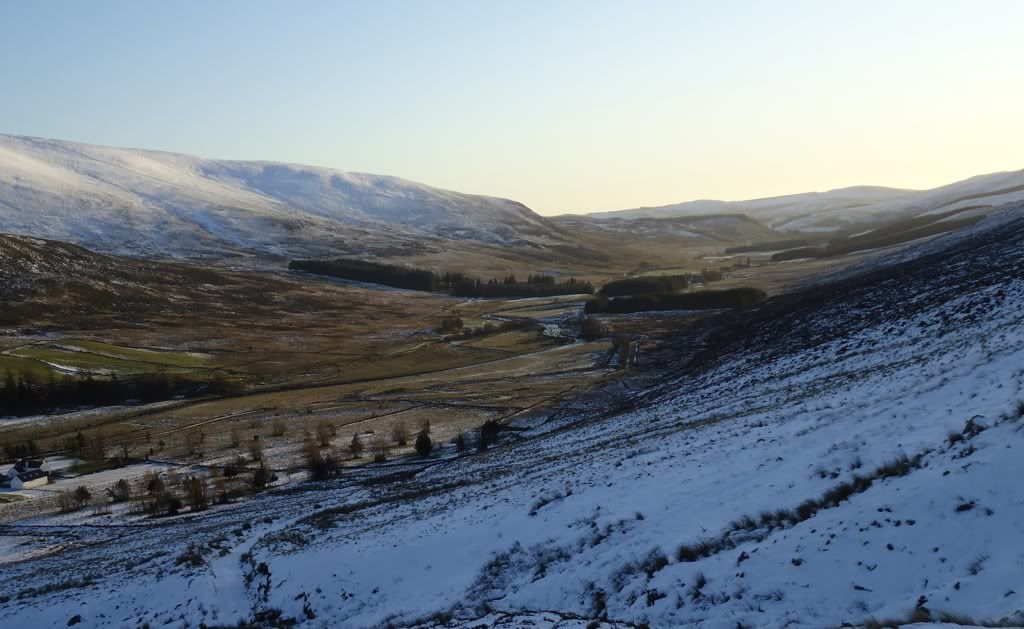 Looking down Glen Isla
It was a simple walk over all, and a great addition to Ben Gulabin - a real day of two halves. What a cracking day though - both hills giving great walking, interesting terrain and stunning views.
Gotta love those Angus glens.
Glen Isla