A brief respite in the strong winds this week provided my last opportunity to get out in the hills before heading back to uni, so my plan was to head up to Glen Ey and do one of my last remaining Munros south of Braemar - Carn Bhac.
As it turned out, this was not to be!
I left home at 5am, hoping to get a really good start from Inverey. Heading out so early had it's disadvantages, however - I was ahead of the gritters, so the road from Bridge of Cally was very treacherous. One memorable moment consisted of the car planing over black ice in first gear near the Glenshee pottery centre: 'memorable' not for any positive reason. I almost reconsidered my plan entirely on ascent to the ski centre - the steep hill was covered in snow and ice, so I eventually reached the centre to the strong scent of burnt clutch.
Anyway, it was beyond here that I was really forced to change my plan. On the corner at the forest near Baddoch, I skidded on black ice and ended up with the car stuck in a muddy ditch at the side of the road, fortunately undamaged.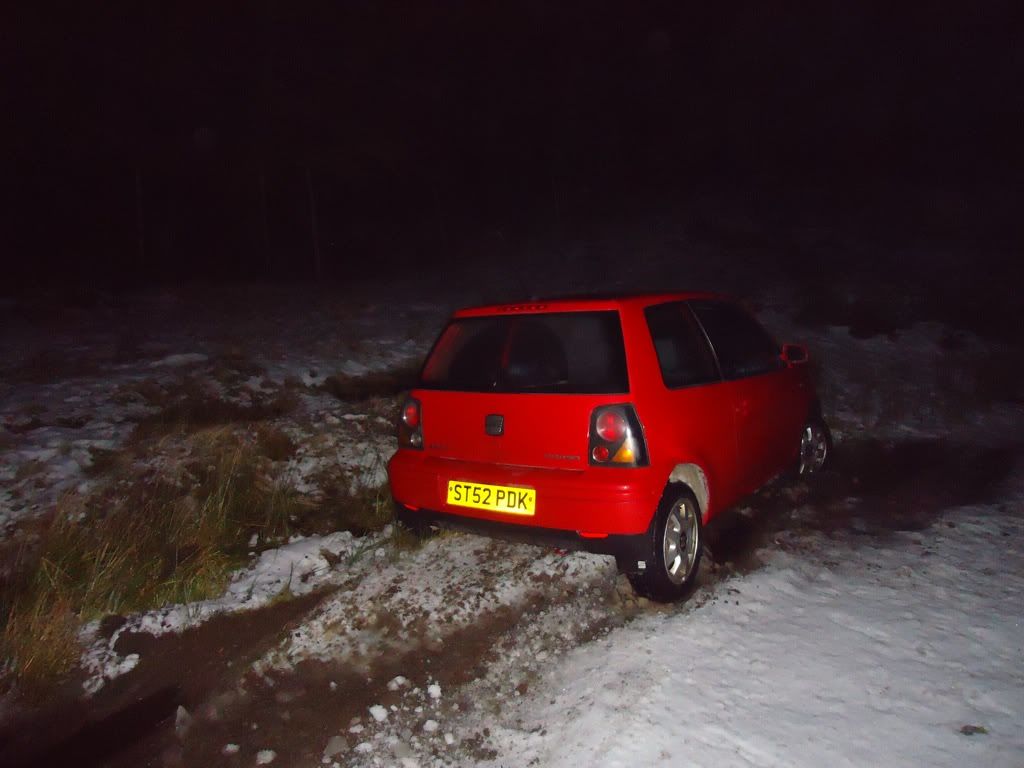 After further burning the clutch trying to get the car out, I decided to wait until a car passed that could give me a hand. After about fifteen minutes (bear in mind this was still before 7am!) I saw some lights reflected on the snow on Carn Chrionaidh and, as I beckoned the vehicle, it turned out to be that elusive gritter! The very helpful driver, Fiona, offered to help get the car out, but even with her help we couldn't budge it, so I ended up grabbing my rucksack and clambering up into the gritter to get a lift to Braemar - she suggested that the guy at the Braemar garage might be able to help.
So, so far it was turning out to be a very different day to what I had anticipated! But at least the car was undamaged, and I was fine. Fiona turned out to be an absolute legend, giving me the all the latest gritter gossip. She dropped me at the garage, where I waited until opening time to speak to the dude there. When he arrived it transpired that he had a 4x4 with a winch, but he wouldn't be able to get it out until about 9am. So for the time being, I explored Braemar a bit as the sun began to rise.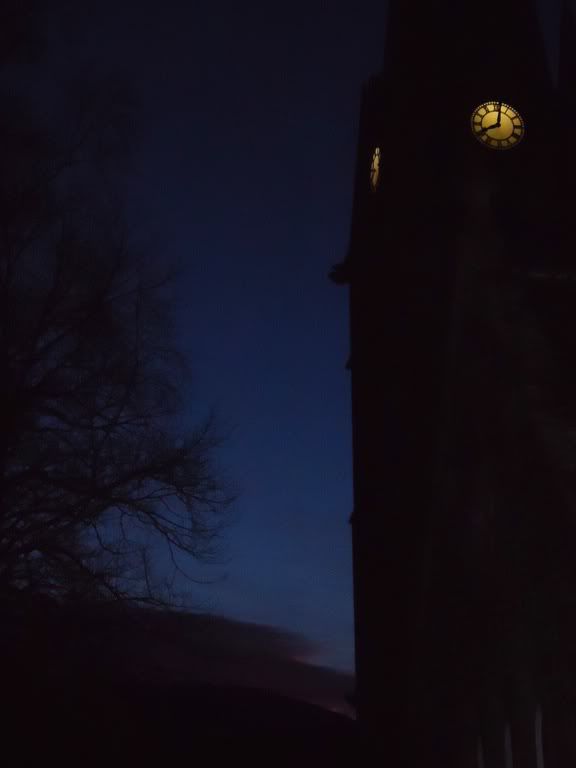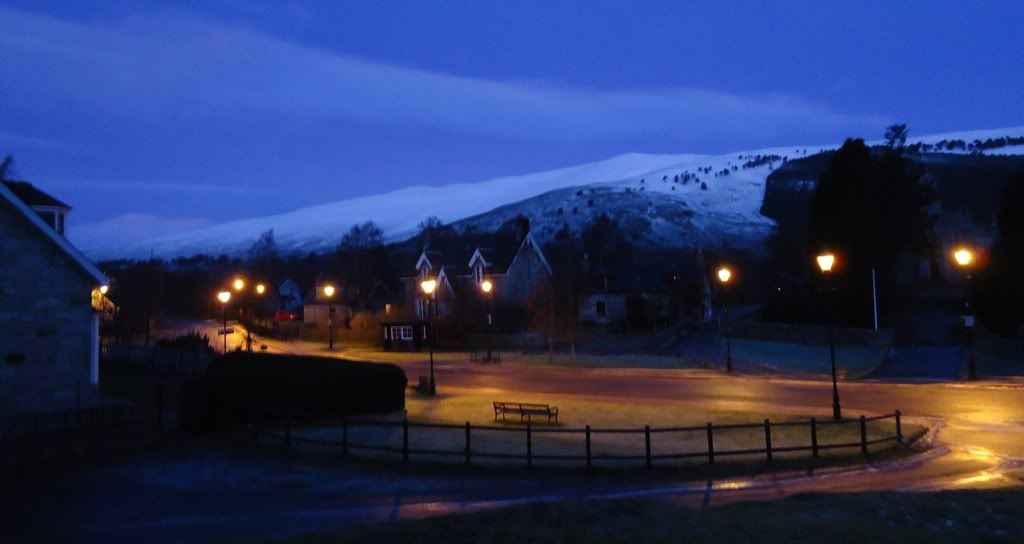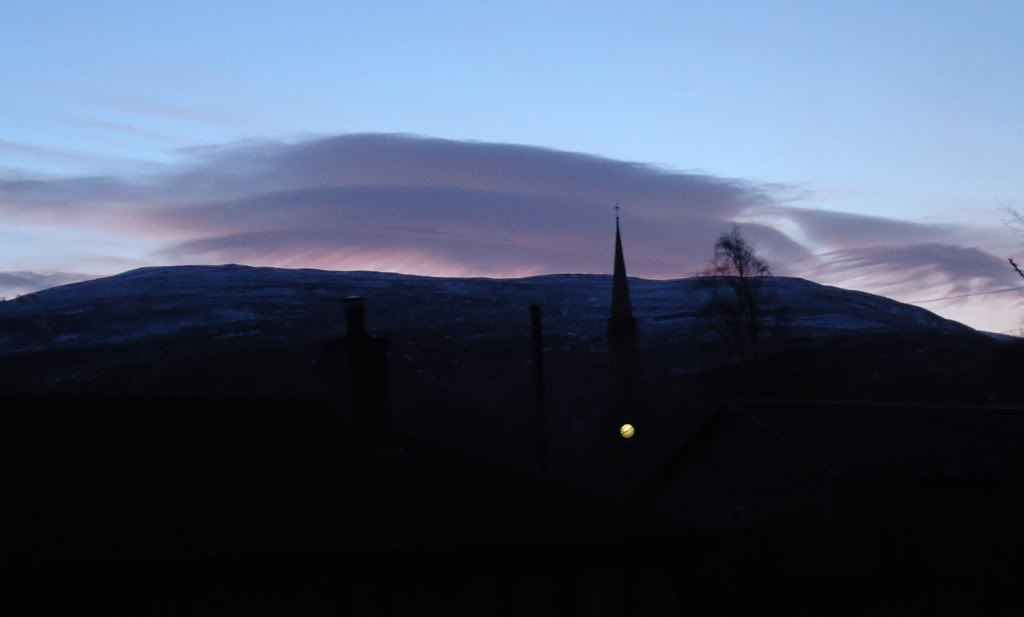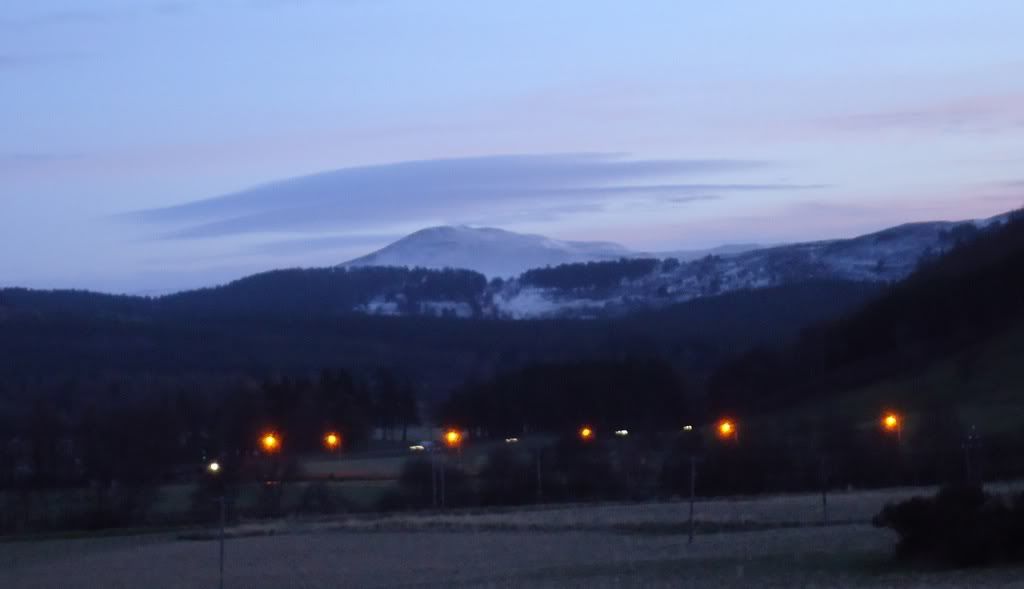 Culardoch
I returned to the garage, and I was whisked off back down to the ditch, where the car was pulled out with relative ease with a rope. I had to reconsider my plans now - I thought I might be a bit short of time to do Carn Bhac now - by the time I had got to Inverey and set off it would've been well beyond 10am. As I was sitting considering my options, a police officer turned up and explained that he had found the car in the ditch earlier and had now just returned to check my details etc... We eventually agreed that the car wasn't stolen, so he let me get on my way. Conveniently placed near the lay-by was one of the Corbetts that I'd had as a back-up plan for the day - Creag nan Gabhar. So I decided to pop up there, leaving the car where it was.
I'd really been trying to find an opportunity to get up Creag nan Gabhar since doing Lochnagar, Carn an t-Sagairt Mor and Carn a'Choire Bhoidheach from Glen Callater last spring, so this was as convenient an opportunity as any. I cut across some bog to the stalker's path that runs alongside Allt a'Mhaide. I didn't follow this for long, instead cutting straight up onto the SW spur of Creag nan Gabhar. The views across the Sgor Mor and An Socach improved continuously on the ascent.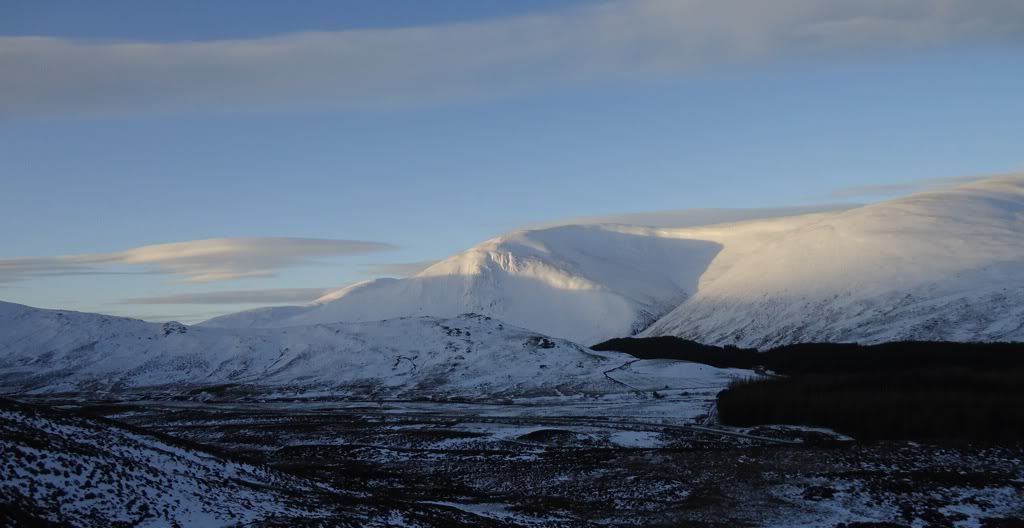 Towards Sgor Mor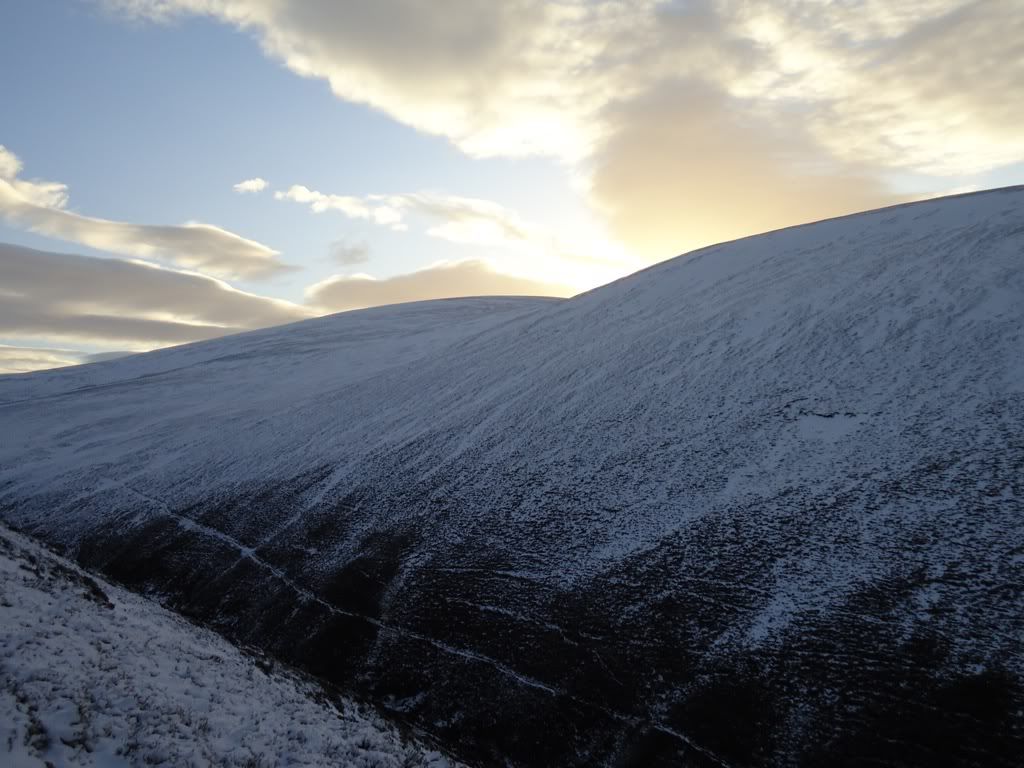 Back down to the stalker's path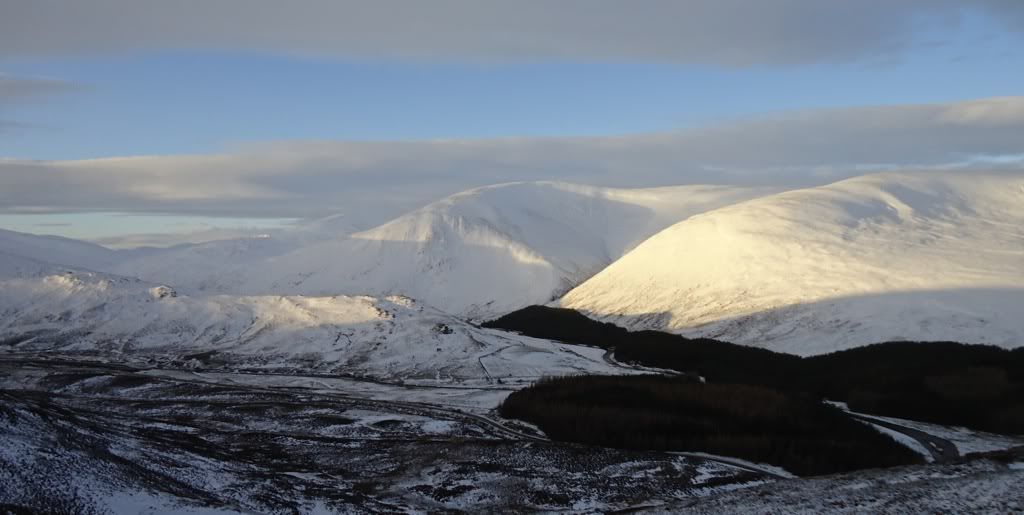 Sgor Mor again
I reached the summit in about an hour, and a great panorama presented itself to me - the point of Lochnagar to the east, the Glenshee hills (most prominently Carn an Tuirc) to the south, An Socach and Carn Bhac to the west, and a partial view of the Cairngorms to the north. As I wandered about the summit plateau taking in the different views, cloud began to descend on some of the visible summits nearby, most memorably Carn Bhac! Perhaps fate had wanted me to have a cloud-free day after all!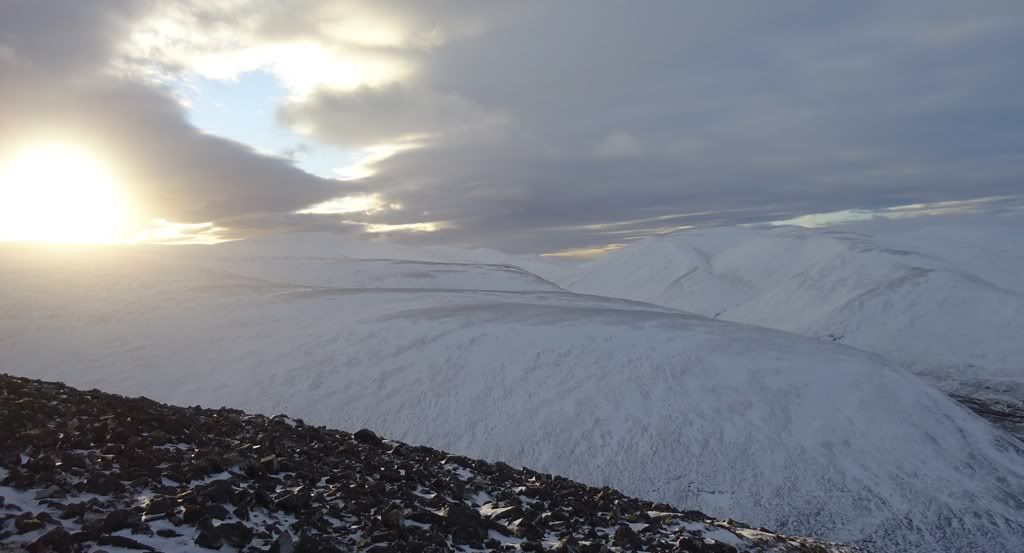 Towards Carn Aosda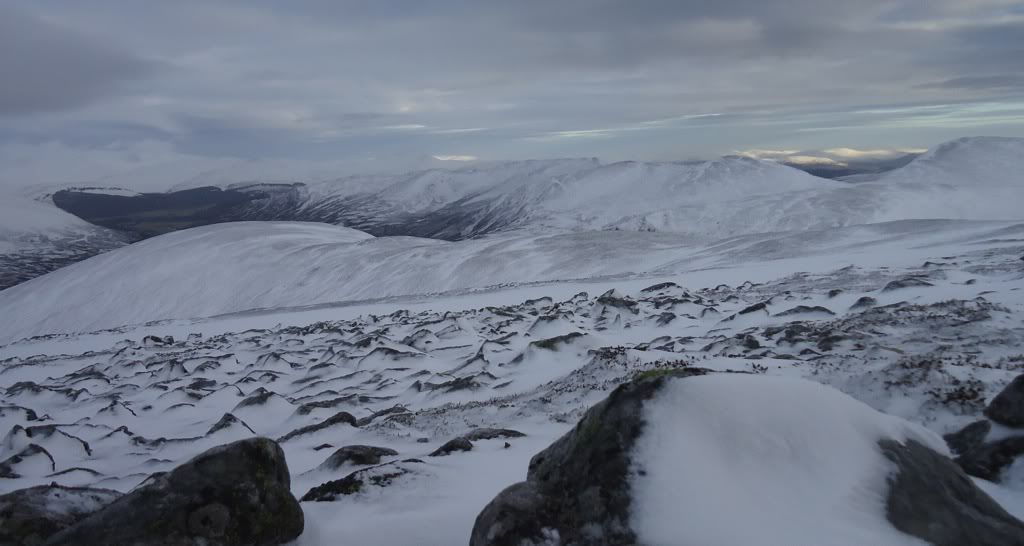 Looking down the northern ridge towards Braemar
Almost the Cairngorms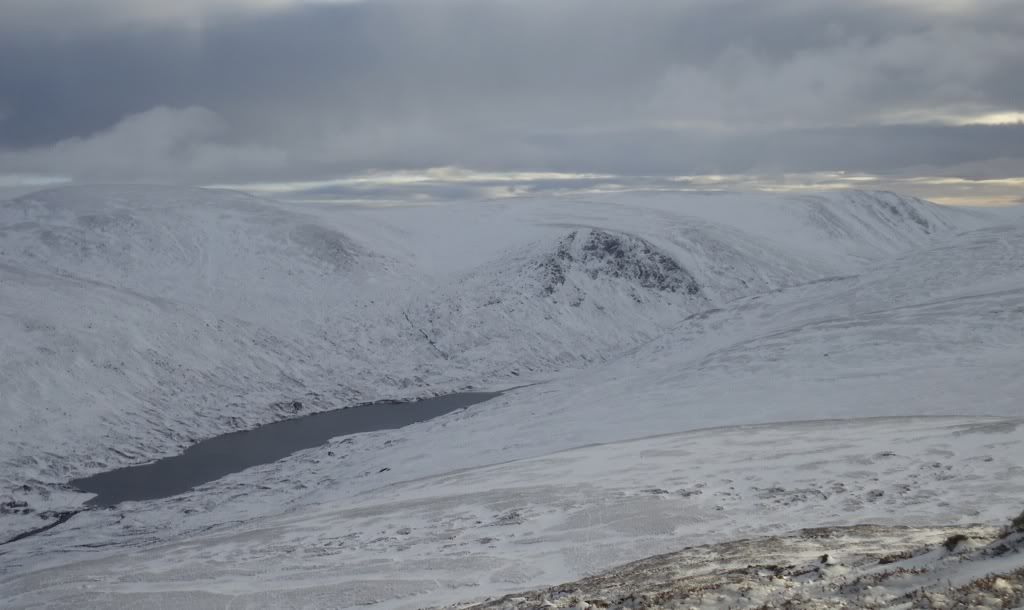 Glen and Loch Callater
Towards Braemar again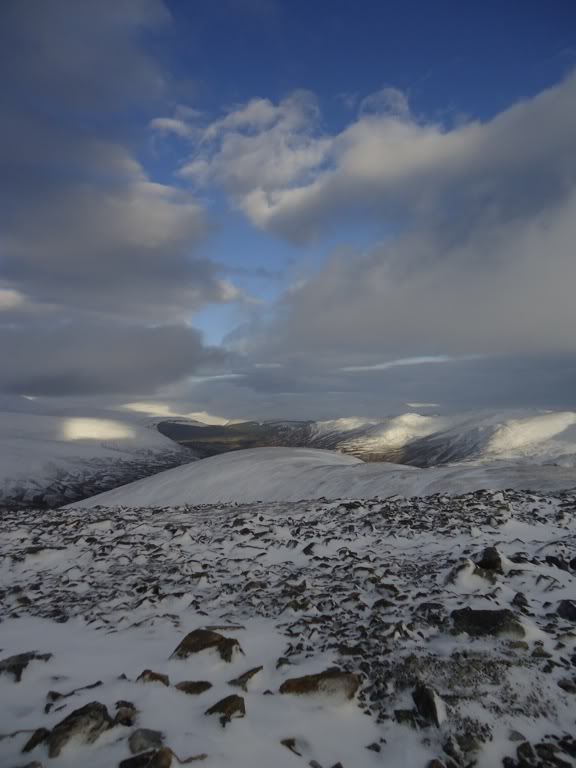 Down the northern ridge to Braemar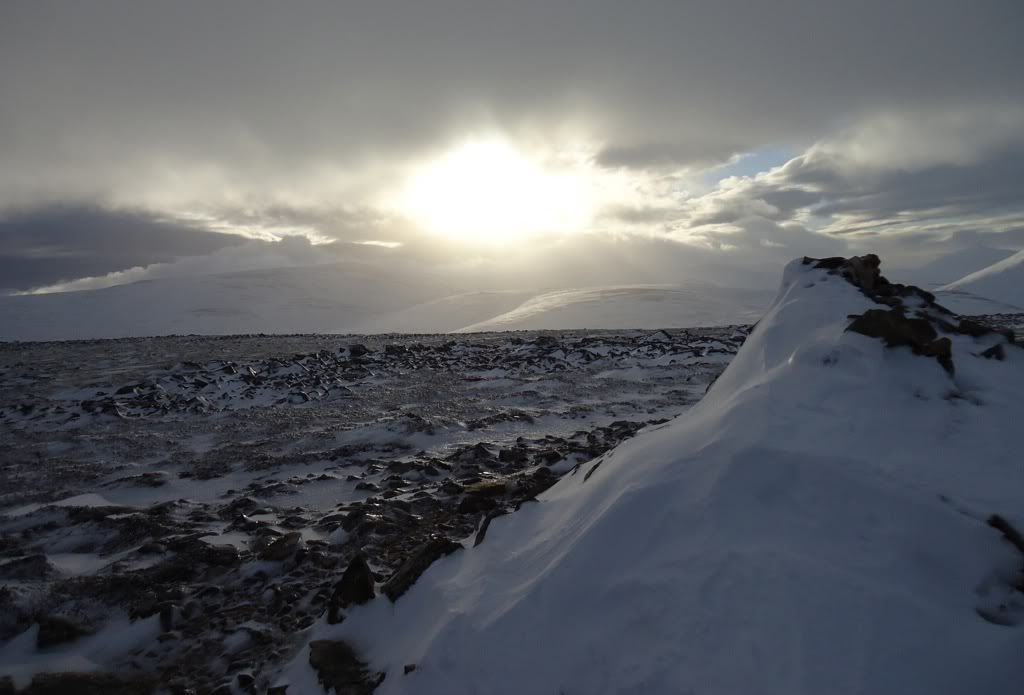 South from the summit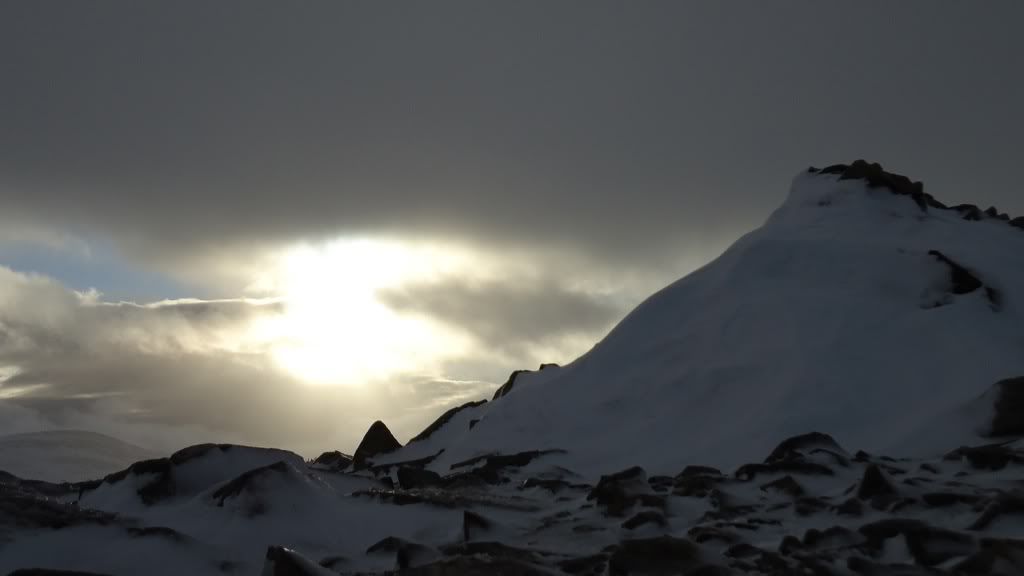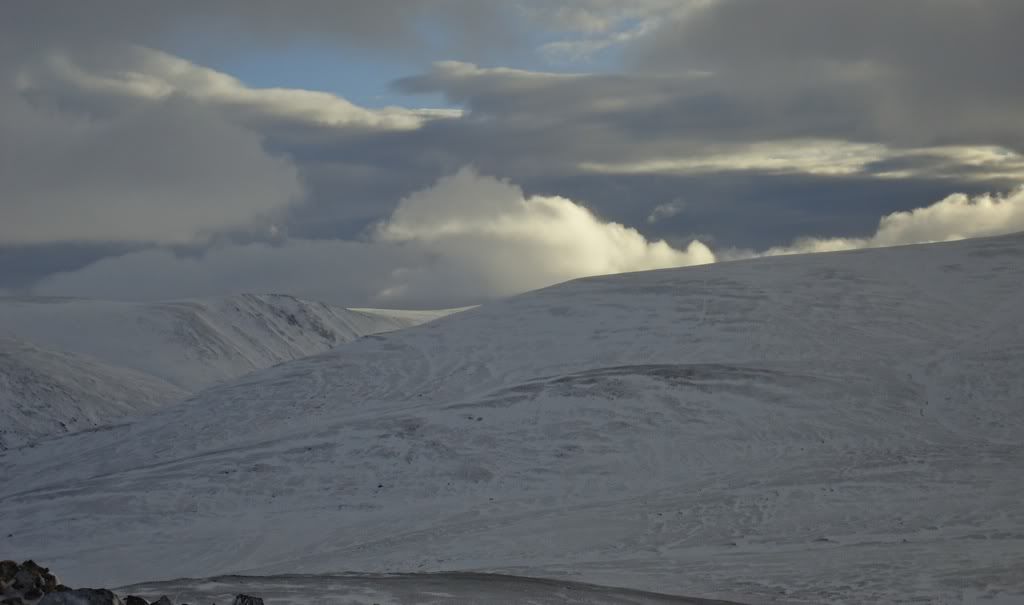 An ominous sky
Carn Aosda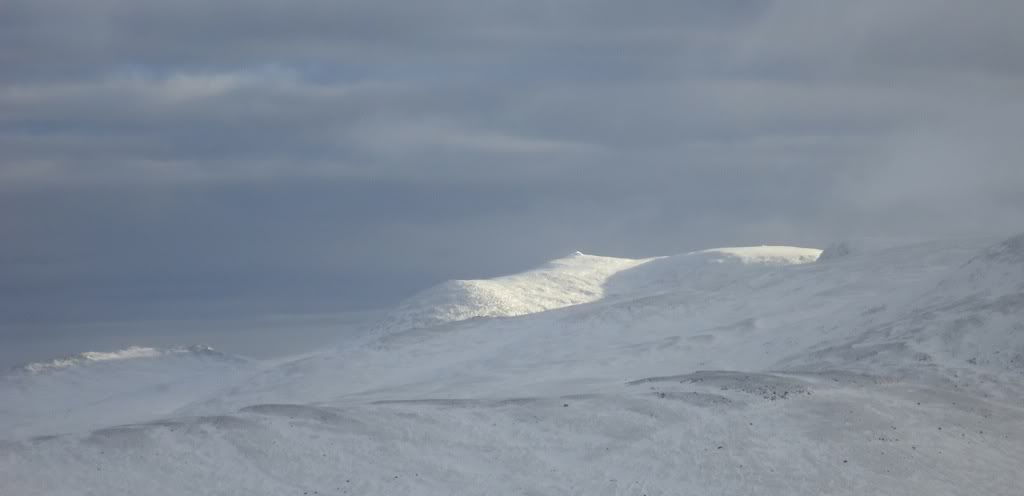 Lochnagar
After spending just over an hour on the summit, I cut south back to the stalker's path, which I met just west of the high bealach into Glen Callater.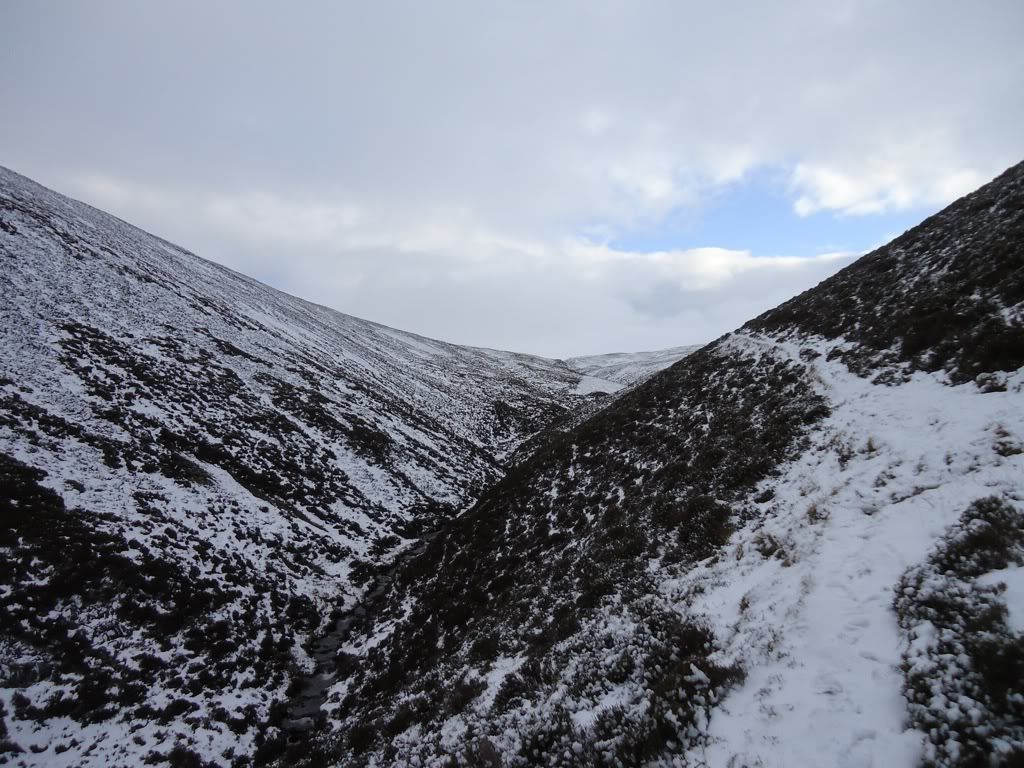 The stalker's path
From here, it was simply a matter of strolling back down to the main road - it had been a short but worthwhile trip so far.
It's a strange sensation to be back at the car before noon and, being my last opportunity to get out in the hills, I thought it'd be a shame to waste the rest of the day. So I decided to head down to the road to Glen Isla and pop up Mount Blair from there.
I had been looking for a good opportunity to do Mount Blair - I imagined it as providing a fantastic view of the lowlands, having experienced a similar view from Monamenach a couple of weeks previously. Unfortunately, at around about 650m the cloud enveloped me - having dodged it's clutches earlier in the day it had finally caught up with me. So despite starting the walk with great hopes for the views it would provide, I ended up spending most of it trudging through boggy, snowy grass in cloud! I still managed to get a nice view back up Glen Shee from the lower slopes - the exact reverse of a view I had a couple of weeks earlier from Ben Gulabin.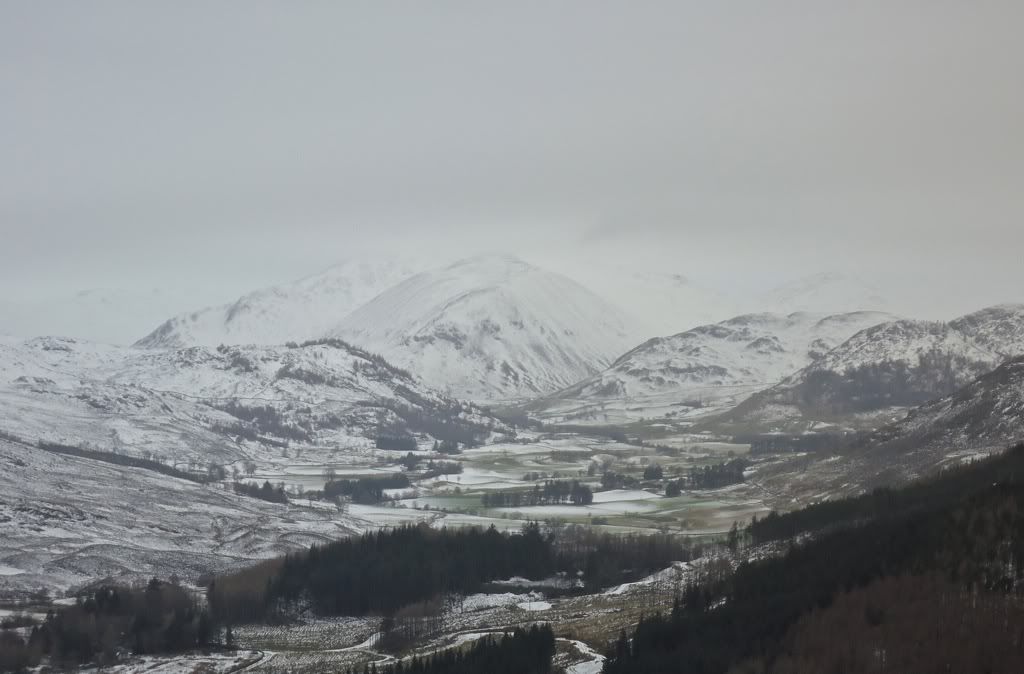 From Mount Blair up Glen Shee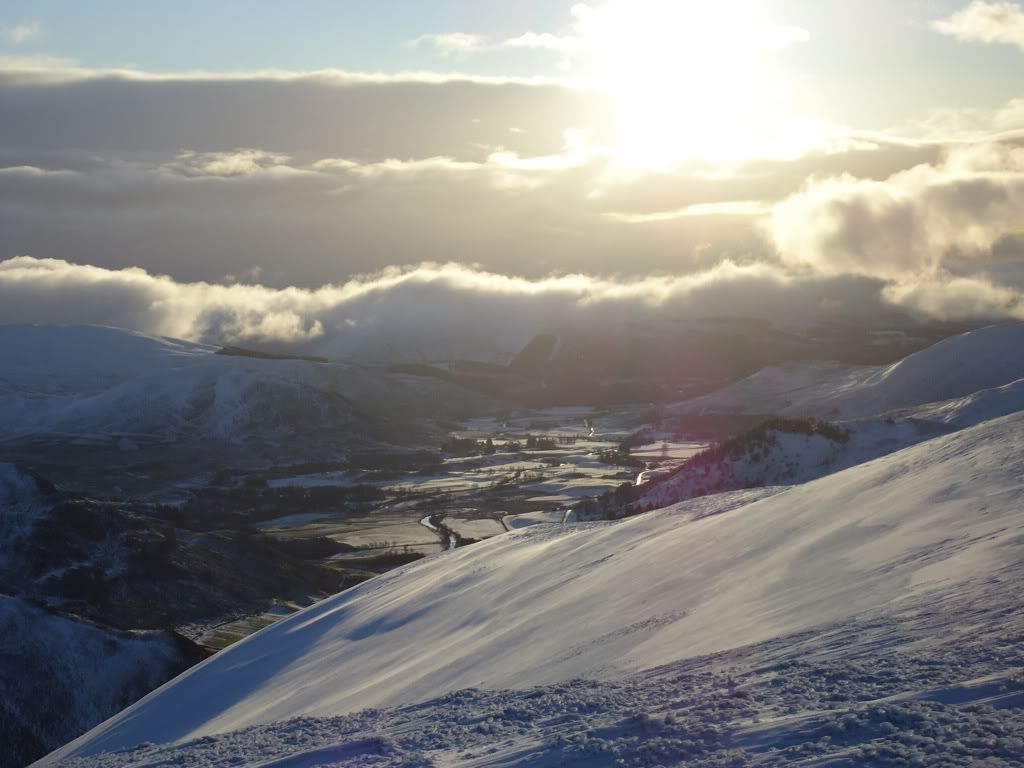 The reverse view from Ben Gulabin (note the cloud enveloping Mount Blair!)
Anyway, it ended up being a pretty uneventful walk up Mount Blair - the sleet and wind making it a somewhat chilly affair. As a result, I didn't hang about long on the summit, back at the car about an hour and a half after leaving it.
So, it was certainly not the day I had planned, starting in a ditch in Glen Clunie instead of at Inverey, and ending on a cloudy Graham summit near Glen Isla instead of a Munro summit up Glen Ey! Nevertheless, it may have turned out to be a blessing in disguise - the views I experienced were equal, if not superior, to anything I could have seen from Carn Bhac and it meant everything could be taken at a relaxed pace as well.
I guess it just means that I'll have to go Bhac at somepoint.