I was looking forward to this Sunday, because i was going out walking with a mate I hadn't seen for a while. He was away in the alps for a month ski-ing, but K was back! Picking me up at 7 in the morning for a gruelling sounding walk.. Alas it was not to be, I gets a phonecall at 6.30 saying he had been up all night, really unwell blah bleh bleh..
And so I decided just to go out walking by myself.. I went to get the bus not really sure where I was going, but the idea originally was to climb a couple of corbetts near Invercauld, so that sounded alright.
I fell asleep on the bus, and was awoken by the bus driver shouting that we had reached Invercauld.. I sleepily grabbed my rucksack and jumped off the bus, only to find out I was about a mile down the road from where I'd intended
Thats what you get for sleeping on public transport
The snow out Deeside, hadn't looked too bad, in fact it had looked sunny to begin with, but as I started the walk up the road the snow came on. At least it was falling vertically I thought.
I made my way through the forest, and saw several fairly large herds of deer feeding on hay that had been put out for the sheep. They were actually scaring the sheep away from it! How delightfully cheeky
As Carn na Drochaide came into view between the trees ( Well it was actually creag a chleirich if you want to be pedantic) the sky had started to look decidedly blue, and by the time I made it out of the trees, there were some fine views of white mounth, Braemar, Lutharn mor, Ghlo.. It was just lovely!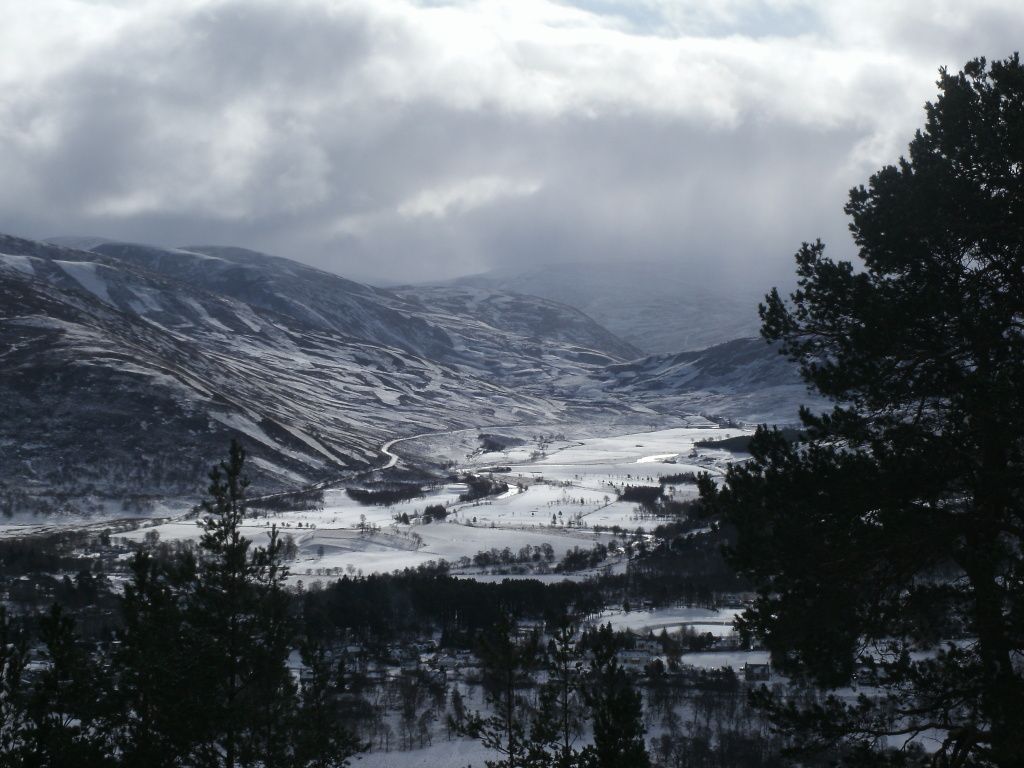 I was just out of the trees, contemplating a tea, but knowing it was too soon, when I was almost attacked by a Capercaillie! I've wanted to see one for such a long time, but as fast as it came, it went, and I was left wondering if it actually happened
The climb up the last 200m of carn na Drochaide was really hard going.. Steep, rocky, big heathery tussocks. I dont think the book says you should climb it that way
but it passed soon enough, and after a longer than expected trudge over a couple of lumpy false summits on the plateau, I managed to find the top. By this point the snow was back on, and there were no views to be had. I thought about sticking around for a while to wait for it to clear, but the wind was super icy, so decided to keep moving.
From there I dropped down into Gleann an t-sluigan for some lunch. Many years ago (15 or 20?) I cycled up Gleann a t-sluigain with my dad and stayed in one of the secret Howffs, and I thought it would be a good place for lunch if I could find it again. My memory of the exact location was hazy - I couldnt of pointed to it on a map, but I was sure I could remember what the track looked like where you had to turn off, and we were just talking about it a few weeks ago and my Dad had said it is just where the 't' is in Gleann an t-slugain on the map. I had my doubts as the ground I remember, did not look like the ground that was under the t on the map. I started to wonder if my memories were too old and wharped to be correct (dads never wrong). I searched the area under the t, climbing up and contouring round the area at different Heights. Nothing.
I didn't really expect there to be, the ground was all wrong. I sat and had a sandwich and a cuppa to think. I supposed that my dad had a different map. Probably inch to the mile knowing him
I looked up the glen, and I saw an area a couple of miles up that looked just like how I remembered. Could this be it? I set off to find out.
The miles passed quicky, and twice I thought it may of been the spot, went uphill and searched, but neither time I was 100% sure it was the right place and neither time was fruitful. The third time I was sure though. I looked up and everything was just like I remembered, the bend in the track, the incline I had just climbed, the view down to the burn below. I started to get excited that I might of found it, and headed up the hill. I searched around for only a couple of minutes beore I saw the gully.. When I got to the gully I noticed a faint path heading up it, when i got to the path I saw the howff!
As I got closer though, it was clear that it wasnt the right howff, or not the howff I remember anyways. Mine has a 2 foot high door and no windows, this was a full size gap (where there should of been a door) windows, about twice the size, and nothing like what I remember inside.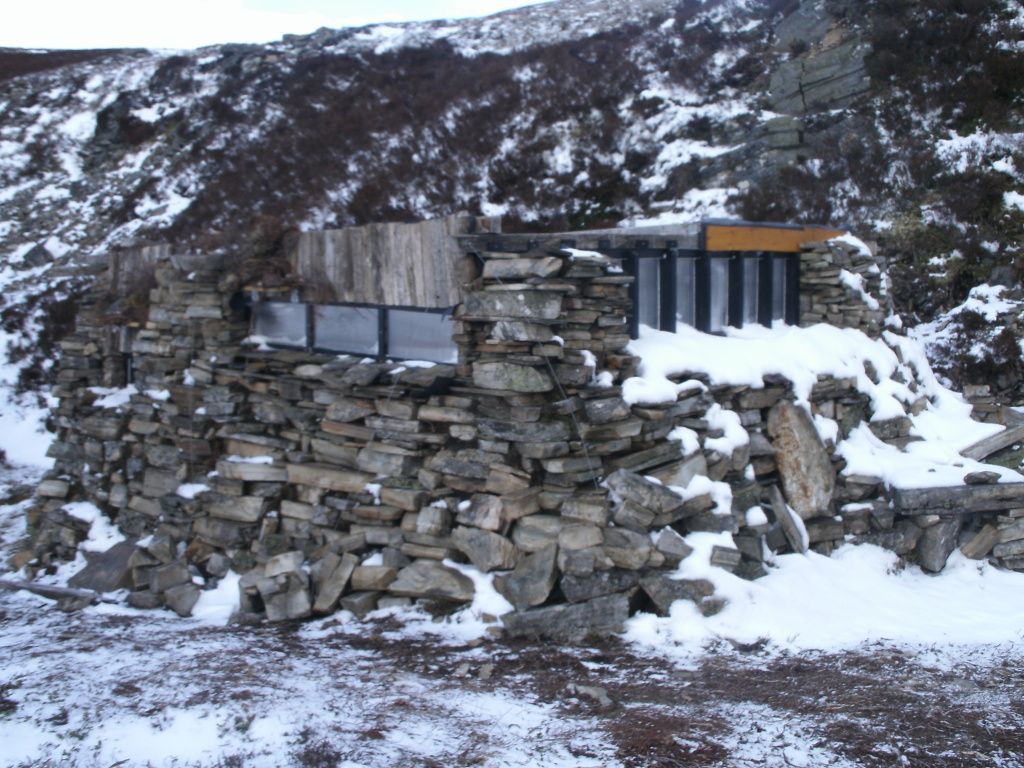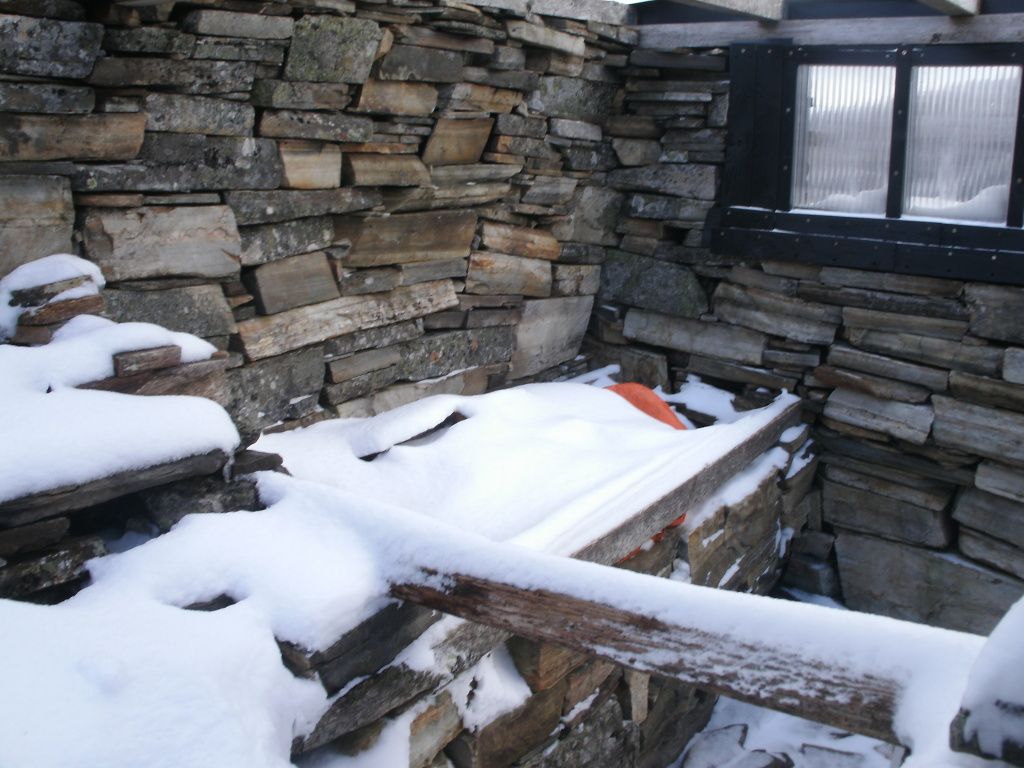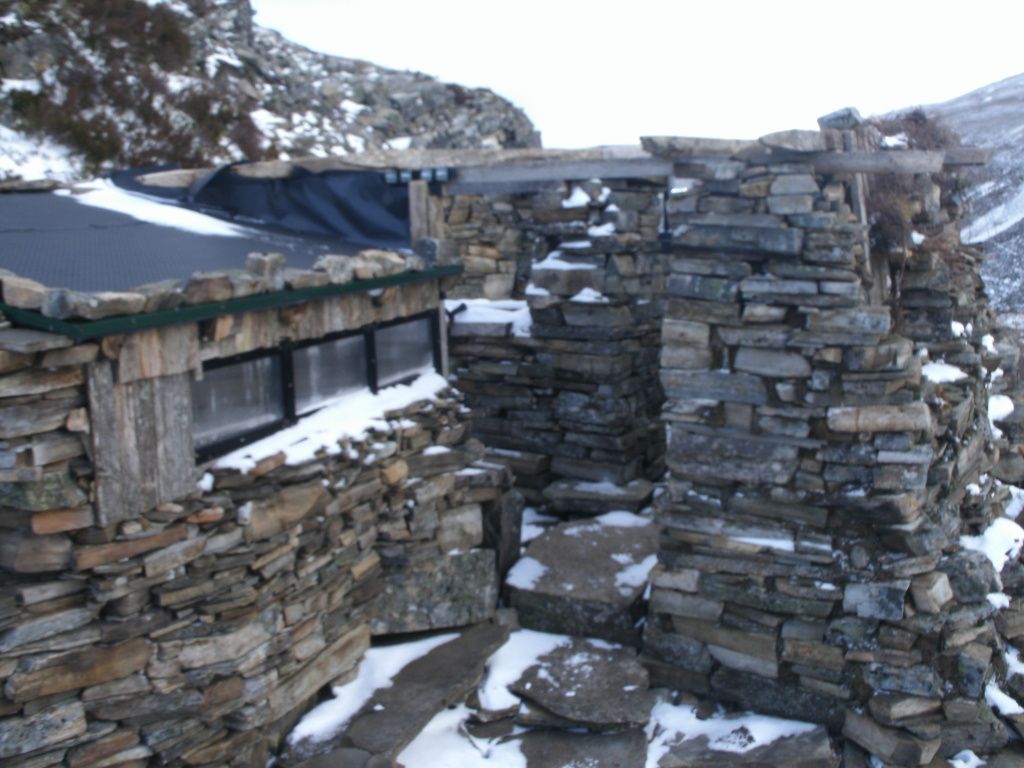 Unfortunately though, this howff's roof was mostly absent, but it was really well constructed, with 4 berths. I had heard there were 3 up there somewhere - I had found the wrong one. I sat and ate another piece, had some more tea, and contemplated. I felt completely bamboozled, I was sure I was in the right place, but the Howff had changed somehow. Unsettling. There was evidence that someone had been up recently, and had been working on the place, which is great.. Well done if it was you. I might try and go back in the summer with a few tools myself
After much nosing about, I noticed that it was almost 4 already, so would have to practically run back to get the bus on time.. cripes! The track was icy as hell so I didnt run, but there was definately some haste going on. The GPS recons I made it up to 8.4 mph! (stupid thing) Made it down in time though, the bus driver looked quite shocked getting flagged down by a bedraggled lassie in the middle of nowhere at dusk for some reason. I noticed at this point that my GPS also said I climbed 818m, which is the exact height of carn an Drochaid on the map.. Another weird thing to happen today. It was a good day though, not much hill really, but still good fun.