This weekend, I decided to go back to Dalwhinnie to do the four hills just west of Drumochter. My walking buddy was back from Germany, so we skived off work early on Friday, and got the train. We arrived after dark, in windy and drizzly conditions, but it wasn't a long stomp along the cycle path in the moonlight. There was a bit of traffic with full beams on, so no night vision and we had to hold hands like primary school kids to stop us bumping into each other.
It took about an hour or so to get to batsporran cottages. The name made me think of some kind of mad scottish batman with a sporran instead of a utility belt. Matt said I was mad
We crossed the railway lines and got our tents up. It was pretty windy, and it soon became evident that the noise of the wind in the tent, would easily drown out the traffic noise from the A9. I probably should of looked for a more sheltered spot for the tent, but the grassy moss was so comfy, and I knew the tent had sheltered me in far worse so I was happy as I got the brew on. I got a good nights sleep, although I did wake up with a cold face a couple of times.. It was cold
There was no change to the weather in the morning.. Still drizzling, still windy
We set of about half 8, heading up the track all excited because it was the first trip we had been on together for a while.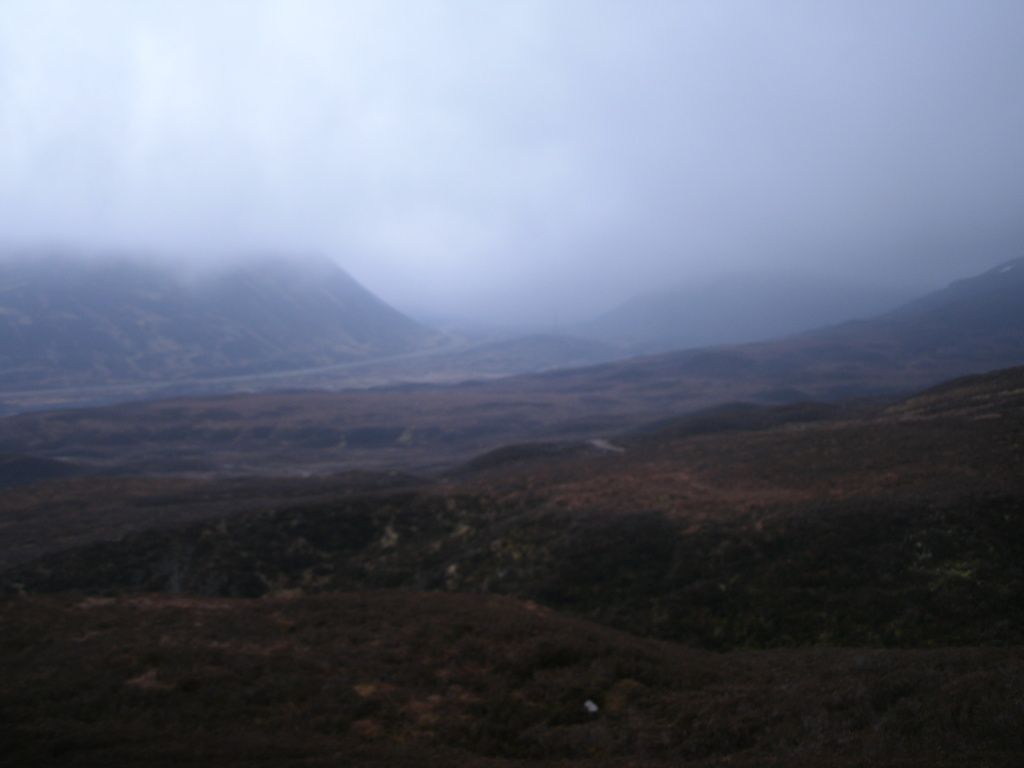 it was pretty dreichit
Well it was so good to get going, that we must of taken a wring turn because at the first (and obviously late) check of the map, we were half way up the wrong glen. I wasn't really bothered, it would make the walk into a nice circuit, so we just pushed on.. The track got exceptionally boggy - which as the day wore on I realised was a universal trait of the whole area this weekend
As we climbed higher, the wind got worse and the rain turned to hail. Not for the first time I wished I had goggles as I got lashed in the face repeatedly, despite only my eyes being open to the elements. The windchill was probably the worst I have encountered, and it was by pure grim determination we made it to the summit of geal Charn. There was a shelter there hurrah!
I dont have any memories of the walk down to the coll.. I think it was just a head down and grit the teeth job. Matt was really struggling, said he was cold, and it was clear he wouldn't make the route, so he headed down the path back to Batsporran, and we arranged a place to meet up later.
Finding myself on my own, the next was a Mharconaich, there was a brief flat section before a seemingly unlosable decent path started up in the right direction. The weather showed no signs of letting up on the onslaught and I lost the path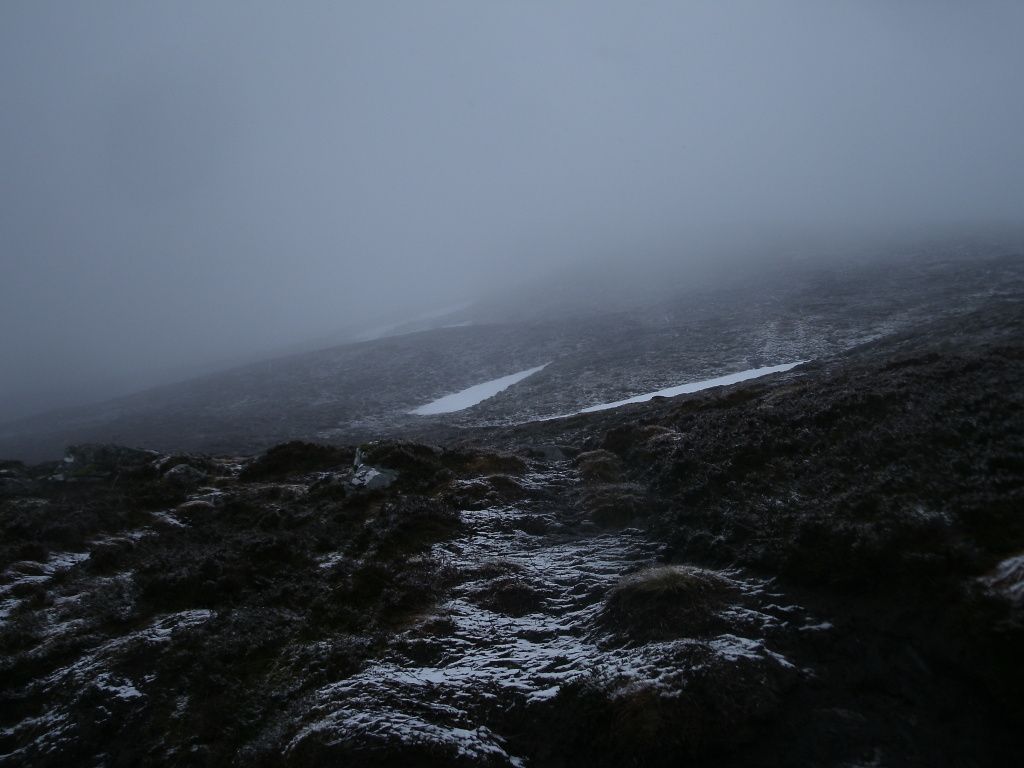 It seemed like an awful harsh climb, with the wind trying to wrench my big pack off my back all the time.. I've still got the sore shoulder to prove it.. But all things come to an end eventually, and when I came to a cairn at the same spot height as the summit on the map, I thought that was it, but careful examination of the map said that the top was further on. i had completely lost my bearings in the near whiteout, so I spent 5 minutes wandering round in circles getting them back
Unfortunately the summit cairn was pretty unimpressive although a little further on, I found another shelter. I was hungry so I got my sit mat out, only to be chilled before I could even get my piece, so I decided just to carry on. Ben Udlamain didn't look like much effort from here and keeping warm was the most important thing.
There was easy ground underfoot as I descended round the curved ridge. I thought the weather might be starting to break as I got a few glimpses of the way ahead through the clag.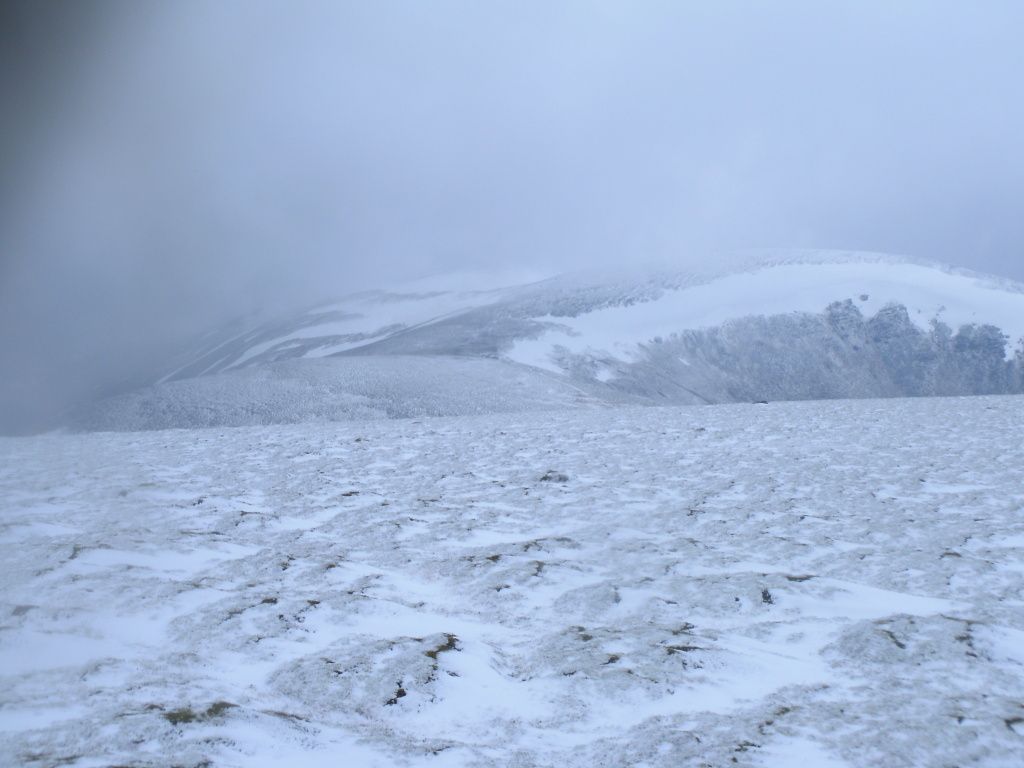 Again on the ascent, I came accross a cairn I thought was the top, only for a map check to reveal the top to be further on. The wind was definately dropping a bit and some views over the Ben Alder range could be glimpsed more frequently.


At the top there was a huge cairn/triple shelter type construction. It was great! First time out of the wind for 5 hours. I munched down as much as I could. I didn't think I would make it this far, but a check of the watch (which was a lot of bother to dig through 3 jackets and 2 pairs of gloves to see
) showed it was only 2PM, plenty of time to make it on to Sgairneach Mhor.
The descent was far more rocky than any ground I had encountered so far, and the rocks were pretty darn slippy coated in slushy snow. The air was thick with the croaking of ptarmagan here.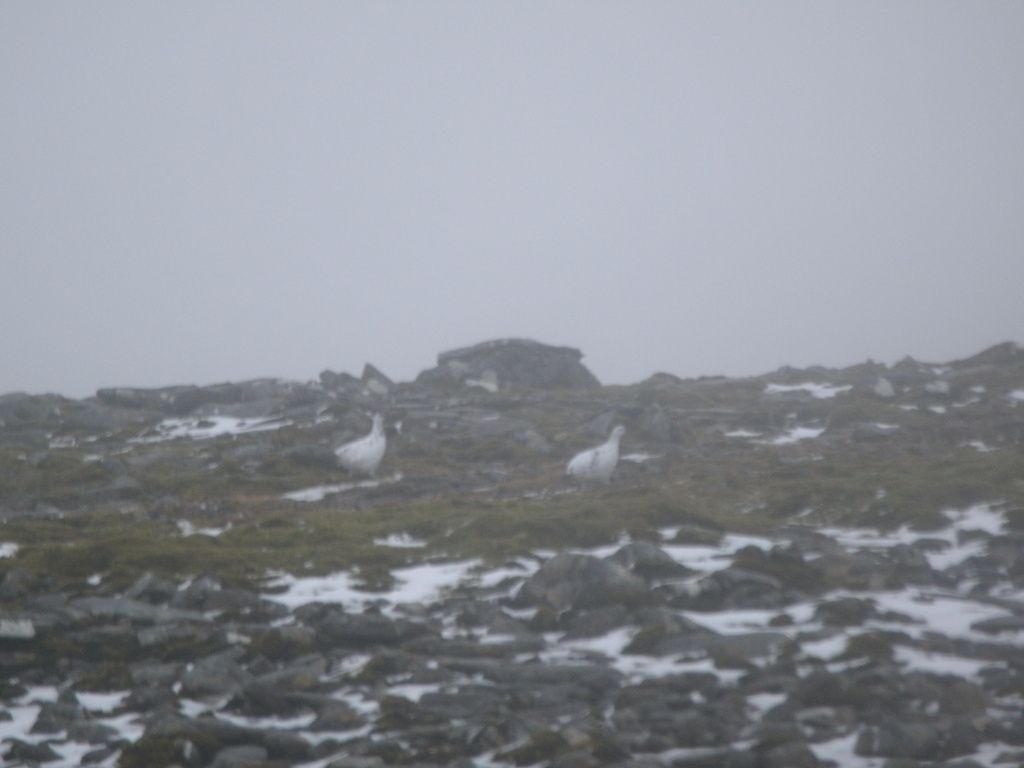 I found another decent path and crossed the boggiest bealach of the day, and as I started the ascent on the final munro, the hail came back on, and I was soon back to getting lashed in the face
With visibility back to being poor, again I was almost fooled by a cairn out on a shoulder of the hill.
But I knew it was a trig point I was looking for so a quick change of direction, and I was there in no time.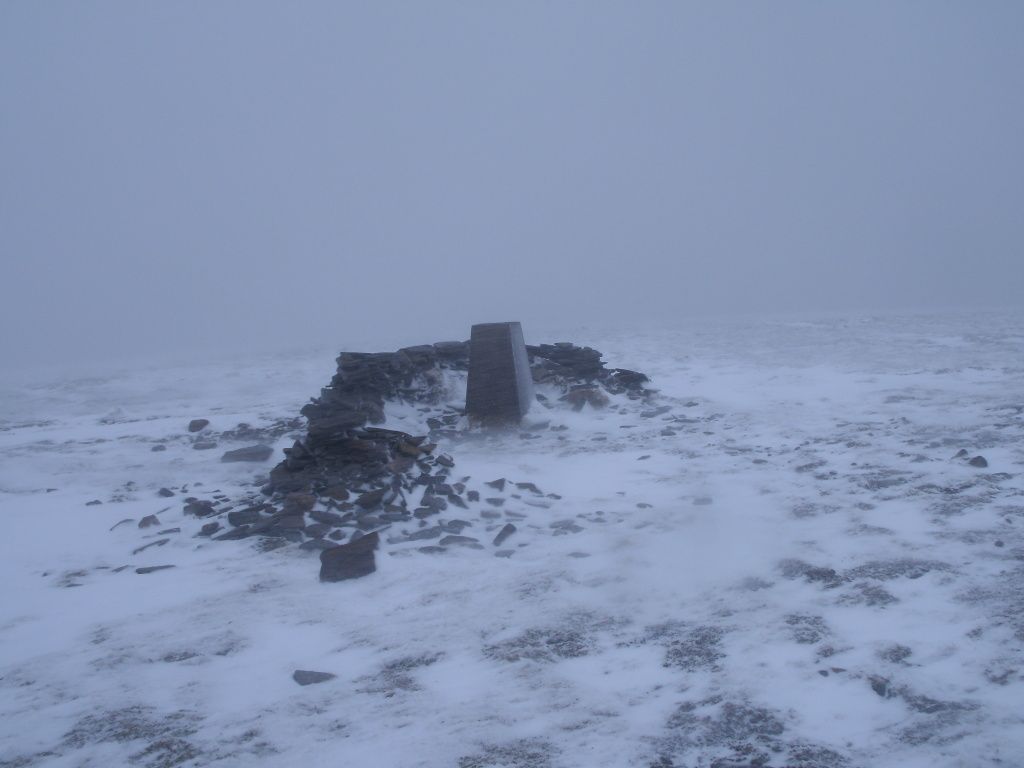 I wasn't sure what was the best way down, but I found some footprints and followed them for a while before I stumbled accross a track. The rain was off, and the wind had definately dropped as I followed the track steeply down to a new looking bridge.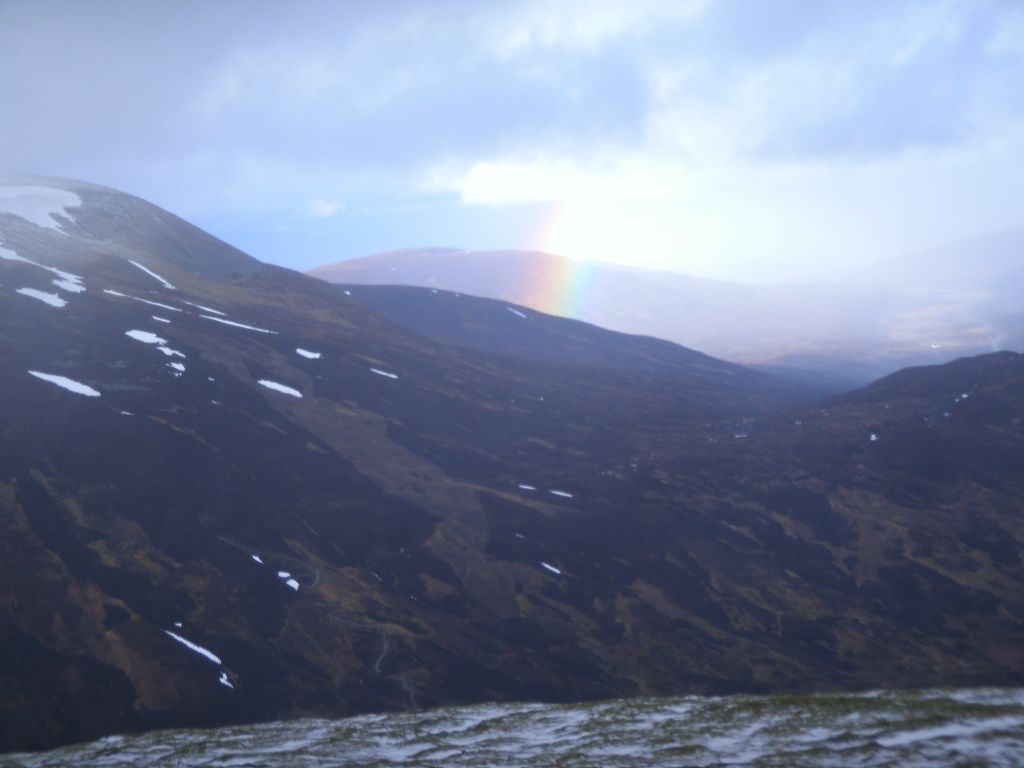 It was somewhere round about here I was supposed to be meeting Matt, so I went walked the track being careful to look out for his tent, but I got all the way down to the railway line without seeing him. I was sure that if he was up there I would of seen him. I was really tired and needed a cup of tea so I set up camp, and tried to phone him with no luck. Eventually, after dinner I get a text, he is only a few hundred yards away! What a tattie I am!
he came down and we cosied up - 2 folk in a laser competition is pretty toastie!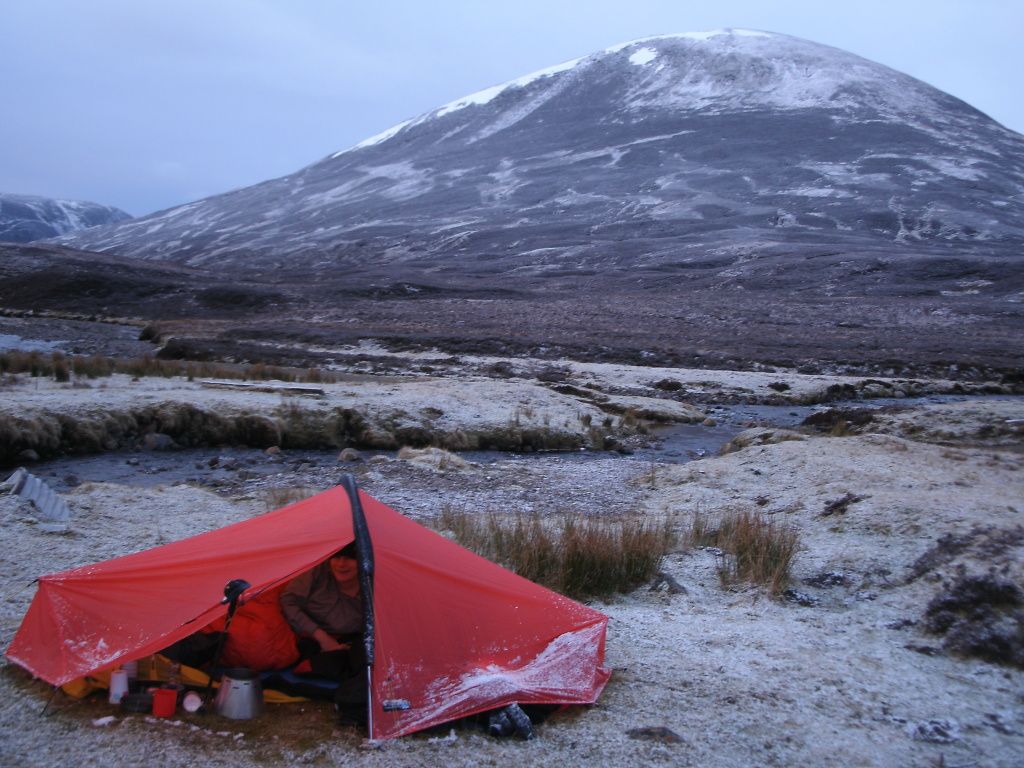 There must of been some snow overnight, because there was sprinkling over everything this morning. After a leisurely breakfast, there was the trudge back down to Dalwhinnie to get the train at midday. It was lovely, sunny and calm, I got some good views of the hills I had done.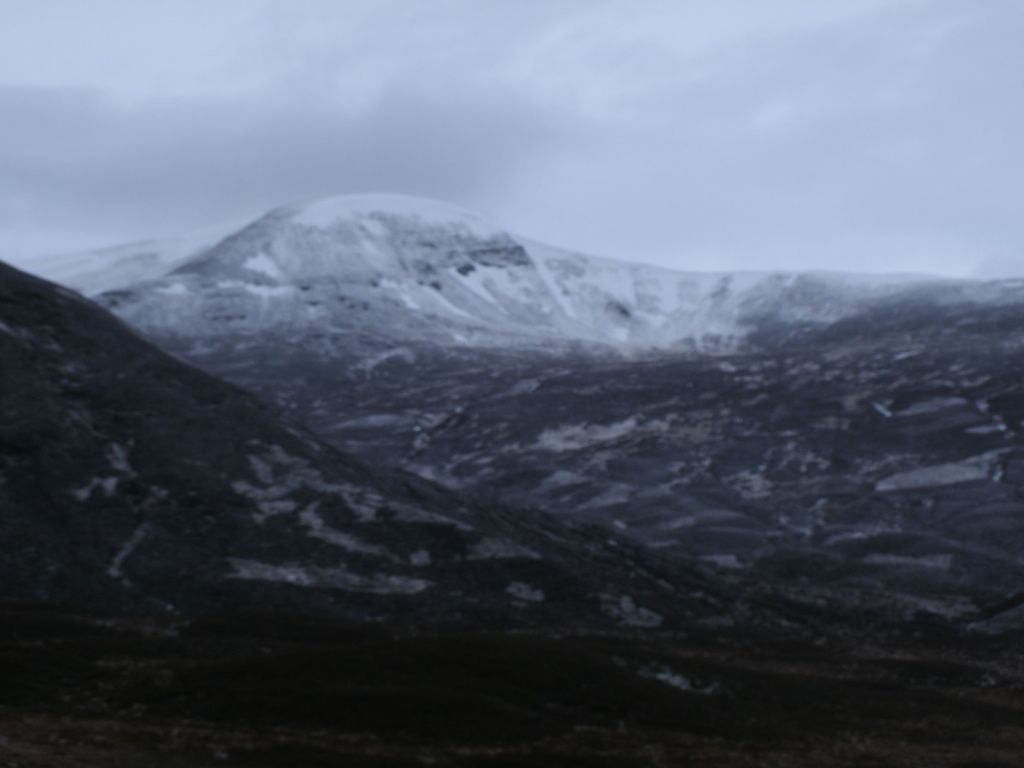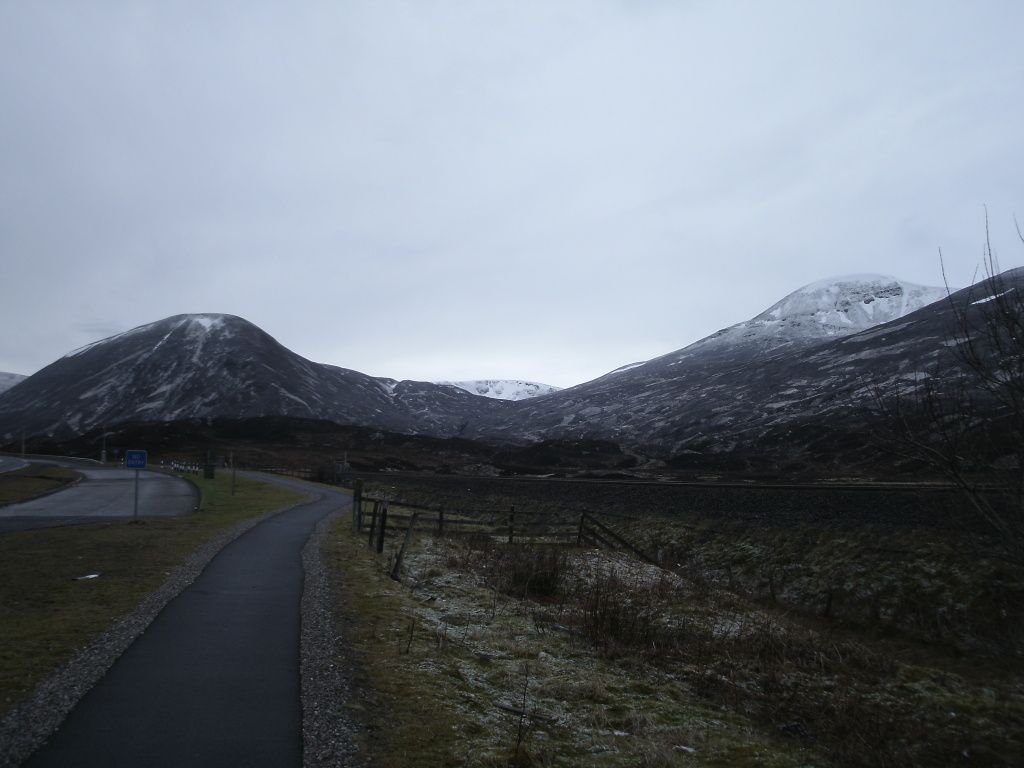 I know the weather was mostly atrocious, but I love being in my tent, and I totally loved the walk this weekend, made all the more challenging by the conditions. I didn't think I would get round them all, but I managed OK.. Yaay!