Hills: Sgorr Dhonuill, Sgorr Dhearg
Date: Sunday 4 March 2012
Distance: 13km
Ascent: 1,300m
Attendees: me
For a variety of reasons it had been nearly four months since I'd last set foot on a munro and I was keen to get back out again. Needed an early start from Ballachulish as I had to be back in Glasgow by mid afternoon to get to Ikea.
No other cars in the car park when I set off. Weather looking promising until only about ten minutes later the snow started so stopped for waterproofs.
It didn't last too long before the sky started to clear – stopped again to remove waterproofs and take a few photos.
That's when I discovered that my camera wasn't working.
I could view the previous photos on the memory card but it wouldn't switch over to allow my take pictures. Fished out some new batteries but no difference - probably moisture or condensation inside it as it has now started working again.
This stop had taken too long and I needed to get going again. Anyway, that's my excuse for the poor quality of photos as I had to use the camera on my phone instead….being someone who prefers to speak to people or [very] occasionally send a text, it's a basic phone with a basic camera.
I was starting to feel the effects of a lack of recent walking – that said, the going was relatively easy and I was soon out the forest into more open ground.
I kept stopping to try the camera and carried it out of the case hoping it would start to work but to no avail. The path stops on exiting the trees but there's a fence which leads up to the bealach between the two hills.
A wee bit boggy in places but the recent snow made for some good views.
Got to the bealach. There was hardly any wind and the snow was probably insulating the sound – total silence – could've heard a pin drop.
First up Sgorr Dhonuill.
Clear views and I could see where I was going. Was a wee bit worried about the final section especially under some new snow. On the way up there was some snow cornicing but easily avoided.
Not far from the top, I could see cloud rolling in so stopped for a few photos.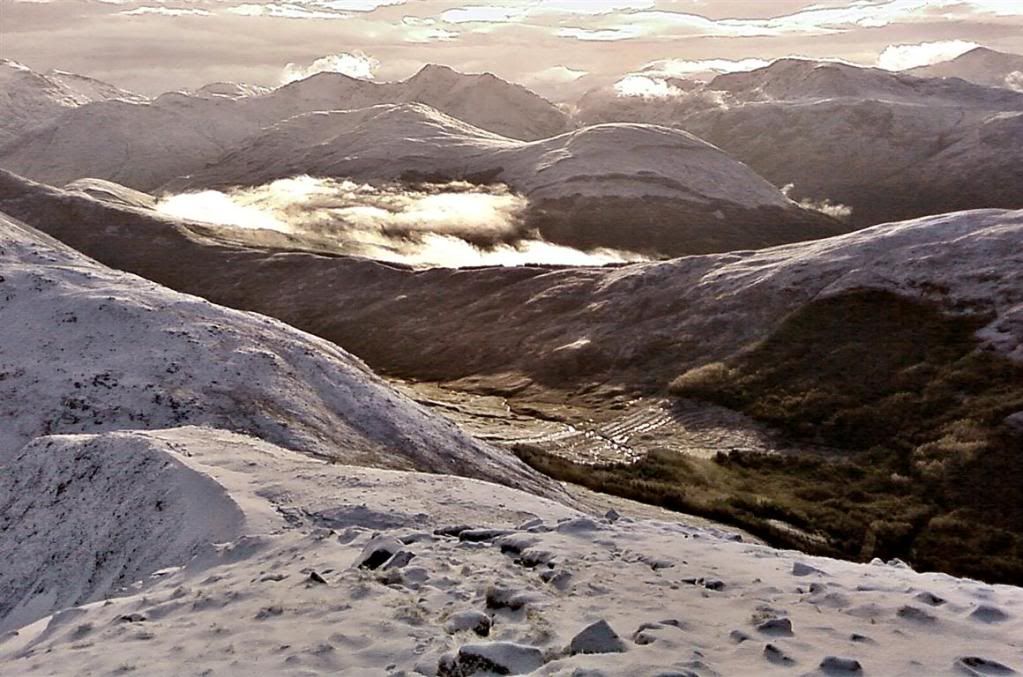 Over to Sgorr Dhearg
Now in the clag, went carefully over the last bit just before the top and then no views at the top.
Stopped for a time but it wasn't going to clear so headed back down to the bealach.
The weather was intermittently clearing and I could occasionally see where I was going next. Fairly easy walk up to the top of Sgorr Dhearg – slippy and rocky in places but nothing difficult.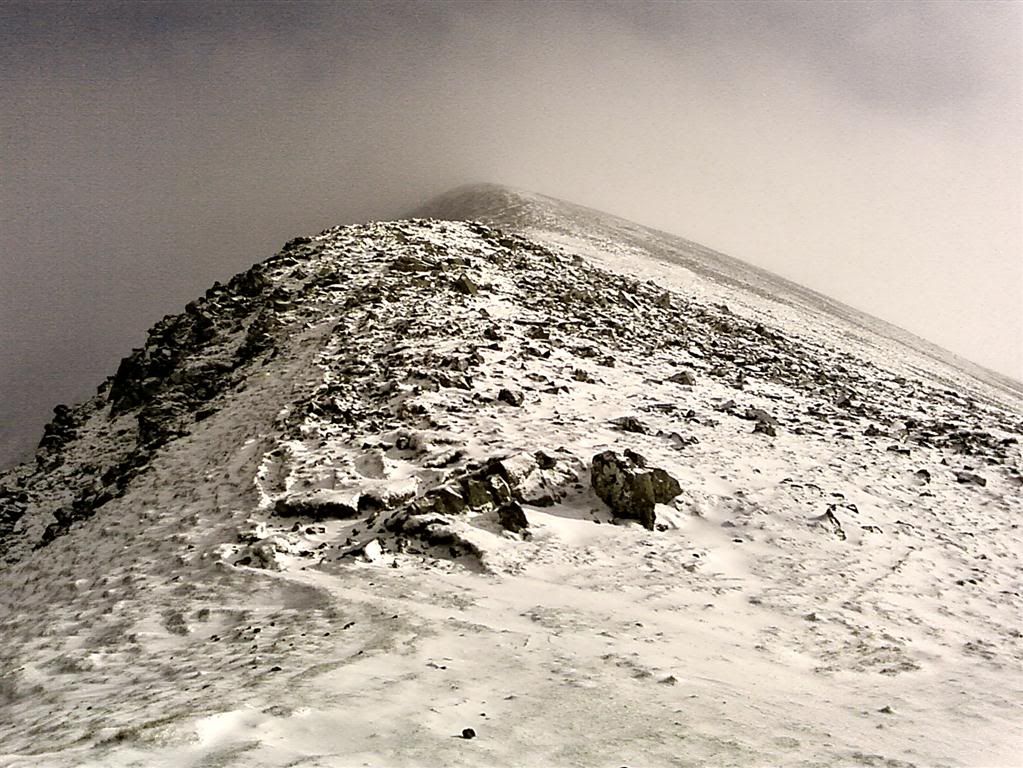 Stopped for a bit again but the clag started to roll in.
Snow cornicing from just below the summit of Sgorr Dhearg.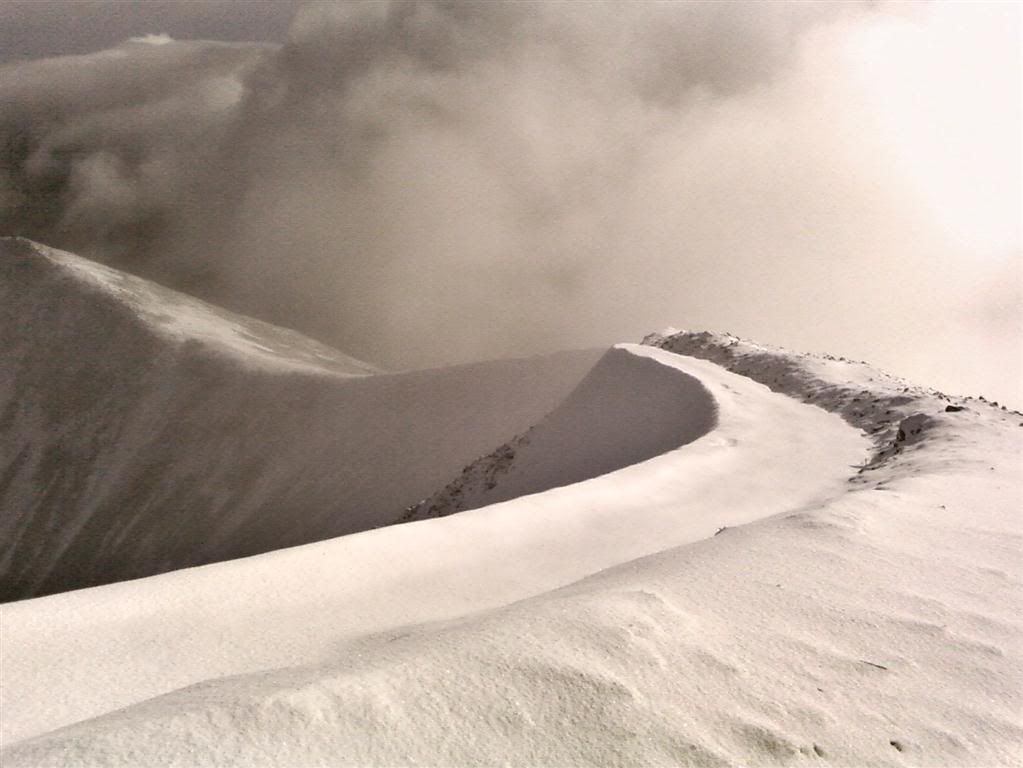 The plan had been to return northwards down the ridge from Sgorr Dhearg. However, given that I now couldn't see anything in that direction, I decided just to head back down to the bealach and return the same way.
Over to Sgorr Dhonuill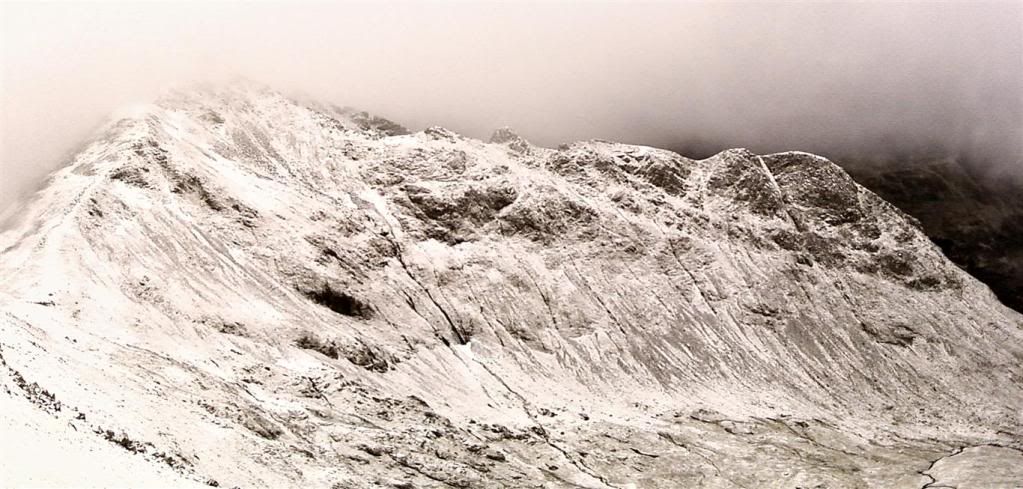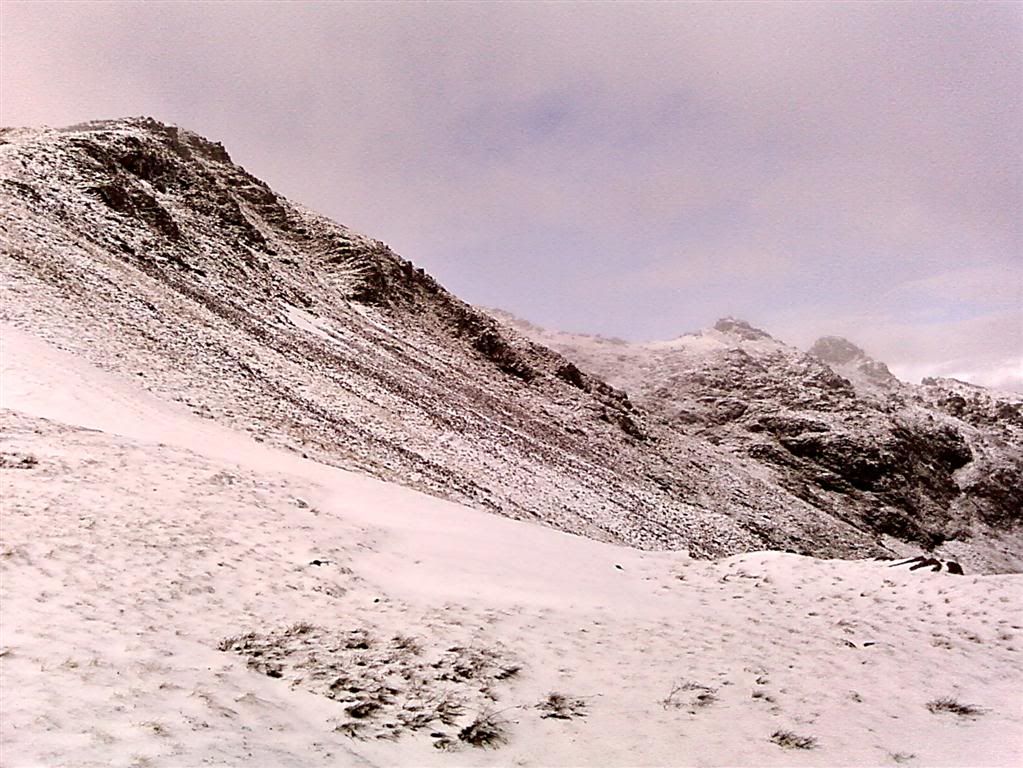 Before I reached the forest section I saw a large party of walkers in the distance heading up – didn't manage to speak with them though as we'd taken different lines and were too far apart.
Got back into the trees and the sleet came on in earnest. Good to be back out on a fairly straightforward walk - I'd carried my ice axe, crampons, walking poles, microspikes and gaiters but hadn't needed them at all.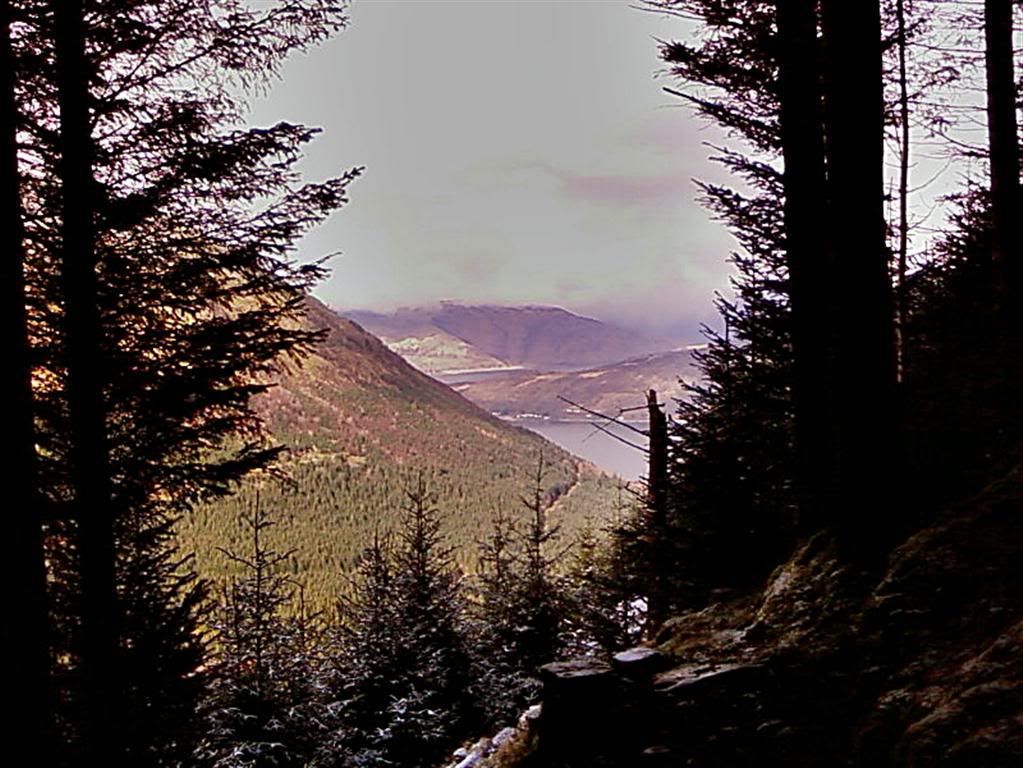 Passing through Glencoe I saw the yellow helicopter out – the weather was very variable, blue sky and sun one minute to snow/sleet and clag the next. Got to Ikea in plenty time.