This walk was not supposed to happen – I had settled for two Munro's for the week, having done Buachaille Etive Beag earlier in the week. Gemma woke up first though and I grunted at her "What's the weather doing?", to which I got the reply that it looked reasonably clear and dry. I am still not sure why I didn't get up and go out then – I think I was waiting to be told "Go for a walk" as I would have felt guilt going out alone. Two hours later - having laid awake for two hours - though I gave a good shove to wake her up and said something along the lines of "Hmm maybe I should have got up earlier and gone for a walk". I then got my wish and was told to go for a walk. Rather than head further North like the forecast suggested I decided to do the walk right outside our cottage – Beinn a Bheithir.
Having an understanding partner is always useful and I recognised this as I got dropped in Ballachulish to begin my walk. I even had my partner in crime with me – Todd... It looked early on like he was grateful for a good walk!
Up the side of the school and through the gate and then begins a very boggy, very brackeny, very very steep climb. Apparently you hit a path after 250m of climbing but I didn't find it until 450m. Instead I had a ridiculously steep trek with very few points to rest, Todd was up and down like a yo-yo, but once was definitely enough for me!! Only when I got up to the Beinn Bhan ridge did I dare take my bag off for a picture, I was worried if it slipped I would have to go back to the start! The clouds certainly a lot higher and the weather a lot brighter than previous days!
The weather looking equally lovely over towards Glencoe.
After this I did manage to locate a path and it was relatively easy going and thankfully relatively dry up to the top of Beinn Bhan! At times on that climb up I was beginning to regret coming out as it was such hard work. You quickly forget that though when you are rewarded with views like we had though! There was a stark reminder of the time of year though at this point with a strong wind, so on went Todd's coat to keep him quiet! And on we went!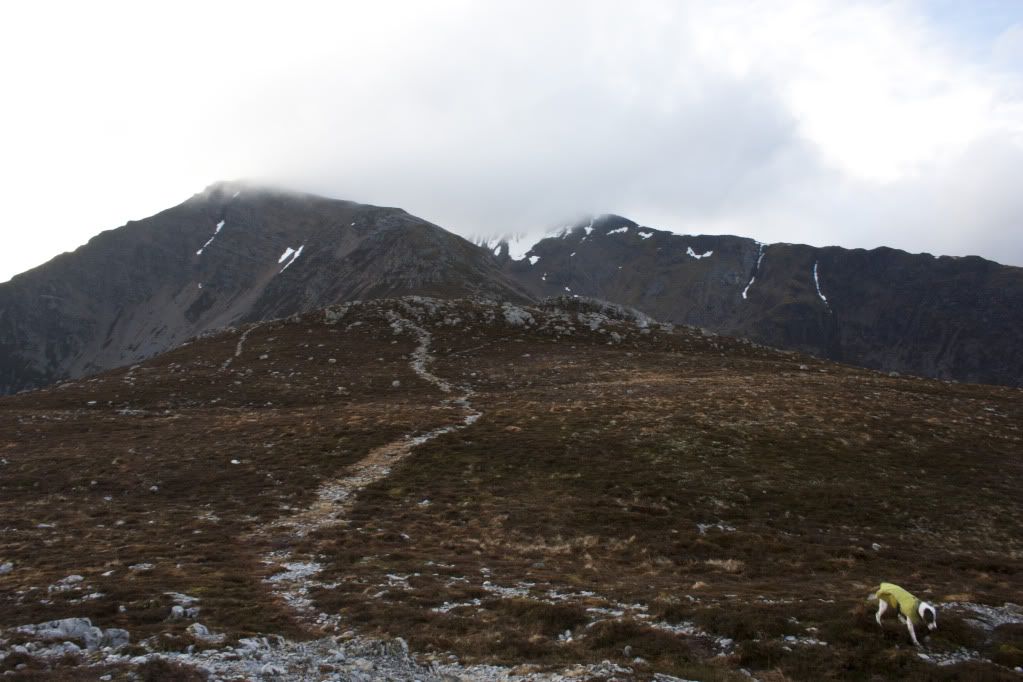 Just along the ridge the clouds suddenly lift off the first Munro summit of the day and reveal a beautiful snowy top! If ever you needed motivation to get around a ridge, here it was! Although I was slightly concerned about the amount of snow – I was hoping it was only on this side of the hill rather than a full coating.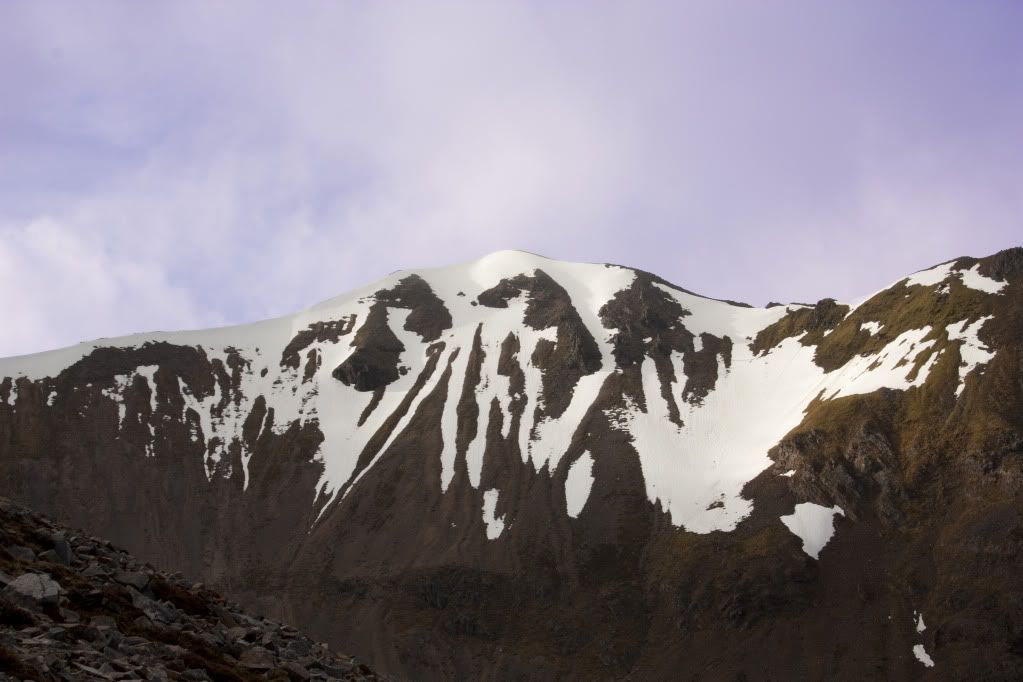 The strong gust was doing its best to get rid of all the clouds and now we were higher up the blue sky was breaking through... so on with the filter and get a lovely shot of some sky! I think that is Nevis under the cloud?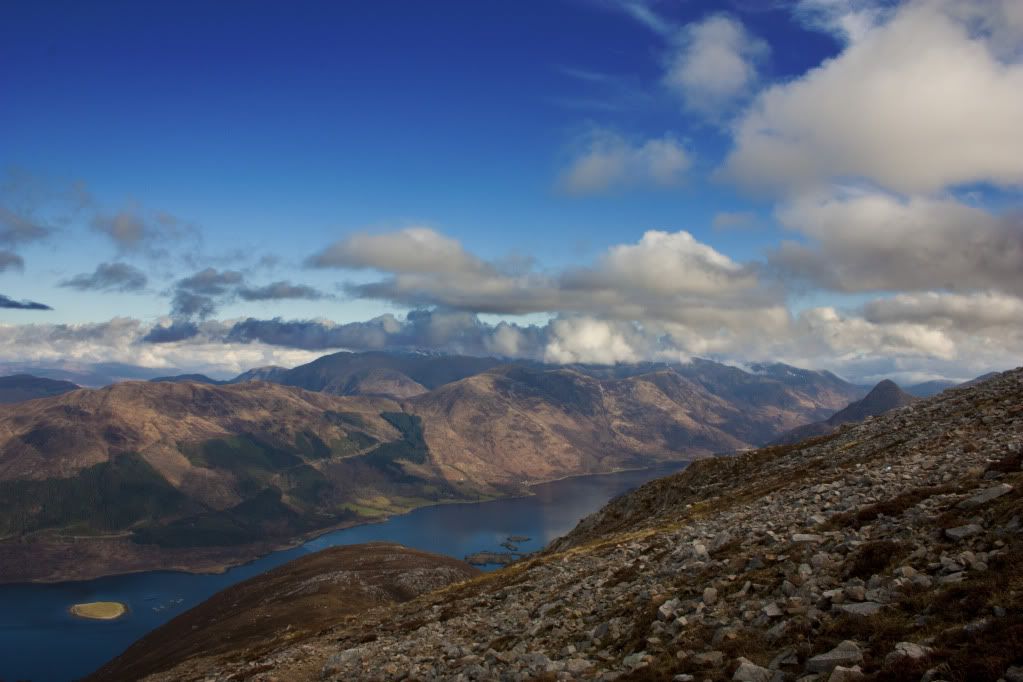 Still cloudy over Glencoe and the Aonach Eagach ridge... the filter gives a good moody effect in my opinion here...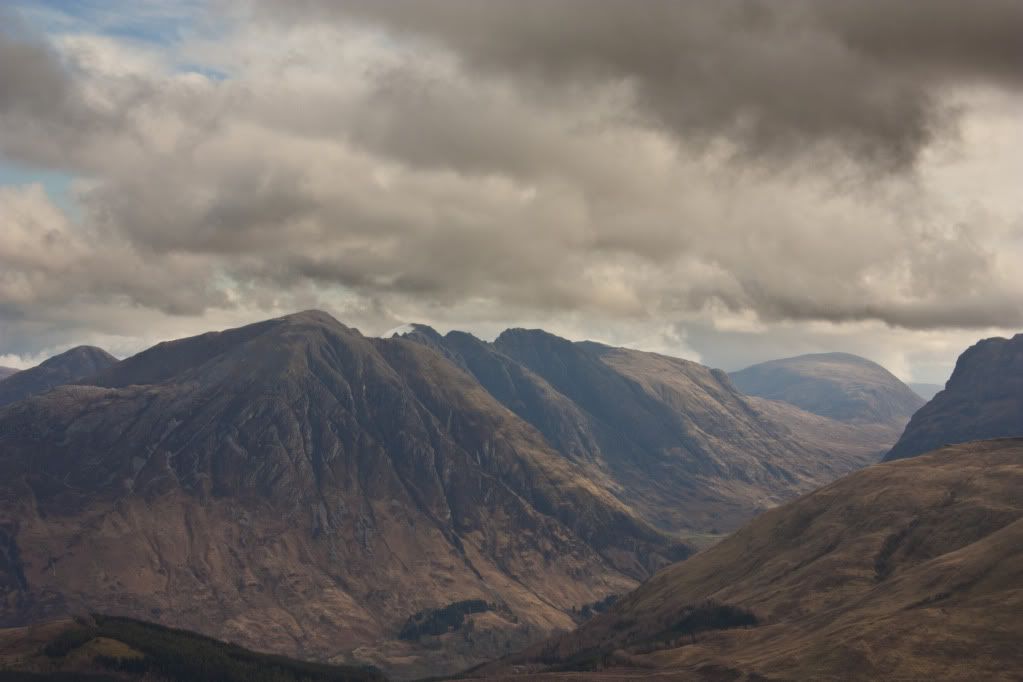 Sadly as quickly as the clouds lifted, they came down again just as we arrived at the Munro top Sgorr Bhan. A lovely shot of Todd's rear end!! From here my worries were gone – it looked like all the snow was just cornices on the near face of the hill. Todd went on his lead just after this though – he has a habit of enjoying snow and I didn't fancy him on any of that, or going down to find him, that climb was horrible.
As we dropped down to the bealach the clouds raised again so it was looking pretty much 50:50 whether we would get a clear Munro for the first time this week – and only the 2nd time out my first 8 Munro's!!
It was just after this that I made out two shapes on the summit – dammit, I had come all that way and not even got a summit to myself. As I approached I was greeted with "Ah you bought the dog today!" and "We were wondering if you got out today"... It was Jim and Andrea who I had the pleasure of meeting earlier in the week on Buachaille Etive Beag! Cue the standard picture on the summit!
Followed by Jim wanting to walk down and see the route I had come up – I don't think he was impressed, but then he didn't see the side of Beinn Bhan!!
We then dropped off the summit and headed for the second Munro together... passing tales of gear, walks, dogs etc. Great company to make the walk much more enjoyable and I think Todd enjoyed having new people around him rather than just me! With the clouds moving quickly it again looked hit and miss whether it would be cloud free on Munro number 2!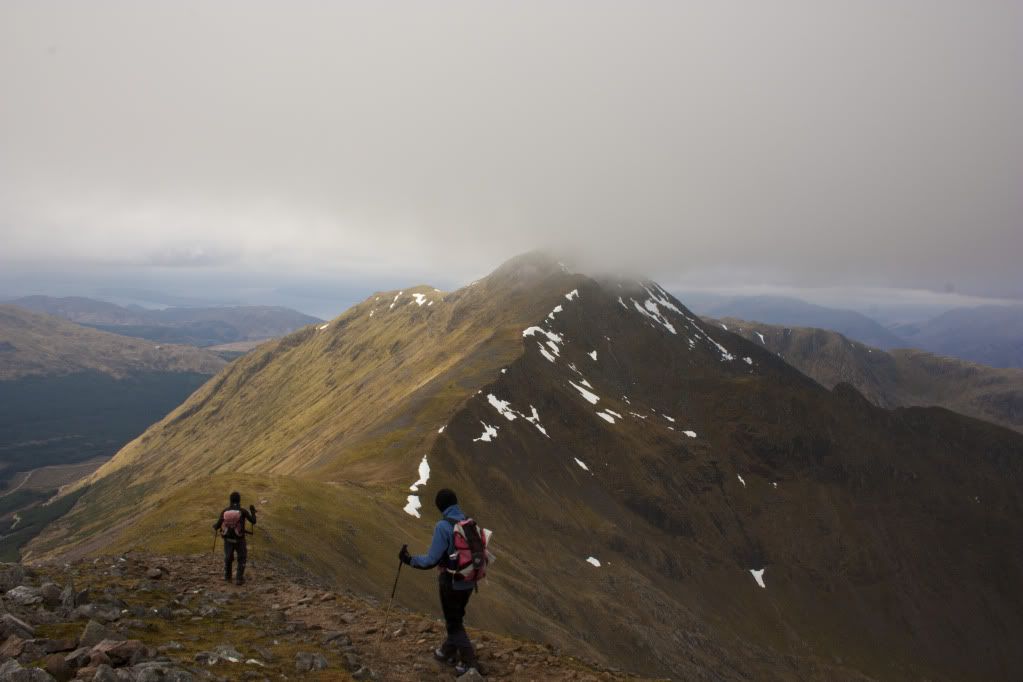 The descent to the bealach was relatively quick along what was a pretty well made path... Or maybe it was just the new found company... Or maybe it just wasn't a vertical up hill climb as the day had been so far?!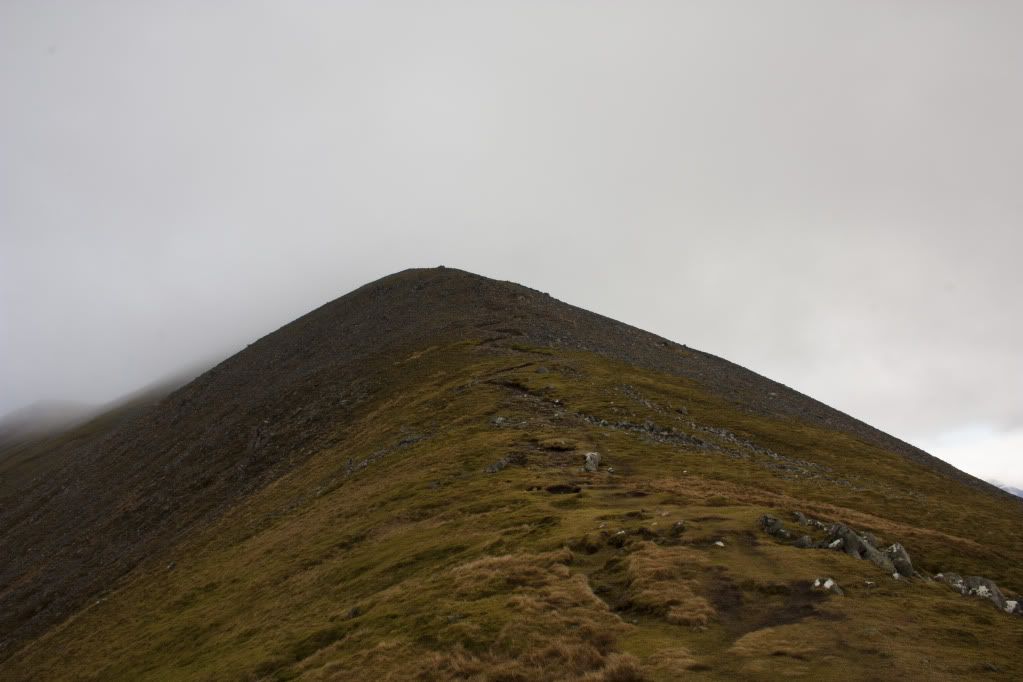 And as I said Todd was thoroughly enjoying himself in his new company!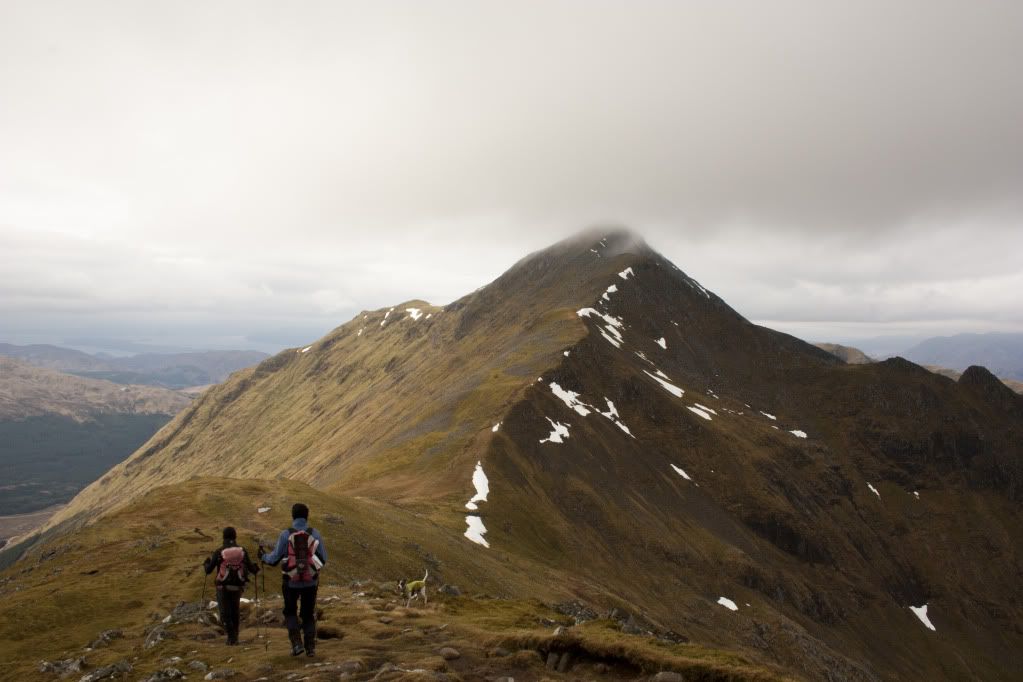 Followed by a bit of a play on one of the smaller piles of snow!! I put him on his lead again after this as we approached the snow with bigger drops beneath it!
Arriving at the pool at the bealach, despite the cloud cover it seemed a nice spot for a picture and a drink before the final push to the summit!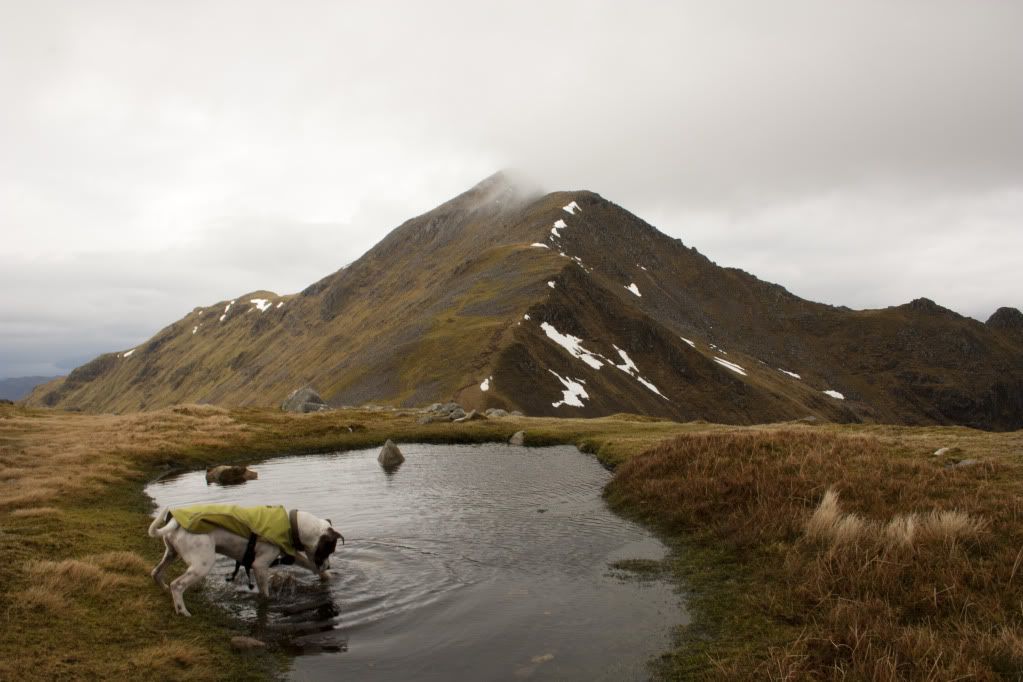 As Andrea approached the summit though it was looking less and less likely that we would get a view from the top... this is the final scramble to the summit now, easier going up than down but nothing to really worry about.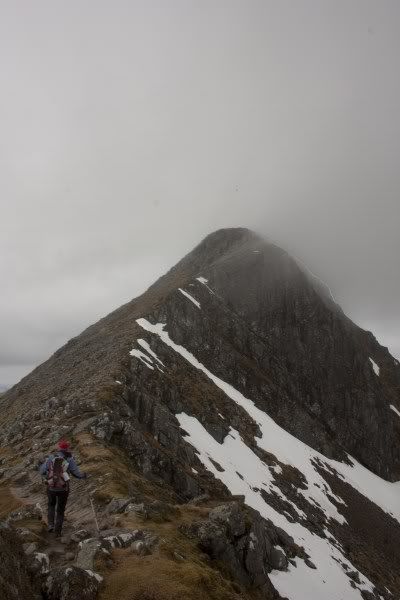 As expected, the views from the top were fairly non-existent although looking back along the ridge you did get the odd glimpse of what we had come across – a fairly interesting route if truth be told, considering these are not particularly famous/common Munro's! If there was a route like this in the Lake District it would be one of the most popular I am sure!
Standard summit shot and a brief chat about weddings with Andrea whilst Jim went to explore their route down the opposite side of the horseshoe. I was going to drop back down to the bealach and go through the forest. It turned out this was the right choice having listened to Jim recollect their descent in the pub later on!! Having forgotten Todd's food and feeling guilty, I shared my crisps with him and parted company with our new found friends – hopefully not the last time we will walk together – and set off for the bealach. It started chucking it down just after this so we obviously had summited at the right time! The descent to the forest was made pretty much in pouring rain – the holiday wouldn't have been complete though if it hadn't rained every day right?!
Thanks for the picture Andrea
Sadly one of them I look an idiot and Todd looks good, the other I look less of an idiot and Todd isn't looking!! I went for the latter!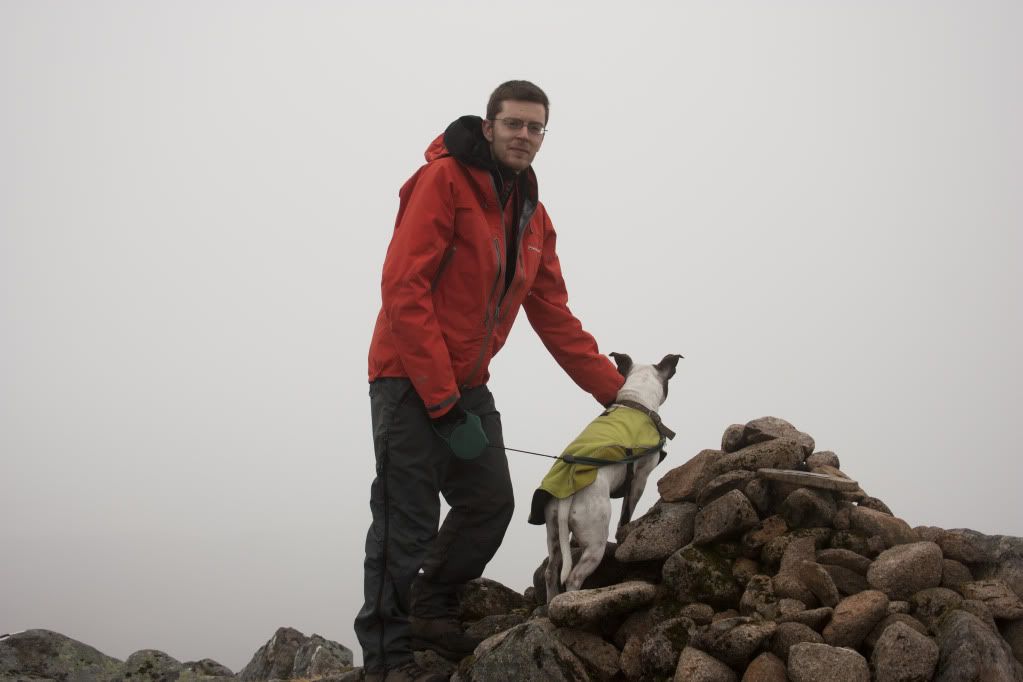 And the memorial on the summit...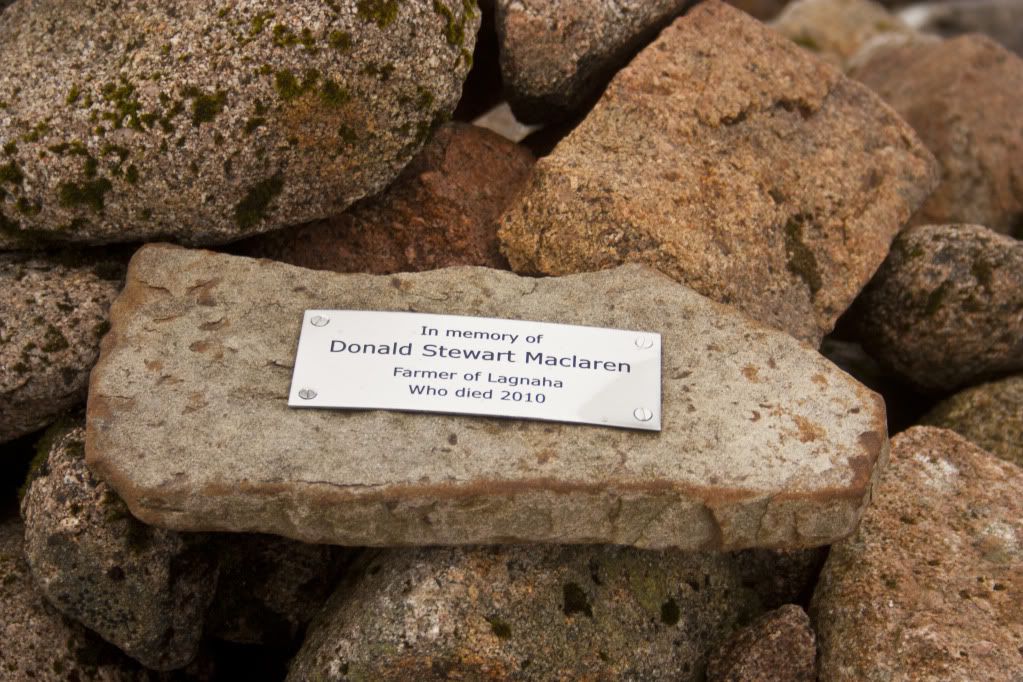 Here we are having dropped below the bealach looking back up, a fairly steep route initially but soon levelling out into nice boggy stuff. We just walked towards the forest then where there were regular sign posts to the car park, which was where we would get picked up later.
Ah in fact we pretty much followed the fence into and through the forest towards the Loch!
Here is Todd enjoying the forest – an incredibly stunning place! This is when I appreciated doing a 'route' in Scotland for the first time, every Munro I had done to this point had been up and down, but doing it this way was great, exploring new areas from start to finish! Even 4 hours in I was still in awe at the scenery! The forest offered a lovely shelter from the rain as well.
And as we crossed the river close to the car park I got a final long exposure shot looking back up to the hills – it is like something out of the Lost World!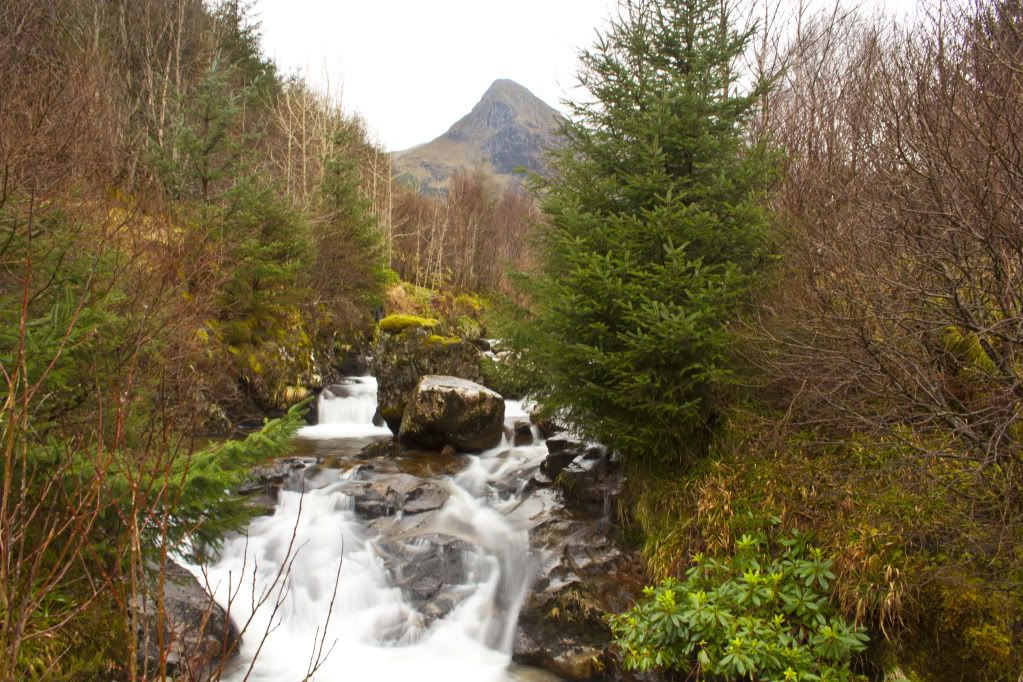 Down to the road and wait for the lift home to conclude a great day on the hills! A fantastic walk with 2 new Munro's ticked off... even without the cloud free summits it was still thoroughly enjoyable and the company was brilliant. A day like this re-confirmed our decision to honeymoon in Scotland – roll on June!