Having had 3 awful days in Scotland, the forecast for the Wednesday was promising... low chances of rain and 60% chance of cloud free summits. I am pretty sure that is good for this time of year! So we decided we would get up early and attempt Buachaille Etive Beag. This was chosen due to the lack of snow on South faces – which meant all three of us should get up at least Stob Coire Raineach – and also because the starting point is at 200m, which means it is relatively little effort to summit the first 925m Munro. So up we got nice and early for a breakfast of square sausage and beans (our standard Scotland breakfast!!) and set off for the short drive to Glencoe. Parking up at about 9am we weren't the first car in the car park – as we were about to set off a fell runner was just arriving back at her car and it turned out the other was owned by Jim and Andrea, who I would meet later on!
We got a good look at the snow covering as we approached, with the cloud relatively high. It was here we decided that I would take full winter gear as there appeared to be snow that had to be crossed en-route to Stob Dubh, whilst Gemma would just wear summer boots and just attempt Stob Coire Raineach (she doesn't have any winter experience so it was a sensible choice really – although the snow was not bad at all!). The plan was she would return to the car whilst I headed for Munro number two.
Starting off then we walked along the nicely made path for about half a kilometre, where we got decent views looking along Glencoe, although the clouds did appear to be looming and Stob Dubh was well and truly covered by now. Hmm... Oh well, I was determined not to let this stop me having a good morning!
After half a kilometre you fork off up on a well made (but fairly steep and hard) path. This leads up to the bealach. From the bottom I could see somebody just leaving the bealach – this turned out to be my first encounter of Jim and Andrea who I would meet a little later on!
Unfortunately Gemma had to turn around just after this point... she wasn't feeling great and decided that she wouldn't make it to the bealach, so would head back to the car. Looking up, Todd didn't seem particularly fussed today either – I wasn't sure what the matter was with him, it wasn't cold or particularly windy. I think it was just the stopping and starting that he didn't like. We took the decision to send him back with Gemma... realistically we didn't know what conditions would be like on top, so I stick with this choice.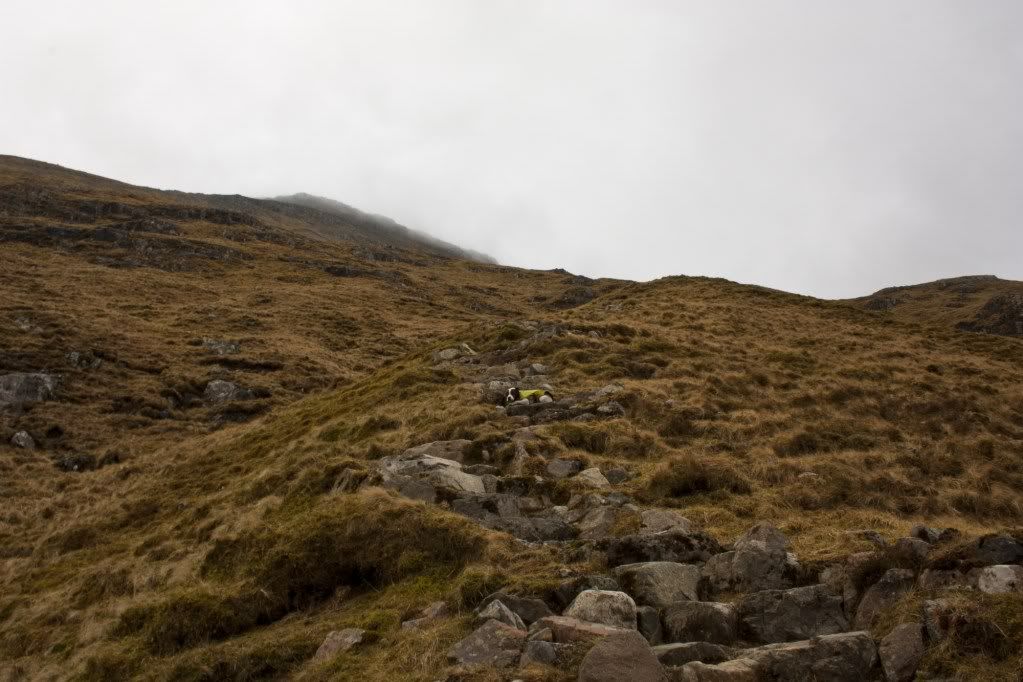 So all alone I ploughed on to the bealach – at my own pace it took barely 20 minutes to cover the 400m of climb.
Looking across to Stob Dubh it was beginning to look like there certainly would be some snow to cross at some point today. Although it wasn't looking like it would be enough to warrant the full winter gear I was lugging... gah. Should have worn the summer boots and not used all my energy lugging the Zamberlans!
Up at the bealach, the earlier views had all but disappeared.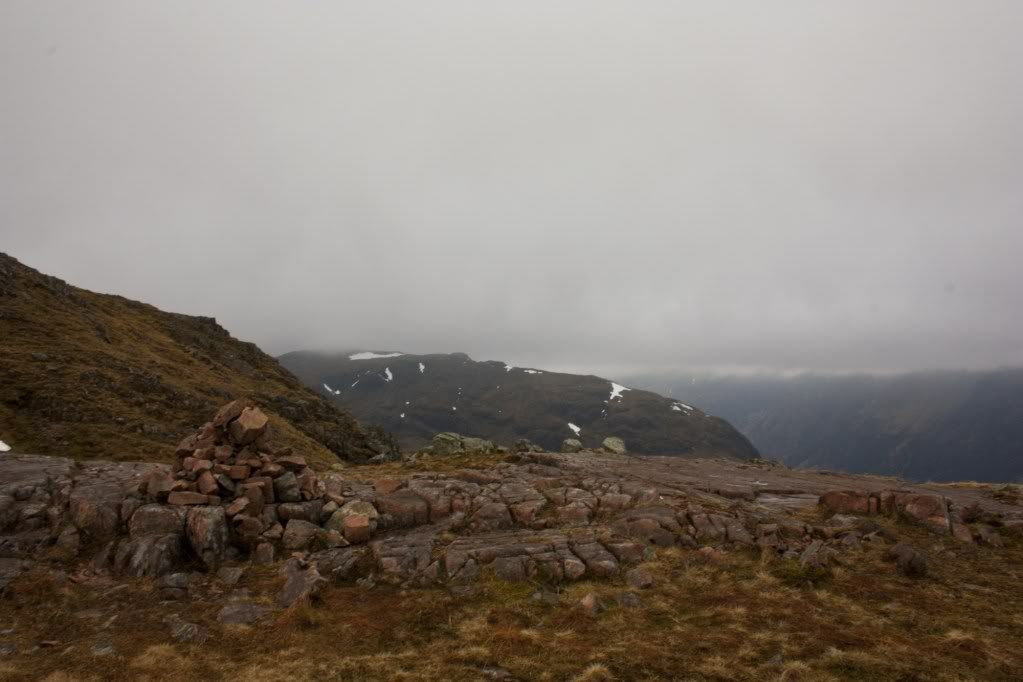 Before heading up to Stob Coire Raineach I had a quick stop at the bealach tarn... quite nice reflections.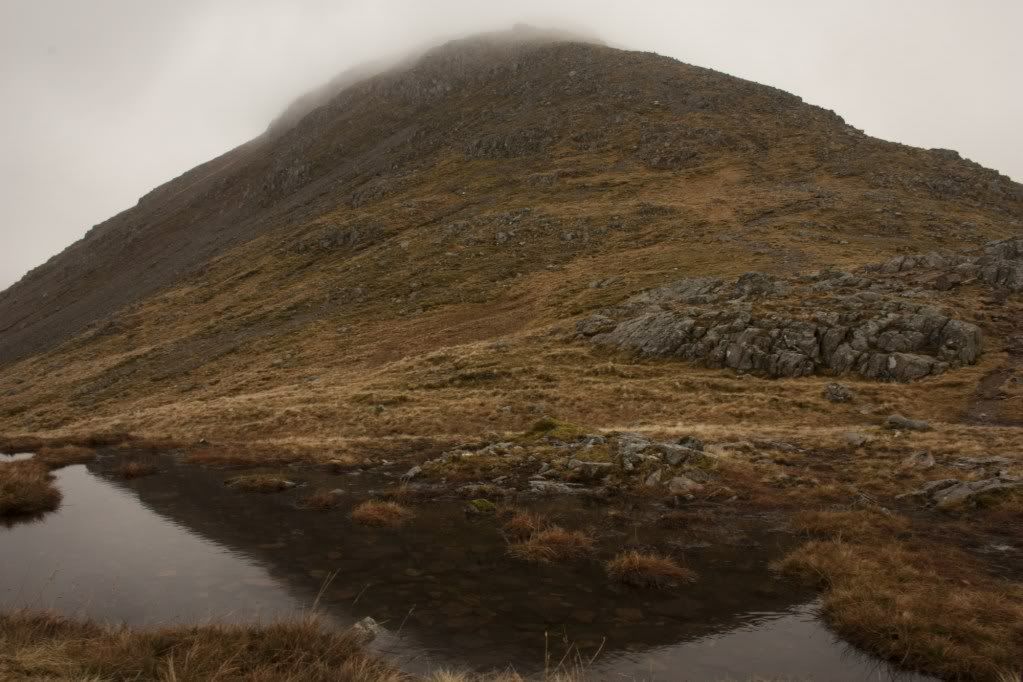 And then began the final 200m climb up to the first Munro summit. Shortly after this I was well into the clouds and the chances of a view were looking to be slim to none! Even more shortly after this I bumped into Jim and Andrea, who confirmed that there were no views to be had from the summit! I didn't think much of my meet other than "How am I not alone on a day like this?!"! After a brief chat about what we thought the conditions were like on Stob Dubh, we parted ways.
Arriving at the summit, the views were as expected – rubbish. Lots of grey and rocks. Fairly cold and blowy too so I hung around for a couple of snaps and then made my way back to the bealach. Despite the weather and lack of views I was still chuffed at getting my first Munro for the week!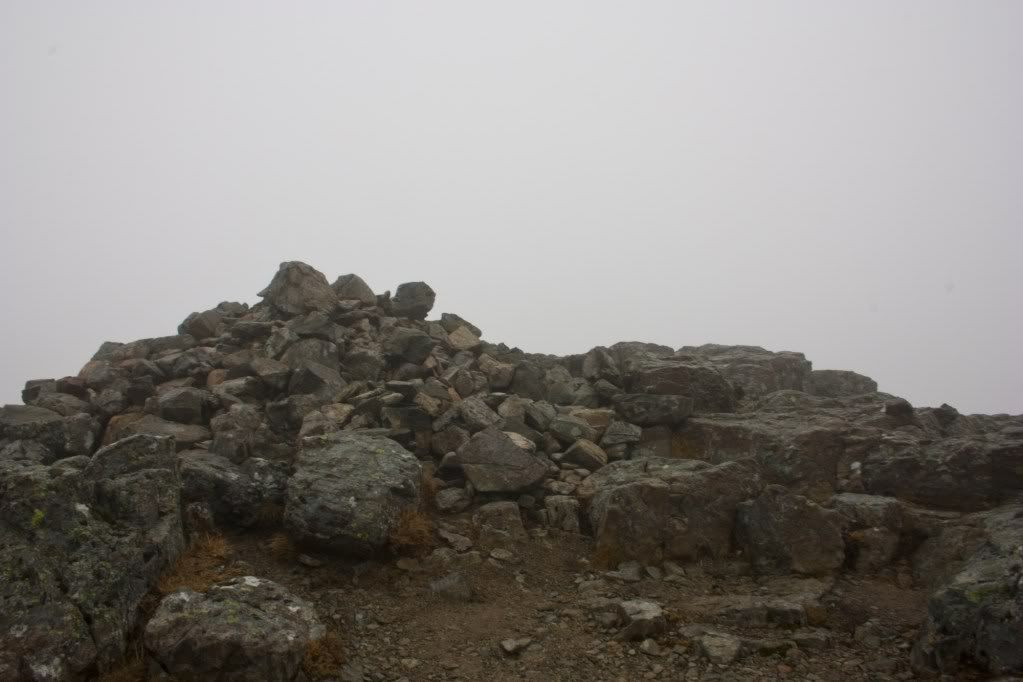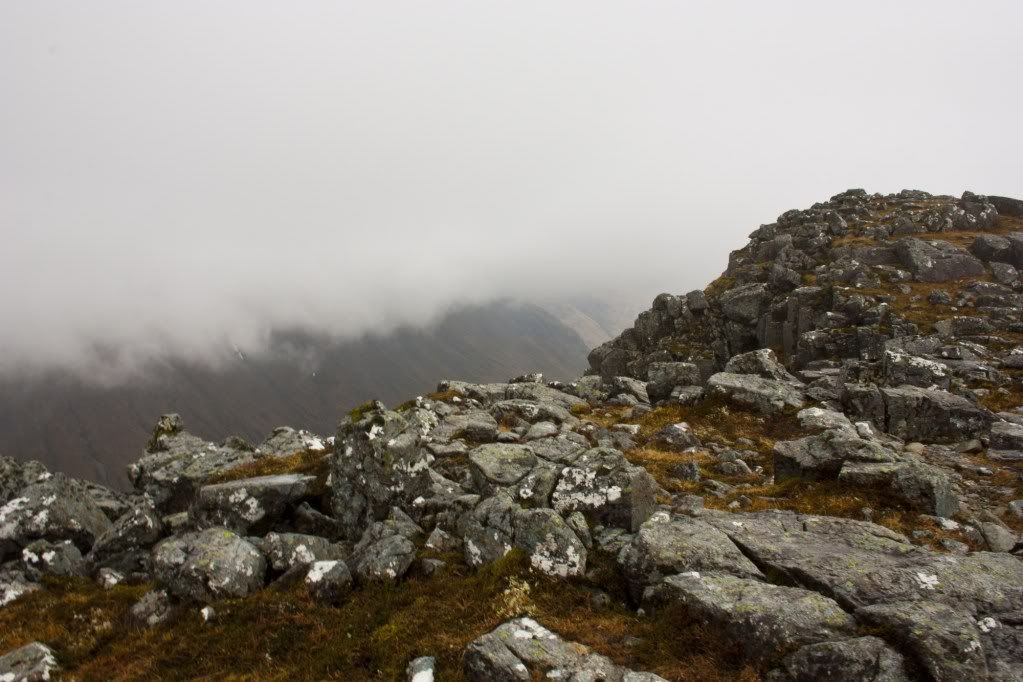 Back at the bealach I decided to get a pic of me as you do...
And so began the climb up to the highest point of Buachaille Etive Beag – Stob Dubh. I was a little anxious about the route as I didn't know how snowy it would be, but I had a plan... I could just make out Jim and Andrea and knew that at a good pace I would catch them... At least if I was within shouting distance they could help! They got held up at this patch of snow which is where I caught them up... It ended up being negotiated without any winter gear which was good, just boots and poles and hoping it held!!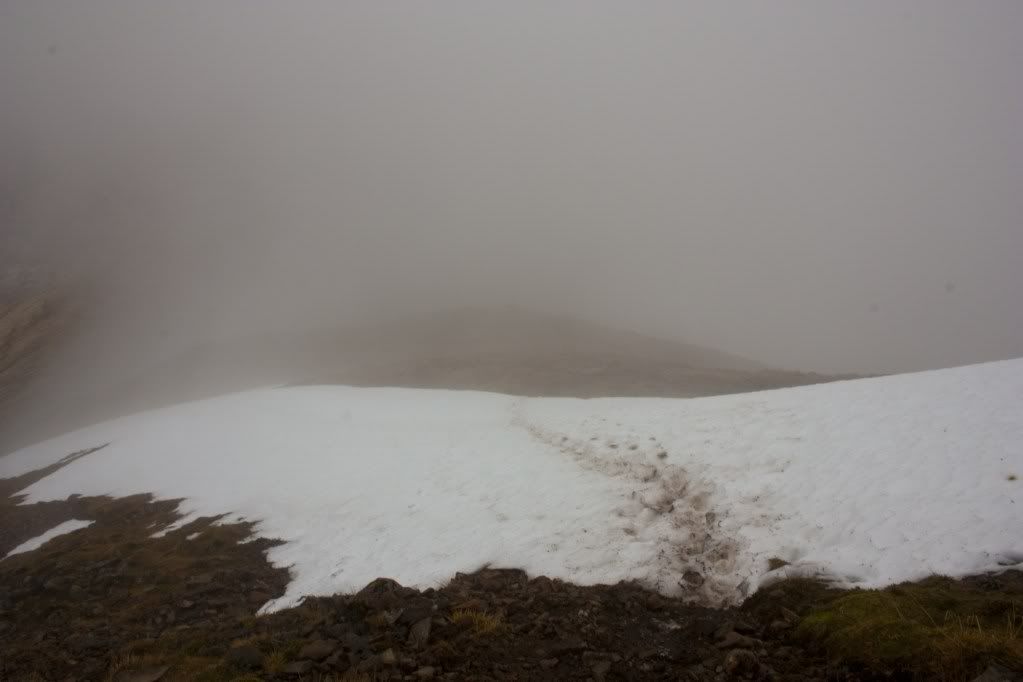 So up to the first lump and then on to the Stob Dubh ridge. And what a fine ridge it is too... Even in the cloud it was thoroughly enjoyable and interesting – I can only imagine how good it would be on a nice day. I said it in another report but it seems that every Munro you do – if it was in Wales or England it would be one of the most popular routes, yet here it is just one of many! I caught Jim and Andrea up on the ridge – what are the chances of bumping into fellow Cumbrians up here on a day like this!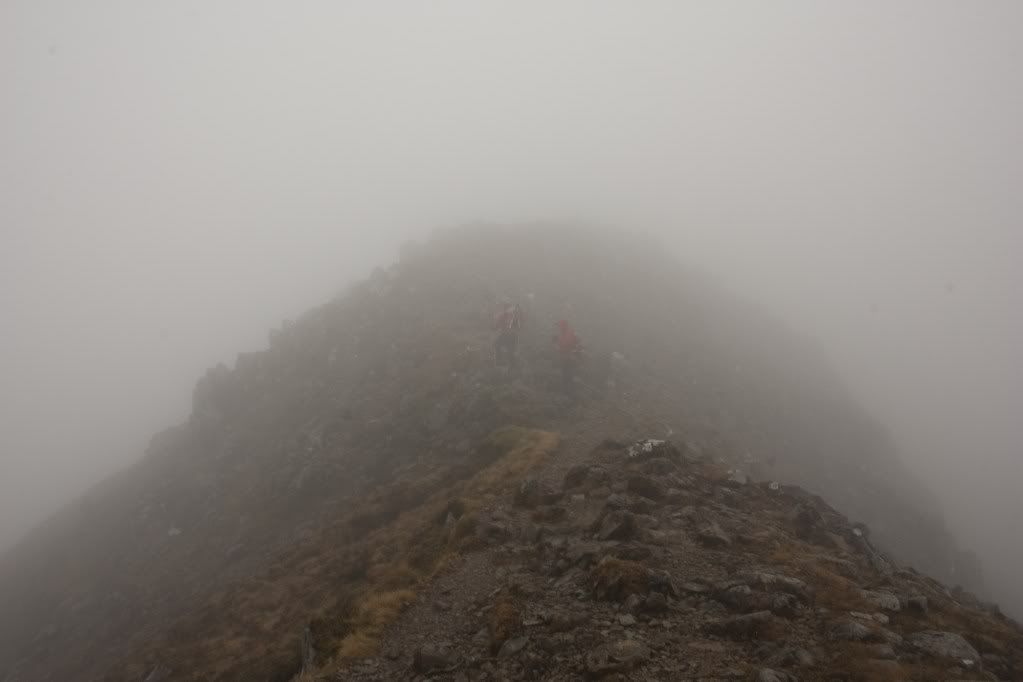 The ridge ends all too soon and the summit is reached... as you can see the views were spectacular. Jim did get a picture of me at the summit, but it isn't very flattering so you are not seeing it!! So much for the forecast. I guess in a place like Scotland each set of mountains has it's own climate and the chances of been on one of the 60% which are out of clouds are pretty slim – almost 1 in 2 I guess!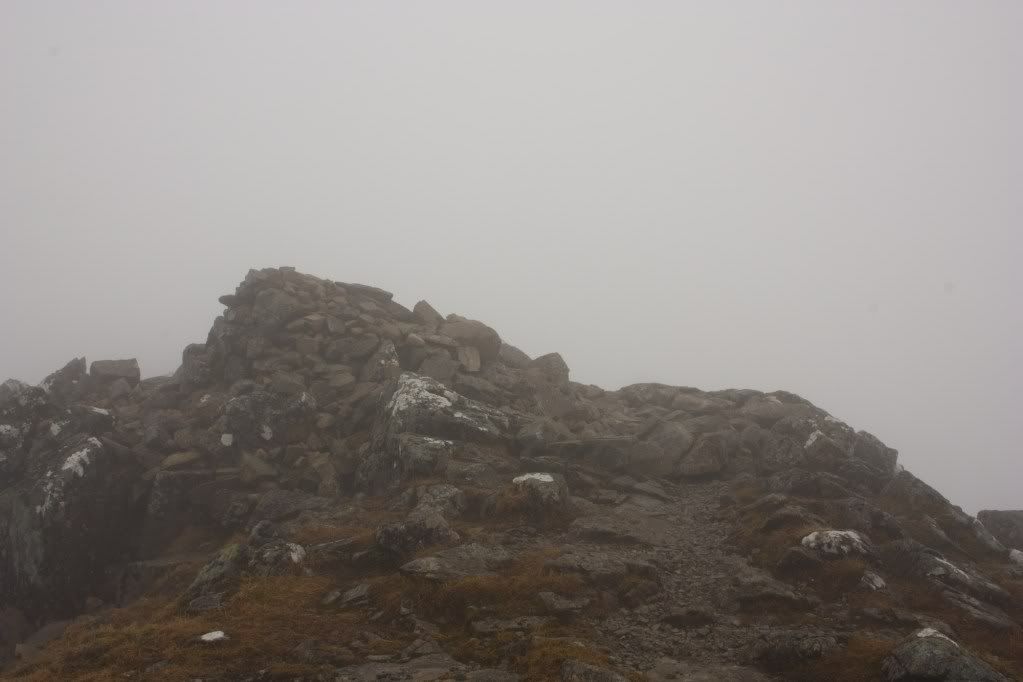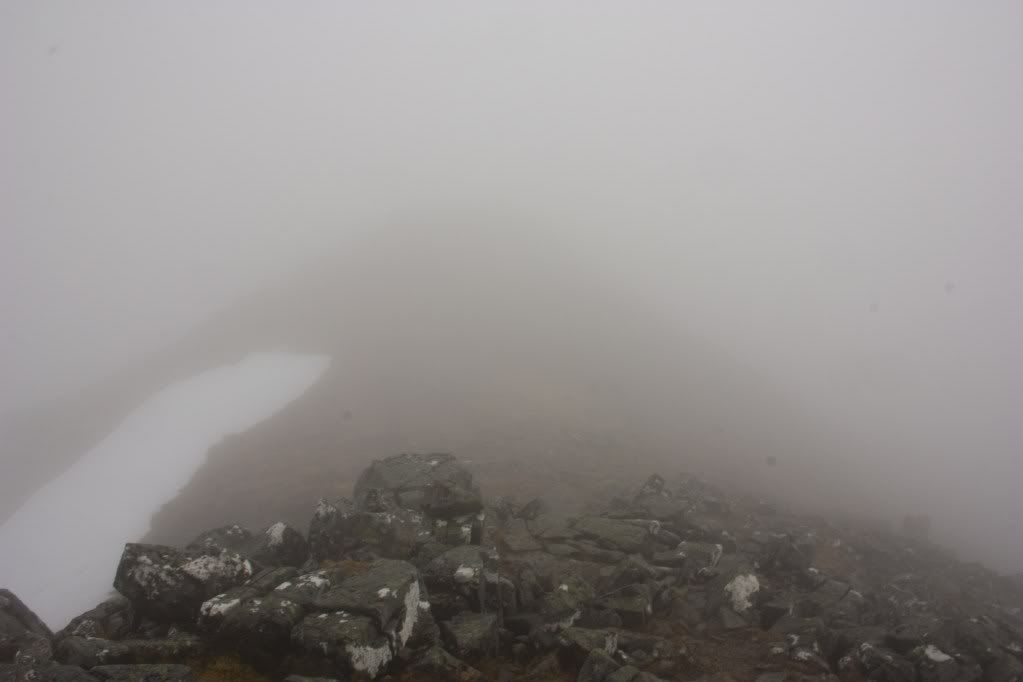 We descended the ridge together and made our way back to the bealach... getting a few snaps of one another as we crossed that hairy bit of snow. Here is Andrea...
Jim then took my camera off me, made me go back up over the snow, then descend... so that he could get a picture of me!!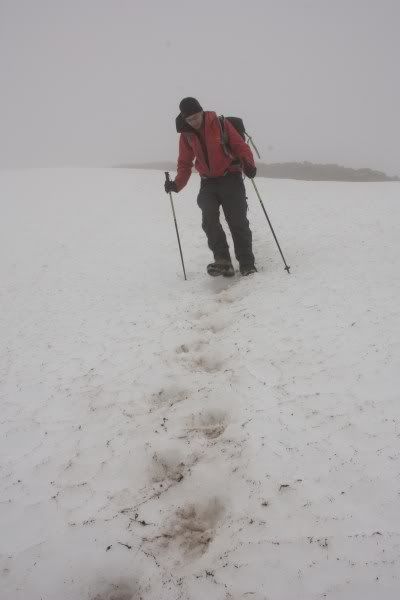 As we descended and made small talk about the Cumbrian fells, where we were staying, plans for the week etc, we should a "oh ffs" as we turned round to see blue sky above Stob Dubh.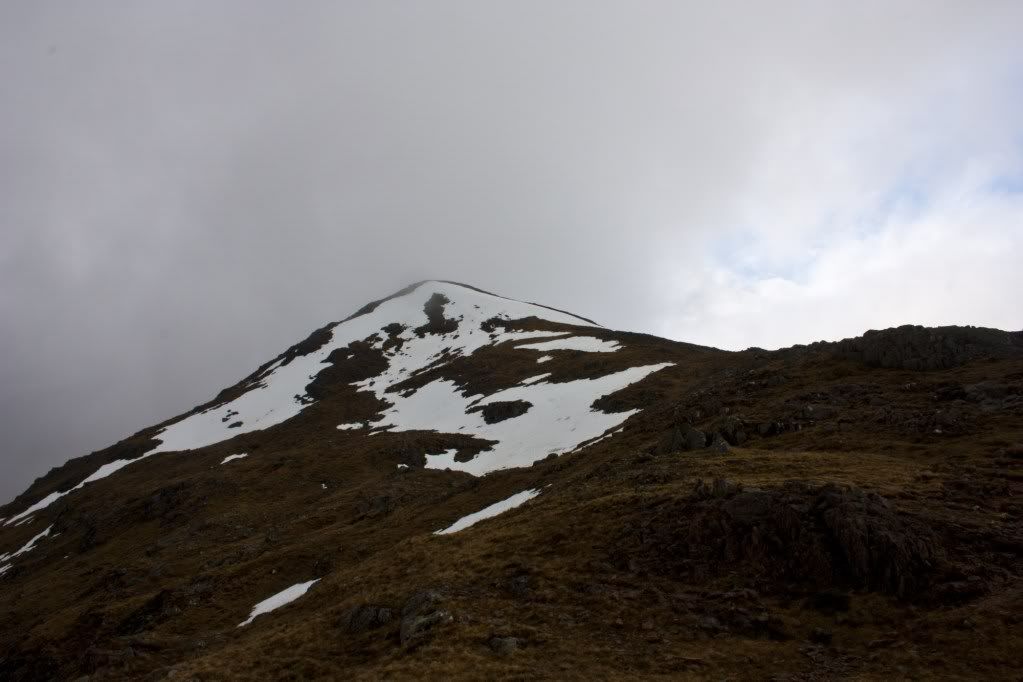 But then by the time we were back at the bealach, the clouds were back so I am not convinced it would have cleared on the summit.
We parted ways at the bealach with Jim wanting a cup of tea – and possibly a linger to see if the summit cleared. I was of the opposite approach – get off the hill quick so if it does clear I am not tempted to go back up! I would see Jim and Andrea later in the week on another walk – they were great company on both and hopefully we will walk together again.
I then made my way back down the same route to the car, making very rapid progress from the bealach. I stopped only a couple of times to get some nice waterfall shots on the stream to the side of the path.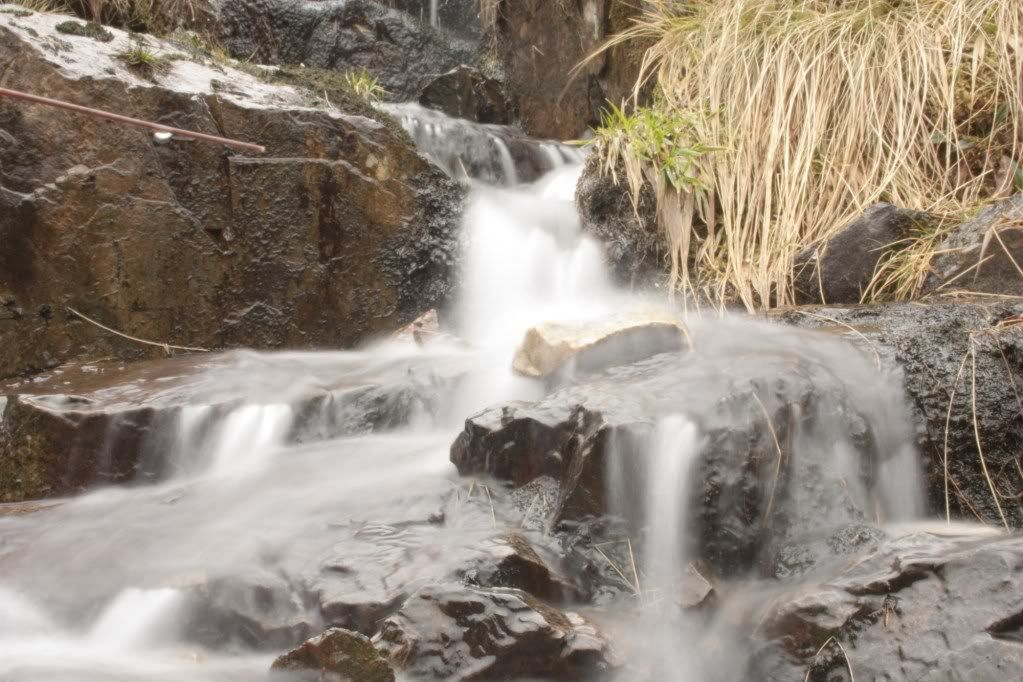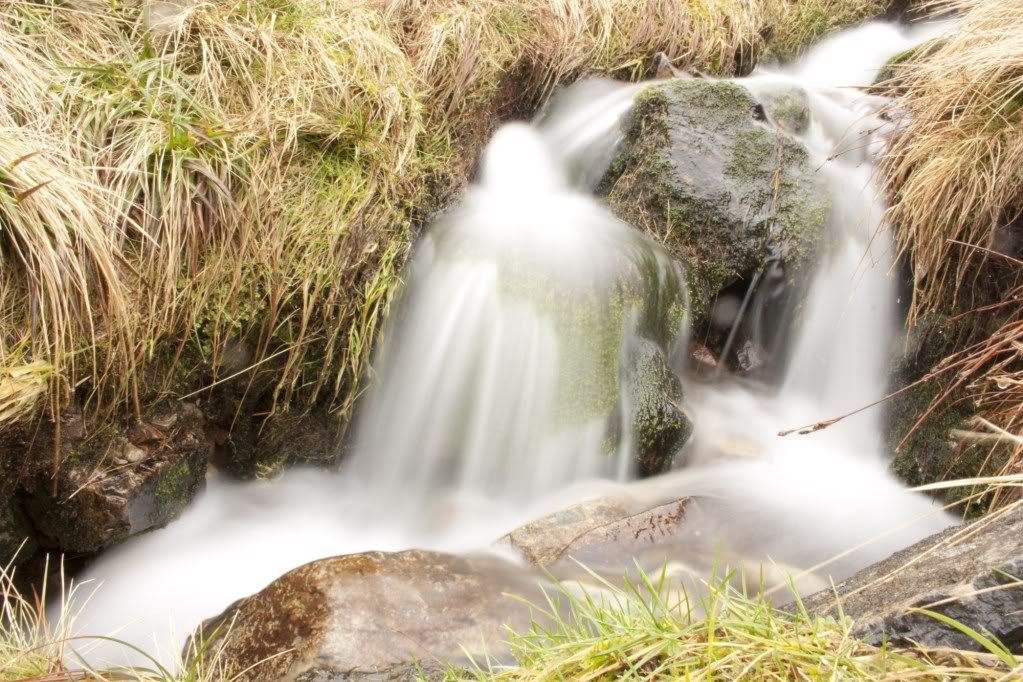 And that was the first two Munro's for the week... considering the forecast, the weather had been pretty awful but I had enjoyed the walk all the same. I wasn't convinced I would get any more Munro's in this week, so I was very much looking forward to June at this point!! Gemma had decided to wait in the car for me and I was back earlier than expected, so we had a leisurely drive down Glencoe before home for some soup and a shower... and a little kip in front of the fire... for Todd and me!