And so begins operation 'get Gemma fit for Scotland'... With Gemma starting a new job and from now on having weekends off work, she decided she wanted to come out with me enough so that she can do a Munro or two in June. So we decided we would go for a walk on the Sunday together... I anticipated a nice gentle stroll up something like Helm Crag, after Todd and my fairly hefty walk the day before. As we drove towards Grasmere though it was evident the weather was good and the clouds high, which led to those dreaded words when your tired "how about Helvellyn from Thirlspot?"... "Ok" I said, hoping that it would be a nice slow saunter up the side!
We were a bit later out and I was a little concerned we either wouldn't get parked at Thirlspot, or it would be a case of follow the crowds up one of the better paths up Helvellyn. However we were one of the first cars to park in the layby and as we set off there was no sign of anybody on the route ahead.
My hopes for a slow saunter quickly vanished, we set off at a hell of a pace. Considering Gemma hasn't done a 'big hill' for a while – the 90 minutes taken to climb 800m to the summit was fairly impressive. That is nearly as good as what I do when out on my own!! You can imagine how it made my already tired legs feel! Todd unsurprisingly took it in his stride. The heat at times was ridiculous for this time of year too, a good sweat was worked up within a short while!! So at a decent pace with the sweat rolling off, the only thing to do was to take regular photo stops! This early shot towards Keswick and Skiddaw shows the good weather we were having, although it got much better throughout the day... by evening the clouds had all but dispersed. I particularly like the cloud formation above Skiddaw that looks like a galloping horse! Sadly he was beheaded later in the day!!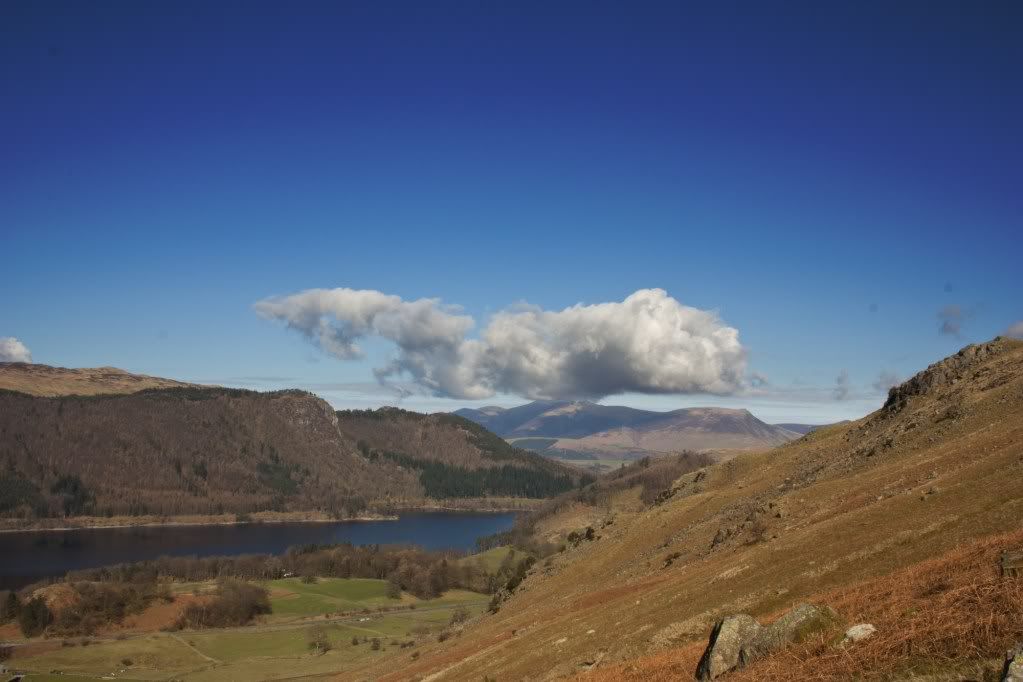 All clear in the West towards Gable and Pillar! You can't see it in this picture but there is a fresh dusting of snow on Pillar. It was about this point that we looked back and saw a steady stream of people following us, but very few were in front of us – and the pace we were going there were very even fewer going to overtake us!!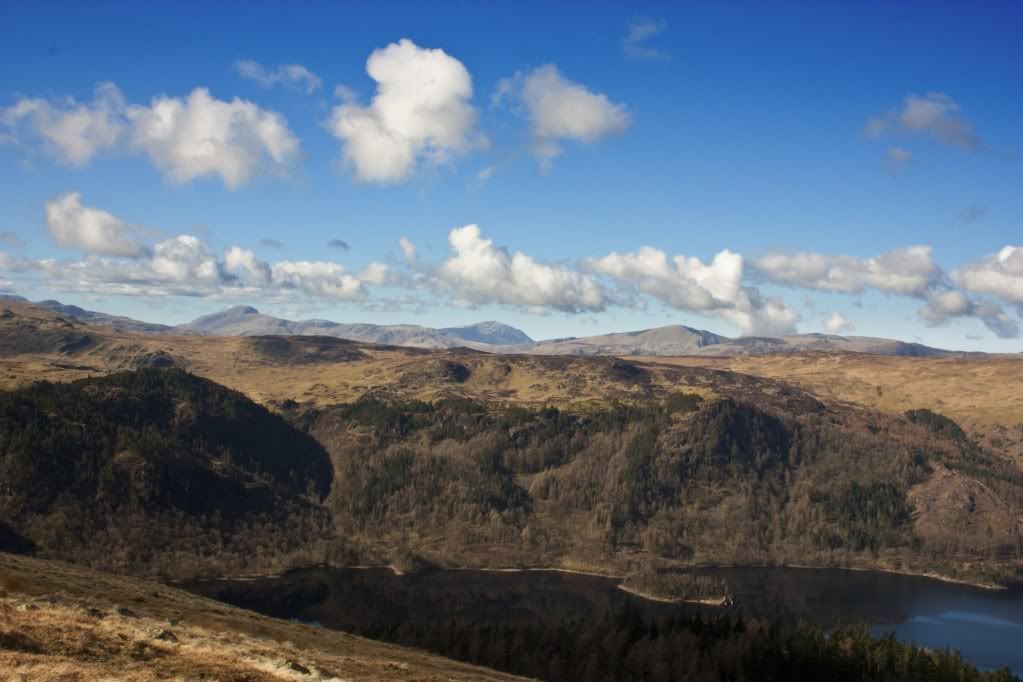 But you can just about make the snow out on the back of Skiddaw.
Continuing up the fairly relentless path, as you approach Browncove Crags the landscape suddenly changes from fellside into rugged, rocky terrain. Similarly the clouds were looming, creating some great light for photos. Luckily the steep ground suddenly flattens out a bit as you walk along the Helvellyn ridge... the legs were certainly grateful for that.
Here is Gemma and Todd on Browncove Crags with Skiddaw illuminated behind.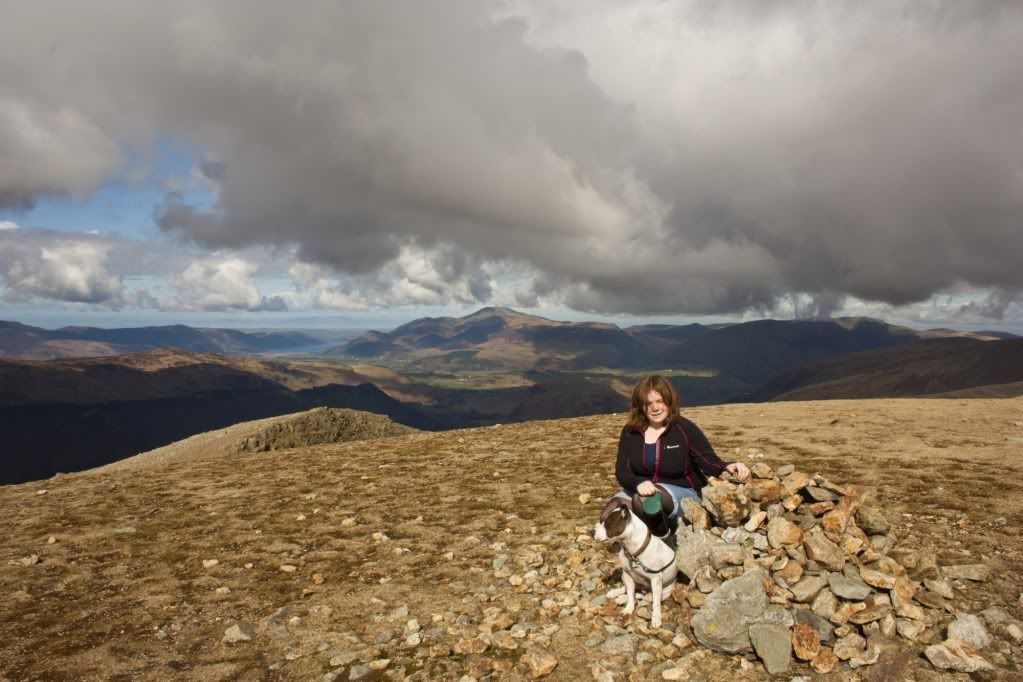 From Browncove Crags it is a short and fairly flat walk along to Helvellyn Lower Man and Helvellyn. From here you can walk along the edge of the ridge and get great views across to first Swirral and then Striding Edge, whilst at the same time having cracking views to the West of the Scafells, Gable etc.
And of course we had a very happy girl at summiting Helvellyn... you can tell from the additional clothes that it was fairly cold on the summit compared with the earlier sweat inducing heat! I couldn't believe our luck either – a gorgeous spring day with high clouds and we had the summit to ourselves. When it is this quiet it is a great place to be. Somehow in the five times I have done Helvellyn it has been like this on four of them and every time it has been clear like this!
The three of us (yes Todd is in there behind me – he isn't taking the picture!) admire the fells in the West.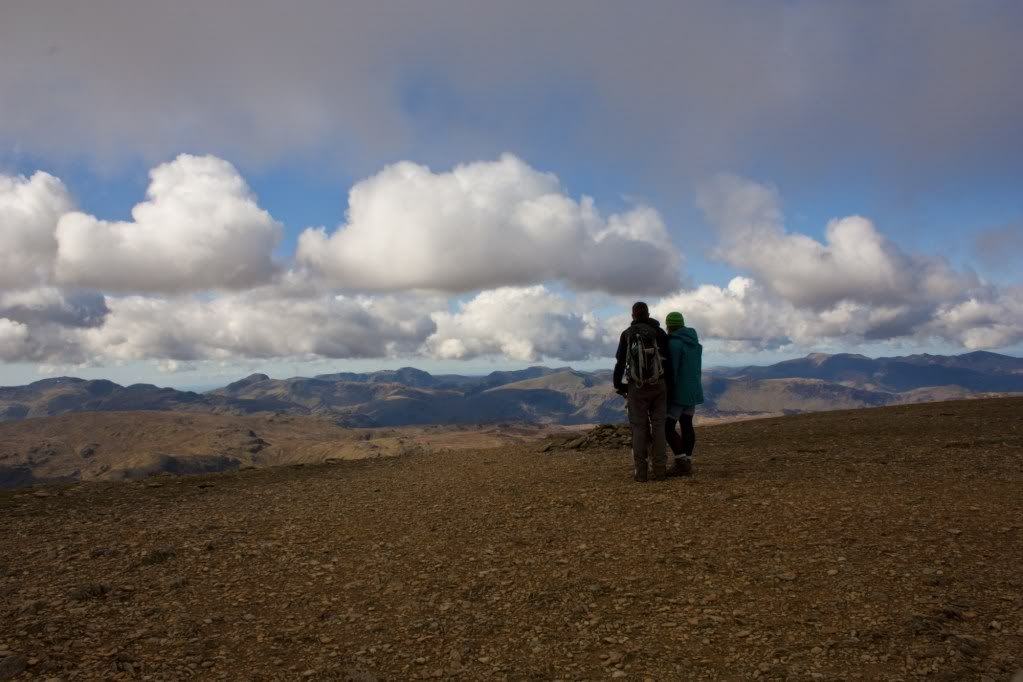 As we walk down towards Striding Edge there are a couple more people and a doggy joining us on the summit.
We continue to the Gough memorial to take a peek at Striding Edge as Gemma has never seen it in the flesh. She counted 50 people on it – so we were very lucky to have the summit relatively people free! There were some having lunch in the shelter, but nowhere near as many as I expected! Not complaining!!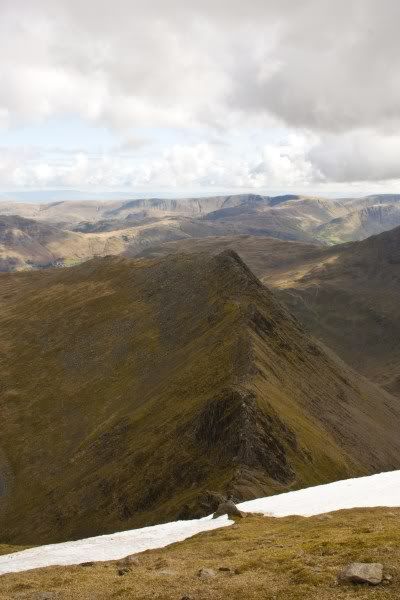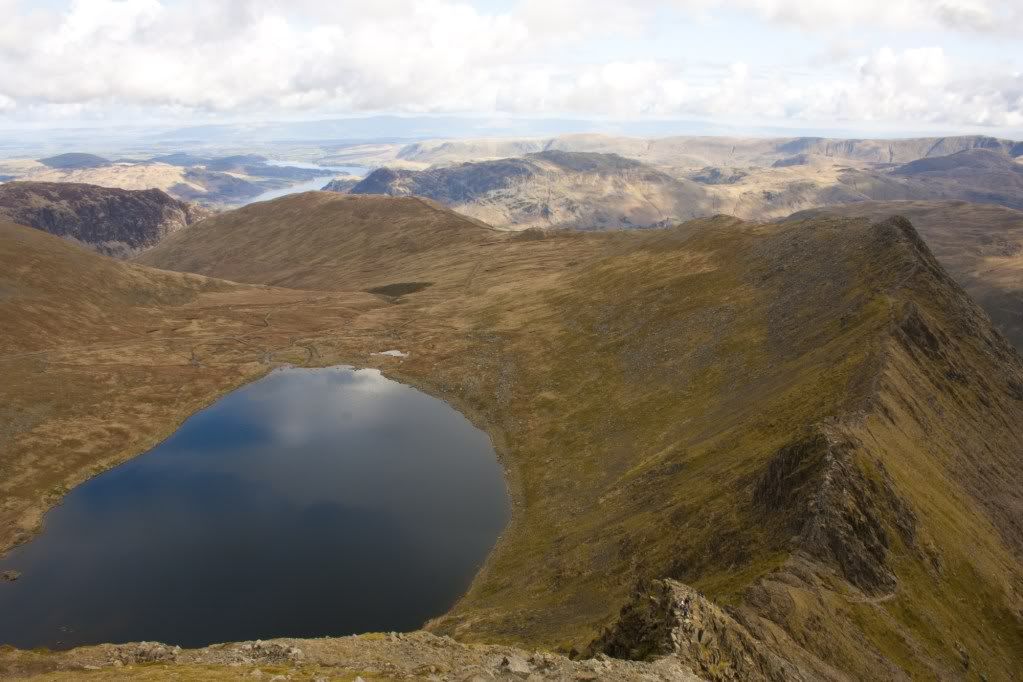 Here is a panorama from the top of Striding Edge...

And then we just had to make our way back, the summit still baron as we walked back across it – bizarre really when Striding Edge was so busy!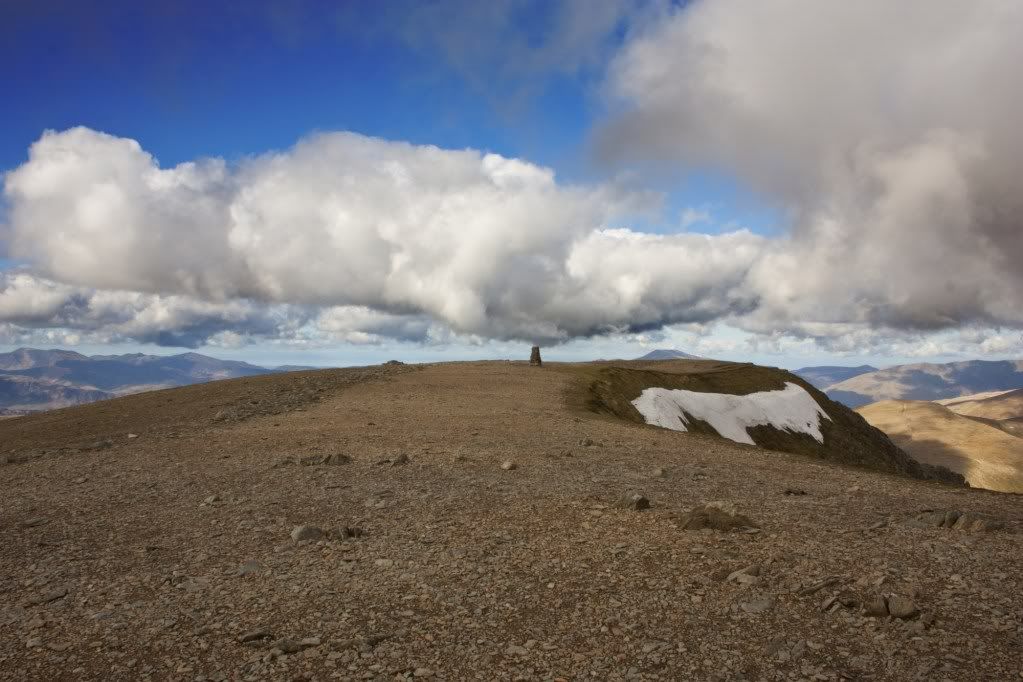 A couple of walkers contemplate a descent down Swirral Edge whilst the Dodd's are illuminated by the sun, which is just starting to burn through the clouds and hit our backs, warming us up nicely in time for the descent.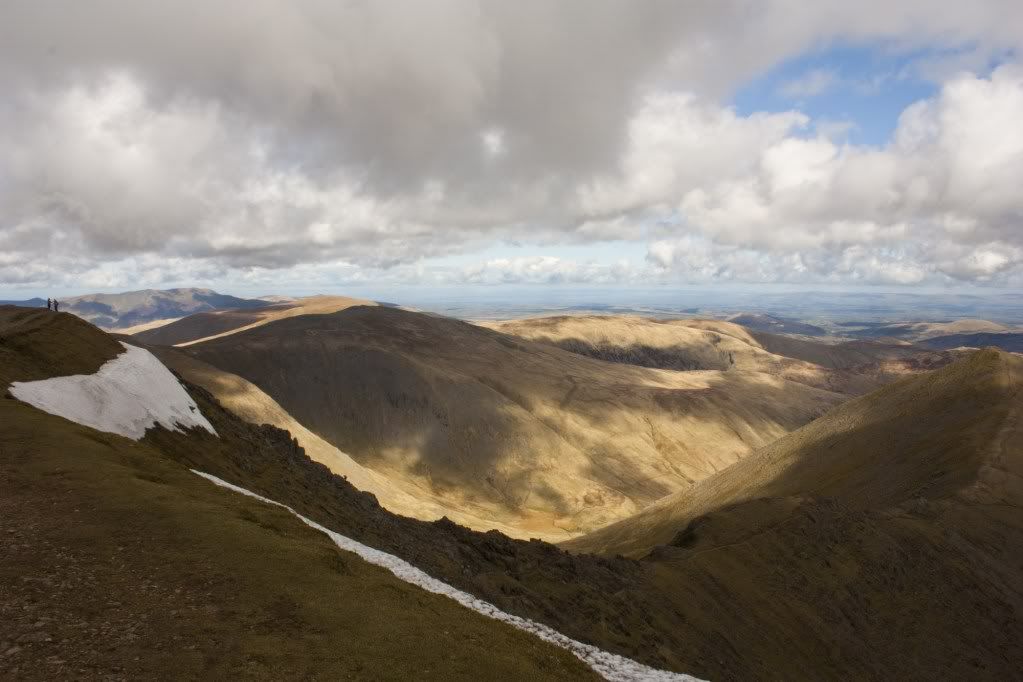 The other side of Swirral Edge the Far Eastern fells are bathed in sun as well... What a weekend for weather - especially at this time of year with the autumn/winter we have had, where the weather has merged into one big grey splodge!
And some impressive light on the Dodd's...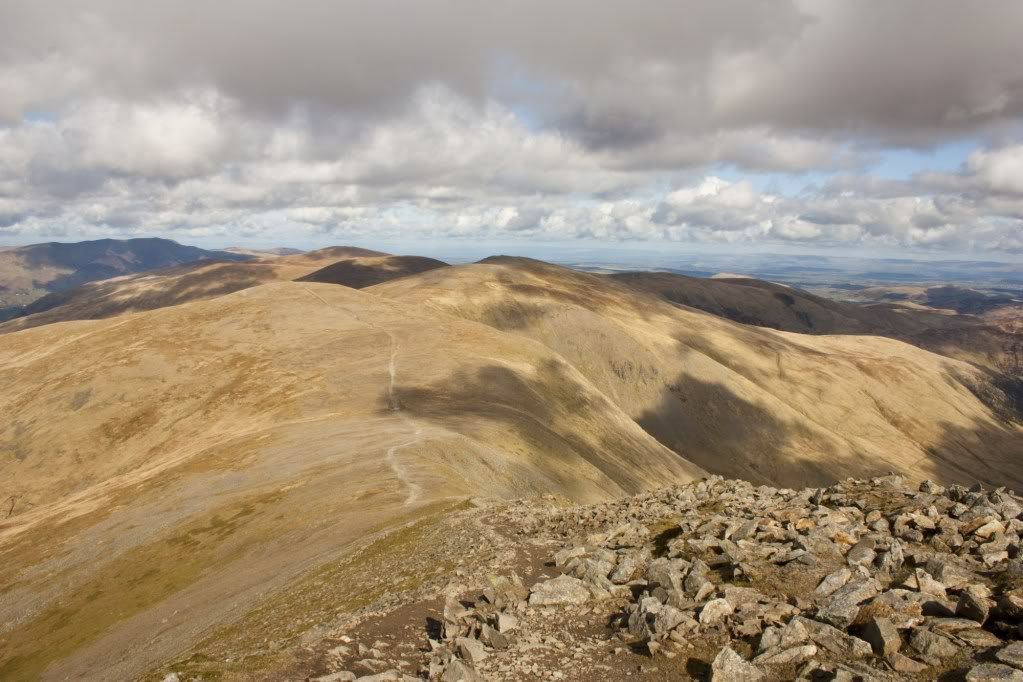 As we were only doing a 'short' walk today we decided to descend the same way we went up... Unsurprisingly the steep route up is even more hellish on the way down. It is that rocky stuff which is too narrow and too wide to take proper steps so you end up either straining and slipping or taking small steps and falling over yourself! It actually took us longer on the way down than it did the way up!
As we descend the light was beautiful over Skiddaw, one of my favourite fells. Followed by a shot to the West – you get an idea of how cloudy it was in that direction.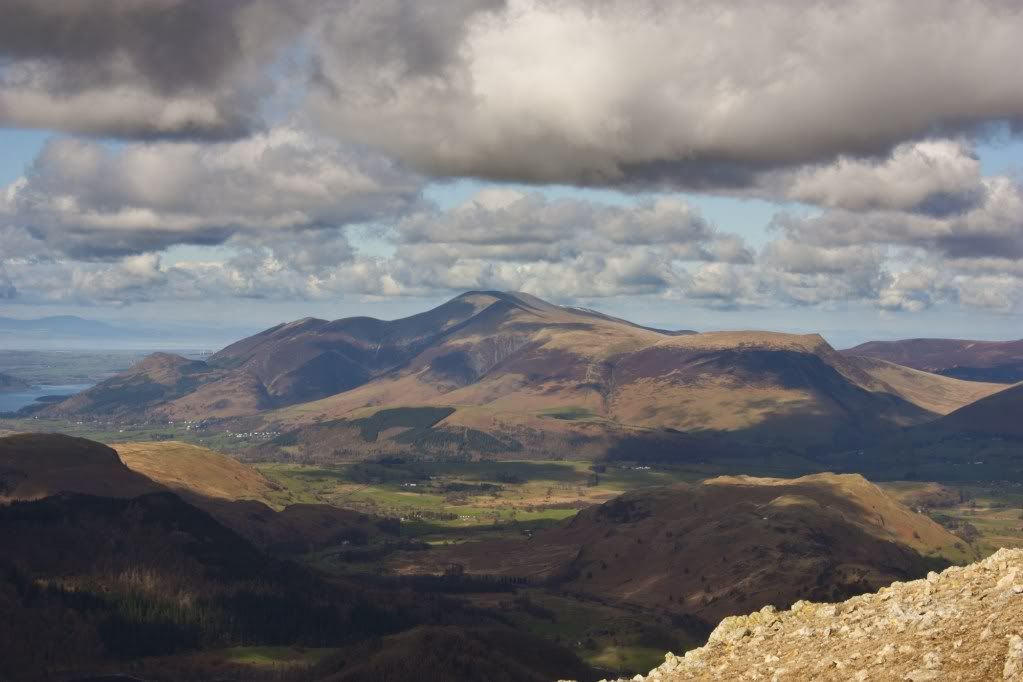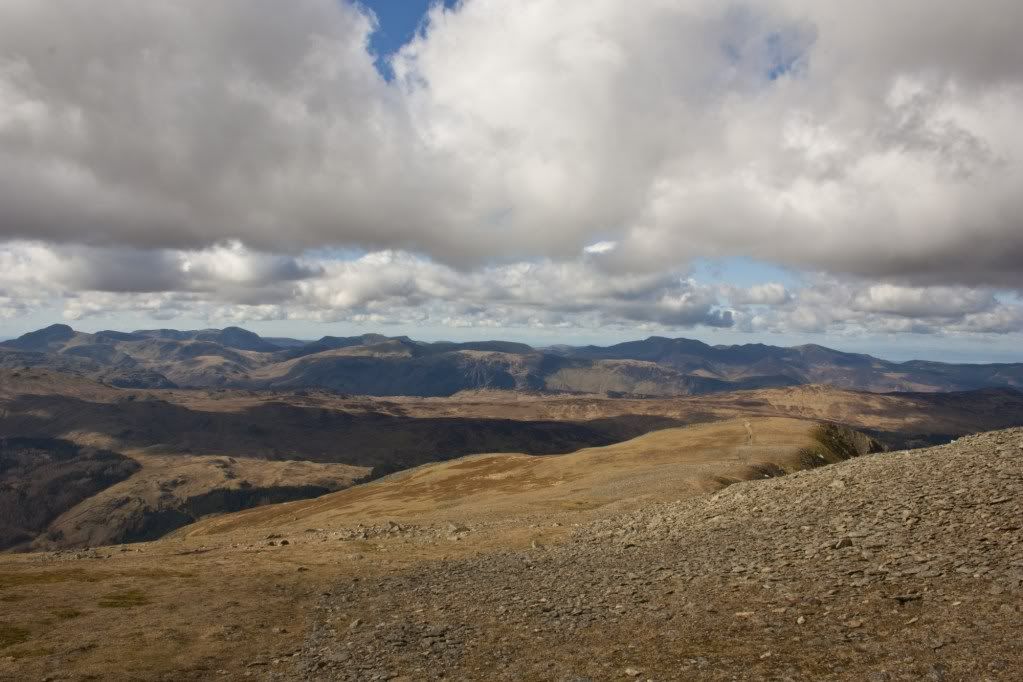 But just 30 minutes later you can see how the clouds are beginning to disperse and blue skies break through again. I think this is looking across to Whiteside Bank...
And then to finish a couple of shots of Helvellyn Gill, the first looking straight up the Gill, the second looking towards Browncove Crags. You can see in these two shots alone how after the cloudy weather we started with, it turned into a beautifully clear afternoon.
A final descent to the car ended the walk, followed by a treat at Daisy's tearoom in Ambleside – one of our favourite eateries, good value and they allow dogs! A pretty good weekend, two of the Lakes 900m fells and the best part of 30km, mostly walked in stunning conditions!! Lets hope this is the start of Spring and there is plenty more of the blue stuff to come!