Sorry for the length - once I started, I couldn't stop!
The weekend was approaching and Gemma had to visit her Granddad, which meant I could get out on the Saturday and pretty much stay out as long as I wanted, without the worry of distance or height gain as I would be on my own. I haven't been to Wasdale for a while and thought I would go over that way – despite the potential delays on the road in with the electricity cable being re-laid. Up until Saturday morning though the forecast looked a bit strange so I wasn't sure when to set off from home, or where to go walking... The forecast was for low cloud, lifting by midday for a sunny afternoon, but as you will see this was quite the opposite. I ended up sleeping in (doh!) and waking up to amazingly clear blue skies – typical that the forecast would be wrong! So off to Wasdale we set, getting there for just after 8am, making good time! (Yes even with a 90 minute drive, that is a lie in on a Saturday!).
Unsurprisingly I wasn't the first car in the National Trust car park – a couple of mini-buses no doubt hoarding troops in for the Three Peaks. At least I would head off the tourist path eventually! It turned out we passed the first of the groups pretty quickly – as they were on their way back down, with a Sainsbury's trolley...
So we set off from Wasdale after a quick cup of tea and just before the serious climbing begins on Brown Tongue, we catch our first glimpse of one of today's targets – Scafell Pike. Todd has his eye on Lingmell though – our first target for the day. I had wanted to do the Corridor Route, but I had bigger plans than just up and down Scafell Pike, so you will see this initially dull route did make sense! Although at this point I really wasn't sure where we would end up!! Despite the sun, there was a bitterly cold breeze blowing, making it little above freezing as we began the walk!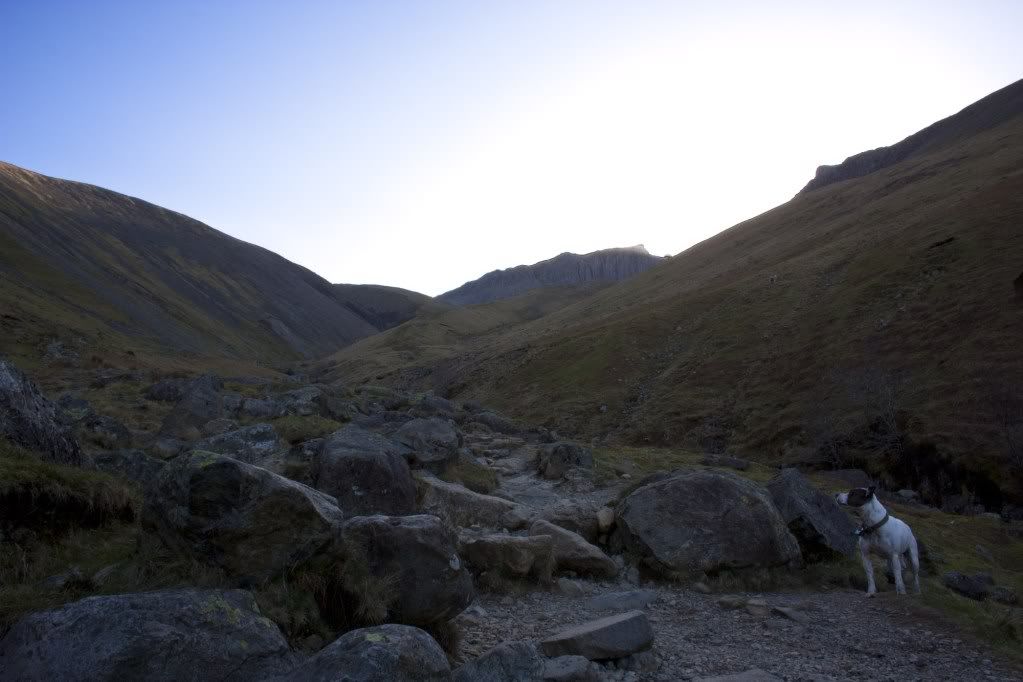 And as you climb a little higher, the views of out to the Irish Sea, beneath this wandering cloud are superb!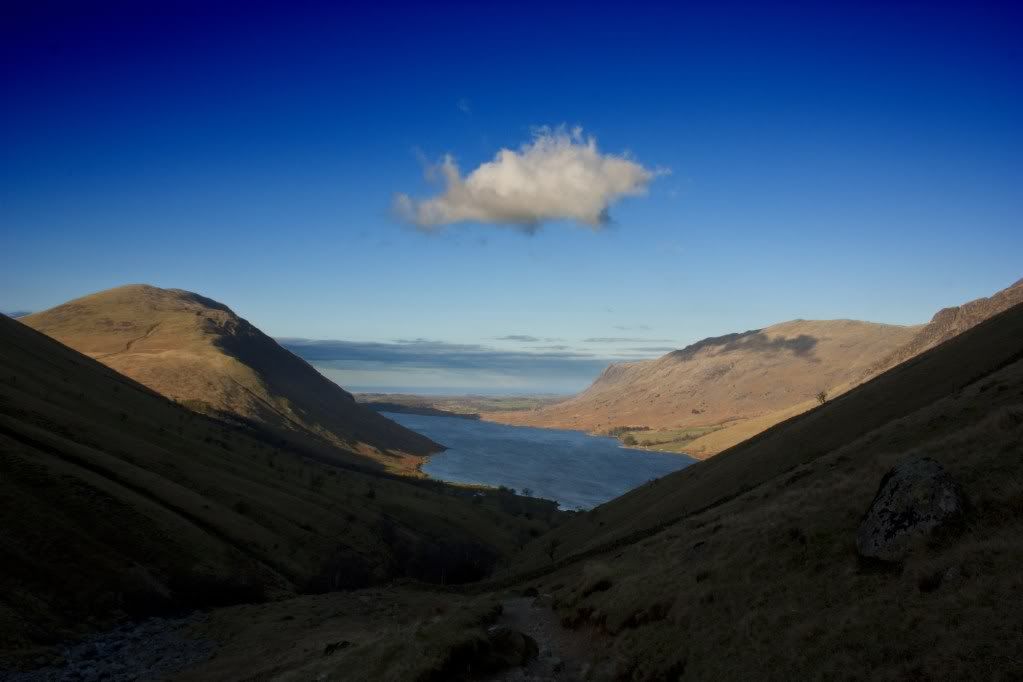 One of the tourist routes goes straight on to Mickledore, but today we fork off left to bag Lingmell and hopefully get some nice views across Wasdale and Mosedale. Here we are looking across to the crags of Scafell Pike (left) and Scafell.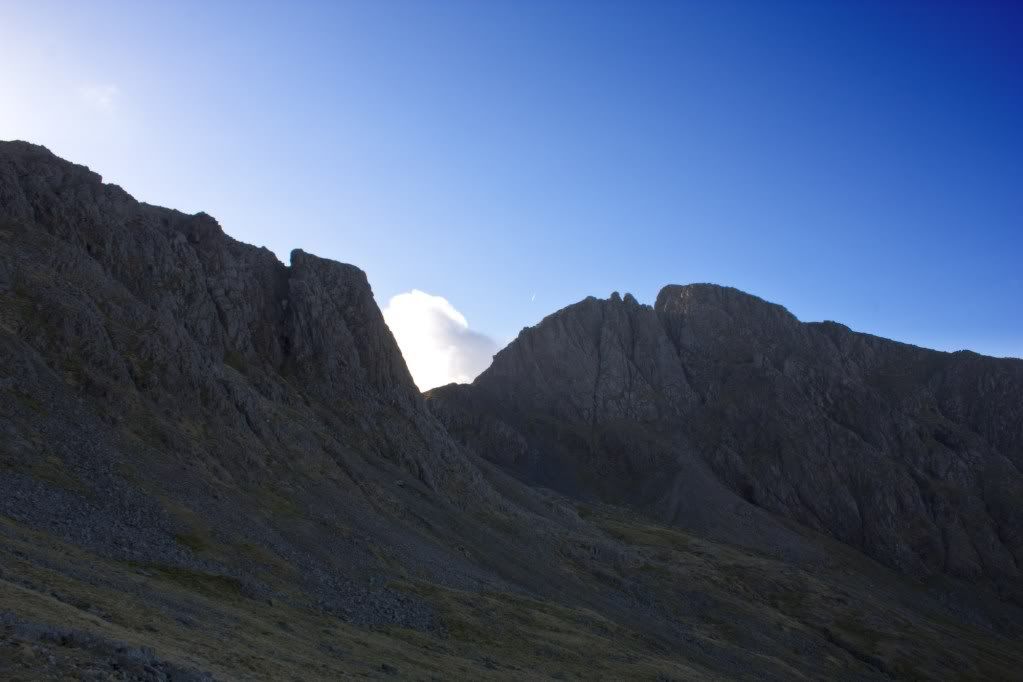 Before tackling England's highest fell though, we must visit Lingmell, which with the sun on it looks particularly inviting. The sun was lovely on our backs as we made our way across!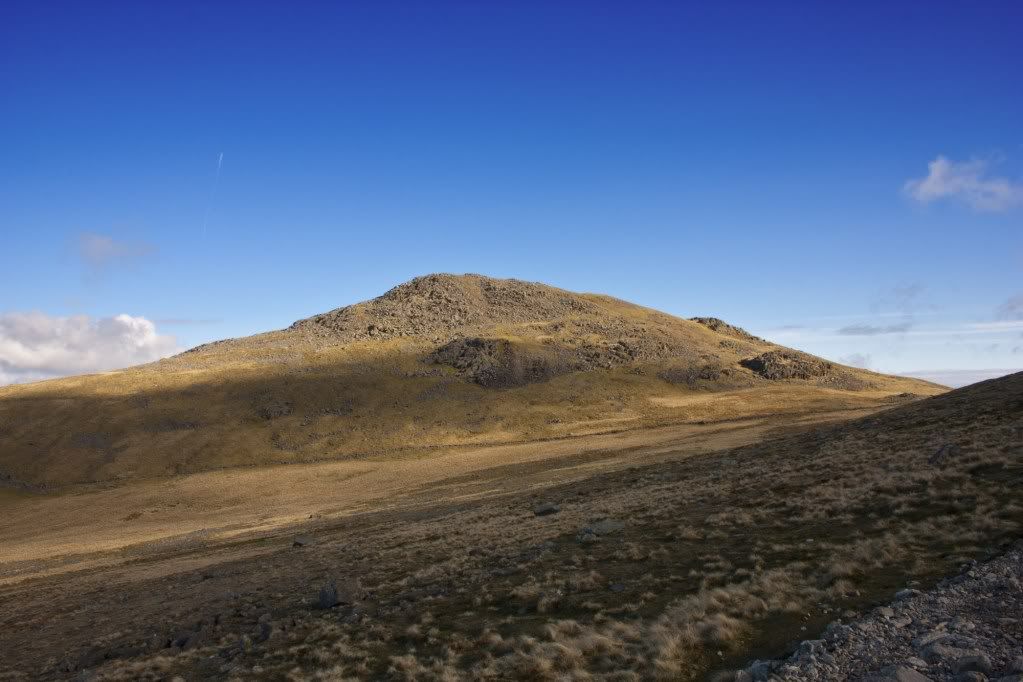 The summit of Lingmell is reached in little more than 20 minutes from the fork in the path from Scafell Pike and the views were stunning. It did appear there were plenty of clouds rolling in from the North and it was at this point I realised maybe the weather forecast would be completely wrong and the weather would turn for the worst as the day went on... I thought the rock formation on Lingmell looked like a stegosaurus in front of Great Gable!
Great Gable was looking particularly warm as he sunbathed this morning!
And Styhead Tarn looks like a nice place to stop for a swim later? The sun across Lingmell crags would certainly suggest so, but it was freezing!! Too cold even to stop for a cup of tea, so instead we carried on – with the next target being Scafell Pike. Similar sun was illuminating the whole summit as we left Lingmell – seemed a shame to be walking back into the shade!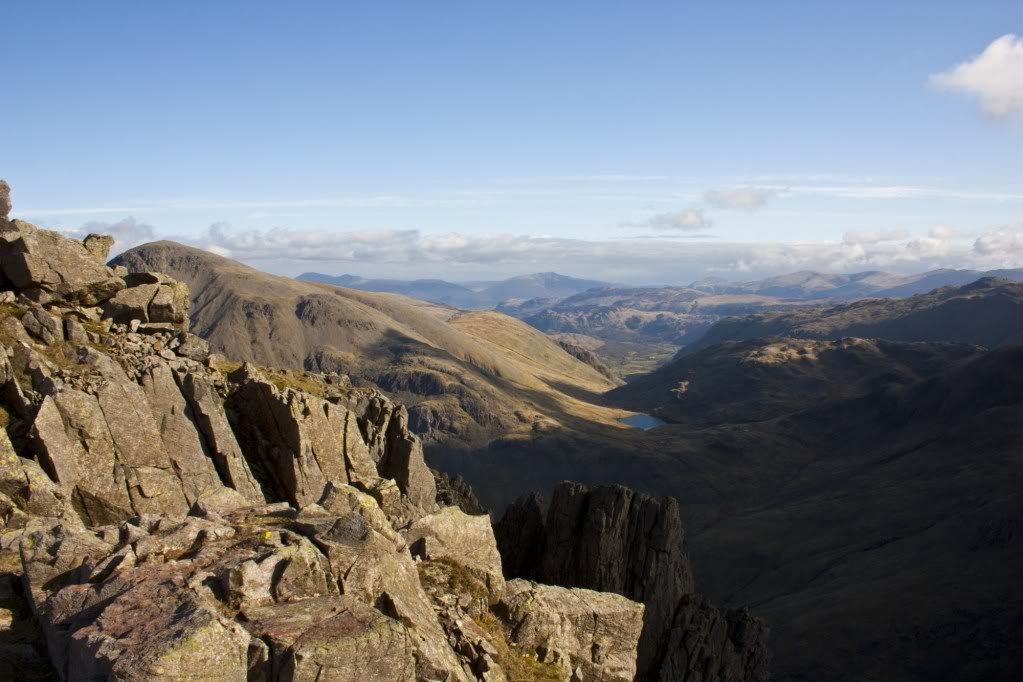 Setting off at a pretty ferocious pace to avoid putting an extra layer on, it is a relatively short 300m climb to the summit of Scafell Pike, and to my surprise for a few minutes at least we had the summit to ourselves! So coats on and definitely time for a Jumbone and a brew! And of course a few pictures... Here we are looking along Mosedale with Pillar at the head, dappled by the sunshine.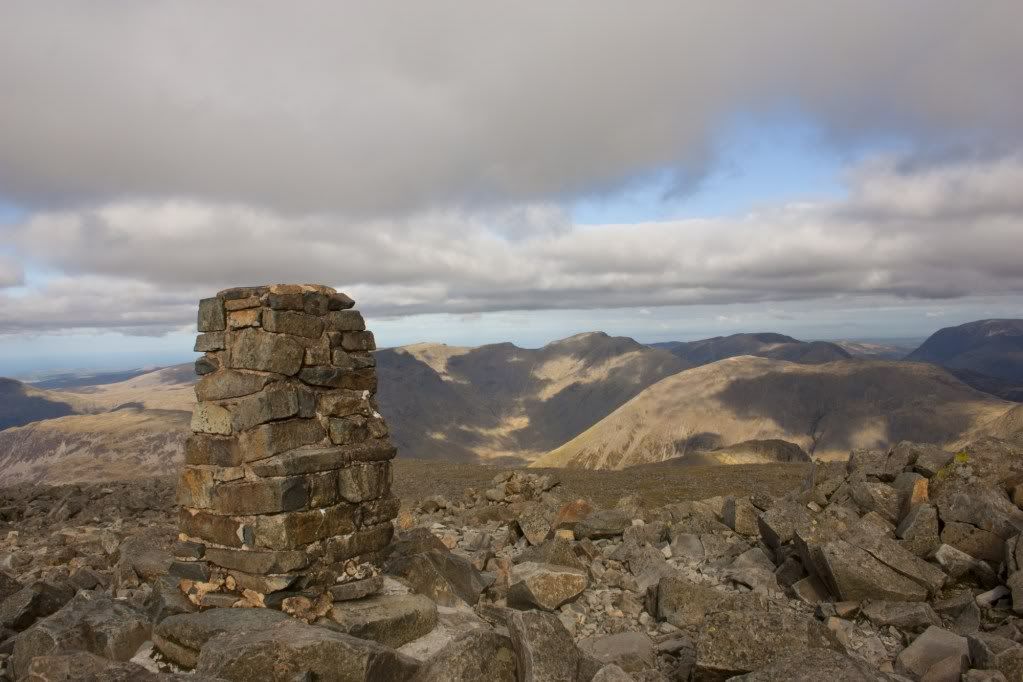 And here we are, officially the highest man and dog in England, looking to Broad Crag, Ill Crag and Great End. A quick temperature reading suggested -4 degrees in the wind, so after a quick stop (made quicker with the arrival of a few groups!) we headed to the South cairn on Scafell Pike.
As the South cairn is lower than the actual summit of Scafell Pike it is less visited, which makes it a good place to get away from the crowds, and in my opinion offers just as good if not better views than the summit itself! Just after we arrived, it seemed that a group of Three Peaker's were just reaching the main summit!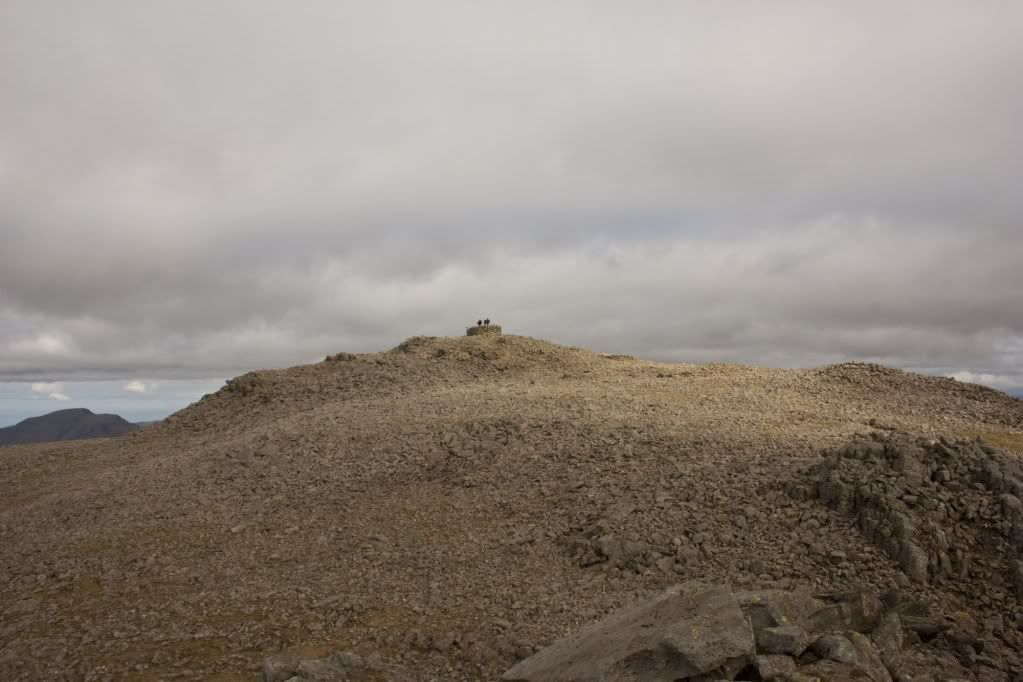 The views to Mickledore from here are fantastic, with Sellafield nuclear plant in the distance. I have not done the route down to Mickledore, but it actually look like one of the easiest routes down!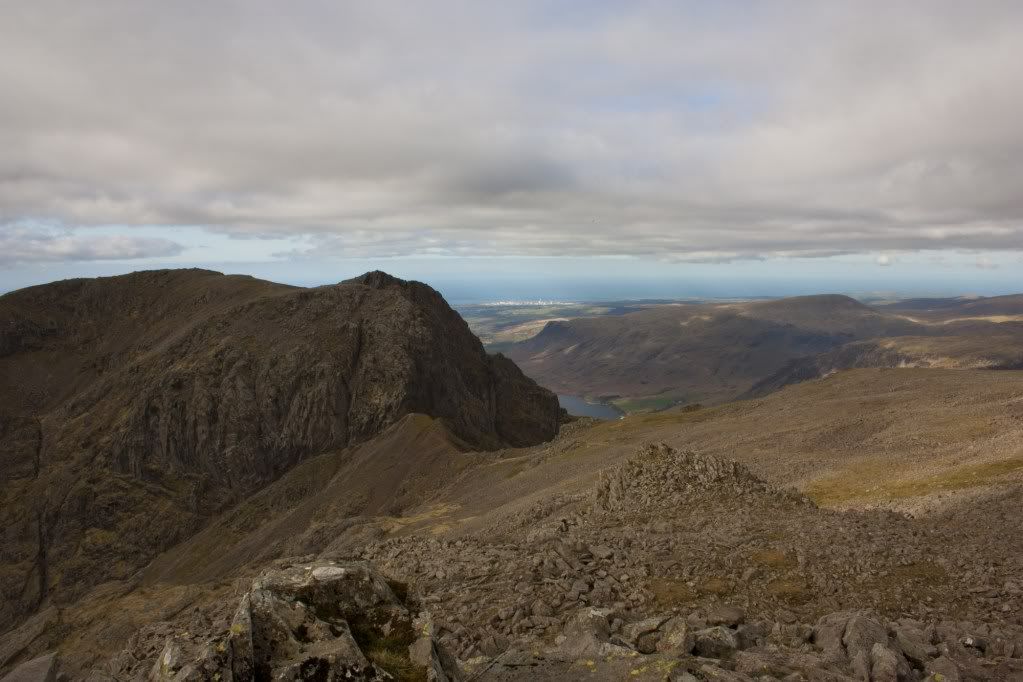 Our next target for the day was to be Great End at 910m. This involved a couple of short drops and climbs over first Broad Crag and then Ill Crag. The clouds at this point were definitely looming big! But at least they were above the summits!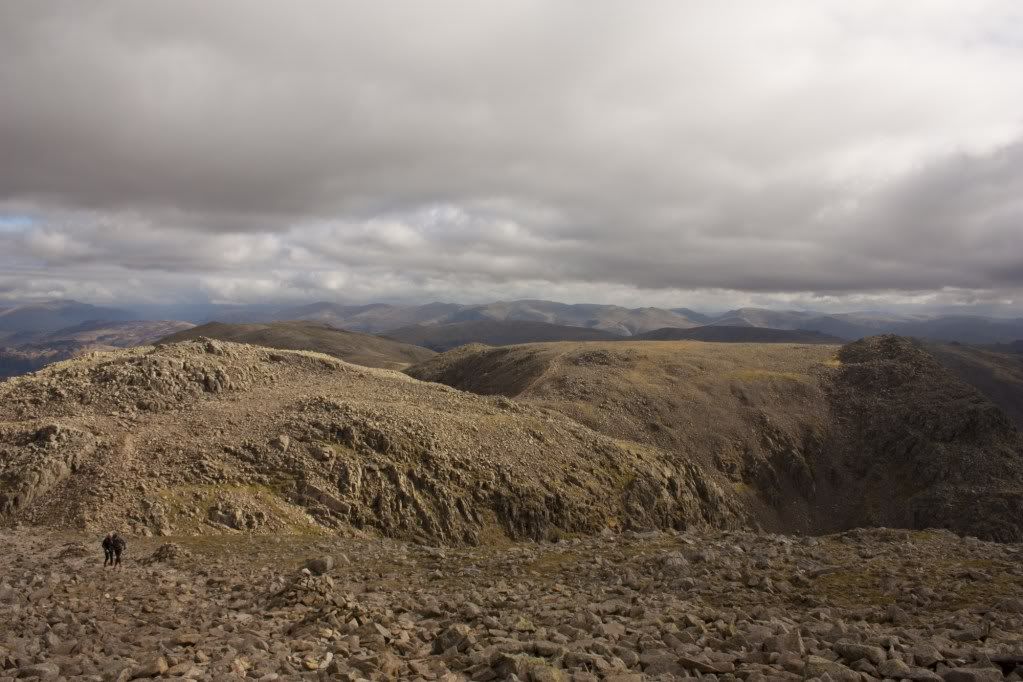 Bowfell and Esk Pike look tiny from here!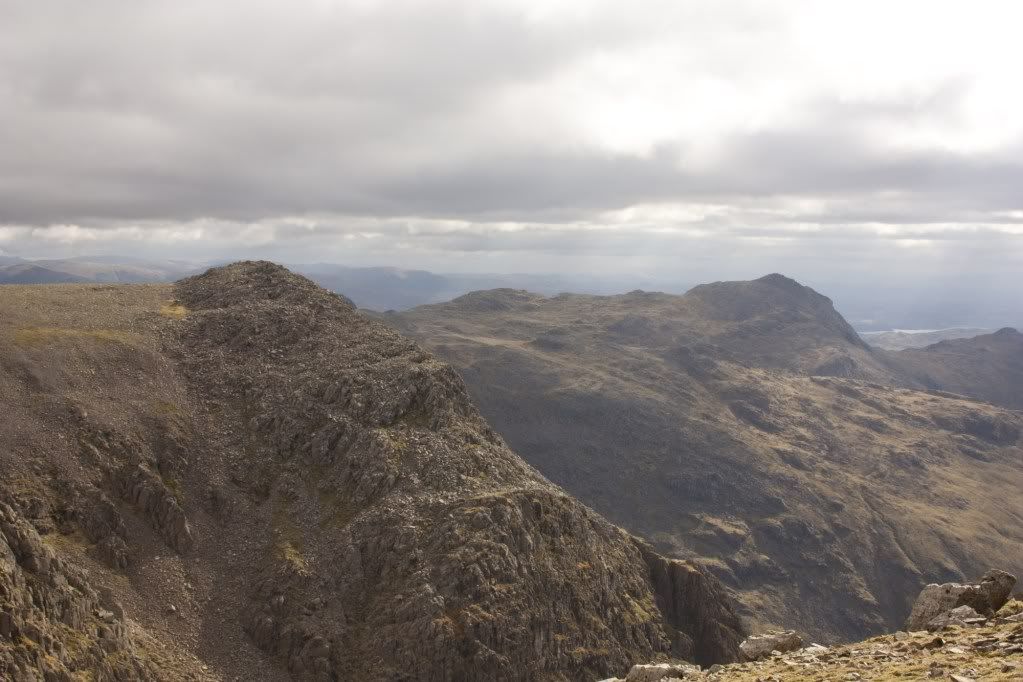 The first descent from Scafell Pike is a bit of a scree'y, slippery mess and it takes quite a while to descend – I don't envy anyone coming up from Seathwaite who has to tackle this at the end of their climb!
Quite quickly though you are up the other side at Broad Crag, where you get impressive views back to the still busy Scafell Pike summit!
The next stop for us is Great End, which involves another short climb over Ill Crag...
From Ill Crag it is only a short drop off and climb up to Great End, you can tell where to turn off towards Great End thanks to a large cairn. Obviously this is in bad weather, where you can just cut off towards Great End in good weather... The next two pictures made me chuckle though as Todd ran on ahead, got to the cairn and then forked off towards Great End! Almost as if he was using the cairn to navigate!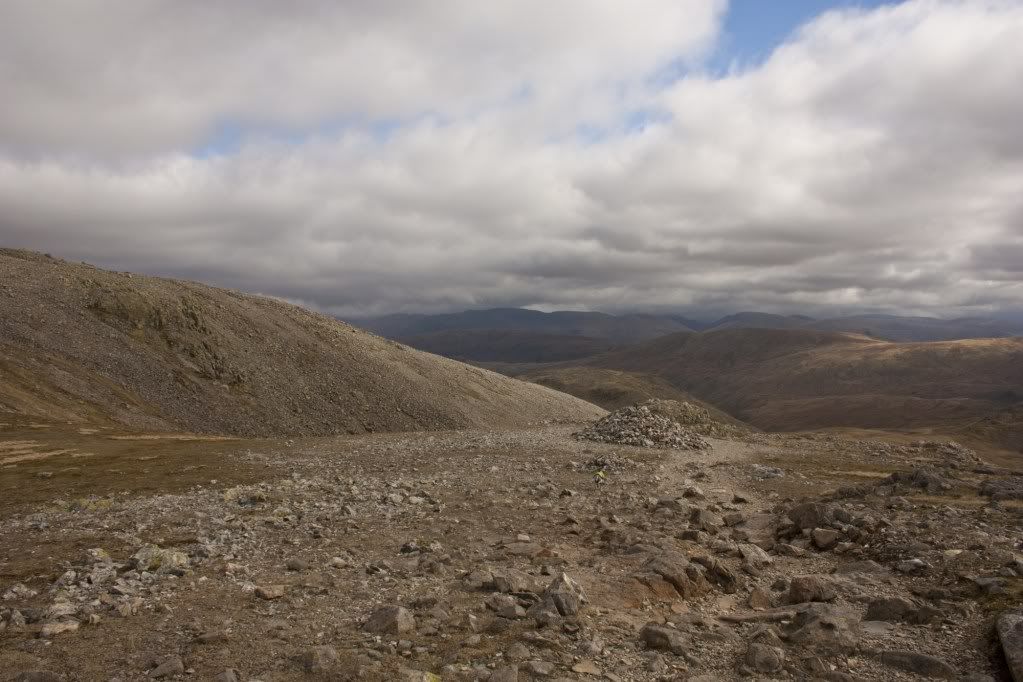 Before tackling the final climb to Great End we have a brief sit/lie down and admire the view back towards Scafell Pike.
And within a matter of minutes we have reached the summit of Great End. Bizarrelly a couple of people arrived at the summit asking us if this was Scafell Pike, when quite clearly there is a higher mountain further back!! Here we are looking towards Great Gable with Mosedale in the background.
And here is Scafell Pike and Lingmell from Great End.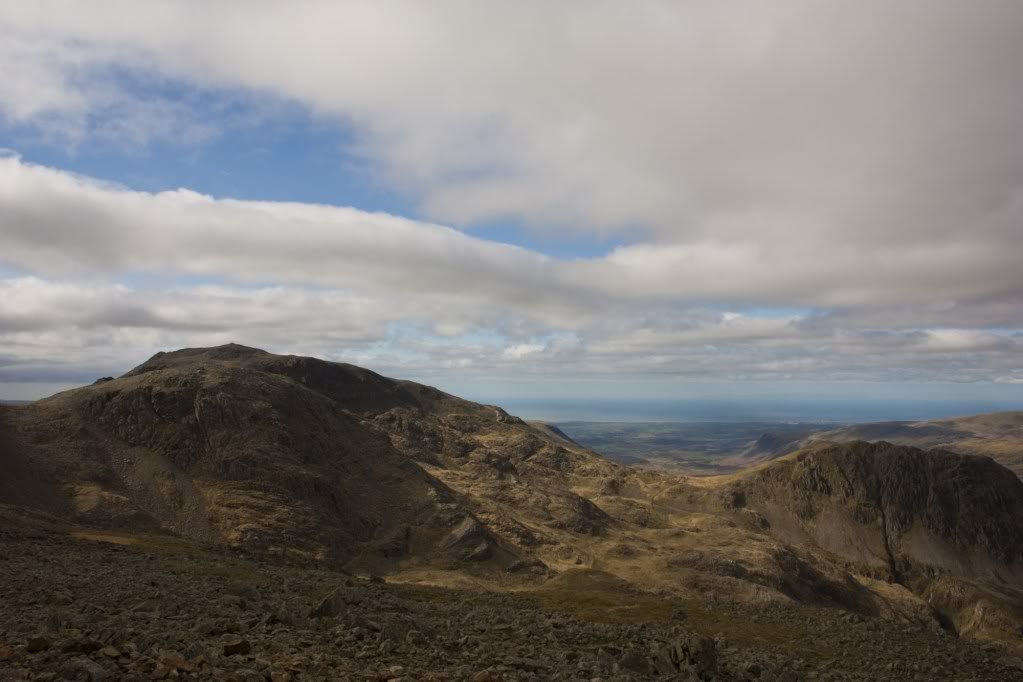 Dropping back off Great End the clouds were looming even more, and with the stiff breeze they were rapidly moving across the sky. They were still high though looking across to Bowfell and the Crinkles.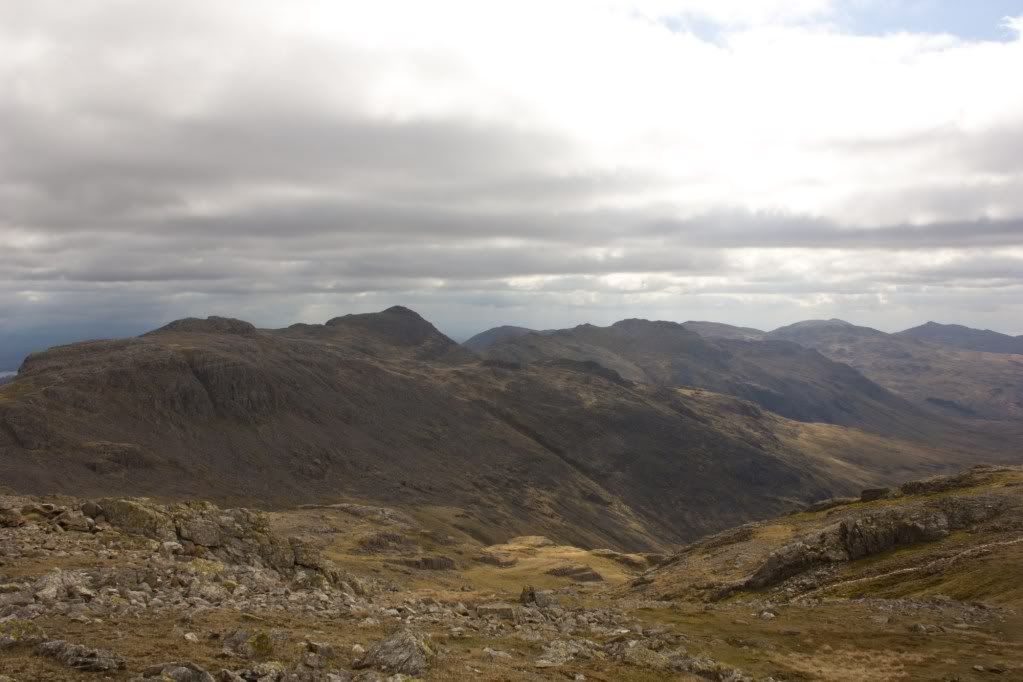 Even grimmer looking across to the Langdales as Todd glances back towards Great End!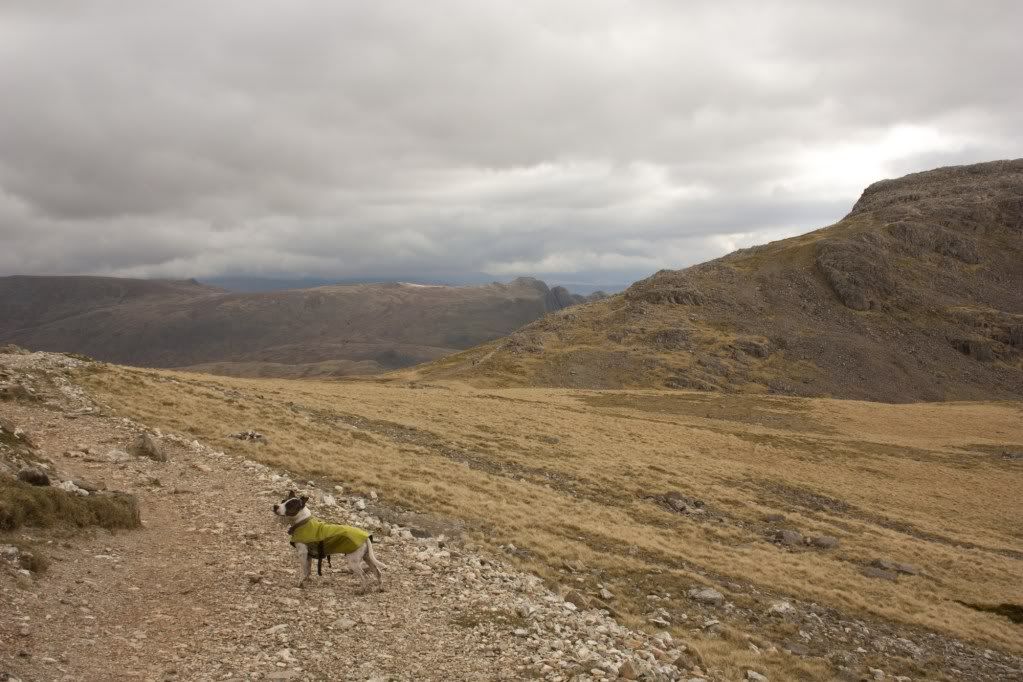 We would now descend towards Esk Hause and then cut back left towards Wasdale... with the day still early I was contemplating Great Gable as a route of descent. I had thought about this before I started – see if I could link the two but it would depend on time and the weather. From Esk Hause the weather looked equally close in all directions – be it Glaramara and Allen Crags, Esk Pike and finally Great Gable, which was just sucking a bit of cloud in.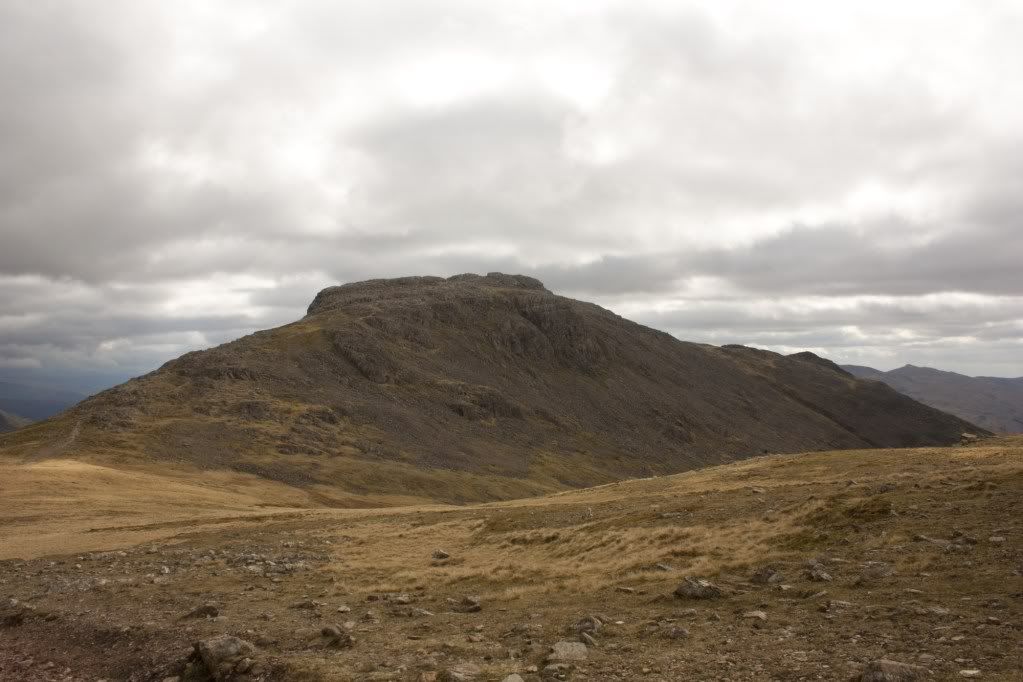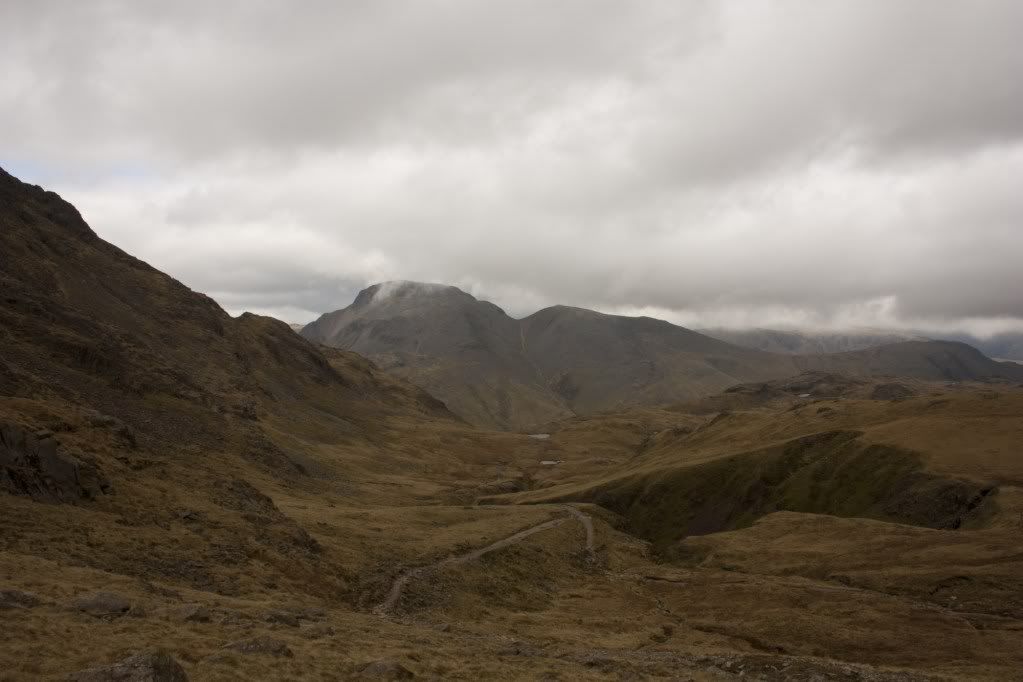 Five minutes later, having seen the clouds rolling in from the North the view to Gable was like this – eek.
And the cloud didn't lift at all by the time we got to Styhead Tarn... But nevertheless, I met a nice chap called Stephen and his dog Molly who were heading up Great Gable, so it would be rude not to right?! Todd and Molly got on like a house on fire – prancing round on the crags and scree, which bearing in mind I hate heights, literally giving me kittens! I think I should give his four wheel drive more credit! I just wish I had the energy to be up and down all the fells three or four times! Whilst Stephen and myself passed small talk as we made our way quickly up the side to the summit in the hopes that the cloud would clear.
Alas, all the way to 899m the cloud didn't lift and the views from the summit were non-existant. Time for a quick brew and a photo of the memorial – whilst we had the pleasure of listening to a woman have a domestic with her husband on the phone to quote her "on top of a mountain". Each to their own! In the 20 minutes we were on the summit the cloud didn't lift, so we descended to Beck Head, where the cloud began to lift. Bizarrely the cloud was acting like a bit of a blanket and sat on top of Great Gable was pretty much the warmest I was all day!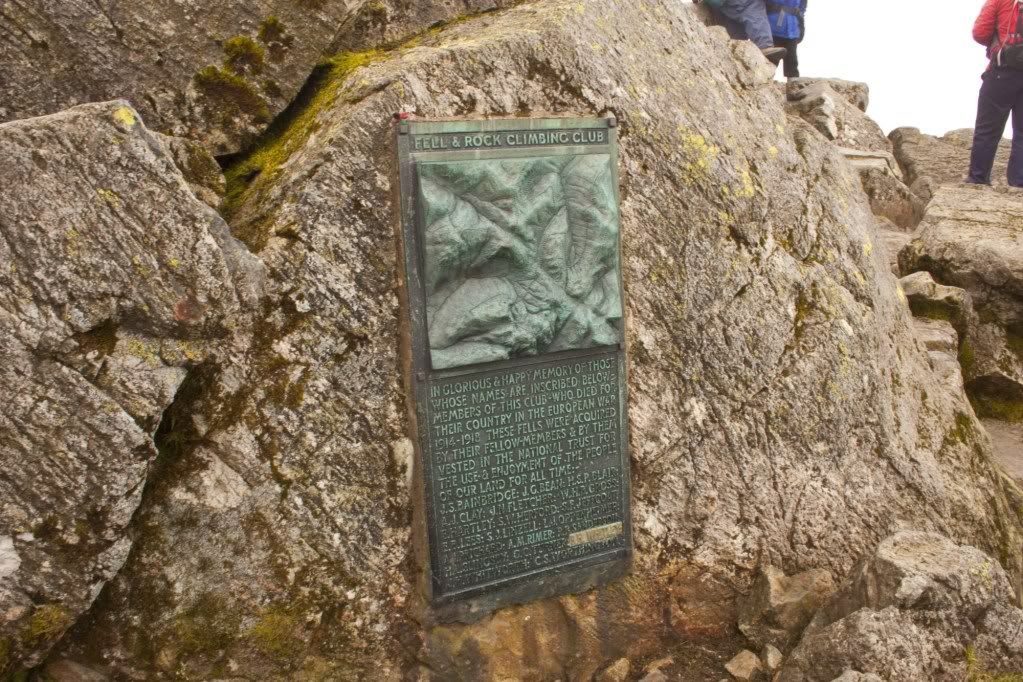 You can see as we dropped off the summit the line of cloud cutting the tops off the biggest fells.
Descending the scree towards Beck Head (I am pretty sure this wasn't the path Stephen, the path is further right I shouted!!!) and the cloud continued to lift – I couldn't decide where to go next, should we attempt Kirk Fell, or go with Stephen along Gavel Neese back to the car?!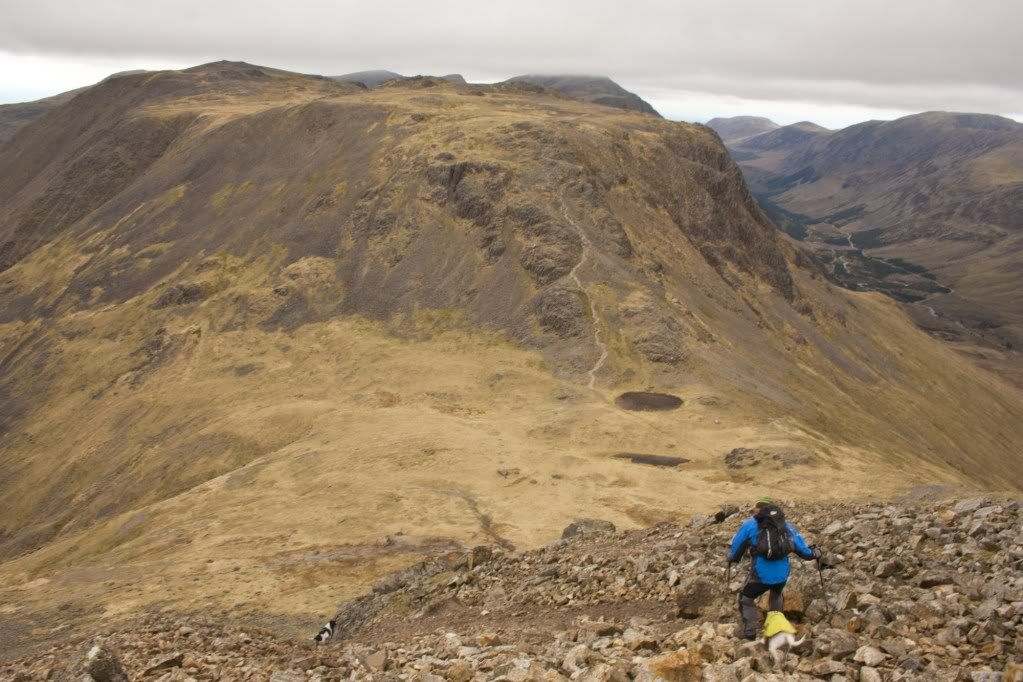 Across Beck Head tarn (or not as the case was today, not sure where the water has gone as last summer it was completely full and it hasn't been that dry a winter has it?!) Kirk Fell is looking ridiculously inviting... Time to say our good byes to Stephen and Molly – we were going for it!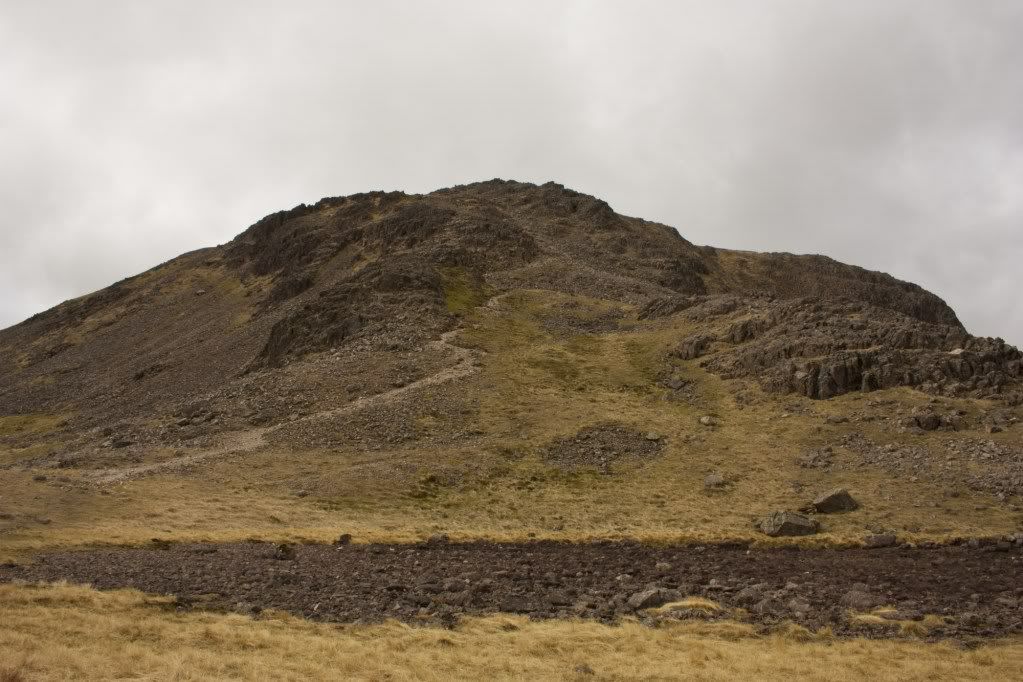 As we leave and begin a now very slow climb to Kirk Fell – I would be lying if I said I wasn't shattered at this point – we get a glimpse back across to the Scafells, looking a hell of a long way away!
Luckily the climb to the Kirk Fell summit plateau is only about 150m, which goes pretty quickly even when you have no energy!
And from there it is a short walk to the summit cairn where you get views to the Scafells, Gable, Skiddaw/Blencathra and Mosedale. It was quite bizarre on the walk to Kirk Fell summit watching the clouds rise clear of all the summits again – although I was slightly gutted that the 30 minutes we were reaching the summit of Great Gable we were in cloud!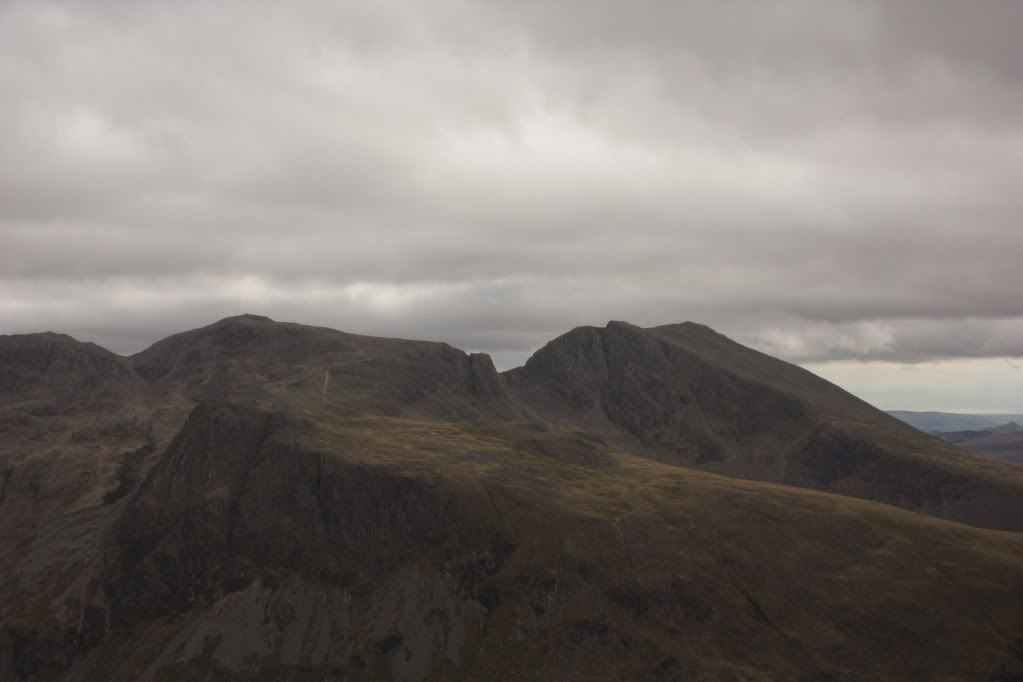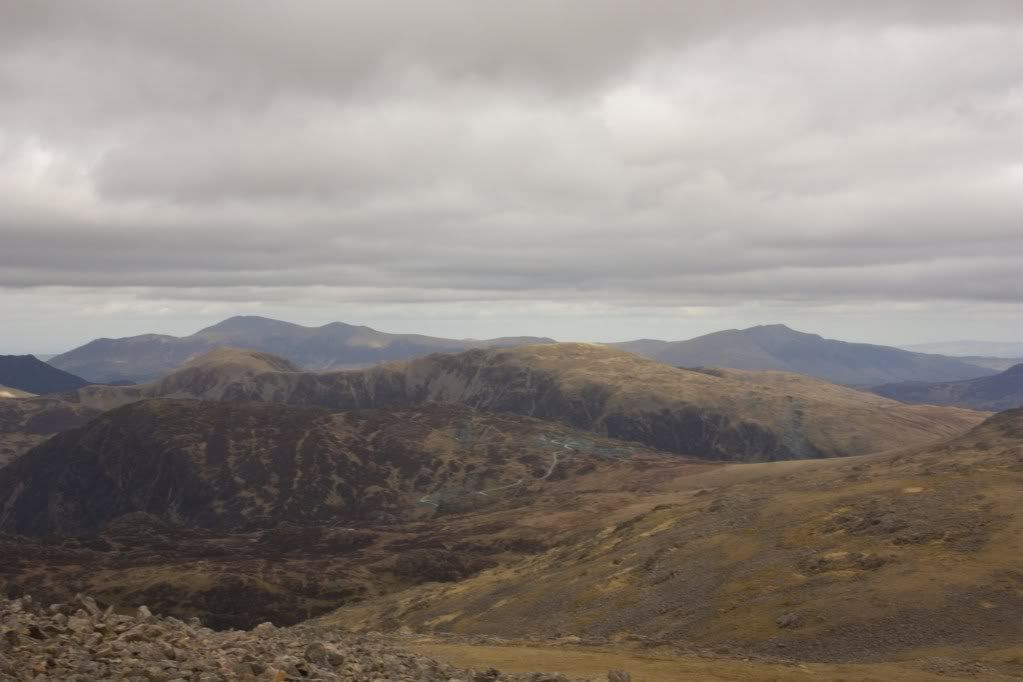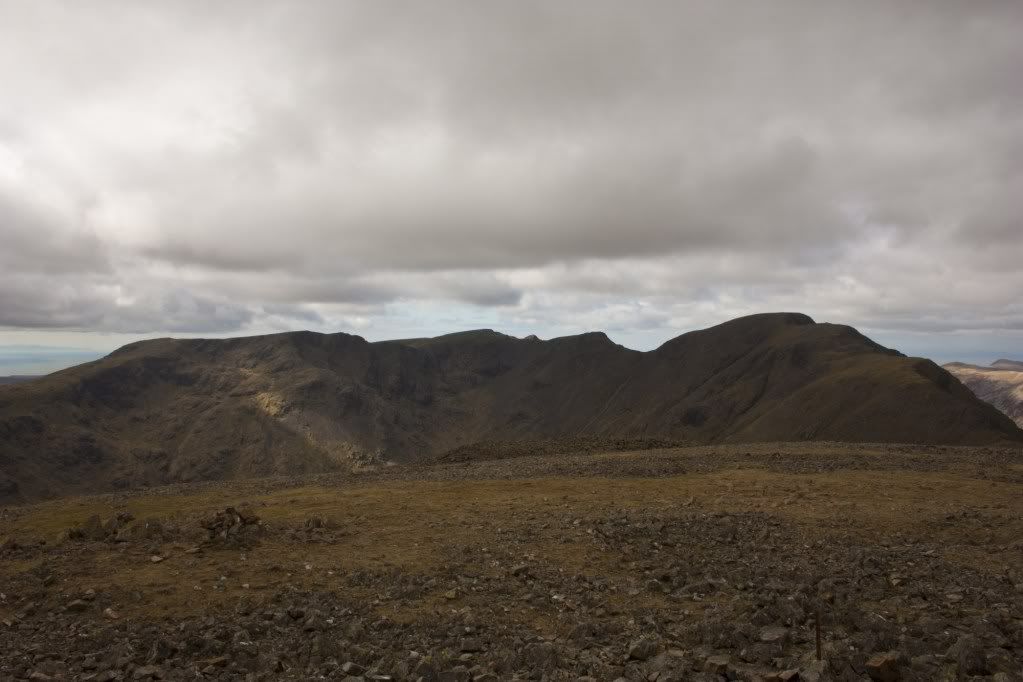 This panorama shows the entire route for the day...
The plan for the descent was to go straight off the end of Kirk Fell along the relentless path to Wasdale. Having walked Gavel Neese along the front of Great Gable before and found how hellish that was, I decided that it would probably be almost as quick to go up and over Kirk Fell and down the grassy path. One thing I didn't account for was the 200m of scree and shale at the top of Kirk Fell which make the path hard work and an absolute killer. I can't imagine what kind of misery it brings to those who ascend it. Here Todd is preparing himself for the descent... straight ahead towards Wasdale.
A little bit off the front of Kirk Fell, the path disappears... Believe me it is still there, it drops straight off towards the pub in the bottom at an alarming rate, over scree. To give an idea of the steepness, it is 800m of descent in approximately a kilometre distance – so about 45 degrees! I swear if hell exists, then the path that appears when the earth opens – would be modelled on this. I actually had two knees when I started the descent!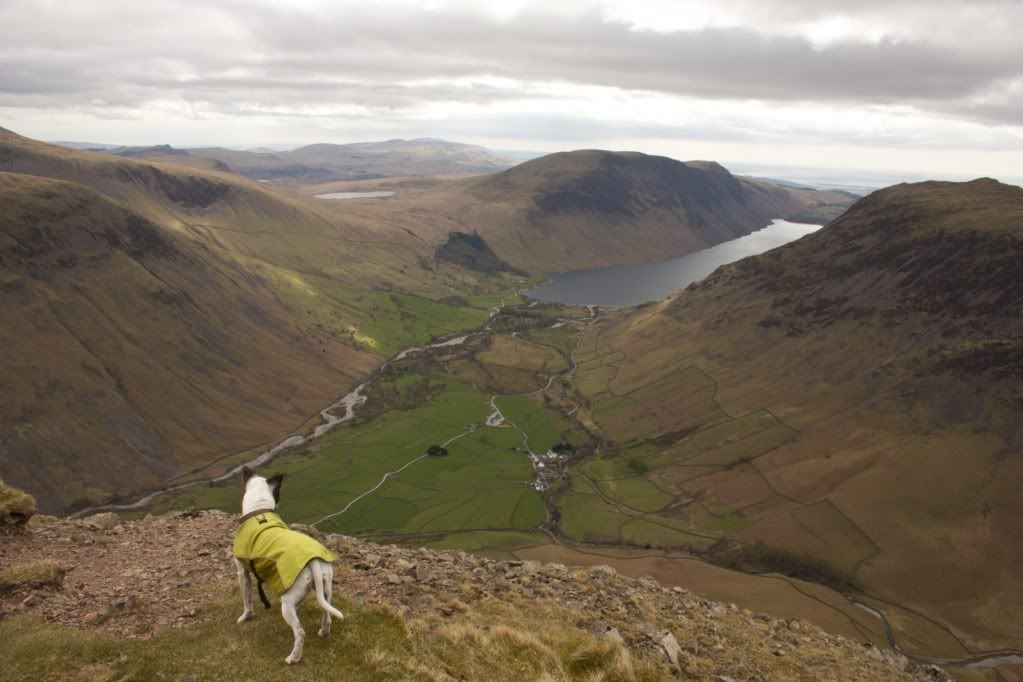 One good thing is that after the loose stuff, the path does turn to grassy fellside, which while ridiculously steep allows for a lot of ground to be covered quickly and before you know it you are back in the car park of the pub. On the descent the clouds completely blew away and we were left again as the day started, with lovely bright spring skies.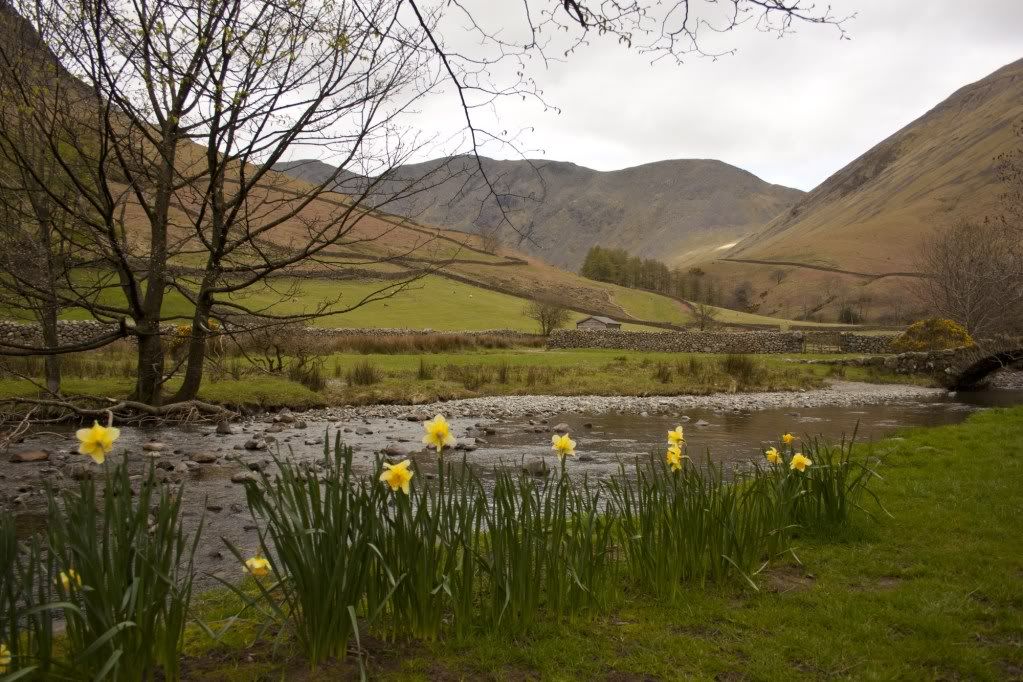 And arriving back at the car, there was one last chance to get a panorama of the whole route.
It is a while since I have done a walk that has taken this long – the joys of the clocks going forward! Similarly it is ridiculously easy walking when you aren't cooped up in waterproofs all day – whilst it was cloudy and cold, it could have rained so I wasn't complaining! Hopefully this would be the start of a nice long spring and summer? And who cares really that Great Gable was in cloud, it isn't going anywhere and we will just have to go back a couple more times this year!
Needless to say, Todd slept all the way back to Barrow – I think his legs were a good deal shorter and he had probably had enough, but being the good loyal friend he is, he didn't complain once. Plus it keeps him quiet for the week whilst we are at work – until next week my friend!