The WH Kintail Meet - Version 2. After the modest gathering of last September, Bod and Valerie had put together a huge and glittering cast of colourful characters for the 2012 re-run! I believe the "official" number of participants may have been 56 although there were almost certainly an undisclosed number of "lurkers" as well!
Unlike Bod, who had managed to wangle a sharp exit from school, I was stuck on shift until the bitter end. Worse, my wife couldn't get away from work until 5 and by the time we had nipped back home to give Ailsa a last big hug and kiss before abandoning her for the weekend (don't worry - no need to call Social Services - she was with my mother-in-law!). So by the time we showed our faces at the bar of the Kintail Lodge Hotel, most of the cast were assembled and in good spirits (some quite literally!). We scooted along to the accommodation at the Outdoor Centre to dump our stuff before heading back for the quiz where, in a team comprising Danny, Monty, Kev and ourselves, we managed a podium place. Only a slight distance miscalculation in the tie-break question saw us having to settle for the bronze medal ...... and a bottle of Glenlivet.
After an early night (01.45) and an early rise (06.45), we had coffee and bacon rolls and discussed the options for the day ahead. The plan had always been either the Five Sisters or the Forcan Two, although other routes weren't entirely ruled out. We swithered (or rather Debbie did) all evening and most of the morning before finally opting for the former. We headed off ahead of Bod, Valerie, Morecambe Monkey, Gavin99, Jockstar and Suhowfar, knowing that they wouldn't be far behind us and may well catch us up. There was also the mentalist group undertaking the Brothers
AND
Sisters ridges who had started with the early bird and who might also hook up with us at some point.
We were parked at the large purpose-built carpark just east of the logging operations by 9.30 and away up the steep, eroded path towards the bealach.
Let's go to church!
We saw Bod and the others (easily identifiable thanks to Ritchie) shortly before reaching the bealach, where we stopped for a breather and some nibbles. I also pointed out Saileag to Debbie and mentioned that although I had already done the other two Brothers, I hadn't yet done this most westerly one. "Let's do it" was my wife's rather surprising reply. I was tempted - it was now my turn to swither. Fortunately, with the benefit of hindsight, I declined. Besides, I have a cunning plan to fit this one in when I finally get round to doing Ciste Dubh, with a return to Sgurr a'Bheileach Dearg also thrown in.
Let the worship commence - Spainteach and SN Ciste Duibhe to the right, The Saddle and Forcan Ridge to the left
First four Sisters guarding the head of Coire Domhain
Summit of Spainteach with SN Ciste Duibhe and Carnach beyond
East from Spainteach to the Brothers and Loch Cluanie
Awkward little down scramble straight off Spainteach
Anyhow, despite very limited experience of walking on this scale over the last couple of years, my wife is still no slouch on the hills and even at this early stage, it seemed unlikely that the others would be catching us up any time soon.
Over a minor bobble on the ridge and we hit the first Sister, Sgurr nan Spainteach, then the tricky little down scramble for the walk along to the second one, and the first Munro of the day, Sgurr na Ciste Duibhe.
Back to the summit of Spainteach and distant Ciste Dubh
Sgurr na Ciste Duibhe - this Sister likes to play rough!
Carnach and Fhuaran across Coire Domhain
Debbie was ahead of me as we approached the summit (I had been delayed by my trigger-happy use of the camera) and when I got up to the significant cairn, there was no sign of her. I knew she would be around somewhere, so I hung around and snapped away a bit more. When she didn't appear after a minute or two, I walked on to the little minor top a hundred or so metres away and met her walking back towards me with a confused look on her face. She realised she was descending and could see the next Sister ahead, so knew she must have missed the first Munro summit. I waited and wondered how anyone could have walked past that cairn without seeing it, while she retreaced her steps to finish the job properly.
Approaching summit of SNCD - Sister Number Two, Munro Number One
Spainteach and Brothers with Ciste Dubh, Mullach Fraoch Coire and A' Chralaig beyond
Oops, overshot the mark! Debbie retracing her steps to make it official
We then descended slightly and found a wee sheltered lunch spot behind a large rock with grandstand views towards The Saddle and Sgur na Sgine, before making tracks again for Sisters Numbers 3 and 4, Carnach and Fhuaran.
Nice views for lunch!
To cut a very long story short, this was a fantastic day walking one of Scotland's iconic mountain ridge walks. The weather played fair (one brief snow flurry aside) and we got "hunners" of photos of stunning views.
Loch Duich and Sgurr na Carnach shortly after leaving SNCD
Back whence we came - Spainteach and SN Ciste Duibhe
From between SN Ciste Duibhe and SN Carnach - looking down Coire Domhain behind the Brothers towards Ciste Dubh, Mullach Fraoch Coire and A' Chralaig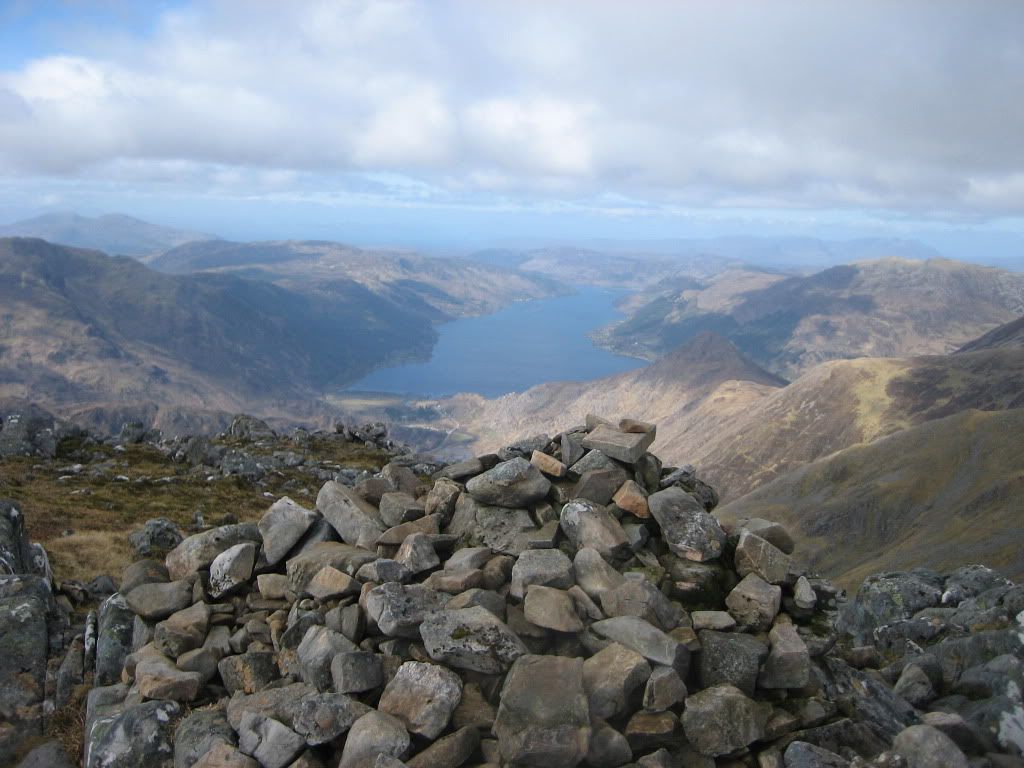 Loch Duich from summit of Carnach - Sister Number Three, Munro Number Two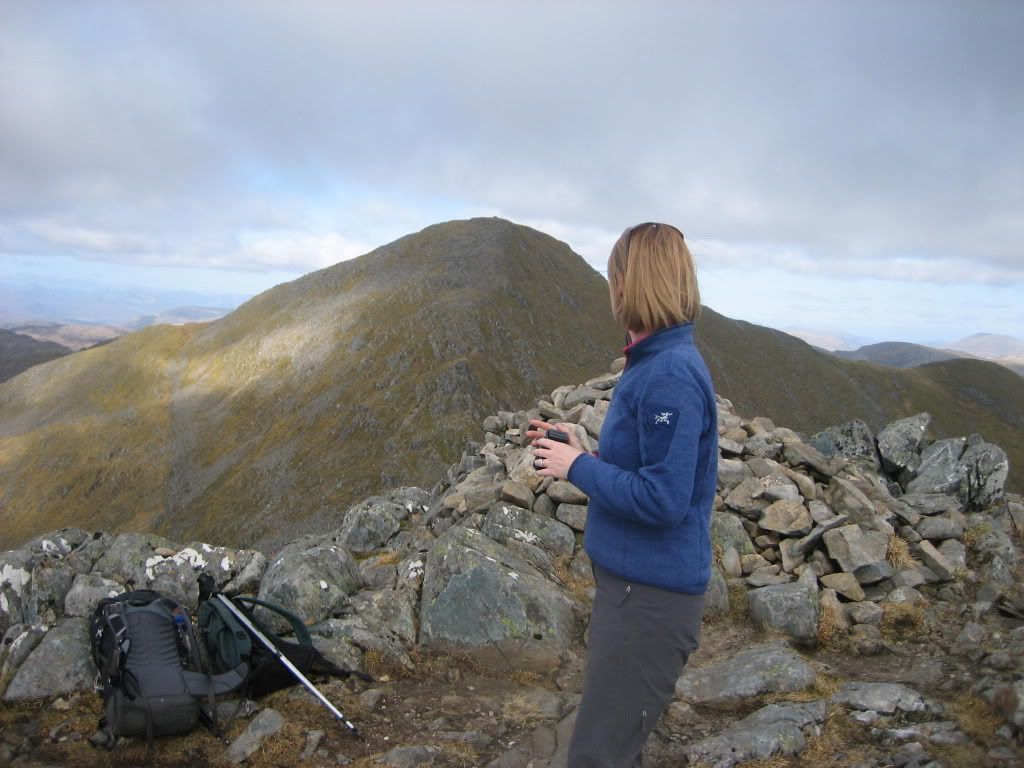 Debbie on Carnach checking out the next Sister......
....... and back to the previous two
Looking NW towards Skye en route to Fhuaran - Cuillin just about visible through the haze
We pretty much had the place to ourselves - one guy passed us going the other way between Carnach and Fhuaran and a group of three blokes finally caught us up at the summit of Fhuaran before disappearing off into the distance.
The long road home from the summit of Fhuaran
Down the long east ridge of Fhuaran into the far reaches of Glen Lichd
Debbie meets Sister Number Four
Sgurr nan Saighead, Beinn Bhuidhe and Glen Lichd from Fhuaran
Yours truly at the summit of Fhuaran with the South Glen Shiel Ridge (remember that????) in the background
Now, this brings me to the reasons for the title of this report. I am not a religious man. At least not in the conventional, orthodox sense of the word. I cannot remember the last time I was in a church on Sunday for the specific purpose of a service. I do however have a faith ...... in something. Just not entirely sure what. And I appreciate the deeply spiritual - never more so than when I am amongst the hills, mountains and glens. Today was the start of my Easter holiday fortnight and the previous day (as is traditional on the last day of term before the Easter break) had seen a series of Easter assemblies being held in the school. The script was, as always, a variation on the same theme - the resurrection and the meaning of Easter.
Now, as I walked this classic mountain traverse with views across Knoydart, over the sea to Skye and the Cuillin, up to Torridon and into Glen Affric, my mind wandered to yesterday's assemblies, to my Easter holidays stretching ahead much like this ridge we were on, and I recalled two programmes I had seen on TV over the course of the last few months. One had been the episode on John Muir in the Last Explorers series presented by Neil Oliver, in which he claimed that Muir had experienced "a kind of religious conversion ...... in reverse" when he had finally escaped his strict, religious upbringing and come to realise that true magic lay in the power and beauty of our wild landscapes, not in any religious doctrine - that it was wild nature that truly inspired, guided and comforted.
The other was an episode in a documentary series where people from the various diverse ethnic groups in Bradford lived together in a house and discussed their differences and what they had in common. One young Muslim girl was arguing with an older Muslim man who insisted on going to the mosque several times a day to pray. His argument was that praying was only a valid form of worship if it took place in the mosque. Her argument was that you only need to look around yourself at the natural beauty and wonder of the world to realise that this was as good (if not better) a place as any man-made building to worship your god, whoever or whatever that happens to be.
And suddenly I found myself quietly humming the old Waterboys song "Church Not Made With Hands" to myself! I confess I am not a huge Waterboys fan, although I do own several of their early CDs and hearing one of these tracks is enough to magically transport me back to 1980s Dunfermline and my days as the drummer in a school band, the lead singer of which was a huge Waterboys fan (although one memorable review described us as "a cross between U2, Duran Duran and an unspecified Indie band". At the time I thought that was cool! Not so sure I'm as keen on the sound of it now!
Now, how did that song go again???? Oh yeah, that's it.........
Bye bye shadowlands
the term is over
and all the holidays have begun
now she walks in fresh fields
her tracks are on the land
she is everywhere and no place
When it's dark and evening falls
she moves among men
they would seek to have her as a prize
but she is in the shadows
the ocean and the sand
she is everywhere and no place
her church not made with hands
not contained by man
She is dancing high as clouds
faster than the arrow
straight as any crow that flies
across great seas she travels
up through rising lands
she is everywhere and no place
her church not made with hands
not contained by man
Isn't that a pretty sun
setting in a pretty sky?
will we stay and watch it darken?
will we stay and watch it darken?
the church not made with hands
not contained by man
that precious place
unmade by man
And so here I was, worshipping at the altar of the Church of the Five Sisters. A Church alright. A magnificent highland cathedral. Millions of years in the making, shaped by forces beyond any comprehension. Built to last, and not built by man or in the name of any religion.
From Fhuaran we decided to stick with Plan A, which was to continue to Sister Number 5, Sgurr nan Saighead and then around Beinn Buidhe and on to Sgurr na Moraich, from where we would drop directly down the steep slopes to the Outdoor Centre.
Sgurr nan Saighead from Fhuaran
Saighead again with Loch Duich beyond Sgurr an t-Searraich at the end of the descent ridge
We really should have canned that plan when Debbie stumbled badly coming off Fhuaran on a down section of loose scree and badly bruised herself in several places in the resulting fall. You should see one of the bruises - the size of a saucer and as black as the Ace of Spades! I spied out a descent route down into Glen Lichd which would have left us a straightforward walk along the track beside the River Croe for about 3km to the centre but Debbie was having none of it. "I've managed four sister, I'll be damned if I'm missing out on the fifth one" was more or less her take on it.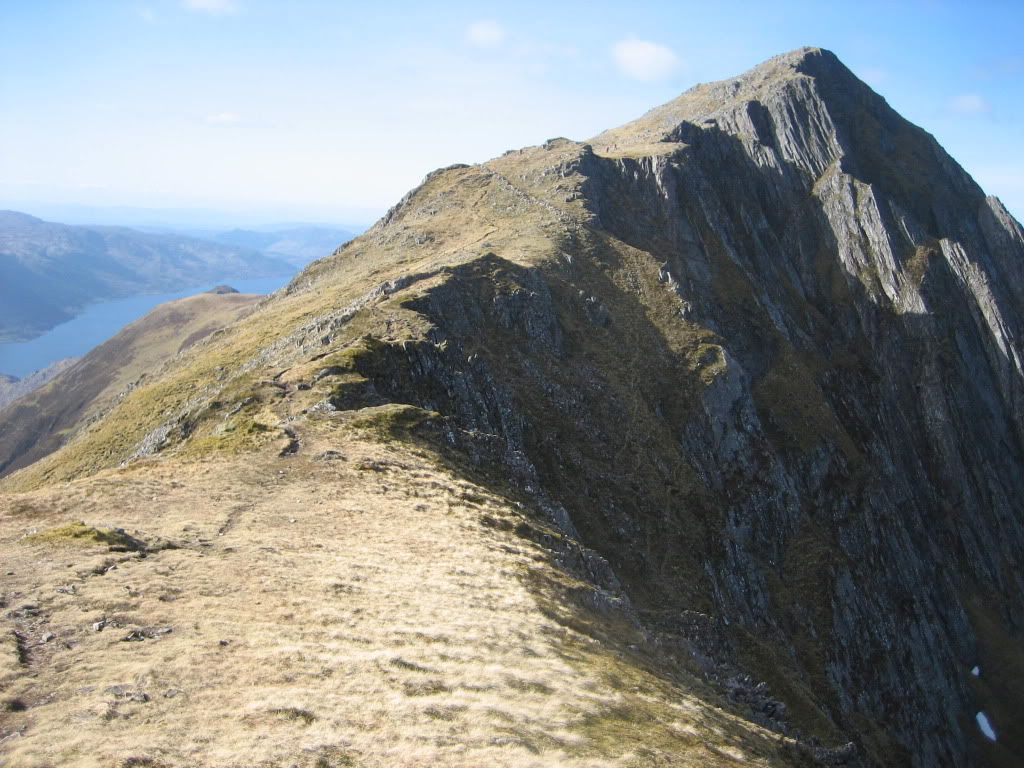 Sister Number Five - the pick of the family????
Fhuaran and her vicious drop off from the summit of Saighead
Beinn Fhada across Glen Lichd
Beinn Buidhe and Sgurr na Moraich from Saighead - still a ways to go!
So onwards we went on what was arguably the nicest part of the walk, although the day was beginning to take it's toll and long before the descent off Moraich, a few choice words had been exchanged.
Beinn Buidhe
Still, we managed to sit for a few moments by a tiny lochan on the gentle, wide approach to Moraich above Coire na Criche and listen to the sound of....... well, absolutely nothing. Not a breath of wind, not the sound of a bird, no motorised vehicle noises, nothing. "Lovely place for a wild camp" I said. "Too high" said Debbie. After a minute or two the silence was broken by the noise of human voices. They sounded far away, really far away back along the ridge, their sound being carried for miles in the absolute stillness.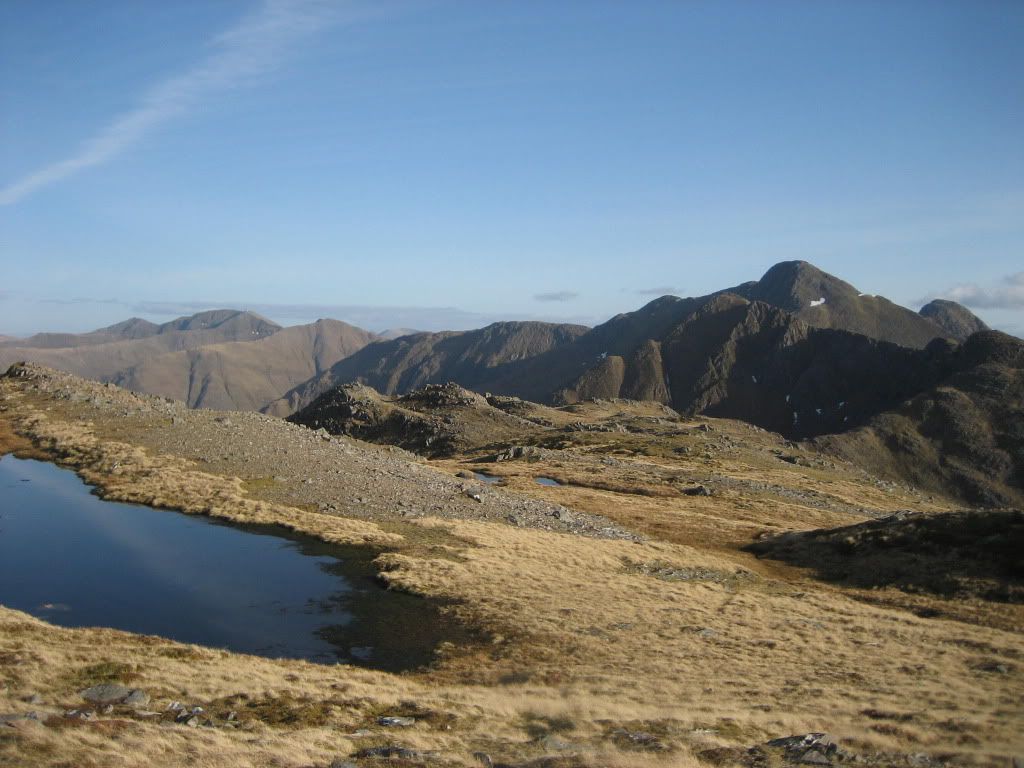 Just too cool for words. High camp anyone????
Summit of Sgurr na Moraich
From Moraich it was a fairly sorry old descent down to the centre. I actually felt like I could have taken a good deal more but Debbie was on her knees and when she took the hump at the fact that there was no path, the choice words of earlier threatened to spill over into a full scale domestic - especially when she tried to imply that I had assured her there would be a path and I told her I would no more likely have said such a thing than to suggest there would have been a bus stop with a direct service to the pub!
Is it just me, or is that white building actually getting further away????
Beinn Fhada basking in the evening sunshine from near the Outdoor Centre