After a few good weeks – unsurprisingly as Easter weekend approached the forecast looked pretty poor. I am not sure if this is just how Easter always is – or because we had my sister coming to stay, who is yet to see a Wainwright free from cloud! As the end of work on Thursday approached the forecast still looked fairly average, although there did seem to be a break in the rain and wind on Saturday, when the forecasts were suggesting 80% chance of cloud free summits in the morning, with cloud dropping late afternoon – so this was definitely the day to be walking.
Friday was spent traipsing round Kendal and Barrow looking for Wedding shoes, so by Saturday morning I was itching to get out and do a decent walk. We had decided previously that we would go to Wasdale if the clouds were high and do something big – Lindsey has never been over there and it is always an impressive place to go. I fancied Scafell via Lord's Rake – Gemma and Linds were unsure of the scrambley stuff though. In the end we stumped for Scafell Pike (again!!) – it is the biggest and the girls had not done it before… Todd and myself had done it less than a week ago, so I was keen to try a different route, maybe up to Mickledore and left, rather than the Lingmell way.
As we parked in Wasdale I realised our first mistake… Parking at about 9.30 the car parks were a hive of activity and near enough completely full, bad news for me as if you have read any of my reports you will know I love a nice quiet summit (I don't think of myself as selfish and want the fells to myself – but it is nice to be up there alone!!!) and bad news for Todd as it meant a day on the lead keeping him away from other people and more importantly their dinner. Note to self – don't go to the biggest or most popular fells on bank holidays again. Knowing the Lakes so well I should have known this, but I wasn't on my own and had to act as a tourist for the day!
From Wasdale all of the fells appeared clear of cloud – which was a bonus and so we set off, finding ourselves a spot in the steady convoy and joining the traffic and quickly been overtaken by groups of children running ahead to tackle Scafell Pike. I think we all questioned where they got the energy from to be able to do stuff like that – but I think you just have it when you are 6 or 7!? Although there did seem to be a lot more "Are we nearly there yet?" as we left the summit later on!!
Our target Scafell Pike was visible from the start... looking a bit blurred here, good old camera shake!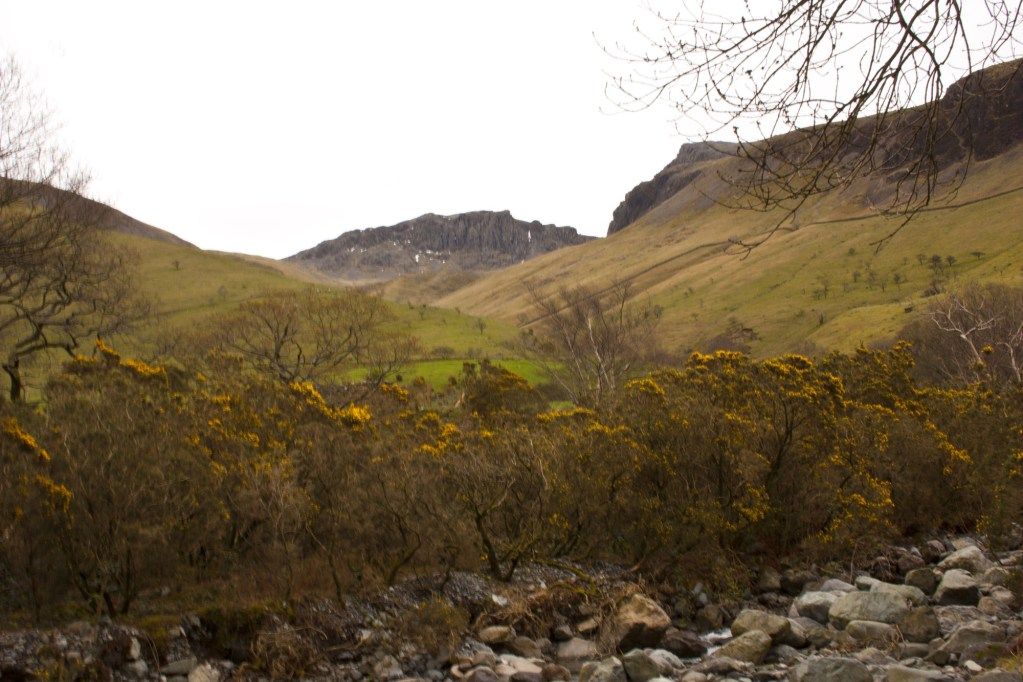 As was the case last week, the long slog up to Hollow Stones was just that – a long slog made all the more unpleasant by having to constantly weave around people keeling over for a rest or explaining to their parties the tales of horror on previous excursions on Striding Edge - but all the way at least we could see the summit of Scafell Pike which was re-assuring and pleasant.
I was also feeling my thigh at this point, I seem to have something wrong with it which is causing it to hurt a bit – so I was kind of glad we were just doing an up and down job today! I noticed it the last couple of weeks too so need to keep an eye on that one! We continued up, looking back occasionally at the views across Wast Water out to the coast.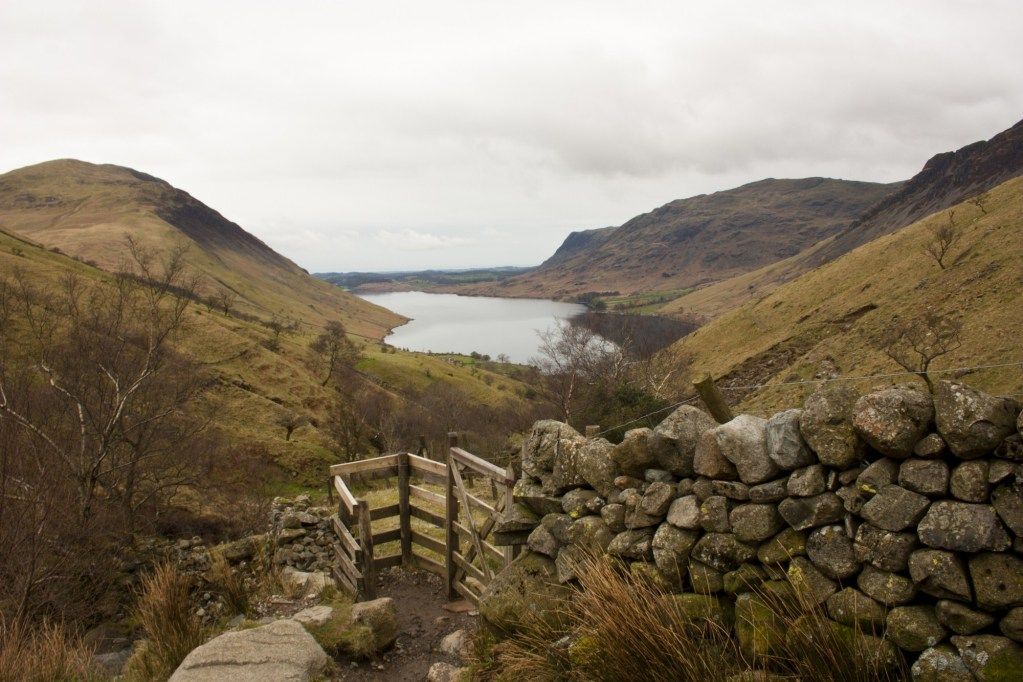 Looking across Wasdale to Red Pike though the weather was ominous, it was clearly raining and the clear summits were now covered with cloud. Turning back just in time we got a chance to see the clouds roll over the Scafells and cover them with a nice blanket…. Doh. So much for the weather forecast?! At least we were well prepared with decent waterproofs, although I am tempted to buy one of these invisible rucksacks that people seem to carry their waterproofs and warm gear in these days!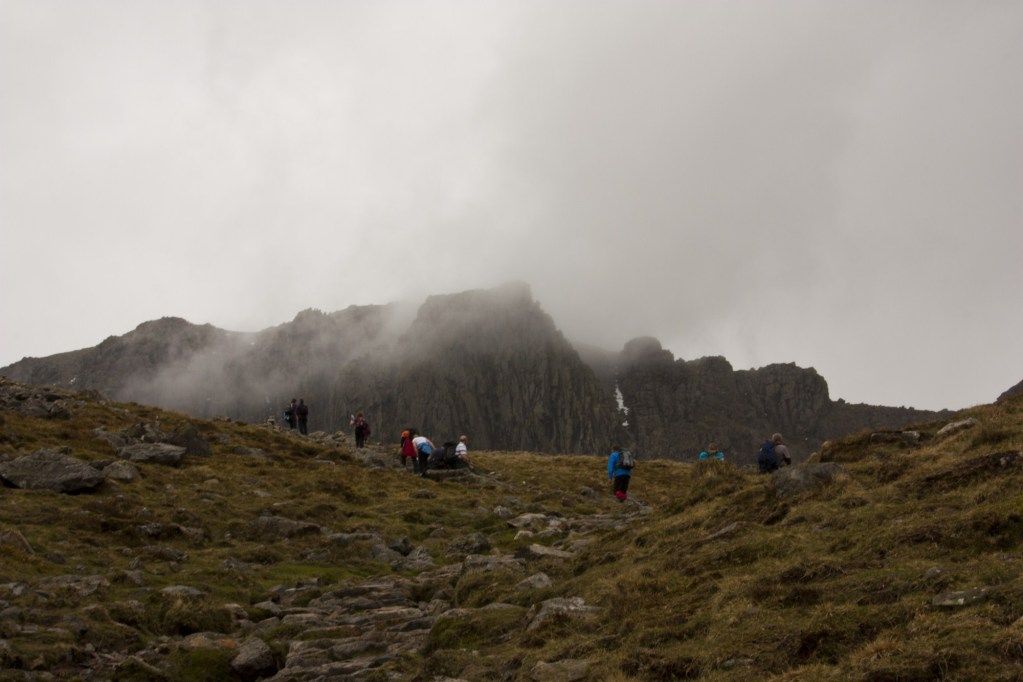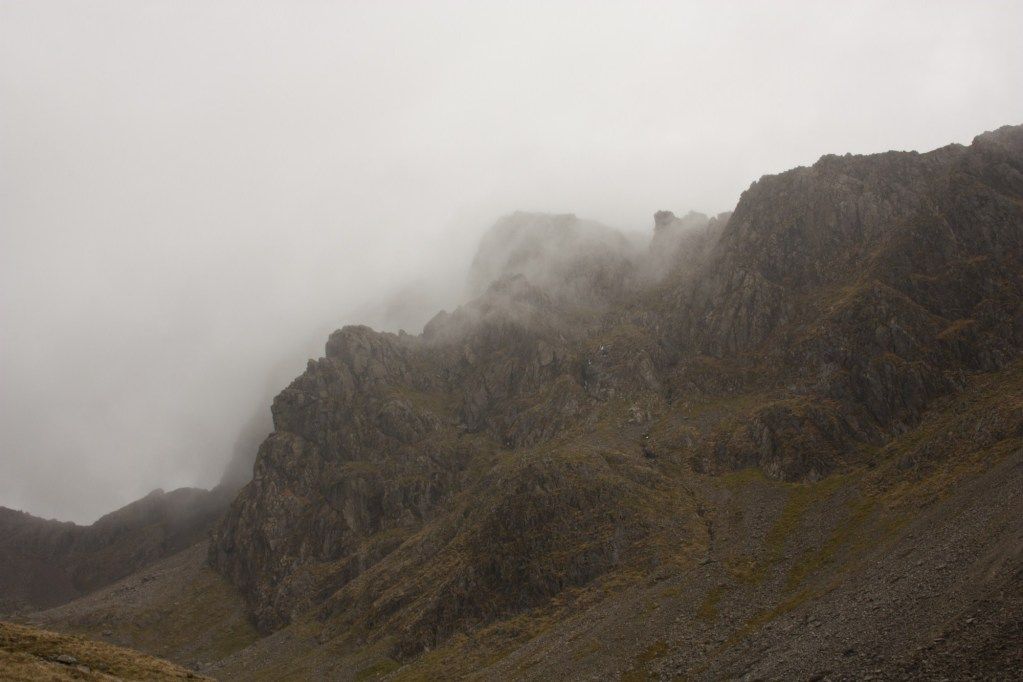 At Hollow Stones a team decision was made that Mickledore was too unknown to do in the cloud so we would carry on the tourist path. A decision that didn't get my full approval as this meant the same painfully dull ascent of Scafell Pike as last weekend, needless to say I had a childish strop and then carried on! Looking up along the tourist path, there were hundreds of people having the same idea!
Passing Lingmell which was still out of cloud and looking much quieter, we decided to attempt Scafell Pike and then hopefully return over Lingmell itself – at least that would be a different route of descent for me! And looking at the traffic, it would give Todd a chance to have a run too, which would keep him happy! Soon we were in the clouds and the views disappeared – I was still hopeful that if they had dropped that quickly, it was feasible they could lift that quickly! Not much to photograph at this point, but here are the girls enjoying a rare glimpse of a view!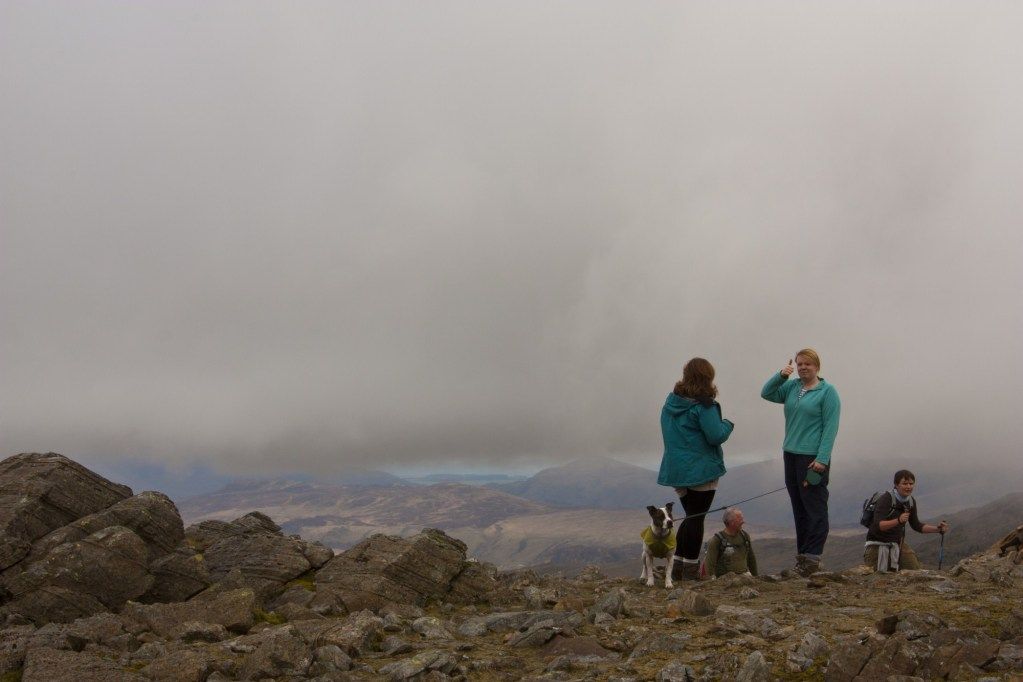 It was at this point that we became engrossed with a race to the summit with a fairly healthy looking bunch of young (ish) lads. I think they must have been training for Three Peaks but their walking style choice was bizarre – they seemed to take the approach of run for 30 meters and then have a 5 minute stop, run for another 30 meters, have a rest – what was all that about! This meant we were pretty much constantly overtaking one another. We did beat them to the summit you will be pleased to hear!
Reaching the summit we joined the thousands of other people ascending from all directions and those selling cups of tea (yes really!) to hear the epic tales of their ascent – how we had made the right route choice because Mickledore was like rock climbing etc and Todd would never have made it?! I was tempted to explain that if their very young children could manage it, Todd would fly up it based on what he has accomplished in his short life, but decided not to bother and simply joined the random comments you could hear such as "nice summit this Great Gable"… Despite my grumblings about wishing I was in Scotland etc, Gemma and Linds were both proud of their achievement and were rightfully congratulated – I think I have been spoilt in recent weeks with nice quiet and clear summits! Time for a photo on the highest point in England I think, along with whoever else is arriving at the same time!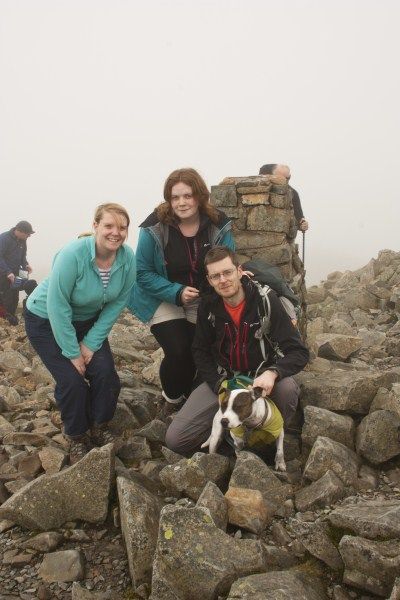 The plan was to stop for a bite to eat on the summit, but seeing how busy it was and how it appeared every spare patch of summit was littered and/or soiled, we decided better of it and got a couple of quick snaps of the clouds, before making a quick exit from the summit, with dozens of people following us because we looked as if we knew which way to get down! It is easy to see in cloud why so many people have problems on Scafell Pike, with lines of cairns leading in all directions from the trig point…
Within 20 minutes we had dropped below the cloud – which was on the rise again incidentally – and forked off towards Lingmell as soon as we could to get away from the motorway. This was when I started to enjoy the days walking! We headed straight for the big rocks of Lingmell Col where we would have our lunch, which is where you could really appreciate the swarms of people ascending the Pike along the tourist route, the corridor route and from Great End. Here we are dropping off Scafell Pike (eurgh, look at all those people!!!!) and looking towards the rapidly clearing fells and Styhead Tarn.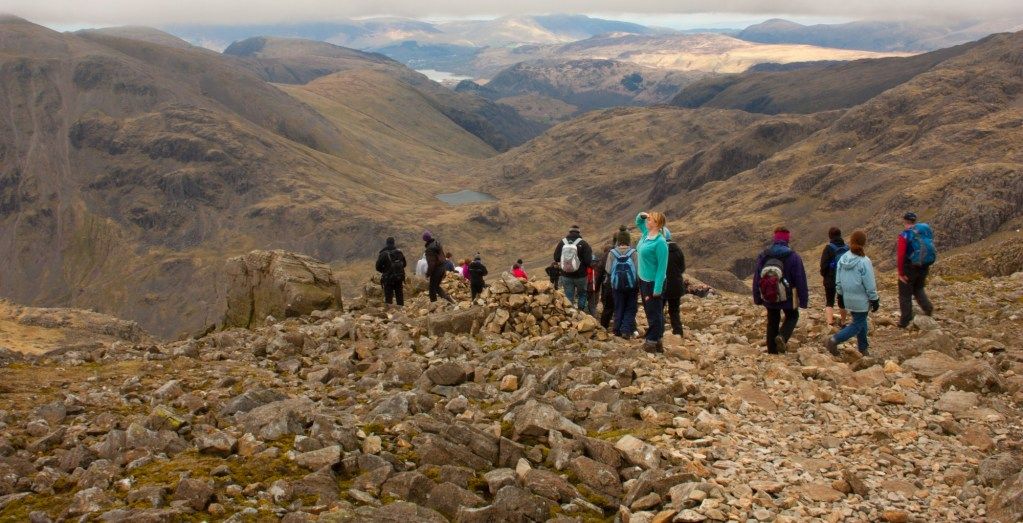 Linds doesn't come up too often to the Lakes as she is busy at University, but when she does she adores Todd and he adores the attention! This picture sums up their relationship!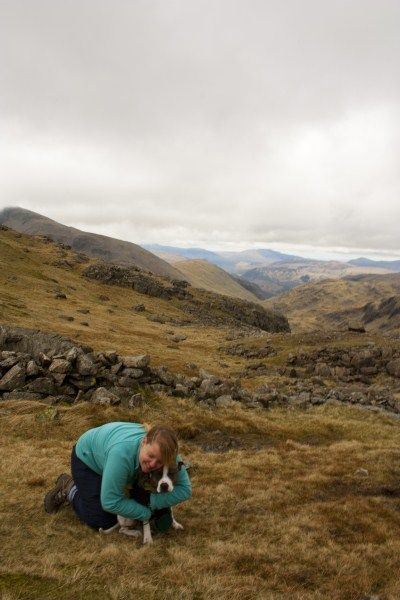 It was about this point that the cloud lifted above the summits of Great Gable and Great End etc – typical! After a brief stop we continued the short ascent to Lingmell, where we passed only one group of people… Bliss! From here you get the brilliant views towards Gable and Mosedale…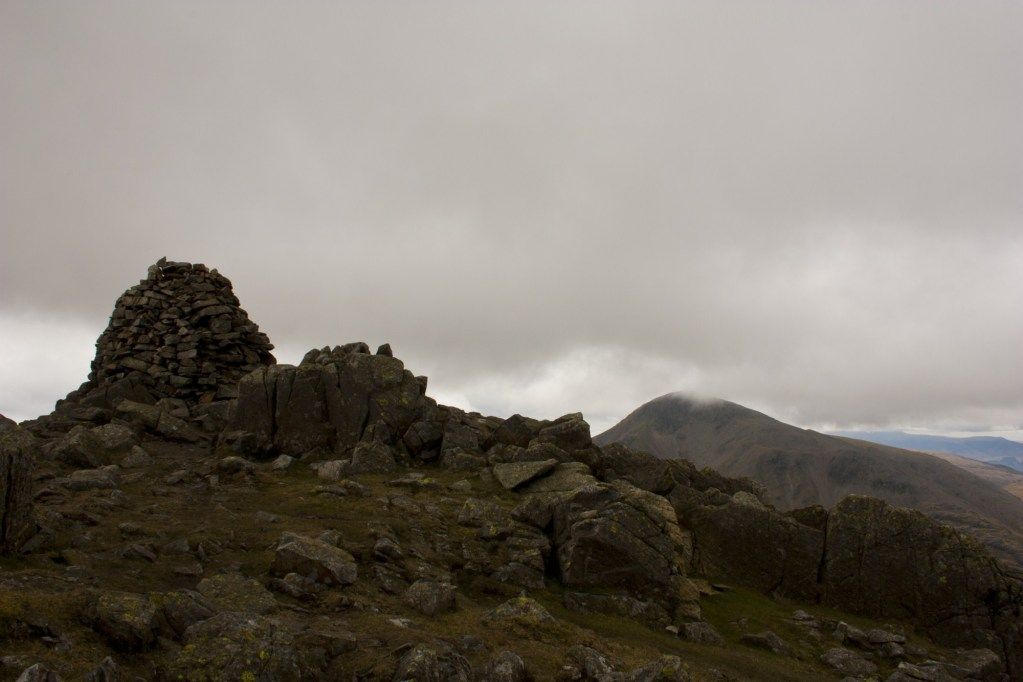 The plan was to descend Lingmell directly without dropping back to the col, as there is a marked path and I had seen plenty of people walk that way before. This is the top section of path looking towards Wastwater.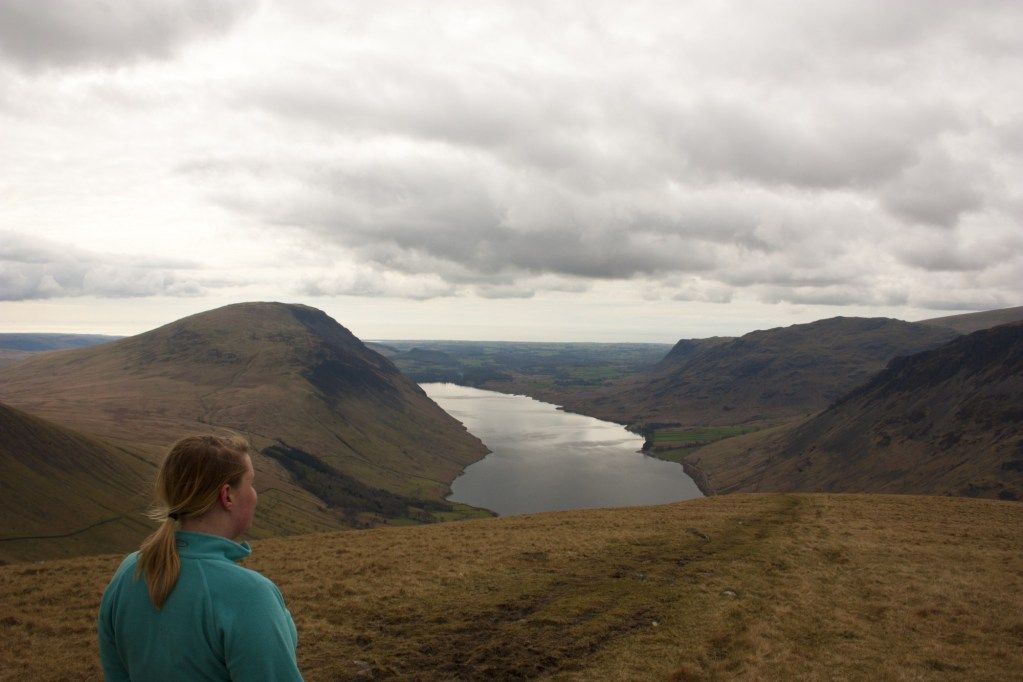 One thing I hadn't anticipated though was the steepness! Whilst the path up to Hollow Stones is awkward steps, this is more like the path down the front of Kirk Fell (see last weeks report), steep and scree'y to start with, followed by steep steps carved into the grassy slopes. Just as I had located my knees from Kirk Fell, I lost them again on the way down Lingmell! Descending Lingmell you get unrivalled views across to Mickledore.
There was however a nice spot style across a wall half way down which gave a nice photo opportunity looking back towards Lingmell. You get an idea of how steep the path is from this picture!!
Just before the car park we get a final glimpse of Scafell Pike and across to Kirk Fell respectively.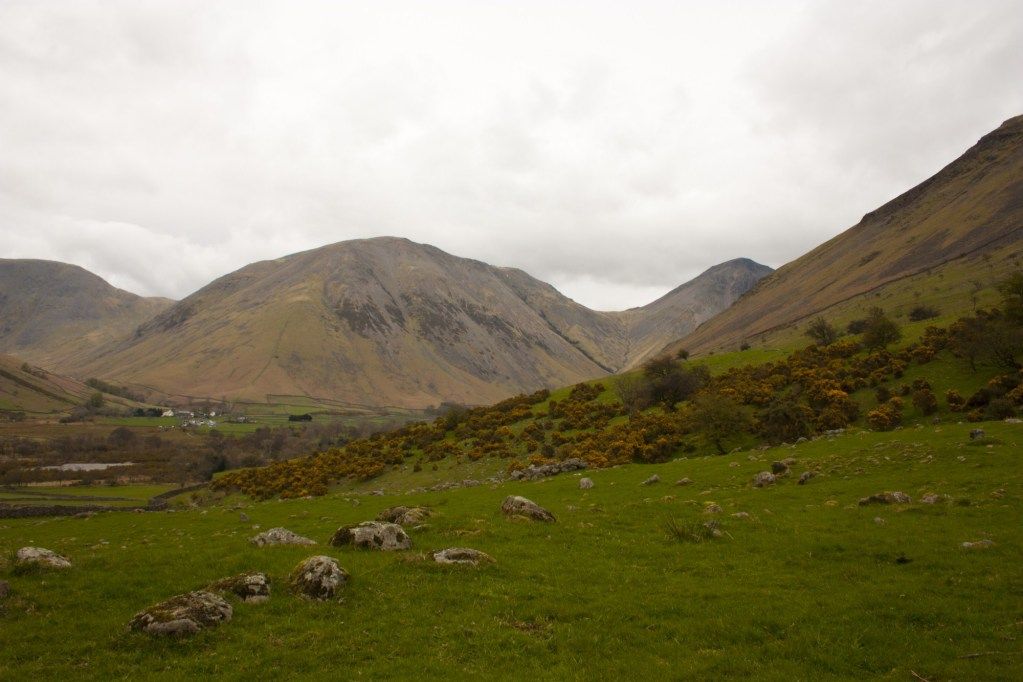 I think the thing that frustrated me most on this walk was the way a lot of people speak to you as if you are also a day tripper taking in the biggest of England's mountains with comments as they pass you like "Oh it's not far now", or giving Todd a cuddle and saying "You look tired, but you are doing so well!". I wish I had had the wit at the time to quickly get them to check my previous walk report (Wasdale Head Round) on their iPad to see the error of their ways!! The previous week for Todd had been a huge round of fells taking in Scafell Pike along route, so I had to chuckle that for him this was very much a Sunday afternoon walk in the park! I am not sure why it frustrates me, it just does! As does the constant litter/broken cheap equipment and human/dog waste strewn across the fellside. I think it is probably the lack of respect for the hills and outdoors that annoys me – by all means come and walk on the fells, but leave them as you found them! The amount of times I have to stop Todd digging into someones meaty turd is getting ridiculous!!!
Getting back to the car to find out that Blackburn had been stuffed 3-0 by West Brom was just about the icing on the cake… until we got back to Gosforth when the cherry was placed on top of said cake when one of the ignition coils failed on the car. Cue limping back to Barrow at half power with people inches from the bumper doing 20mph at about 20mpg! Excellent! Although I would be lying if I said I didn't enjoy causing ridiculously long tail backs on the only road down the West coast and seeing how irate other drivers were getting!!! Sorry – I couldn't help it! 2 hours later we arrived back in Barrow desperate for petrol! A poorly car put rest to any other plans for walking over Easter, although the weather was so bad I was not too disappointed!
Despite the weather and the busyness and my seemingly constant grumblings, it was good to get out and stretch the legs (really!) although I would be lying if I said I wasn't looking forward to a normal weekend when both the schools were back and people didn't have bank holidays to take advantage of! I certainly don't think this will be a walk to make our friends walking in Canada or Scotland jealous!! I think next week I might head for a different fell though, Scafell Pike is a little bit expired for a few weeks!!
And most importantly it is another Munro sized hill under Gemmas belt in preparation for our honeymoon so we ticked that box and Lindsey seemed to enjoy herself too, which I guess is what matters! At this rate she won't have any excuses during our week in Glencoe and the week in Plockton.