Following the last couple of days' walks in Achnasheen and Achnashellach, I drove up to Braemore junction. My original thinking was to approach the Fannichs in one long trip à la dooterbang. However, not being as fit (or as young) as said dooterbang and bearing mind that I'd need to cover the road part by bike, I was looking at an overnighter.
This was the plan all the way up to the weekend before I set off – with the weather forecast worsening, I opted instead for two separate day trips. Granted it would mean a greater overall distance but it seemed more practical and safe for the weather conditions being on my own.
This report covers Tuesday 10 April and Wednesday 11 April.
______________________________________________________________
Tuesday 10 April 2012
Munros: A' Chailleach, Sgurr Breac, Sgurr nan Each, Sgurr nan Clach Geala, Meall a'Chrasgaidh
Distance: 24.5km
Ascent: 2,050m
Time: 9.5hrs
Attendees: me
Nice view before I started – weather looking up a bit compared to yesterday – fingers crossed.
I parked in the lay-by just past the end of the track leading to Loch a' Bhraoin. Walking along the track toward the loch it suddenly hit me – I had the bike with me and could easily have used it but instead had left it back on the car roof. Ah well – it was a nice walk anyway.
Followed the good track through the forest and then over the bridge.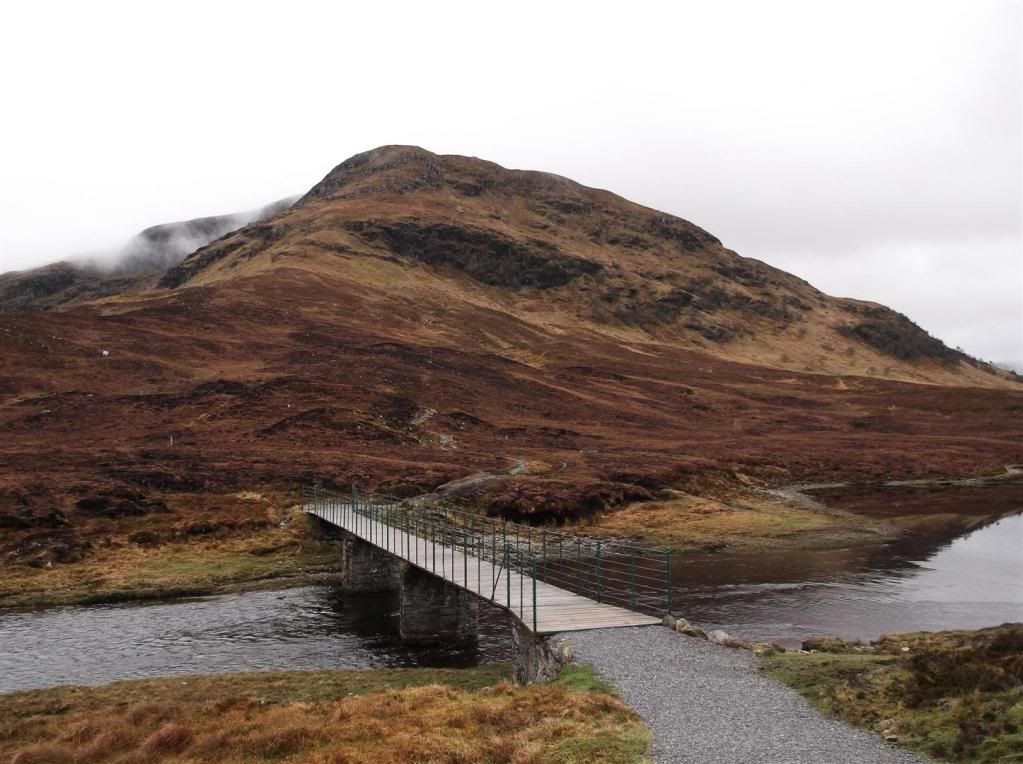 Had decided to go anticlockwise so now had to decide whether to head up via Leitir Fhearna or further to the west via Sron na Goibhre. I opted for the former and headed up Leitir Fhearna – don't think I'd have wanted to descend this way though.
A wee bit of scrambling then over easy but boggy ground got me to Toman Coinnich – I'd read in a previous report that it was better to go over the top than contour round the side.
Needless to say, the weather closed in again.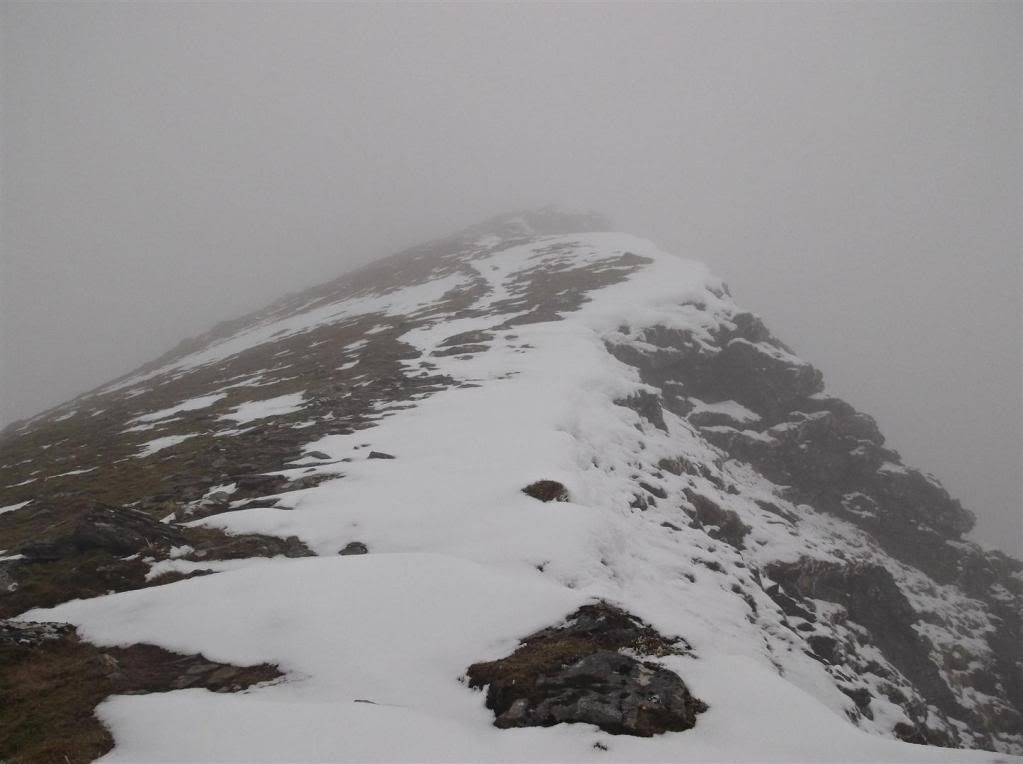 Then headed west to the get to the summit of A' Chailleach.
Waited a bit but still no views – starting to get that "gammy" feeling again !
It was then a case of retracing my steps back to go up and over Toman Coinnich. Of course this could have been avoided by approaching originally via Sron na Goibhre but it's probably a trade off between extra distance and extra ascent – not much in it I guess.
Then east to Sgurr Breac.
Tried an arty close up of the ice....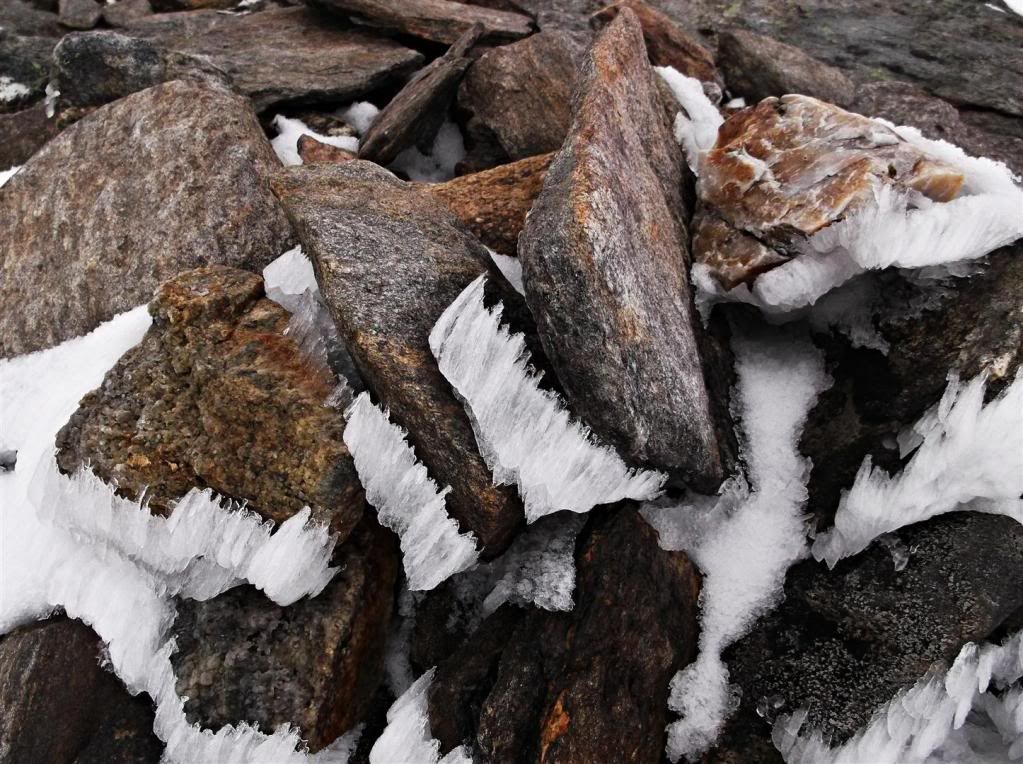 I now had to decide whether to go on for the next three or just head back. The conditions seemed OK and there was plenty time left so I headed off east to descend down to the bealach above the Allt Breabaig.
Initially quite steep this means losing a lot of height but the ground conditions were fine.

Got to the bealach and had a look upwards. Needed a decent bearing to ensure that I didn't head for the wrong part of the ridge.
It's then a steep but straightforward walk avoiding craggy sections to get to the bealach below Sgurr nan Each. I shouted a hello to a walker in the distance before starting up towards the summit.
Ptarmigan changing from winter coat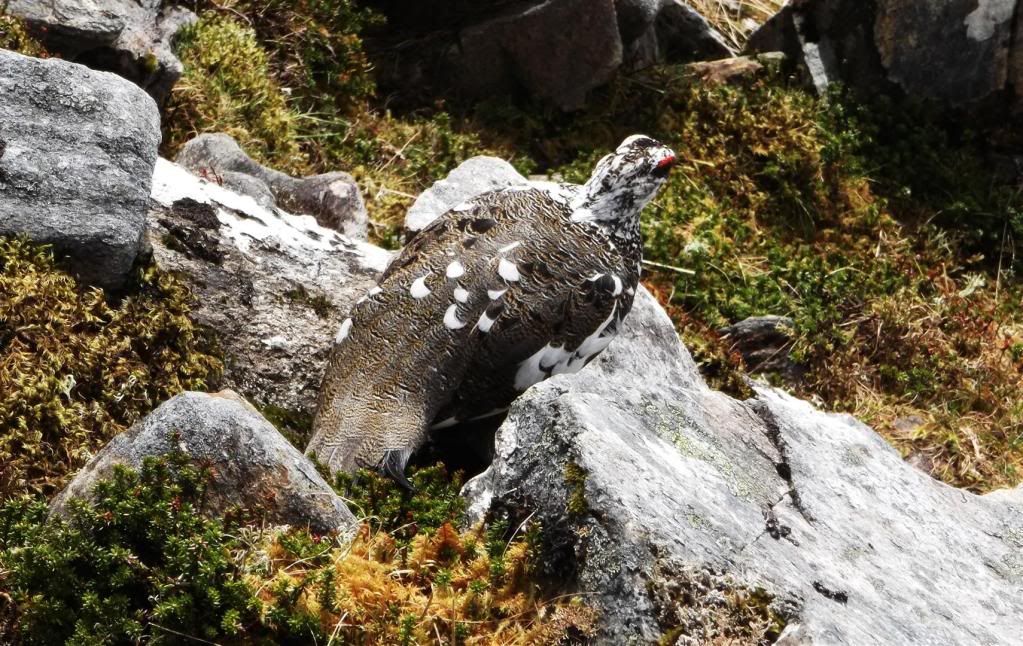 It may be only 923m but it has a fine looking shape and position with good views.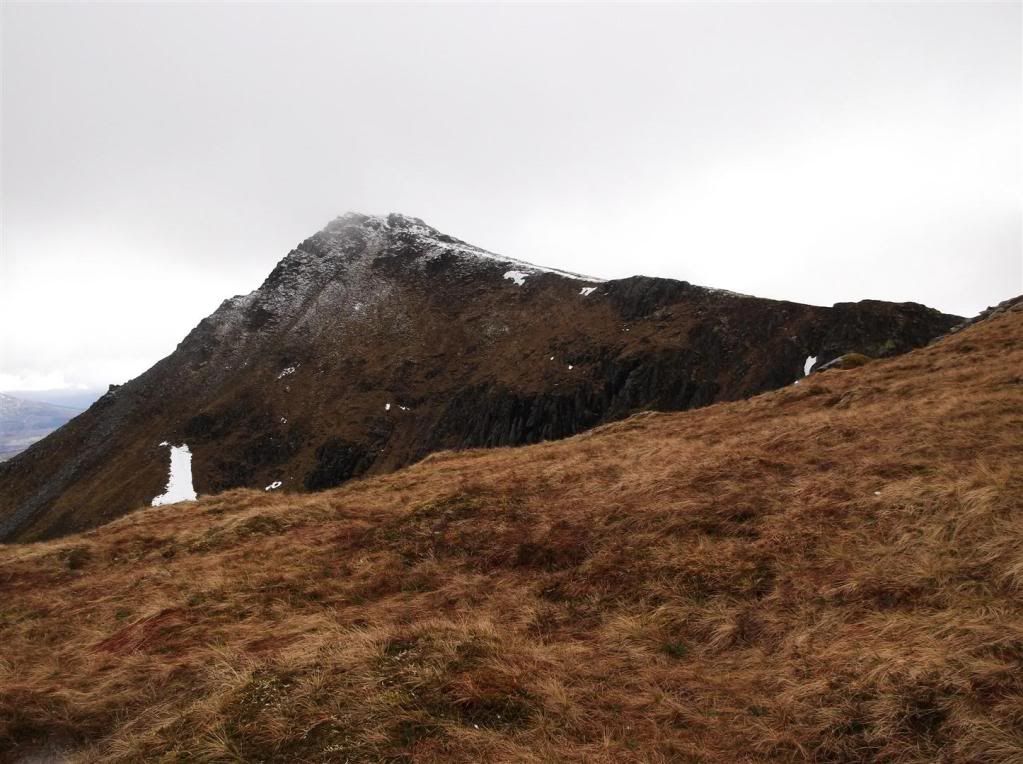 Had some food before heading back to the bealach and then up Sgurr nan Clach Geala.
Looking backwards
Quite a change from rolling grassy hills early on - the summit seems to be perched high up over looking the crags and cliffs. Some cornicing in the snow as well.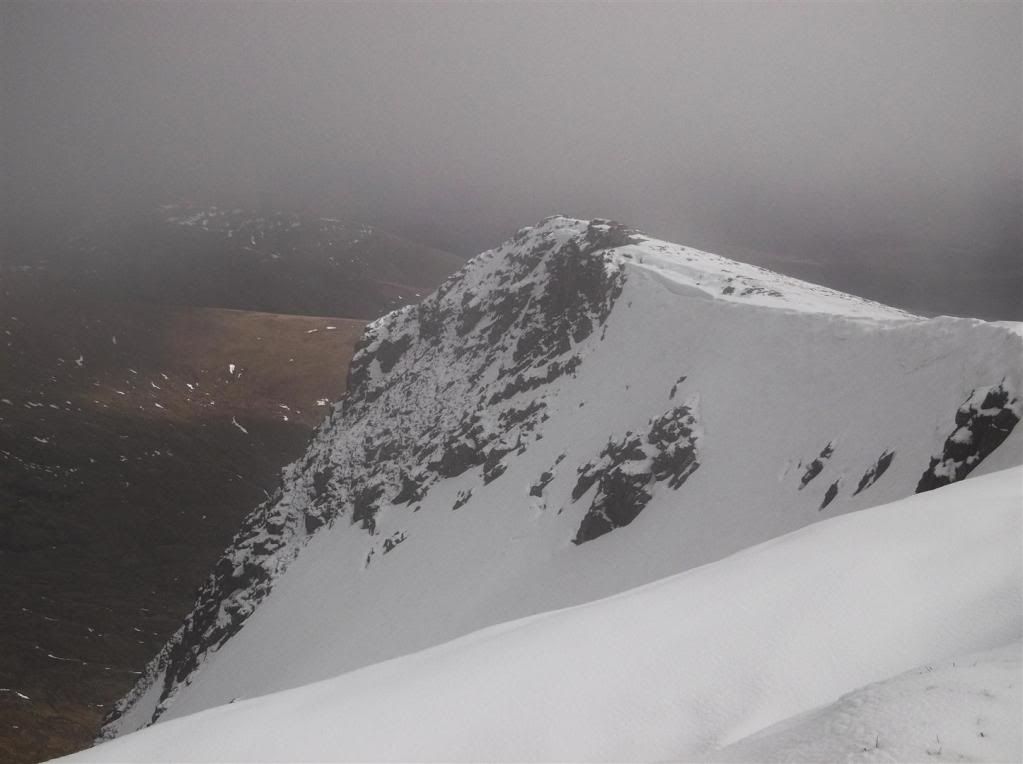 Got to the summit with great views of the steep cliffs and ridge.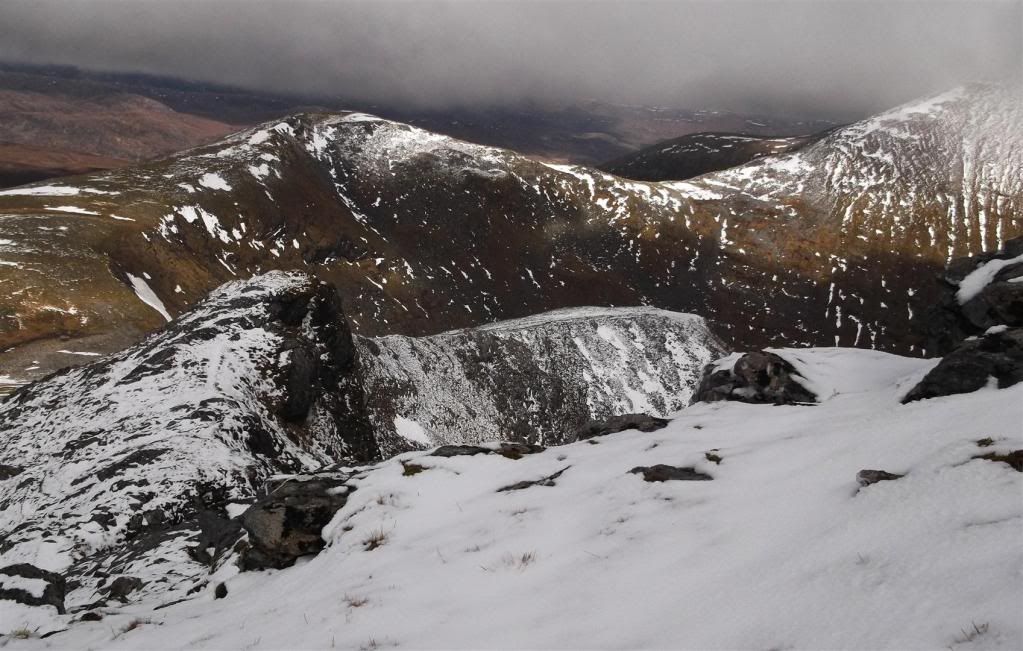 Then down to the last hill of the day, Meall a'Chrasgaidh. Some decent views opening up all round as well....at long last !

Looking back and round
This was a straightforward walk and I got to the summit in fairly short time.
Now had the long walk back. Head W / NW down easy moorland and heather slopes to pick up the path back to the car. A bit boggy in places but not too bad.
Saw a stag on the way down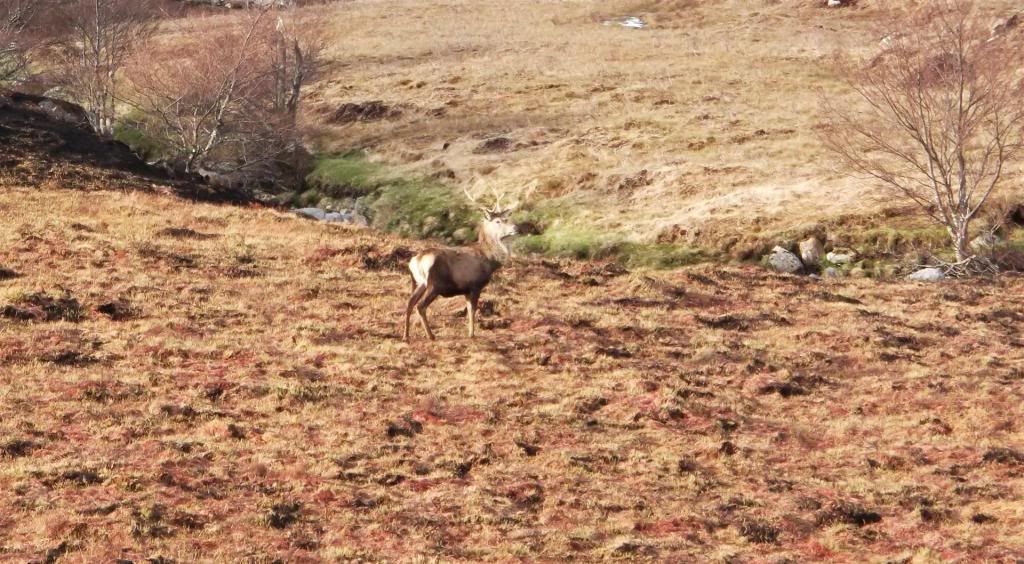 Headed back to the car still kicking myself for not using the bike.
______________________________________________________________
Wednesday 11 April 2012
Munros: An Coileachan, Meall Gorm, Sgurr Mor, Beinn Liath Mhor Fannaich
Distance: 24.0km
Ascent: 1,340m
Time: 9hrs
Attendees: me
I'd decided to do the easier of the two days walks today to conserve some energy for the final two days of the week. Essentially followed the WH route but in reverse and started through the forest. I'd decided to get the long walk part out of the way at the beginning – took the track up through the forest as if heading towards Beinn Liath Mhor Fannaich. I was getting on so well that I forgot to turn off down to the bridge and had to detour down over the moorland to get to it.
Initially good weather to start off
However, looking backwards I could see worse weather rolling in...which again was to be a feature of the day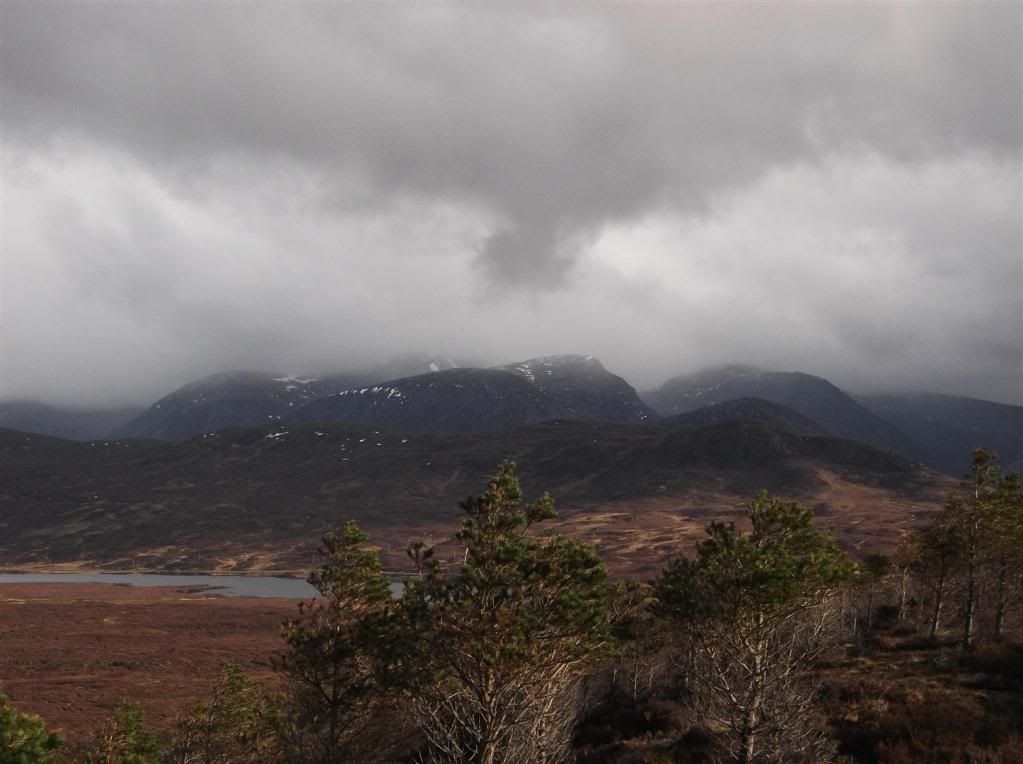 Over the bridge then followed the river over boggy moorland to get to the next bridge. Managed to find a few tracks here and there to help.
Crossed the bridge and went SW round between Loch Gorm and Meallan Buidhe before starting up An Coileachan. From further back I could see snow cornicing and wasn't sure if it would cause a problem.
However, as I got closer I could see my line would be to the east of it.
Started to head up towards the summit
There were some tracks here and there and it wasn't long before I was at the summit.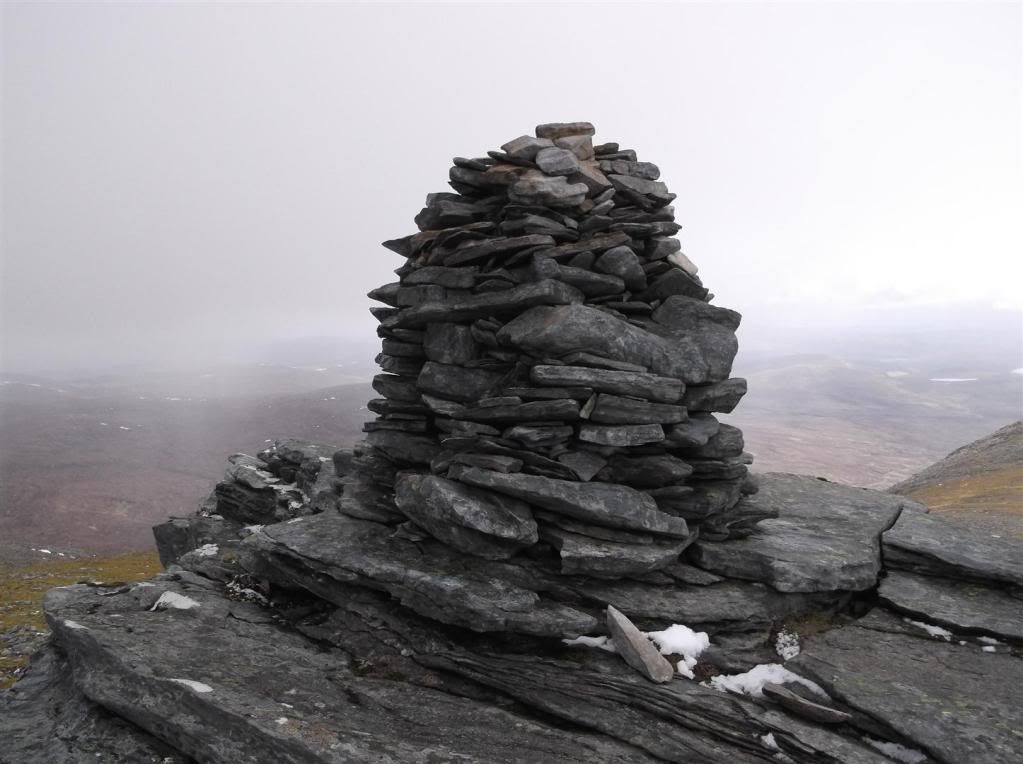 After this I headed of NW back down to the bealach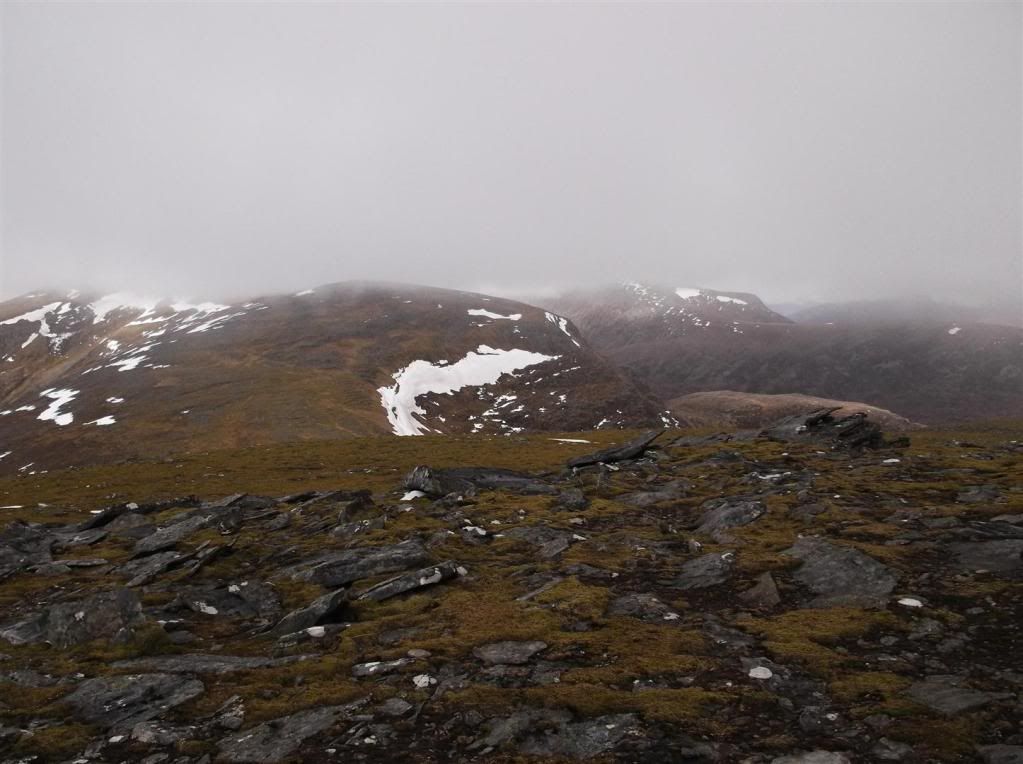 and up over the 922m top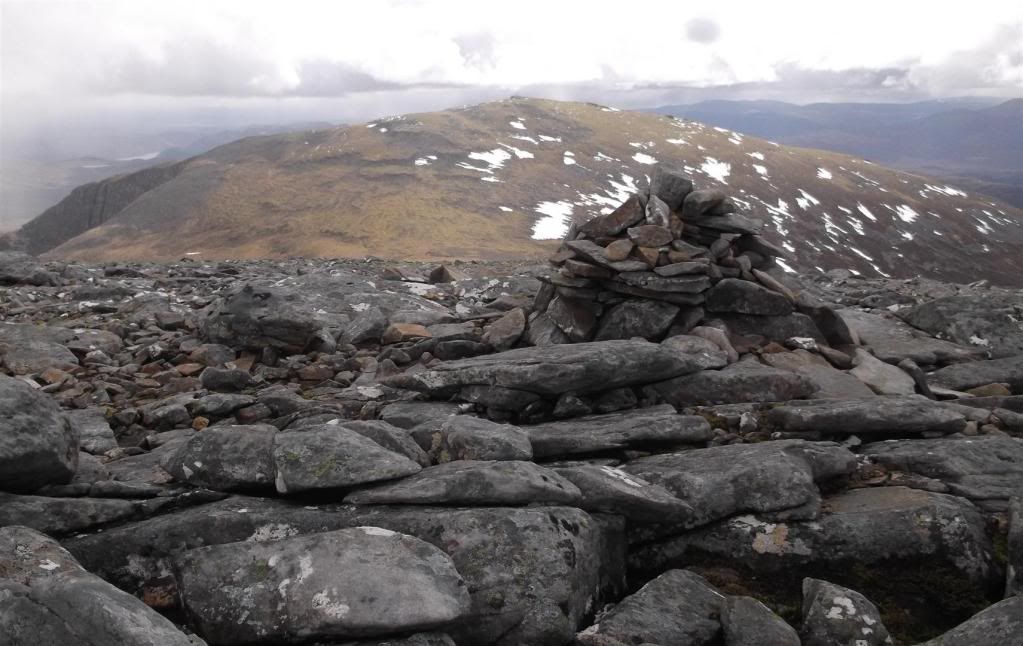 with some views around in between the showers
to get to Meall Gorm.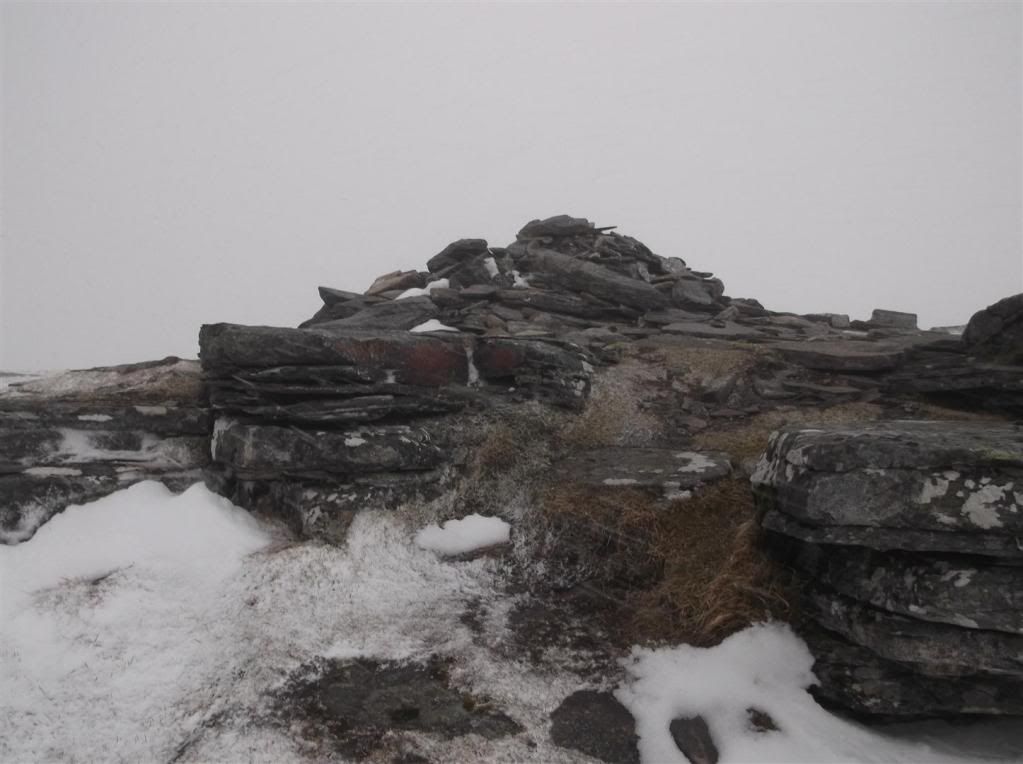 The weather had been somewhat mixed until this point with wind, snow and hailstones all making an appearance . However, just before getting to the top of Meall Gorm, the weather closed in completely with strong winds, snow and hail.
It was really just a case of head down and get on with it and no more photos until the submit of Sgurr Mor.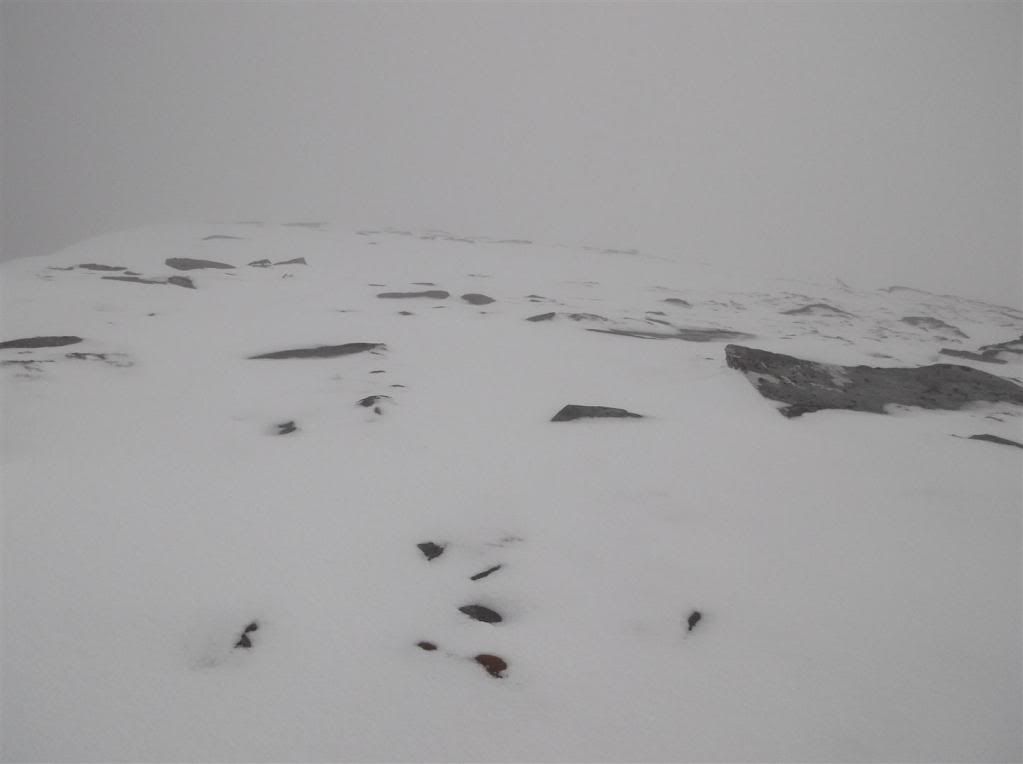 No views here or on the way to Beinn Liath Mhor Fannaich.
The bad weather was making navigating harder and had to watch out for some steeper cliffs. Got to the summit of Beinn Liath Mhor Fannaich.
Now just had the final walk back to find the river. This seemed to take longer than expected and I suspect it wasn't that much shorter a walkout than if I'd gone anticlockwise.
The weather did clear up a wee bit but not significantly.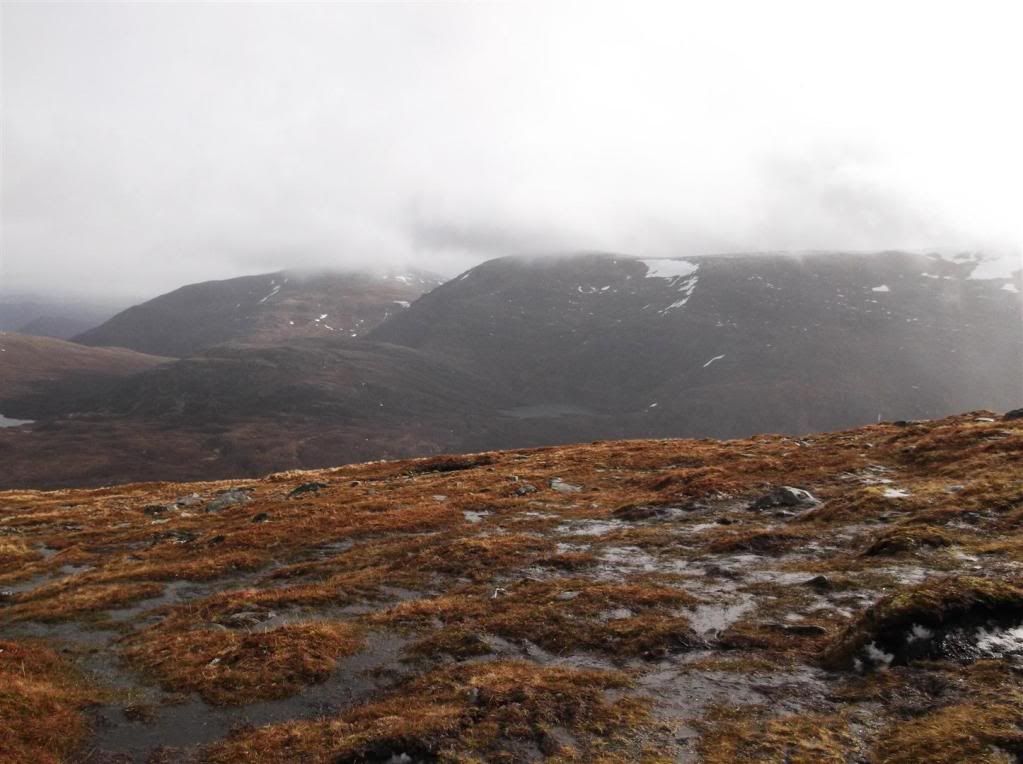 Got to the river which I then followed back to the car. Now only Thursday and Friday to go before having to return to Glasgow.