You wait ages for a good Saturday and then two come along at once. Last week we tackled Buachille Etive Mor in perfect conditions so we weren't expecting another day that was quite as good as yesterday.
We were on our way for 8:30am from Ben Lawers Hotel and walked down towards the horn carvers house to pick up the path.
It is a pleasant enough walk up the path through the woods until you get to the open hillside. We were tackling this walk anti clockwise but managed to miss the right hand split in the path and ended up down at the wee bridge which leads to Lochan nan Cat. However as the day was so clear we were able to just alter course and head up around Sron Mhor to Meall Greigh. It is a bit of a slog up the hill but the views across the corrie to the Ben Lawers and An Stuc open up so its not all bad.
Lawers and An Stuc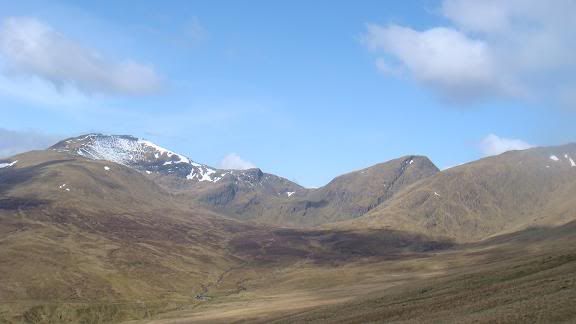 An Stuc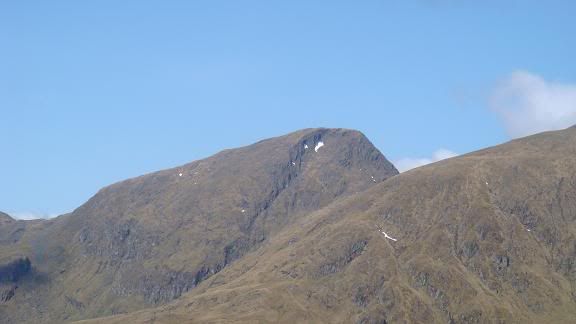 The long hard pull up the hillside is fuly rewarded with amazing views across to the Glen Lyon Horseshoe and Schiehallion.
West Side of Glen Lyon Horseshoe
East Side of Glen Lyon Horseshoe and Schiehallion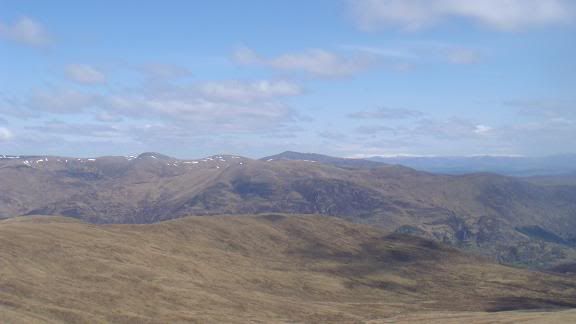 Cameron on Meall Greigh with Ben Lawers and An Stuc in the background
The path is better between Meall Greigh and Meall Garbh with a fairly steep section up beside an old fence. We got to the top and took the cairn photo when a walker with a golden lab came up from the other direction. It was one of those "I know his face" type moments you often get and then it dawned on both of us. We had walked the WHW on the same schedule last month and had walked sections on the last couple of days together. It was such a pleasant surprise to have a blether at the cairn for a few minutes before we headed off on opposite directions. I still have no idea how he managed to get the labrador down An Stuc!
Cameron on Meall Garbh with An Stuc in background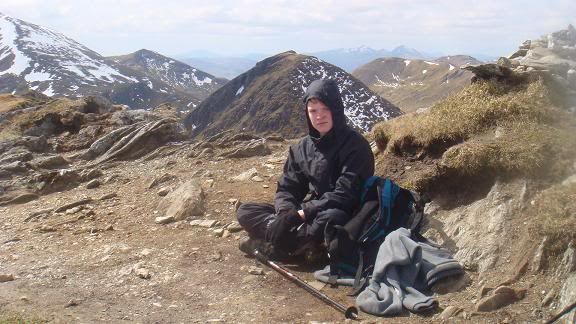 The walk down Meall Garbh is fairly steep so car needs to be taken - especially when you have an eye on An Stuc and trying to work out the best route up. In the end it wasn't too bad although we did manage to get to one dead end (it might have been okay if it hadn't been icy) so we dropped a few meters and took another route. It was good fun and certainly got a bit of adrenalin pumping.
Cameron in An Stuc
Ben Lawers and Beinn Ghlas from An Stuc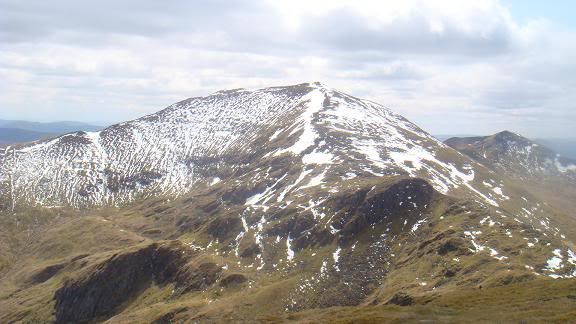 On the summit of An Stuc we bumped into a chap who we met last week on Buachille Etive Mor. I thought the highlands were supposed to be a vast wilderness - not for us yesterday as we kept recognising people.
That was our three tops for the day so we dropped down between An Stuc and Ben Lawers to the Lochan nan Cat. Again there didn't seem to be a very clear path down the grassy hillside so we employed a posterior sliding technique to get us down the steeper parts a bit quicker.
Lochan nan Cat
An Stuc across Lochan nan Cat
It was just a case of walking along the edge of the loch and then down the side of the burn until drop down into the gorge and past some schielings and then retracing steps to the Ben Lawers Hotel. It was good to get to the hotel for some refreshments before travelling back home.
A very still Loch Tay