Gemma had a late call on Friday telling her to get to Penrith to try her wedding dress on, which meant we were to stay at her mums near Kendal and also meant I was on my own for a Saturday walk. Being in Kendal made the Far Eastern fells a good option for the day and meant I could have a reasonable lie in... After feeling pretty rough for a couple of weeks and getting cold and tired last weekend climbing and gorge scrambling, I wasn't too fussed about doing a big walk!
I made a decision to kill two birds with one stone and have a reasonable walk with Todd, but also to pay a visit to Hartsop Dodd - a fell that has a special place in our hearts as it is where we got engaged just over 12 months ago. With just weeks to the wedding I had to go and collect a souvenir from the fell to use as a prop for the top table!
The forecast was pretty good, with any early rain clearing throughout the day and arriving at Hartsop it did seem like the day would be pretty fine. Setting off from the car and beginning the route up Hayeswater Gill, it was clear that the forecast was also right about the wind - it was strong, about 40mph and bitterly cold. The recent rain and decent weather was certainly bringing out the colours of the fells though.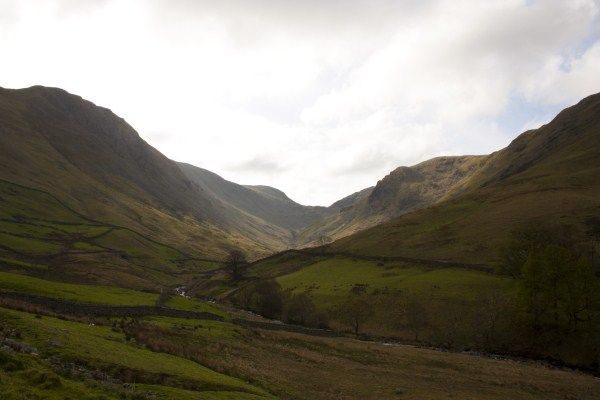 Just before we got to Hayeswater, the weather took a turn and we were greeted with an incredibly heavy hail storm. Todd hated this and took to hiding behind every possible rock whilst I trudged on. Luckily the heavy wind blew this over pretty quickly and carried it towards Helvellyn, allowing us to continue the climb to The Knott in relative peace... except for that damn wind which was cutting right through my face.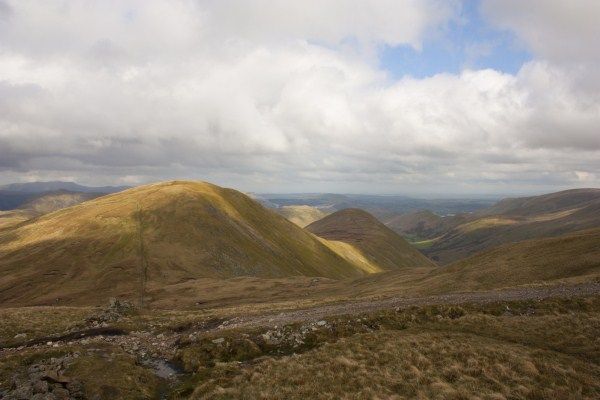 I always like The Knott and surrounding fells as a route because you can start ticking off summits within an hour and that was the case on this walk, we reached a quiet summit after 45 minutes. Here are the lovely blue skies over towards High Street - this is one of few pictures I got due to the wind blowing!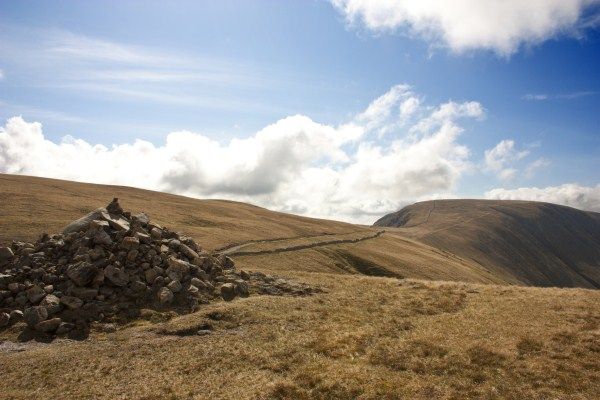 This next one is looking towards the ridge between High Street and Thornthwaite Crag, one of the destinations for the walk.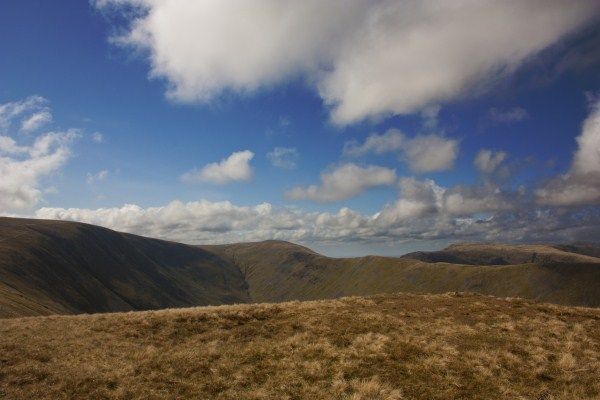 Surprisingly Todd was happy to have a sunbathe for a bit whilst I scoffed breakfast, this shocked me as usually the slightest glimpse of anything but perfect weather he is whinging!!
It was at this point I realised a schoolboy error I had made... I broke my glasses a few weeks back and had to spend a fair bit getting them replaced - or more correctly the wedding savings had to pay a fair bit getting them replaced! The joys of being so blind that unless you pay hundreds of pounds you look like you are wearing binoculars... I digress, but basically I promised that with these sparkly new glasses they would be used for best and I would wear my spare specs for stuff like walking where they could get blown off, bent, scratched etc. On the windiest day in ages, miles from the car I realised I had left my best glasses on... whoops. Should I go back and get them or just push on... push on. So on we went, with a careful hand always holding the specs in place!!
From the Knott is it a very short walk to High Street, en route getting views back to Rampsgill Head, Kidsty Pike and here Two Penny Crag.
Arriving at the summit of High Street the wind was even worse, so we didn't hang around. A quick poke of our heads onto the very top of the plateau for a couple of pictures was enough! Although Todd got sucked in by an old campfire which he insisted on tearing apart and eating anything that resembled food!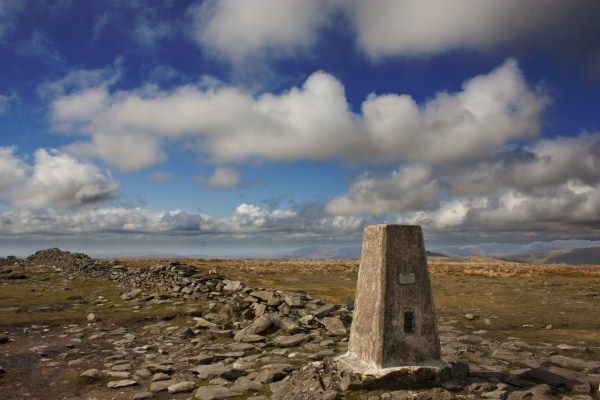 Onwards to Thornthwaite Crag... Refreshed from his barbecue, Todd looks reasonably happy to be walking - with Ill Bell etc in the background. Again it is a very short walk from High Street to Thornthwaite Crag with the Beacon ever getting closer on the horizon.
Despite the recent rain there wasn't much water running off the fells, so we had to make the most of what was available. Well Todd did. I used the opportunity of him having a drink to get a whinge free picture towards Helvellyn, which was still carrying a small amount of snow it seemed. Everyone seems to have fingers crossed for good weather in June at the wedding, but I wouldn't be surprised if it was snowing at this rate!!
Before we knew it, we had arrived at the ever obvious Thornthwaite Beacon, where I stopped for a quick chat with some race marshals for a 21 mile walk from Staveley. Todd got acquainted with their tent and whatever food was lying about on the floor of it. Cue me having to go inside and haul him out!!!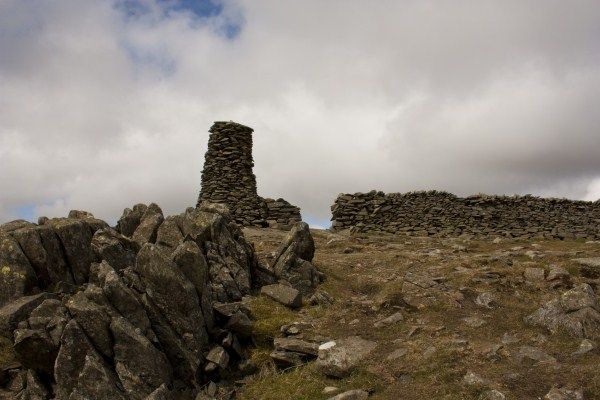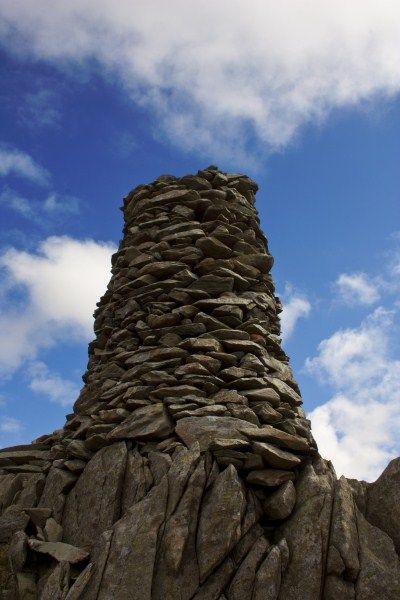 The plan was next to visit Caudale Moor, or Stony Cove Pike - often seen as a relatively dull fell... particularly when walked from the direction of either Kirkstone or Hartsop Dodd. However, across Threshthwaite Mouth it is a delight. The odd simple scramble over rocks, steep sides and great views. Definitely a route worth trying to incorporate! This is looking down the Thornthwaite Beacon side... It very much surprised me in the same way Glaramara summit did.
The view from the bealach is great, with sweeping sides to the valley and then little Troutbeck Tongue in the middle. The valley funnelled the wind which made the descent and ascent particularly difficult. 45mph was the wind at the mouth, which meant Todd was straight back into his whinging and there was little chance of being able to stop for long!!!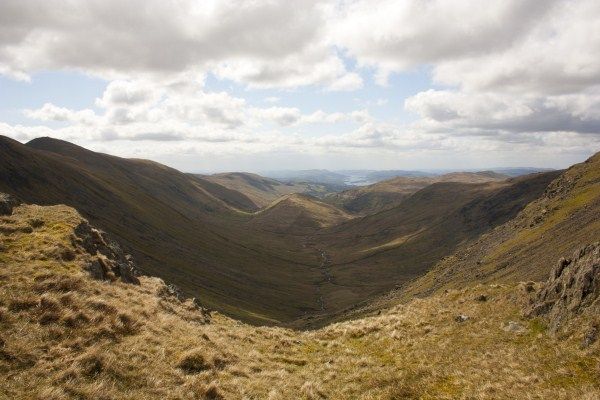 So on we went, beginning the climb up the steep side of Stony Cove Pike. This next picture gives a little perspective of how steep the climb is!
The climb like many in the Lake District (damn you Scotland) is over too quickly and you find yourself at the summit of Stony Cove Pike, which at this time of day was packed with people ascending from all directions. The views to distant Windermere are stunning as are those back towards Ill Bell and Yoke.
Next stop though, Hartsop Dodd. This is where I could appreciate the views to the Easter n and Central Fells, with the sun dappling all of them, in the foreground Hartsop Above How and St Sunday Crag.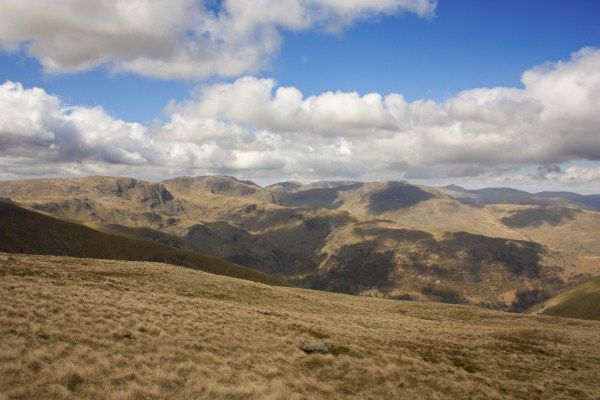 And similar effects looking beyond the lump of Hartsop Dodd to Helvellyn.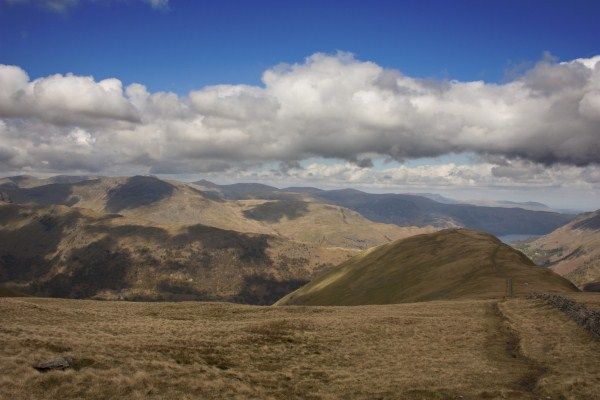 A short while later we arrived at the summit of Hartsop Dodd. As mentioned earlier this is a fell that holds a special memory for us as it is where we got engaged. A slightly odd fell to get engaged on you might say and yes, yes it is. The plan was to get the ring in time for our week off in March but sadly Royal Mail didn't keep to their part of the bargain and it didn't come until the Friday! So we had trekked up Gable, Coniston Old Man and others with the intention of me pulling out a ring on an impressive summit to surprise Gemma, but instead I had to drag Gemma's tired legs up Hartsop Dodd... it would do I guessed!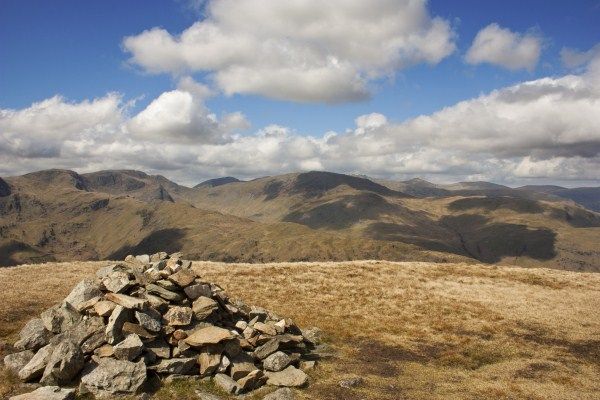 I found a nice stone for our table at the wedding and then headed down the front edge back towards Hartsop. It was at this point I passed a family with three young kids, probably about 4-8 in age range. They were literally been blown over by the gusts of wind that were blowing across the relatively steep slopes... I was struggling to stand up so I don't know how they stuck to the fell side. I don't like to tell people what to do, so didn't, but that was surely bordering on stupidity!? On the summit it was only going to be worse, but they kept on going and I didn't read about any problems so I guess my worries were not worth it!
This next shot is looking down the edge towards Brothers Water, with Helvellyn and Catstyecam in the distance.
And as we make the final descent down towards the car, I get a couple of shots looking along to Ullswater, with the colours on the fells, ground and sky looking spectacular, and looking back up towards The Knott and High Street it was just as stunning.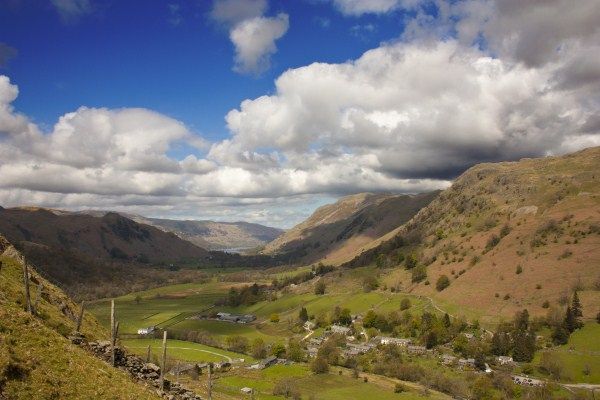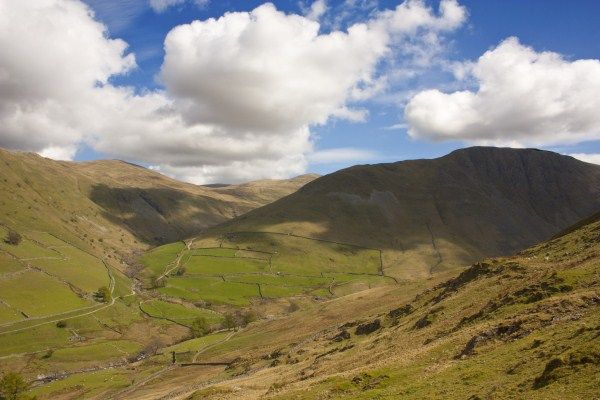 Before reaching the car we had to cross a final patch of mud, which was typical - the muddiest Todd got all day, two minutes before we got to the car! Good job I had a blanket for him to sit on I thought... before remembering we had taken that in to be washed. D'oh.
It was good to get out and stretch the legs... not as far as I usually like to try and do, but it was a decent length, particularly when not feeling 100%. The Far Eastern fells are good for this, with nice felly fells that are relatively easy climbs, although with alternative routes you can add a bit of an interesting challenge over some rocky stuff! Back home in time for lunch as well meant I didn't use too much of the weekend, so we could make lots of progress with Orders of Service and other things which seem to be dominating life at the moment!!