Munros: Beinn na Lap, Stob Coire Sgriodain, Chno Dearg, Sgor Gaibhre, Carn Dearg [Corrour]
Distance: 38km
Ascent: 2,400m
Time: 14.5hrs
Attendees: me
Date: 5 - 6 May 2012
Departed from Glasgow around dawn – clear skies and nice sunrise making me hopeful of getting some decent weather. Easy drive up arriving in plenty of time to get the train just after 7am from Arrochar & Tarbet to Corrour. Clouded over on the way but mostly dry. Was a bit surprised at just how many people got off at Corrour.
The plan was to cover the three munros to the north, walk round the eastern end of Loch Ossian, replenish my water supplies and head up towards Sgor Gaibhre for a high camp. This would then allow me to complete the two southerly munros and catch the 12.31 train from Corrour back to Glasgow the next day.
Got ready and headed off on the track towards Loch Ossian
The track splits just before the loch and I headed northwards following a rough track up to Ceann Caol on Beinn na Lap.
The track came and went – either that or I kept losing it. Met a husband and wife on the way up – this was the wife's second munro and they were sitting enjoying the view. Up on to the ridge then NE to the summit. Certainly didn't take long and I was starting to adjust to the heavier overnight pack. Was already starting to realise that carrying the ice axe was a bit of overkill !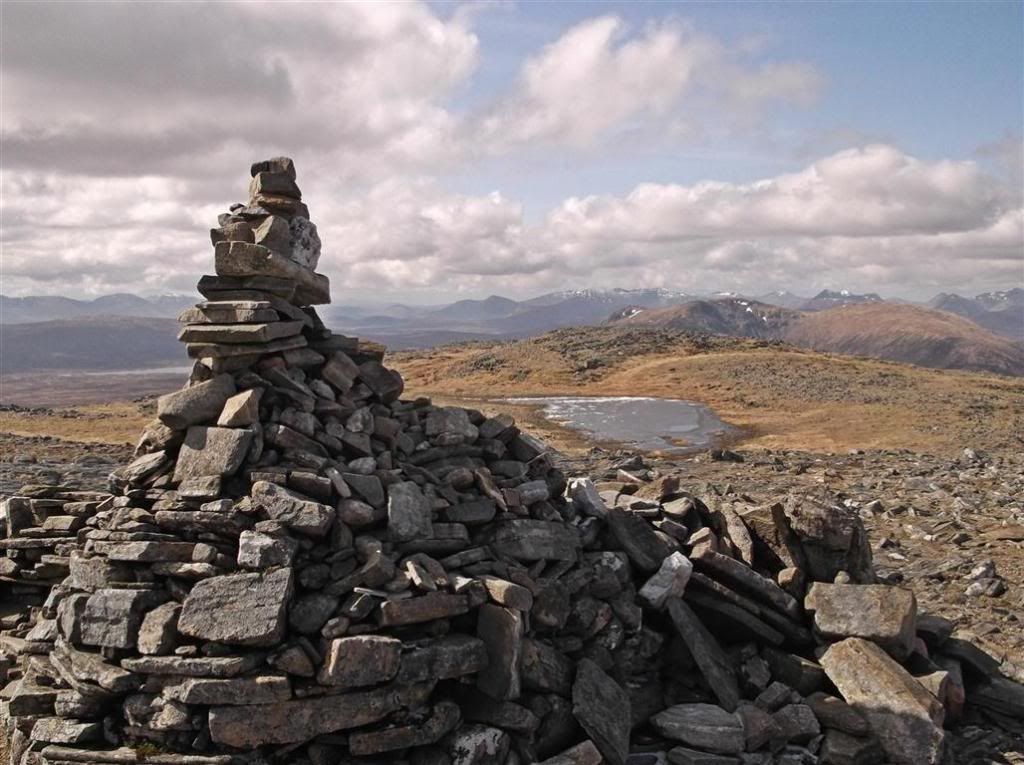 I now had a choice of route via Meal Garbh toward Stob Coire Sgriodain. The longer but easier looking route went northwards down the ridge to where the Allt Feith Thuill meets the Allt a' Ghlas-coire where the map showed a track which could be picked up to take me part of the way up to Meal Garbh. The other way was a shorter, steeper route going NW down to the Allt then up to Meal Garbh.
I opted for the latter and headed steeply down the north side of Beinn na Lap. Mostly grassy or short heather, it was fairly dry and easy enough to get a good grip. Got to the Allt and stopped for some food before working out a route upwards. I could see a small rocky outcrop but it looked as though I could walk round it to the right.
Headed up towards it and found some animal tracks to help walk round it and continue up towards Meal Garbh.
Over to Loch Ghuilbinn

Contoured round the west of Meal Garbh to save a little ascent and could see Stob Coire Sgriodain in the distance. Again there was a track on and off which I could use once I was round Meal Garbh. Met a walker who was with a larger party all of whom were about to go to Skye.
Over to Easain/Mheadhoin
Route to Stob Coire Sgriodain
Down towards Glencoe
Met even more walkers on the way up to Stob Coire Sgriodain – certainly a busy place. Not long to go now.
Arrived at the summit with some great views down Loch Treig, over to the neighbouring hills and up Loch Laggan.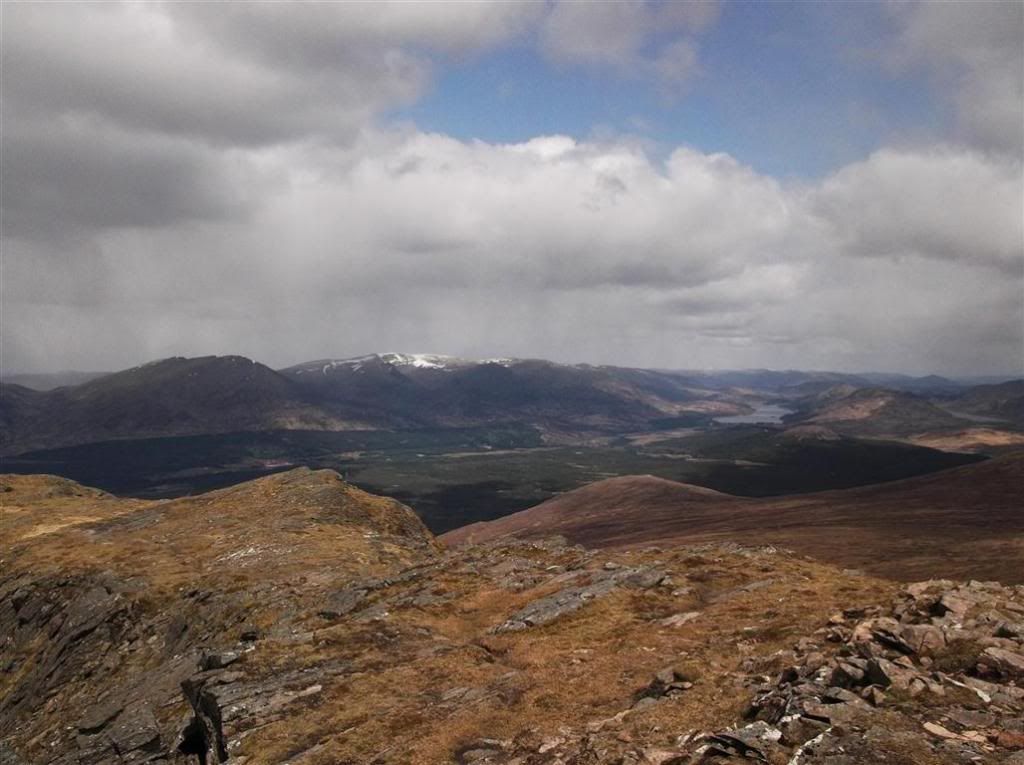 Stopped for another break for food and photos before heading off towards Chno Dearg. Some light snow showers but they never really came to much – could see somewhat more in the distance so must have been lucky for once.
Straightforward walk partially retracing my steps (probably could have dropped the pack earlier but didn't think about it at the time). Then NE up to the summit of Chno Dearg.
Now had to figure out how best to descend Chno Dearg to get to the main Loch Ossian track.
I'd originally thought about heading initially southwards then SE down a ridge albeit the map did show some crags which I'd need to avoid. However, on passing at the head of the corrie containing the Allt a Ghlas-choire, provided I went to the side of a large patch of steep snow, it looked like a possible more direct route down. Initially it was very steep but the grass was very dry and easy for the boots to get a good grip. Wasn't long before I was past the steepest section and then just headed downwards towards where the main track crosses the Allt over a wee bridge.
Looking back to my descent route
Over to Loch Ghuilbinn
Got to the main track and then started the walk close to the River Ossian which took me to the eastern end of Loch Ossian past the lodge with some modern looking extensions.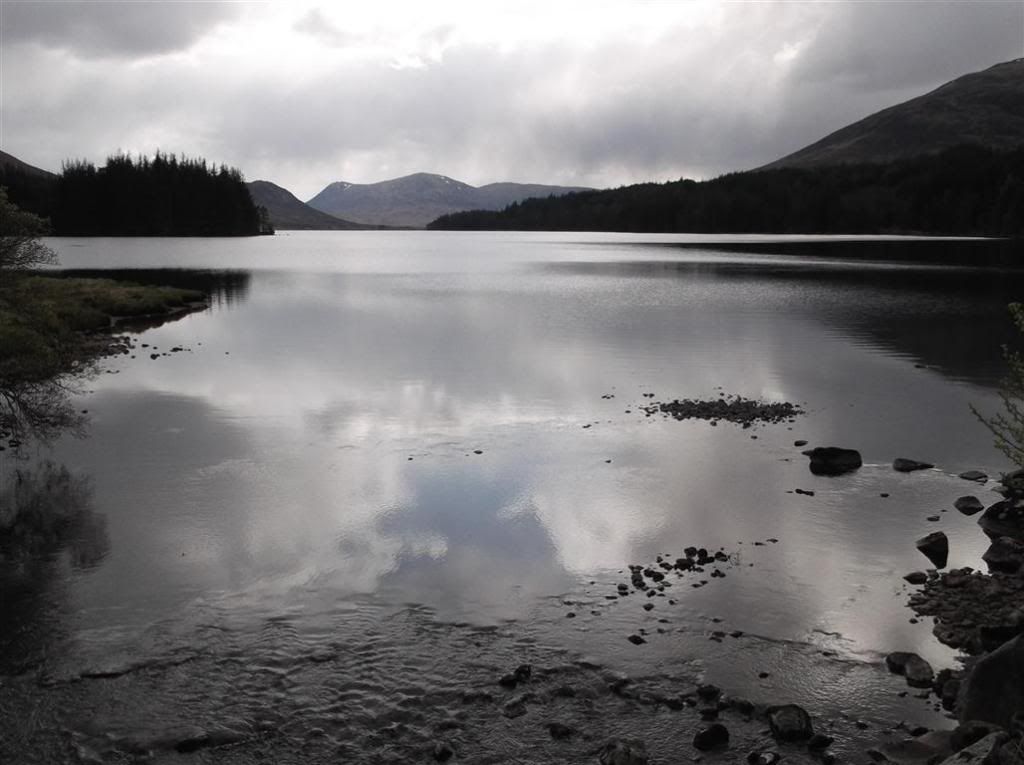 I needed to replenish my water supplies prior to heading up to camp for the night as I couldn't see any other water sources higher up. The river was flowing very slowly but I found a faster section just before I left its side to head SE up the hill.
Heavier snow flurries coming over from Beinn Eibhinn at this point and I put on the full waterproofs – it was also getting colder with the lowering sun.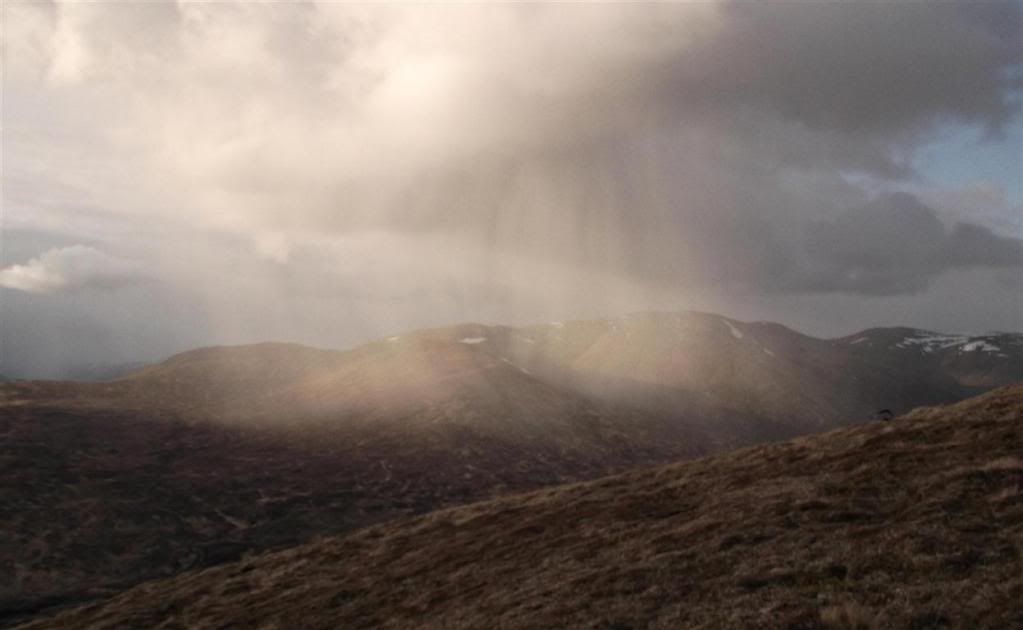 Found a wee burn and followed it for a bit up the hill. Of course, the snow shower disappeared and I stopped to remove the waterproofs – getting too hot.
View to Loch Ossian
I found this part of the day very hard as I ascended up towards Meall Nathrach Mor – the heavy pack was now about 2-3kg heavier as I was carrying extra water for the overnight camp. The wind was coming and going and threatening to get stronger so I decided to aim for the bealach just below Stob Gaibhre which looked as though it would provide shelter.
Up over Sgor Choinnich (as an afterthought I could probably have contoured round it to save some height gain) then down to the Bealach nan Sgor which sits just below the summit of Sgor Gaibhre. Found a grassy spot sheltered from the wind and set up the tent. Made my dinner, took some photos and settled down for the night. Some condensation inside the tent porch from boiling the water froze very quickly as the sky cleared.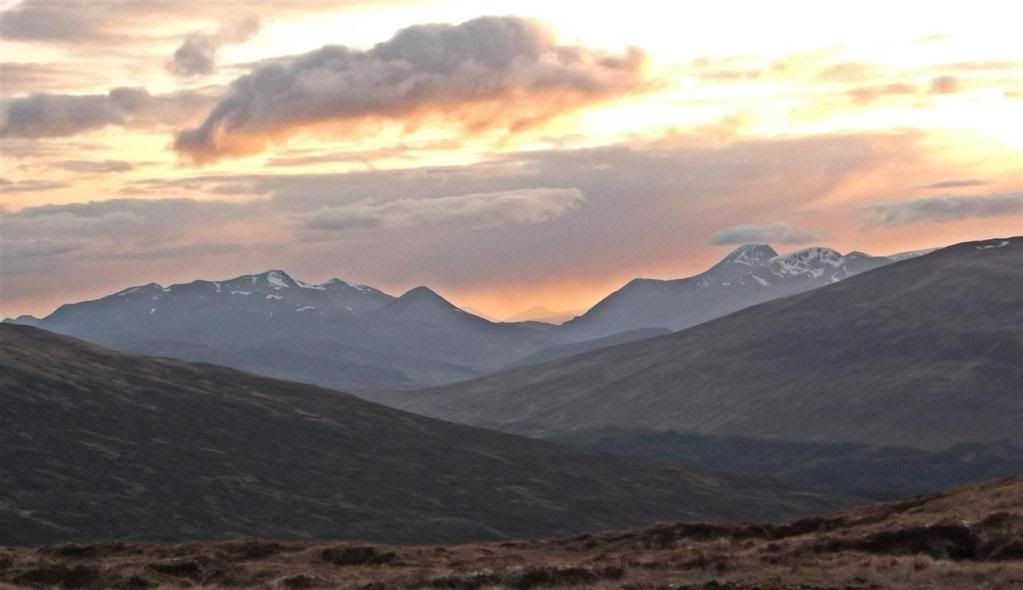 Some ice and frost on the outside of the tent in the morning but none inside and not a breath of wind – the bogs had also frozen over as had some of my water.
Made breakfast, packed up and was away not long after 6.30am. Didn't take long at all to get to the top of Sgor Gaibhre after picking up the track – pack being somewhat lighter now was very welcome.
View to Carn Dearg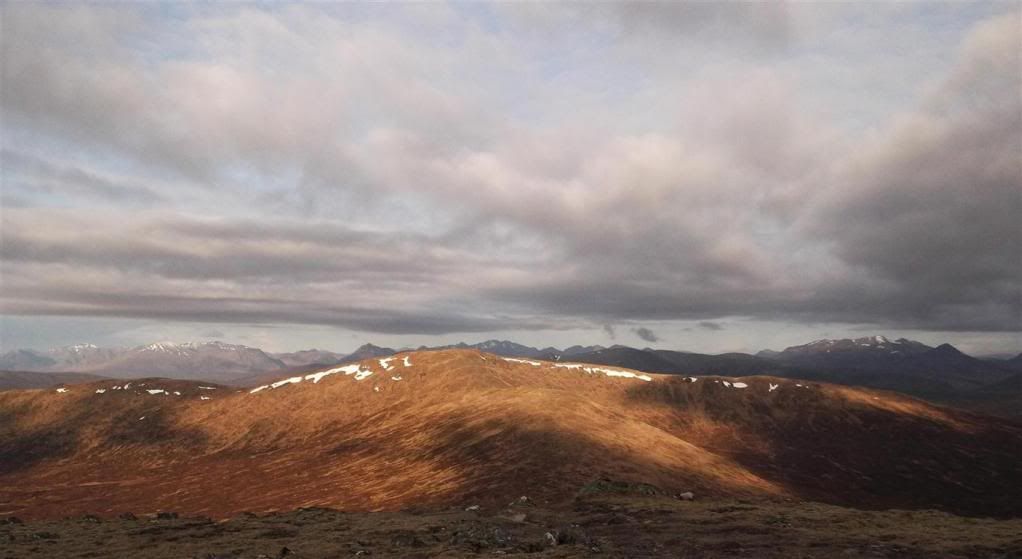 Towards Beinn Eibhinn
From here it was a straightforward walk down over Mam Ban and up to Carn Dearg.
This all took a lot less time than I'd thought and I briefly thought about a detour down to Beinn Pharlagain– but quickly decided against it.
Headed back down towards Loch Ossian – I'd thought there might have been a track but I couldn't find one until I crossed over the track which goes down to Corrour Old Lodge.
Views over Loch Ossian

I was in plenty of time for the 12.31 train and dawdled along the track past the youth hostel and back to the station.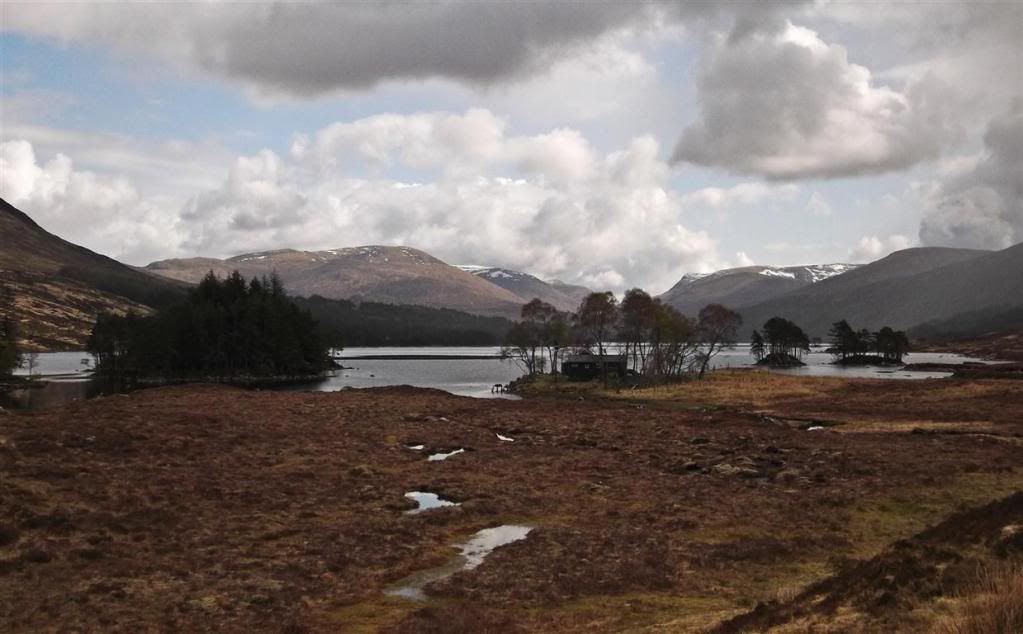 Arrived on the platform just with just over 2 hours to spare before the train was due. Brewed up a cup of coffee as the station house was still closed (sign says closed for refurbishment until May so presumably at least the end of May ?).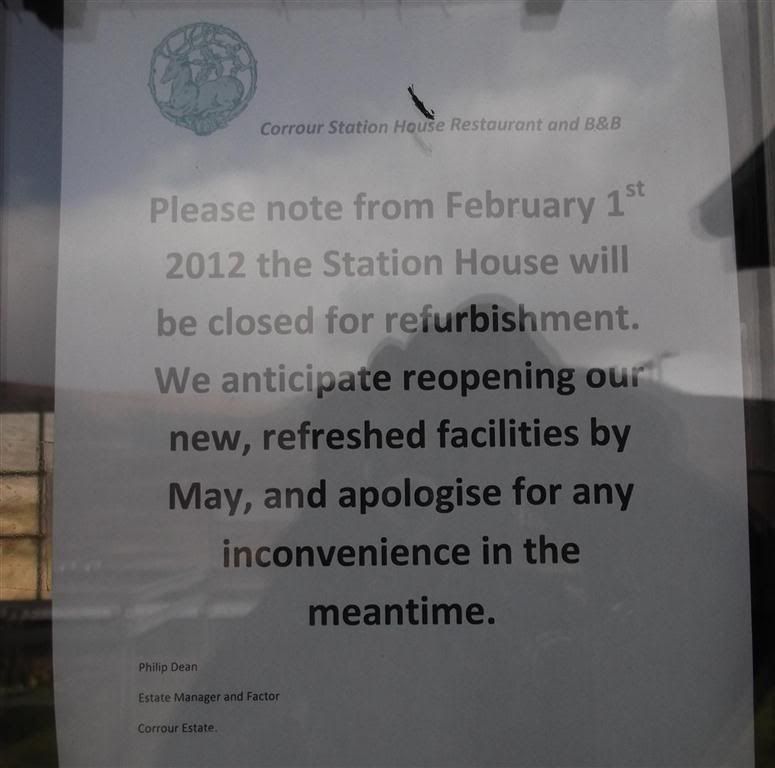 Track maintenance – landrover fitted with guides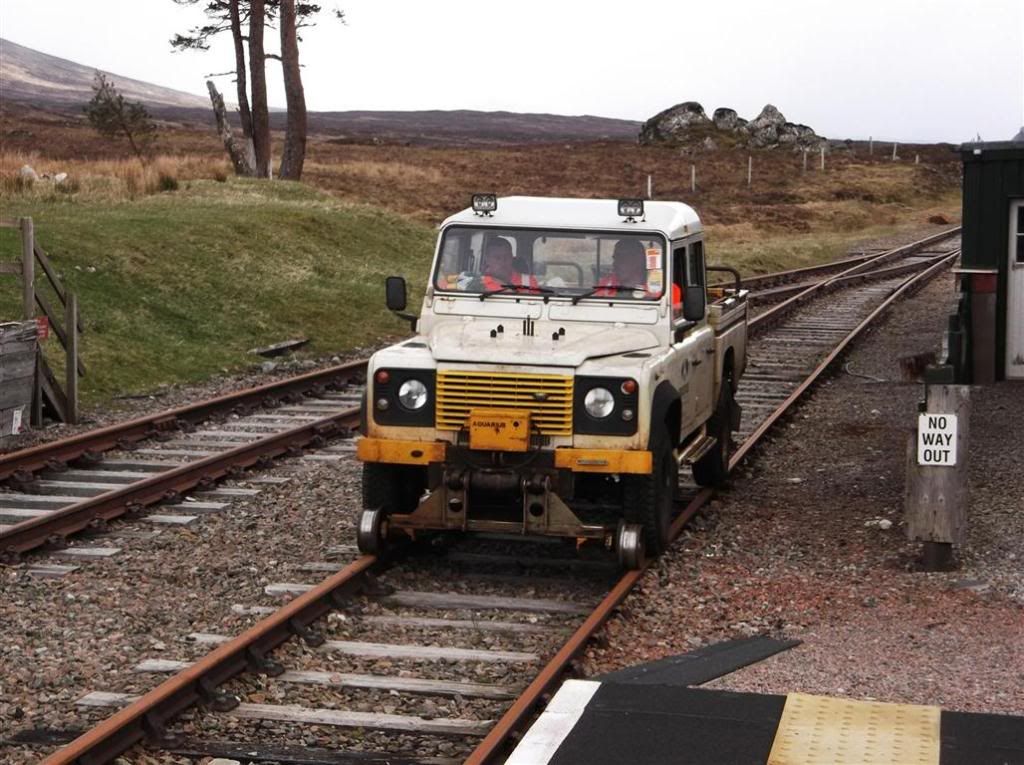 Another walker arrived and we had a good natter before we were joined by even more travellers one of whom was
Alison Fox
from this site. Train back to Arrochar and Tarbet through some very changeable weather conditions – looked like I had been fortunate for once with the weather.