I suppose this weekends adventures started on Friday night.. I travelled down to Glasgow after work and stayed in a hostel, ready to get the bus up to Crianlarich first thing in the morning. The hostel was a dingy affair with stained curtains, and no floor coverings - a good party atmosphere though. I was the only brit, with a selection of Dutch, French, German and Israeli new buddies, I was soon drinking blue bottled cider, playing guitar, playing games, dancing and generally having a good night.. A couple of bars were visited if I recall.. I partied myself out about 2.30AM, and was in my bed for 3.. At 4, a stag party of Germans returned to the hostel and their noisy antics that involved wrestling and throwing furniture about didn't die down until 5. I was up at 6, to go and get the 7AM bus feeling well under par, and a bit sorry for myself. The journey passed quickly, and the bus dropped me of at Inverarnan a little after 8AM. It was a bonny day and as I went over the bridge, and round the campsite, I received my first midge bites of the season. I almost didn't mind! The initial climb up by the falls was a long hot sweaty one, but it eased off to a fine camber eventually, and I got to enjoy fine views, fine waterfalls, and the bonny glen as I worked my way up the path getting ever nearer to my first target – Beinn Chabhair.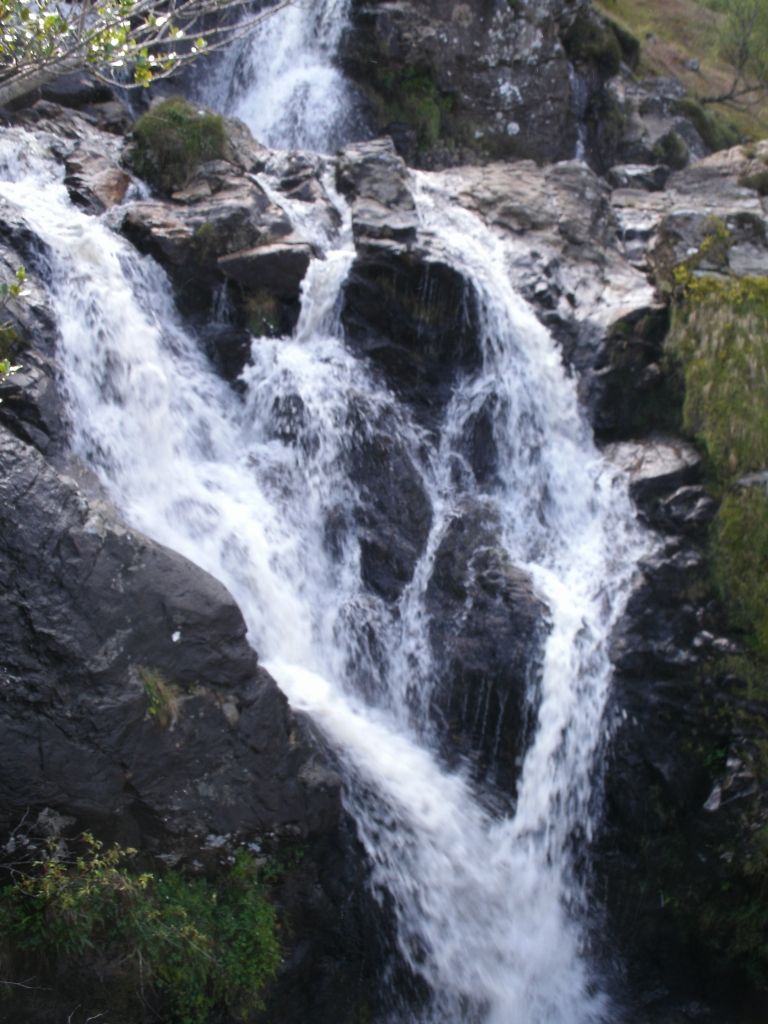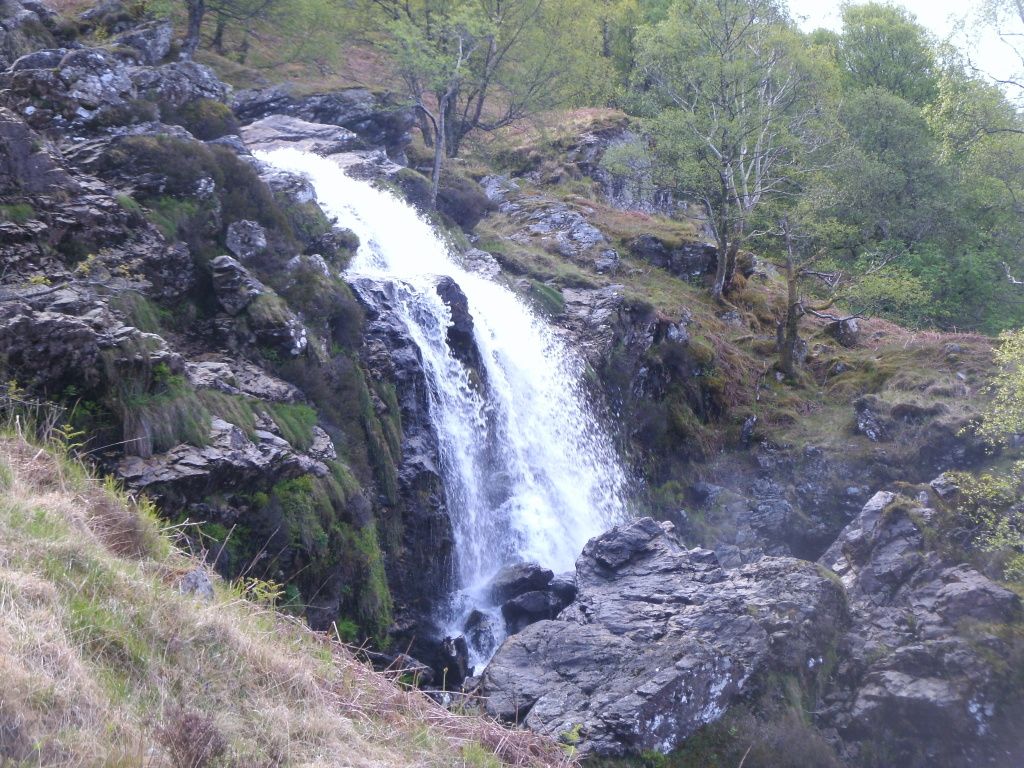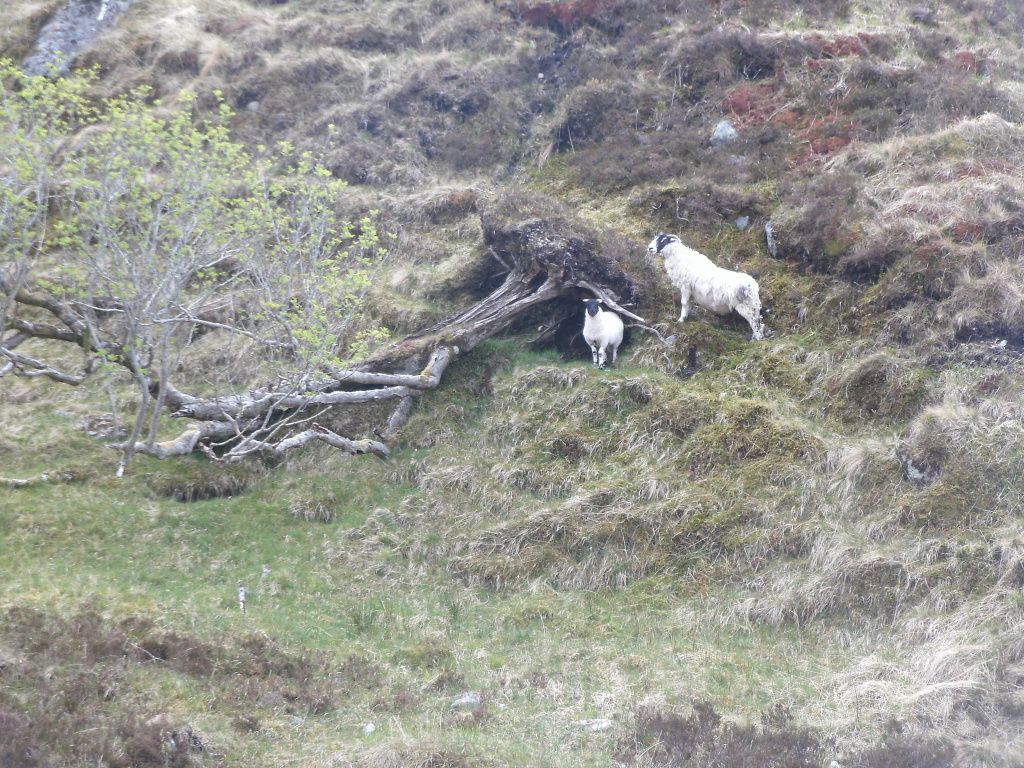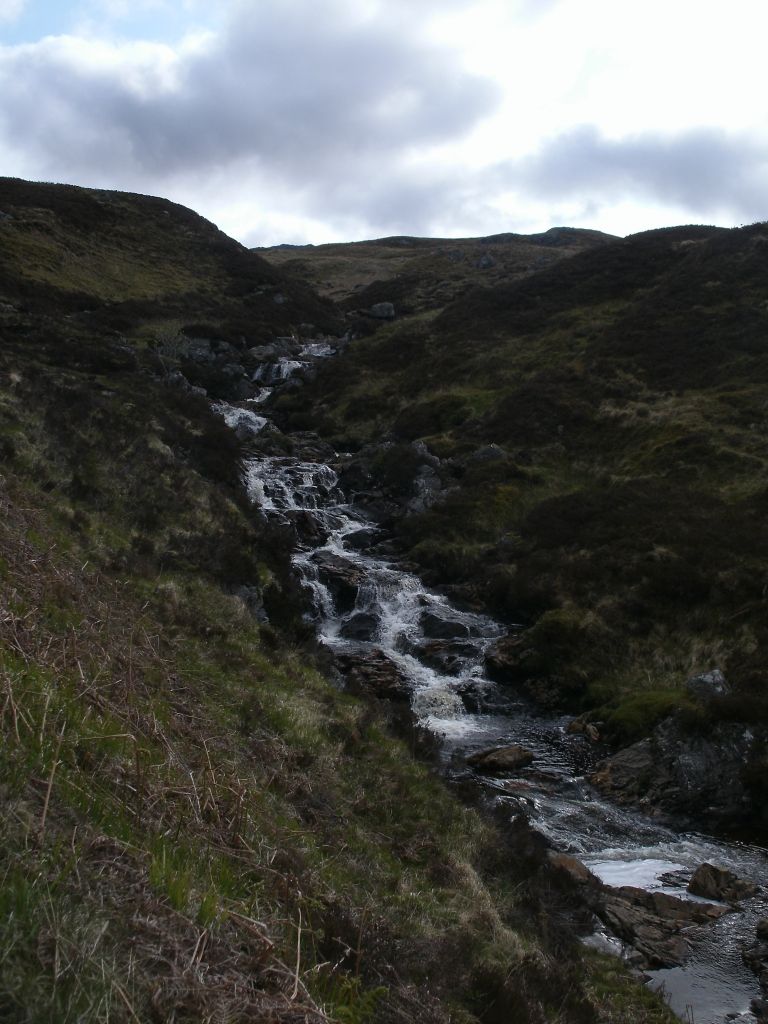 It was boggy going, and already I was muckier than I have been for a long time – should of worn better gaitors! I knew there must be a baggers path up the hill somewhere, and I eventually spotted it a little bit further on than I had anticipated. The climb up to the ridge wasn't nearly as taxing as it looked, and I was soon on the lumpy ridge, on a path that wound its way between the lumps, ever upward toward the summit which I managed to reach in 3 hours without any problems at all, although I was a sweaty muddy mess.. Nice views though – superb weather with a merciful chilly breeze at the top.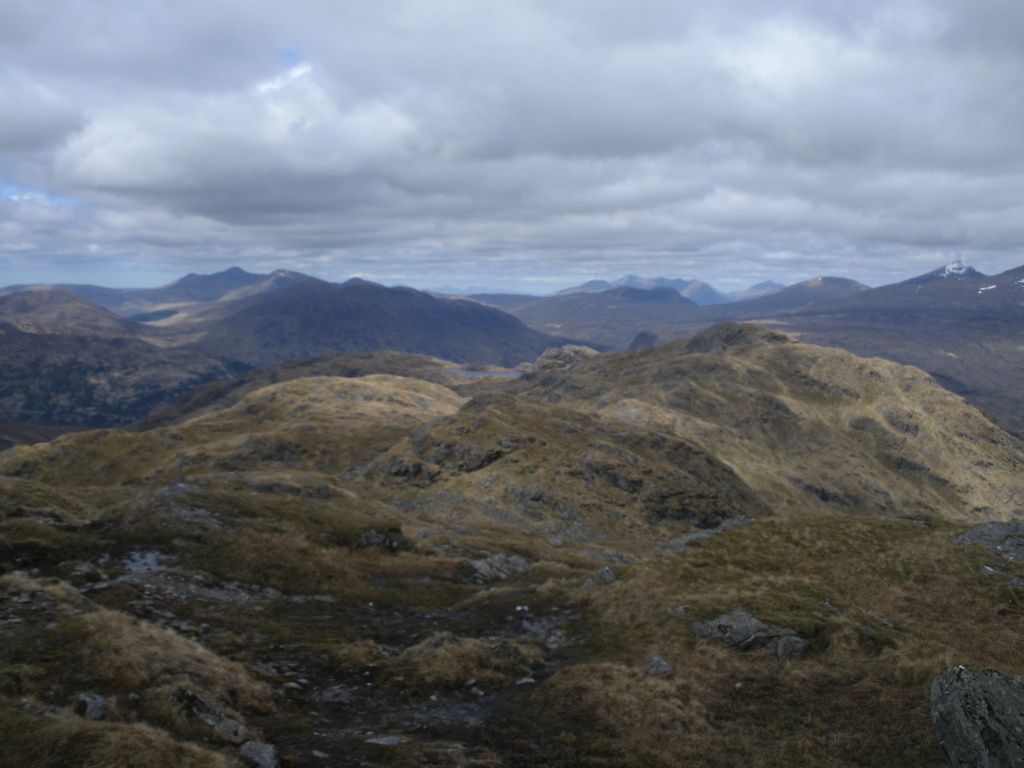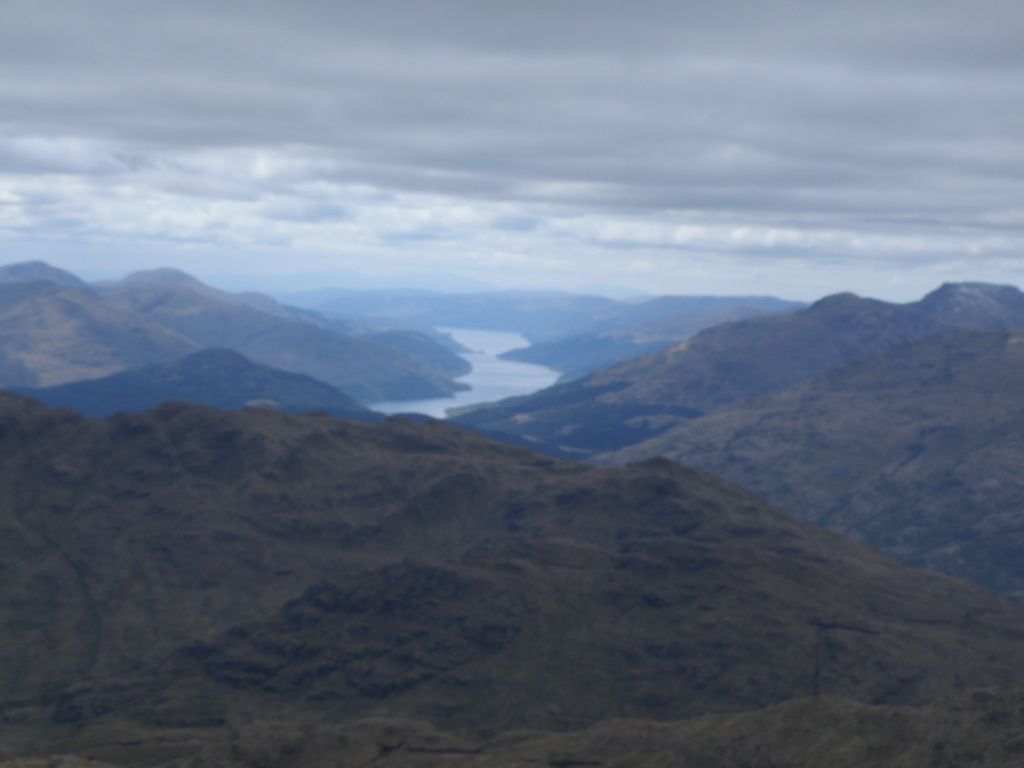 I lay in the sunshine until disturbed by a fellow walker and reluctantly got the shanks going again.
With the next target in sight – An Caisteal, I descended cautiously to the bealach – It was steep and boggy, and I slip slided my way down, adding much bog to my muckyness and giggling all the way.. I met a chap going the other way – I didn't envy him at all! There was a path in the Bealach, which quickly disappeared as I ascended, heading to my right, up to the coll between An Caisteal and Beinn a Chroin, trying to avoid the worst of the crags.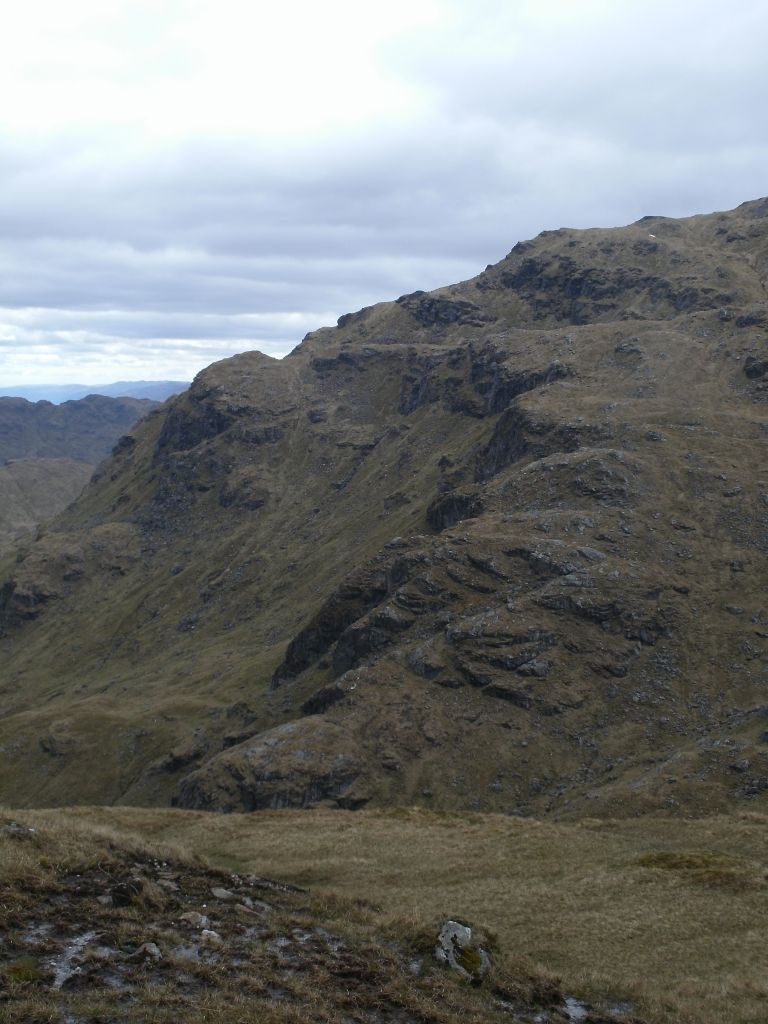 It wasn't as steep, craggy or as boggy as the terrain I had just came down, so was happy that I had made the right route choice. I ate and relaxed a while in the coll before hiding my pack, then hopped up An Caisteal unhindered on the ridge path in no time at all.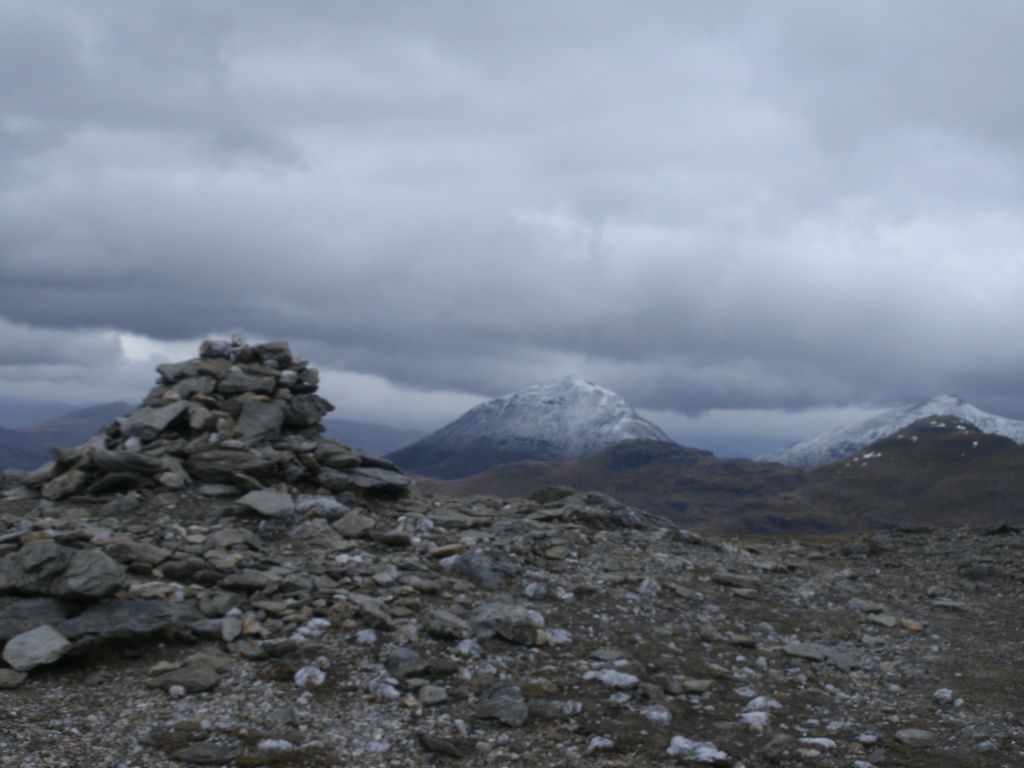 I returned to my pack ate some more and contemplated Beinn a Chroin – The path looked steep! The chap that had disturbed me on Beinn Chabhair passed by, having done Chroin first – I asked him about it and he said it wasn't too bad. I shouldered my pack and started up the path, with clag and drizzle sweeping in and coming down around me – what a bummer.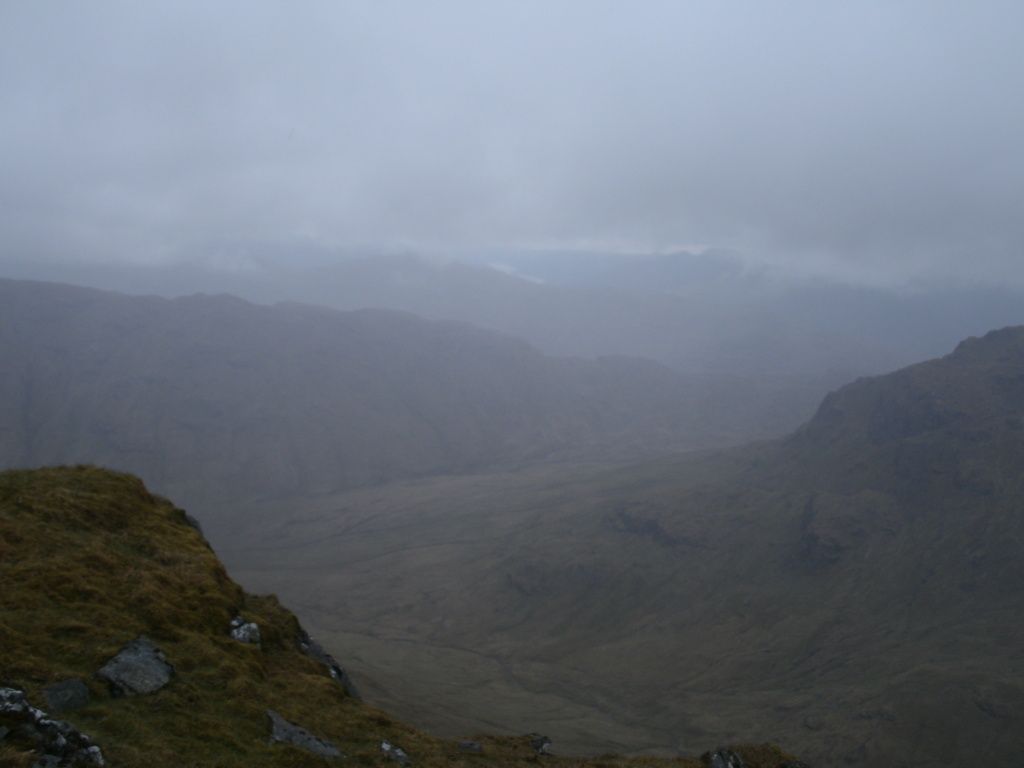 The chap was right as it turned out – the path was very steep, but not precarious in any way, with only a tiny bit of scrambling (which took me three attempts
) Once on the ridge, the going was easy again, and I hopped up to the summit, feeling silly for worrying about how I was going to get up there. I had heard that the highest point on Beinn a chroin wasn't the actual munro as listed, so I was careful to go to both tops on the ridge, just to be sure.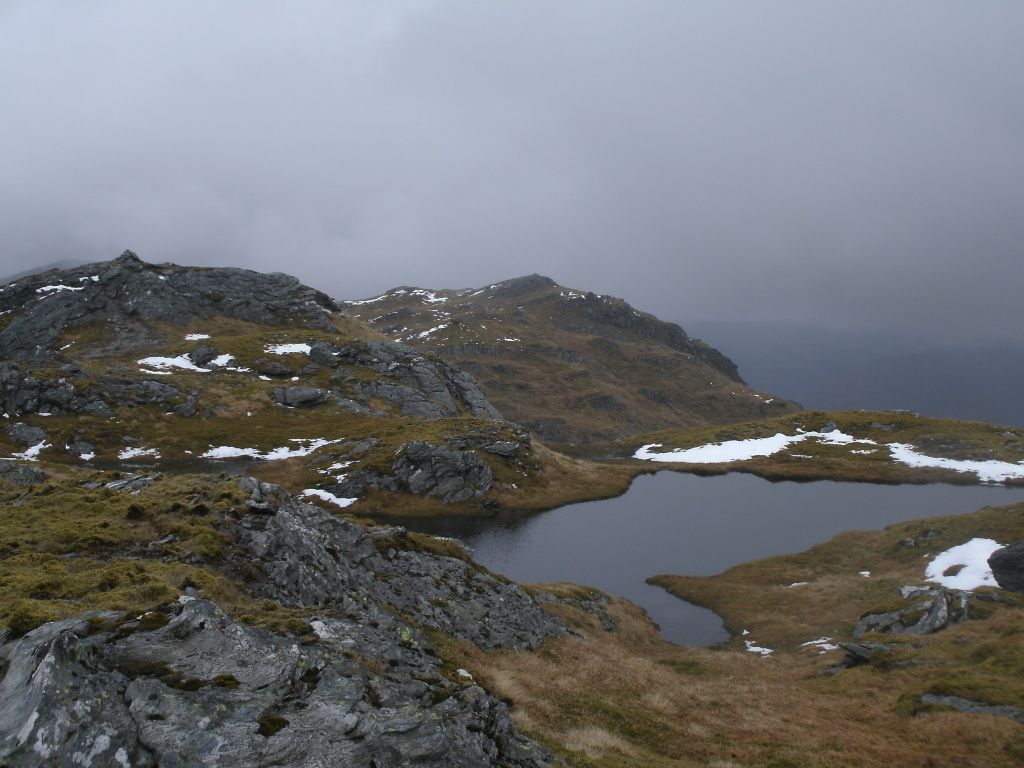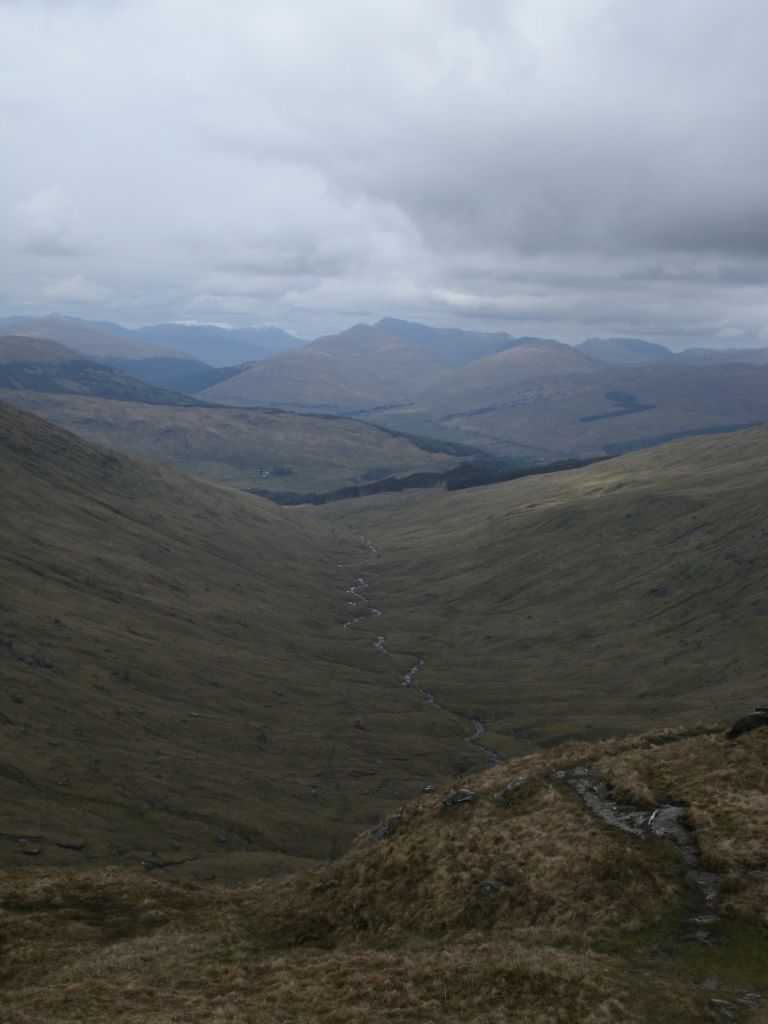 I contemplated taking on Ardrain and Tulaichean, as it was still quite early – that would leave me Sunday to do Ben More and Stob Binnien, but my tiredness and hangover from the night before dictated that I had had enough for today. Plenty of beans left in the legs, but also carrying a heavy heart after a turbulent week emotionally, I just didnt have the motivation to go on. I took the excellent path down the shoulder toward Stob Glas which was an impressive looking buttressy shoulder, and at first I thought it would be an awful obstacle, but as I descended, I started to see routes a girl could take without too many problems. I would have to remember for tomorrow though as I pitched up underneath the cliffs. It felt idyllic. I did notice though when looking for a flat piece of ground, that there were an awful lot of picked clean sheep carcasses about.. Are there wolves in these hills? Or do sheep have dying grounds like elephants? By the look of their horns, they mostly looked like older sheep…
I spent the warmest night I have spent in a tent in a long long time. I tried to sleep early to facilitate an early start, but it took me a long while to fall asleep, and I was awake again at 5AM feeling unrested – not like me at all, I usually sleep like a log in my tent. I noticed when I went out for my morning comfort stop that a new carcass had appeared, not quite picked clean yet.. Definitely something in these hills! I wasn't in much of a rush to get going, as the tops were misty and it felt like the sun would burn through any moment to make it a beautiful day. It must have been 8 before I started the long trudge up to the ridge.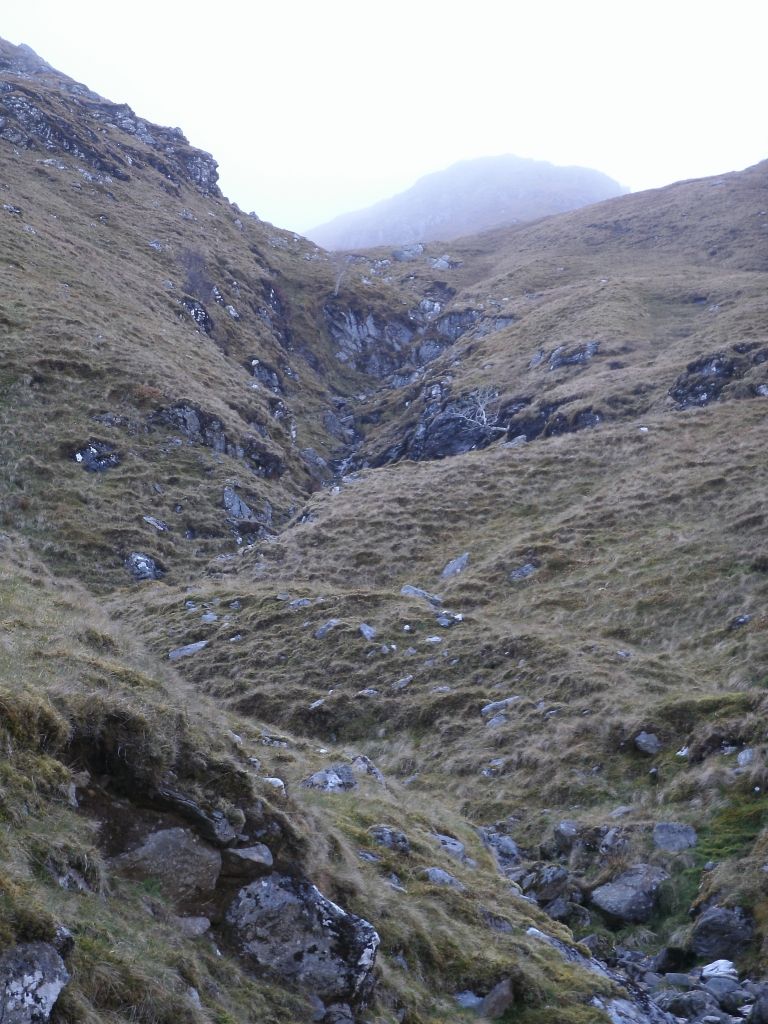 The grips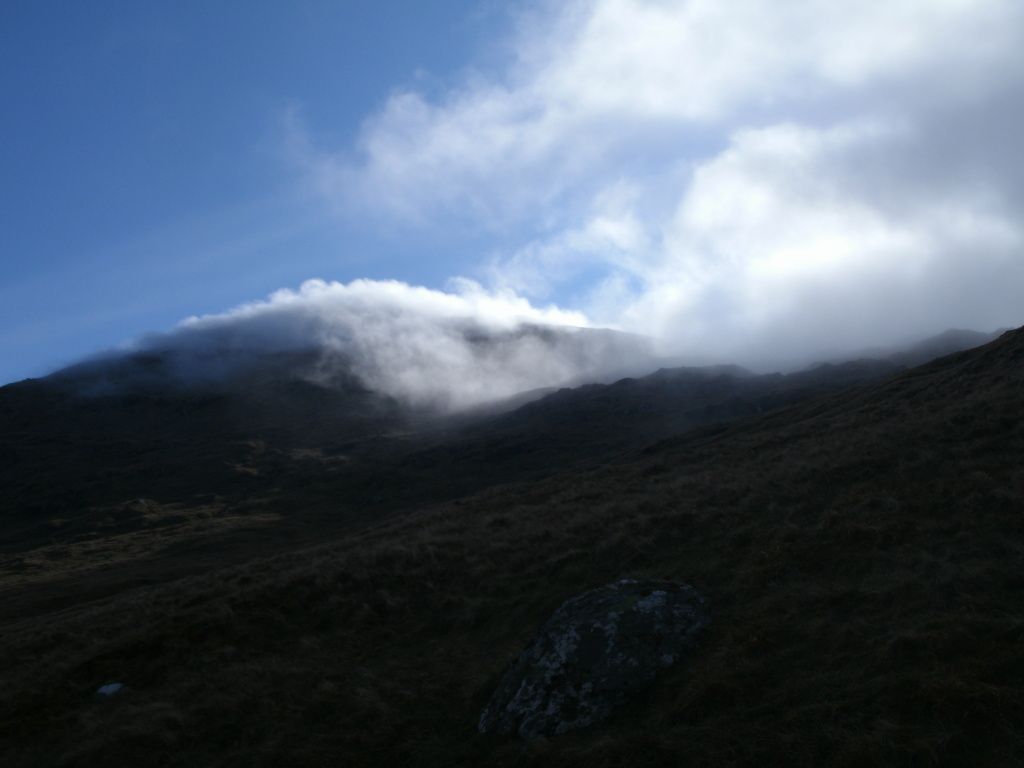 There was a fine grassy, but steep slope for the first section, but from the Coll between Stob Glas and Cruach Ardrain, the going became trickier. I could see vague shapes of crags, buttresses and boulders appear and disappear in the mist, but I wasn't confident of finding a clear route. Using my map, and my memories of what the hill looked like yesterday I wound my way upward on some very steep ground, and surprised myself by finding the ridge path easily. It was only just after 9AM – I thought the slog up to the ridge would take far longer.. so I ate, rested, and enjoyed the sunshine that was finally starting to burn through the clouds. I left my pack – didn't even bother to hide it as it was still too early for day trippers and made my way down to the bealach with Beinn Tulaichean in my sights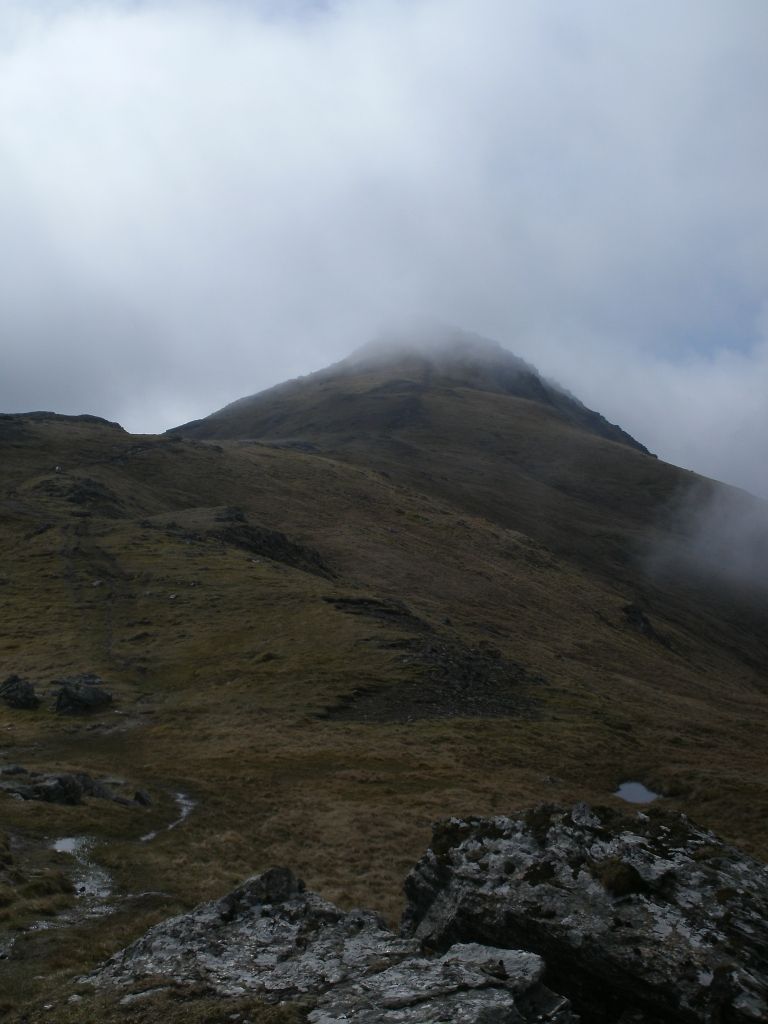 it looked eiree in the wispy mists, but posed no problems at all – the ascent was so easy I didn't expect the summit so soon.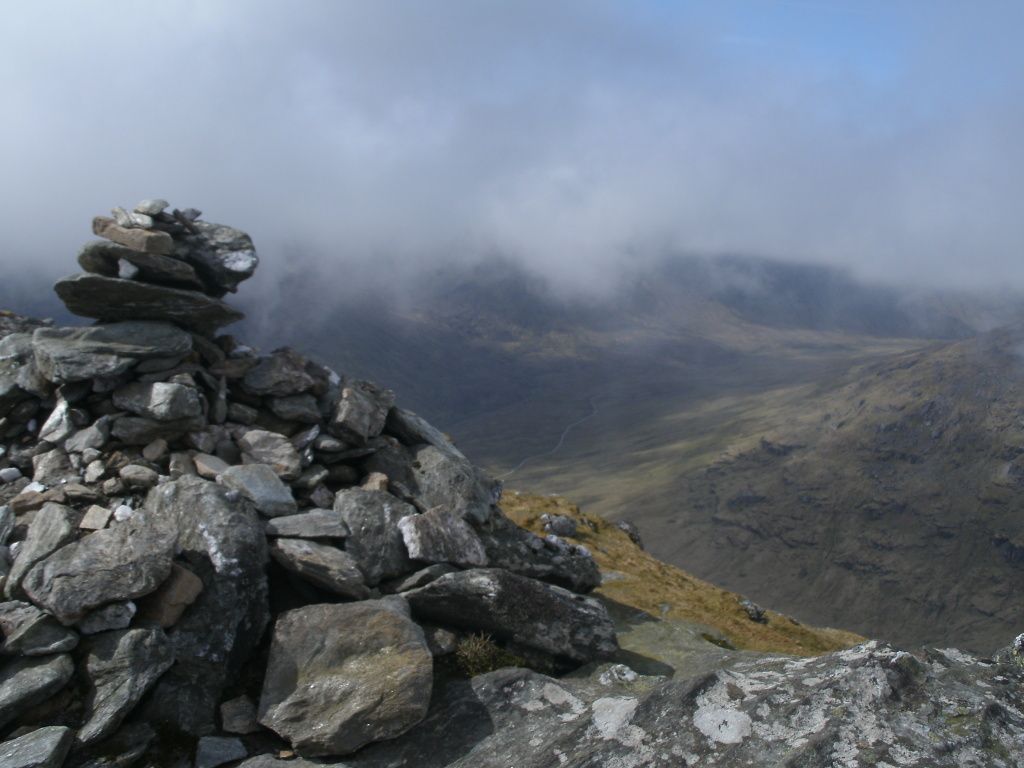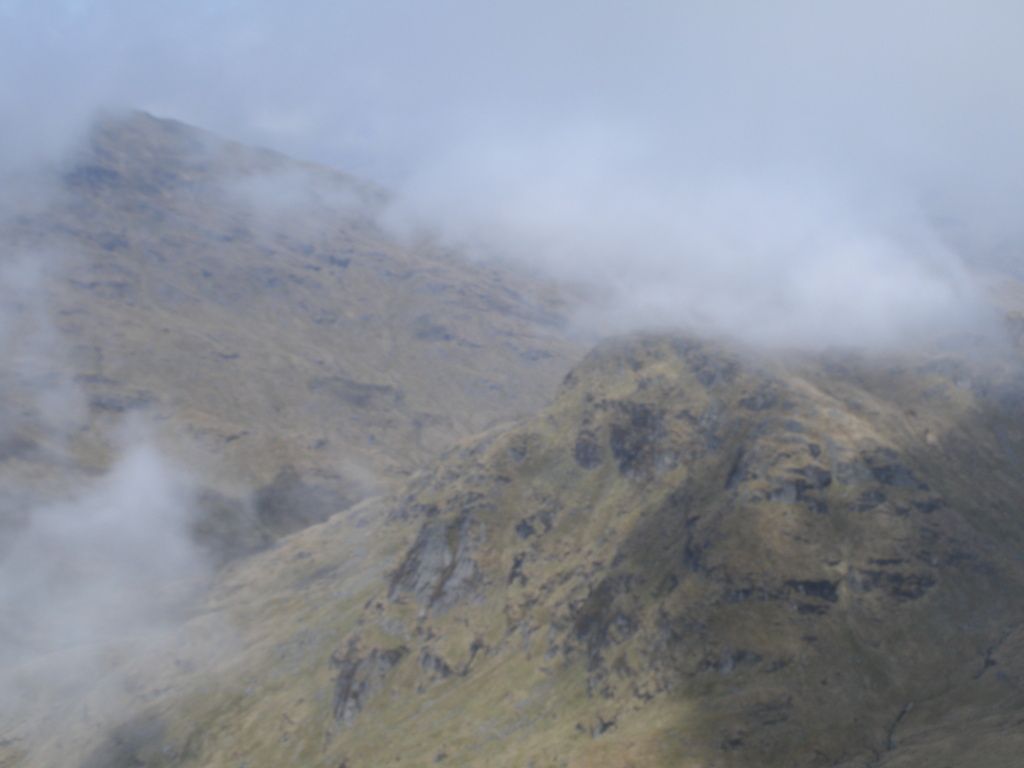 There was still a fair bit of clag about, so I didn't get good views, and I didn't stay there long before I retraced my steps, to find my pack, halfway up the path to Cruach Ardrain. It was a bit more of a fun hill I think. A nice path weaved its way through the lumpy ridge. My pack felt like a dead weight after an hour without it, and I was noticeably slower which I found frustrating.. The mists were clearing again however, and the day trippers were starting to make an appearance by the time I made the summit, where I spoke to a foreign guy who was doing his 24th munro – This was my 124th, and we laughed about that.
I stayed a while, as the sun was getting ever stronger, before retracing my steps a little way, and finding the path down the ridge toward Crianlarich. The initial descent was scarily steep, and the pack almost had me careering down the hillside a couple of times, but once down on the shoulder it was a pleasant but long undulating descent, and I met lots of nice people heading up to the summit. The cloud was all gone by then and it was scorchio to say the leasy!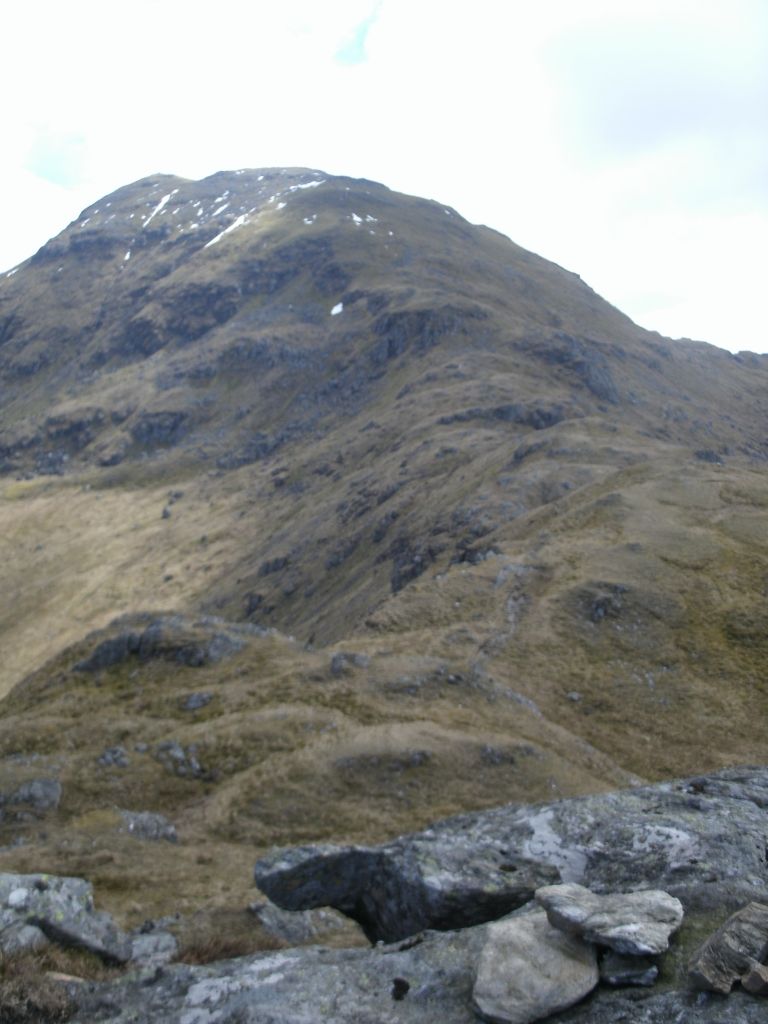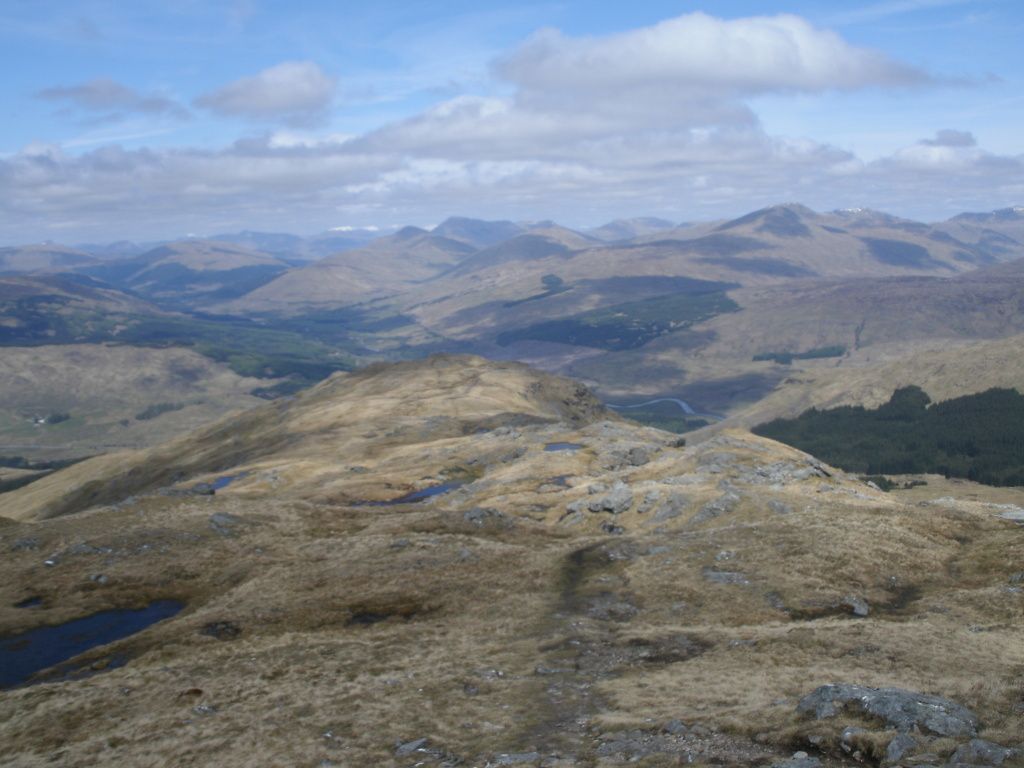 I rested and ate often, and filled in some time – I knew there weren't many busses and while the midday bus was achievable, I would rather take my time and get the 3.30 one. I was soon coming off the end of the shoulder, over a stile, and down toward the trees that surround the village. I sauntered down a ride, through felled forest, which was very squelchy underfoot, and I went in well over my boots a couple of times!
It was only a mile or so before I was back to civilisation, sitting in a pub eating a burger and drinking a pint.. I had very achey legs after this trip – not sure why as I haven't had achey legs for a long time, but I guess that's a testament to how steep these hills are. Coulda pushed myself to do the 7, but I'm glad I didn't in a way because that gives me a good excuse to go back. Went home feeling physically tired, but emotionally a lot better – the exact opposite of how I felt when I left home! Is there no balance to be had in this game?