The hill was Garbh Bheinn ..
Attendees..MOLLY THE COLLIE..4 canine friends..Anne and Bill ,Heather, Andy and Sheila, Andy and Amanda ,Hendo, Robin,Stuart, Ted, Alan and Doogz
Attended Summit
Hamish Brown
Peter and Heather from SMC (i think)
time irrelevant
weather perfect
2nd june 2012
Here goes..........
I was supposed to miss this as it was set for a few weeks ago and the canine Compleater was beaten by the foul Atlantic Monsoon and Low and Hurricane a few weeks agpo
this however ....selfishly.... was to be in my favour and todays date was picked 2nd june 2012
To her and SMC and H.Browns knowledge no dog had compleated the Corbetts of Scotland and with Owners Anne and Bill the dog had rung hefty total when anne realised that her wee baby was close to doing them all ..
this year i joined anne on a few Corbett walks in her quest to get Molly over the line and whilst we sat upon the corbett in Glen Orchy unknown to Anne Molly had spied or smelled something in the cairn
Unknowingly the shot i took was to be a standard bearer for mollys target featuring in papers and websites over the lands of Scotland and beyond
The one in yesterdays daily record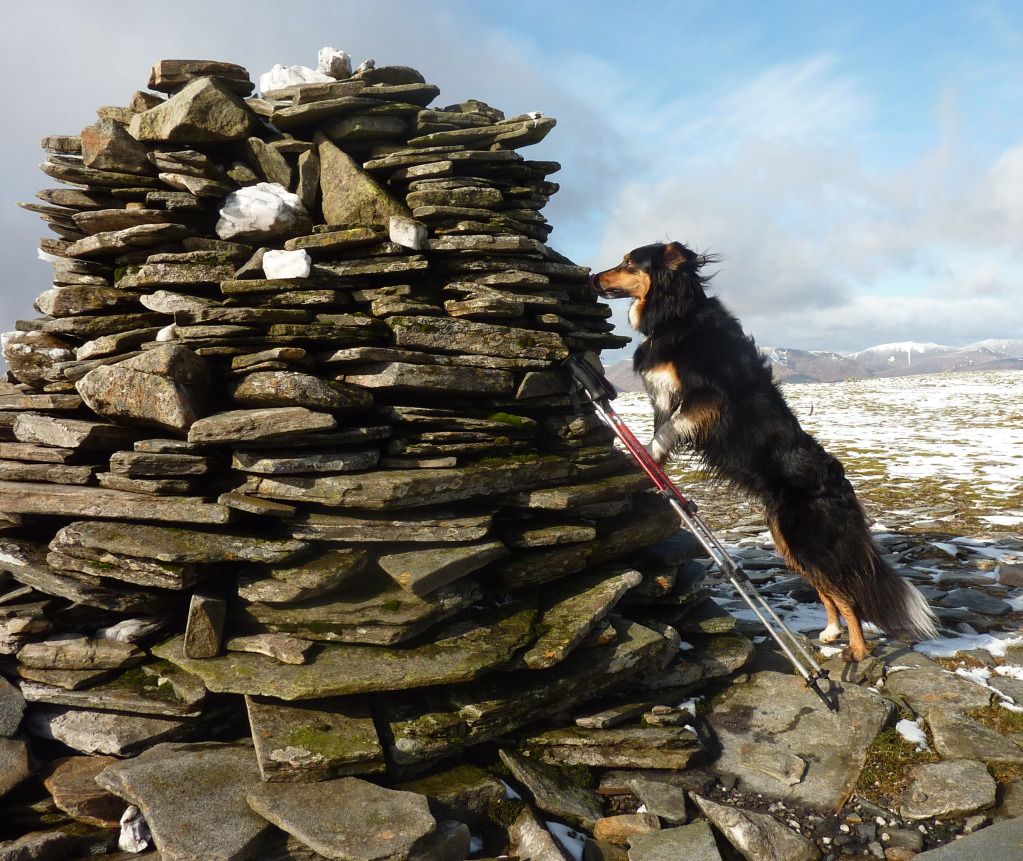 So to today
we set off early to meet the varied folks from annes walk career and pals forom sites and early in Corran was a chilly 8 degrees as we arrived ..totally unlike the previous weeks temps ...but hey perfect for walking and the Midges might even find it a bit cold to get out of bed
Parked and set for the off its a place i had never set foot on and was suitably impressed as we looked ahead at the walk
Everyone almost there we were off and soon the look out over the Loch was impressive for me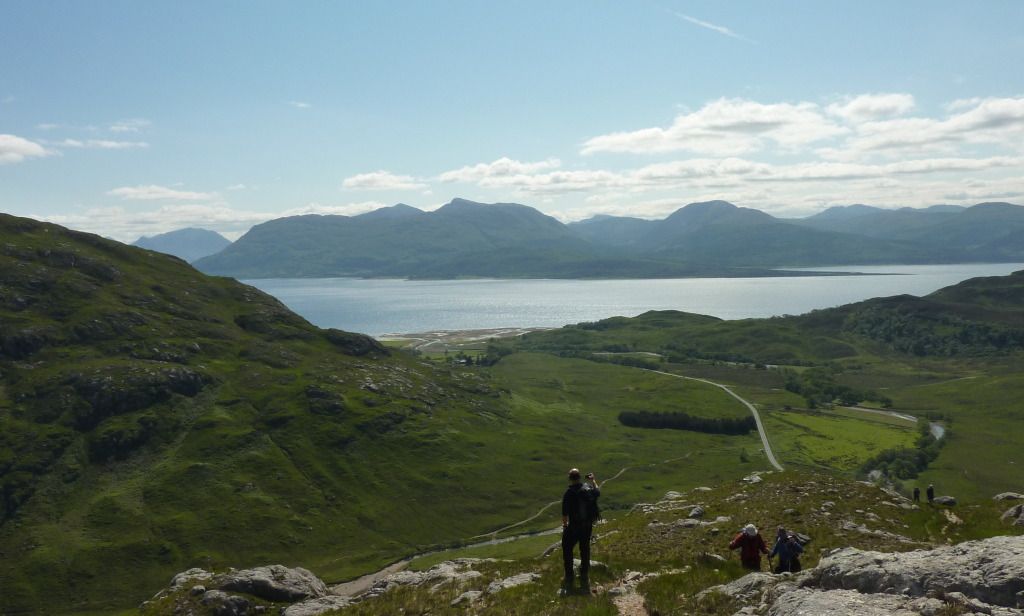 And on the up and up more and more comes into view
Anne and molly excited as to what lies ahead.. or looking for her climbing pal Andy....dont worry we waited on them as we spied the car arriving in the car park..lol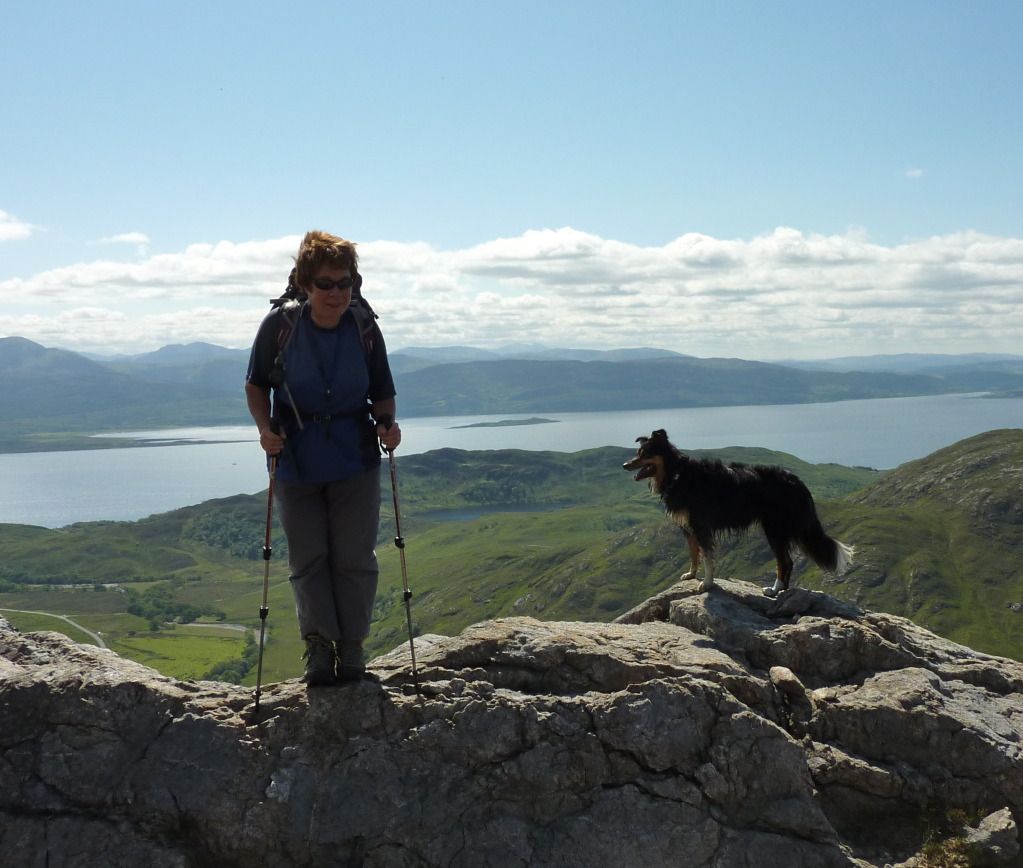 Everyone is chatting to new friends and people seem quite genuinely pleased to be there not just for Molly but for the tremendous views around and if you think it cant get better ...oh how mistaken you are
The bridge looks a long way off from here ..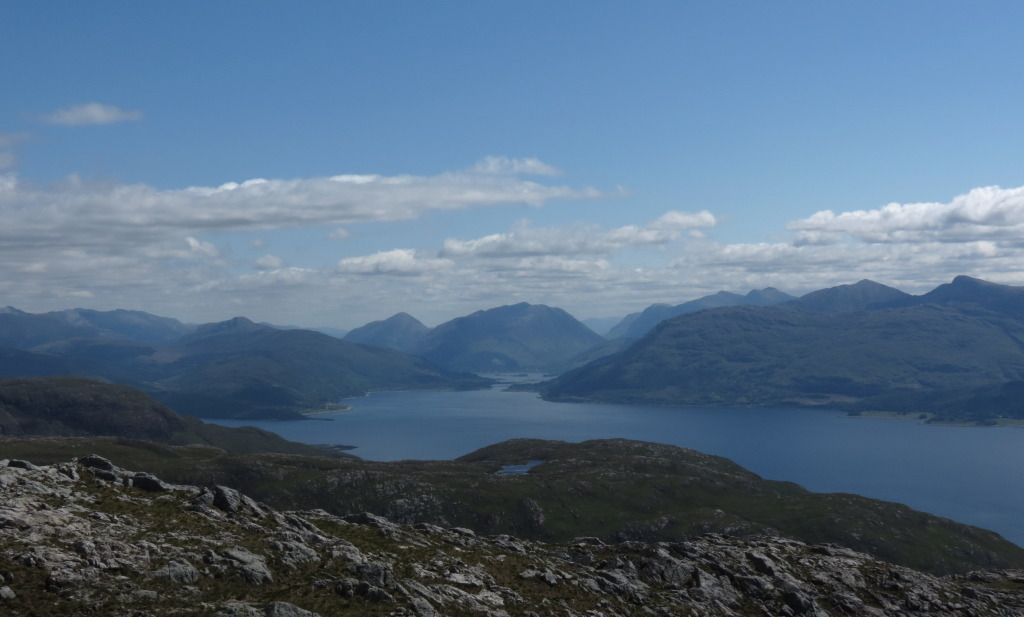 But with my new camera unleashed it brings it almost to the loch in front...
More ups and without a particular path to follow the people are spread out over the hillside finding "their" easiest way up to the first top
We seem to have made up a fair gap and this gives me a chance to scout for views and for hill naming opportunities..
the sub top made i am flabbergasted ... yeah me ! to see the views of a really special viewing area , especially today
And across there a steep drop and a sharp rise lies mollies last rise to compleation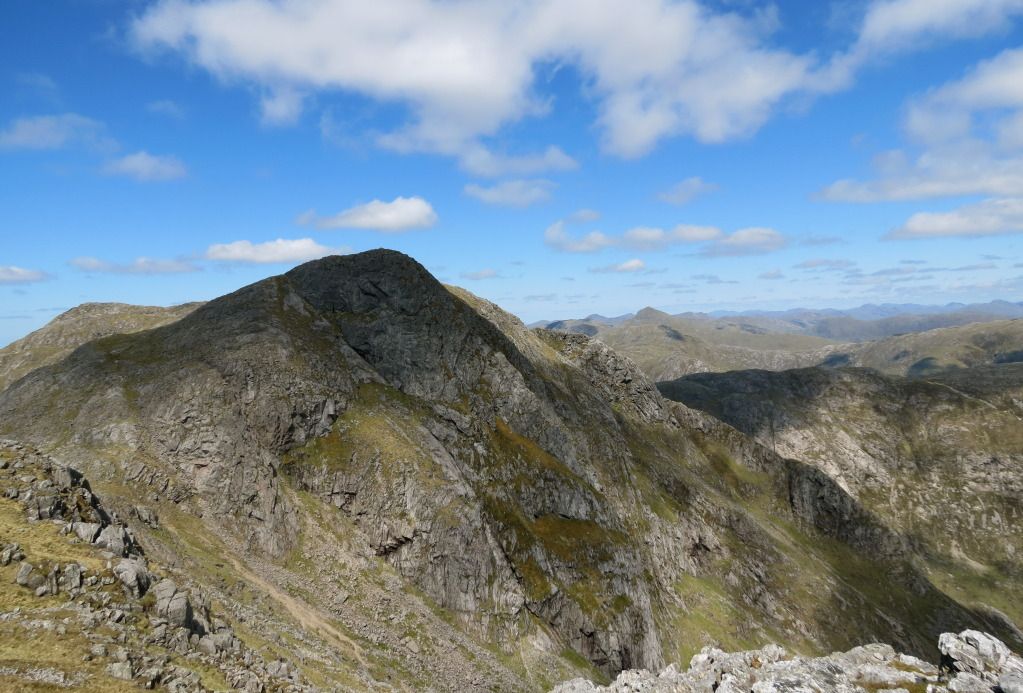 the steep drop in between is undertaken and from this area the framing chances for your photos are "au naturale"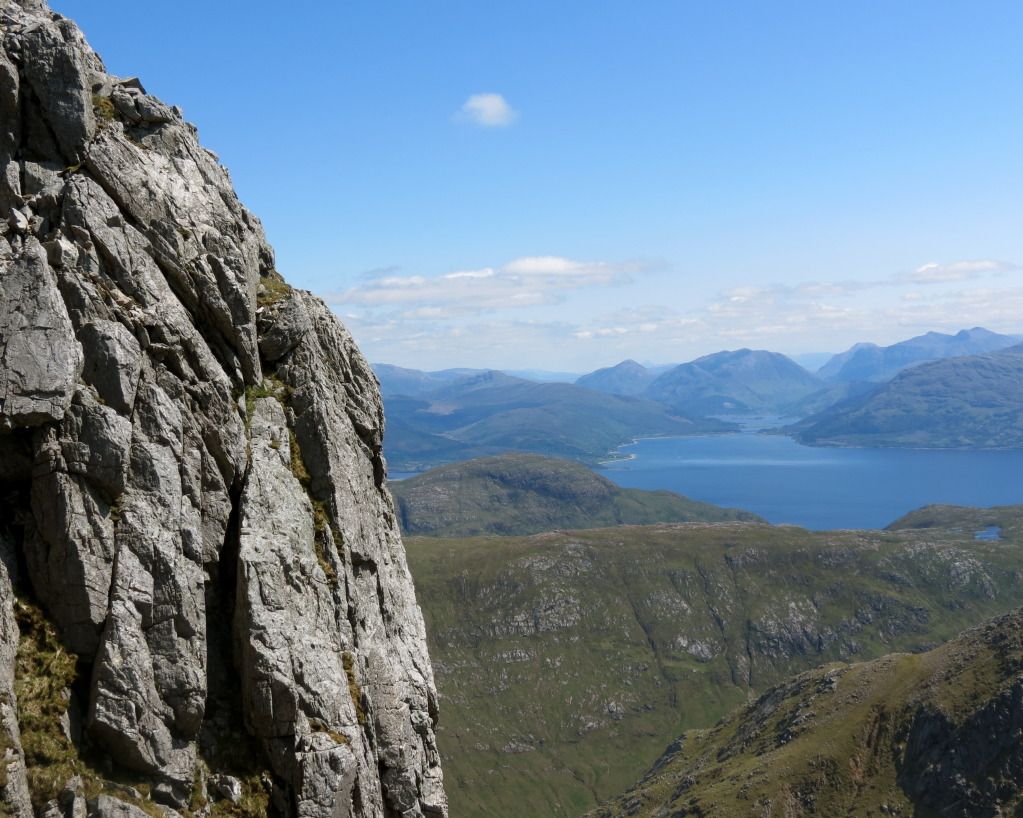 This is the chance to sit and take it all in and me alan and robin along with 3 of the 5 dogs sit it out for the owners and friends to catch us up ...just ahead is MOLLYS GOAL.......221 Corbetts, and a place in the books of walking as the first CCC ...Canine Corbett Compleater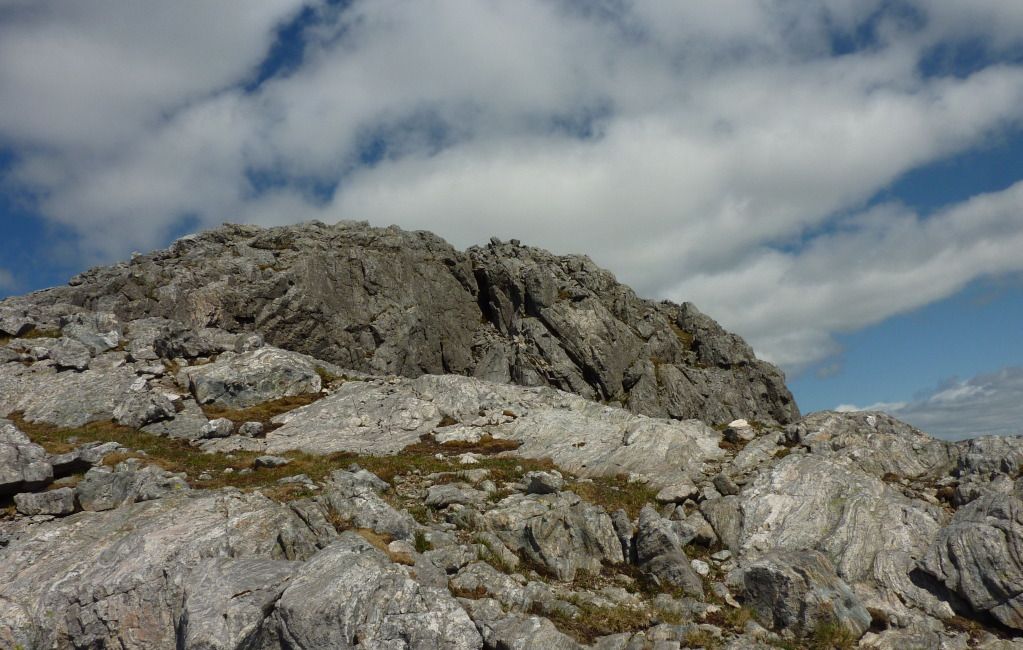 To my left i cant hardly wait to get the summit panorama...if its this good here ..it must be magic on top
Everyone together Anne and Bill along with Molly set off the last 20 metres to the summit to be met by Hamish Brown ...legend of the Hills of Scotland and a heck of a knowledgable man to boot .....
then its summit shots and a piece of walk history i imagine
Anne Bill and Molly along with Hamish
CORBETT 221 for Mollie the Collie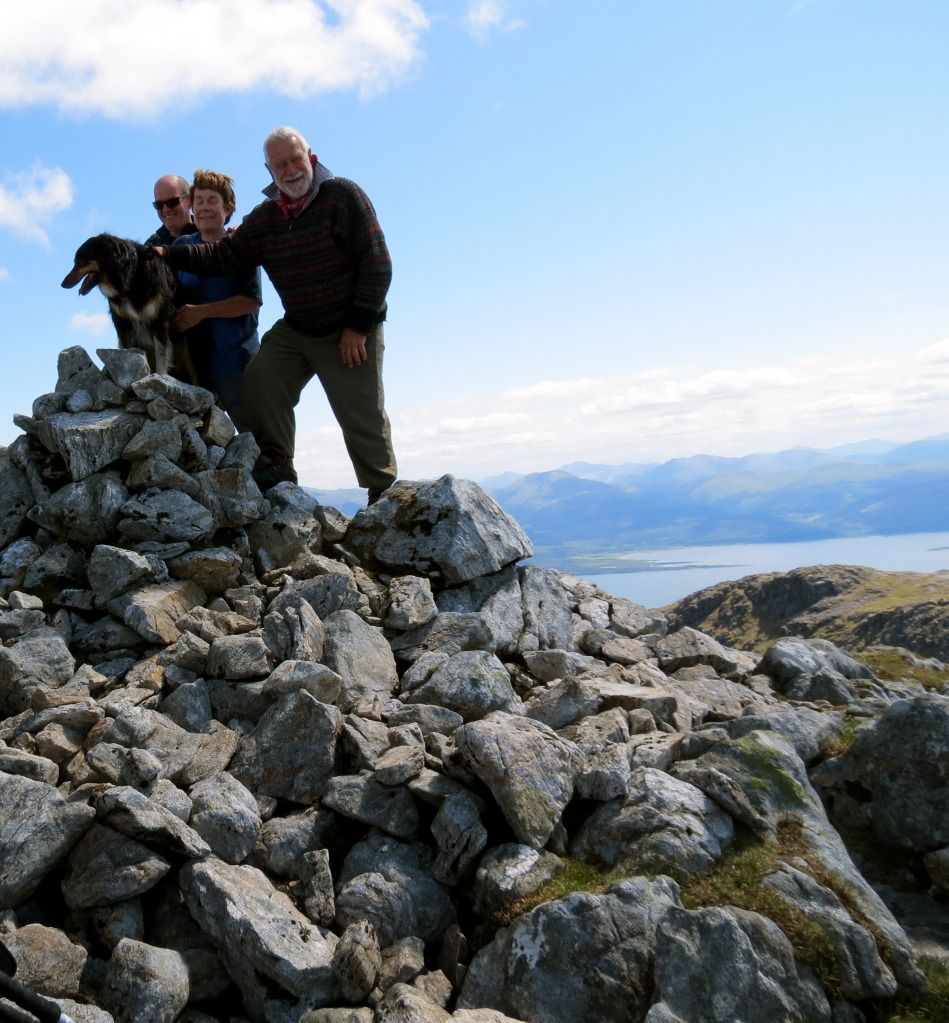 Todays star Molly is none too fussed but she has her toy so who cares!!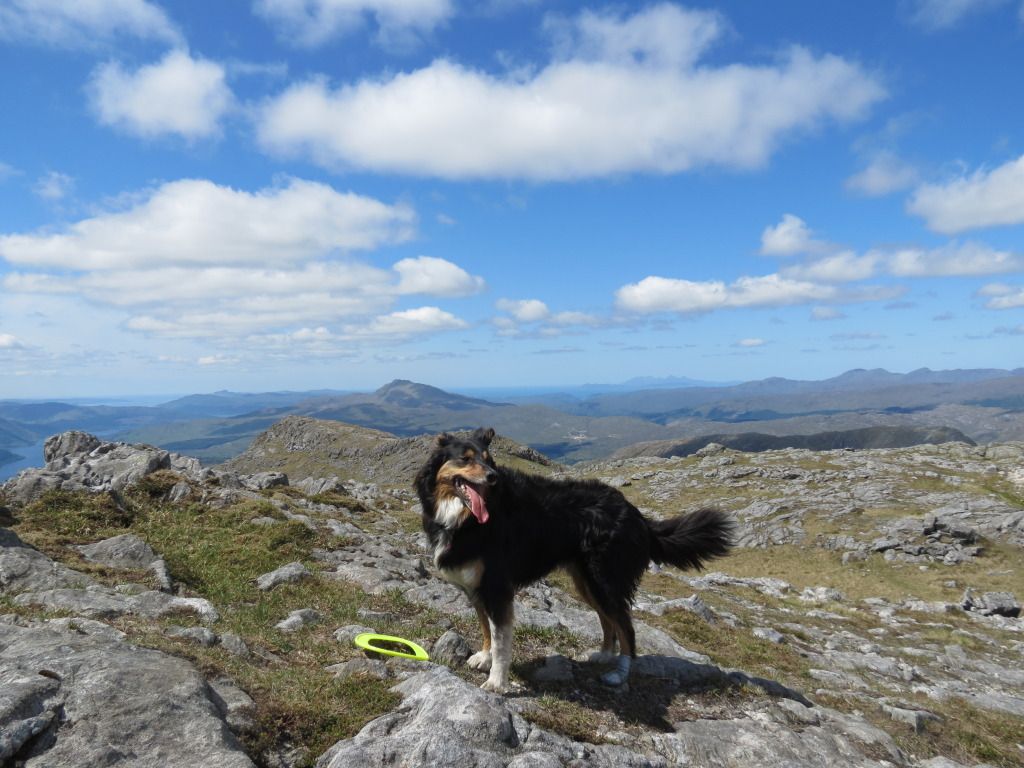 Oh and me .... back to the views for a bit while the festivites break out ,Champers and sausages, cakes and biscuits....whoo hoo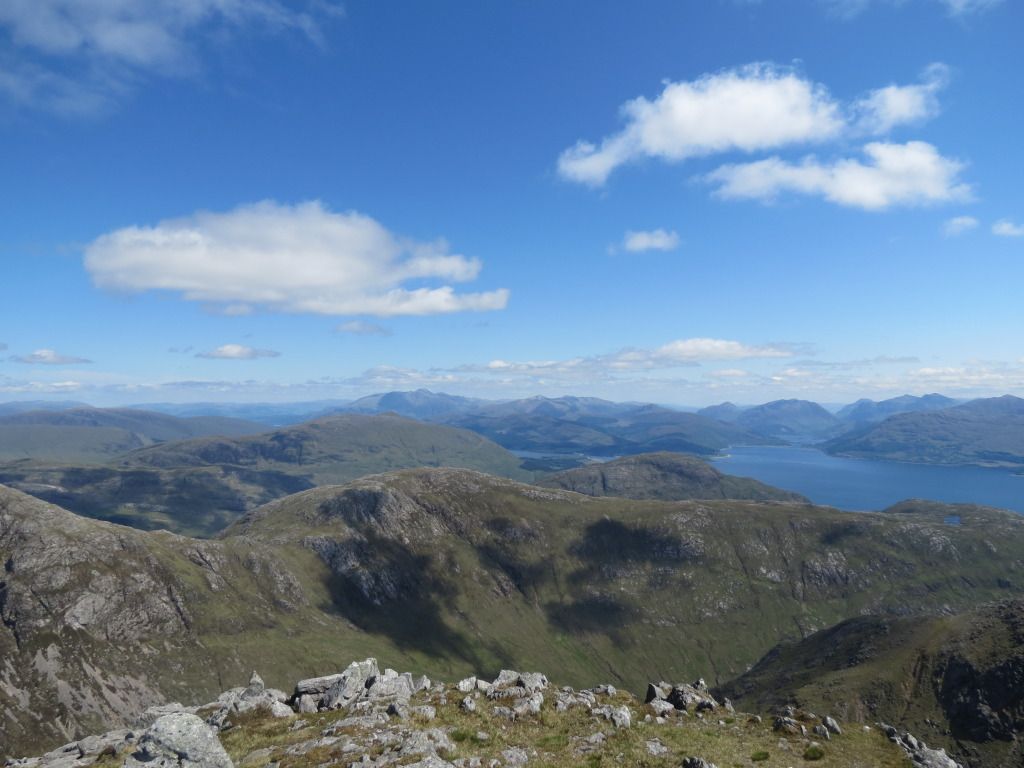 Rum
zoomed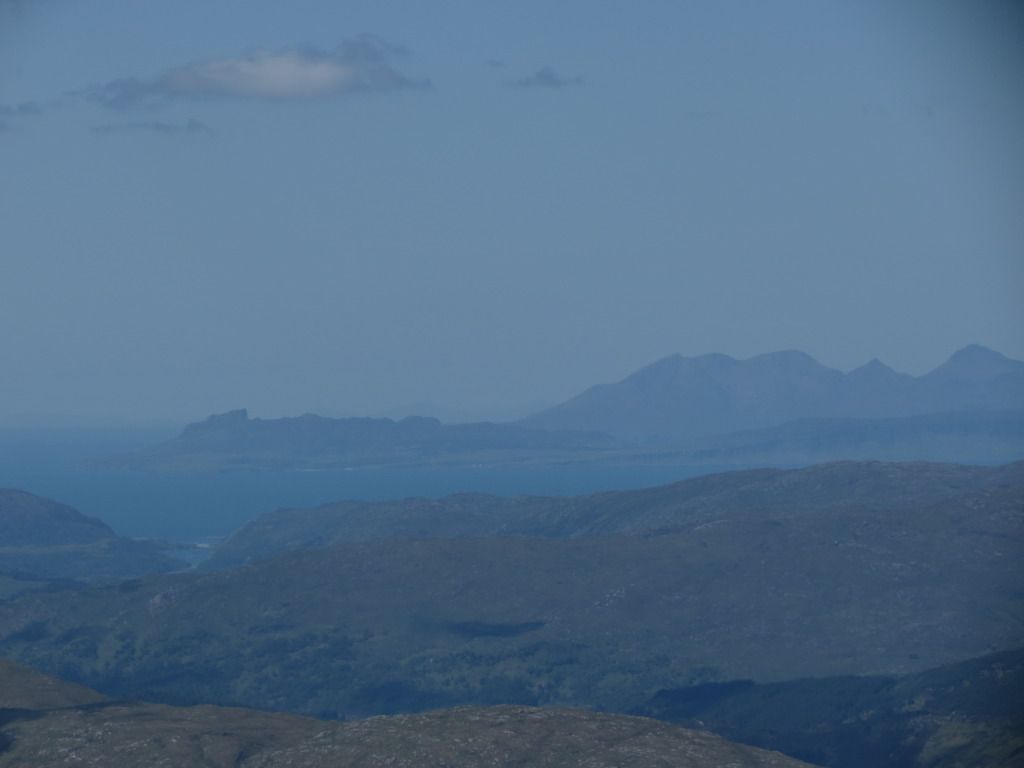 Summit free i can selfishly comandeer the views
The party is in full swing below too..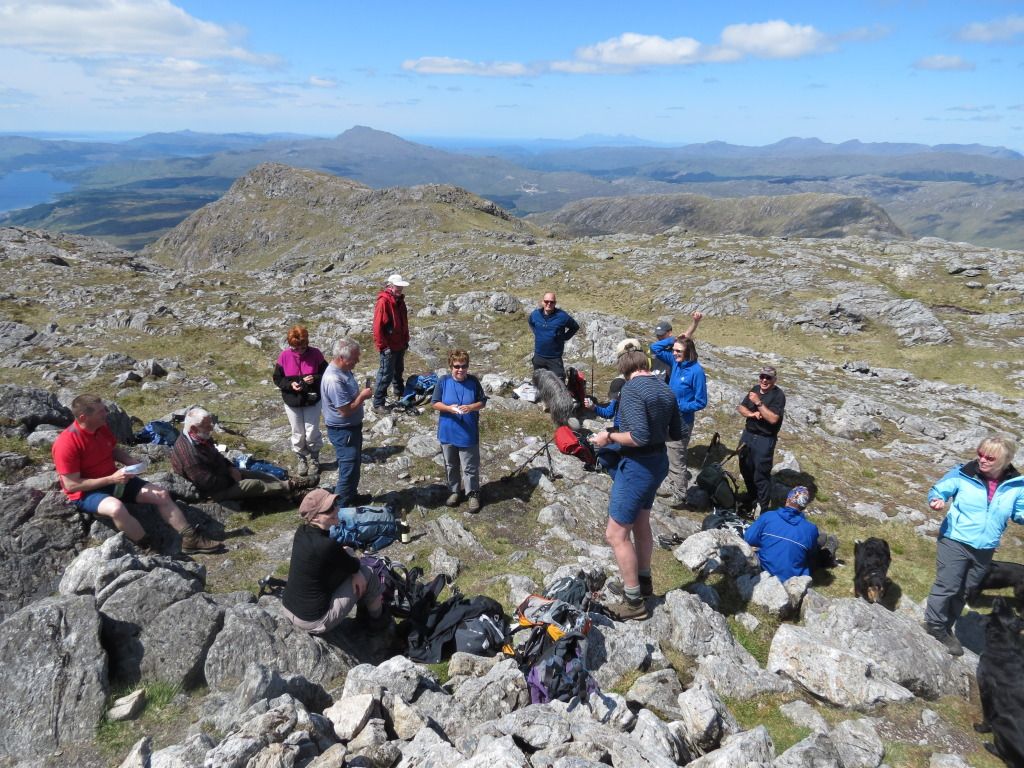 Its time to go after an age on the summit and me an al get the skates on for a traverse route to the west and circling back in on the ridge far lower down than the re ascent..this keeps us in the warmth of the sun and soomn we pick up the way down on the path where we can afford ourseves 15 minutes in the "Perfect armchair"
A rock band with a ledge and polished back and foot rocks gives me a vista i will long admire in my mind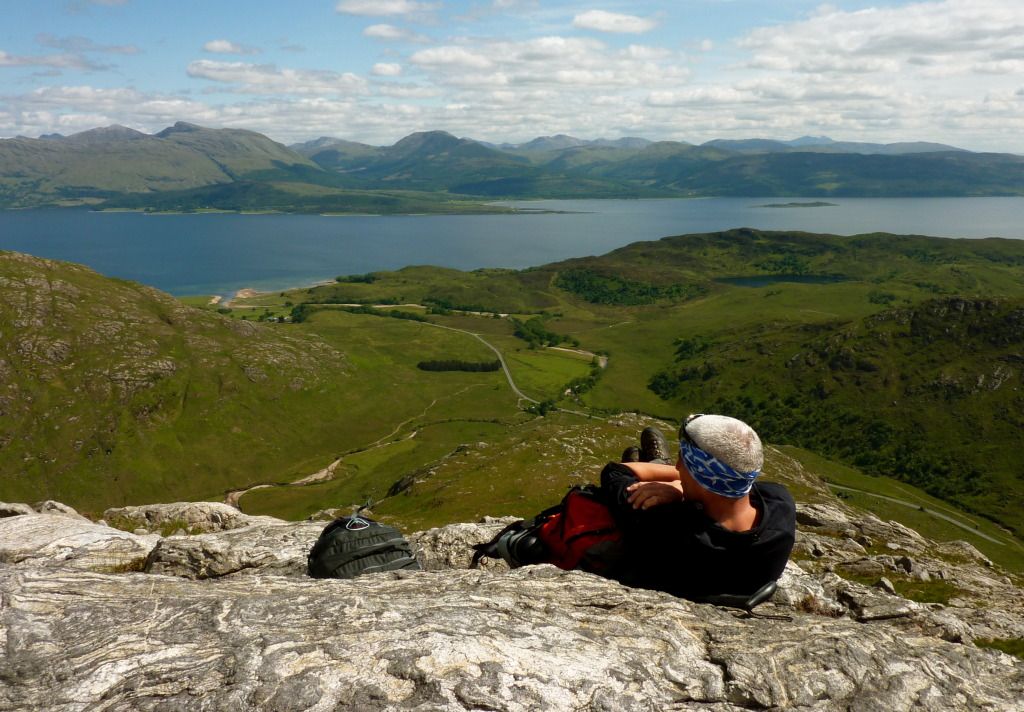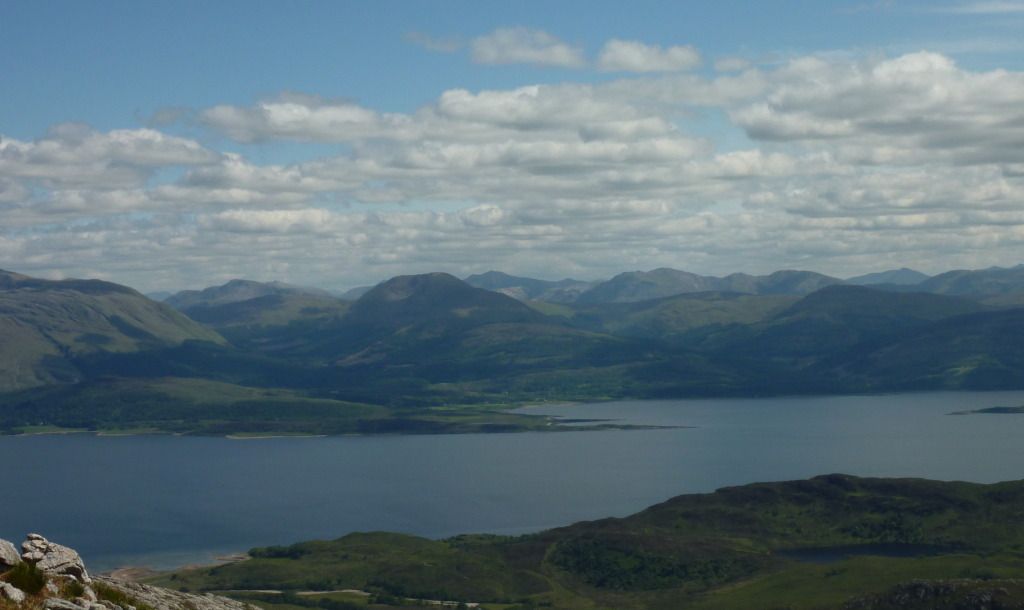 Back down at the car the walkers i brought along can be heard descending as we are already in the sunday best and ready to rock on down the road to my nighttime activity a 25 year wedding anniversary..
Guys loaded and off after the goodbyes to everyone
Across the ferry and wing our way home to Barrhead the road is surprisingly quick moving and soon i am tucked into my Scallops and ready for my party
A huge huge thank you to Anne and Bill for allowing me to join them on this day ... i will never forget it

A THANKS TO MOLLY FOR WALKING WITH ME OVER THE LAST FEW MONTHS ON CORBETT DAYS AND MUNROS FOR ANNES UPCOMING 4TH COMPLEATION

and to the friends and companions of Anne who made the day interesting and memorable