I had planned to go up Glen Shiel this weekend past, but was tempted back to Ballachuilish by my mate who stays there. I want to bore you with the details of the drive over there on Friday night - it is a novelty being on the road - but I will refrain!
So I set off fairly early Saturday morning, for the short drive up to Mamore lodge. I got there and the gate was padlocked.. bummer
I parked up, and faffed with the gear. It looked like it was going to be a scorcher! And the walk up the road with the heavy pack was sweaty, but short. At the lodge I hid my camping gear in the bracken and headed right, up the track, down a wee path that crossed Allt Coire Na Ba, and back onto the track for a short distance before I saw the marker cairn for the path I wanted up to Sgor Eilde Beag. There were terrific views over into Glen Coe, down Loch Leven and Loch Eilde Mor & Beag.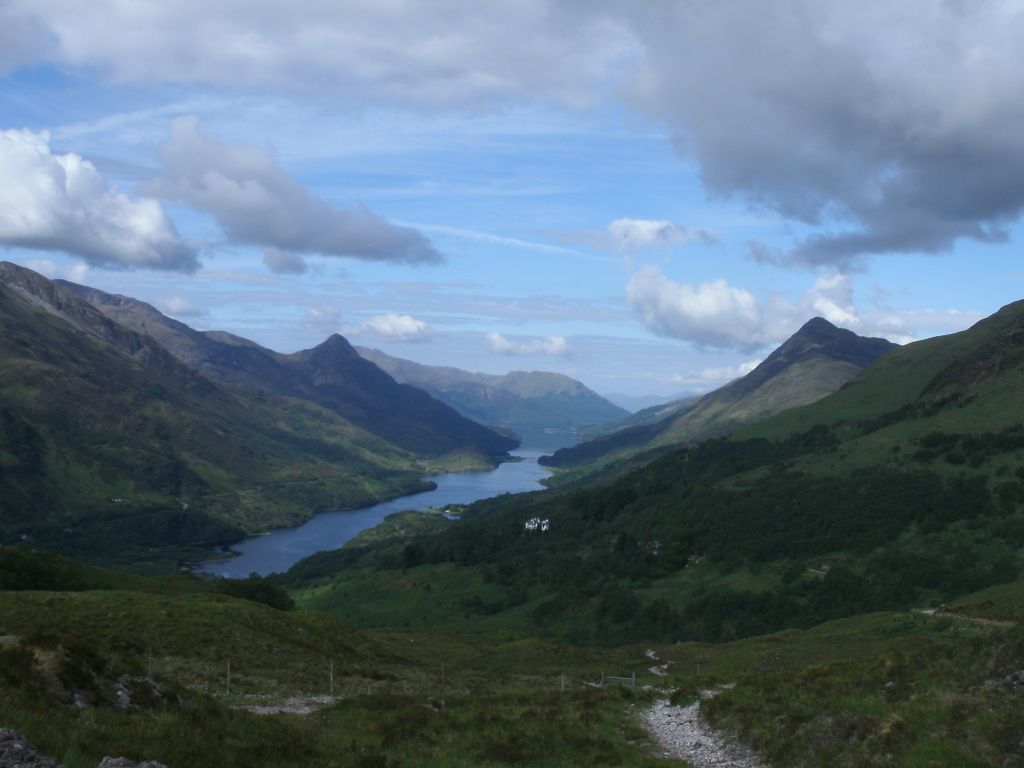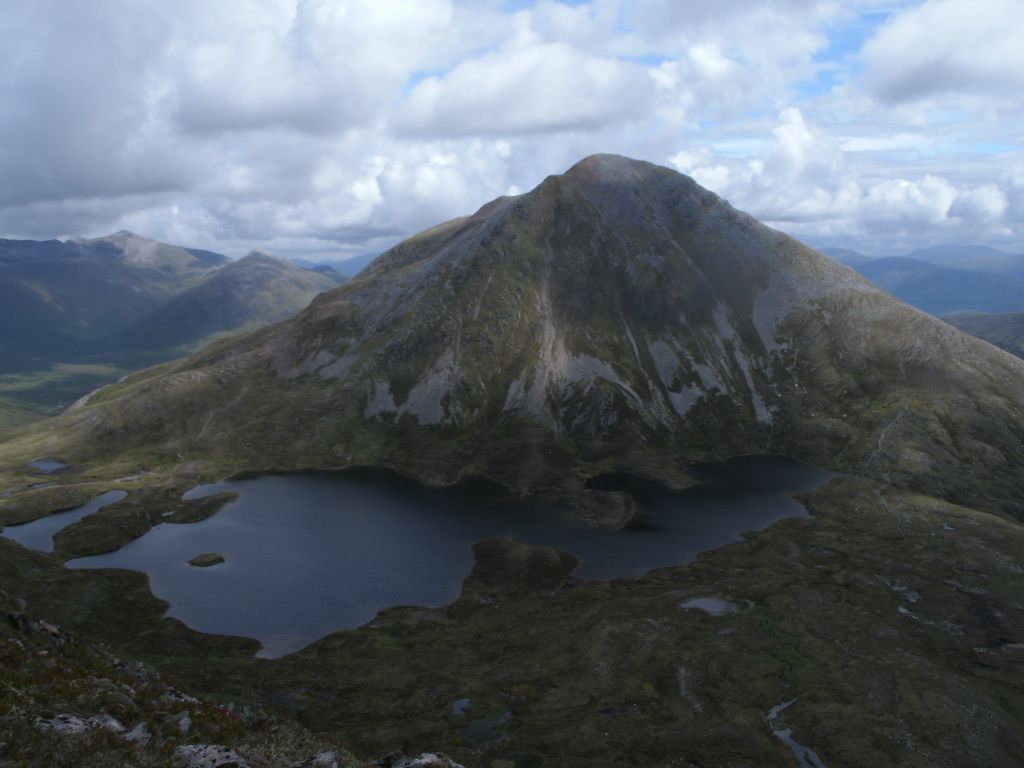 The path was excellent. No bog, not steep, not rocky and I made the ridge with seemingly very little effort. There were a couple of tops to meander over, before the ascent up to Binnein Mor, which was a fine top, but with no cairn.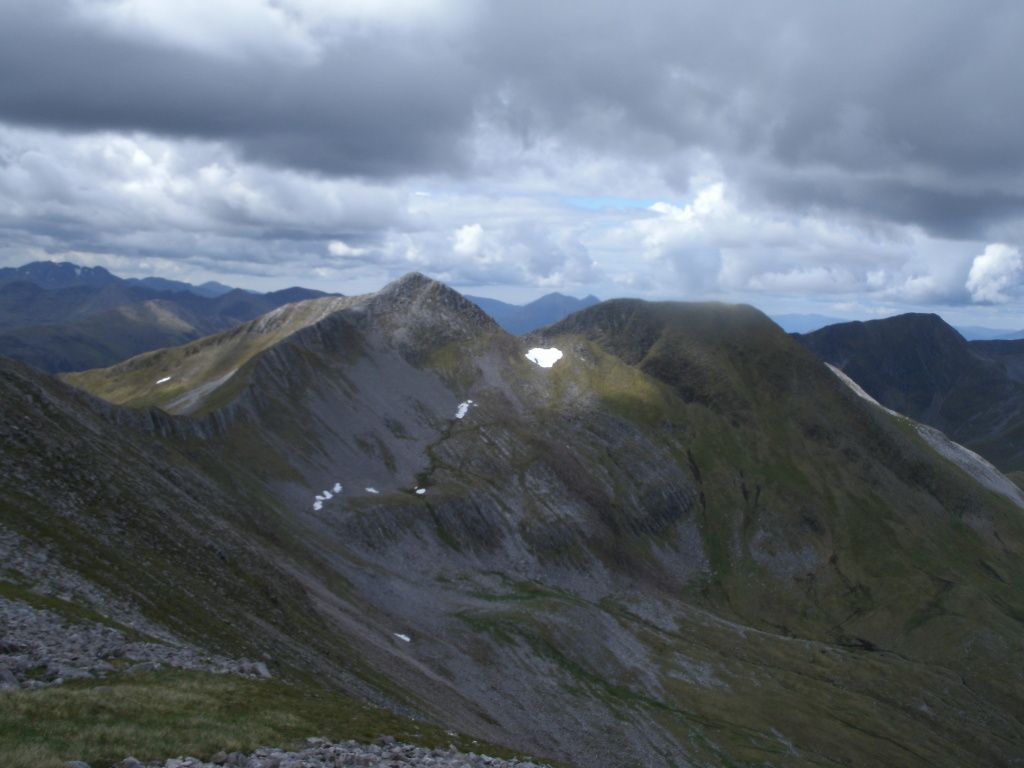 It was good to bag it after a failed attempt in the snow at the beginning of April, when I attempted it from the other side, and got caught in an avalanche. I went right along the top ridge to take a look at the spot it happened, and saw where I had gone wrong and lost the path.. The joys of seeing stuff with hindsight!
I retraced my steps for a time up round the corrie and up toward Na Gruagaichean, an easy walk along a spectacular ridge. The sun had lessened in intensity, with a few clouds making an appearance, so the ascending became infinately easier. The summit was pretty rocky near the top, and as I negotiated the quartz boulderfield, at about 3000ft, a cloud of midges descended upon me. As it turns out, it is not easy to concentrate on where you are putting your feet in a boulderfield while slapping/scratching yourself frantically..
Needless to say, I didn't bide long at the summit, and headed along a steep path down, then up over the second summit, and down to the bealach below. There was a side path heading toward An Garbhanach, which I took, but it quickly disappeared and I made my own path up to the bealach between An Garbhanach and Stob Coire a Chairn. The way up An Garbhanach looked impossible, but there was a path, so I got going and found myself up on the rocky ridge without difficulty.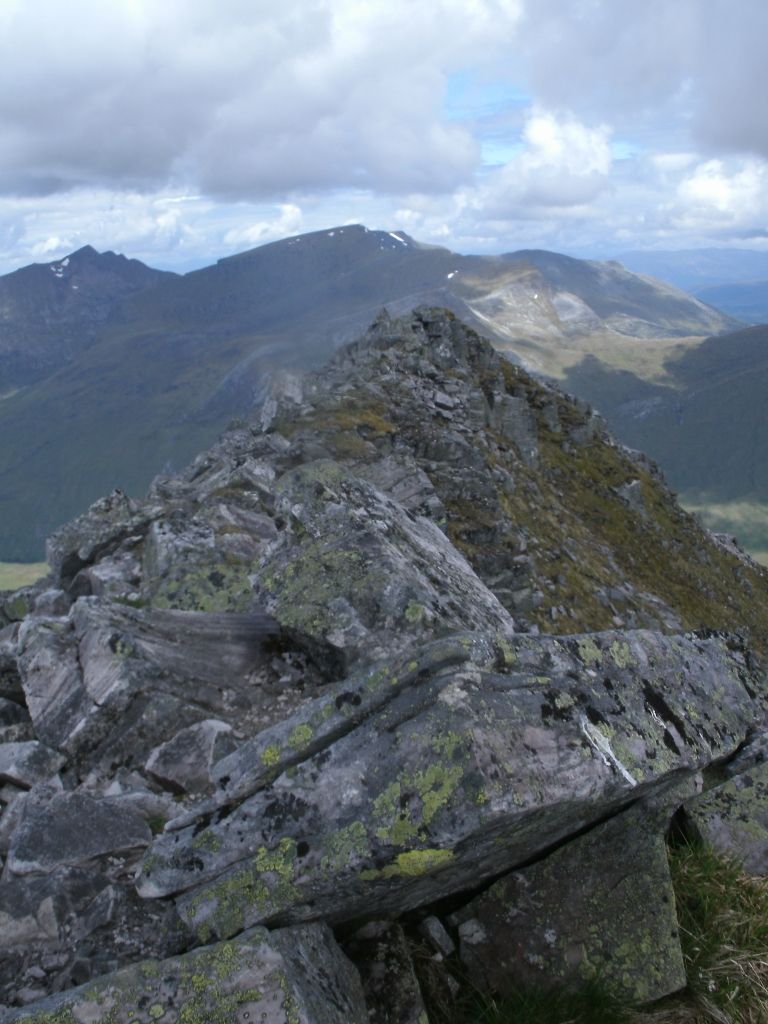 What a fun wee ridge that was.. scrambly bits a go-go
The top was further off than I expected, but like I said I was having fun so I didn't much care, and I would have to go back the same way.. Just awesome
I met a group of Germans at the top, all with exceptionaly heavy packs, so I let them go ahead, while I had a wee rest, food and fag, and enjoyed the view. I wouldnt like to do the scrambling as heavily laden. I caught them up on the ascent up to Stob Coire a Chairn, which was a good path, not nearly as steep as it looked from afar.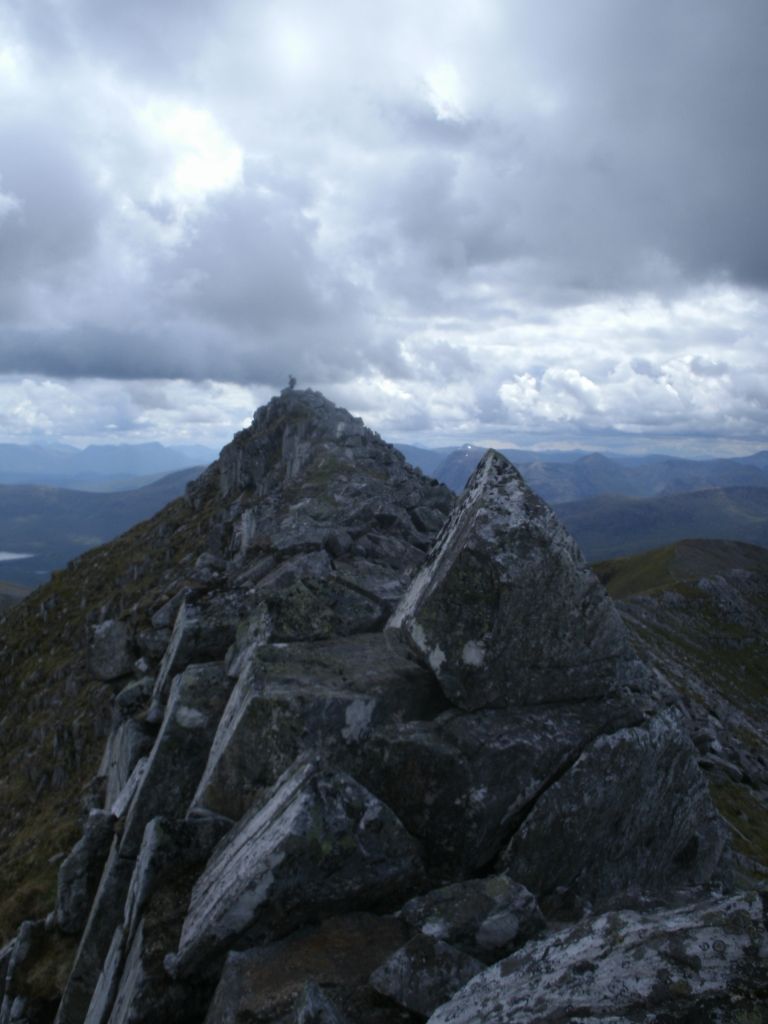 Thats when the clag came down and the rain started. I hate the rain in summer - too hot for waterproofs, too wet for no waterproofs
It was a long heavy shower and I was well up the path on the very steep and rocky side of Am Bodach before there was any respite.
I met a canadian couple who had come up from glen nevis in shorts and shellsuit tops that looked rather bedraggled, although they were clearly having a great time and spoke enthusiastically about Devils Ridge. Didn't have a clue where they were going though, so I showed them on the map a good route for them to take back. I hope they made it ok.... I made the top of Am Bodach to find all views veiled in a fine clag, so I didn't hang about and carried on the path down the ridge. The path here wasnt great and by this time my feet were aching, so I stopped for a rest, which turned into a snooze.. I dont know how long I was sleeping for, but when I awoke, I couldnt see anybody else along the ridge, so all the other daywalkers looked to of gone home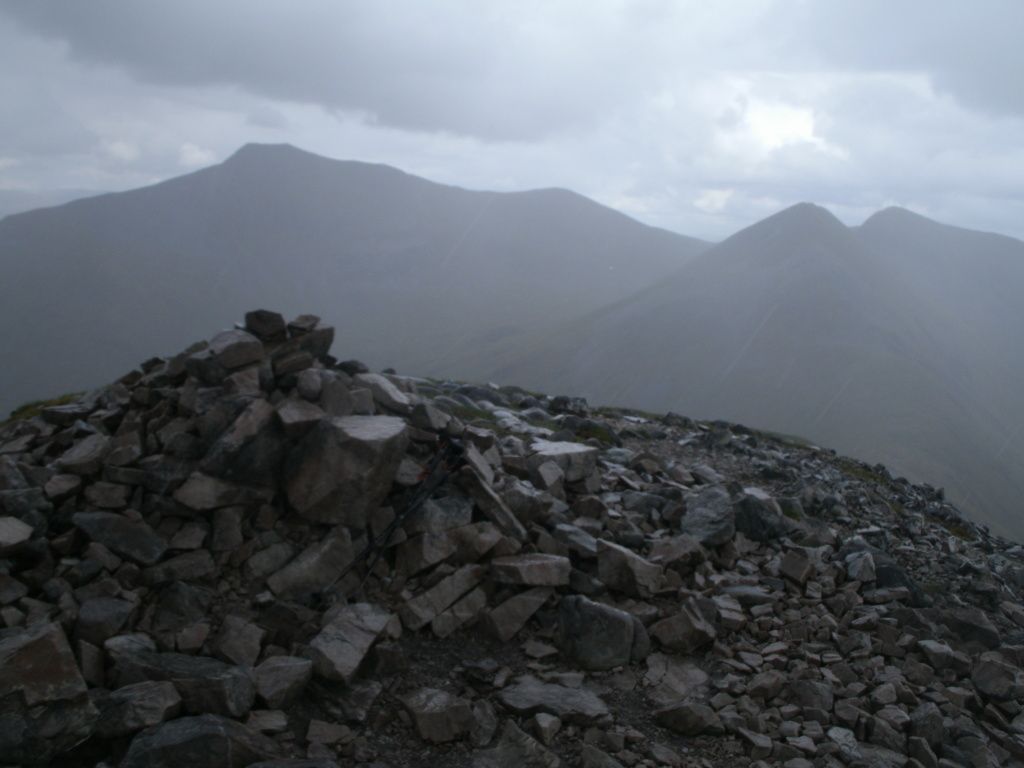 I decided that was enough for the day.. Only 3 left that would make a nice trip for tomorrow, and there was a convenient path on the map back down to Mamore lodge. Halfway down I found a lovely pool with a waterfall, and feeling rather unclean from all the sweating in the heat earlier, I stripped off for a splash about.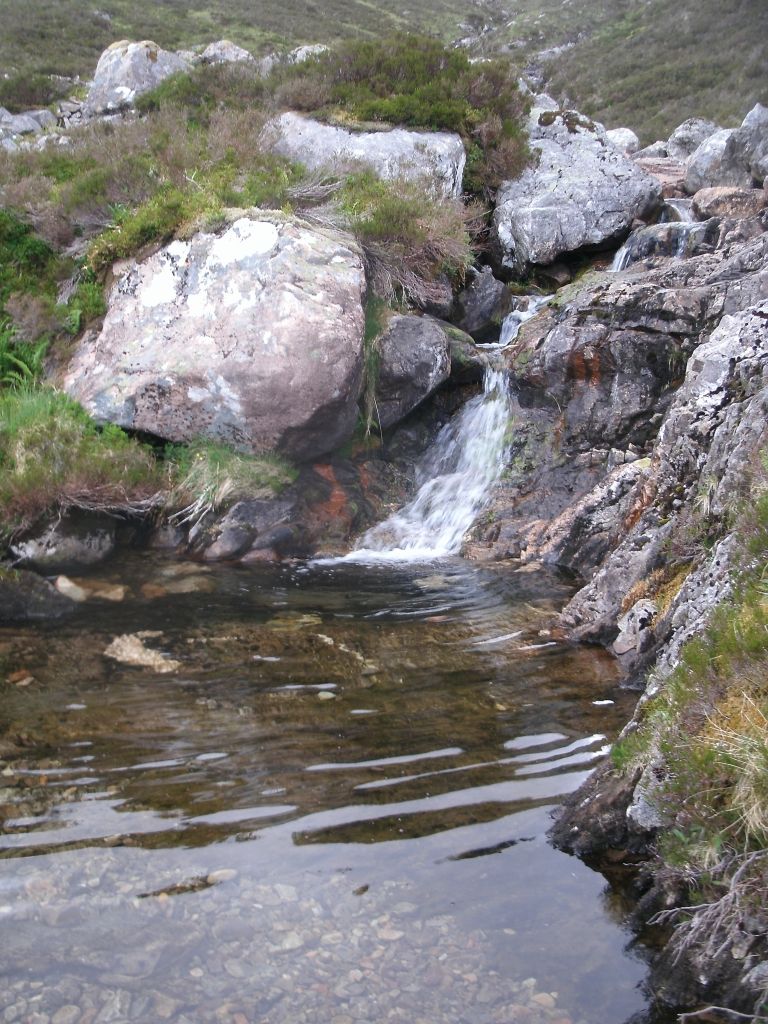 The water was a fine temperature, and it was well after 8 before I was back on my way. The path went down to the track, which is part of the WHW, but still no sign of any other walkers. That last stretch along there back to the lodge was agony on the feet - I think I need new orthotics
I arrived back at the camping gear, to find that it had been found, and rifled through - my gear had all been tipped out! I repacked it but found a few things missing - My penknife I had found up Ben Alder, my sleeping mat and my stove had all vanished - the Ba$t@%ds! I dont know how they found it - My stuff was well out of the way hidden in bracken - and who nicks stuff out on the hill? I know this time I was close to civilisation, but if I had stuff nicked in winter in a remote place I'd probably die, so theivery just really isn't cool.. I'm still a little bit angry about it. The one consolation was that they had left the expensive stuff like my tent and my sleeping bag, and I had taken my rubbish gas stove, so my favourite was still at home. Still a miffed BC though.
Anyway, camping out without a cup of tea, and eating dry noodles was not appealing, so I phoned up my mate, trudged down the hill back to the car and went back to his. I felt bad because it was quite late before I got back but that was how it was. A crappy end to an otherwise brilliant day