I couldn't get Thursday off work to go somewhere for the solstace, so it was the 21st for the midsummer walk this year.. We were just going to go up Lochnagar, but we have been up there loads of times, so the location was changed to Ben Lomond earlier in the week. The weather reports looked foul.. so shelter and stoves were talked about and packed, and straight from work on Thursday night, we set off.. Well we tried to set off, but Aberdeen was gridlocked due to a lorry shedding its load, so we were late away, and then the rain was so heavy, the journey was slowed. At least Matt had brought a road atlas so we knew where we were going
So it was almost 10PM before we parked up at Rowardennan and got on our way. The rain was off, and it was really quite nice when we left. I was stupid enough to think that maybe we had driven through the front and it wouldnt be too bad.
We took the tourist path, as I knew it would be hard to lose, even in the dark. The first part of the walk was through beautiful woodland and as the light faded, we saw bats fluttering above our heads, and you had to be careful not to step on the amphibians that jumped onto the path, seemingly with a deathwish
It was good to see some of the nightime animals for a change.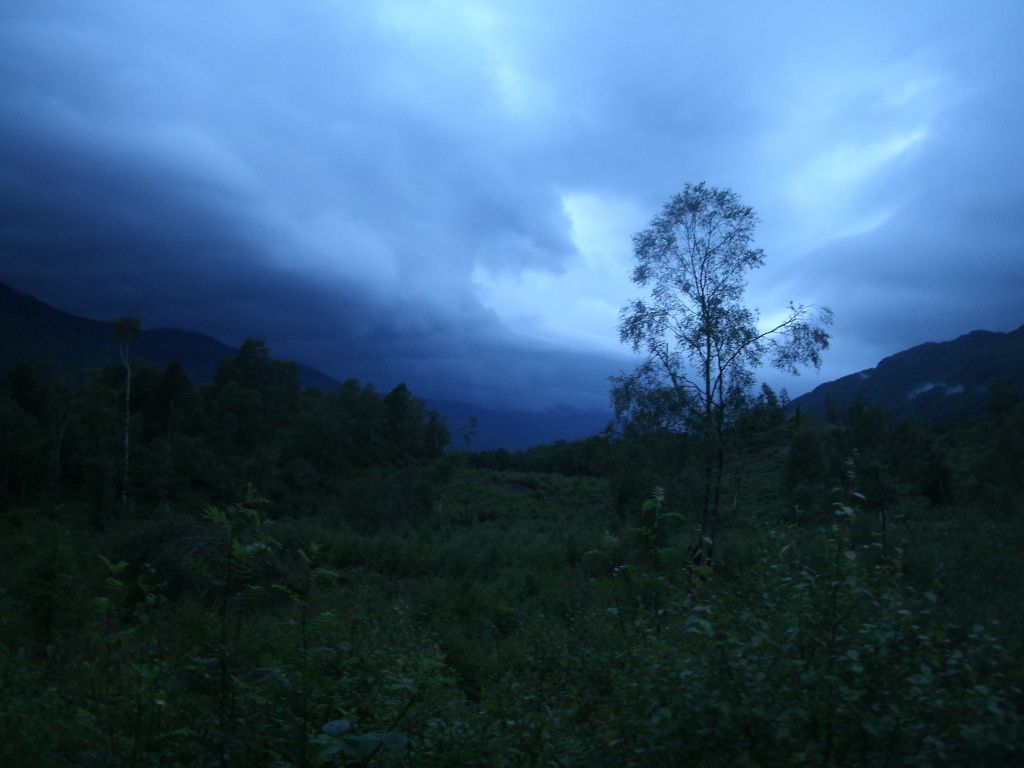 Before long, the woods were behind us and we were approaching the clag. It had begun raining again, and the waterproofs were donned. the path was an easy camber, and I think this was physically the easiest munro I have ever climbed, but Matt is a little bit slower, so I was trying to go slowly. In the dark, it was easy to make out the path in front of you, although it took a little more concentration than normal, but it was easy to lose each other in the mists and darkness. As we got higher, the wind got up and I was thrown about a bit. It didn't help with the rain either, which showed no signs of stopping, just got heavier and heavier! I was forced into my winter gear as the temperature dropped, and the slower than usual pace got to me. We arrived at the summit about Midnight, it was pelting down and there was a huge pool of water round the trig to negotiate to do the ceremonial baggers bit. We didnt hang around long and were soon back on our way. I was apprehensive about the next wee bit down to ptarmagan ridge, as I had heard it is a bit steep and rocky, but in the mist and darkness, I could only see the path a few feet in front, so all I could do was concentrate on where i was going to place the next foot, and in no time at all that section was over with no dramas, or tricky stuff.
We reached a grassy shoulder not far from the summit with ample room for a half dozen tents, and rather wet and cold, we decided we would pitch up to wait for sunrise. As we unfolded our tents the heavens opened, and we were subjected to the kind of rain you wouldnt of thought possible, if you hadnt experienced it for yourself
Well it was motivation to get the tent up quick, but anything out in that kind of weather is wringing wet in seconds. Within 5 minutes I was sitting in the tent, looking a a pile of dripping gear in the porch. The noise of the rain getting battered off the tent by the wind was deafening, and for ages I was entranced watching the sheets of water coming off the edges of the tent. The ground got waterlogged quickly and I developed a sizeable puddle in the porch. I eventually sorted myself out with a brew and some noodles, then it was almost time for sunrise. There was no chance of actually seeing it through the clag however, there was just a gradual increase in light
We slept for a few hours after that, and started packing up about midday. It was the wettest, coldest camp i've ever had, despite taking all my usual precautions to keep my stuff dry.
It had been raining all morning, but the weather was improving, as we set off down ptarmagan ridge back to the car. It is quite a bonny place with a lovely ambling path, and some lovely views out over the loch.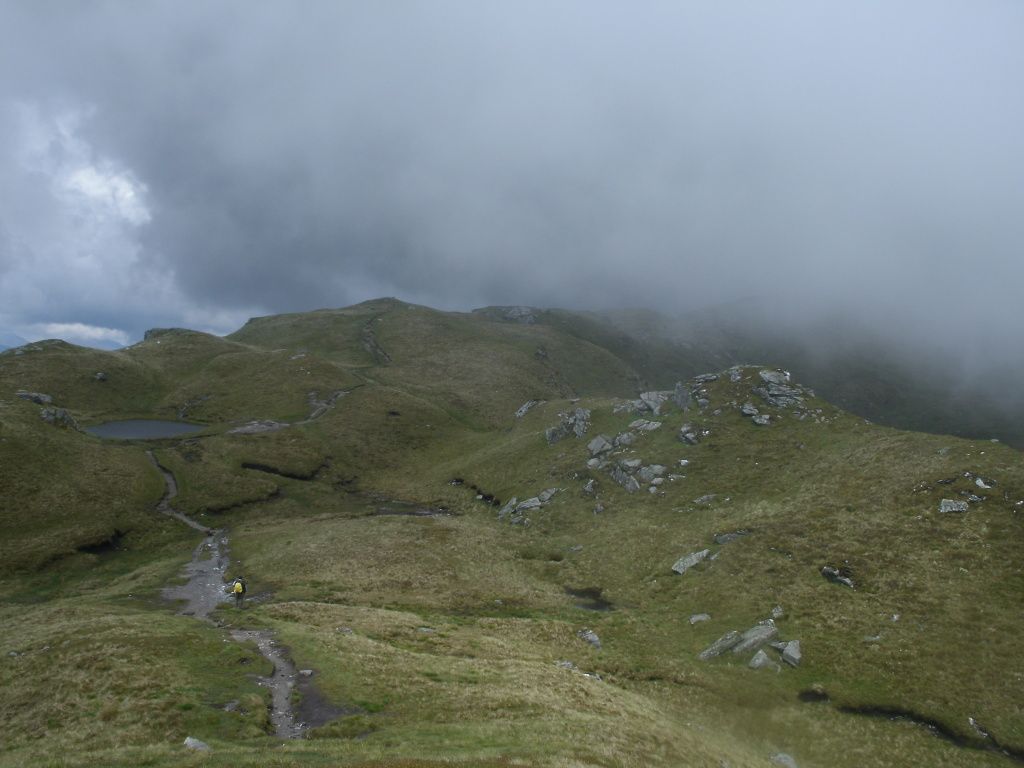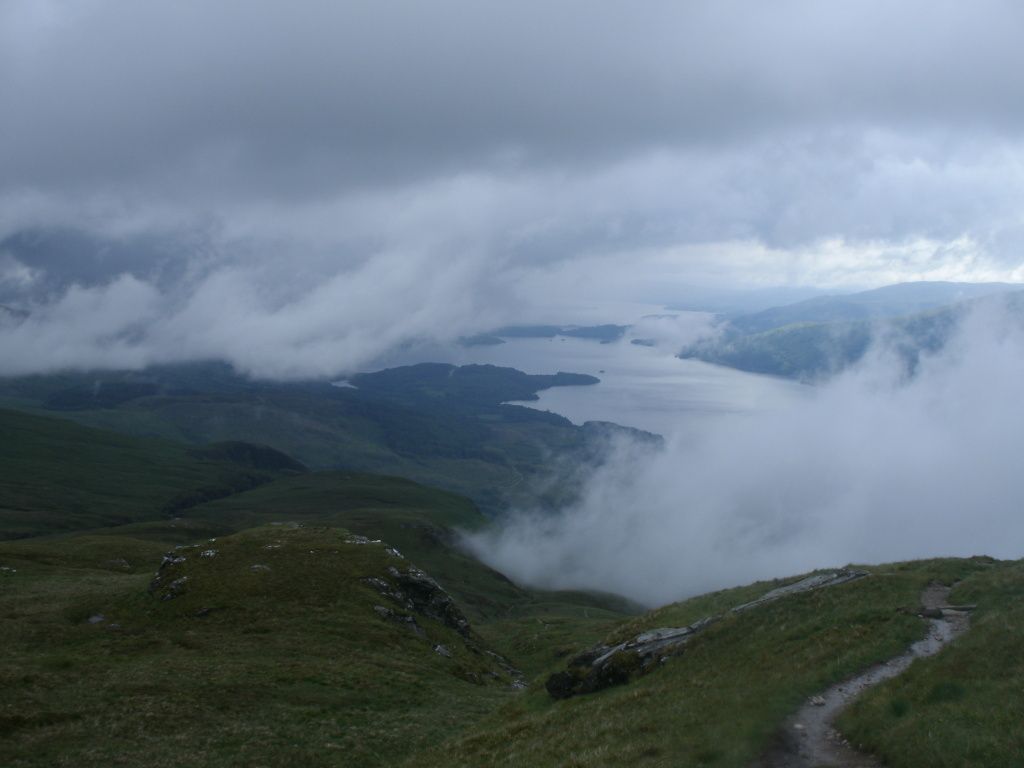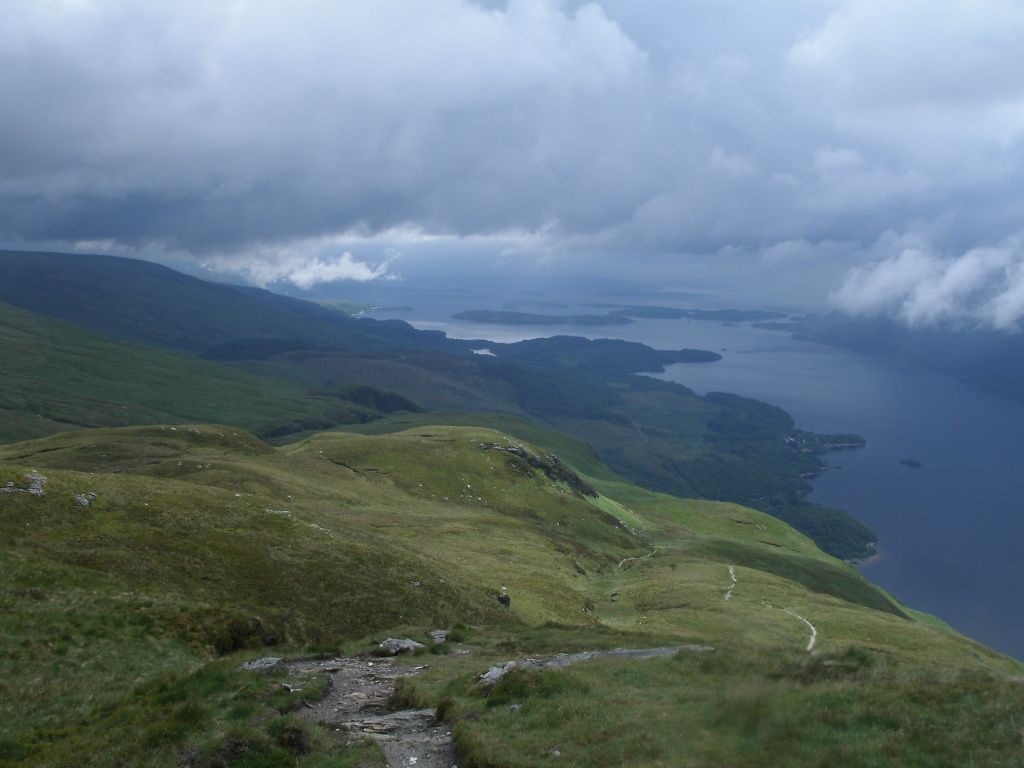 I kept on looking over expecting to see some Arrochar alps, but they were firmly capped in mist all the time. We were in the sunshine however, and before long we were stripping off gear that had dried! The path eventually came off to the right of the ridge, and here was a fairly gradual descent through a sea of bracken with loads of meadow pippits about. I had sore feet by the time we got down tothe road, but it was just a short wee hobble back to the car, where a brood of ducklings helped me eat my lunch afore we set off home.
It was a shame/bad luck we didnt find the campspot 10 mintutes earlier so we could of missed that crazy rain and it would of been nice for it to be clear for sunrise too.- What happend to summer this year?
I really enjoyed this walk though, seeing all the nightime animals, and hearing all the noises was great, and the novelty of walking mountain paths in the dark was quite fun..