If you read my last TR about a Sunday evening ascent of the Graham Mor Bheinn near Comrie, you will know that that was not one of my more enjoyable hill experiences. For whatever reason, I found myself looking back on that one with a strange feeling of disaffection and apathy. Since then, we had spent ten days in England, most of it in Cornwall. Not surprisingly, the weather had been predominantly p*** and there had certainly been nothing in the way of hill action.
I had researched the Brown Willy/Rough Tor route but to be honest, I was pretty unprepared for that or any other routes in the South West. The weather made it a rather unappealing prospect and I knew that heading off on my own for a few hours and leaving Debbie and Ailsa to their own devices was not really an option. I also knew that in the conditions, it would not be a good idea for them to tag along as well, so I was a little surprised one evening when Debbie asked about the Brown Willy walk. However, something - either my description of it, the fact that I admitted to not having the OS map and therefore being reliant solely on the sparse description given in the Rough Guide to Devon and Cornwall, or my own apparent lack of enthusiasm - put her off and I could just tell that it would be totally counter-productive and more trouble than it was worth.
So we headed home and I felt only the slightest pang as we sped along the A30 past High Willhays, rising to our right out of the mist and drizzle near Okehampton.
Back home with my wife back at work and myself with the majority of my summer holidays still to come, I contemplated my hill walking options as the monsoon conditions raged outside. But my hill mojo appeared to have gone AWOL! To cut a long story short, various negotiations were held with my wife, the basics being that she thought I shouldn't be heading out as much as I was advocating, while I was arguing my case in public but in private still feeling really quite unmotivated and switched off.
We also had a French au pair "on loan" from a friend who was away on holiday for a week, and although on the face of it, this appeared to be a godsend as it would free me up from childcare and household duties to get out walking, I still didn't hear the hills calling clearly or if I did, I didn't think I could go away and leave an 18 year old stranger (very nice, competent and good with Ailsa as she was) in sole charge.
So I was kind of just bumping along the bottom, the rain still driving on and off against the windows when I suddenly thought "enough's enough!" and informed Debbie that I would be going away walking for the day on either Saturday or Sunday. She looked a little skeptical but I stuck to my guns. Then I had a real stroke of luck! We were out for a few drinks and a pizza on Friday night, making the most of the au pair being in residence, when Debbie suggested I make my trip an overnighter. I was already packed for a day trip but wasn't going to look a gift horse in the mouth, even if I still felt strangely unexcited about the prospect ahead.
Back home I set about repacking but later awoke in bed with my phone telling me it was 5.50am. I went downstairs to find the lights blazing in the utility room and in the garage, my pack half-packed but with a load of gear still lying around on the ground beside it. Ooops! Come to think of it, I felt a bit iffy - the consequence of starting off on the Deuchars IPA in one pub before moving on to white wine in the restaurant and then on to Stella Artois in the second pub. Or maybe that second pub just needs to clean it's pipes a bit better!
Anyway, despite some protestations from me that I didn't need to go at all (Debbie was feeling a little under the weather this morning too!), I was away at around 7.30 heading up the quiet A9. All through my pizza last night in Pizza Express I had battled with the big question - Arrochar or Spean Bridge area? Now, as I was all set to head out the door, I had to decide. I wrote on a piece of paper "Today - Sron a' Choire Ghairbh and Meall na Teanga with Ben Tee, tomorrow Binnein Shuas and Binnein Shios". So that was it - decision made!
I decided I needed to stop off in Dalwhinnie for a bacon roll and coffee to settle my stomach, recalling when Robin and I had stopped at the van there last summer on our way up to The Fara. I remember the guy saying then that he was going to move out of the van and into the building, and that he also had plans to open up a bunkhouse in part of the complex. So I was not at all surprised when I turned up to find excellent indoor facilities where I sat and enjoyed my roll and coffee and chatted to the owner for a while. It really is a great set up - ideal for a future WH meet! - with an open plan seating/social area complete with wood burning stove. A Specials Board advertised gammon steak, chips and salad for £4 and discounted food and drink in the restaurant/bar for bunkhouse residents. Apparently there are 5 doubles and 5 singles in the bunkhouse priced at £10 per night per head. Definitely one for the future! -
www.tollhousecateringofdalwhinnie.co.uk
I bought some orange juice and rocky road and settled up before continuing on my way feeling much better. I briefly contemplated doing Creag Meagaidh instead of the Loch Lochy grouping but with the weather looking decidedly unsettled still I continued with Plan A, stopping again at the Spar in Spean Bridge for some more recovery juice!
And so it was 10.45 before I was off and walking on the signposted Right of Way to Tomdoun. It's a lung busting initial ascent on very rough terrain from Kilfinnan up onto the flatter ground beyond the stile and across to Lochan Diota, where I had once had vague plans for a wild camp on a past trip that never materialised.
The start - farm at Kilfinnan looking towards Laggan Locks at the north eastern end of Loch Lochy
Meall nan Dearcag and view down Loch Lochy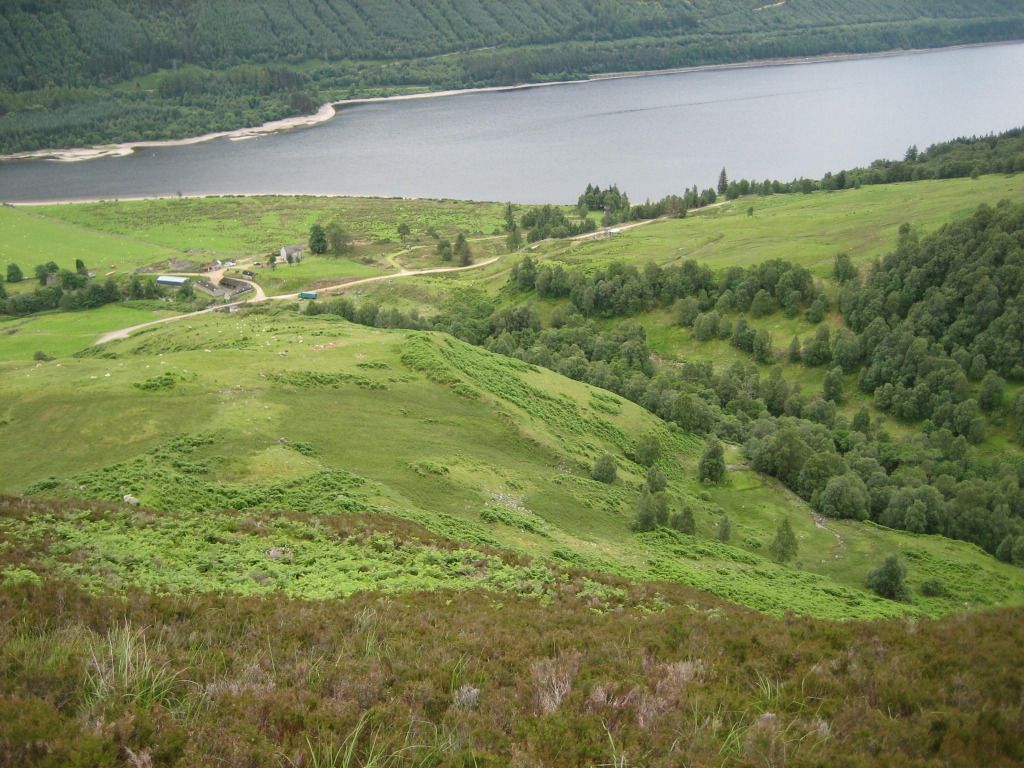 Looking back down to the start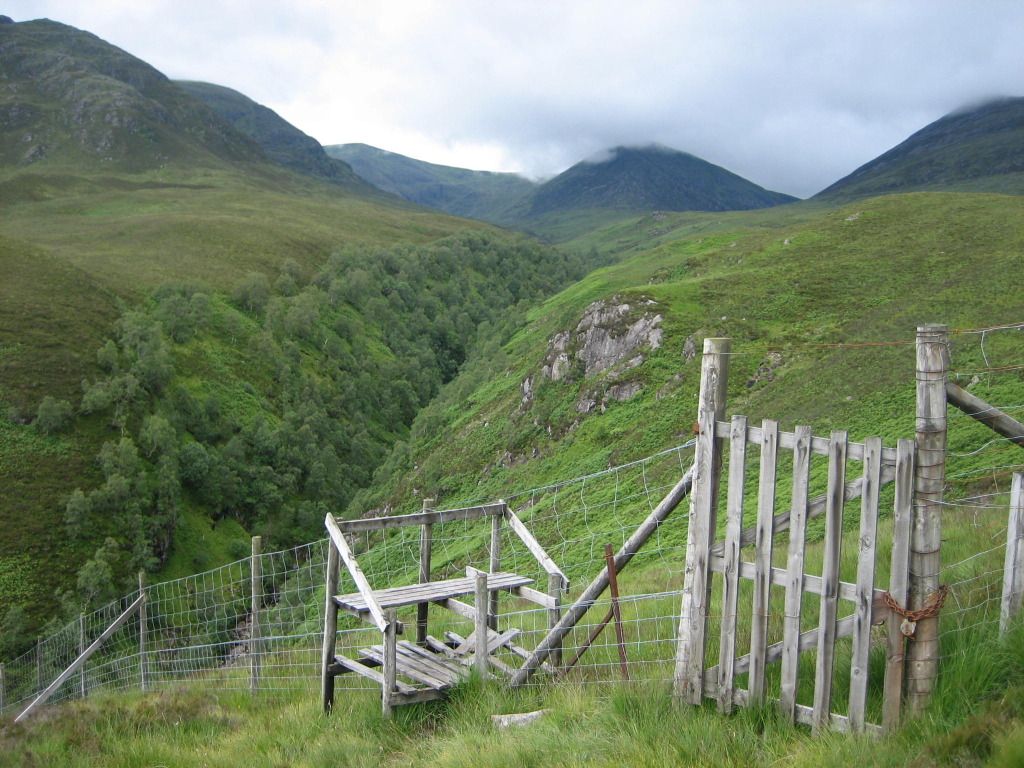 Reaching the stile with (L-R ahead) Meall nan Dearcag, Sean Mheall, Sron a' Choire Ghairbh, Meall a' Choire Ghlais and Ben Tee in view
As I approached the lochan the sun came out and I had my first real sighting of Mojo in some time!
I downed tools and sat for a good 15 minutes or so making the most of the moment until the massing flies chased both myself and Mojo away.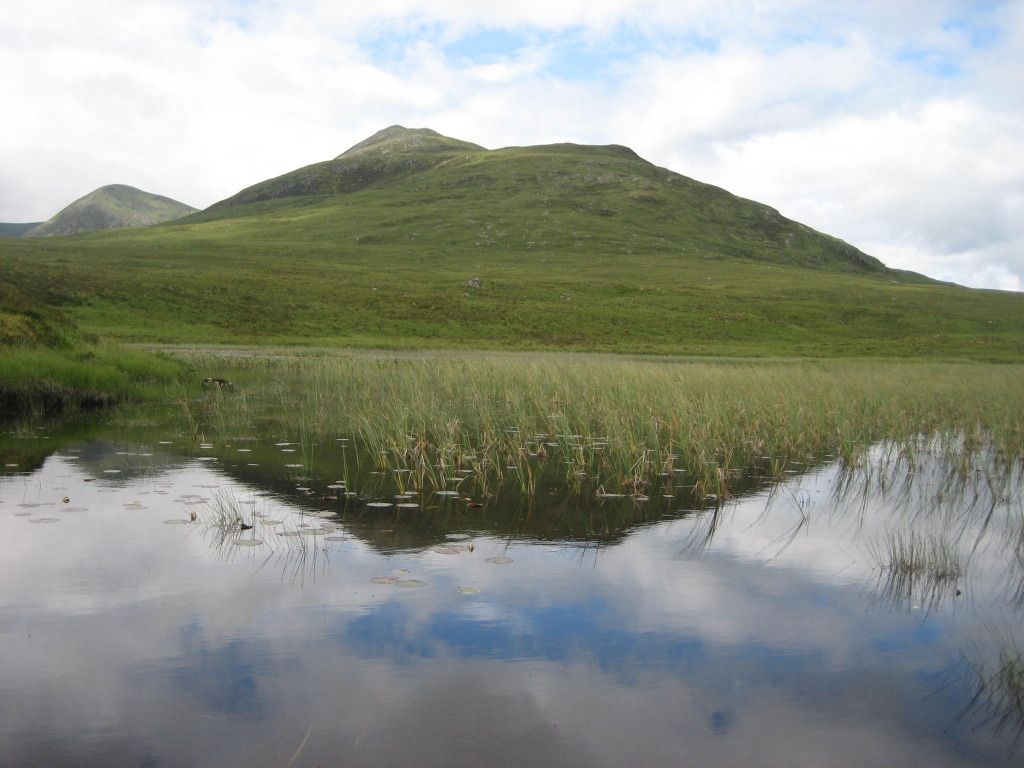 Ben Tee from Lochan Diota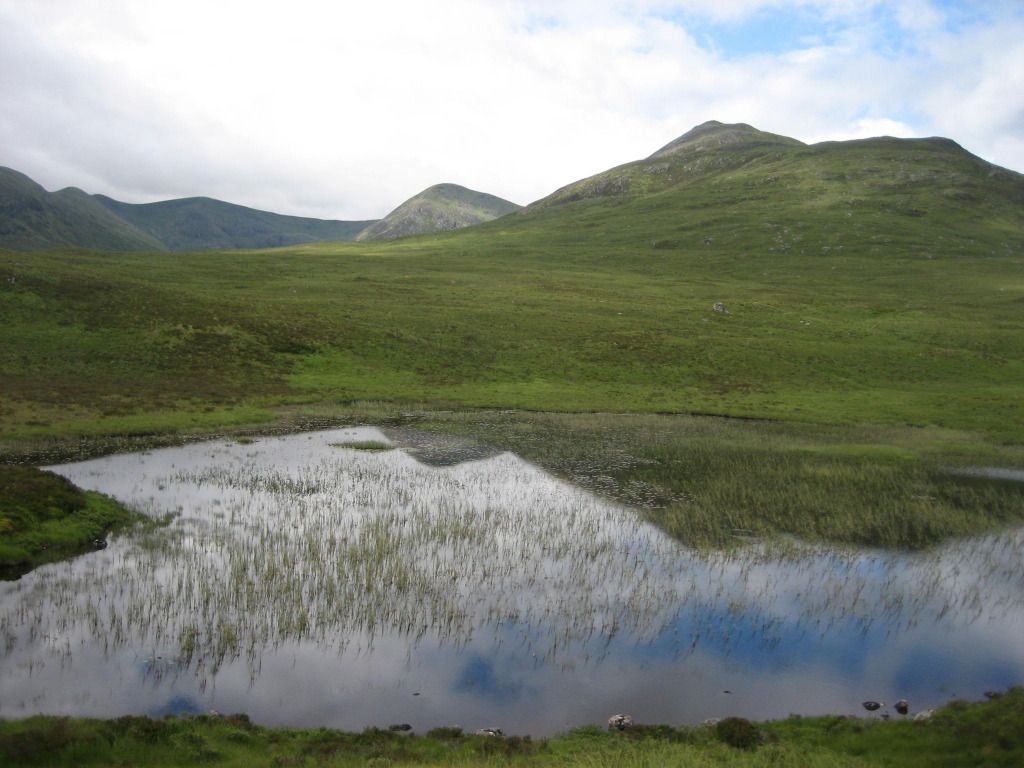 From Lochan Diota to Ben Tee and up into Coire Glas
North from Lochan Diota
Onwards and upwards then towards Ben Tee and my first Corbett in 6 months since I fought a howler at the summit of Monamenach back in January. It had shown glimpses of its character on the ascent above the Kilfinnan Burn but now it looked like a bit of a featureless lump. However, the developing views north along the Great Glen and south west into Coire Glas were making up for it and pretty soon the views around the north side began to open up towards the wonderlands of Kintail and Affric.
Down the north eastern slopes of Ben Tee and along the Great Glen with Loch Lundie, the eastern end of Loch Garry and Lochan na Beinne Brice also visible
Lochan Diota and the Great Glen from just below the summit
The summit was then duly reached and photos were taken and lunch eaten before I turned my thoughts to the inevitable descent and reascent onto Meall a' Choire Ghlais.
West from Ben Tee summit cairn with Knoydart hills visible in the distance
North west across Loch Garry towards Kintail with Loch Loyne just visible
Meall Fuar-mhonaidh standing out next to Loch Ness
Corbett #43 and time for lunch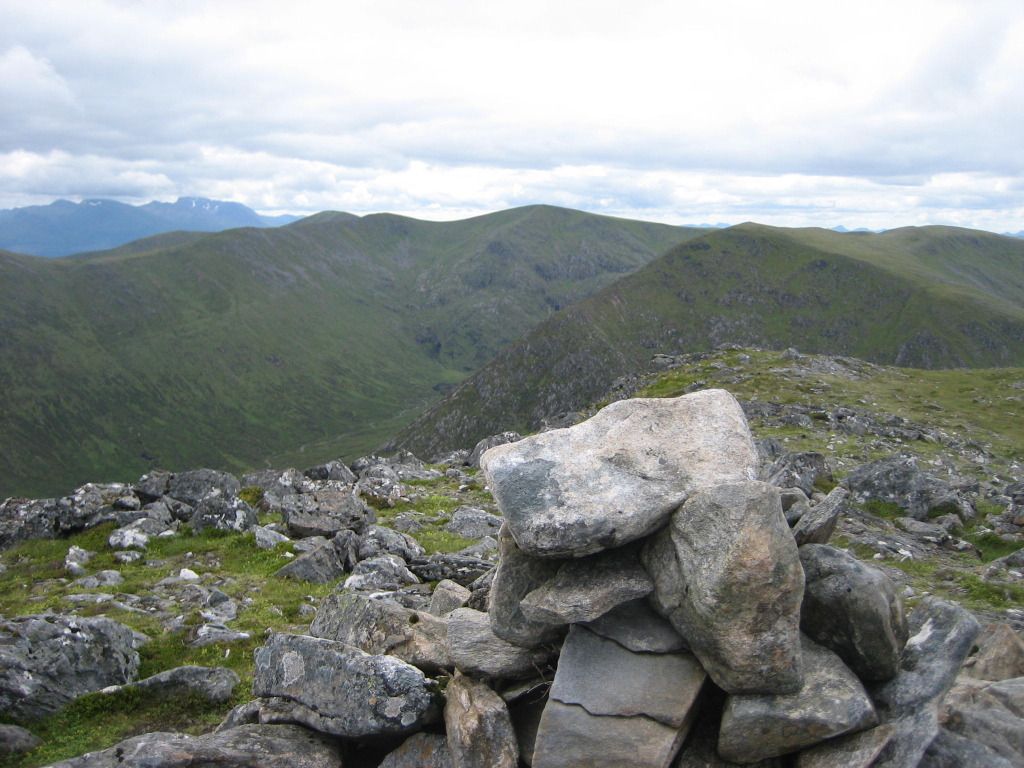 Across Coire Glas to the Ben
The descent was steep and pathless and made trickier still by an abundance of frogs, some of which were quite approachable and not at all camera shy!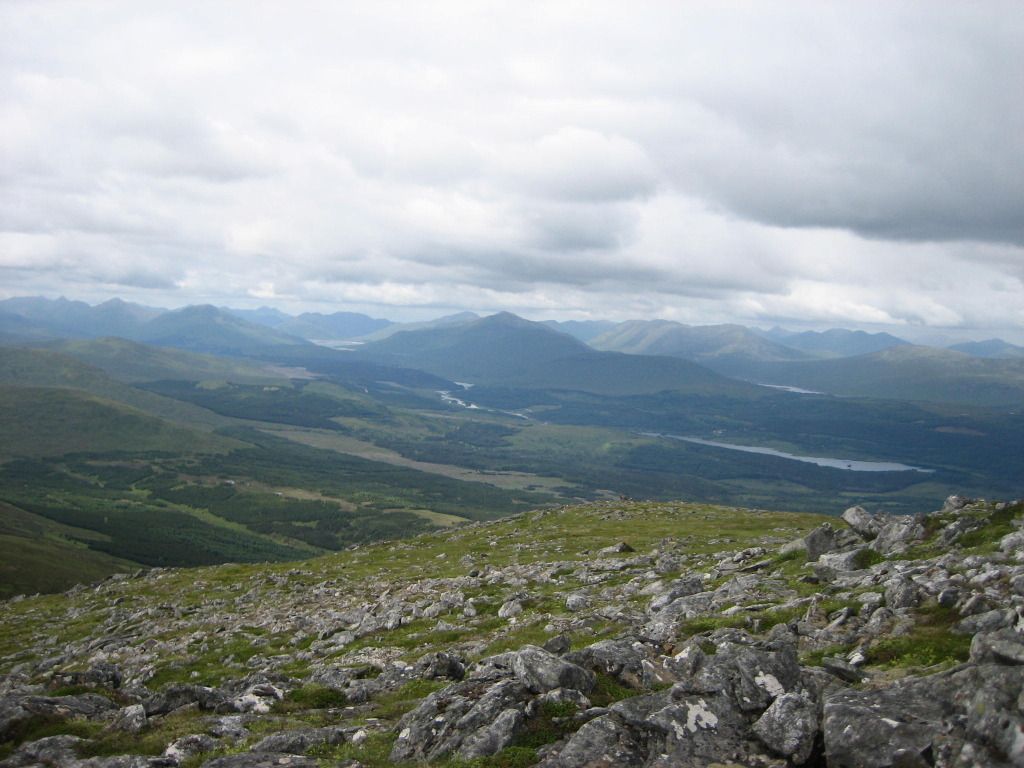 Towards Kintail and Affric on descent off Ben Tee
Close-up of Meall a' Choire Ghlais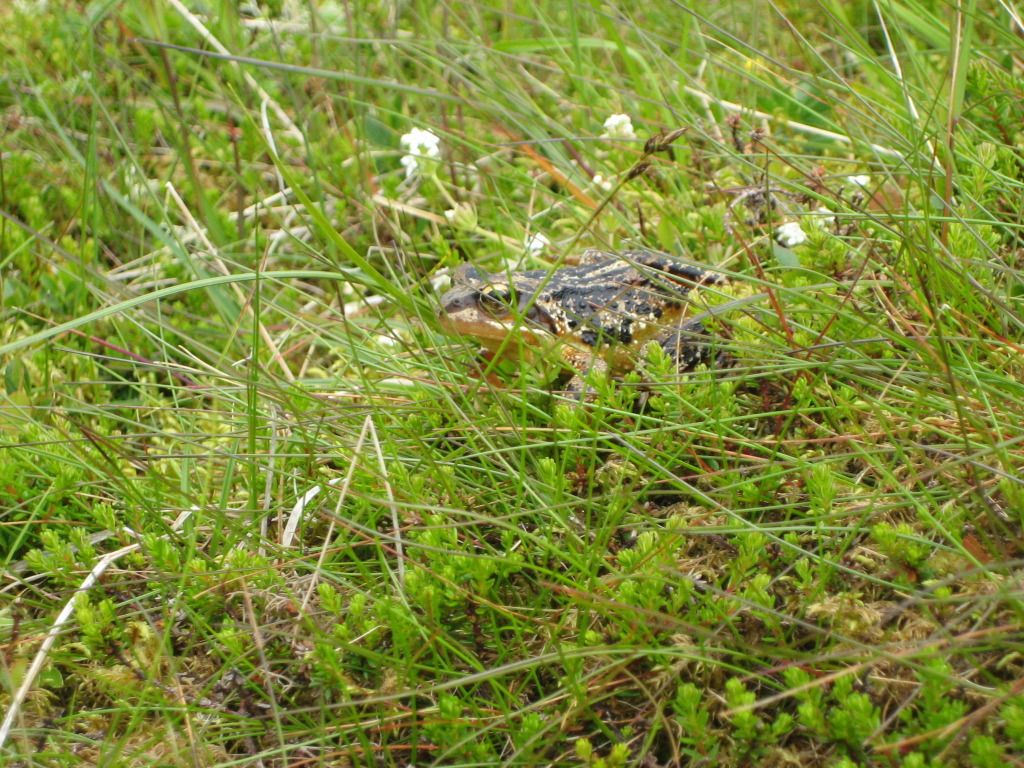 Amicable amphibian
Is that you Mojo?
Then it was up the long sweeping shoulder onto Meall a' Choire Ghlais (from where Ben Tee really does show her classy side!) for the wonderful high level grassy promenade along the broad curving ridge to the first Munro of the day.
Ben Tee (Coire Glas side)
Ben Tee (Loch Garry side)
Meall a' Choire Ghlas summit looking over Sron a' Choire Ghairbh to the just visible Meall na Teanga framed by Ben Nevis
Ben Tee from Meall a' Choire Ghlais
West along the grassy ridge
This part of the walk was only slightly marred by a series of pesky on-off showers, the kind that mess with your head and drive you to distraction wondering whether you should risk taking the waterproofs off now just to have to desperately try and get them back on in 5 minutes time or whether to continue steaming away under waterproofs while the sun comes out.
Back to Meall a' Choire Ghlais and Ben Tee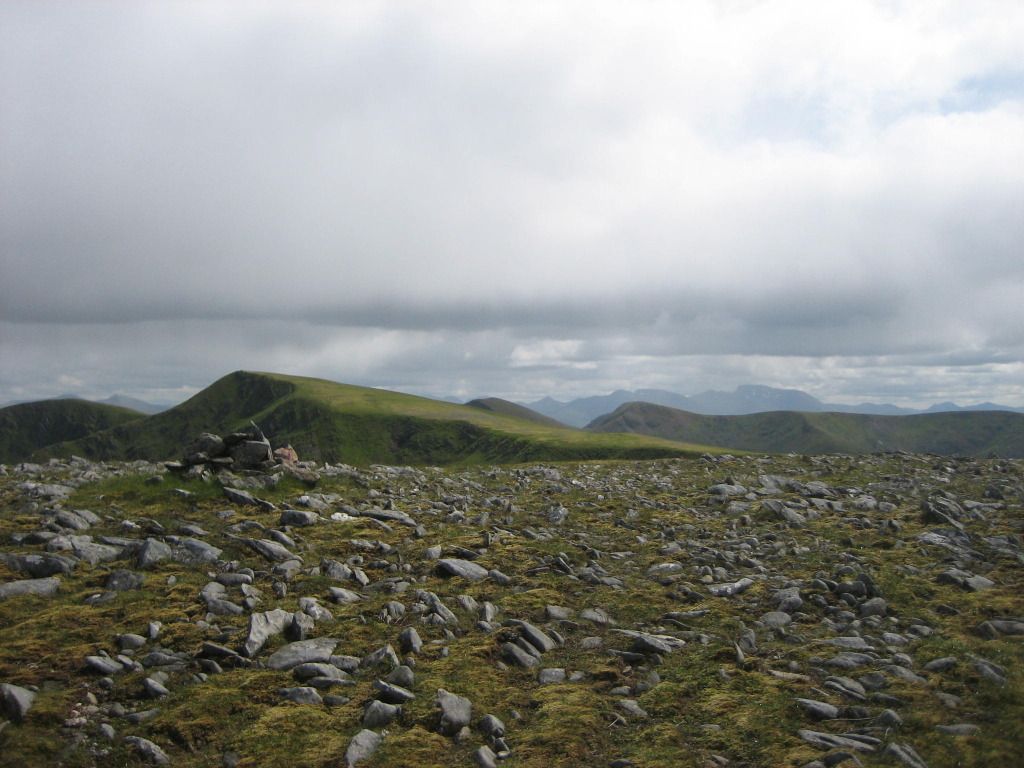 To Sron a' Choire Ghairbh and beyond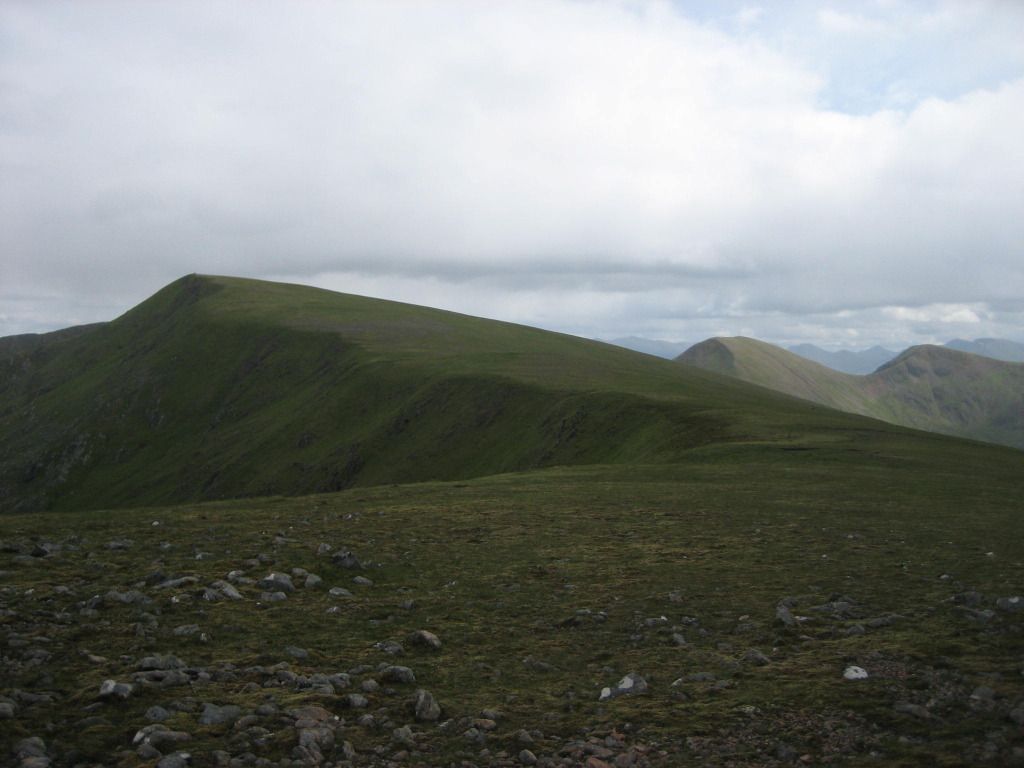 Close-up of the next target
A bit murky down Coire Glas
Arriving at the summit of Sron a' Choire Ghairbh coincided with another shower so I didn't hang about too long here before heading for another steep drop off (at least on a good path this time) towards Meall na Teanga.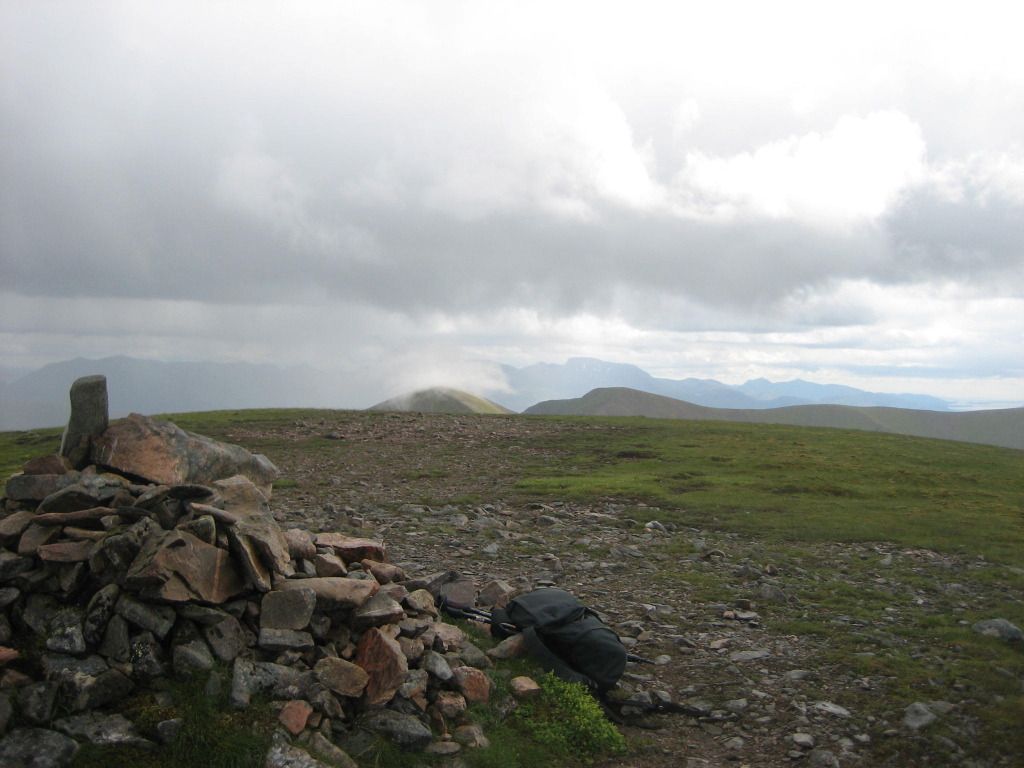 Meall na Teanga with bunnet on from SaCG
North west towards Wonderland
Munro #131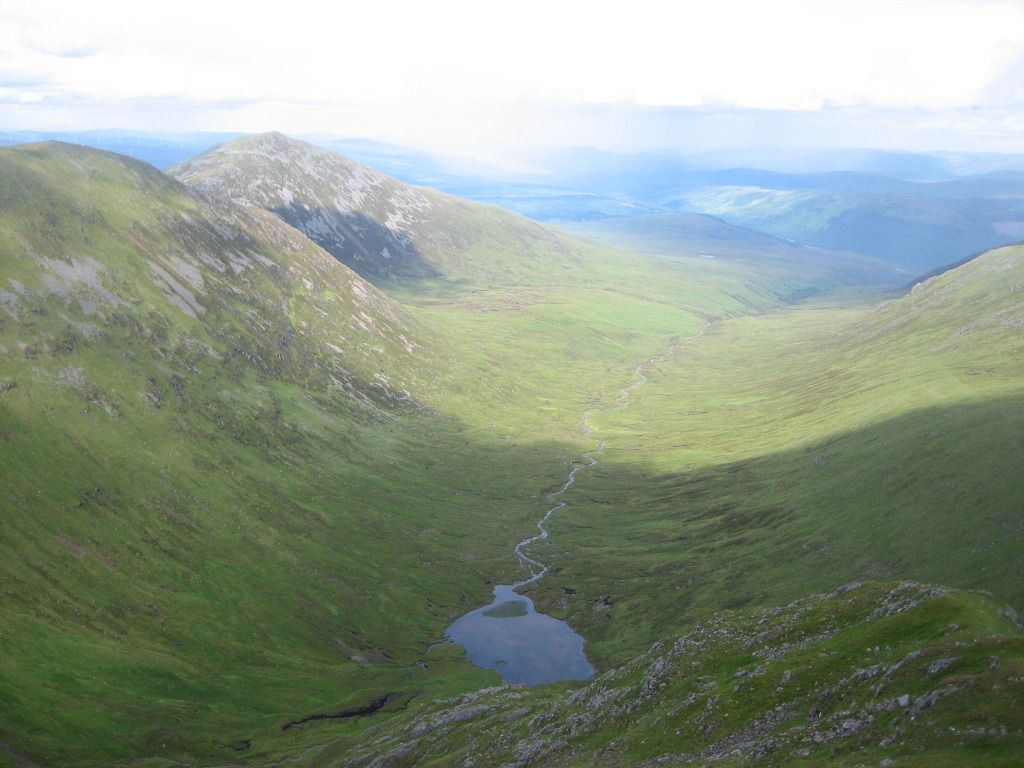 Coire Glas clearing nicely
Whence I came!
At this point, the sun came out like it really meant business and I now got the best part of the day for Meall na Teanga and the descent back down to the track along Loch Lochy.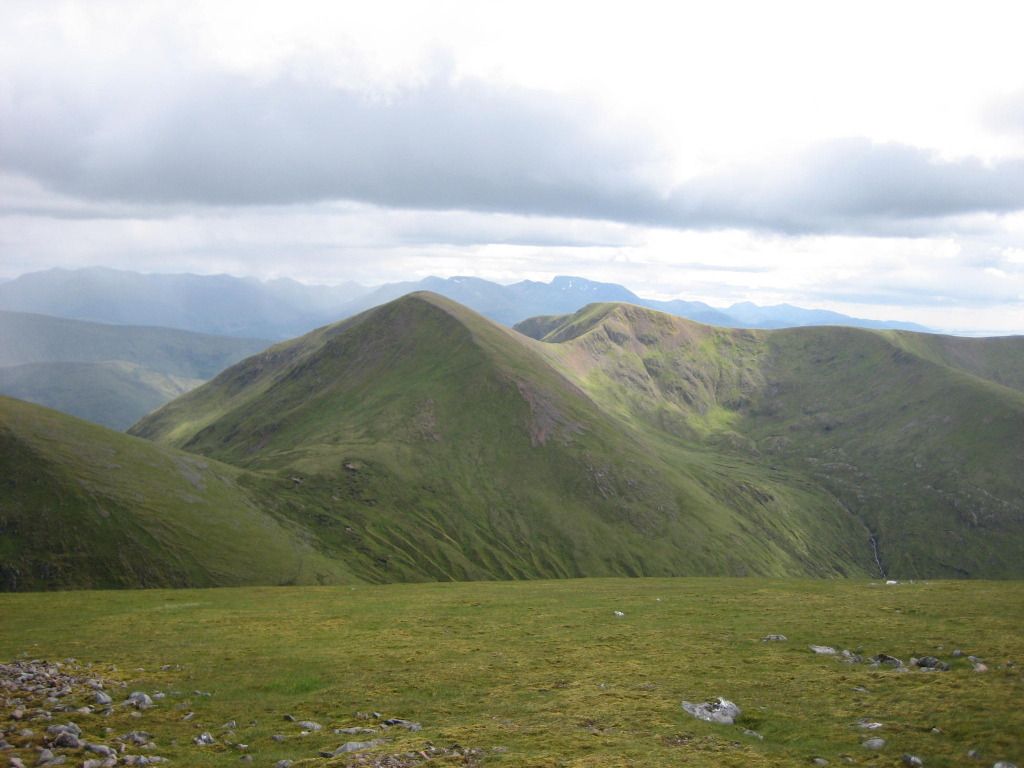 Meall na Teanga and Coire Odhar Beag with the Ben again dominating the skyline
Descending SaCG to the Cam Bealach path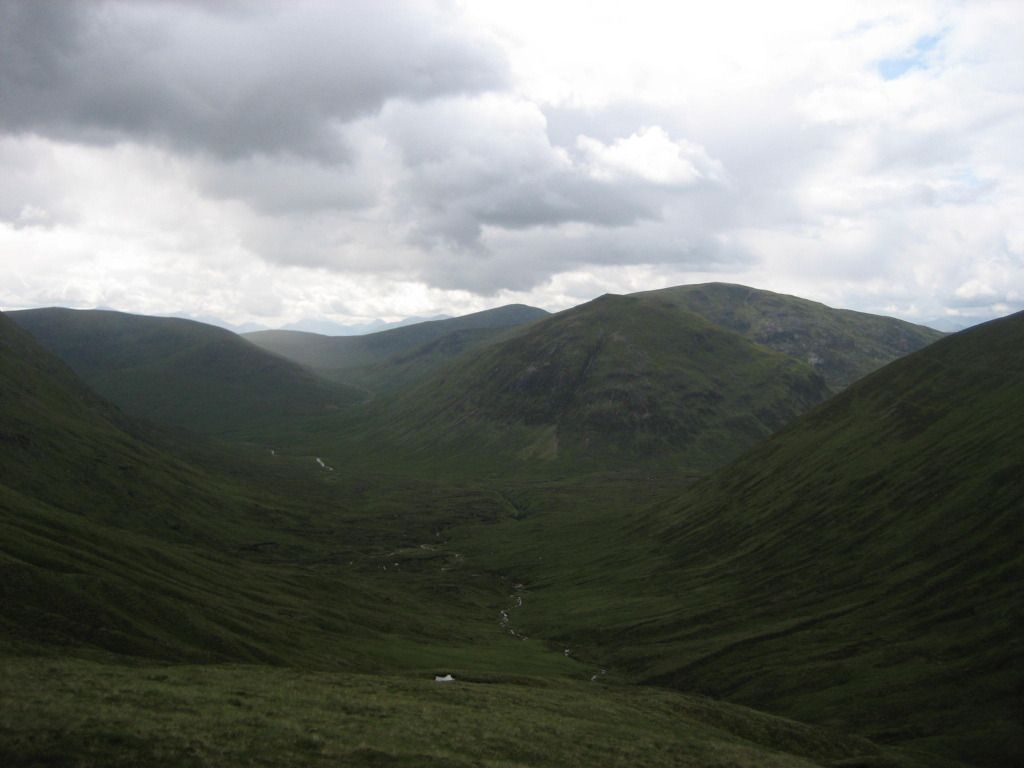 Meall an Tagraidh with the Loch Arkaig Corbetts beyond
Meall Dubh and Loch Lochy
Sron a' Choire Ghairbh
Meall na Teanga summit in sight
Meall na Teanga summit cairn
Meall Dubh and Sean Mheall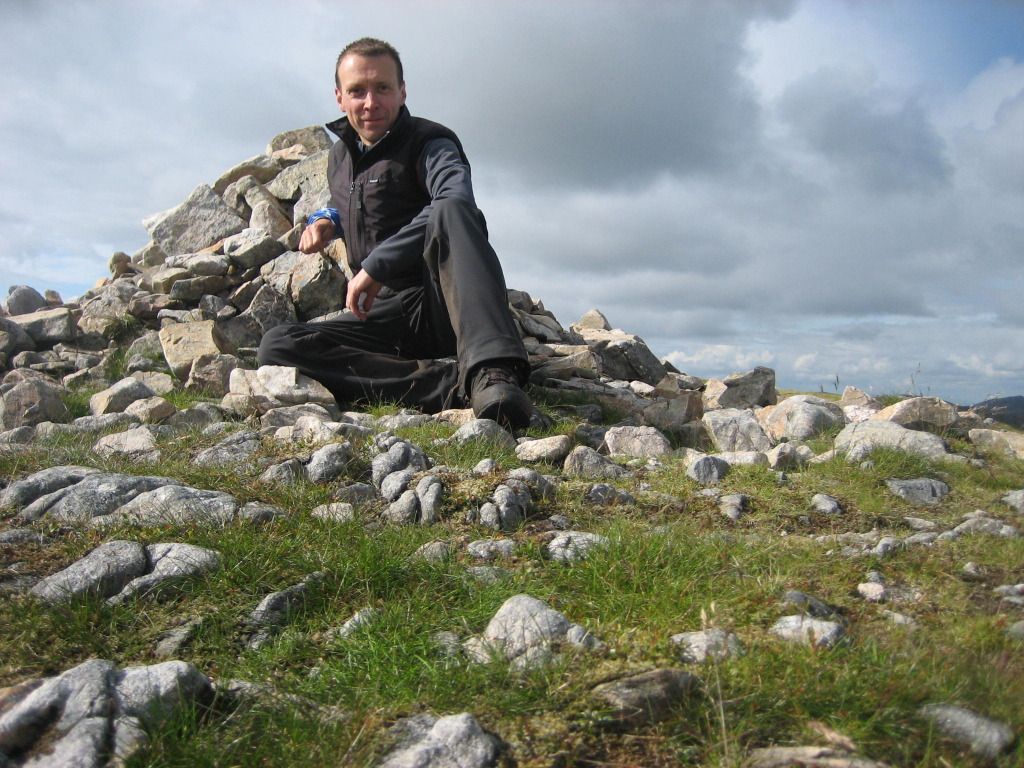 Munro #132
Zig-zag path clearly visible descending the side of SaCG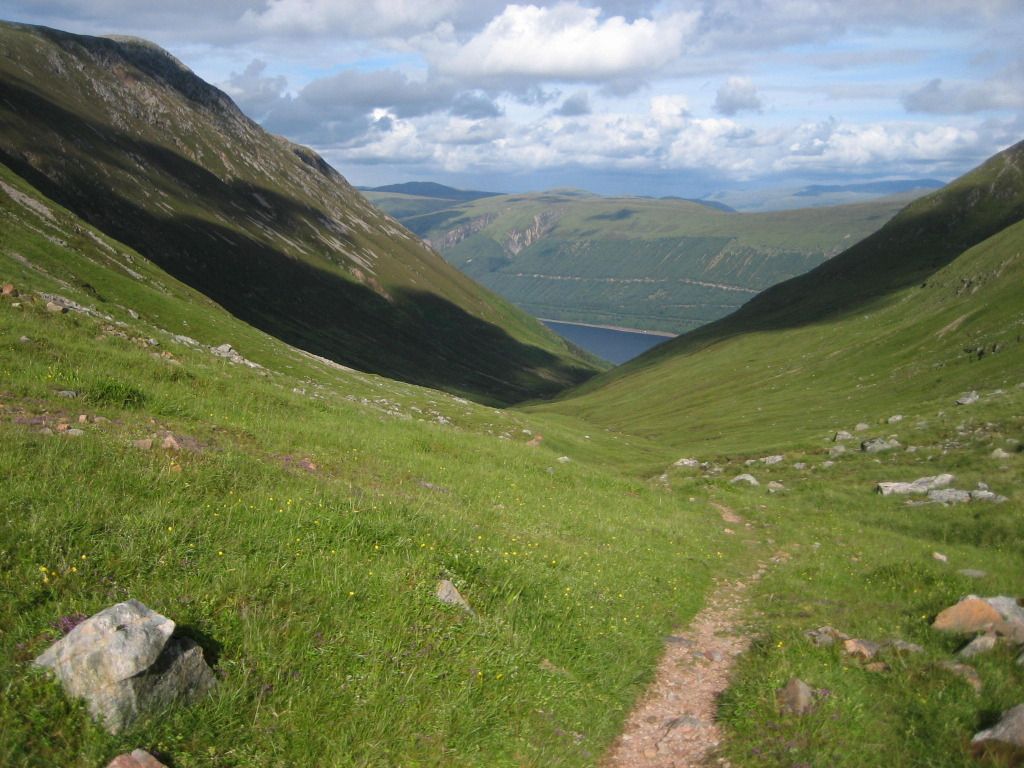 Down the Cam Bealach path to Loch Lochy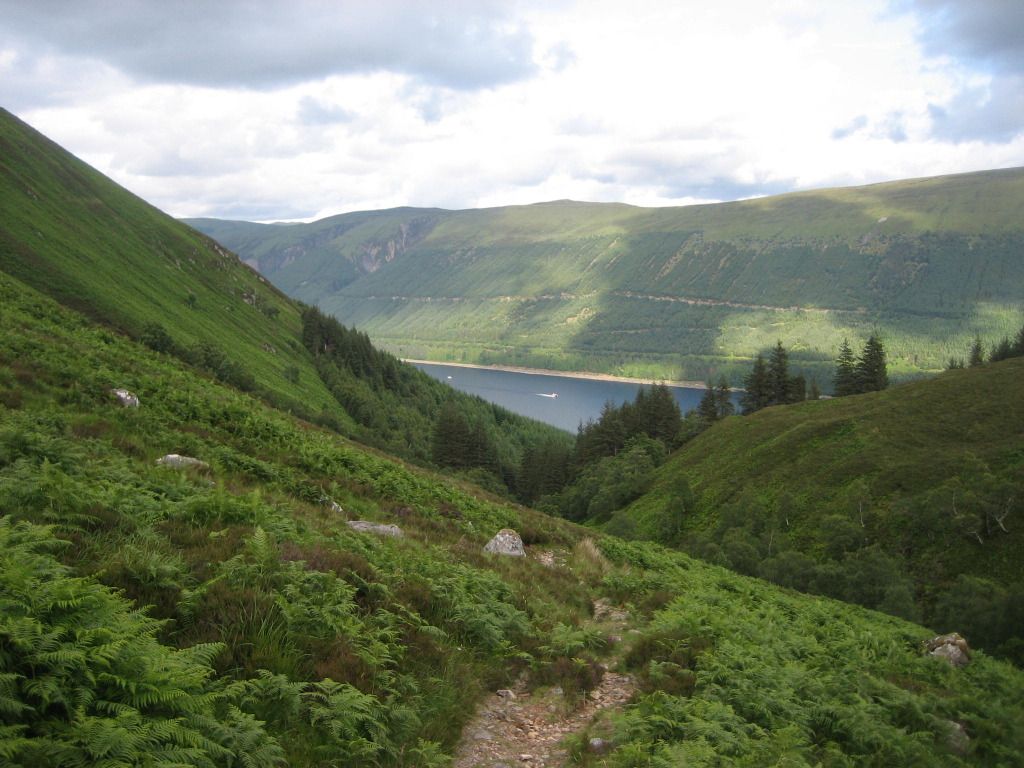 Boats on the loch
The walk along the track back to the car from where the Cam Bealach path empties out onto it seemed longer than the OS map suggested but eventually I was there and after a quick change of footwear, I was back out onto the A82 and back to the Spar in Spean Bridge for more stuff.
And now for a spot of puritanism - shades of Alder!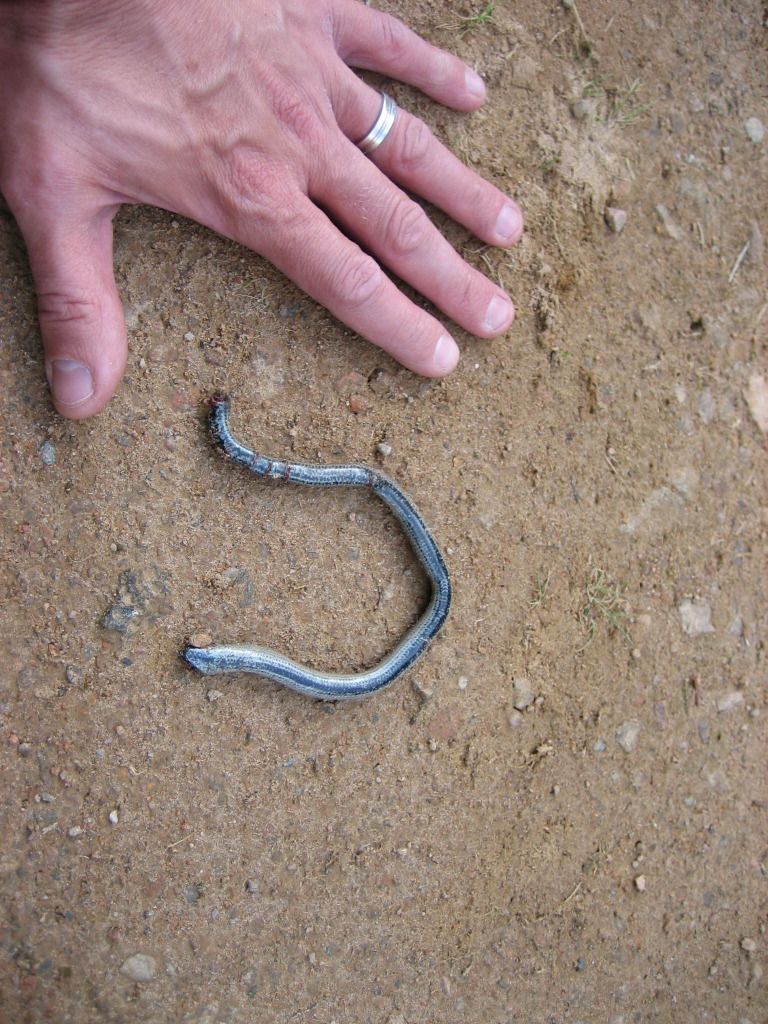 Thought this was a scrap of boot lace at first - closer inspection revealed it was part of a dead snake which had clearly been run over by something
I then headed back along the A86 towards Loch Laggan before parking up in the lay-by at Luiblea for the one hour walk along the track to the beach at the southern end of Lochan na h'Earba, a place I had always wanted to wild camp since the day almost exactly three years ago to the day when I did the Beinn a' Chlachair/Geal Charn/Creag Pitridh circuit.
Beinn a'Chlachair in late evening sunshine
There had been one other car parked up in the lay-by when I arrived and given that it was now after 9pm and I hadn't met anyone walking out, I started to wonder if I was going to find another tent pitched on the beach. As it was, my fears were groundless and I had the place to myself. I quickly pitched and organised the tent before cracking open a can and boiling up for dinner. Then there was just time for a few shots of the descending darkness before climbing into my bag for an early(ish) night.
Beach at south western end of Lochan na h-Earba
Home for the night
A des-res with a view
Ambition realised
Lights about to go out
A fantastic day out. The weather more or less behaved itself and I got my first Corbett in since January. And other than a woman with a dog who passed me as I was getting ready beside the car at Kilfinnan, I didn't see another soul on the hills all day....... apart from a few glimpses of Mojo that is!