I'd looked at these hills before, but couldn't see how to do them all in a one-er, without involving a lengthy walk along the road. I had another look on Tuesday, and the answer was obvious.. Go up from Glen Roy
So I drove over on Friday night. I stopped at the viewpoint, to see the parallel roads - quite an impressive feature. The road in Glen Roy is quite hair-pinie, and I had to stop and physically move a stubborn sheep at one point, so it was later than expected before I parked up at the gates to Brae Roy Lodge.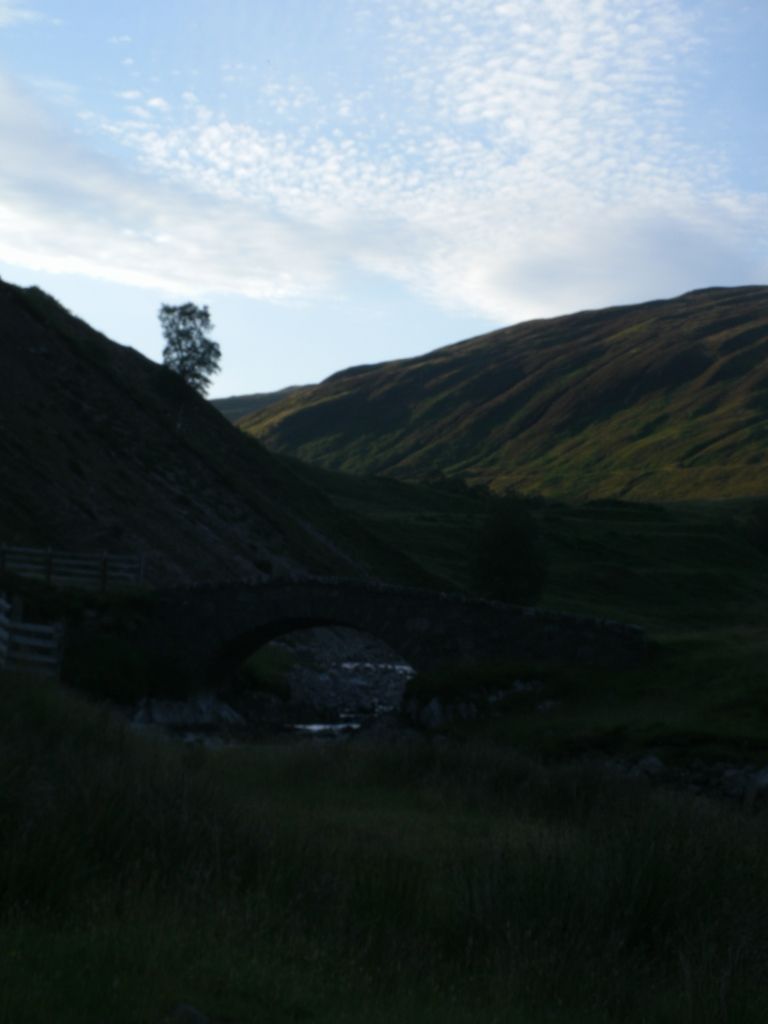 I set off just before 9, easy going in pleasant weather conditions, past the lodge, and up the glen. I crossed the river and carried on along the track toward Annat. All the moraine in the glen was curiously flat topped, and looked formidable from below.
Annat was a bonny wee cottage with a plentiful veggie garden, and a field of beautiful Highland ponies next door.
The track died out once I passed, and the short distance between there and the path I could see up the side of the hill I found hard work. Tussocky, boggy mire. But once on the path, I seemed to make good, if not hot progress steadily up, gradually round into Glen Agie. The path was once a grand, hand dug affair, with paved sections across the boggy bits, and bridges over burns, but 100 years of no maintenance had taken its toll. I love walking paths like this, could you imagine the people who built such a thing?
Down in the glen, the path petered out, then I saw it across the river, so I made my crossing with dry feet. A bit further up however, I found a bridge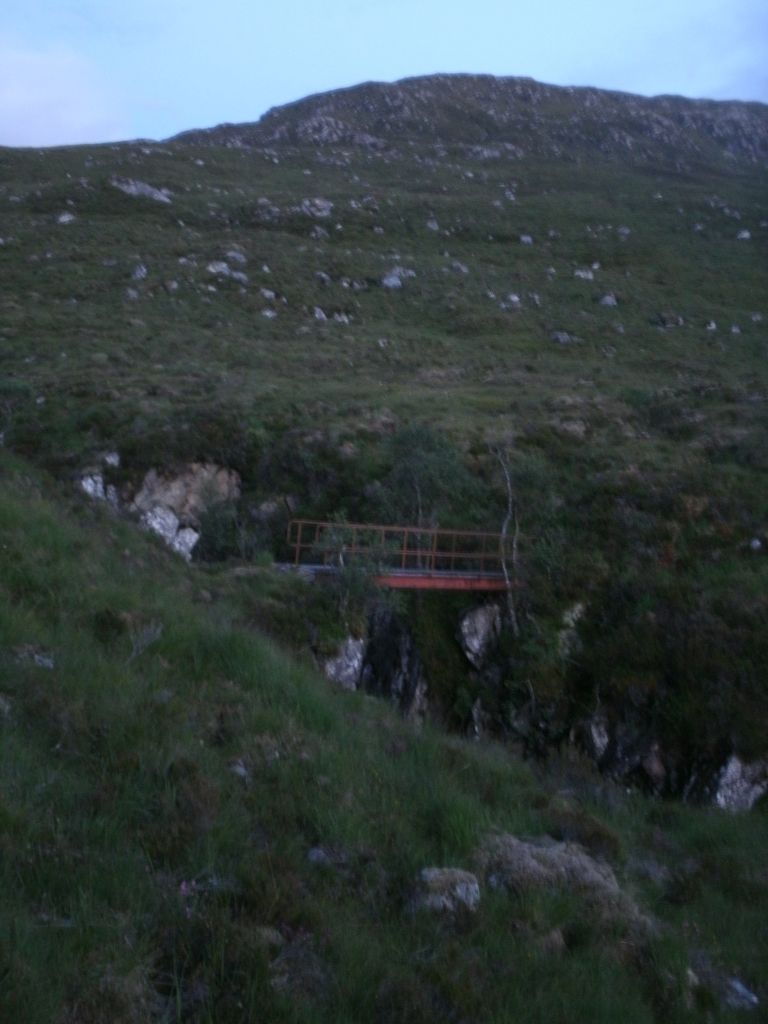 I was alongside Dog Falls, which turned out to be worth coming in this way just themselves. I had never seen anything quite like them. There was a huge slab of rock, inside which were huge caverns and waterfalls. I could glimpse in from above and see their grandness. I love a good waterfall!
Anyway, I suddenly noticed the gloaming setting in, and looked at my watch 10.45! So found a place to camp close by, and settled in for the night without a midge in sight.
The next morning, I was up a bit later than I would of liked, so it was 9ish by the time I packed up and left. It was a bit windy and damp, and I couldnt see the tops, but it was clearing all the time, so I had high hopes. I carried on up the burn. The path carried on for quite some distance, but it was getting harder to follow. Further up, there was massive erosion, and the path had simply been washed away. I found myself on some very steep scree banks! Further up the glen, was a long slog across a squelchy moor, ever upward past a couple of lochans, and I could finally see the Window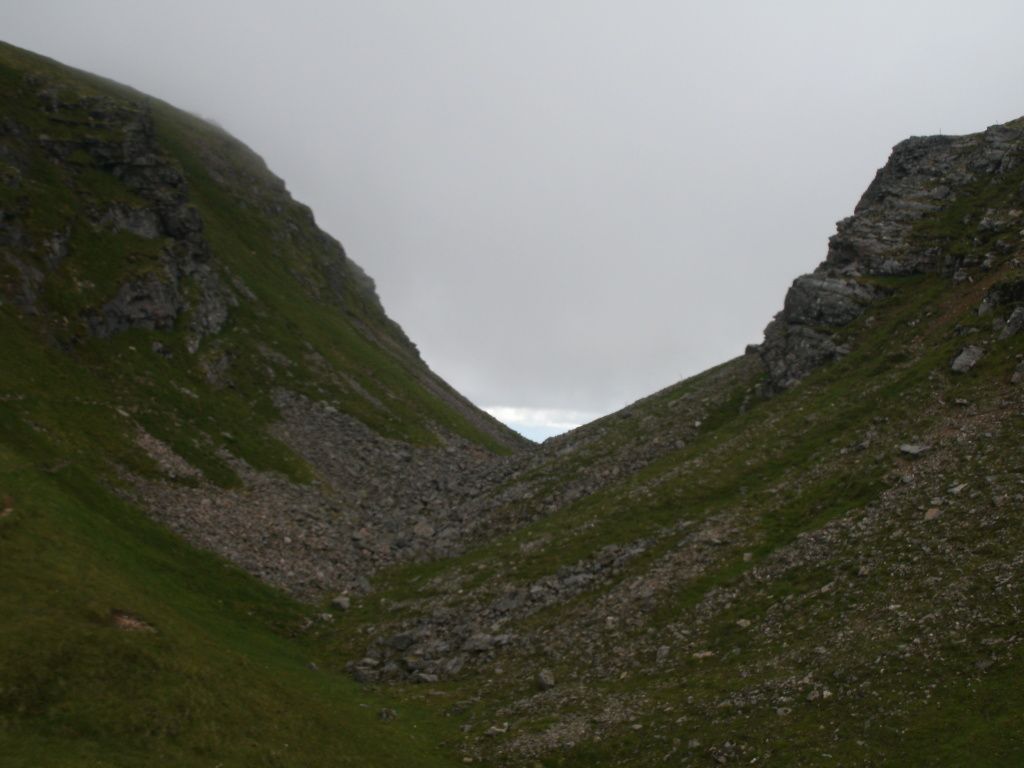 I stopped here and ate before a minor kit faff, and I set off on the long trot out to Carn liath. The fact that I would have to do this part of the ridge twice was regrettable, but better an easy grassy walk along a ridge on a bonny day than any distance down the tarmac below I thought. I made my ascent up to Stob poite coire adair, the clag finally disappeared and I could see how far it was - it looked really far - I wished the clag had stayed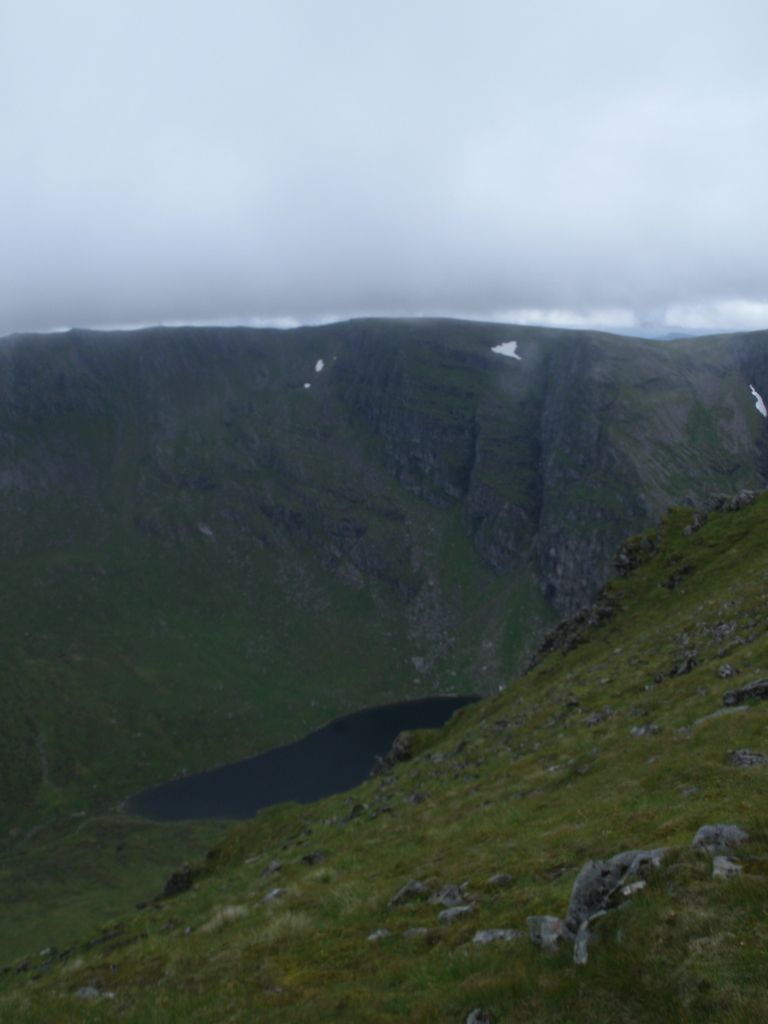 The ridge was really easy walking though, kind underfoot, and no steepness really, so I got out there in an hour. The ridge was like paddy's market. - lots of people out. The talk was all about how rubbish the weather was supposed to be on Sunday. I hung around the summit for 2nd lunch, and then headed back the way I came.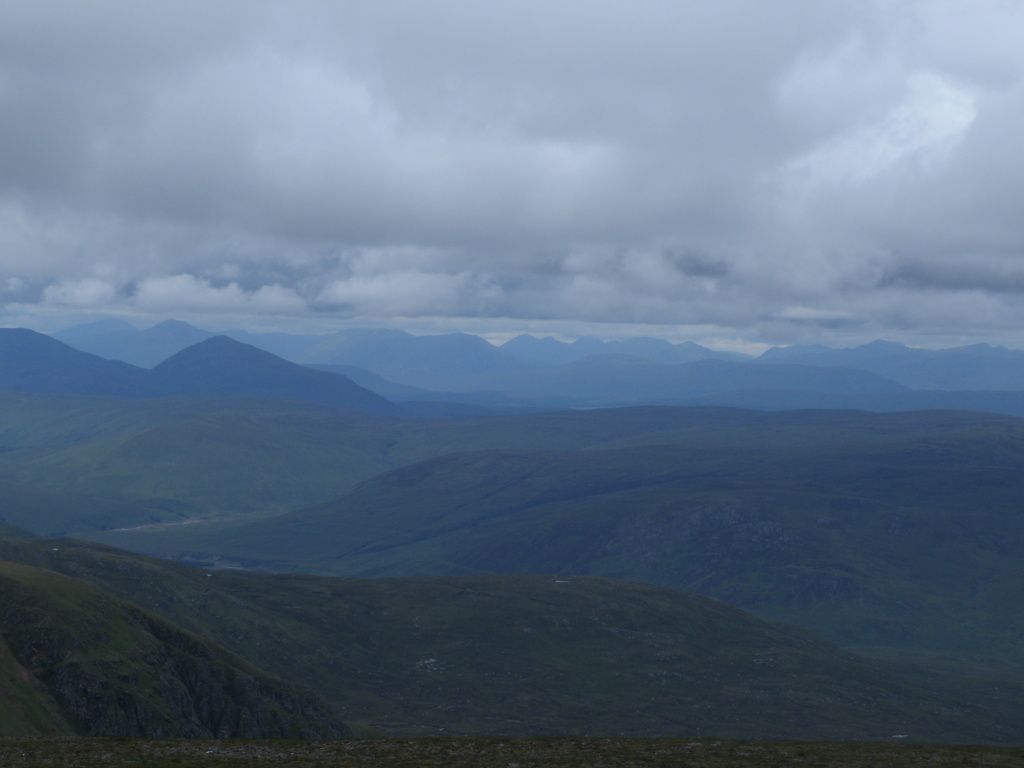 On the way back along the ridge, I sensed something above me, looked up to see a huge Golden Eagle, gliding over just 50 feet above me. It was massive. I have only seen one before on the ground feeding, or from really far away, so it was a real treat, but it was gone in seconds this time, so no photo's sorry
As I started getting closer to the window, I started meeting folk I knew - Turns out there was a Stocket Hillwalking Club walk today. I haven't walked with them for ages, so it was really good catching up with everyone. I got back to my pack and then realised that I had lost my sit mat.. Hmm, I hate losing stuff
I chatted to yet more folk I knew before heading up Creag meagaidh. There was a steep section before it opened out to a large plateau. I passed a huge cairn.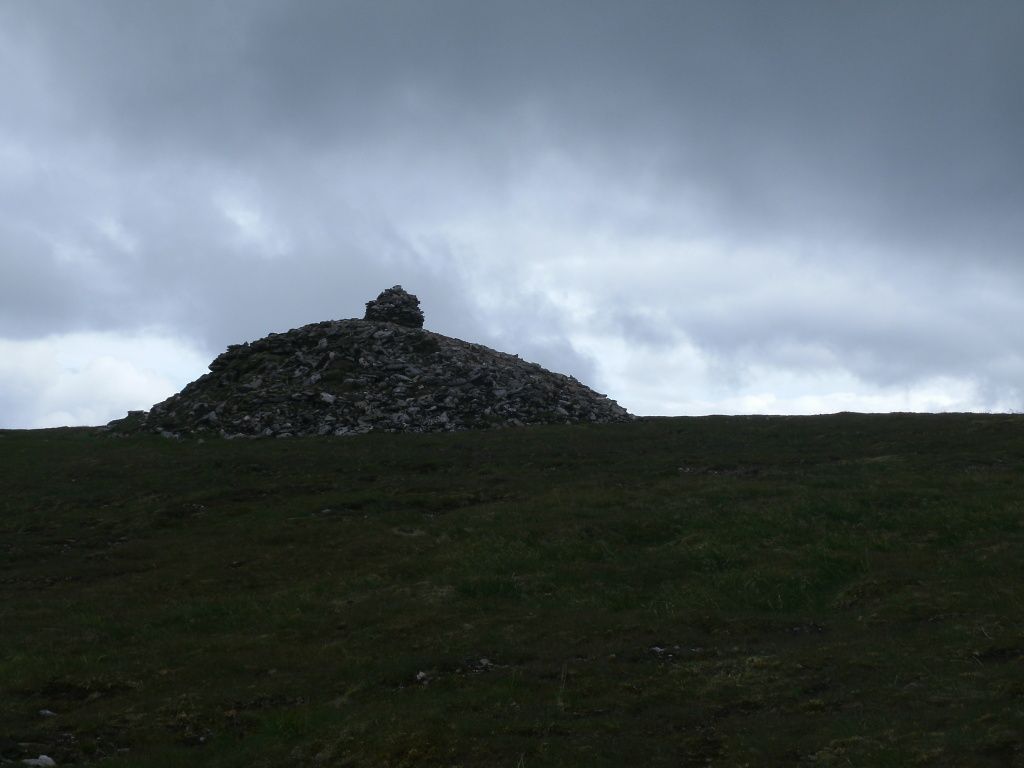 Before i spotted the true summit a bit further on.
I met a couple I had been chatting to at the Carn Laith summit, and ate lunch with them. My right foot was all squelchy for some reason. i checked it out and found that my big toe was pouring with blood. I had bumped it, but hadn't though any more about it, so I washed the wound and put a dressing on. My boot was still minging inside, but that was the best I could do. I headed onward down the ridge. It was an easy descent down the bealach a Bharnish, easy angled mossy slopes. By the looks of things some eedjit has been up there in a 4x4 doing donuts recently
As I started my ascent of beinn a Chaorain, the cloud came down a bit more, and I lost sight of the summits for a while again. I had got some great views, although too hazy for a camera.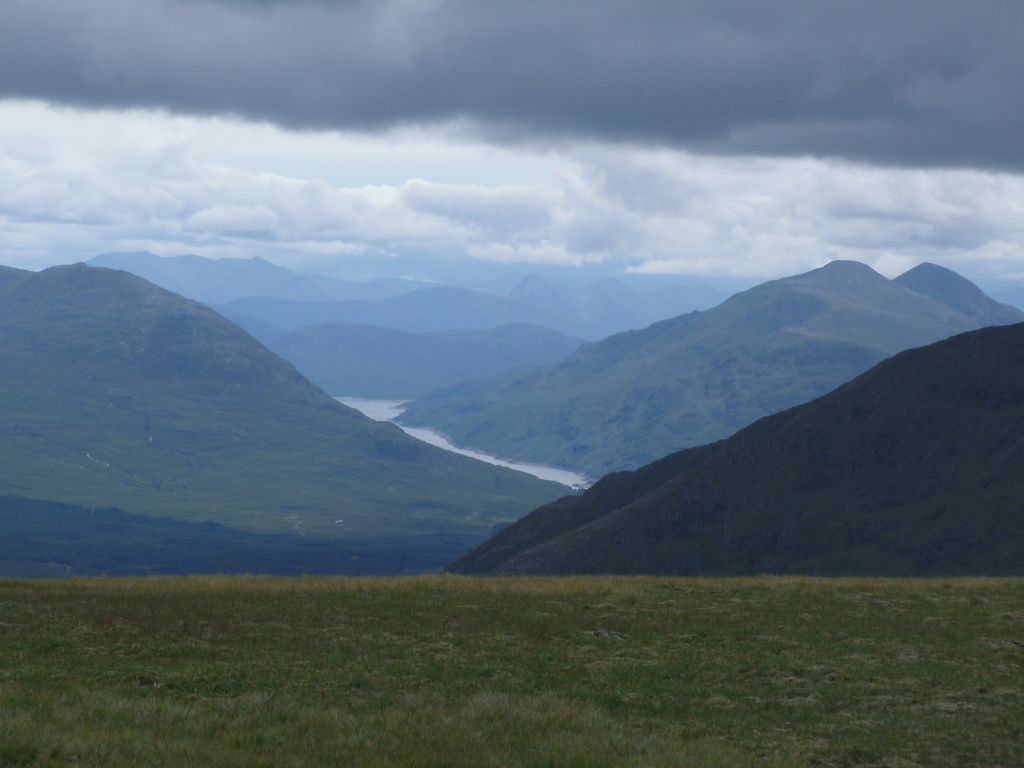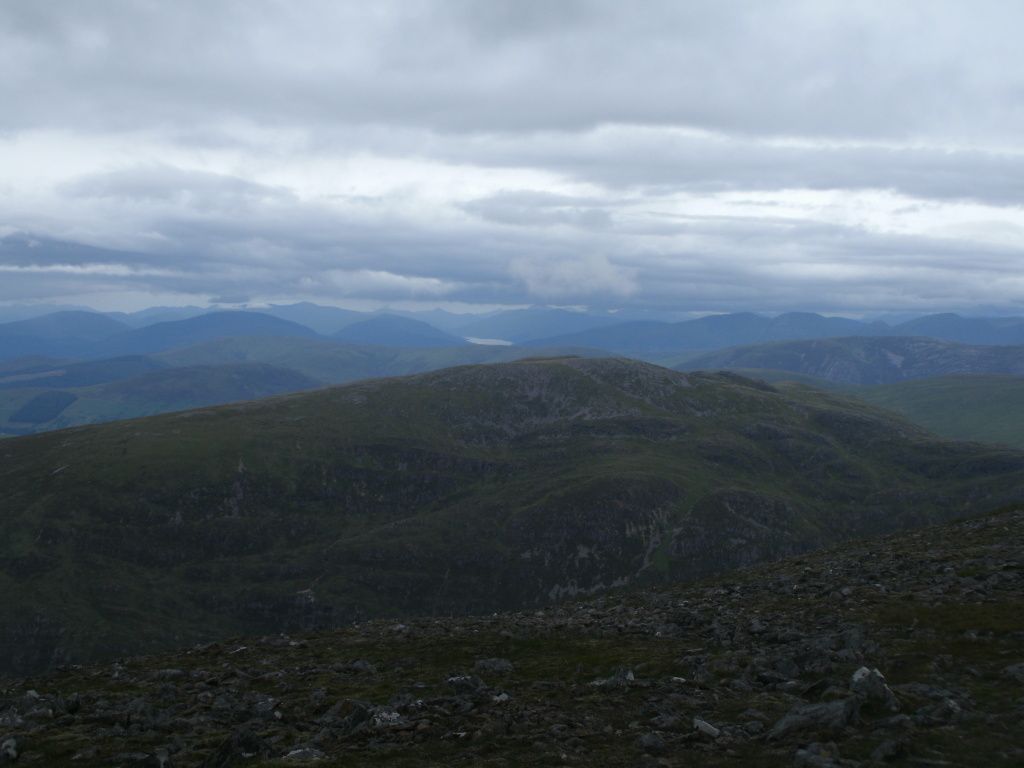 I got up onto the summit ridge, and unceremoniously dumped my pack to run out the short distance to the summit. My legs were beginning to feel heavy. I didn't stay long, as the wind had got up, so just a few munutes and I was returning to my pack. The decent on from here wasn't what i would call pleasant. First there were mossy unstable rocks, and I twisted my ankle many times, then there was steep bog and I fell over many times, then it got even steeper, and thats when i realised I had lost my map
Oh I hate not having a map. I had it where I left my pack, but i looked up and didn't see how I could go back for it really. I was beginning to get tired.
In the bealach I ate and lay down for 20 minutes. I had intended to camp the night here, and go up beinn Teallach Sunday morning, but all that talk on the ridge of hurricane like winds and heavy rain, made me think I should just go up just now, so I set off, through the peat hags and up onto the hill. The first wee bit was steep and boggy, but only for a short time before I found an easy angled path that wove its way through the rocky outcrops up to the summit. I was really glad i did this hill - so different to its neighbours.

Without a map, I didnt know which summit was the right one, so I visited both. This was my 150th munro, how good
The rain came on, just a little at first, then noticably. it was still warm though as I followed the path back down to my pack. My eyes were focussed on the glen in front of me. I would have to get down there to get back, and it looked like peat hag central! i could see maybe a couple of ways through, but it was rather daunting. I decided, I should get through the bog tonight if it was going to start raining for any length of time, so telling myself it was only a couple of miles further, I followed a line of fenceposts, down toward Glen Sguadaig, and found that my luck was in. I found a stalkers path which although was rubbish as a path, did weave through the bog in a very efficient manner, so I made far better progress than I could of hoped for otherwise. It really was a lucky find. I was back at the burn of Agie, and spotted a great campspot straight away.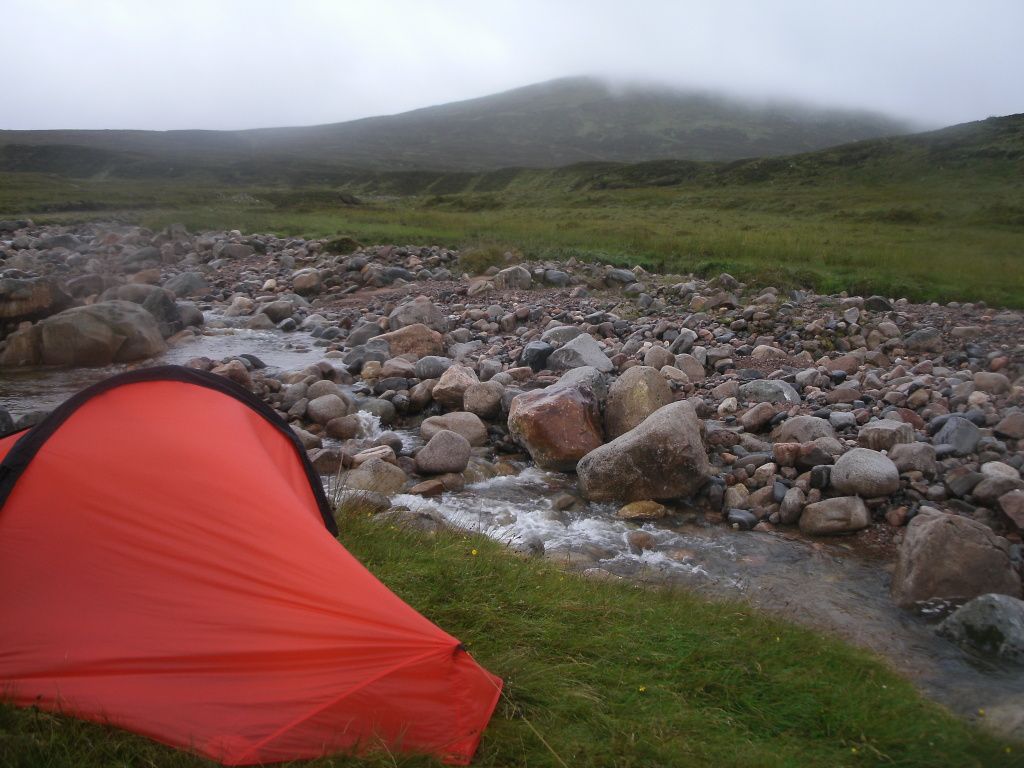 I couldn't wait to get the tent up. I pitched it for an impending storm, and then sat comotosed in the tent, chain drinking cups of tea for a couple of hours until I had enough energy to think about dinner. My feet were a mess - the cut was healing fast, but blisters and some bruising. I had to force dinner down because I knew I needed it. I think I was too knackered to have an appetite.
This morning, I let myself lie in until 9. It wasn't that windy, and the rain was more of a scotch mist than a downpour. Not too bad. I was reluctant to leave though. I knew it was just a couple of hours walk back to the car. I wished I had left a hill for Sunday after all, but I think I made the right decision at the time.
The rain cleared up as I walked back down the glen, past the falls, using the bridge this time, and up over the shoulder of the hill back over to Annat. The walk back to the car didnt feel like far at all, and I was back before 1 this afternoon feeling fresh.
I'm not sure going in to these hills this way is the most efficient way of doing them, but the Dog Falls alone are worth the wee bit extra distance, and I certainly enjoyed it