This is my first walk report and my first time in the hills for approximately 2 years.
I left Oxfordshire at 4.30am to get to Snowdonia in the hope of climbing a number of hills and camping.
I found my campsite near Llanberis after searching for a while and pitched my tent. I then went to park in Pen-Y-Pass, so I could climb Crib Goch, Garnedd Ugain, Snowdon and then take the miners track back down.
So setting off a little late, I made my way towards the car park. Firstly I got stopped by several hundred sheep crossing the road. Then when I finally got to the car park it was totally full, as there was some sort of race going on.
So I had to turn around and change plans. In the end I went to do Tryfan instead.
By the time I got to Tryfan and parked the car it was 1pm. I then spent half an hour getting sorted out, as I lost my phone and a number of other things that I planned on taking up with me. In the end I set off at 1.30pm.
I walked from the car park to the the base of milestone buttress and picked up the path, to attempt to go straight over the top. I was already blowing pretty hard, as i've become a bit unfit lately. After a while it seemed to improve though.
Looking down back the way I came.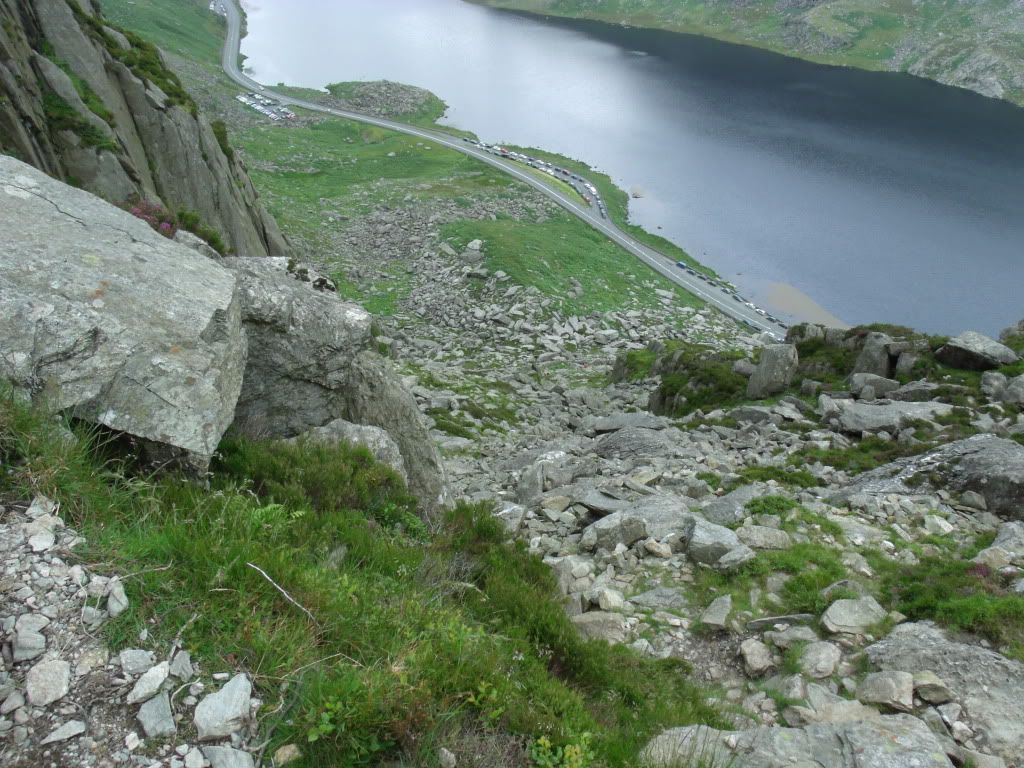 After half an hour of walking and scambling up I could not find the path, so just tried to go straight up. Every now and again I got sight of the path and tried to get back to it. On one occasion I had to clamber over a large rock and I hurt one of the tendons behind my left knee. After while I clambered up over some rocks and was greeted by this sight.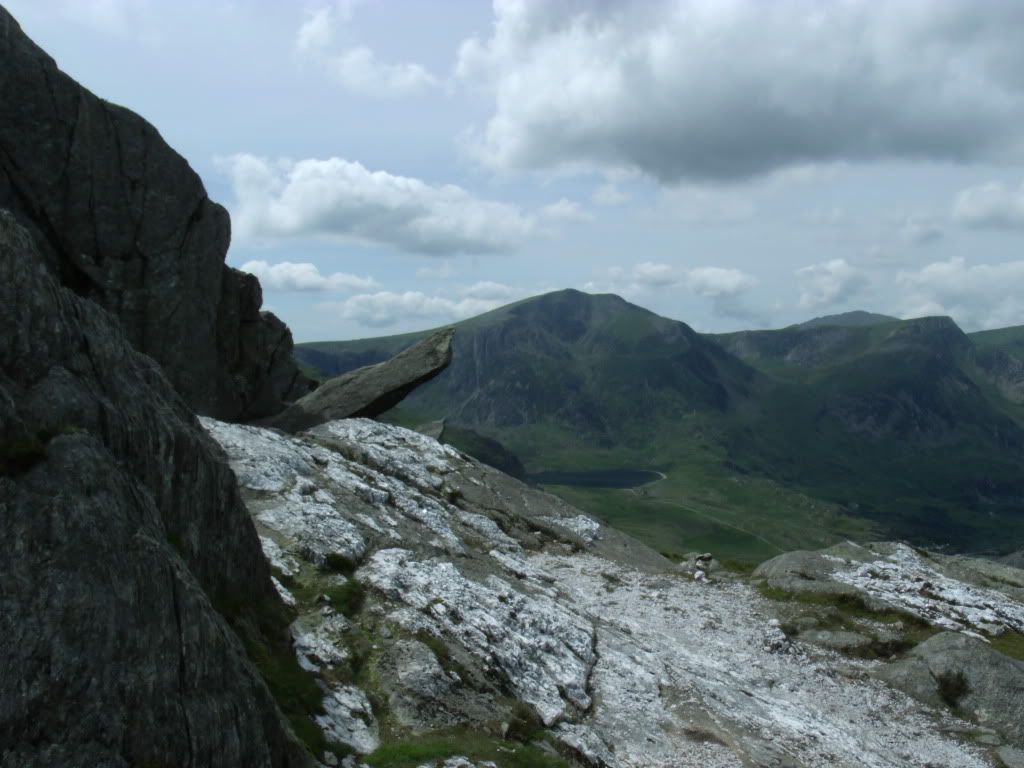 A very nice view and it helped inspire me on. I continued on slowly. It was a hard slog, but because height is gained so fast it was ok. There were a few little hairy moments, but I made it to the top after about an hour and a half.
I saw Adam and Eve up there and managed to 'gain the freedom of Tryfan' after a few seconds steadying myself on top.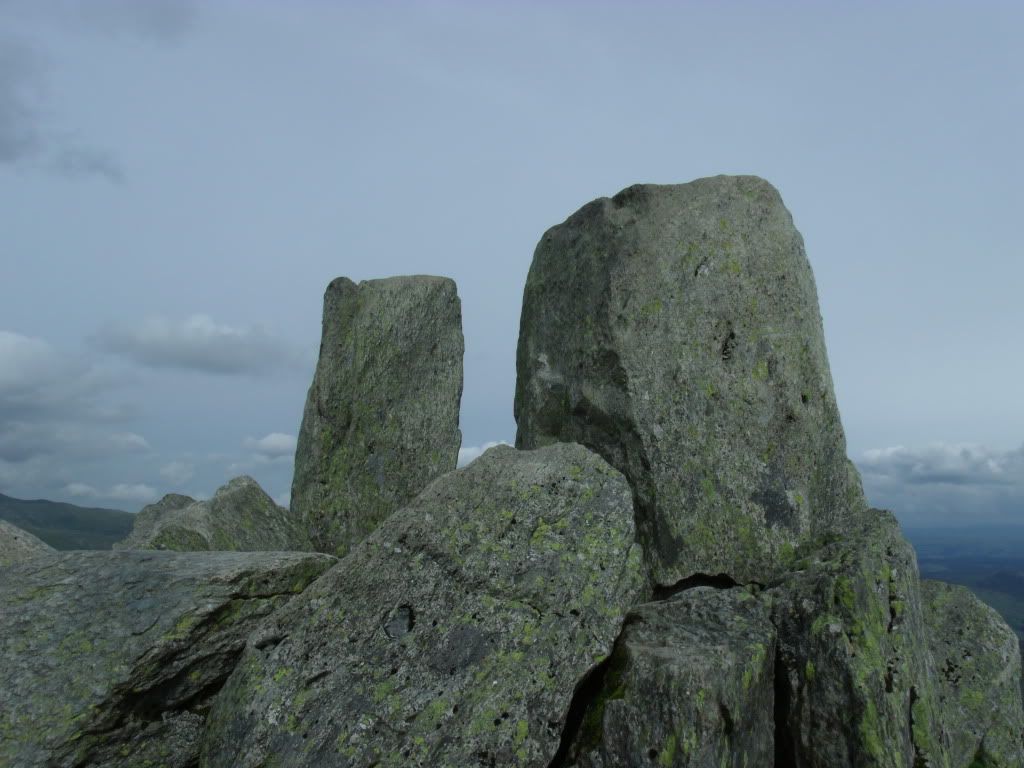 I made my way down the far side of Tryfan and began to contemplate doing Glyder Fach and Glyder Fawr, even though it was getting late. On the way down I managed to slip and jar my knee though. I kept going and for some reason the downward parts were making my knees hurt much more than I remembered. I think I am at least 2 stone heavier than the last time I was in the hills, and I was carrying a hell of a lot of weight on my back. After a while it was really quite grating. Luckily I got a nice view of what I presume is Australia lake.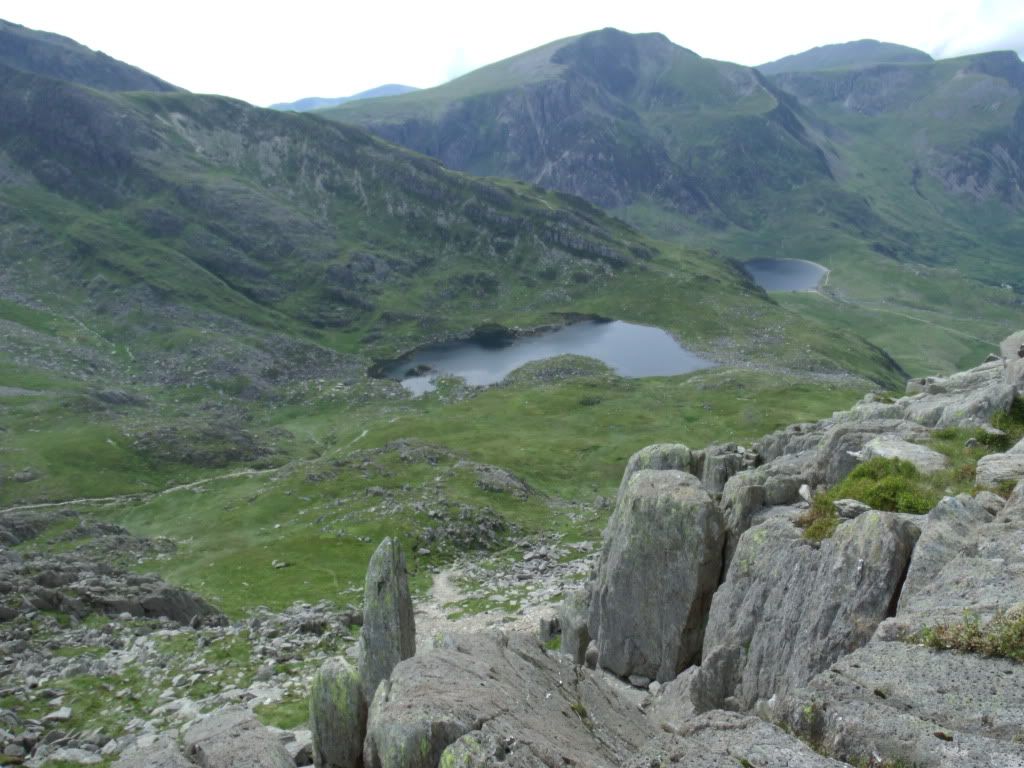 The slog back to the car over marshy bits, getting back to the path was way worse than going up. My knee's were absolutely killing me. I had decided against the Glyders, due to my knees.
I got back down happy that i'd done Tryfan, but quite dissheartened at the state of my knees.
Well I suppose i'm back to walking a bit. Might have to consider a walking pole for the way back down though....