This is the route walked.
I am happy to say that I am now fully recovered from the wee sunburn I had in May. I am also prepared with some sunlotion of very strong factor. Just wondering how long such a bottle can stay, as I am starting to be concerned about the best-before-date on it.
The weather forcast was pretty good for Saturday and some showers on Sunday.
Blue sky is seen through the crown of the Norway Maple.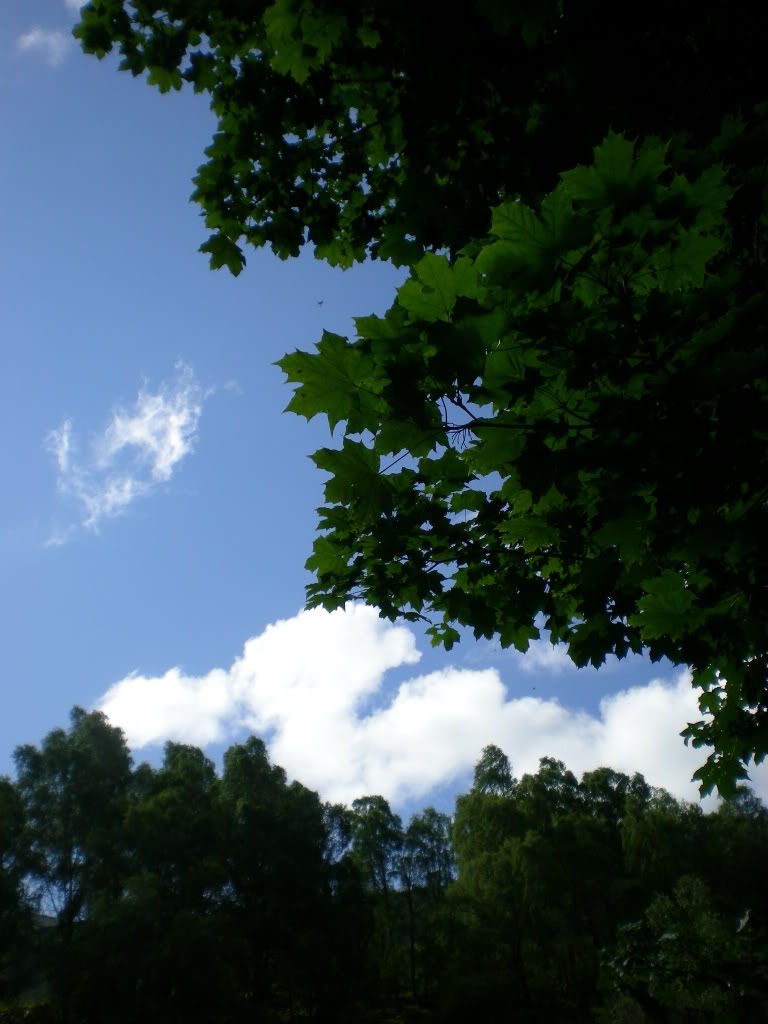 Invervar bridge over river Lyon.
River Lyon and Meall nan Aighean behind there.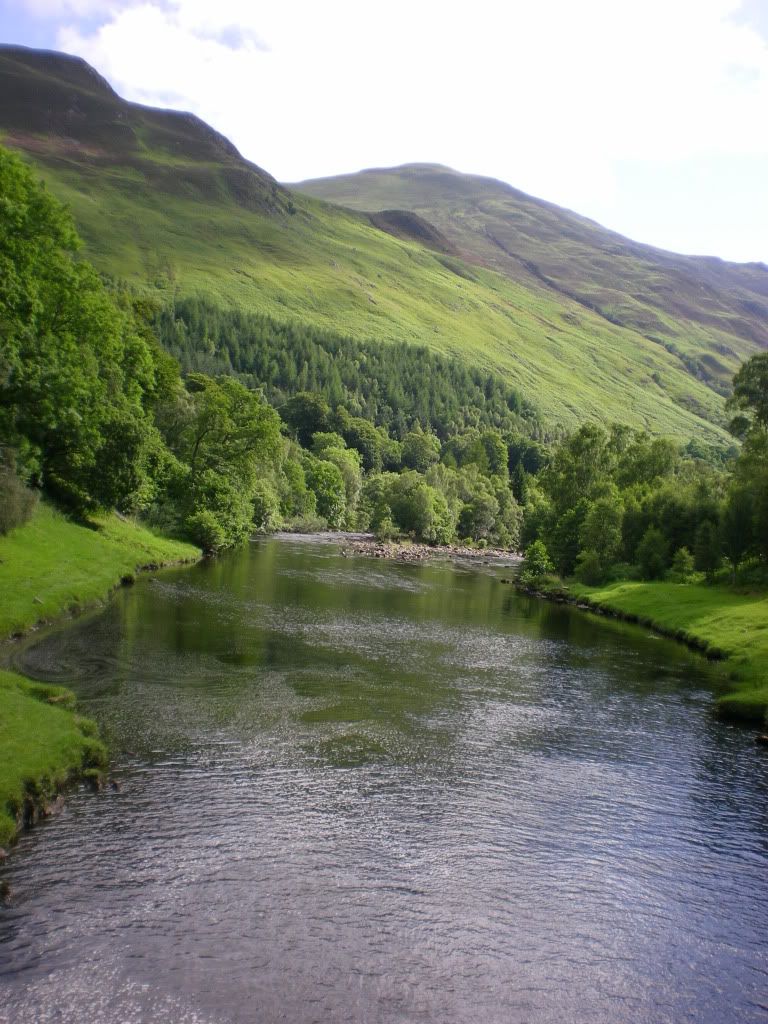 I went up through the farmlands of Dericambus.
It's maybe not the most common route, but you can see a lot of summerflowers at this time.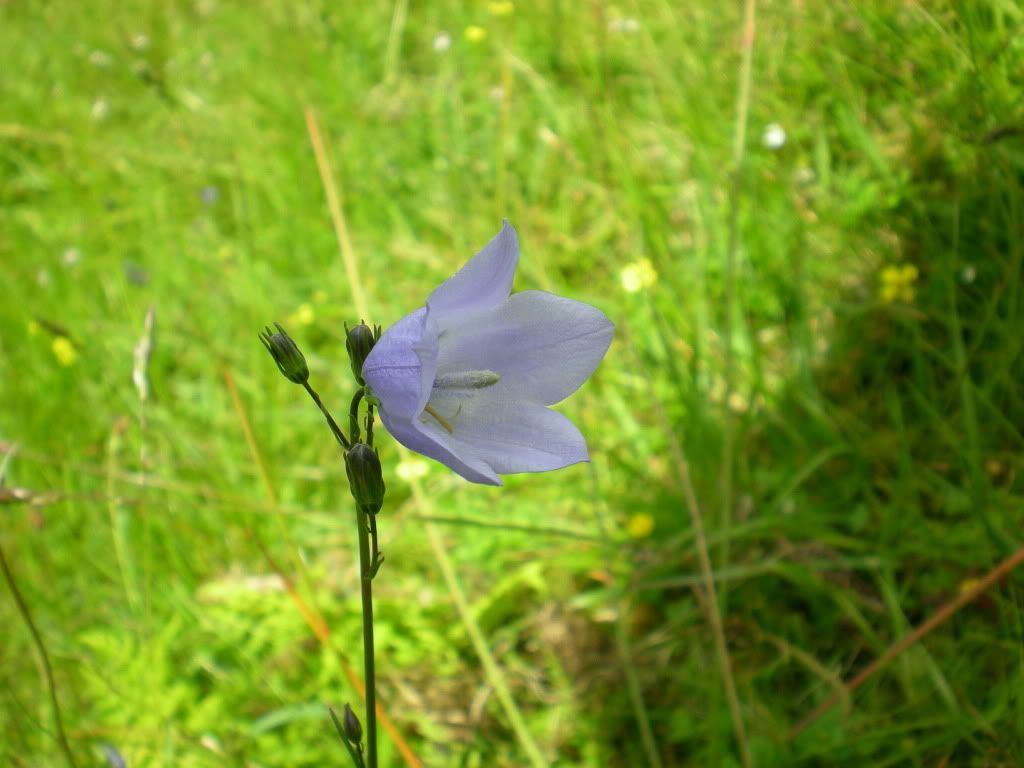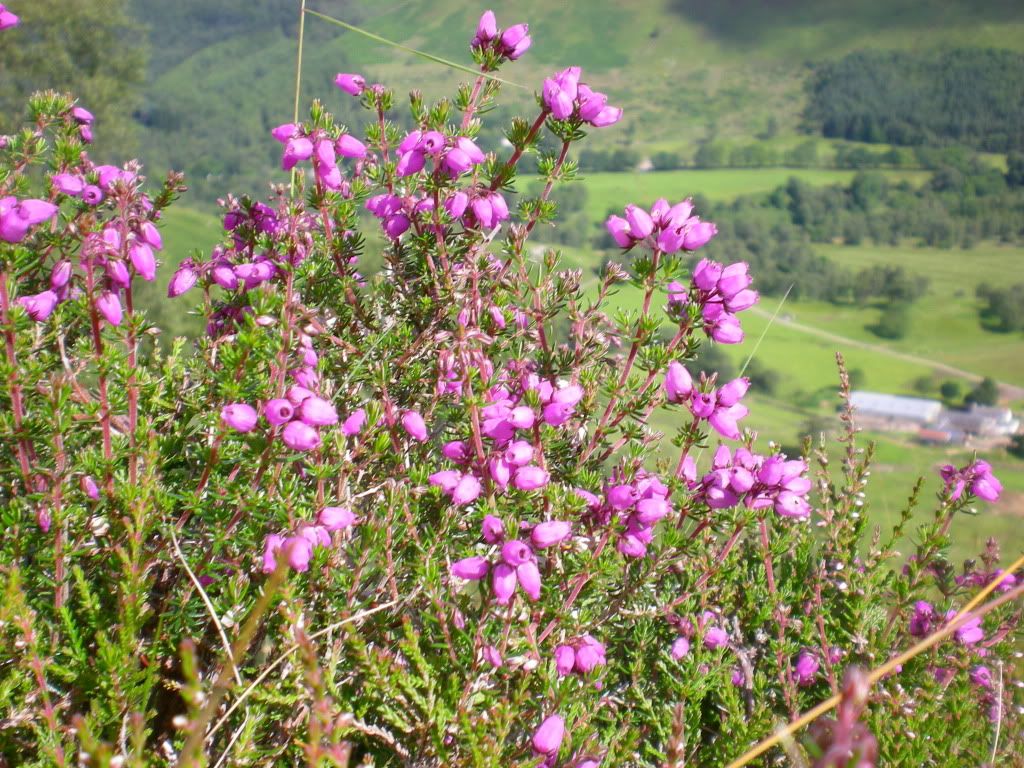 The weather in the east is good.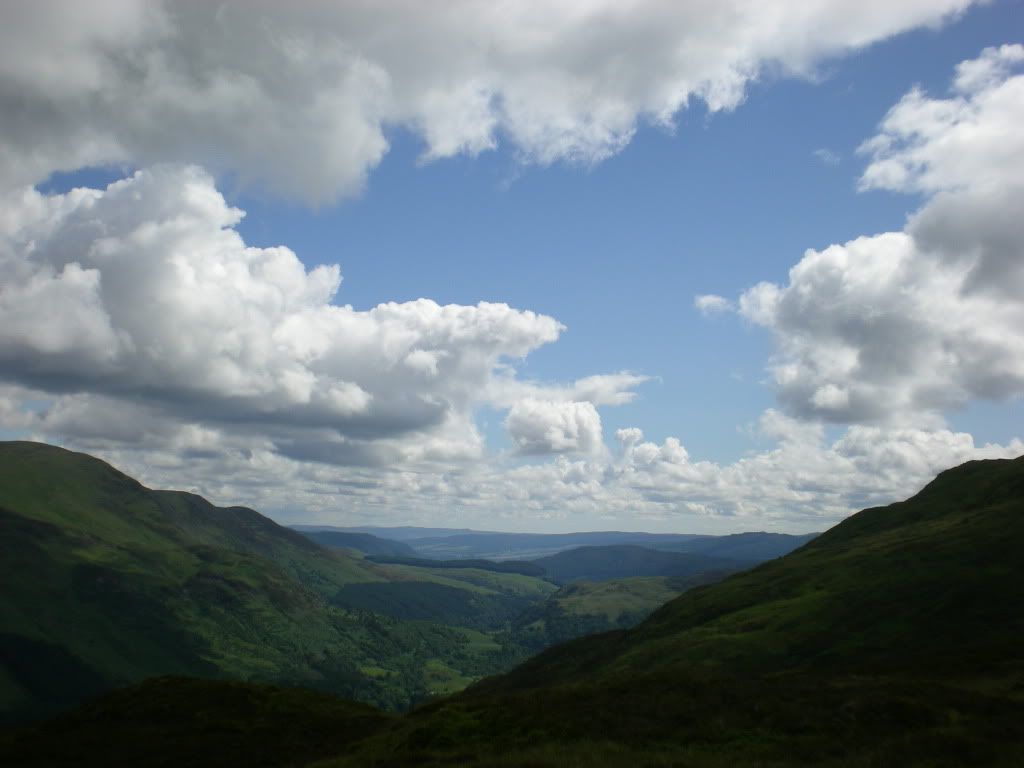 Not so promising in the northwest. Here Carn Gorm and Meall Garbh.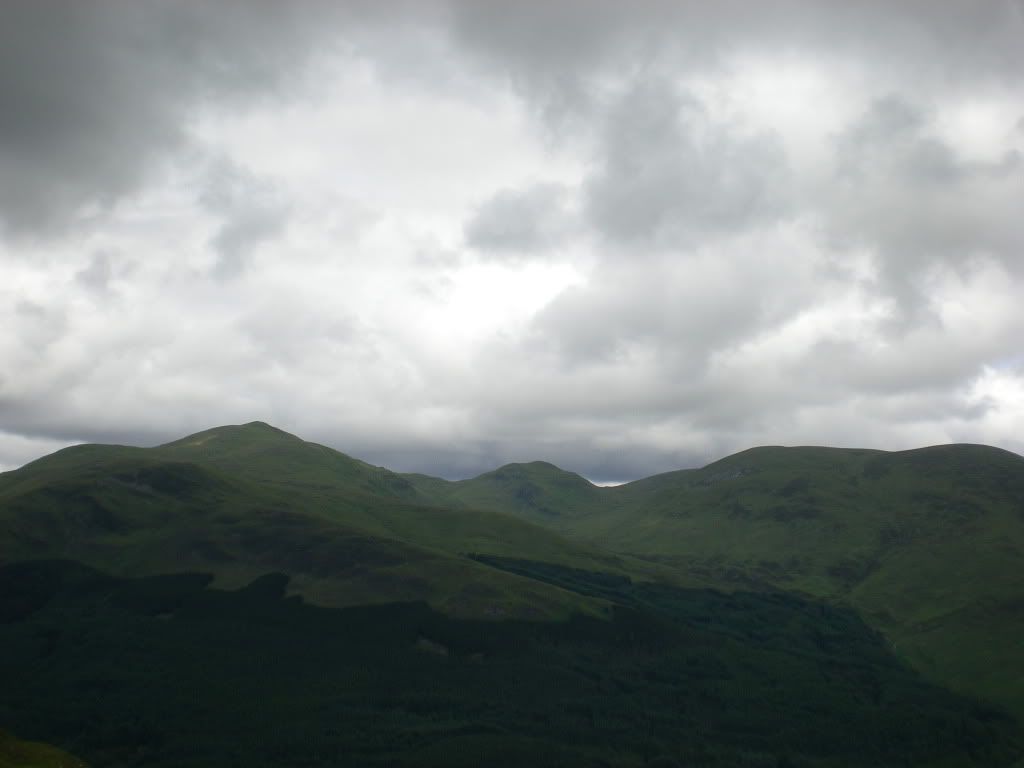 View of Loch Tay from Meall Greigh.
Some people are coming up from the Lawers side.
They were just friendly Polish Glaswegians.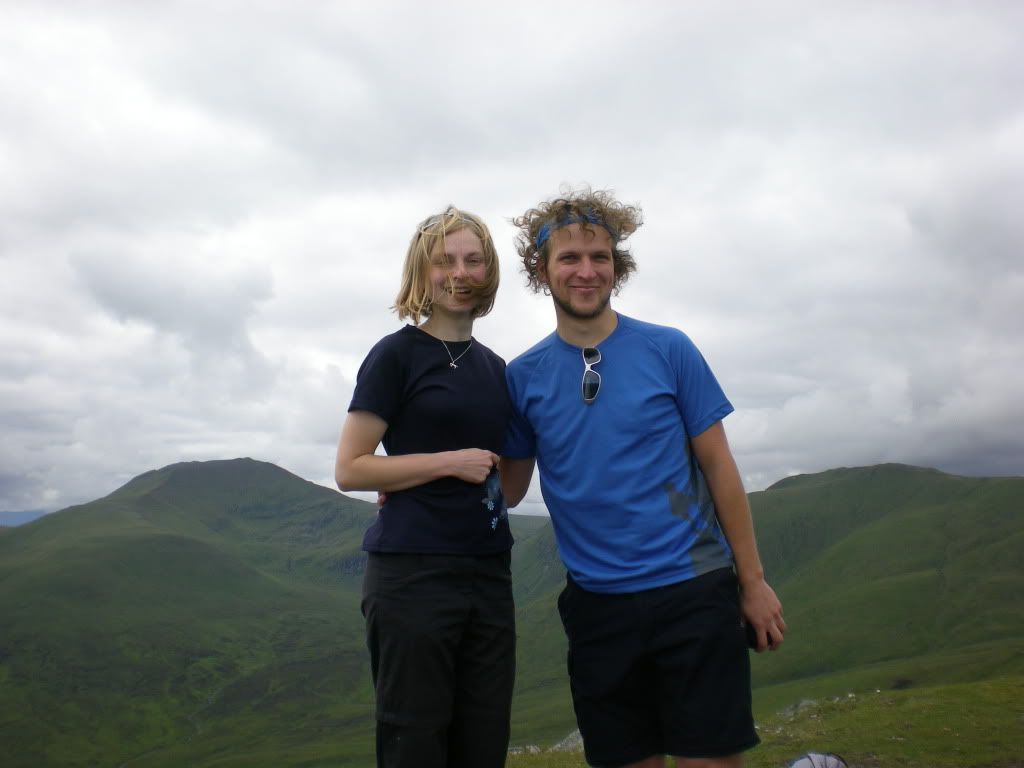 Then we went the same way to Meall Garbh. It's nice to have company. Here you see four Polish friends meeting a British couple on Meall Garbh.
Starting to think about An Stuc.
The eastern face of An Stuc can't stop us.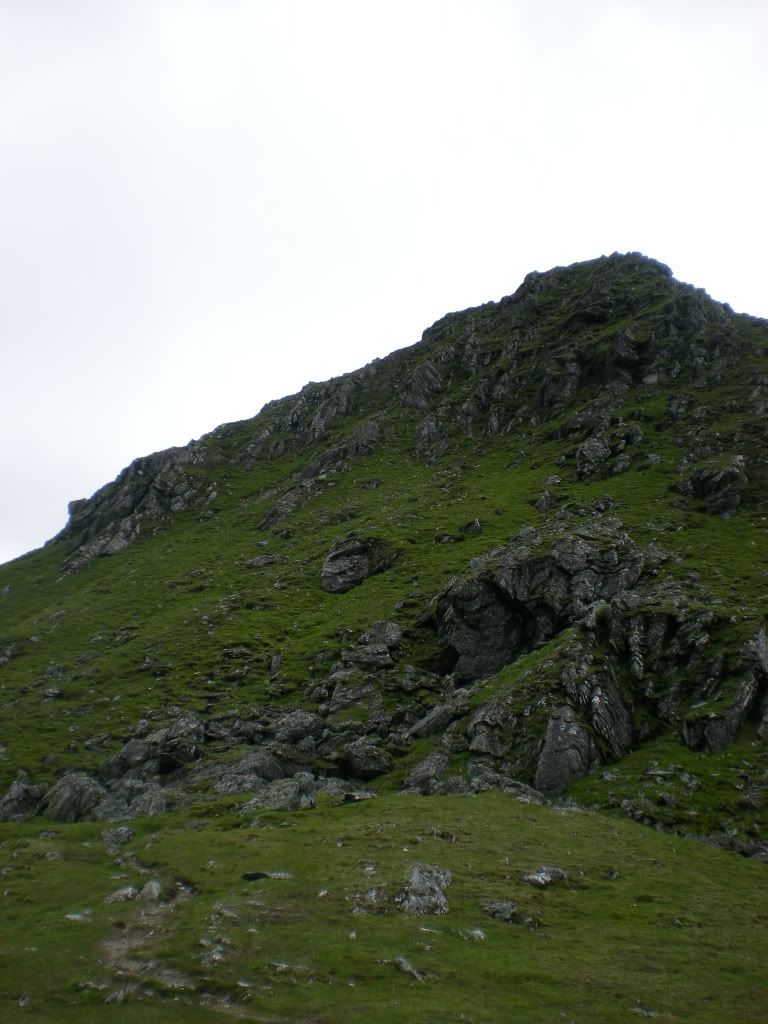 But which top is the true summit?
From the top of Ben Lawers.
From here my friends returned to their friend who was probably enjoying the view of the mountain from the hotel near Loch Tay. If one day you meet four friends jumping up and down on some Munro summit, it is very likely that they are polish.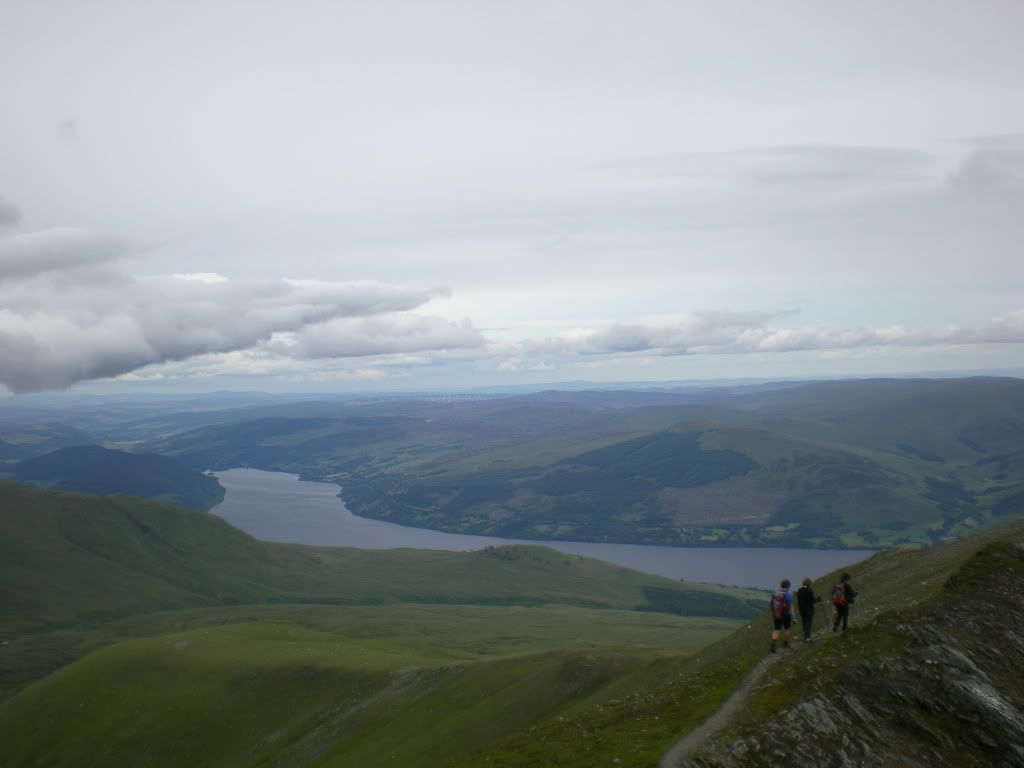 But which trig.point stands on the highest ground?
Now it's time to find somewhere to stay. This crag looks like it will give good shelter for NW winds.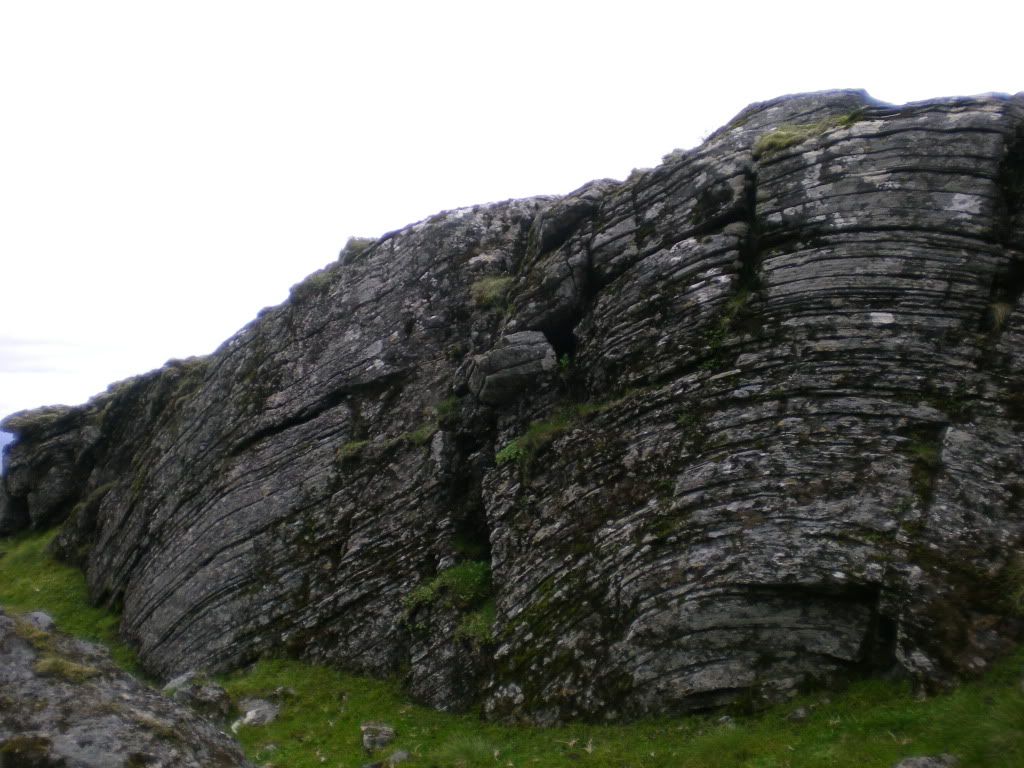 Inner tent pitched. I know what you want to tell me, but it's not possible with this tent. It's not raining anyway.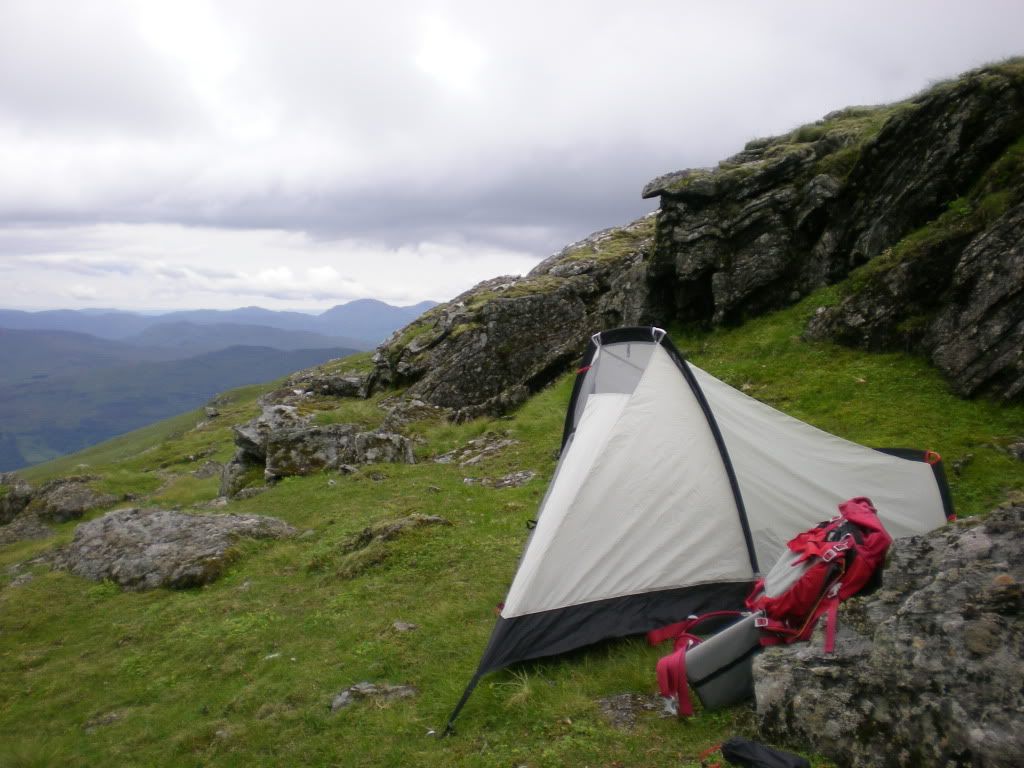 Flysheet attached and guylines pitched. The opening is to the east so I can be woken up slowly by warming sunrays through there on Sunday morning.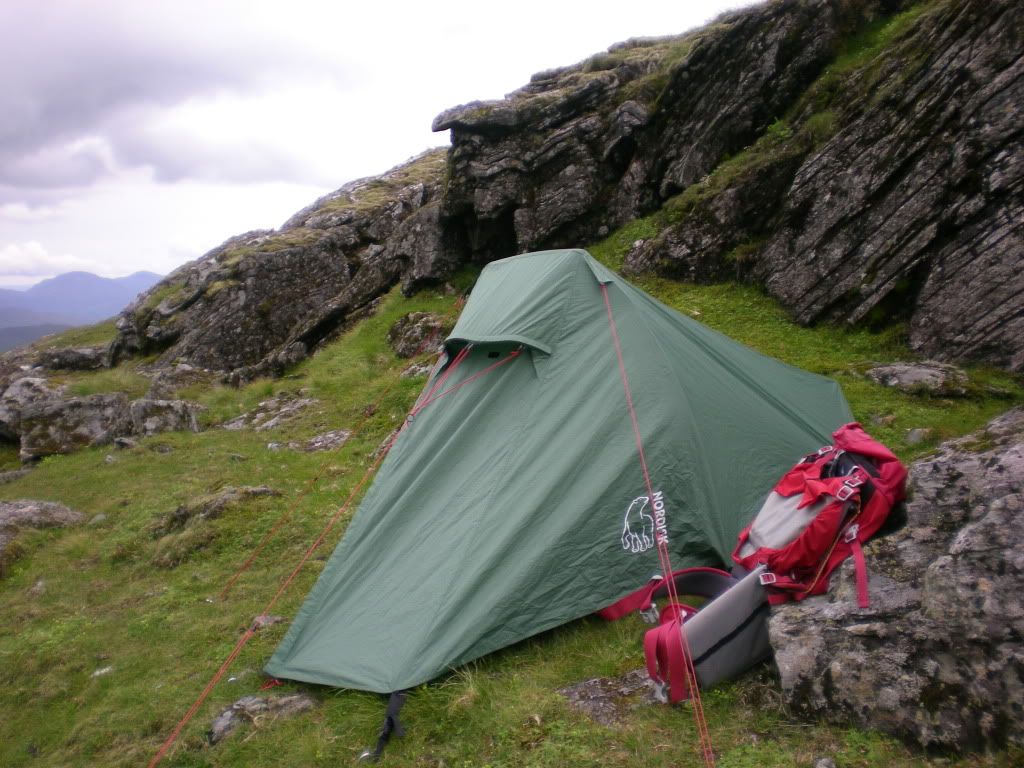 The eagles view.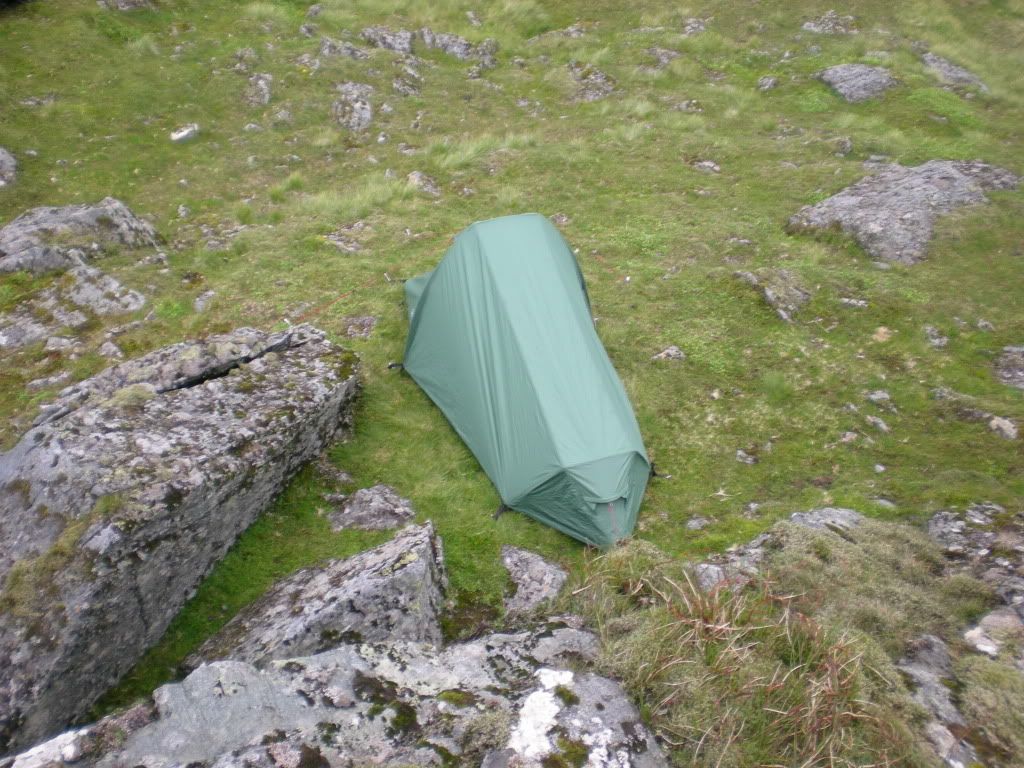 Now it's time to strech the back a little without the pack. This path likes to be trodden.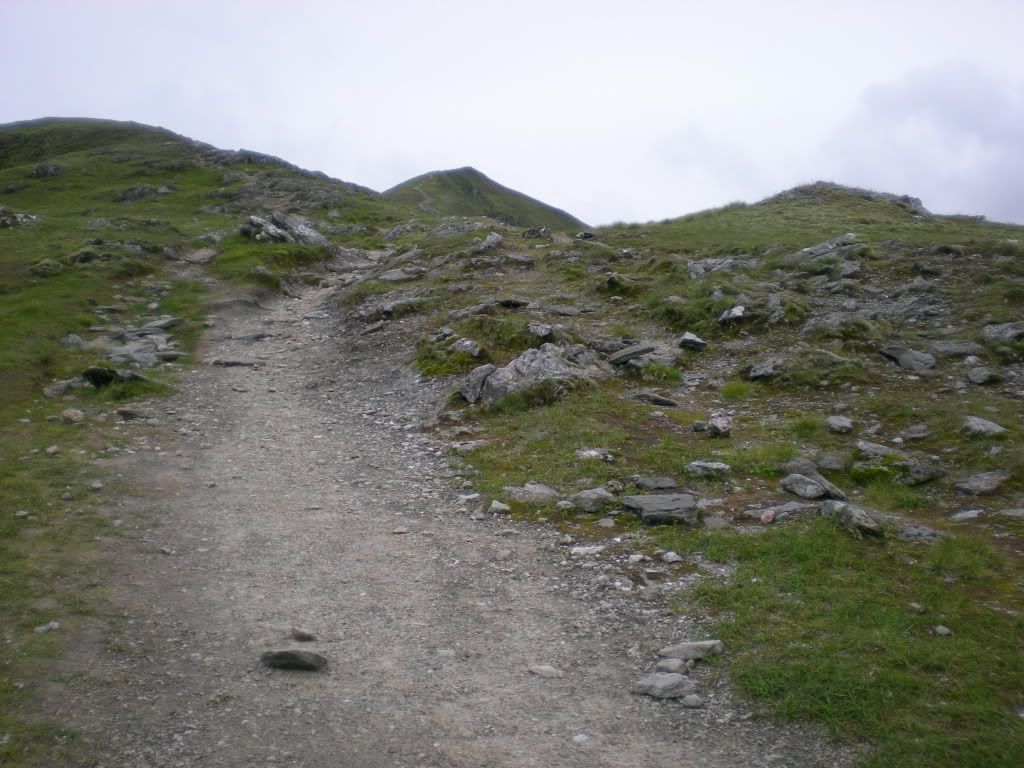 A very green glen.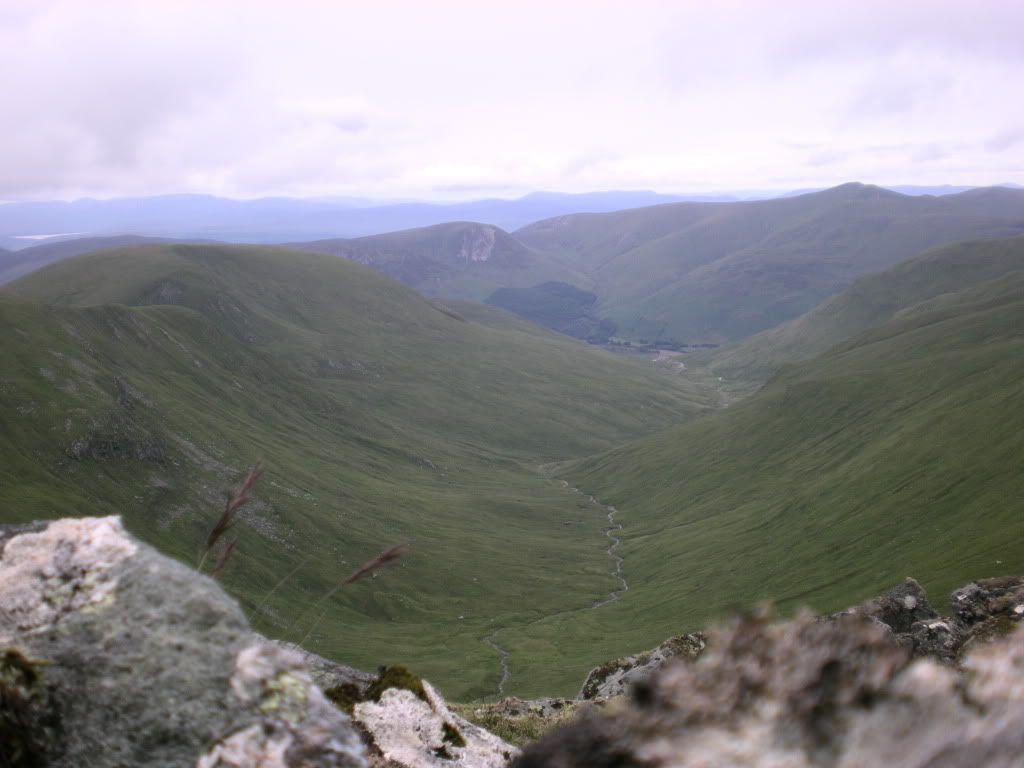 Views from Beinn Ghlas.
Ben More and Stob Binnein.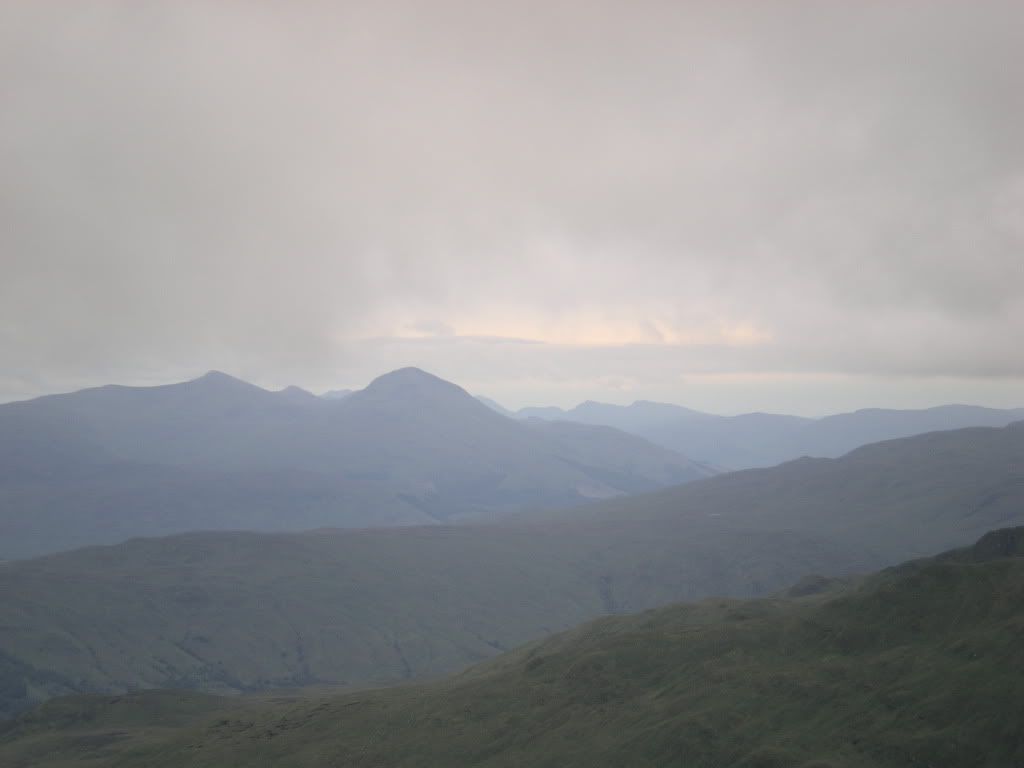 Meall nan Tarmachan and Beinn nan Eachan looks fantastic.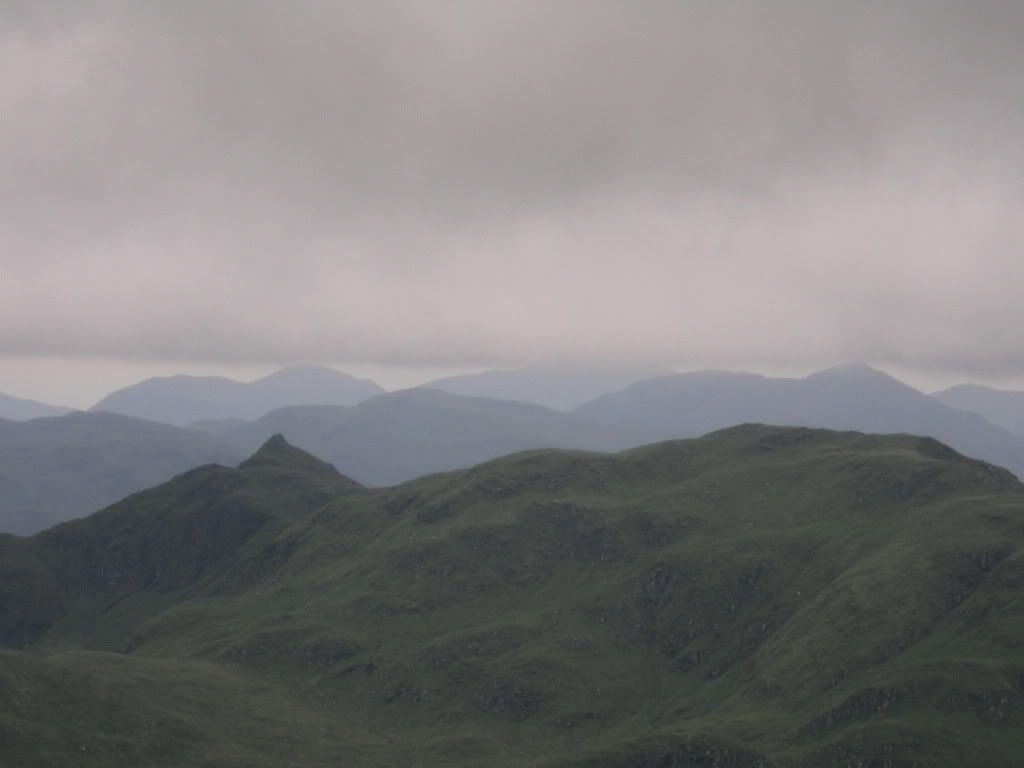 Somewhere up North.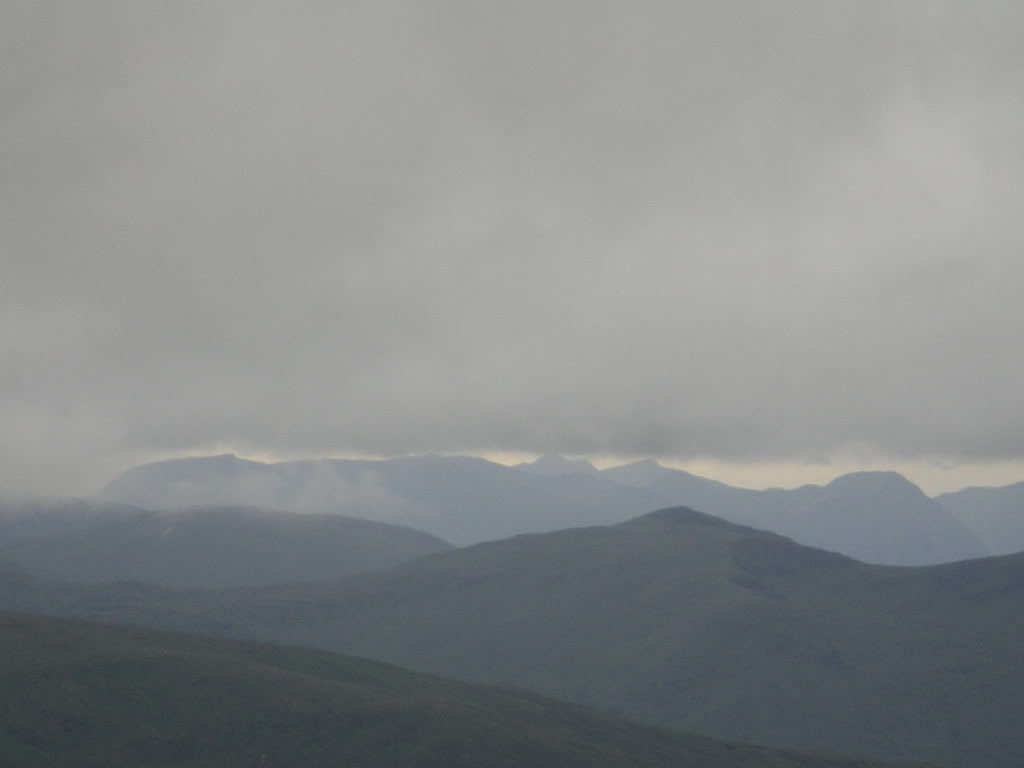 Now it's time to return to the bealach and the tent. First I have to find some drinking water in this terrain.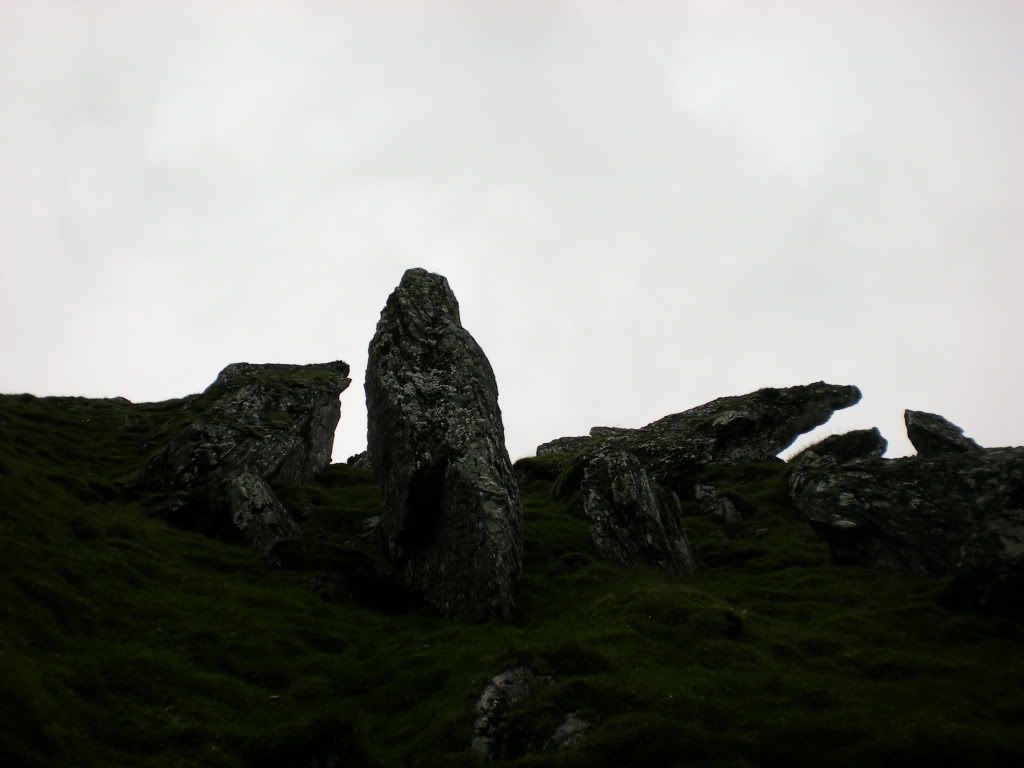 That wasn't very hard.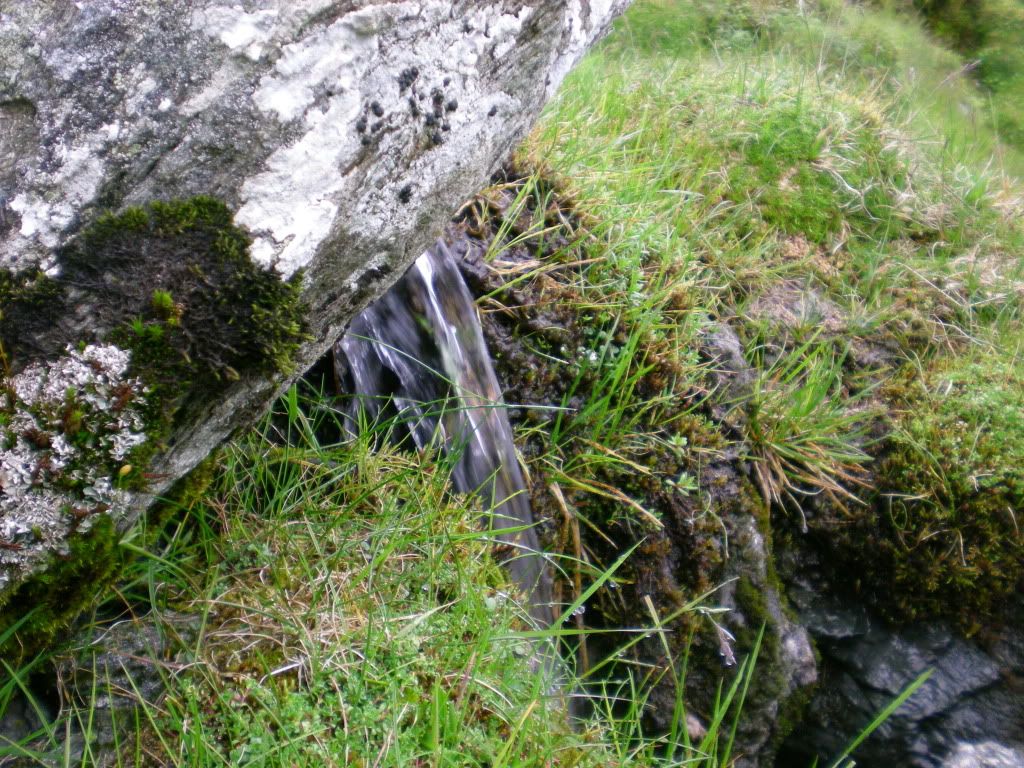 Some yellow mountain flowers.
This is the supper this time. Very tasty indeed.
What can you do in a tent on a saturday night?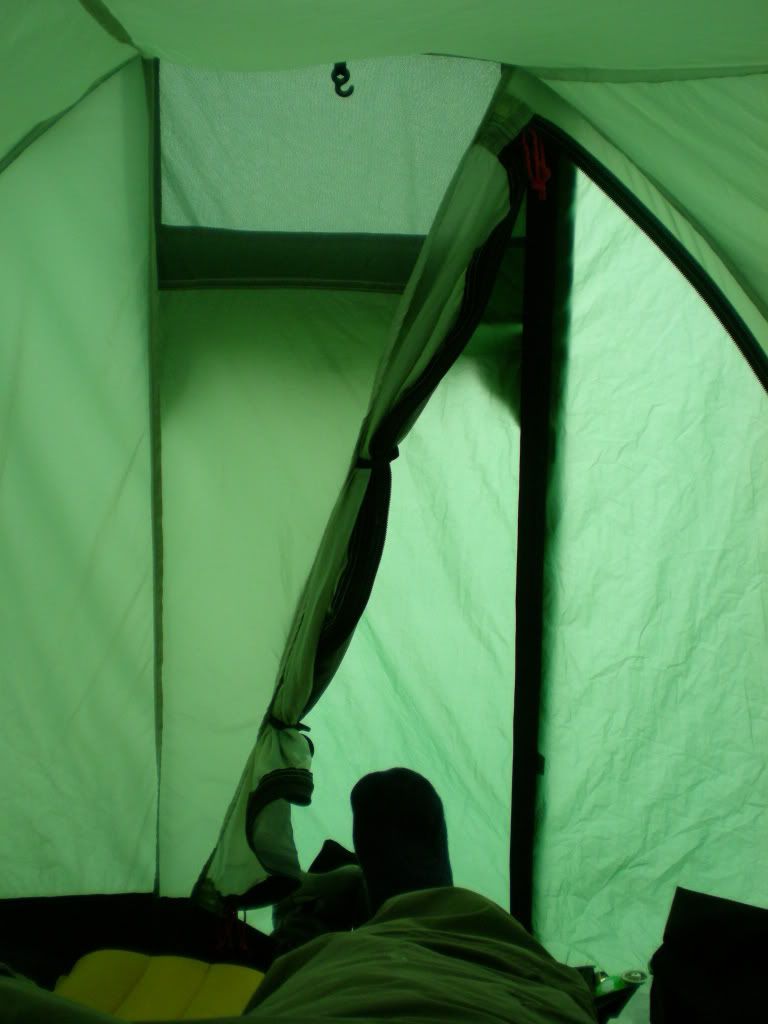 Some hidden commercials here. Oh, that one to the right is just the emergency ration....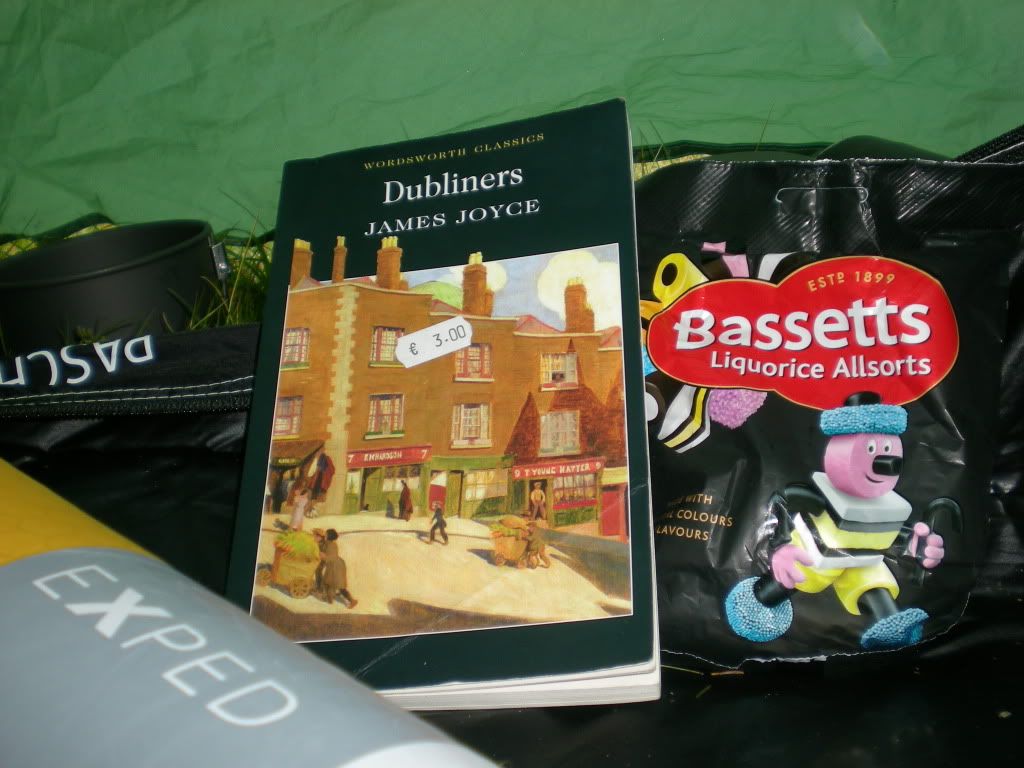 The first thing I see on Sunday morning is aliens approaching my tent.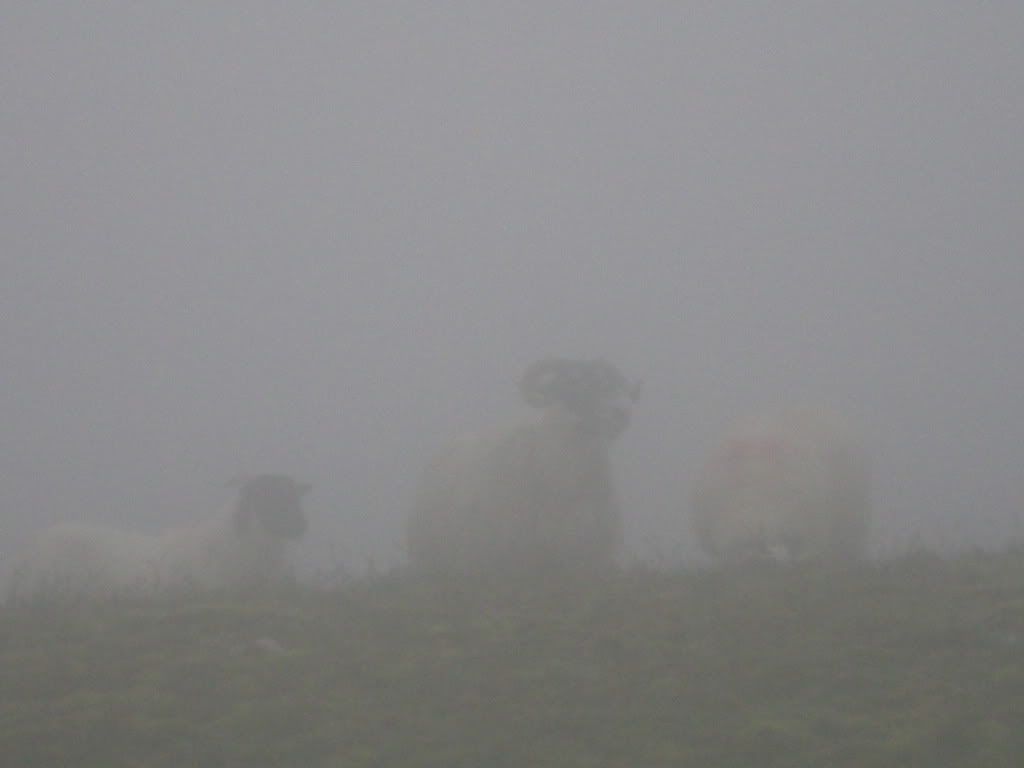 This is really hardtesting of the tent. Nothing is like the floor of the sport-shop where it looked so straight.
The wind is kind of strong now, and it has unexpectedly turned to southwest. One of the pegs loosened while I was sleeping, leaving my boots a little exposed to the rain. And the flysheet is glued to the innertent. Maybe it should be modified a bit with more guylines and attachpoints for pegs. Or maybe it's just a festival tent. But I have seen bad weather in such camps too....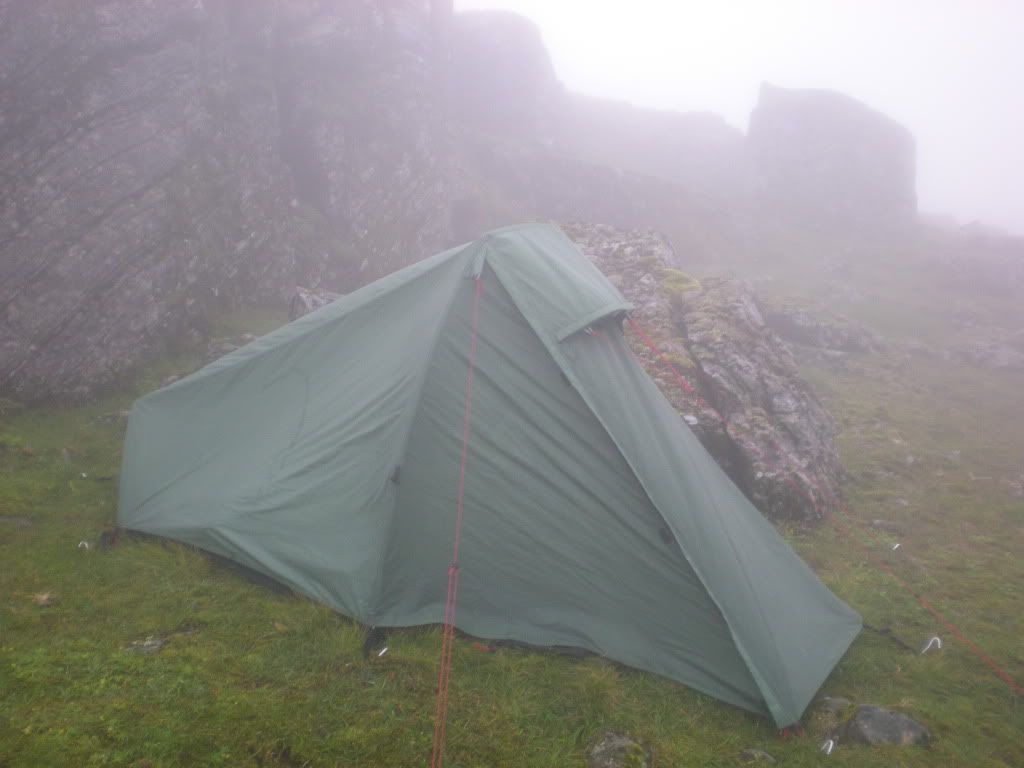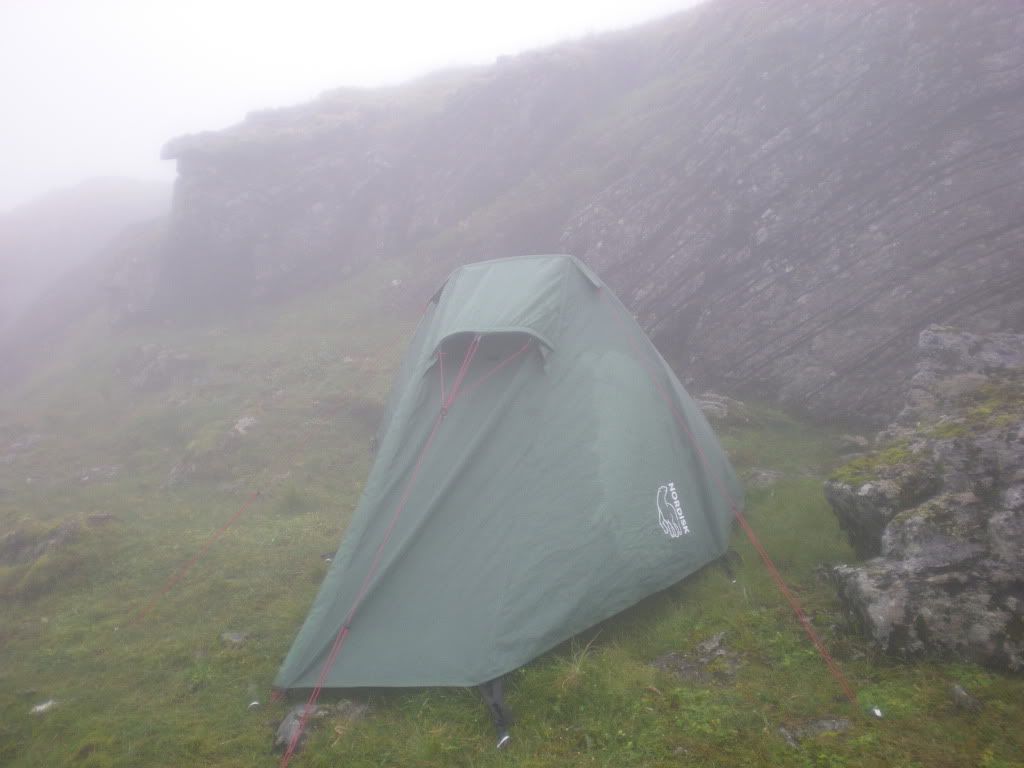 Where to go?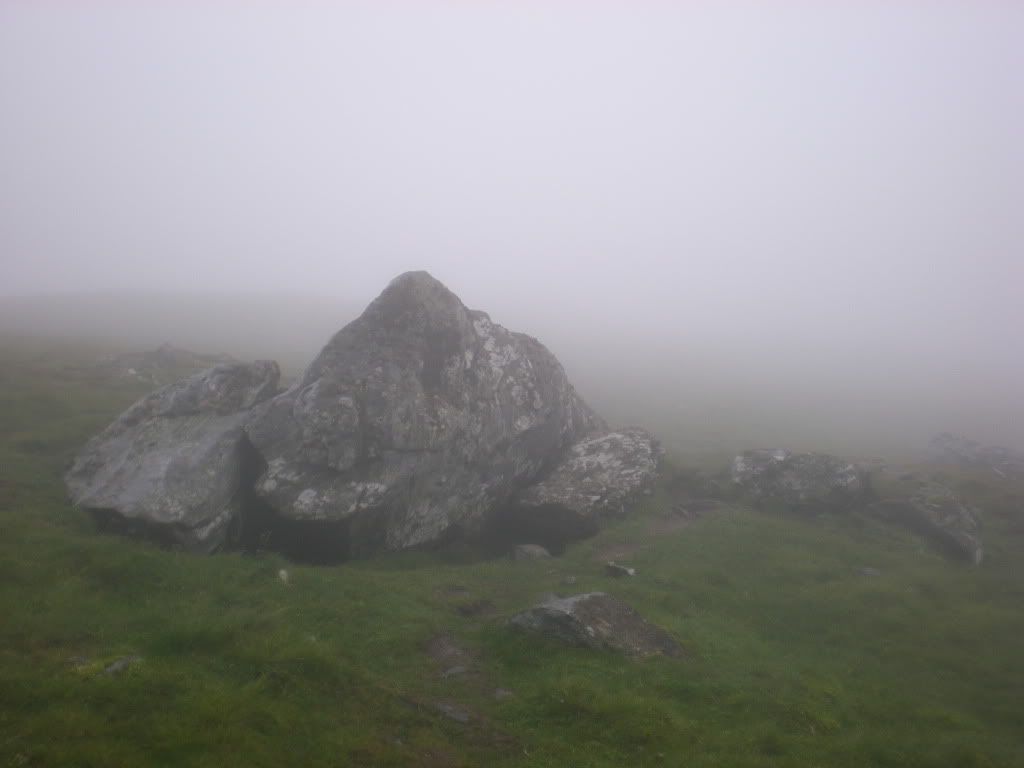 This is an old footpath to Meall Corranaich.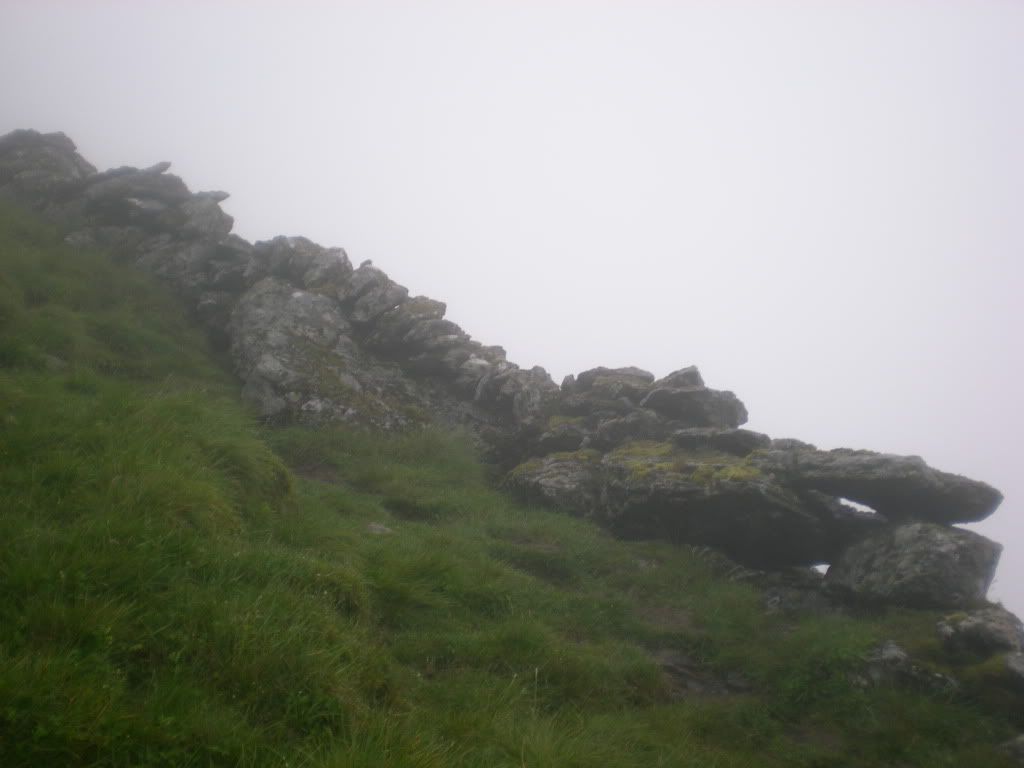 This is the nicest but not highest top. It was not possible to see between the two tops today.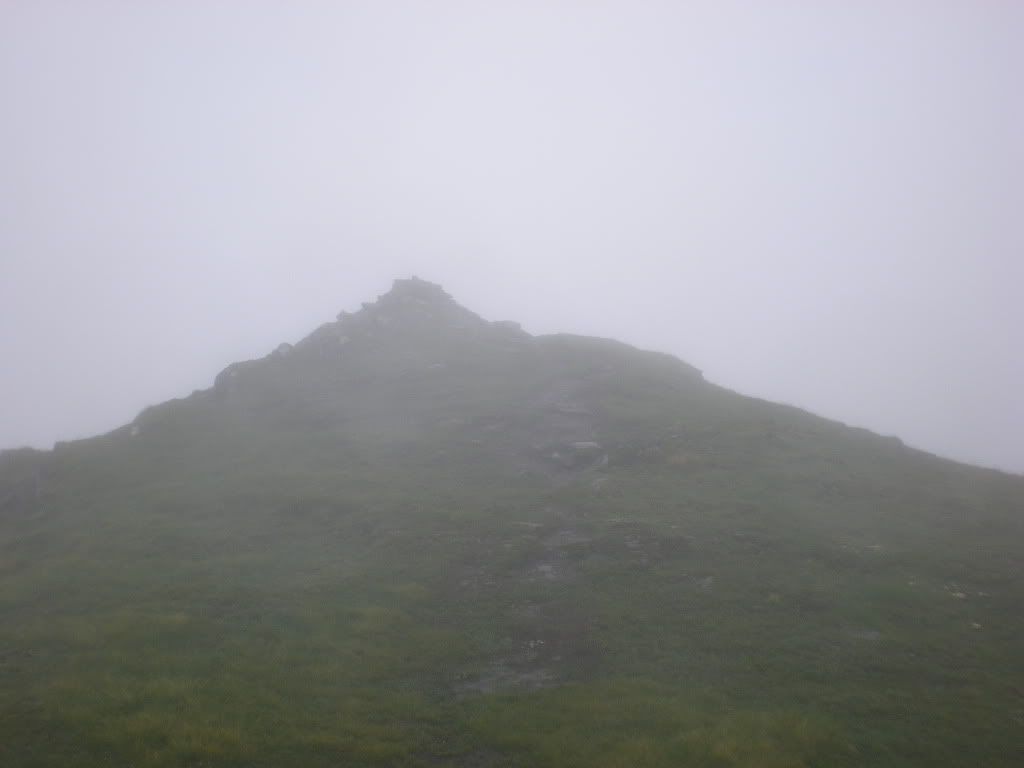 Keep NNE.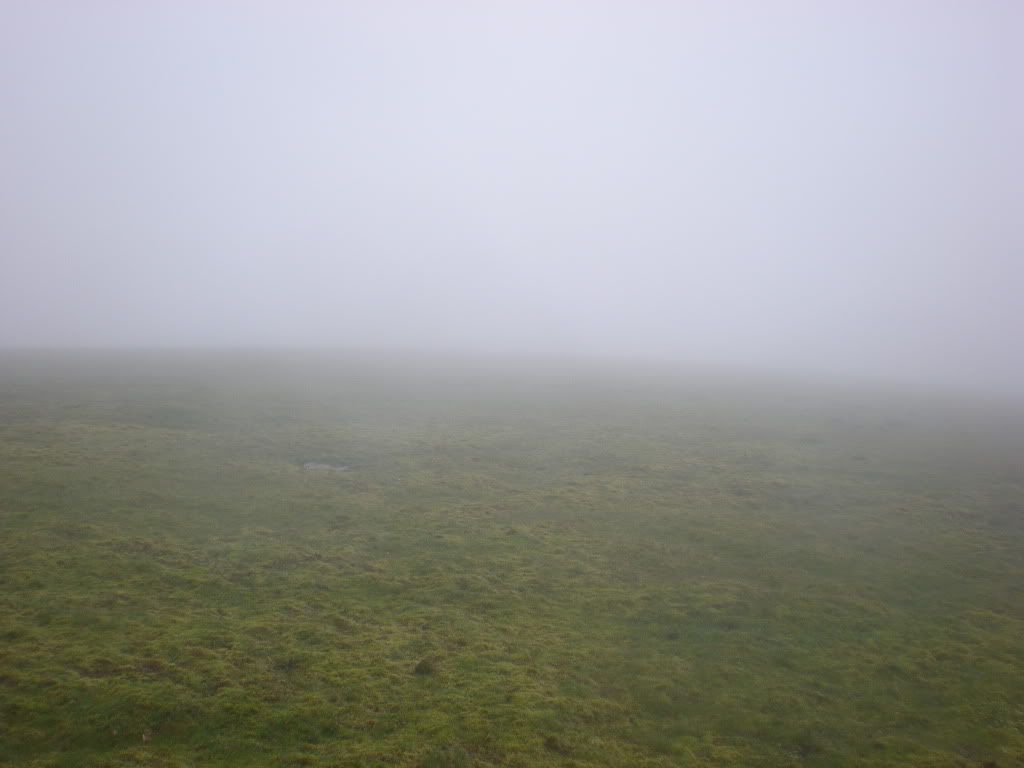 From Meall a' Choire Leith. The indicator is pointing SW.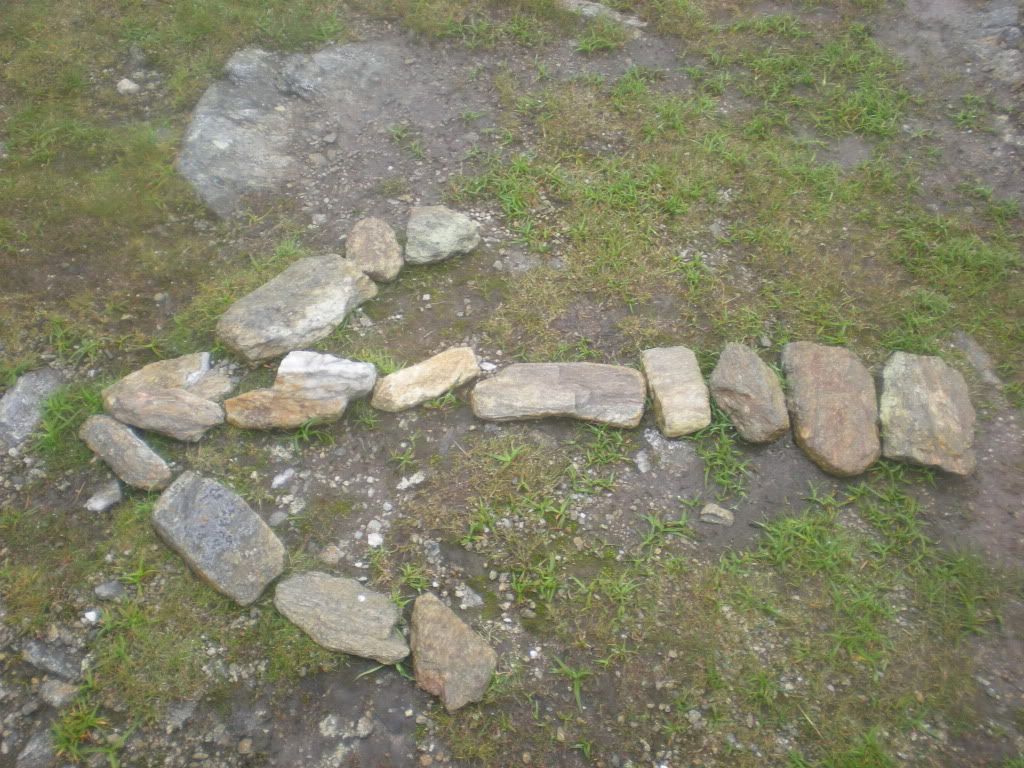 The NE crags of Meall a' Choire Leith.
Time for a sheltered lunch.
Bread.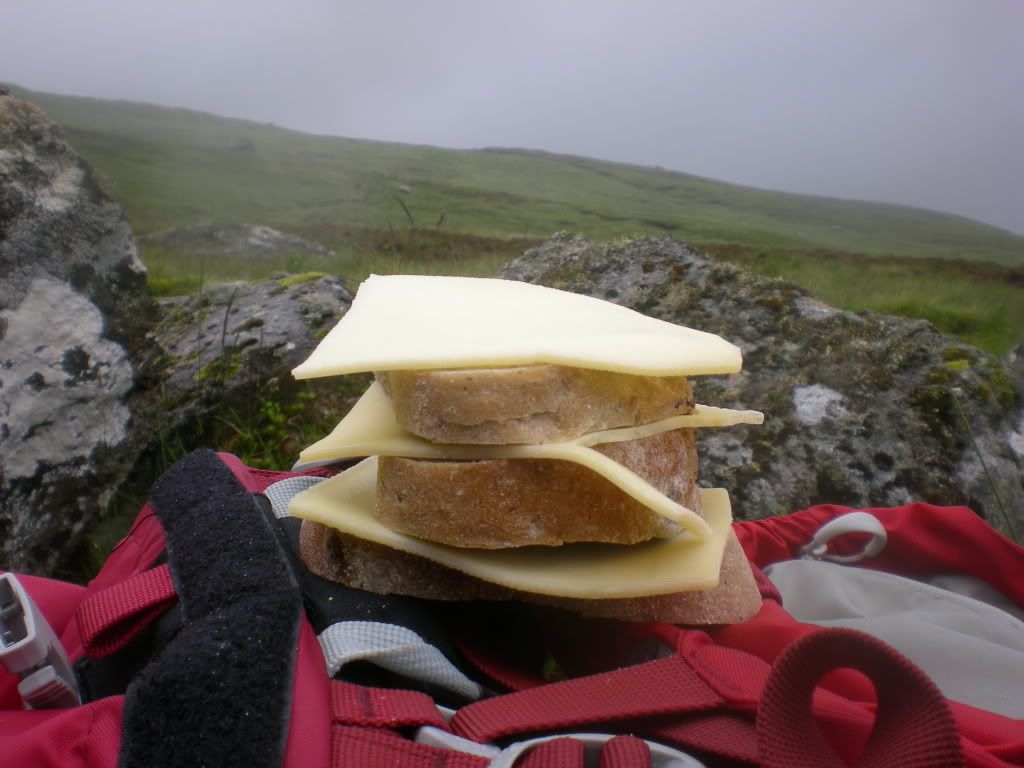 Some skills are necessary to build a wall like this.
A castle for someone modest. A humble home once? How was life in this Glen? All we can know is from the traces.
More shielings.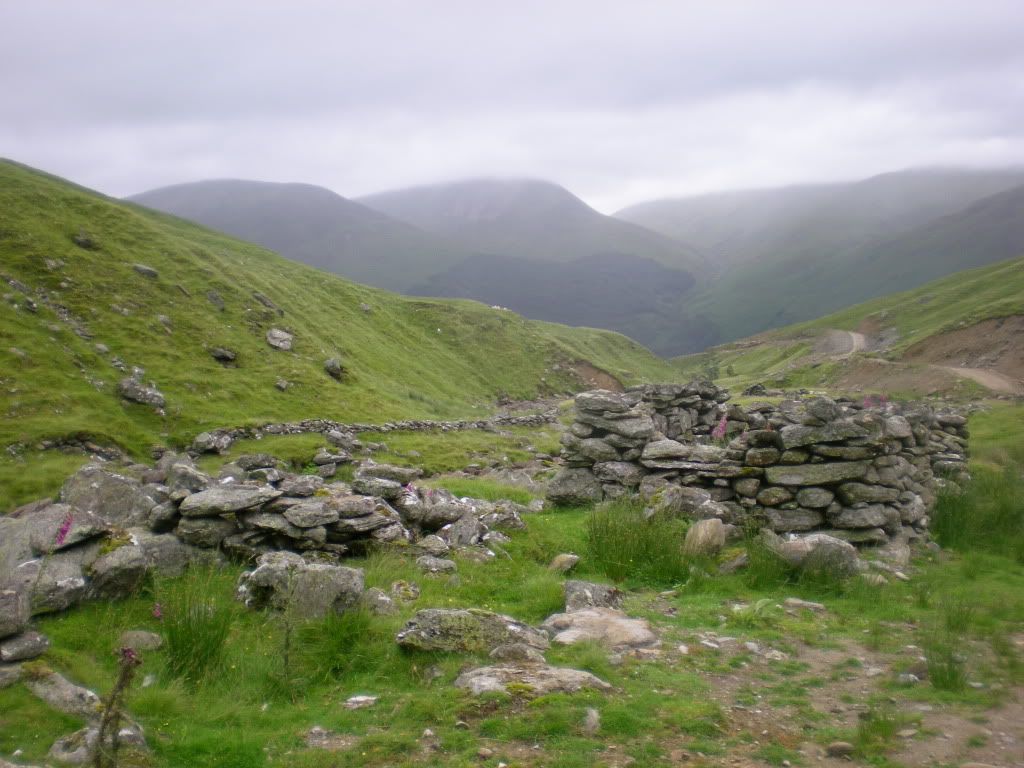 Starting to be a wee bit concerned.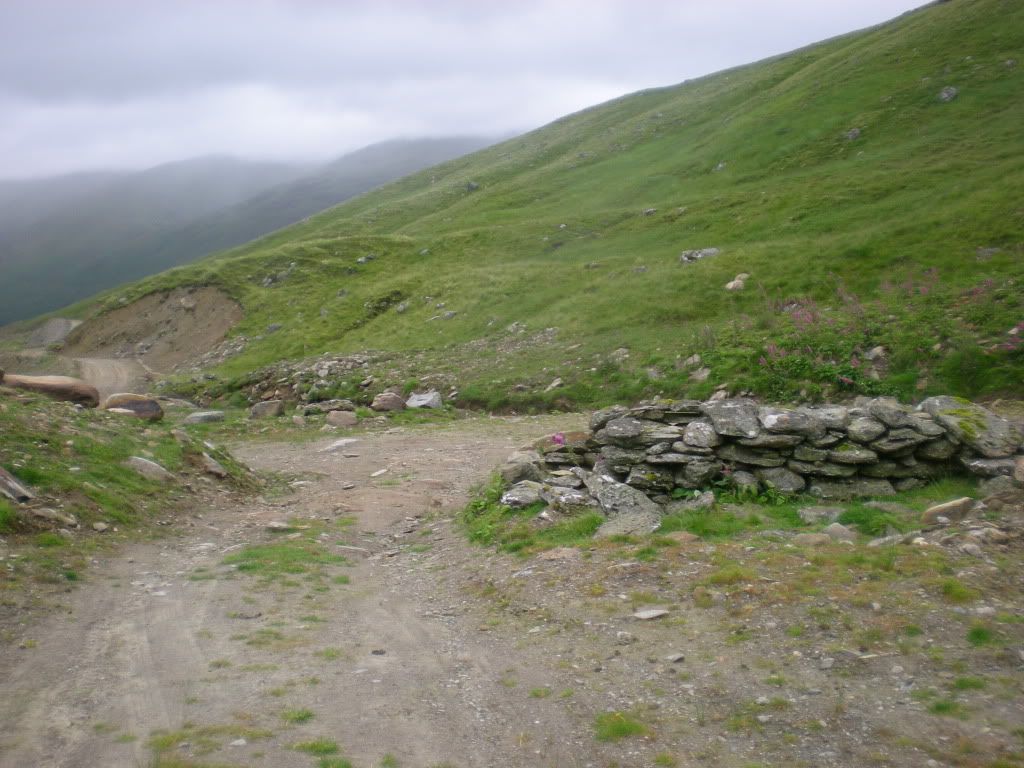 Let's hope they have a good plan.
Glen Lyon. I notice that the first Sunday rainshower is over.
River Lyon.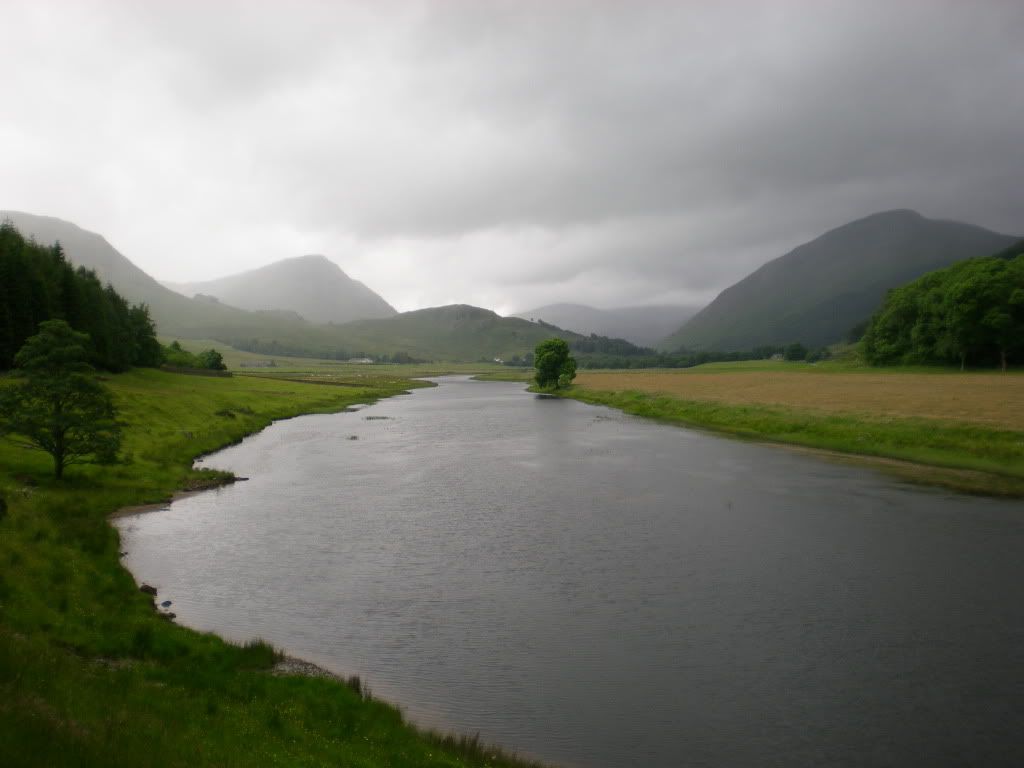 A nice walk.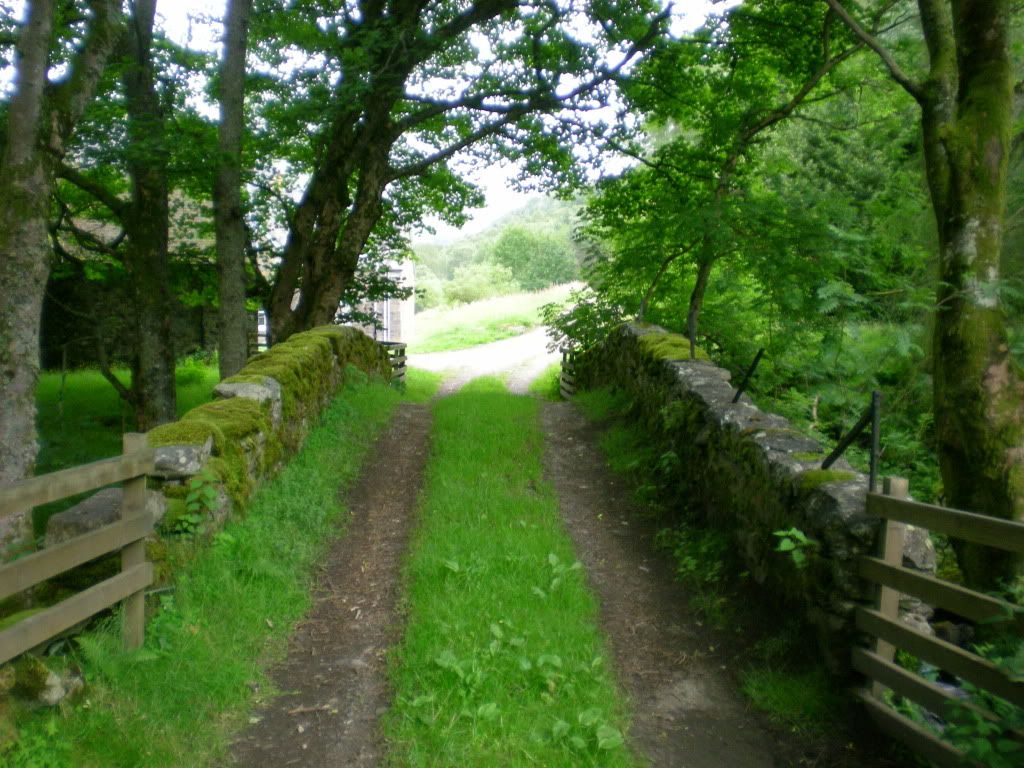 White birch forest along the road.
Back to Invervar Bridge.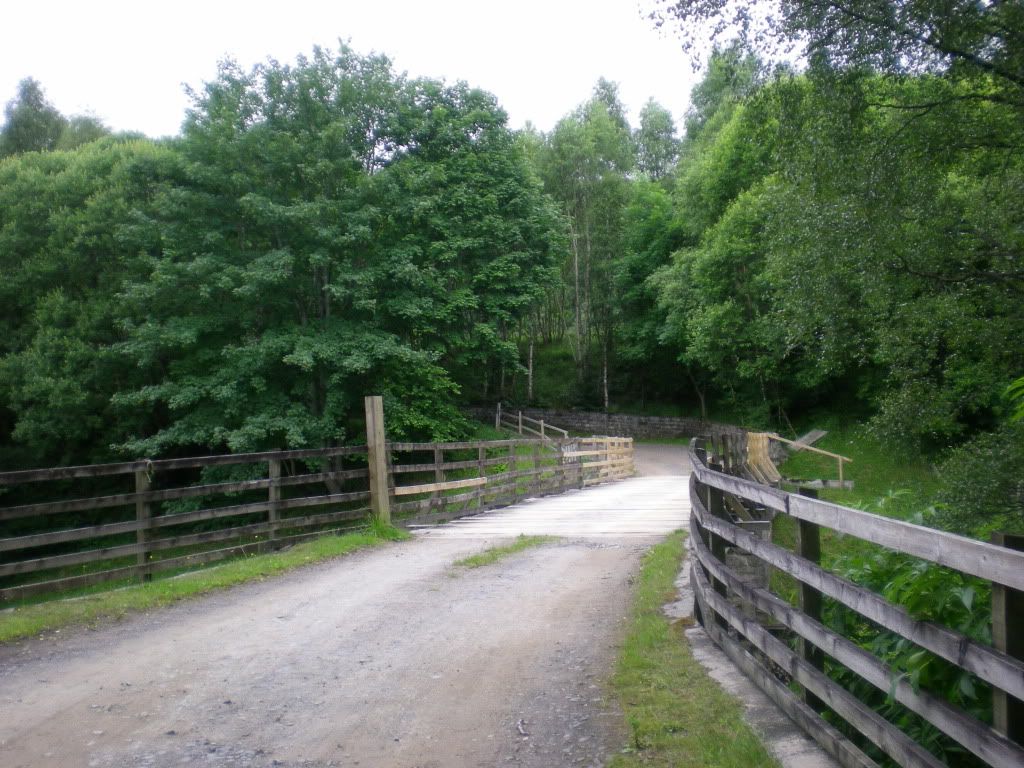 After a trip like this you deserve to stop in Killin for a meal.