So this week map 25 came out of the random draw on Tuesday night. I looked at a few routes, but decided that the ones around Loch Monar looked good for a weekend trip. Monty was there last week, and posted up an excellent report, so I knew exactly what the lie of the land was for once, but on Friday I was in two minds because the forcast looked a bit damp. I decided in the end I would just go for it.. i had got wet before, and lived to tell the tale
So I drove over after work on Friday. it took longer than expected as I had to stop in Inverness, and then I missed the place and ended up at Loch Carron and had to go back.. So it was 9PM before i got to the carpark and got going shortly after. The delay meant that I would not get to Bealach Bhearnais before dark, but I would just have to get as far as I could. It was raining hard, so a grim start.
A good track and good bridges took me well up the glen. The river was pretty high, and i could see where it had burst its banks in places. There was a wire bridge en route that I couldnt resist getting on and edging into the middle and back.. seemed pretty sturdy to me. I found the path off the track shortly after and noticed that it was getting dark already. Not surprising seeing as it was gloomy in the mist anyway. I looked for a campspot, but could find only squelchyness
I found a dry spot eventually, within sight of the 2nd wire bridge. It was a little bit more tussocky than I would of liked but the ground was firm, and in actual fact, I didn't notice the tussocks when I was in it.. My usual camp standards must be too high
I slept a bit late on Saturday morning. I was awoken by the heat of the sun! Yaay! to find a swarm of midges in my tent
I've never rolled a cigarette so fast in all my life! and finally got going about 9. The wire bridge turned out to be broken.. made me think my assessment of the other wire bridge may be flawed
I managed to pick my way across with dry feet and up the decent path towards Bealach bhearnais. I noticed a couple behind me leaving the track and heading up this way. The tops were misty, but there was a bit of sunshine about. I knew there was rain to come though, and come it did!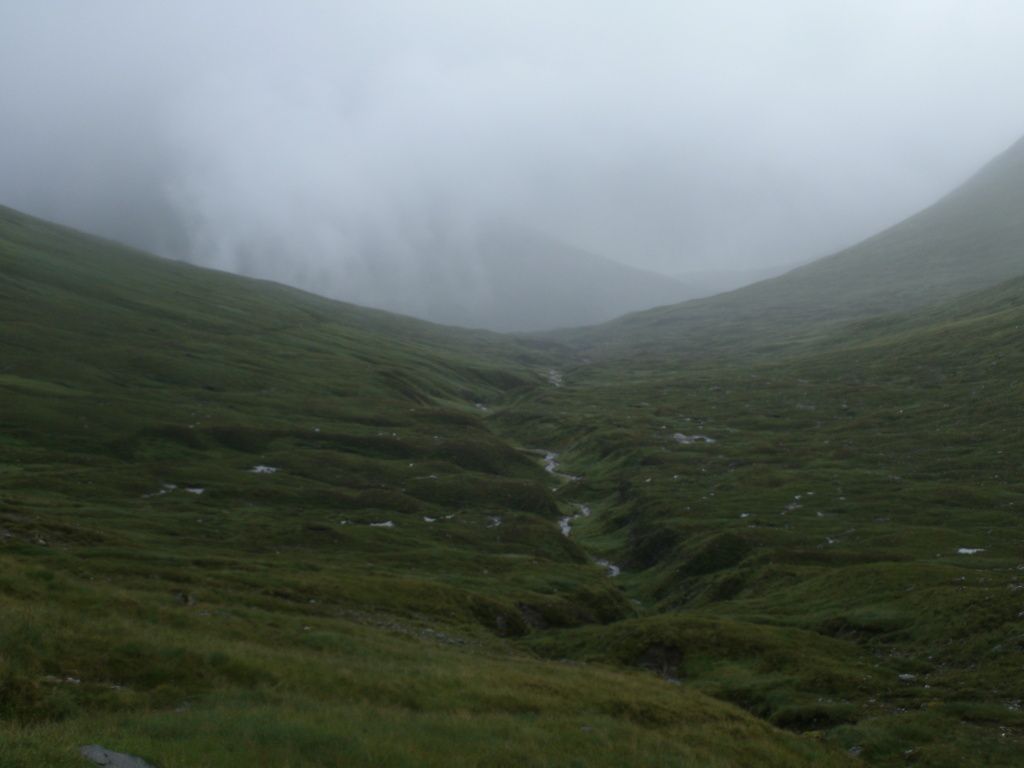 By the time I got to the bealach it was lashing down. I left my big pack and started up beinn Tharsuinn. The first section was steep, no path that I could see. Just before I hit the clag line, I noticed 4 horses on the other side of the bealach looking bedraggled, and the couple just arriving there. I went on up into the mist where the ground leveled off, and I found a whisper of a path to follow. There were 2 or three false summits before i hit the main top, which is reached from a grand feeling ridge walk in the latter stages.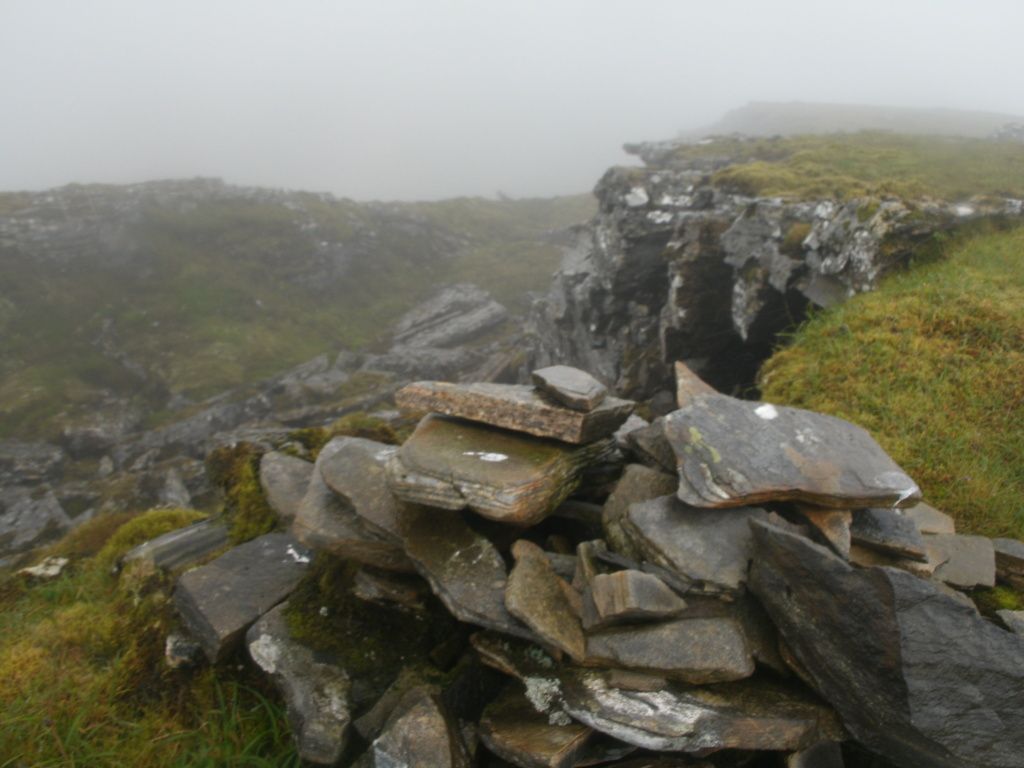 from there, a really well defined path goes along the ridge, down grassy slopes for the most part. I'm not sure if the path continues down to the bealach or not, as I dropped off to the left hand side for a gentler contour down. I had to cross a wee boulderfield but generally the going was good. Eventually, I got back down below the mist, and saw the wall I knew marked the Bealach.
I set off up the steep path, which wound its way through the crags. I was glad of it because in the mist it would of been hard going without it. Eventually, it led to a gully, with a waterfall pouring down it.. Surely not up there I thought! but there was a wee cairn I could clearly see at the top, which said it all. It was an easy climb, with a choice of routes and sturdy big hand holds. Felt like gorgewalking though
I found myself on a large shelf, with a huge cliff in front of me, which I couldnt see properly in the mist. The path petered out, although I could see a few footprints which i followed, but even they disappeared, so I went back to the last cairn.. The mist lifted a bit thankfully, and I saw another cairn further the other way. Good job I went back. Only a hundred yards further on, there was a large rake, which although steep, didnt involve any hands. The path leveled out beside a large pool, and then it was just a case of weaving through the rocky outcrops and boulderfields to the summit which had a disappointing cairn to be honest
I stopped for quite a while at the top for food, the rain had finally gone off! then descended toward lurg Mhor. Easy walking, and as I came out of the clag, the sun came out, and the views opened up all round. It was an amazing sight after all that dreichitness.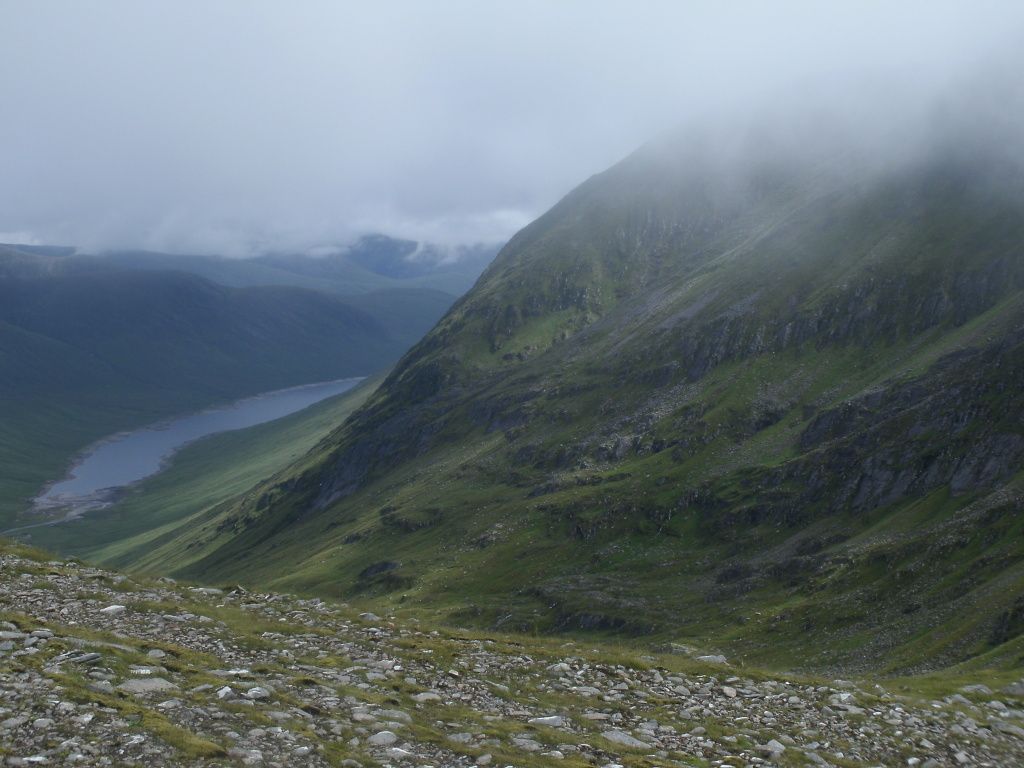 I took my time with my ascent of Lurg Mhor, kept on stopping to see the views. The mists were lifting, and by the time I got to the top, it was clear, although not all the tops roundabout were. I saw the couple behind me coming out of the mist from Bidean a Choire Sheasgaich.. Further along the ridge looked interesting.
I had a wander round the summit, I could see the glen I would have to go up to get back to my pack.
I decided that although it would probably be easier to go back to the bealach to descend, it didnt look too bad to go down from here. Probably foolish in hindsight to be honest. I began my descent. It was steep, and there were plenty of rocks and craggy bits to avoid, but it wasn't too bad.
There was a beautiful spot halfway down where I would of camped if I had my stuff with me. In the sun it was like paradise. When i looked up at the way I had come down, I couldn't believe I had come that way.
Shortly after though, the going got steeper, and I started feeling queasy.. I put it down to vertigo, and told myself to look where I was putting my feet instead of what lay ahead. The dizzziness grew though and then my stomach started cramping and the vomiting started.. I knew I had to keep going, but had to stop periodically. I had the shivers, and generally felt worse than I have for a long time. The going was getting scarily steep, and it felt like i was coming to the top of a very large cliff. I kept on putting one foot below the other though, and followed deer tracks down a wee grassy bit between two great big crags alongside a massive waterfall, and that was the worst of the descent over. I stumbled across a couple of burns and hit the uphill. My legs felt like lead, and I was taking tiny steps, not even bothering to pick my way through the bog. I was still having to stop to wretch now and then and I could feel all my strength draining away. I was angry at myself for leaving all my stuff - I should have it with me just in case something like this happens, so I have everything I need to hand. The rain came on steady once again.
As per Monty's advice, I didnt drop down to the tempting looking path, and saw a bit further up, that it did indeed disappear after just a short distance. I noticed maybe a faint trace of a path in places on the route i took, but there were countless gullies with streams to negotiate. By this time I was just staggering forward upward, onwards, and i was surprised when I looked up to see the bealach just a couple of hundred yards ahead.. Just a little further and I was back at my pack. I was so weak, I couldn't even lift it onto my back though, so I had to do a comedy manouvre, of sitting on the ground, putting on the shoulder straps, rolling onto my belly, then all fours, and then up
It was only 3.30, but I found a place just a short distance away, got the tent pitched, just bafore the heavens opened. That was some shower, i think I heard thunder as well! I lay for ages, dozing and unsuccessfully trying to get down a few sips of water. The couple that were behind me all day passed at about 6. She looked knackered the way she was hobbling. They must of had a tough 4 hours since I last saw them.
At 9, the 4 white ponies came to visit, which cheered me up. They cleared me out of polo's and dried fruit and then wandered off again. I managed half a cup of tea before bed. I was starting to think the worst of the bug or whatever it was, was over. I fell asleep watching the deer grazing in the glen below.
This morning I was awoken by the rain lashing down onto the tent. The wind had got up, and visibility was down to just a few yards. I managed to eat a bit of plain pasta with some cheese mixed through, which did give me a good energy boost. I waited until the rain went off mid morning before I packed up. unfortunately it was just a 5 minute break in the rain, so by the time i was folding the tent it was back to lashing it down.
My legs felt like Jelly as I made my way back down the glen, but at least I had managed to get my pack on my back in the normal way. I seemed to spend the whole way down trying to avoid frogs that hopped onto the path.
I met a couple of really friendly ladies coming up the glen, and we chatted awhile, about how high the river was. When I got to the river, it wasn't raging, so I just took my boots off and waded it.. came up above the knees, so definately risen since I was last there. From there it was just a straight trot down the track in improving weather conditions.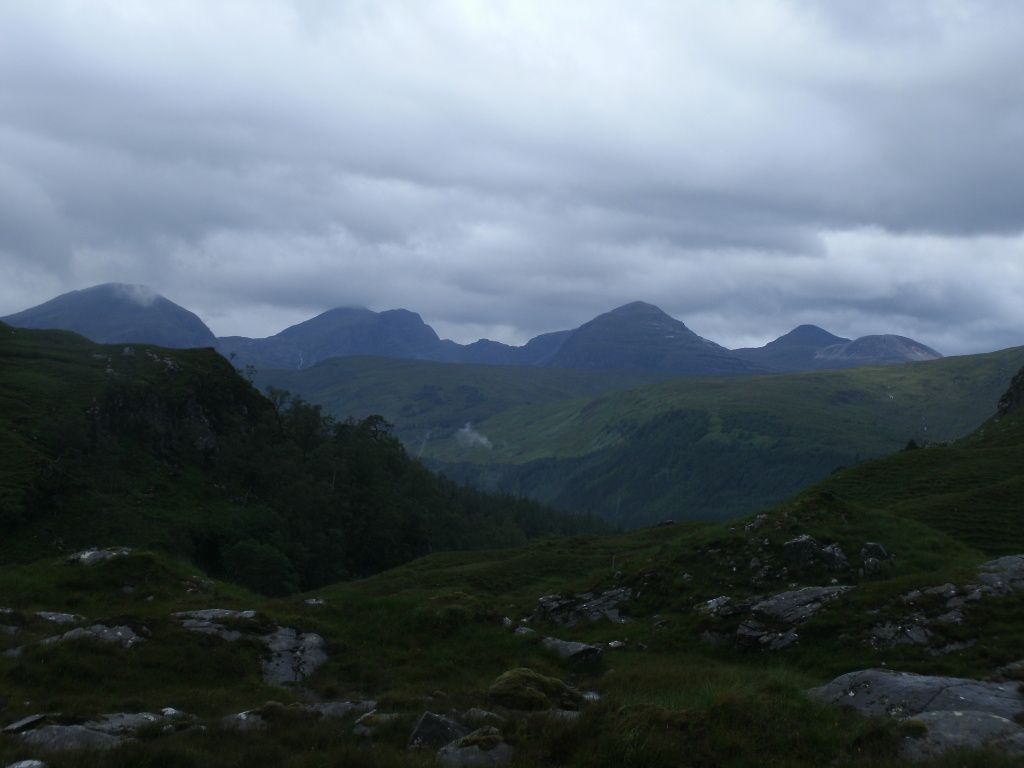 When I got back to the carpark, my car was so covered in pine needles, i had to scrape them off.. Beware the carpark!
So having to bail out on a trip just isn't like me.. I'm still feeling not right as I write this so definately the right decision to leave a few out today. I'm not sorry I'll have to go back to the area though, hopefully in better weather the next time