Sunday is my usual Munro-bagging day. I was just taking some rubbish to the bin, I know that's maybe not a good Sunday activity but.. I was not aware of the weather. I gave up the project since the sidewalk was flooded, and I didn't reach my destination around the corner. I returned to the armchair and the buttocks were glued to the chair the rest of the day as the eyes followed the olympics.
Tuesday the weather changed and I started to think about an evening trip to a Munro. Common sence won. It's far to drive.
Wednesday the same good weather, body very rotten now. Being inspired by all the olympics I decided to let the body have some exercise and relief from the training abstinence.
The route:
On your marks. Set.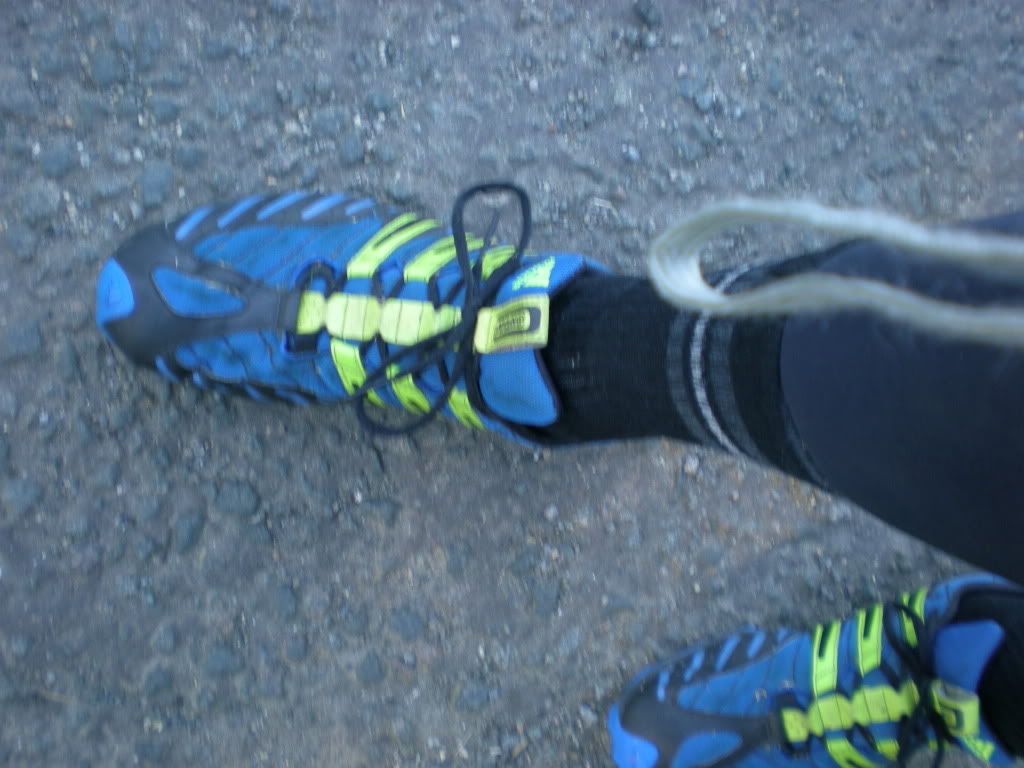 I have heard so many boggy stories about this mountain. The Munro guide books are competing about criticising the mountain for being allocated where it is. I will have to fly over the bogs tonight, because i didn't bring my gore-tex.
These are the famous bogs. It wasn't that bad. It's possible to cross. There are no bottomless sumps.
View of Ben More and the rest of the Crianlarich Hills.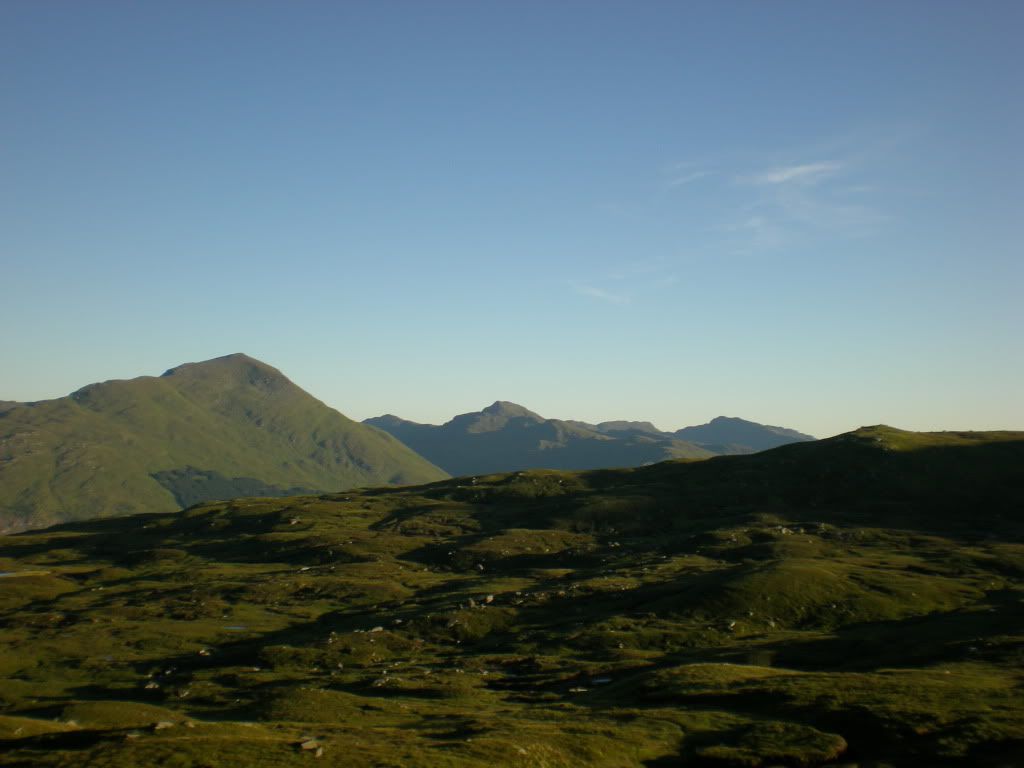 Sgiath Chull. I will unfortunately not have time for a double tonight. I will bag it later.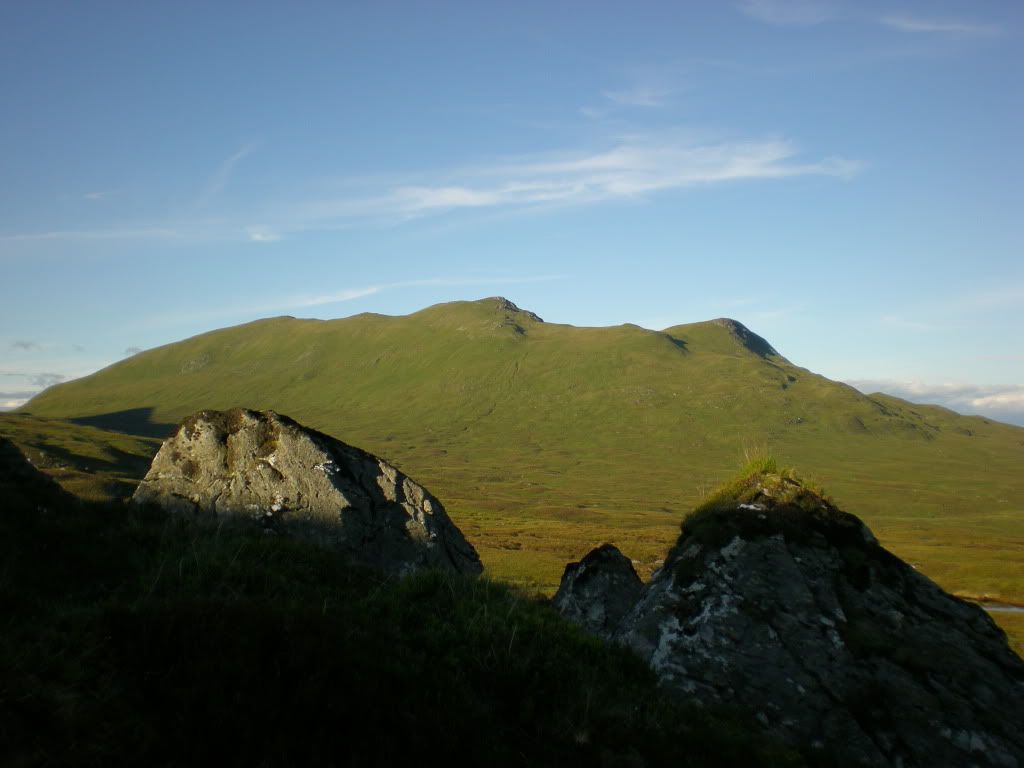 Some crags on the way up.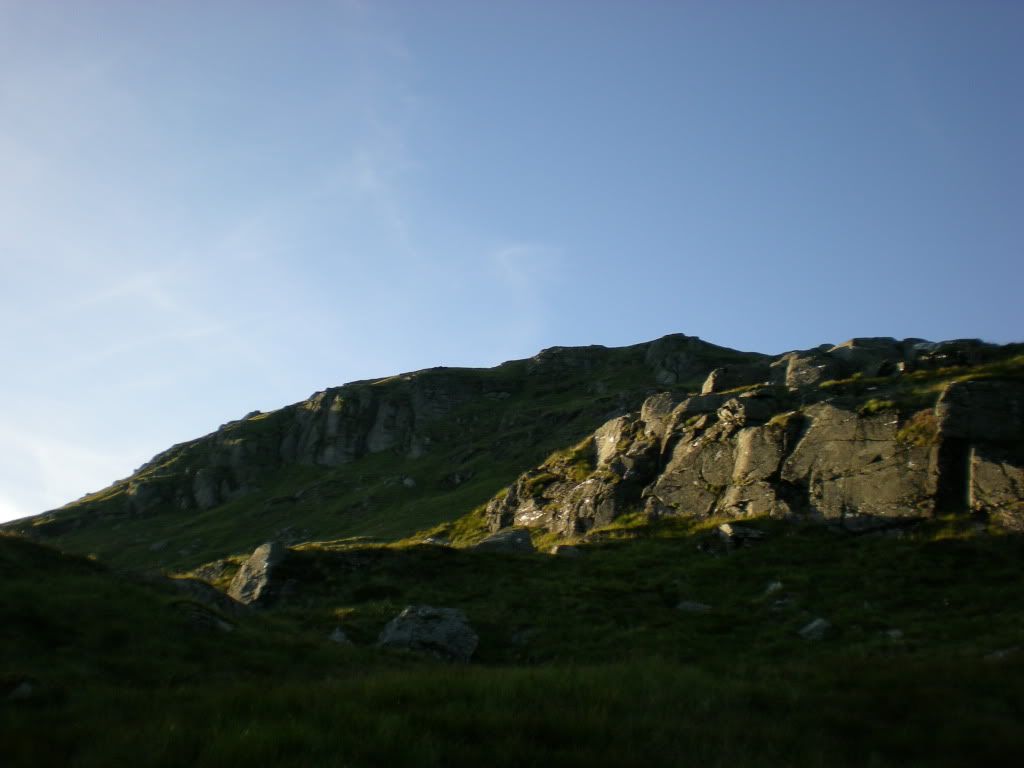 The first thing I saw from the summit was the famous profile of Ben Nevis, very far up North.
Whereever I turned there was a breathtaking view.
Ben Lawers somewhere there in the horizon.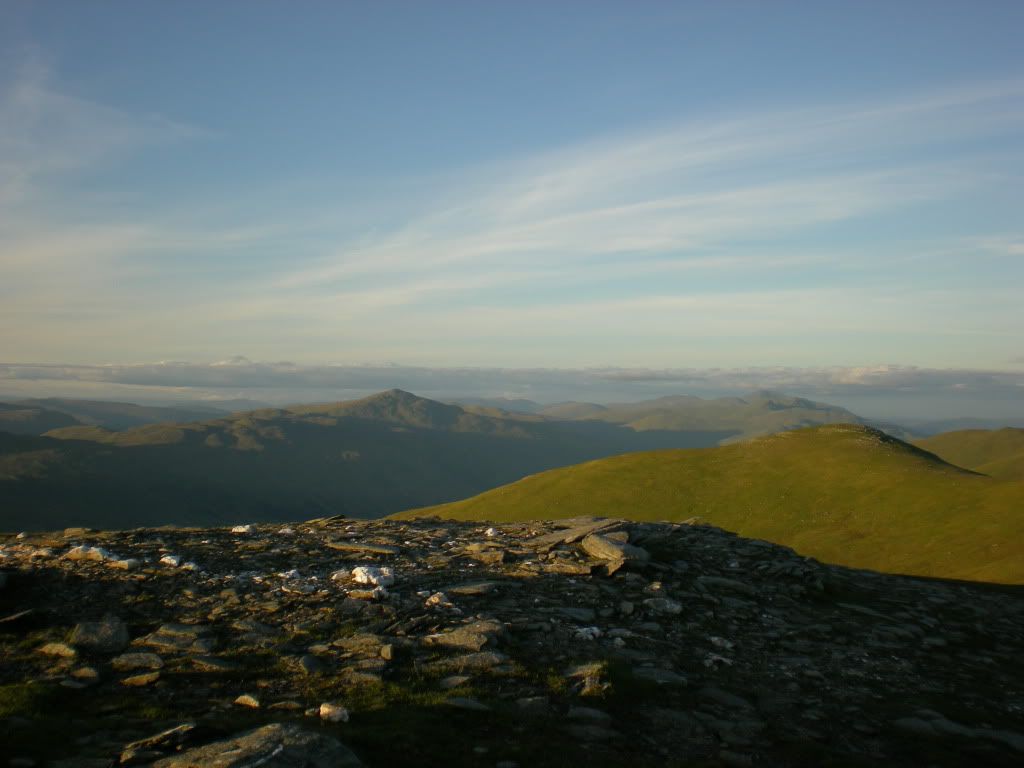 Ben Vorlich, Stuc a'Chroin and Beinn Each.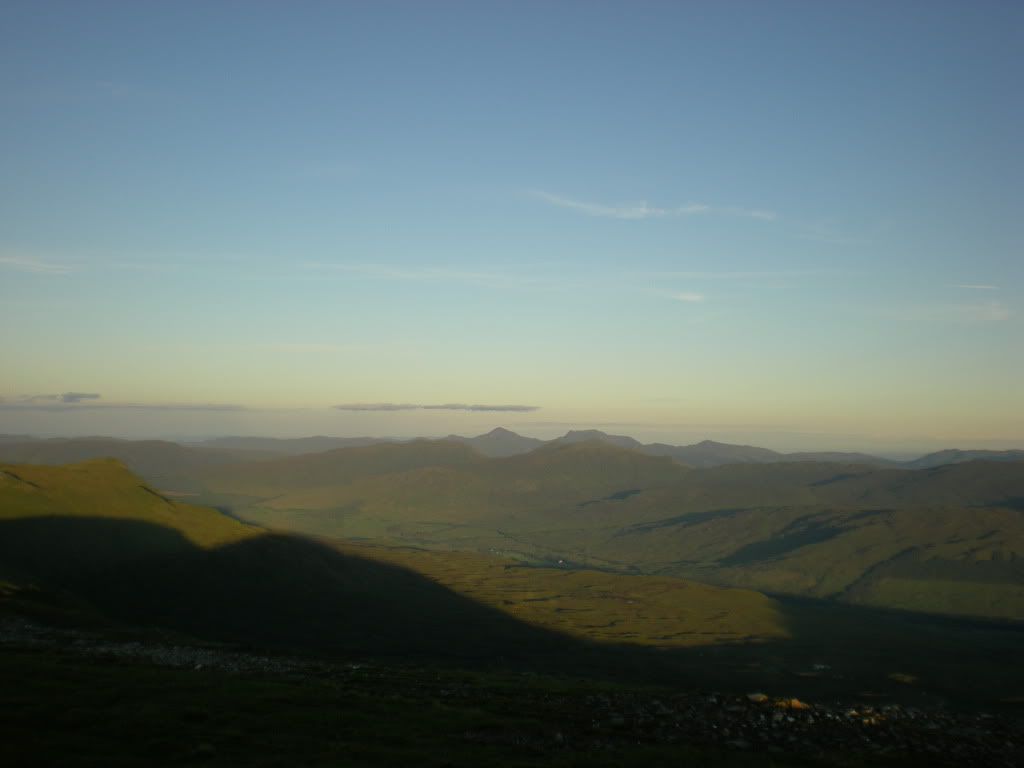 Ben More again.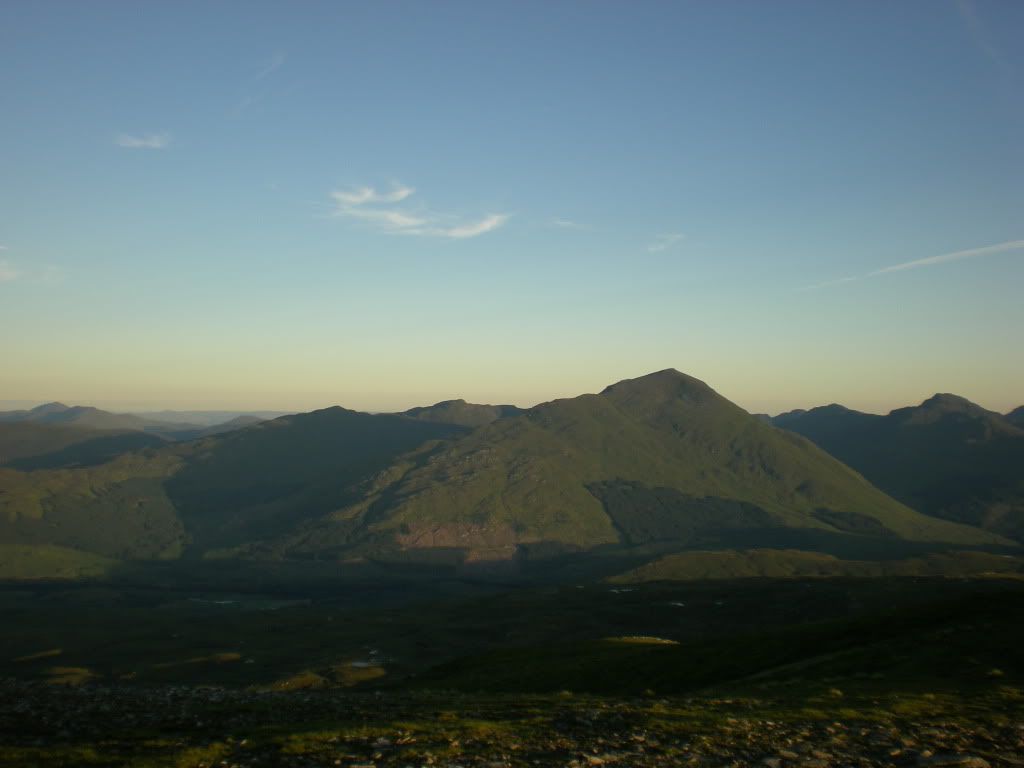 Crianlarich Hills and Arrochar Alps.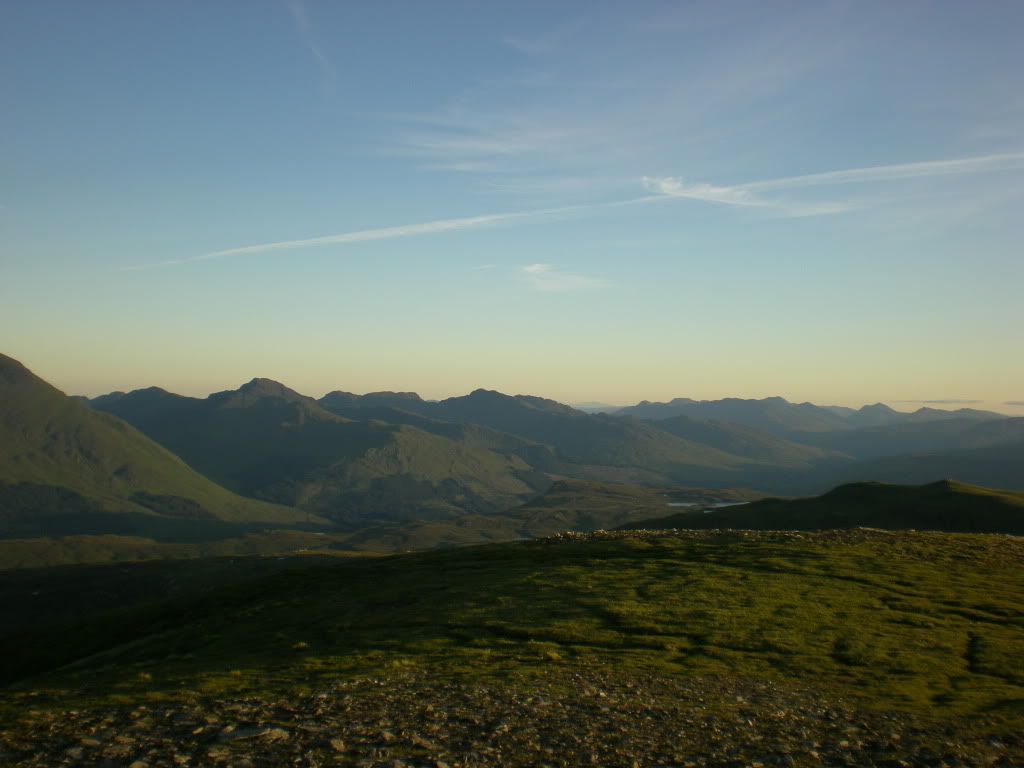 Arrochar Alps and Tyndrum Hills.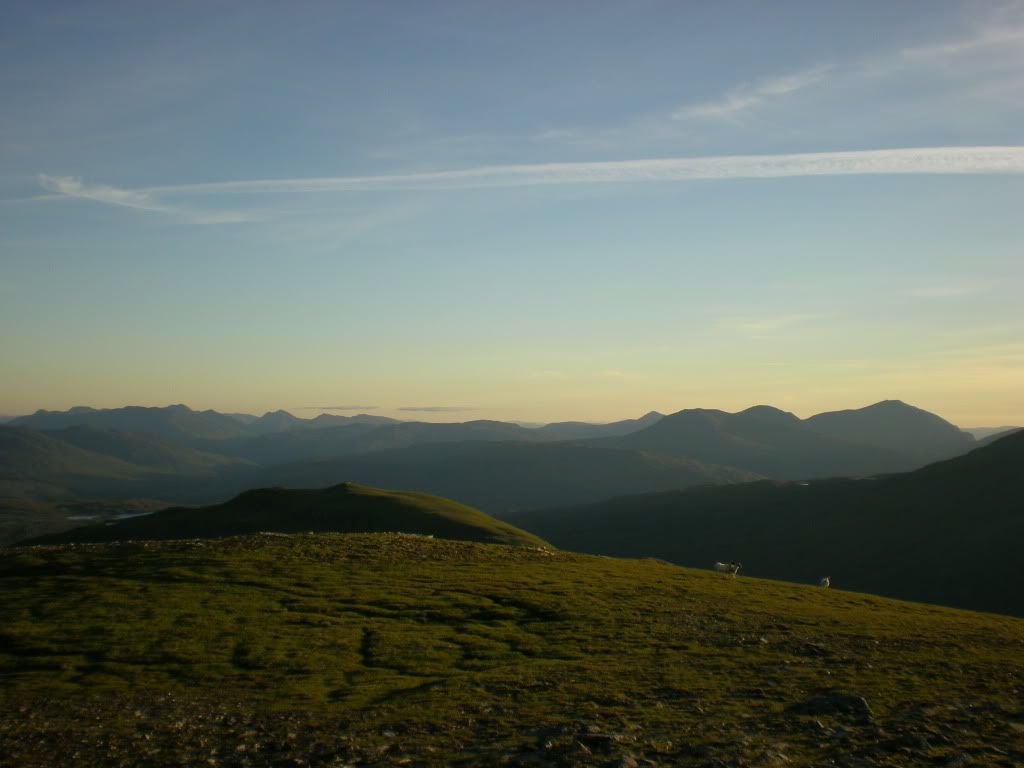 Ben Challum. I am wondering which mountain that little peak between the two summits of Ben Challum is.
It's far west.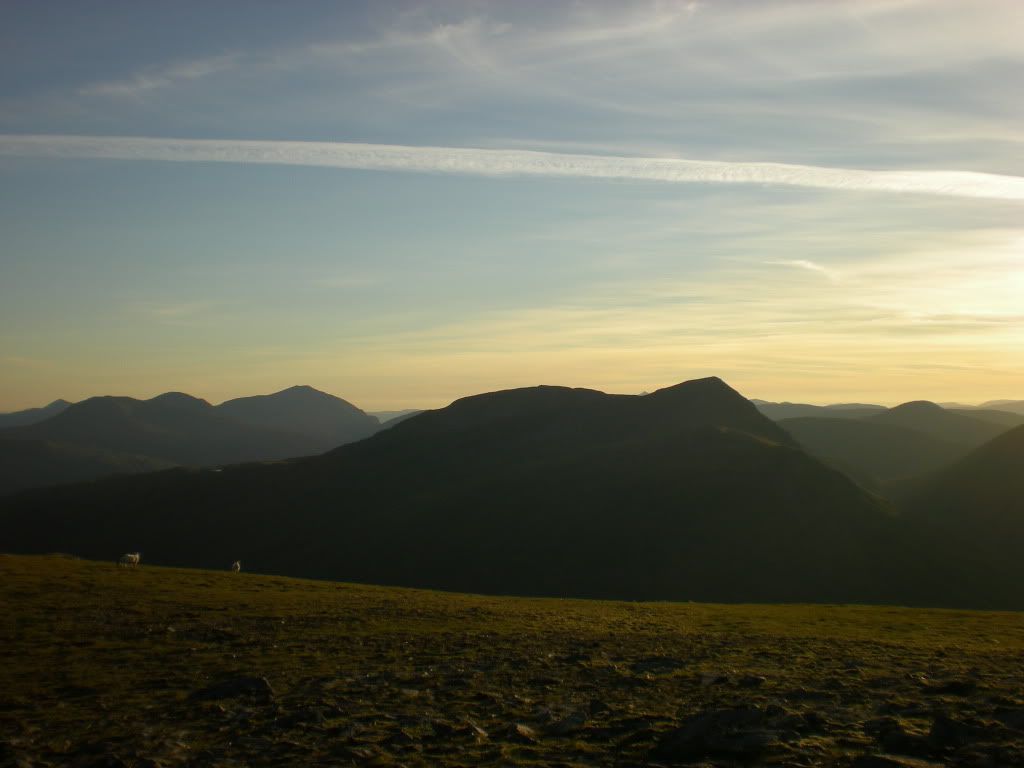 Sunset I.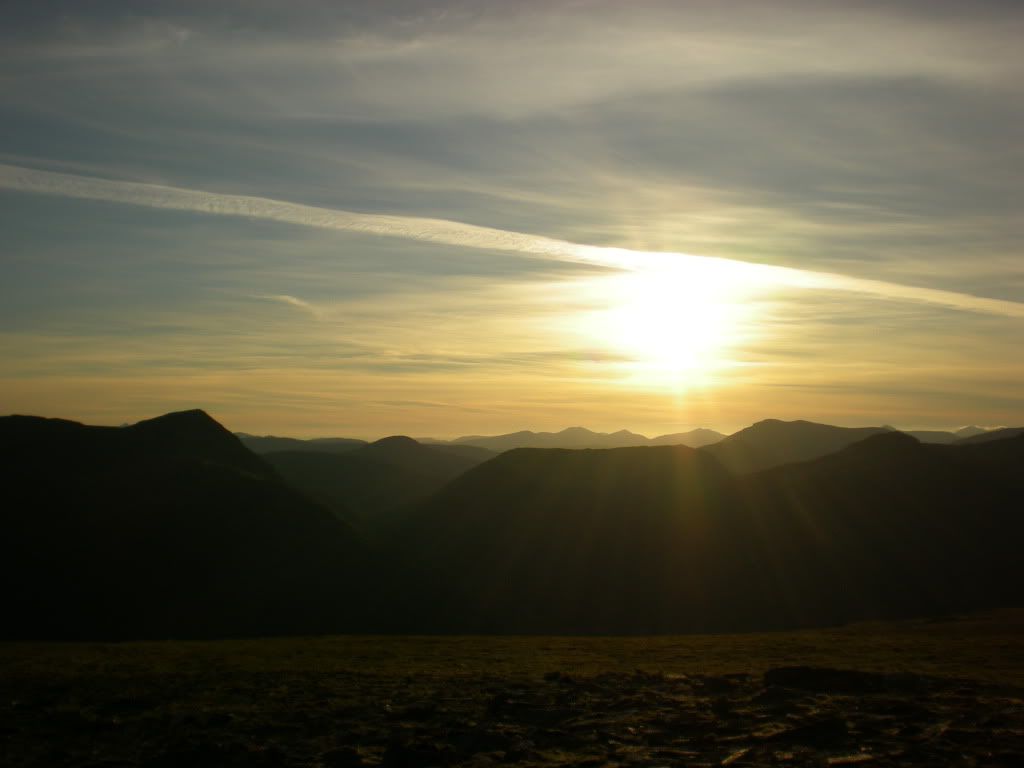 Sunset II.
Even on short trips..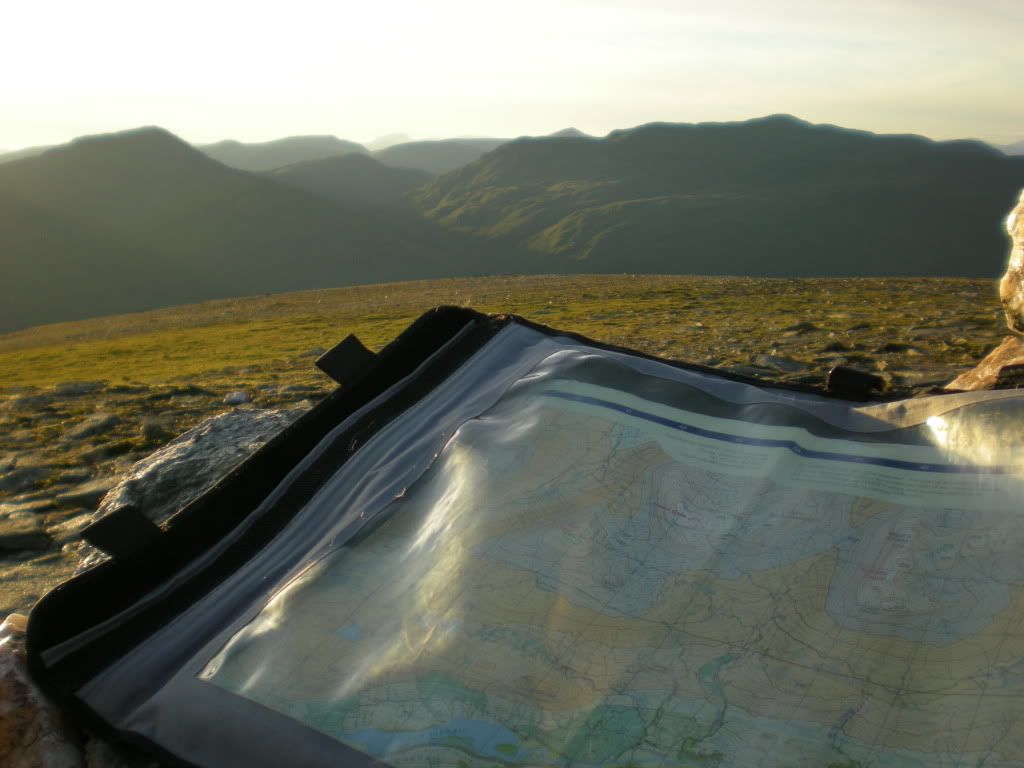 Sunset III.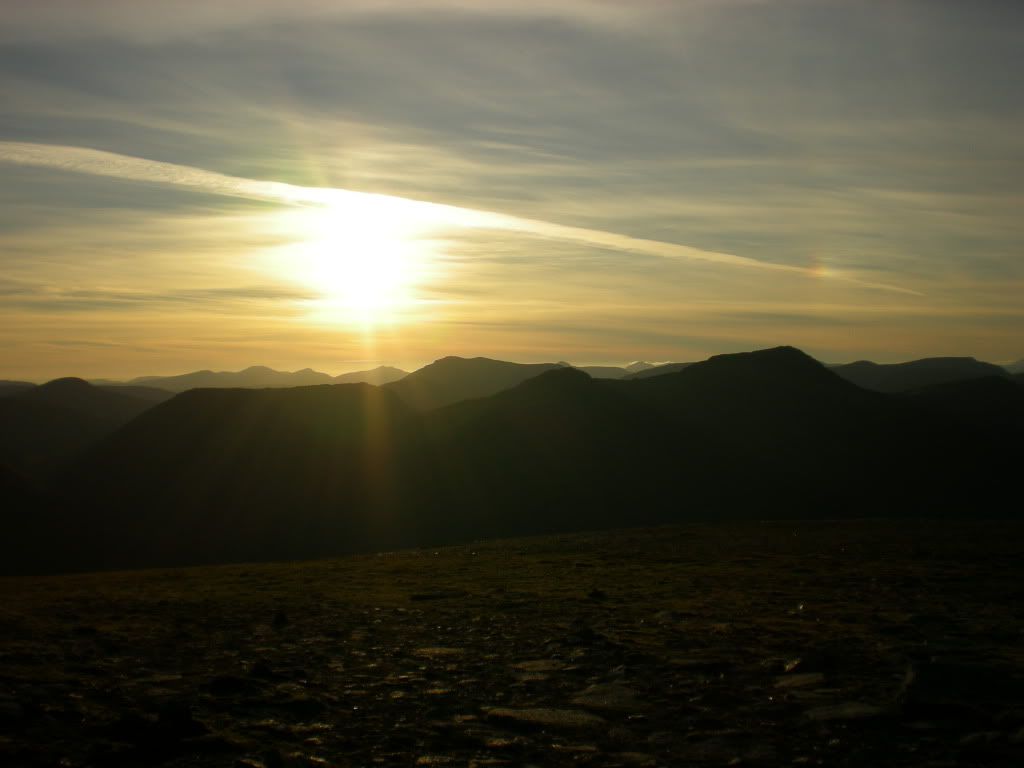 The summit cairn.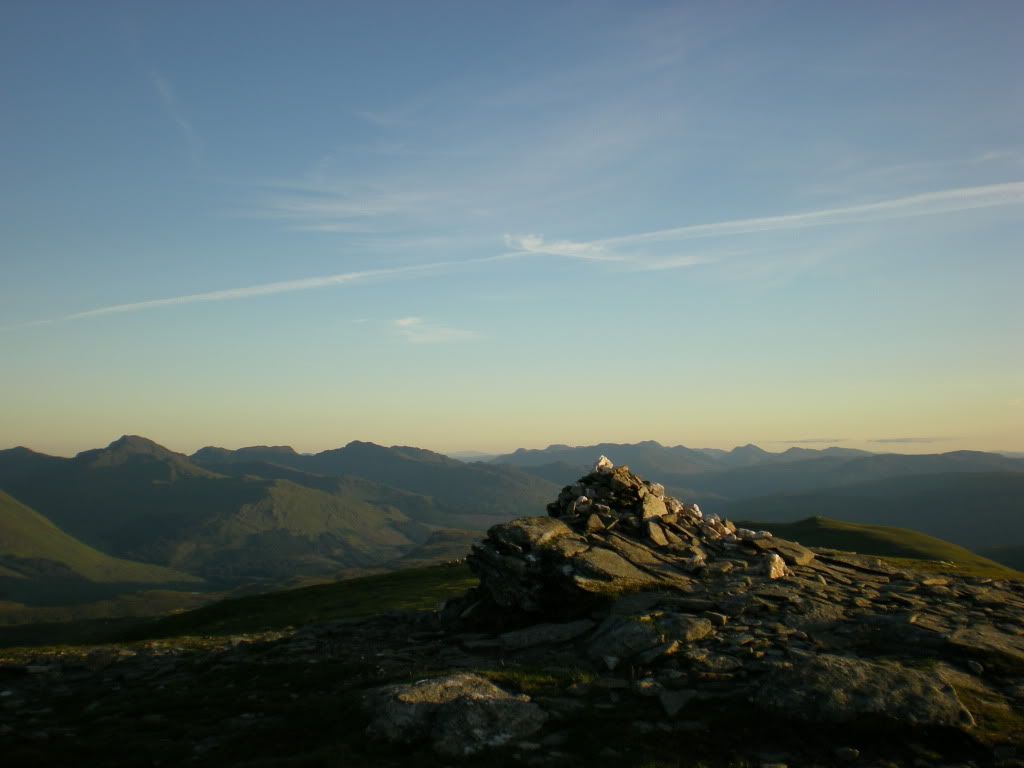 Sunset IV
But the time before dark is limited now and I have to jog back to Auchessan farm. This is a Corbett called
Beinn nan Imirean. No time to go there now.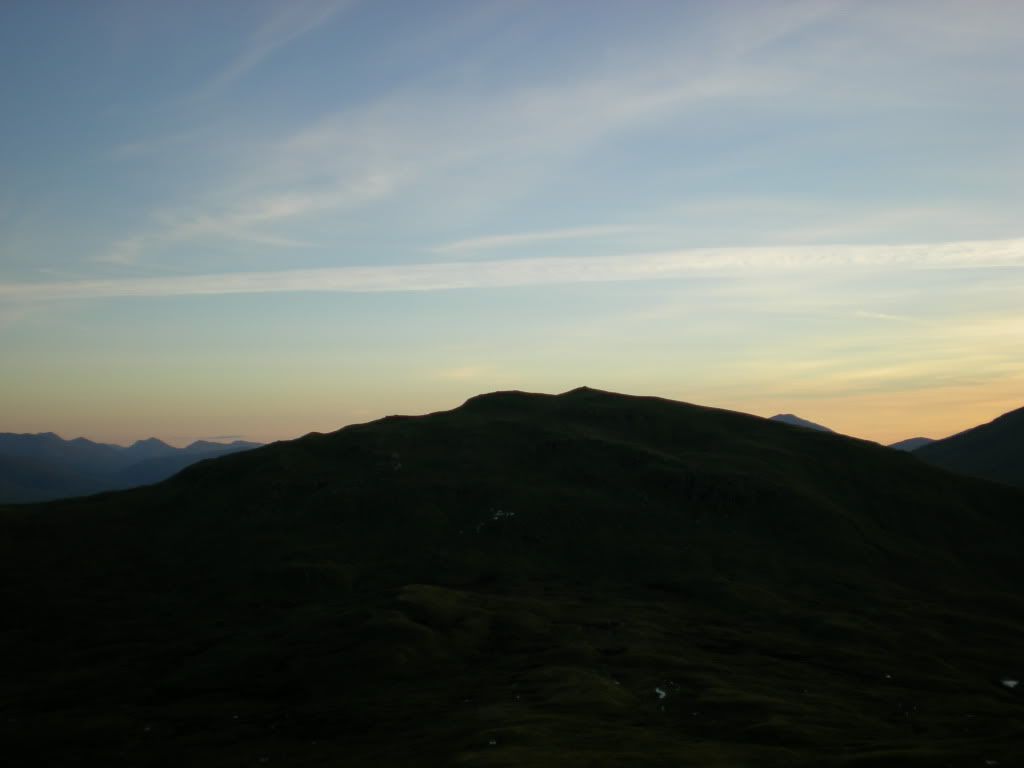 Back to the car at 2200. Just before dark.
I am sorry for the condense stripes and everything, but the LCD-window of the camera failed, and I didn't actually see what I am taking photos of. I didn't know if it would be photos at all. But the snapping part is working.
Let's hope the defect part is replacable. Otherwise I have taken more than 10000 photos with it since 2007 so it will be about a pence for each photo. Maybe my Nikon Coolpix S200 has reached end of life...
Nice training anyway.