So this weekend was the Walkhighlands meet over in Braemar - Yaay!!
On Friday it was a scorcher here in Aberdeen, and its usually warmer up Deeside, so I had high hopes of some bonny weather for a change, and I was dead looking forward to putting some faces to some names from this site. So straight after work on Friday i got under way, and got to braemar in glorious sunshine by 6 O'clock. Not many folk were about yet, so i had to get a beer and wait in the swingy seat out in the sunshine and wait - What a hardship!
Folk gradually arrived, and we had a very merry evening. A bit too merry, because when I got up in the morning, I only managed a glass of water before I had to go back to bed to alleviate my nausea
After the usual morning faffing, I drove up to Invercauld, where we left a few cars before heading back to the bunkhouse. We faffed a bit more, then set off to Invercauld. I almost got left behind! Bod,Val and Paul just realised in time - i dont think any of us were on top form that morning
So we set off from the walkers car park at Invercauld.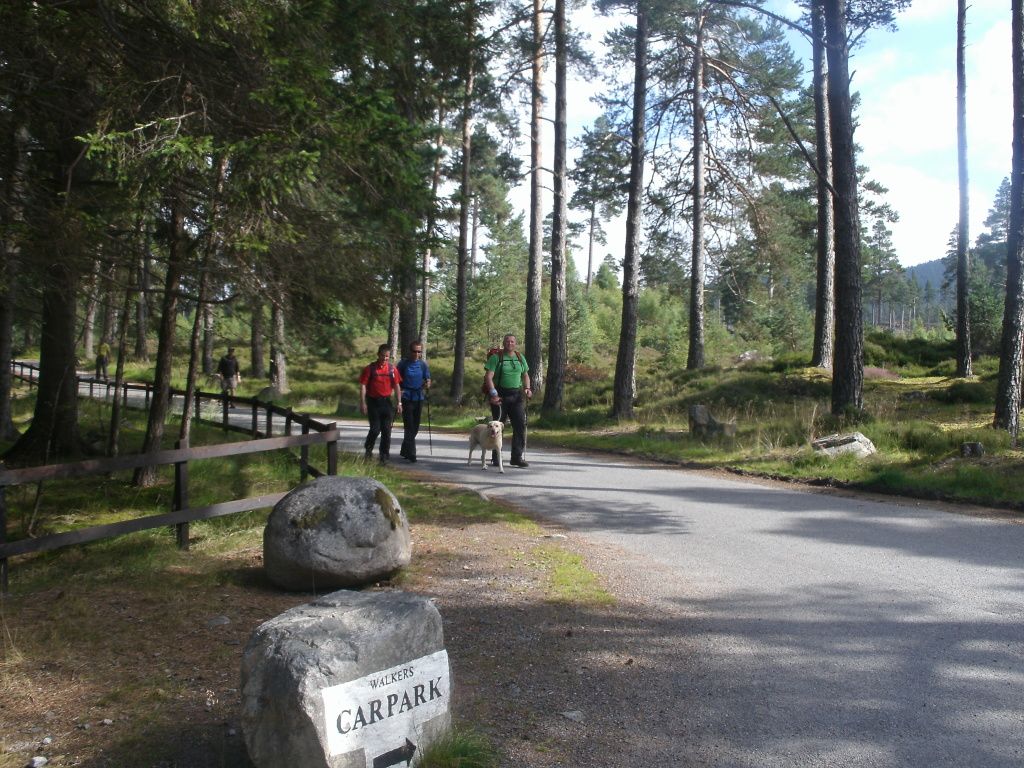 Its a right bonny spot down by the river there, and the old bridge is an impressive structure.
We made our way across, and up into the beautiful scots pine forest. It was hot going, especially when the trees thinned out as we got higher up Findallacher burn.
The trees petered out, and we soon reached the wee hut at the end of the track. This is where we would have to go cross country up to a wee lochan, then onward to the base of the stuic. We had a wee rest there, and a landrover appeared carrying a family with fishing rods. Bod and Val decided to carry on up the path to the ridge, as they had had a pretty full on day the day before, so with our numbers already depleted, the merry band set off across the heather. There did look to be a wee stalkers path at first, but it petered out, or we lost it and we were soon sqelching across the moor. The terrain wasnt too bad, and it was mostly the heat that killed the pace, although there was a bit of a breeze. Good view of the Cairngorms were opening up.
I hadn't managed to stomach any breakfast that morning, and I was feeling rather flat. Gavin must of read my mind because he handed out some tablet, and the second it hit my tongue I felt 100 times better
We made it up to the loch fairly quickly after that for lunch. It was a right bonny place, with as the name (sandy loch) suggested, had a few wee sandy beaches.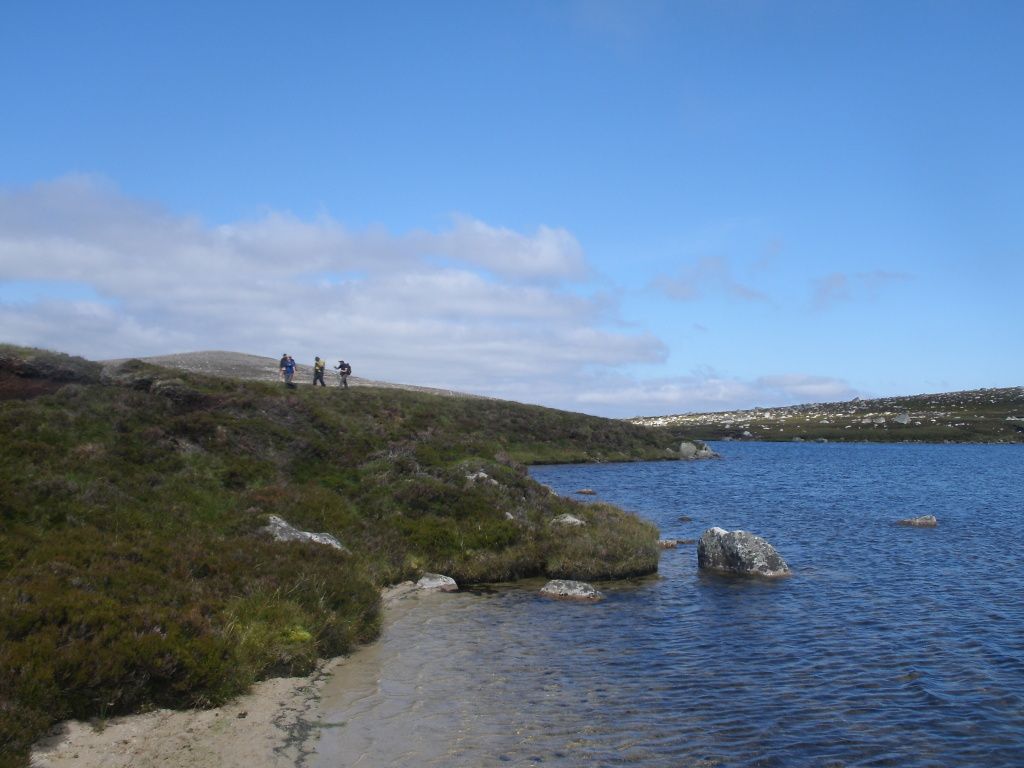 Paul decided he would go up the ridge instead of the Stuic, so we arranged to meet him at the top, and after a rather long lounge about in the sun, set off for the base of the stuic, which was now looming fairly closely above us. My head had begun to pound, and I regretted having gin on top of a half dozen pints the night before..
The ground was tricky here - huge boulders with heather covered holes inbetween big enough to lose you leg in
We were soon at the base of the buttress, where it looked a bit less impressive than it does when you are standing on top of it. nathans guidebook mentioned a path, but it was very fain as we made our first ascent of the steep lower slopes. We were soon at the rocky stuff though, and i think the forst couple of pulls up are the hardest to find holds on. Further up the climbing is a lot easier, but you are a bitty more exposed. I kept on stopping to take photos of the lovely views, although not many actually came out for some reason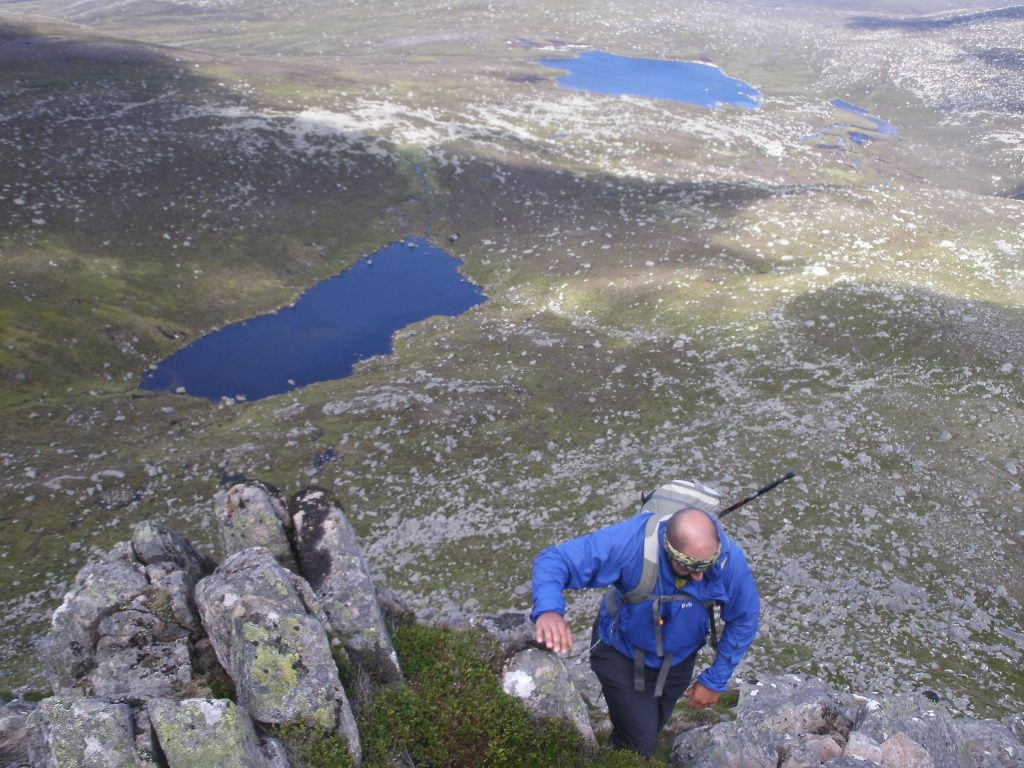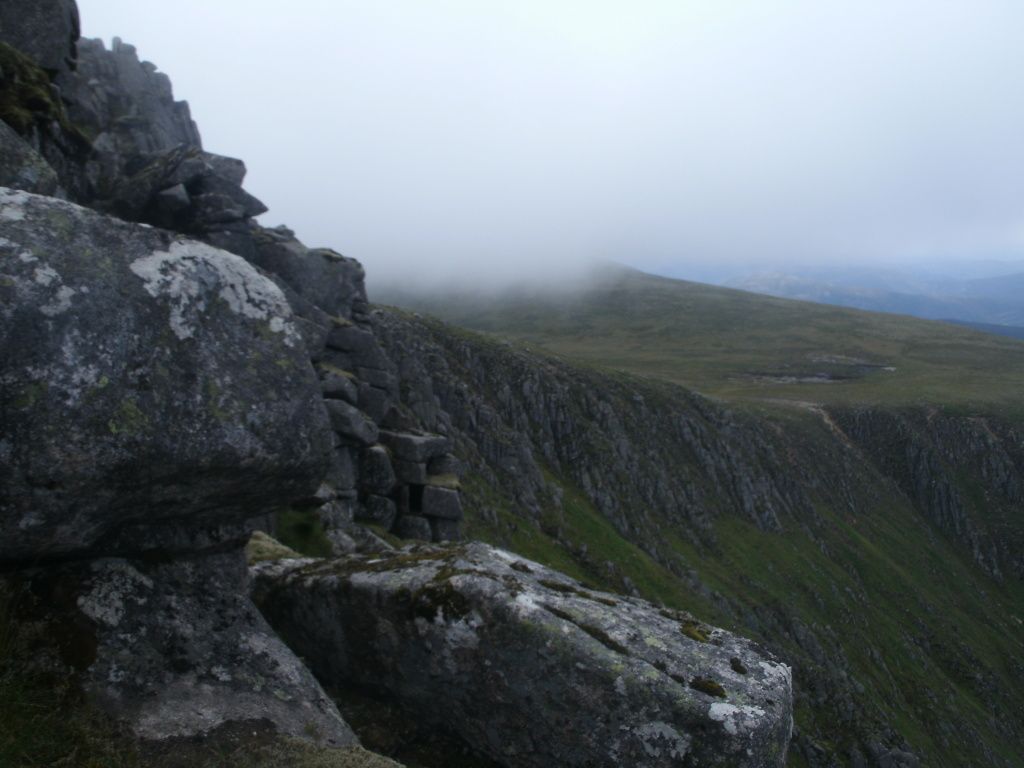 i was just starting to really enjoy myself, when the rocks levelled off and I realised that i was at the top already
I had been meaning to come up to the White Mounth that way for ages, but in reality, it is a very quick and easy clamber. Bod, Val & paul were waiting at the top, and 2nd lunch was eaten in a fairly chilly wind.
It ws just a short walk from there to the lacklustre summit of carn a coire bhoidheach, then we sauntered onward toward t-sagairt mor. We cut off the path a bit earlier than usual to check out all the plane wreckege. I have been up this hill quite a few times, but mostly in the snow, so it was nice to be able to see what was there.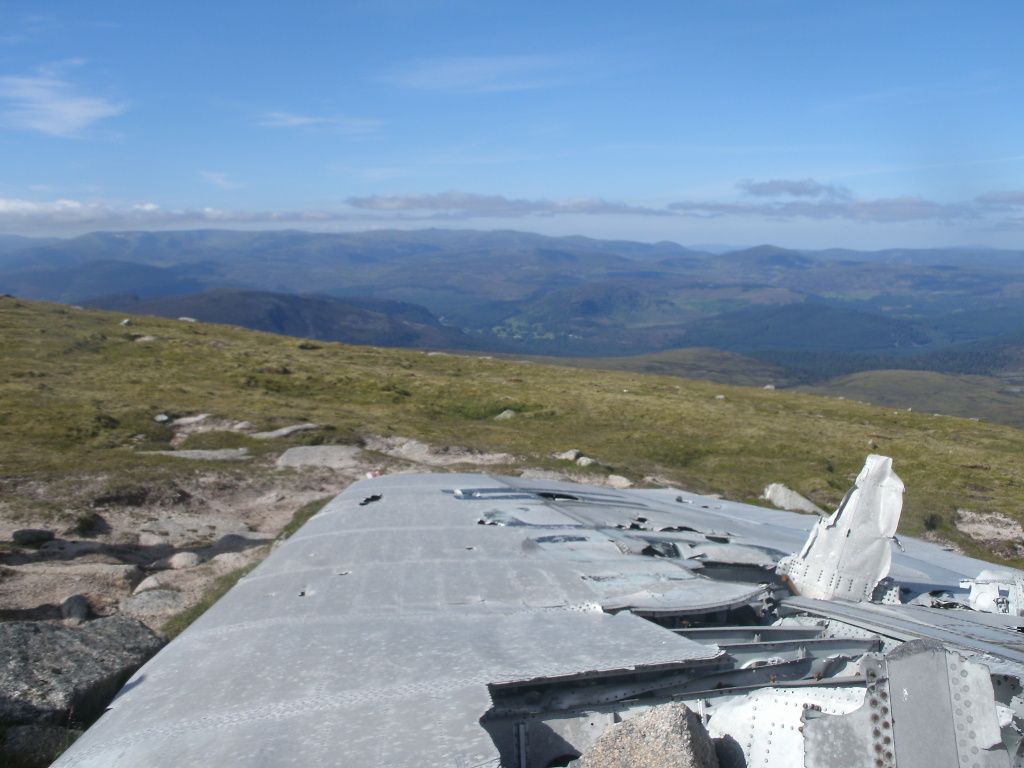 It wasn't far to the summit, where we stopped for 3rd lunch.
A man up the hill with a wee spaniel took that picture. The dog didn't mind anyone else but was really agressive toward me.. It was funny
We could now see across Glen Callater and could see quite far, and a fair few hills.
On the descent from the summit, back down to the path, we came across more wreckage
The path weaves its way through a few boulderfields before contouring round the hill to Callater Lodge. The views of the loch are stunning. I have put a photo of what the loch looked like the last time I passed in Febuary for comparison as well
I noticed as we got closer to the lodge, that the flag was up, and there was a car there - My good friends keith and Bill were in the lodge for the weekend. Hooray! I picked up the pace a bit, and was warmly received at the lodge. By the time the others got to the lodge, I already had a kitkat in my belly and a cup of tea in hand. Everyone was sorted out with a cuppa, and I got a wee catch up with them before we headed off. Bill has done a fair amount of work over the summer, and there is now a drain, so we dont have to take the washing up water outside. Next on the list is a water supply.. I probably blethered on a bit long, as everyone was waiting for me, although there is plenty to see in the lodge. I promised keith and Bill I would go back for a proper visit on Sunday and we tromped along the landrover track to Auchalleter, down the bonny glen.
It was almost 7 when we got back - I should point out that although the walk took us 8 hours only 5 of those were actually walking and 3 were lounging in the sun
I did get back feeling far fresher than i did when I left!
We had the quiz in the Fyfe arms, and another late night was had by most, although it wasn't quite as boozy as Friday due to the late start on the drinking
This morning, we all parted and went our seperate ways - Everyone was so kind and tolerant this weekend, and I truly hope I meet you all again at the next one
From there I went back up to Auchalleter, and although keith had offered to come down the track for me in his car, I decided to walk to blow away some of those gin cobwebs. The day had started off well, but the wind was up and howling down the glen. It was the lasiest day i have ever spent at callater - i didnt even have a boiler suit on! We had some sausage stew and tatties for lunch which sorted me right out. Bill had mentioned that there was to be a barbecue in the afternoon, and to my surprise he wasnt wrong :0 About 50 people turned up in landrovers (even prince charlie himself ) With a huge gas barbecue on a trailer and a professional cooking crew. It was a real mix of folk along. I spoke to one old lady, who couldnt even climb the stairs on the tour of the lodge, but told me this fantastic story of her cycling from ballater to mallaig and back in 1956 - took her 3 weeks. She attempted to cycle across rannoch Moor which was an astounding yarn. She was gutted that she doesn'.t get to go out in the hills any more.. I had to make my excuses and go away for a wee greet after that as it made me sad to hear. There were also a lot of English folk in the party who seemed enthralled with tales of my hillwalking exploits, so I was in my element gabbering on
All too soon it was time to hit the road for home. What a fantastic weekend though, can't wait for the next one - when was it happening again Nathan?