So I took a half day on Friday, so that I could walk into Shenaval in the light.. Good job I did because with some very heavy showers that reduced the traffic to crawling speed for fear of aquaplaning, it took 3 hours to make the 100 miles to Inverness
Onward to Corriehallie, I abandoned poor Sunny on a verge because the layby was full.
I got chased from the car by midges about 4.15, and before I had even got to the gate 100 yards up the track, the drizzle came on. It was still a bonny walk through lovely woodland.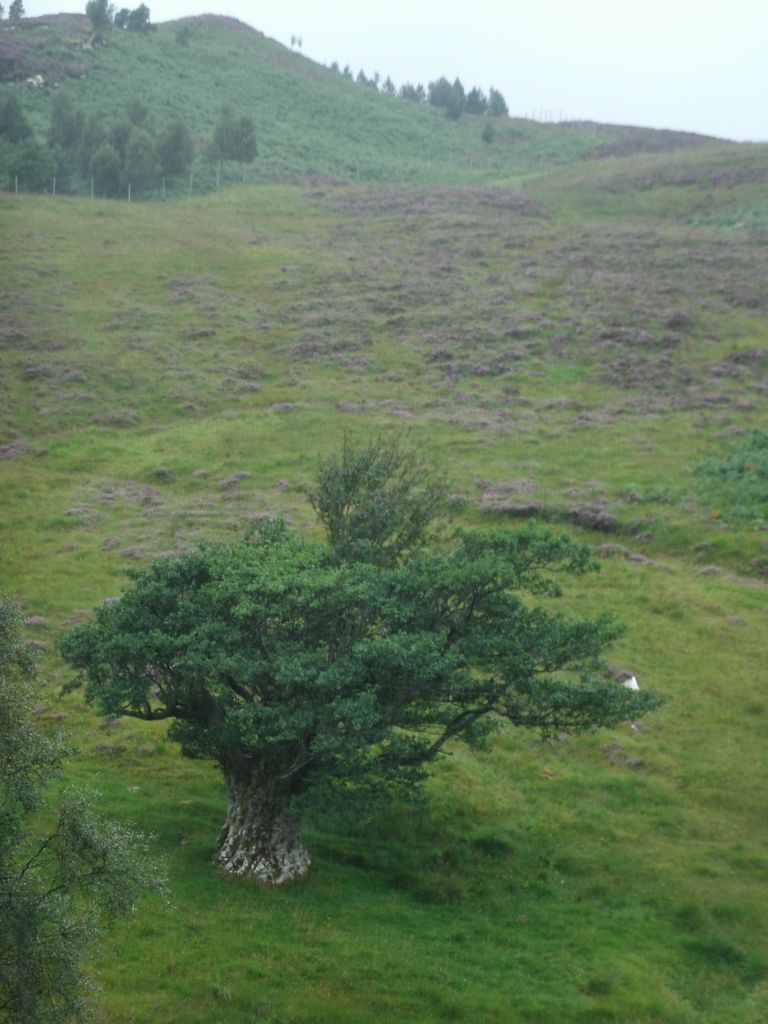 And onward across a convenient footbridge, on a very rocky track that winds its way past lovely looking waterfalls. The drizzle might of been on, but it was warm, without a breath of wind, so hot work.
From this high point, nice views of are gained of the way back and views of An Teallach open up.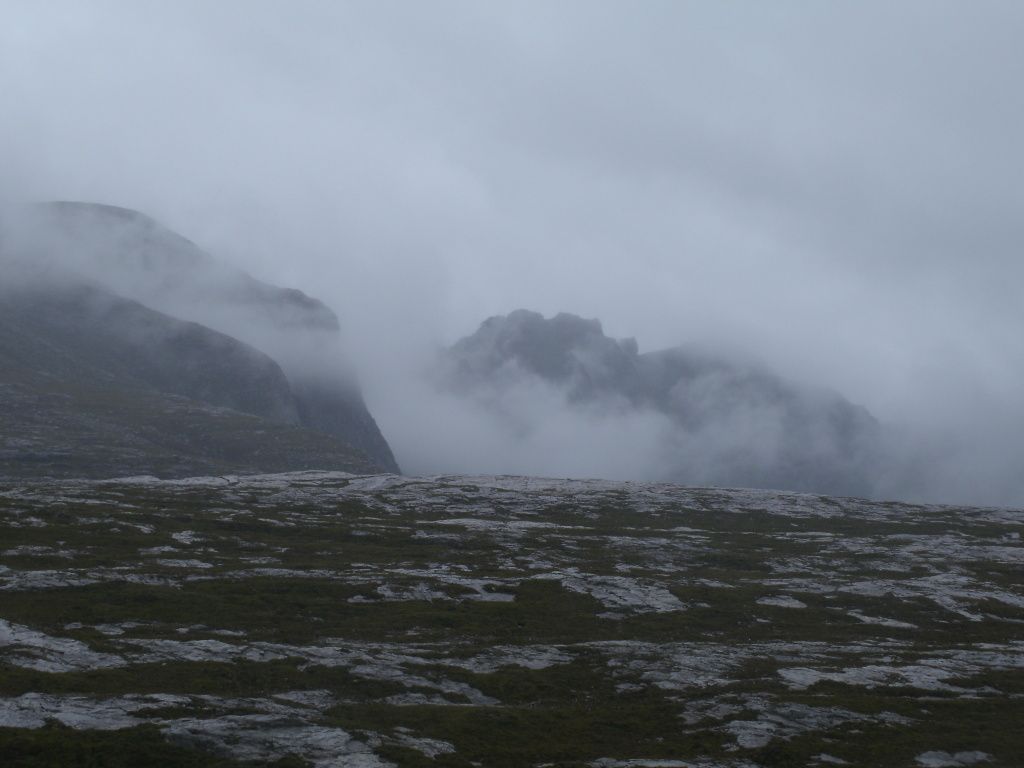 The path branches off the track and heads across the plateau, before the descent alongside a bonny burn on a deteriorating path down to Sheneval. I somehow expected the walk to take longer but it only took 2 hours.. By the time I got there, the drizzle was more or less off, and there was some brightness about. Still no wind, so a cloud of midges descended. I was in the bothy quick smart!
There was a German couple in, who weren't very chatty, and shut their door while I was checking out the upstairs and avoided speaking to me the rest of the night - Weirdos!
So I cooked my tea, and checked the bothy book for familiar names before turning in at 10.. Well I was planning an early start so wanted to get some kip in
A group of Dundonian chaps turned up at about 11 and a Weegie duo at about midnight.. I knew others would come
So I got up at the back of 5, and with minimal faff, I set off at 6, along the good path up Strath Na Sheallag, disturbing the deer on their early morning grazings. The weather looked promising. i could feel the sun trying to burn through the early morning mist, and I had high hopes of a fine day. At the burn just before Achneigie, I slipped and fell in knee deep.. I knew I would get wet, but not that soon!
Oh well...
I forded the river in what looked like the usual place, and made my first ascents. The heather was squelchy, but there were quite a few slabs to vary the terrain. I noticed the Weegie duo had reached Achnegie, just before I Went over the lip of the hill. It was comforting to see someone following behind. It felt like a long way up to the bottom of the steep upper reaches. I could feel the sun and was sure that there was an inversion I was missing so I pushed on as fast as I could, but seemed to be making slow progress.
There were loads of huge boulders and wee crags, some of which I thought might make good bivvy places, and I got distracted scrambling and mucking about before I told myself off - I would surely need all my energy for the day ahead. Sure enough the next section, whilst on grassy slopes was almost impossibly steep. I found a wee path and dragged my sweaty carcass up onto the ridge for a pleasing wee rest on the easy camber. From there, there is the first of the boulderfields up to the first hump. It is a fine narrow ridge and the third hump is the real summit of this non munro munro
I sat for a while, ate a wee pack of maoam chews and had a tab. It was 9 O'clock already.. 3 hours in. The views were ever changing as the clag moved around, and tantalising glimpses of An Teallach and the days journey came and went. It was just awesome
The descent down from there is pretty easy.. A trouble free boulder field leads down to a low point where you can bypass the lump on the ridge easily. Gentle slopes then lead down to a rocky bealach. I managed to find a grassy gully to follow for a while, but before you are very far up Sgurr Ban, you are forced onto the boulder field, which seems to go on forever, as far as the eye can see.
I saw a cairn on the shoulder and made a beeline for it, and much to my pleasure, I found it was a wee shelter. I crawled inside and had another tab.. I think with a clear out of all the sharp pebbles it would make a nice place to spend the night. I saw the duo behind me coming off the top of Chlaidheimh, they were getting further behind, and that was the last I saw of them. There were plenty ptarmigan about, still with half winter plumage
Effective in this light coloured stone though right enough..
Eventually, the summit was reached, but after stopping on the way up, I just gave it a quick tap, and carried on. The descent is not unpleasant, and I hit the first wee scarmbles of the day, but there was nothing even borderline tricky, just a bit of fun. The clag lifted once more, and gave me nice views over toward Tarsuinn and the face of Mullach Coire Mhic Fhearchair.. The path looked bloody insane, and I wished the clag had stayed, so I could of remained blissfully unawares
The thought of the scree path was way worse than the reality, and half an hour after I took that photo, I was at the summit. It was now midday.
The mists really came down whilst I was at the summit, and there was a wee shower, but just as I got the waterproof jacket out, it went off, and began to clear
More simple fun scrambles and some less fun boulderfields saw me down to the bealach with Coire Mhic Fhearchair in front of me. There was a clear bypass path to the right that runs underneath some cliffs, so I was on the gentle slopes of tarsuinn in what felt like no time at all.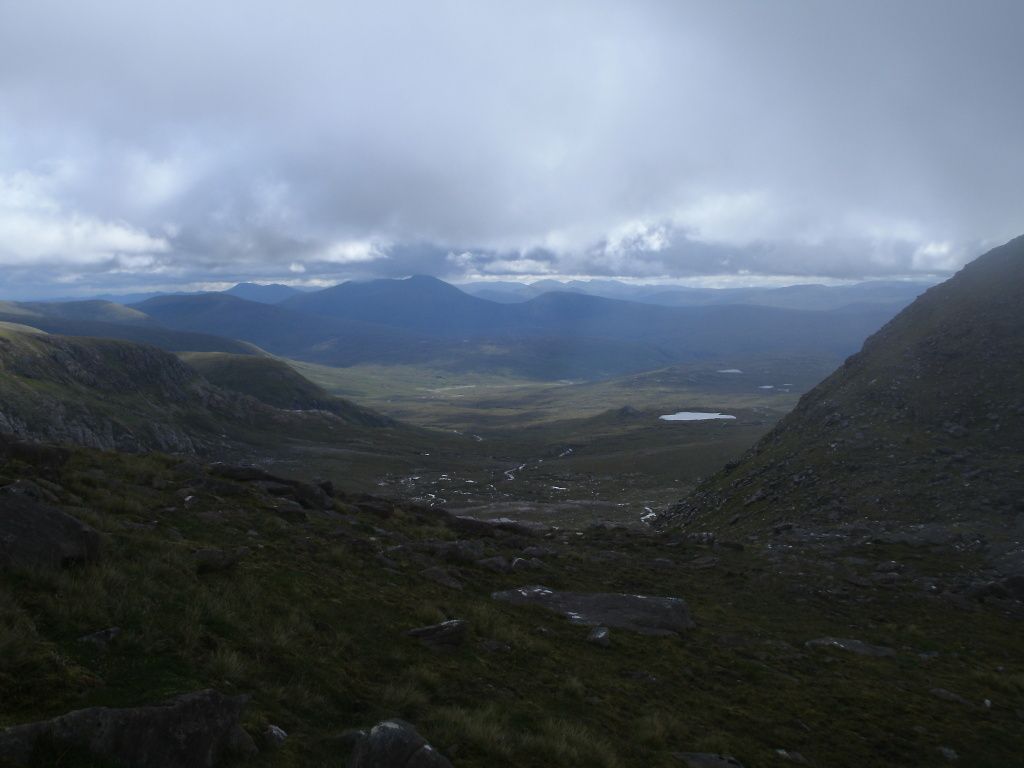 There are a couple of wee craggy steps which are easily negotiated at the start of the ascent, but further up there are fine, easy cambered grassy slopes, which then got rockier again near the summit. I promised myself i would stop for a good rest at the tennis court. I hadnt had much to eat or drink, and I knew that was bad, but I was just too keen to stop. i figured I must be at least halfway by now, so a proper rest was probably needed.
I did a wee bit of scrambling along the next bit of the ridge, but there are ample bypass paths as well. In fact the maze of paths is somewhat confusing in places. I made the tennis Court. It was a wonderful place even in the clag and I loved it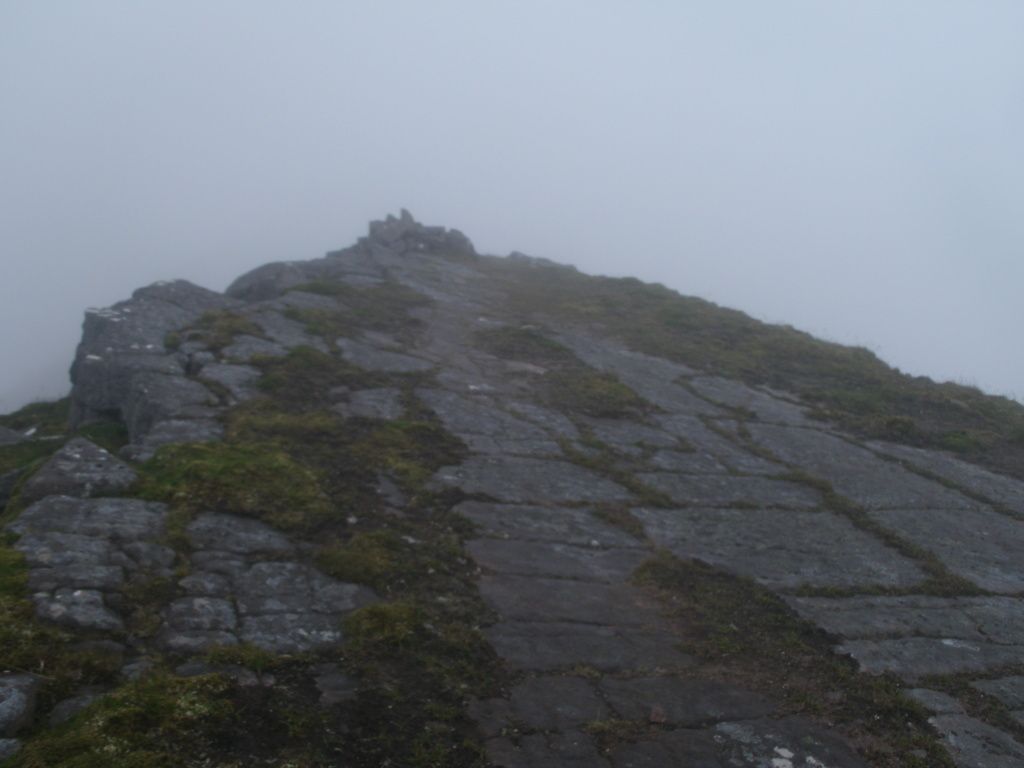 I sat down for my rest, and thats when the rain started.. It was pelting! I had opened the rucksack to get out some food, but I ended up cramming a few nuts before getting my waterproofs on and heading off. The deluge was impressive in itself!
the path down from there was fine for a time, but then when you drop off the ridge to go down to the coll, the path is steep and has some awkward slippery down scrambles, not helped by the fact that in that rain, it had turned into a torrent. My usually sound knees were screaming, it was a long descent and the pace slowed annoyingly. Suddenly though, the ground evened up, and a vast expanse of peat hags opened up before me. I never thought I would enjoy peat hags, but I enjoyed these. I grew up playing in peat hags so it felt like home territory, and the flat was the best rest i could of hoped for. The morale lifted.
The first ascents of A Mheaghdean were steep, and I fished out a packet of lovehearts to munch on to try and keep the wobbly legs at bay. A huge effort saw me up to the first flatter section, and I was frustrated to see that I had only climbed about 100m from the bealach.. The morale sank.. I thought about bailing, but I knew no matter what way I went back, it was a long way, and possibly harder than just carrying on, so nothing for it but to keep on going
After another steep section, through yet another boulderfield, easy angled grassy slopes were reached. I munched more sweets, this was way harder than it should of been and I slogged on up to the summit, the rain pelting me in the face now the wind had got up. So much for the finest view in scotland. I barely even gave the cairn a second glance as I tapped it
I attempted to cheer myself up with a bit of scrambling just below the summit, during which I ripped a hole in the seat of my waterproof troos. Great, now I had water dribbling down the inside of my legs...
The next section of ridge though was a treat. Grassy, easy descent, with slabs and giant boulders. So lovely, even the driving rain couldn't keep my spirits down. A truly magical place in the mists.
I soon saw (or should that be sensed
) the towering crags of Ruadh Stac Mor in front of me, so when I saw a wee baggers cairn and a wee path heading off to the right, I thought it was the path up. There was a couple of easy scrambles, and a bit of steep scree, but nothing tricky. Then I found the main path! It was like a raging torrent, you could feel the water washing the scree out from under your feet, and it was extremely slippy, so I was I was forced to abandon it after just a couple of yards, I had to find my own way up. There was a large choice of routes, although it was slightly nerve racking with only a few feet visibility. The steep bit didn't last for long however, and it was an easy trot to the summit from there, across yet more boulderfields. I think I was spurred on in the knowledge it was the last ascent of the day. I couldn't believe I had managed to get to the final summit.. So chuffed with myself
It was now 5PM, I thought I was ahead of schedule for my hopeful return to Shenaval at 8. I set off over the boulderfield on a bearing. It was a nightmare, as the rocks were slippy and unstable. I caused a lot of rockslides! I made it past the boulderfield and to a grassy section where I dropped off the ridge to the right. That wasnt the end of the boulderfields as it turned out, and the going got steeper. I fell and dunted my elbow, then again and skinned my rain wrinkled thumb. The descent seemed endless, mostly because i was walking into a featurless wall of clag, with no idea how far there was to go to the Lochan a Bhraghad. All of a sudden though, I saw the two lochans, and a path heading between them. What a relief.
There were a lot of pools, and slabs of rock sticking outof the heather. Seemed like a right bonny place, but with all the rain it was beyond sqelchy, and I splish splashed my way down merrily. I was about as wet as I could get at this point, and rather than faff with clothes I ran up a couple of the slabs and back to generate some heat.
I saw a bird I had never seen before as well, about the size of a blackbird but plumper and black with the whitest breast I had ever seen! Wouldnt stop long enough for a photo though
Finally, the rain went down a gear, and the clag lifted. i could now see the line of the path I was aiming for up on the hill in front of me. I splish splashed on through the burn and got on the path a bit further down. it was so good to be on a path, and I made really good progress down Glean na muice Beag. I stopped for a tab now my hands were a bit drier, and I could actually roll, but the midges descended quicky. My skinned thumb was still pouring with blood 2 hours on, so I was forced to fish out a plaster, which wouldnt stick to my waterlogged skin.. It was annoying!
I made it down to the main Gleann na Muice at 7. My feet were starting to burn with pain by this point and I was hobbling. At least my legs werent tired yet

It was a good bit down the glen before I spotted a bit of river at which I was happy to cross.. Shenaval was in sight, the end was in sight. The water level had risen quite a bit with all the rain through the day, so I felt lucky to get past. It was pretty deep, fast and wide, but I made it across OK..
Next there was the bog to contend with, but I was so wet, I just staggered on through, only avoiding the deepest of the pools. There was a stalkers path all the way, which was to boggy to use, but took all the thought out of the journey as I sploosh splashed my way over the glen. The bothy did not seem to be getting any closer for a long time, but eventually I made it to the river. I crossed part of it onto an island then found a place where folk look to of tried to make stepping stones. They were most welcome as it kept the river only knee deep. When i got to the far bank though, I found that I didnt have the energy to pull myself up the 2 feet onto the bank! I didn't feel too tired, but I obviously was. I waded upstream until i found a piece of bank that I could haul myself up onto and staggered up to the bothy, which was the most welcome of sights with the chimney billowing smoke
I had made the round in 14 hours - exactly how long I thought it would take, so i was smug I managed to guess so accurately.
Inside the bothy were a different bunch of germans from the night before, who made room for my damp gear round the fire. I was somewhat shell shocked or something, and couldnt really handle conversation, so i went upstairs and chain drank cups of tea for an hour, at which point I felt a bit more human, and went downstairs to cook a very large and very tasty dinner. I had only eaten a small handful of nuts, a pack of lovehearts and some fruit chews all day so I was ravenous
The Dundonians came back at about 10, after only completing 4 of the round. they had met the duo, but had left them at 4 to do the last 2.. Worrying. I wouldnt like to do the rivers or the bog in the dark. We sat up for a while and had a dram, but I wasn't late to bed. I didnt even hear the duo come in at midnight. I was glad to see they were back when I awoke this morning.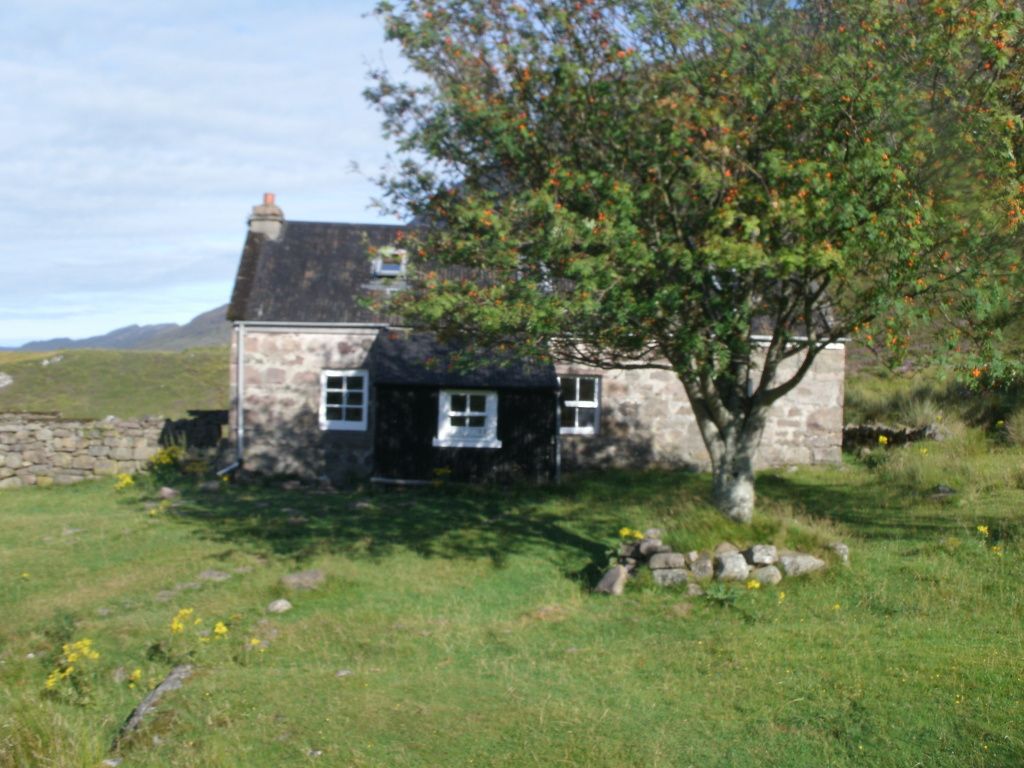 It was a glorious morning today, and I joked that maybe I would nip up An Teallach on the way back - it was certainly a good day for it! I was last out of the bothy, so it was left to me to sweep up and set the fire for the next folk. I set off after 10, for a leisurely walk back. The views of the Fannaichs, The Deargs, Fisherfield and An Teallach were amazing, so it was hard not to stop all the time. i was in no rush though as I ambled back enjoying the sunshine.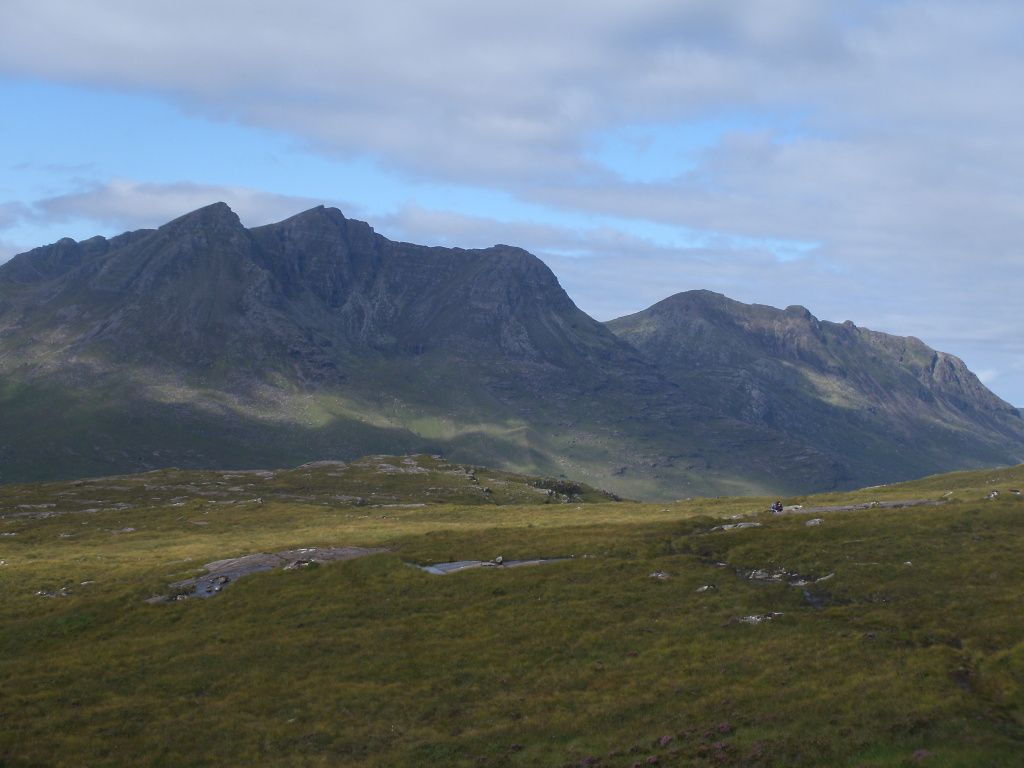 Well what an epic this was.. I think I'm still in shock that I managed. There isnt anything tricky about this walk, just the length, but still feels like an achievement. A truly memorable one I'll nae forget in a hurry I just hope the feet arent this sore for too long