This weekend, I was over visiting a friend over in Ballachuilish, an ideal base for some bagging
I had been hoping for a chance for a scramble on the Buachaille, but with much strong winds and wetness forecast, I turned my attentions elsewhere.. I was thinking about a trip in September up Glen Etive, so I reckoned a reccy of the area was a good idea.
So I parked up at Invercharnan, after a fun raz down the single track road. It was drizzling, but no signs of that wind.. I set off after 9, already in full waterproofs, which is never a good start really
The route took me up a boggy disused forest track.. Even 200 yards in I was struggling for motovation, but after making the effort to get up and get there, I forced myself onward. Maybe it was because i hadn't planned or even thought about my route, but it took me ages to get my stott.. :rolleyes: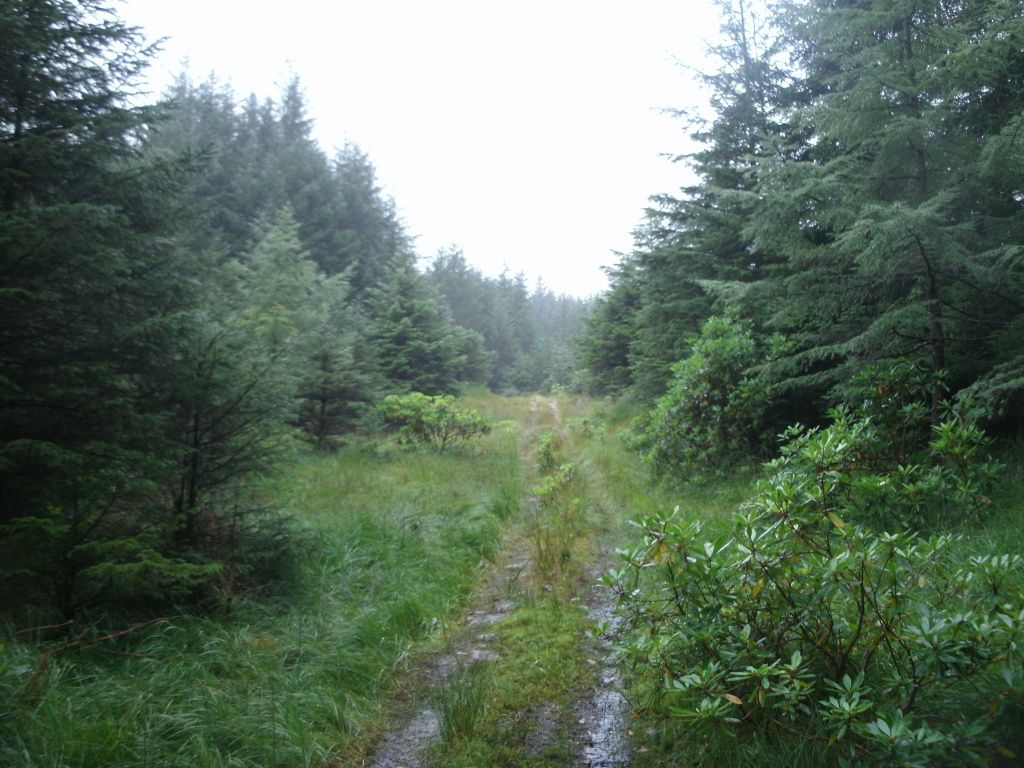 Pretty soon, I was out of the trees, and could see the clag properly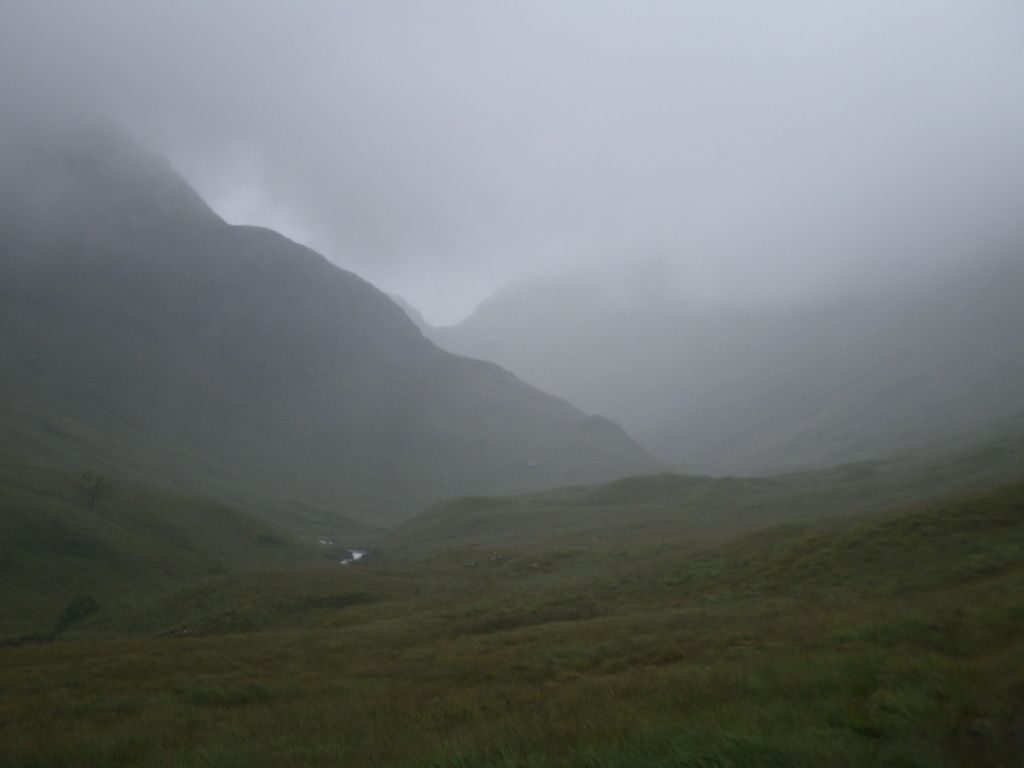 The track once out of the forest, is even boggier.. I think if i was to do this walk again I would go down and see what it was like walking alongside the river.. After a way, the track crossed the river below a bonny set of falls.. Was a tricky crossing, but I still had dry feet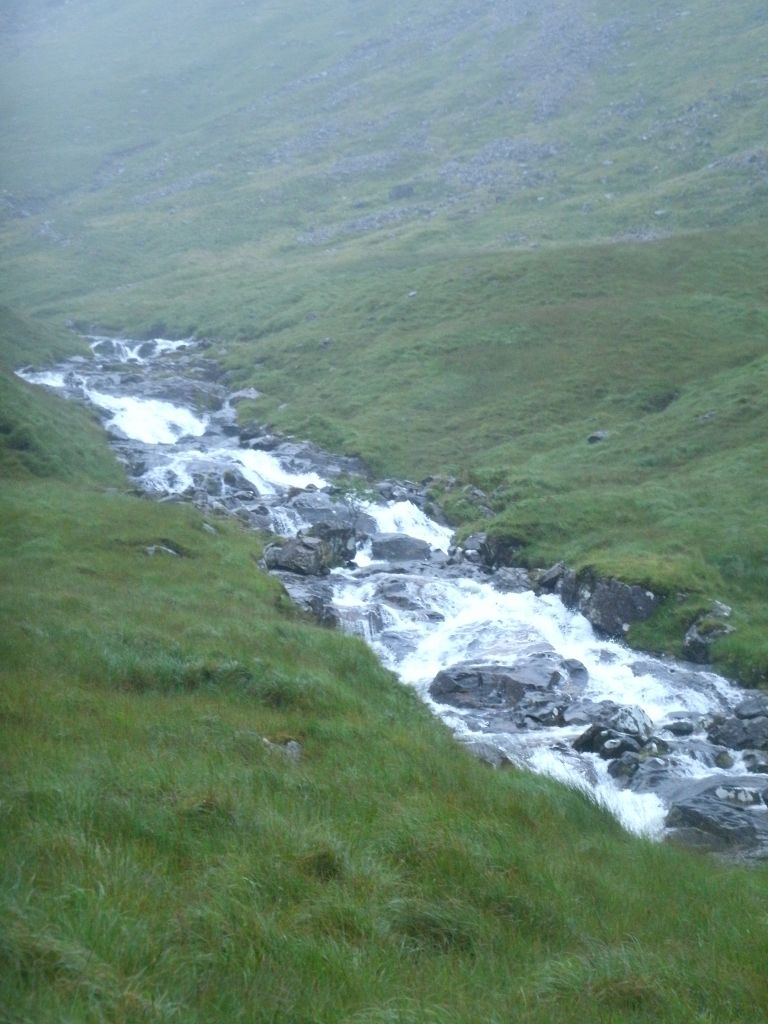 Onward, upward along the spongy wet track, it crossed the river again further up, but I didn't and I took to the squelchy meadow.
Pretty soon, I was round the crags, and could start my ascent proper. Still no motivation so i stopped after about 50 feet for a snack
I couldnt really see the way ahead either.. looked rocky on my map, but the clag wasn't letting me see any way up.. Hmmm.. luckily the clag lifted, and I saw a wee herd of deer making their way up showing me the way.. Excellent!
Some nae bad claggy views were had as I ascended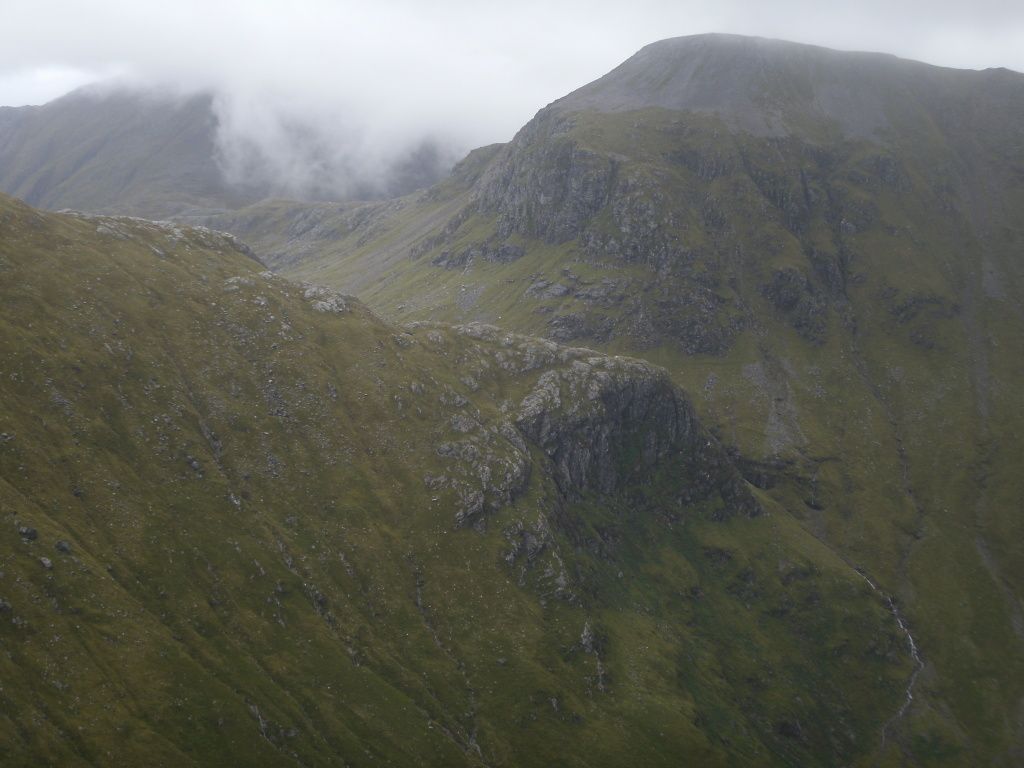 I finally made it up to the coll between Sgor na h-Udlaidh and meall a Bhuiridh, the second i was over onto the ridge, the wind hit me like a harbinger of doom! Oh so thats where the wind they were talking about has been, I thought..
The coll was a slabby affair.. Slippery wet slabs of many a disaster as it turned out
I got my first glimpses of the way ahead.. Oh steep and craggy then..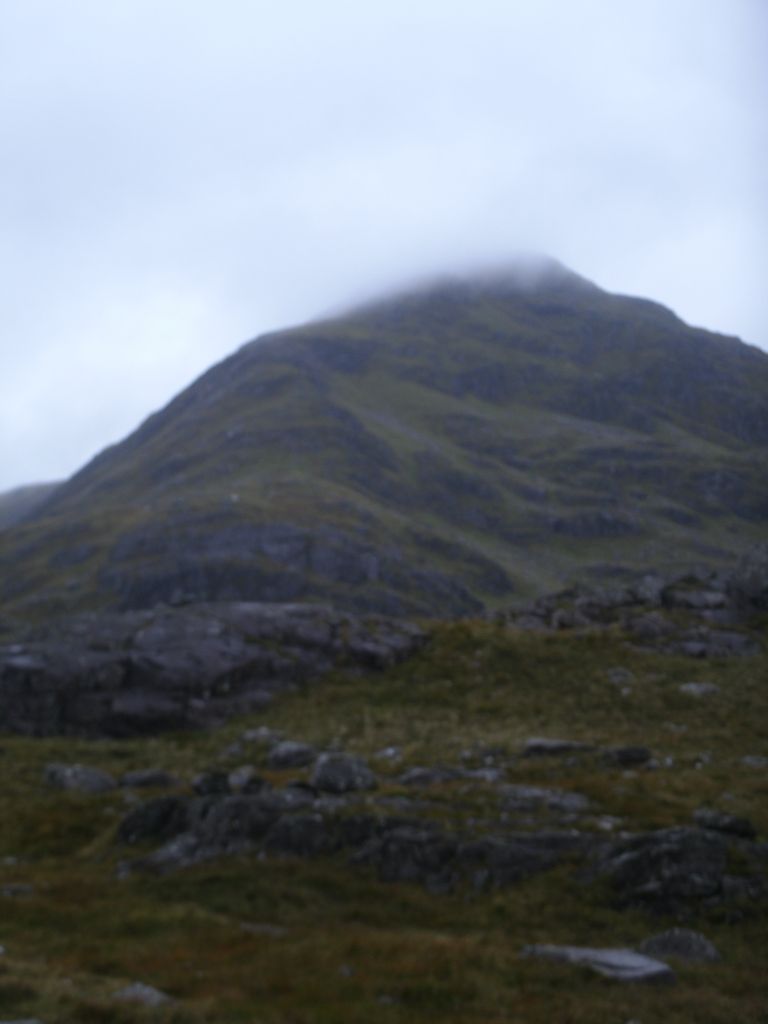 There is a kind of path in places, and the climb wouldnt of been so bad on a nice day but with no motivation and the wind gusting at me so hard, that i had to drop to all fours regularly and hang onto boulders, it was a challenge to say the least.. I almost turned back at about 800m, but knew I would regret it if I did, so carried on, trying to 'think heavy'
At least the rain had finally gone off..
So I reached the summit eventually, and hunkered down behind some rocks that made a pretty good shelter.. A bit too good, as I fell asleep for a while
I awoke very cold, so without delay, I had to get my creaky bones moving again.. The rain was back as well, and not just drizzle, proper wet stuff that was propelled with force by the wind..
From the summit, there is a very well defined path that goes off towards Stob an fhuarain... I guess folk usually do this hill a different way. I followed it anyway, knowing it was the wrong way, but not really caring.. I had thought of doing beinn Fhionnlaidh as well, but nae chance today, so i had all afternoon to get back. I thought that if I contoured round from that bealach, behind the ridge of the gusty winds, then things would be easier.. Not the case though.. Ooooh the crags! Not recommended, look where I came down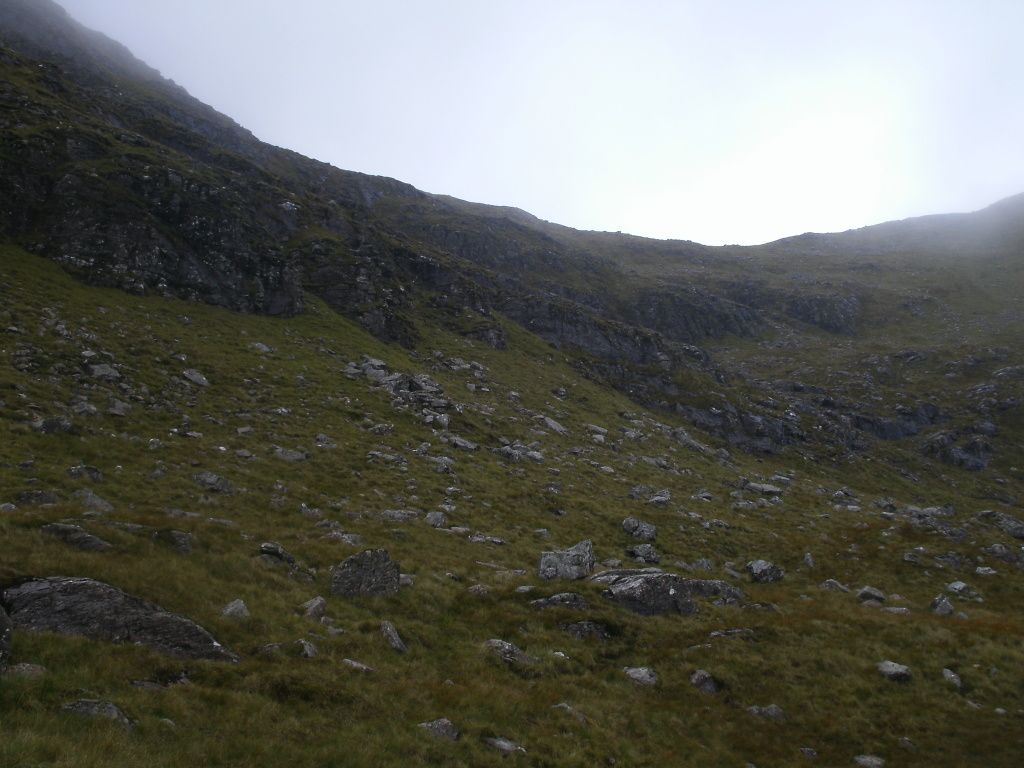 I made it back anyways, and carried on accross the bealach to return by the Allt nan gaorean.. It was an easy if not boggy descent, in brightening weather conditions. Beinn Fhionnlaidh, looked quite formidable from this angle..
I carried on down the glen, passing bonny waterfalls
And boulders with bonny hairdoos
Until I realised the path through the forest, was on the other side of the river.. Hmmm, maybe I should look at a map once in a blue moon
I squelched my way through the bog to get to it, and followed the track back to the car through the forest. Much logging is going on, with wood stacked up as far as the eye could see...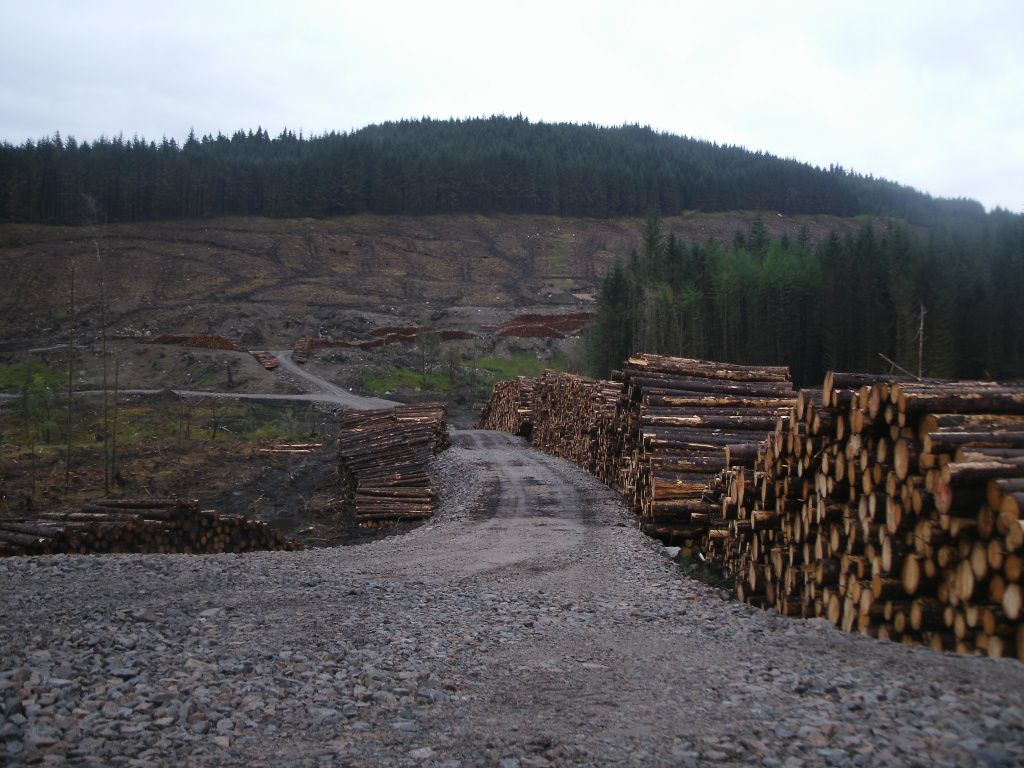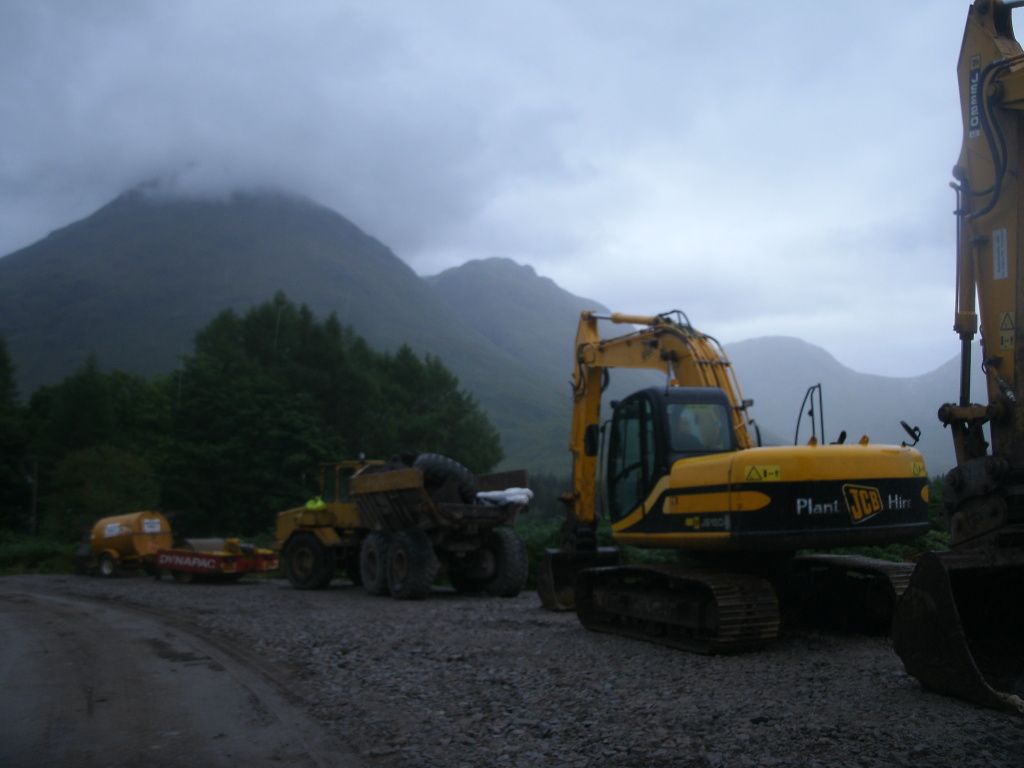 Managed back to the car well before 3, not exactly a good day.. Couldn't be bothered and the wind and rain were pretty fierce. Still better out and about the hills than biding in I think though