So this weekend I had arranged to go over to Kintail with Leithy for a go at the sisters. I arrived at dusk on friday night and set up the tent on the beach behind Kintail Lodge Hotel. It had been a dry journey over until I hit Glen Sheil where there was hill to hill clag and heavy rain.. Saw an eagle - almost crashed the car.. had a huge skid in the wet and gave myself a heart attack
Leithy turned up at about half 9, and after he had managed to fill the tent with the biggest blow up mattress I had ever seen, we got stuck into the tinnies.. He confessed that it was his birthday! All the more reason to hit the tinnies
oh how we laughed, god knows when we got to sleep, I remember 2.30, and it was a good while after that
So it was a late start to the proceedings on Saturday morning. In my usual disorganised, catastrophic way, I had come away for a hillwalking weekend, without packing any suitable clothing
So Leithy lent me a pair of chav tracksuit bottoms to wear
The weather forecast hadn't been that good, but with Leithy's lucky weather faerie,on side, it looked like it would be a good day. The mists were lifting
We went down to the Jacobite to try and get a bit of breakfast, but it wasnt open
I transferred my stuff into Leithy's car, and we headed back up Glen Shiel to the start point. I remember doing the same climb up for the Brothers, and I wasn't looking forward to it much, but in actual fact, it wasn't as bad as I remembered, although it did help that I actually found the path this time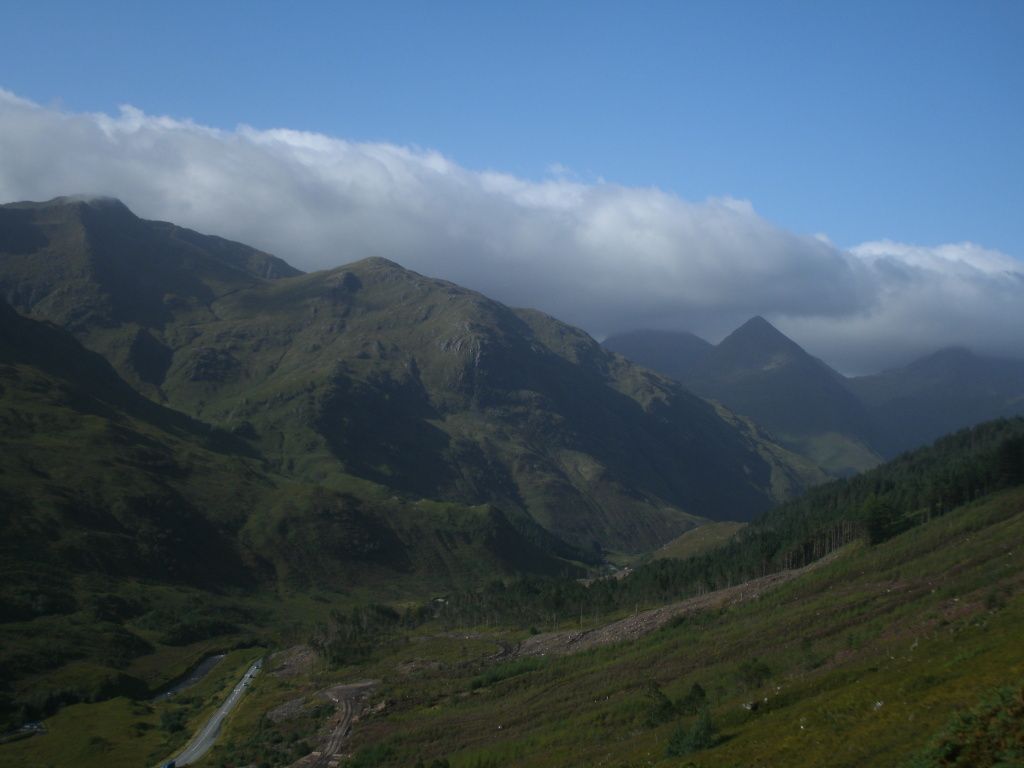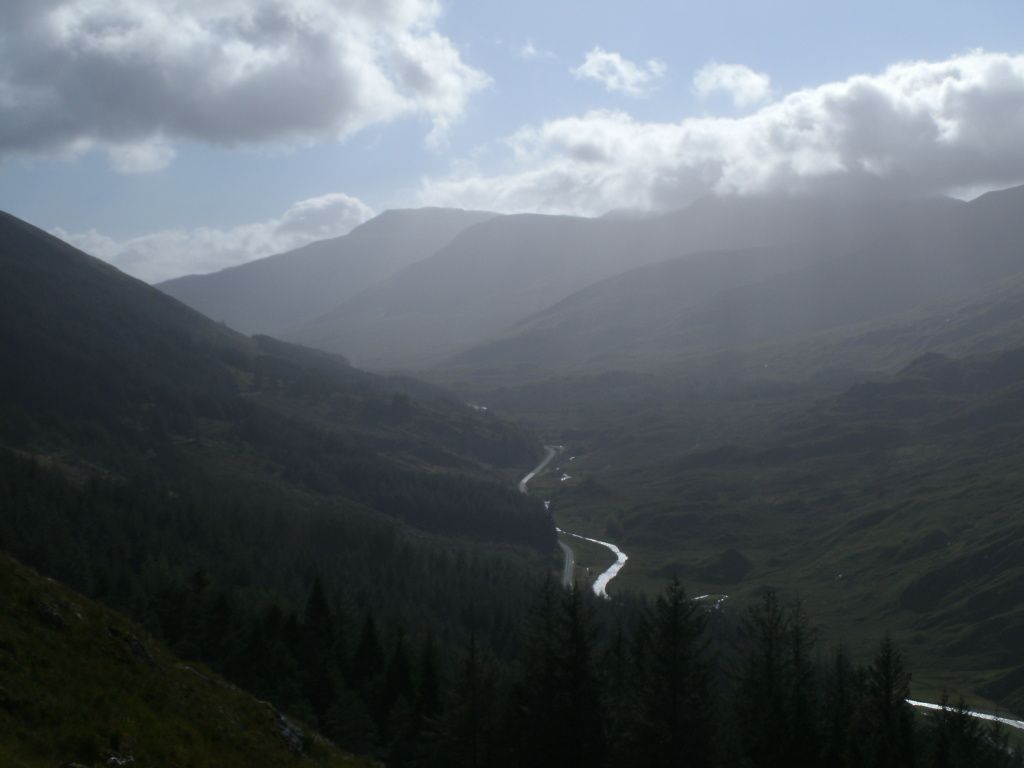 Without any breakfast, we were forced to stop for first lunch part way up. A party of 4 caught up with us, whom we leapfrogged with all day
Despite the stop, we got up to the ridge in only a little over an hour.. We stopped again for a we while to let the other party stay ahead.

Once we were up the first climb, we could see the rest of the ridge set out in front of us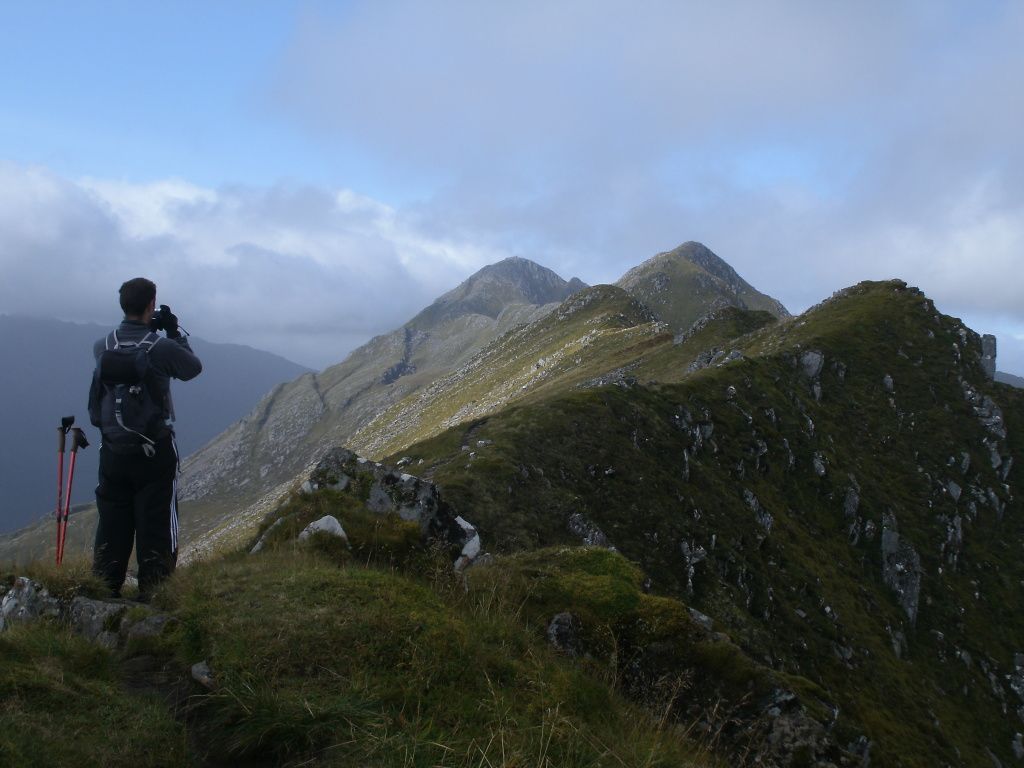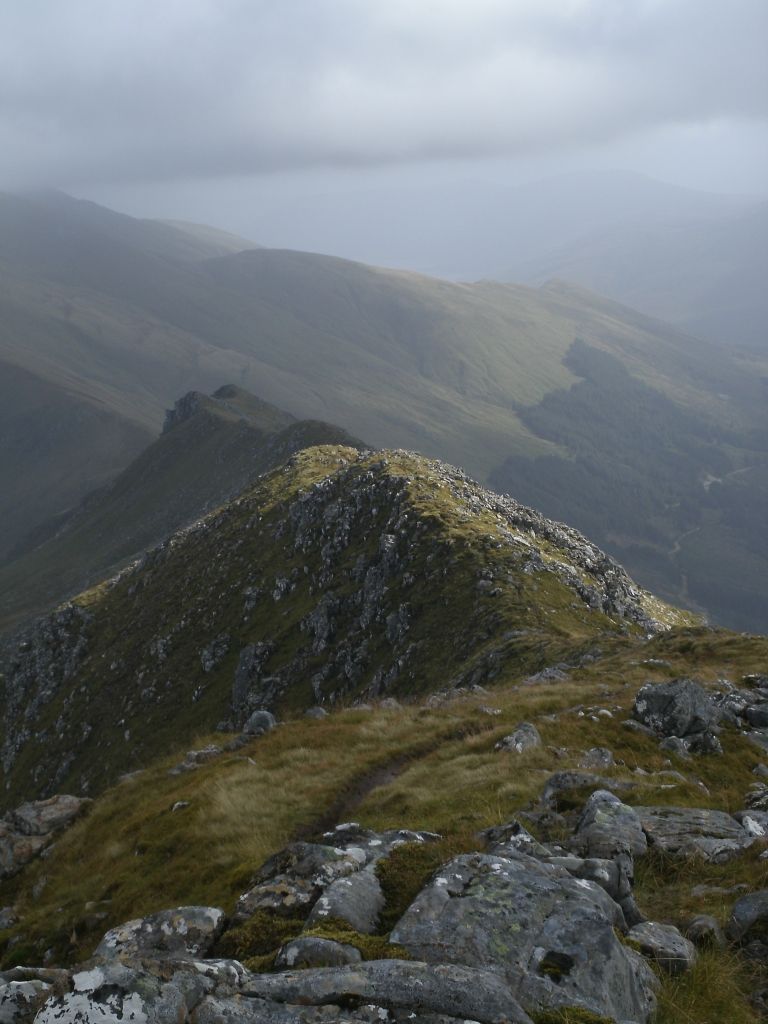 and after much undulation, there was the climb up to the first of the sisters.. Sgurr nan Spainteach.
We got great views, although it was a little hazy. Even more of the ridge was revealed before us..

The winds over the ridge were pretty savage.. Enough to rob your mouth of your slevers, although I only got pushed over a couple of times.. Made chatting a bit difficult though
As we descended for Spainteach, we hit a wee scramble.. quite fun
Then it was up, up, up to the first of the Munro's, Sgurr na ciste duibhe.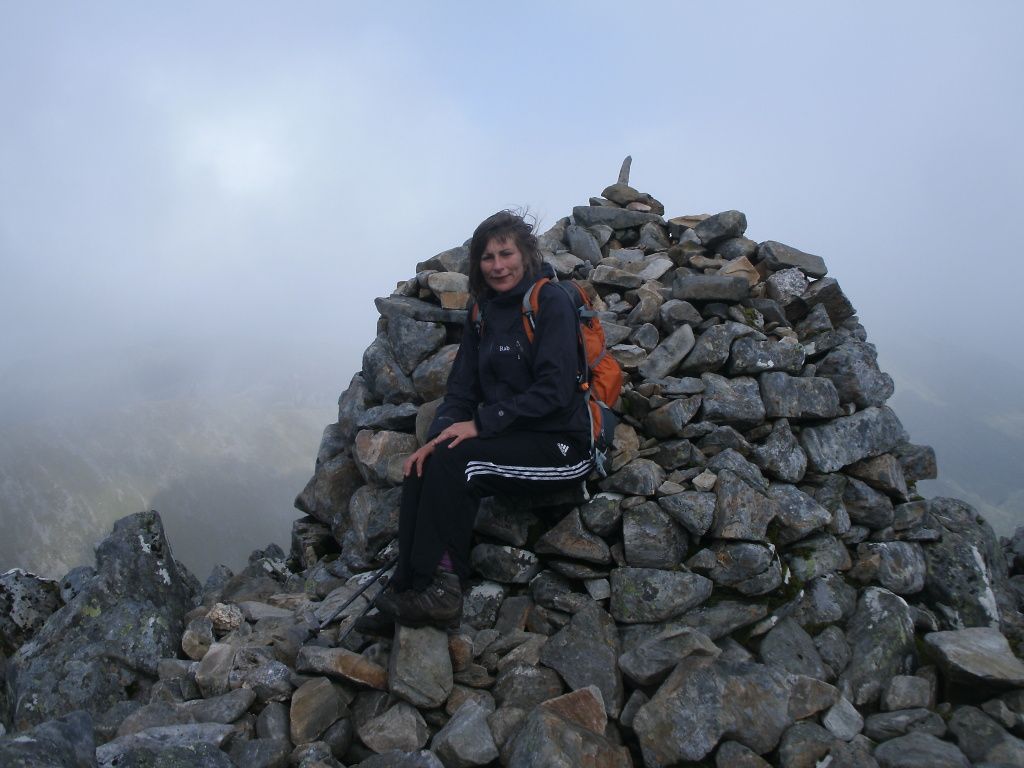 unfortunately at this point, we started to get clagged in a bit, and the bonny views disappeared for an hour or two. We did get a glimpse of Loch Duich.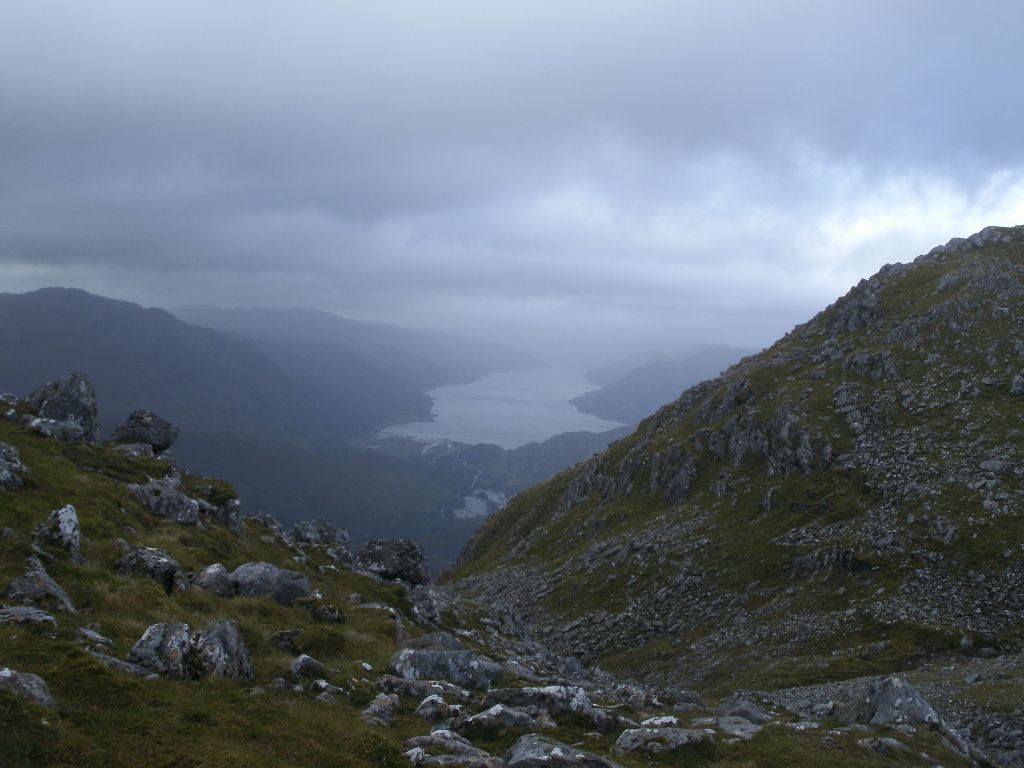 Th winds were still a bit airy, so we didnt stop for a photoshoot at Sgurr na Carnach - kept on going along the rocky ridge. The path was well defined all the way
By the time we hit Sgurr a Fhuaran, the clag had lifted somewhat, although it was still pretty darn windy.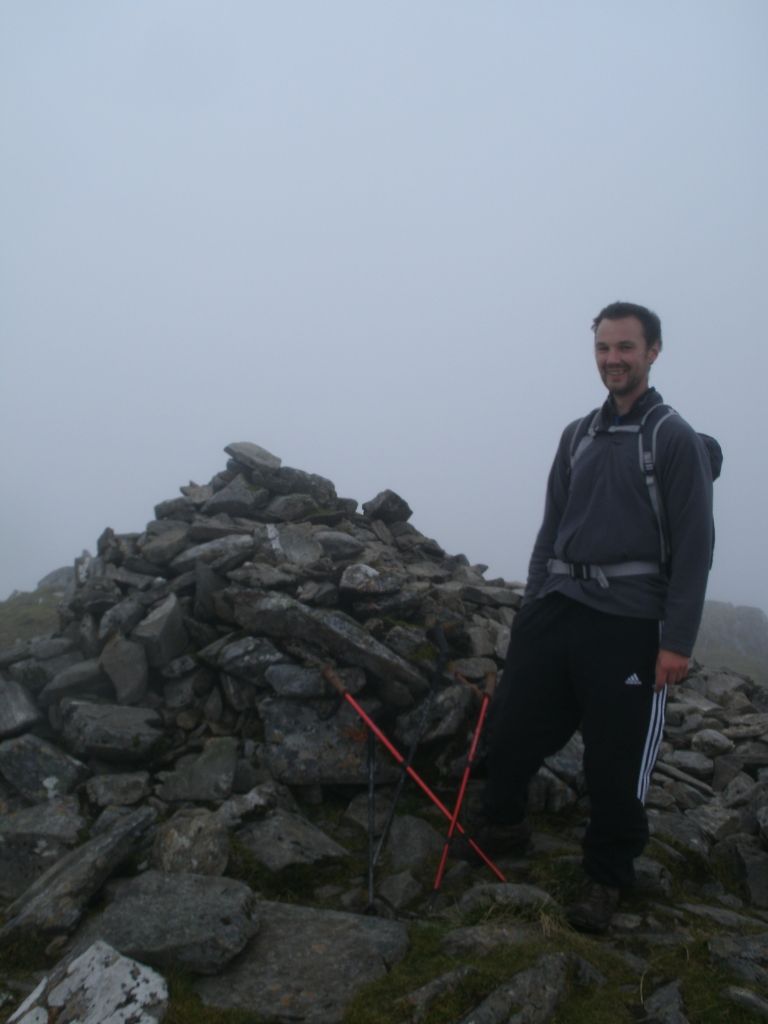 Leithy had a brief argument with a wifie from the other party about which hill was the final sister
before we set off for Sgurr nan Saighead. The path looked to be going the wrong direction, but Leithy found us a path that went the way we wanted to go.. it was pretty darn steep though with plenty of rocks and slippy gravel.. A couple of hundred metres down, we realised that the initial path must curve back on itself, as we re-met the main path on the other side of a boulderfield
The final sister looked pretty darn fine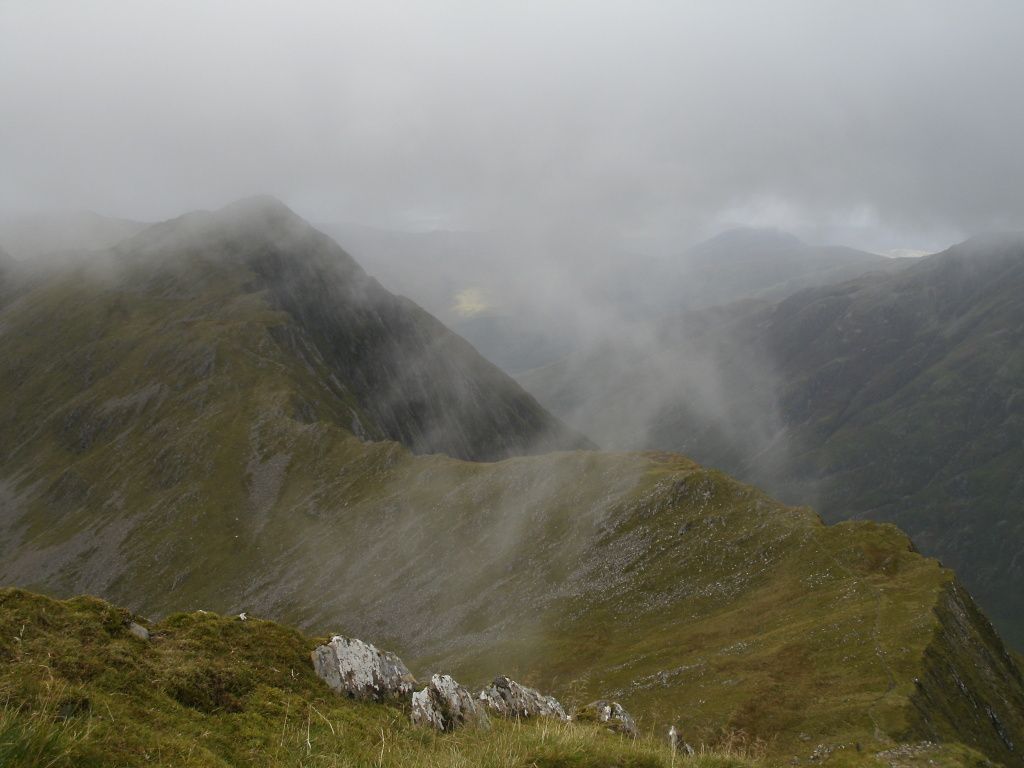 We managed to miss the ridge path and were quite a bit round the bypass, before we realised. Leithy took a direct route to the summit, I went along and up the path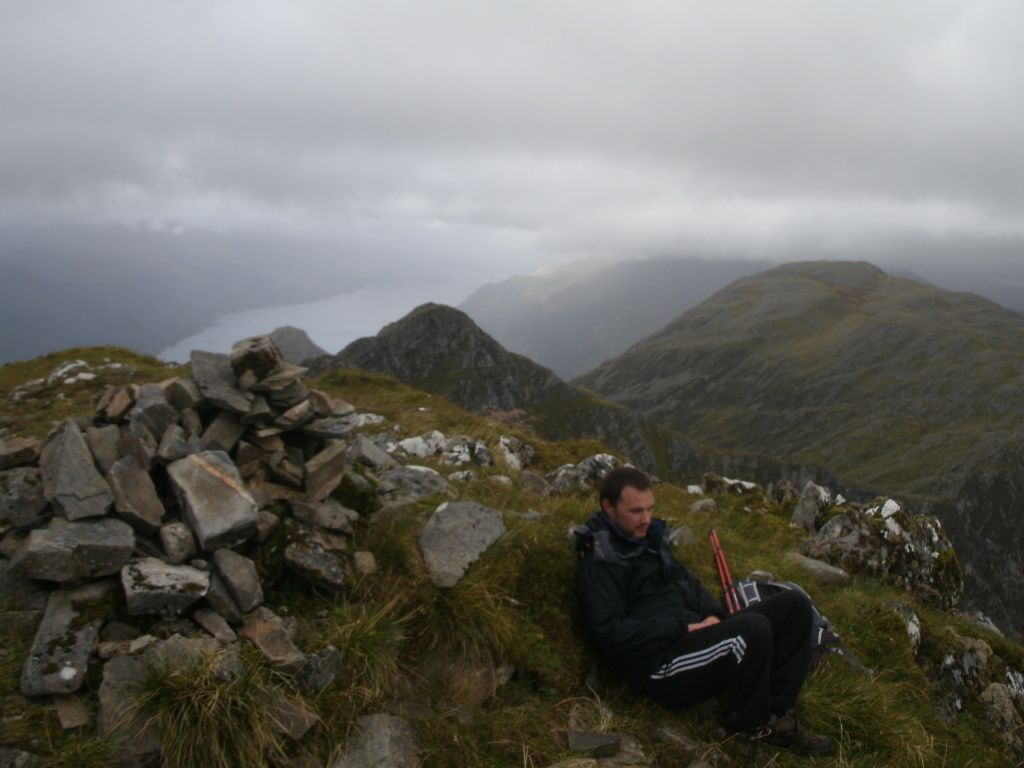 Tired after a very late night, I fell asleep for a wee snooze hiding from the wind behind the cairn. I woke up cold though, after not very long according to Leithy...
The descent didn't seem to take that long.. There was an awkward steep boggy section but in the glen the path improved dramatically and we made excellent progress with the pub at the forefront of our minds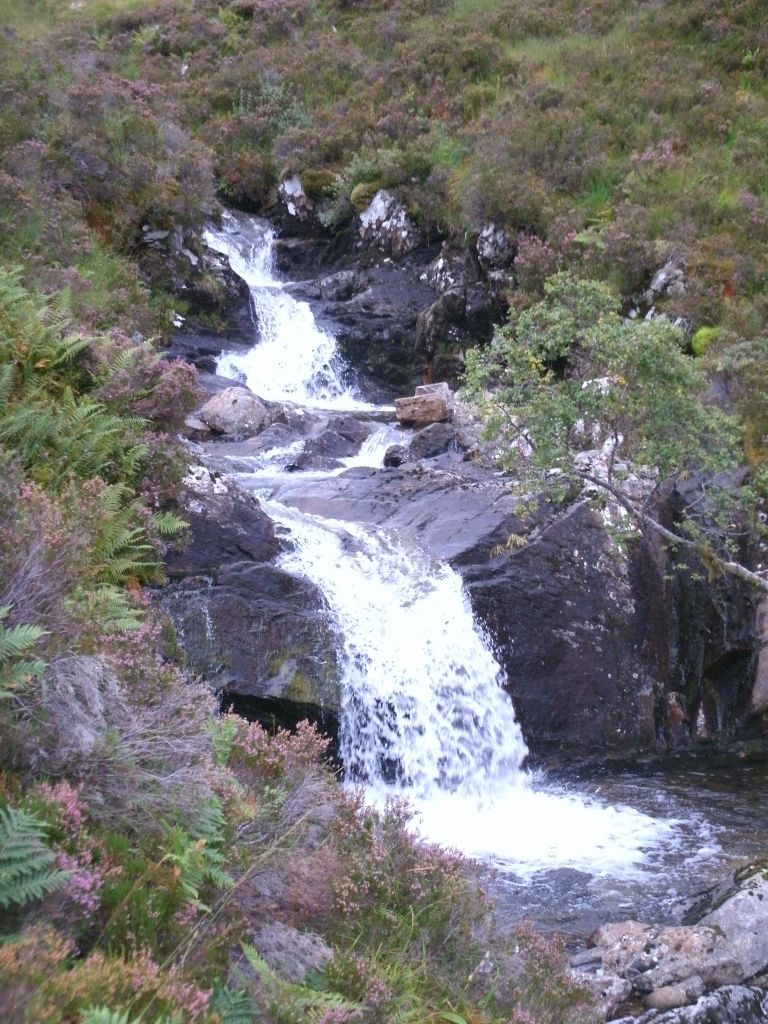 We did get distracted on the descent for a while by the biggest patch of ripe brambles I have seen for ages. I felt ill I ate so many!! And after a long wait, we finally got our breakfast in the jacobite before going to pick up leithy's car
It had taken us 8 hours, but according to the GPS, we had been stopped for over 3 of them! not exactly pushing it.. anyone would think we were hungover or something
I cant believe I got a bit of good weather at last. Yaay! thanks Leithy