A few things led me to do this trip this weekend.. I wanted something fitting of the last public holiday until Christmas, and with the nights drawing in, I wanted to make the most of the last madbagging opportunities, before being left to doing short fun trips in the snow
So I found myself driving up Glen Mullardoch, trying to avoid the cows on the road as the sun set on Friday night. There seemed to be plenty light left, so I decided to head up the glen, and camp beside the Allt Mullardoch. I had seen a photo of a nice camping spot there, and the thought of sleeping next to the waterfall was uber tempting. I hurried up with the faff, left all the nice camp spots beside the dam behind me, and set off along the loch.
This turned out to be an unwise decision, as before I got to the end of the track it was dark and I was left floundering around in knee deep boggy heather, with a head torch that I had forgotten to replace the batteries in
To compound my difficulties, when I reached the Bridge, the campspot I had intended, had since been overgrown with Bracken
I found an ideal spot just beyond the bridge though, and set up camp. As I unpacked, my heart sunk.. I had packed 2 pairs of waterproof troos, instead of one pair and a jacket
I hoped the weather forecast was accurate, and there was no rain. The thought of heading out without it filled me with dread. There arent really any places to bail out on this one!
Jings it was cold Friday night, but I had my winter things so I was cosy as I chain drank tea, and watched the ample stars.
I was up a bit later than intended on Saturday morning, the tent was thick with frost inside and out, and my nostrils had a bit of an icy crust.. Oh it really was cold then
The loch looked beautiful with some mist clinging to it..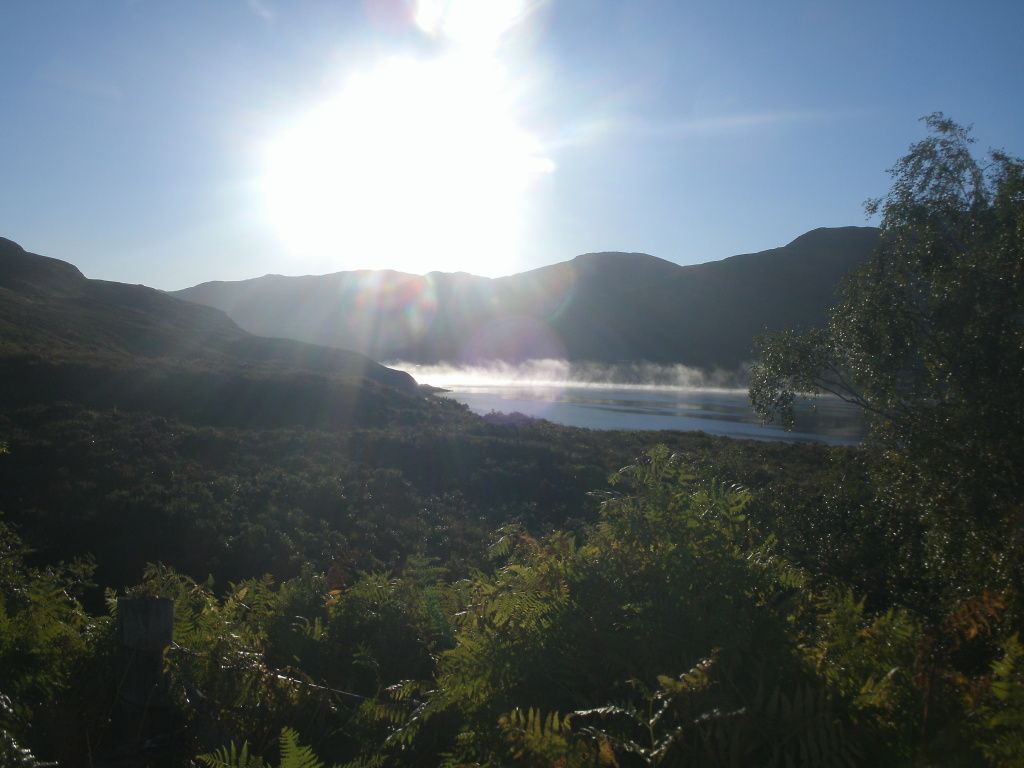 Took me a while to get going, and by that time the sun had melted the frost and the tent was sopping! That will be a joy to get into tonight I thought
So it was after 9 before I set off up the burn. The boggy bits were crusty, and my toes were cold! Not for long though, as soon I turned off the main path, over a convenient wee bridge, and up the faintest stalkers path I have seen for a long time. I haven't been feeling right the past couple of weeks, and combined with a rucksack of a weight I haven't carried for a while and you have got a very slow pace.. Didn't help that I was now in blazing sunshine without a breath of wind. It was a long, boggy, arduous pull, up onto the ridge
Luckily though, Carn a Gobhar was just a wee hop an skip from there, and I hit the first munro by 11
I could see the way ahead, and it looked formidable.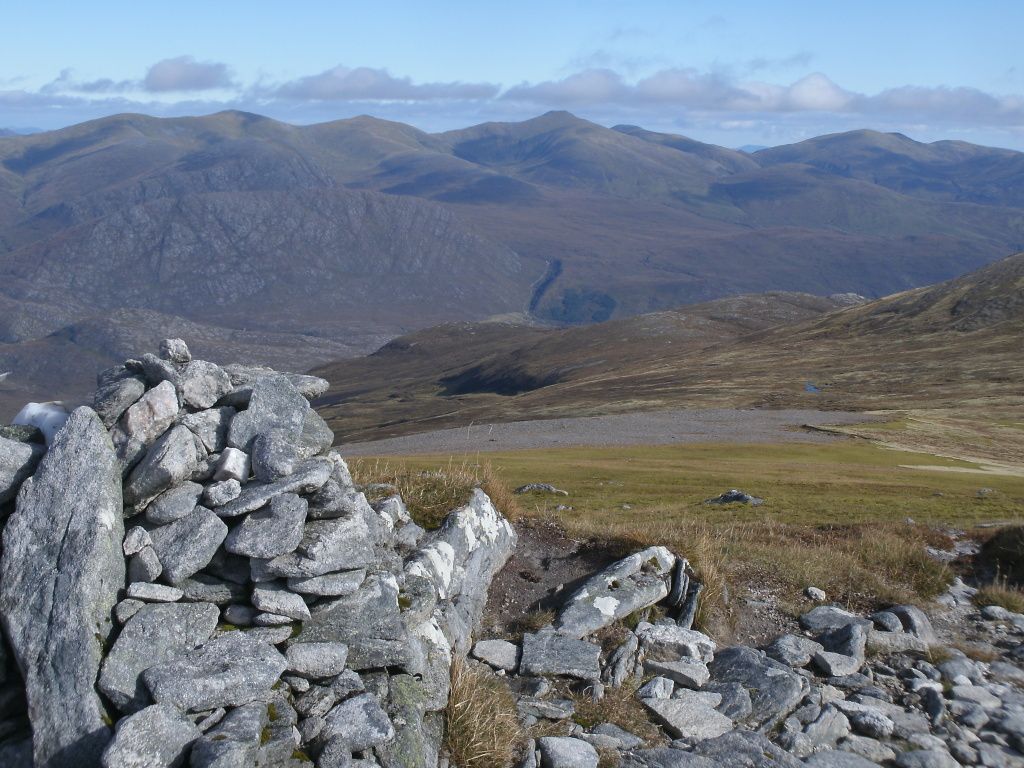 I stopped at the summit for a refuel, and a hill runner guy appeared and asked me the usual about my route and whatnot.. He was the only person I met all day..
A relatively easy descent across rocky ground found a good path in the Bealach.. Good job, because the rocky ascent would have been tricky without the guide through the crags and boulders.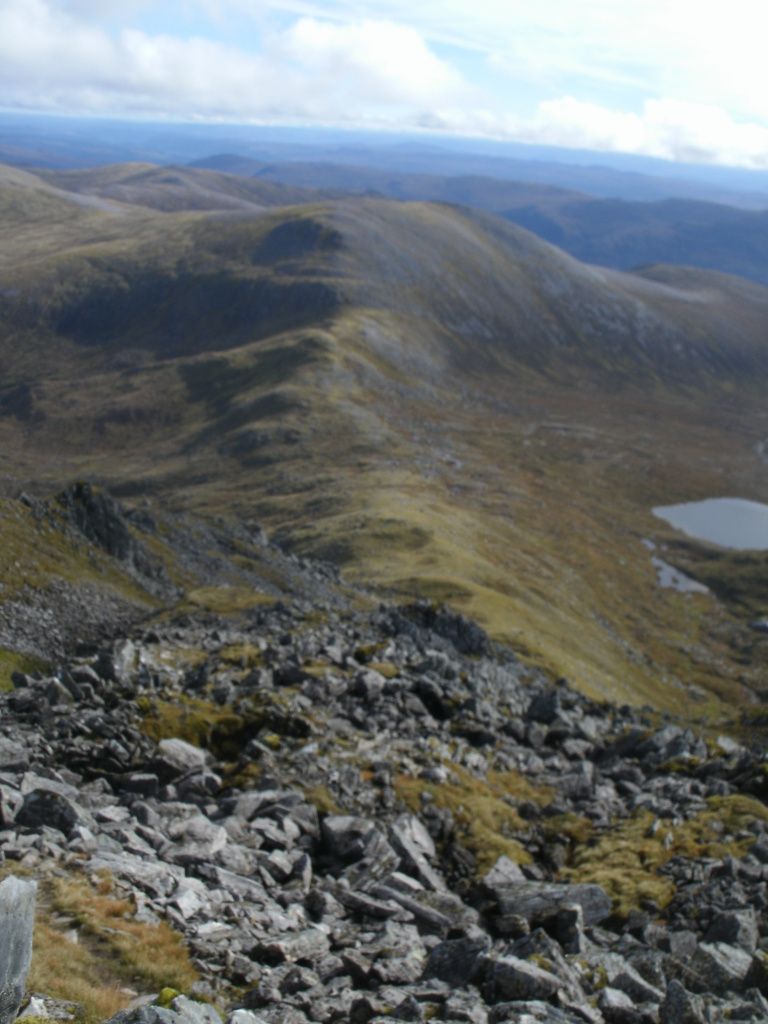 There is a confusing array of giant boulders near the summit to negotiate, before you are suddenly there! And a decent shelter is too good an opportunity to miss, even on a still day it seems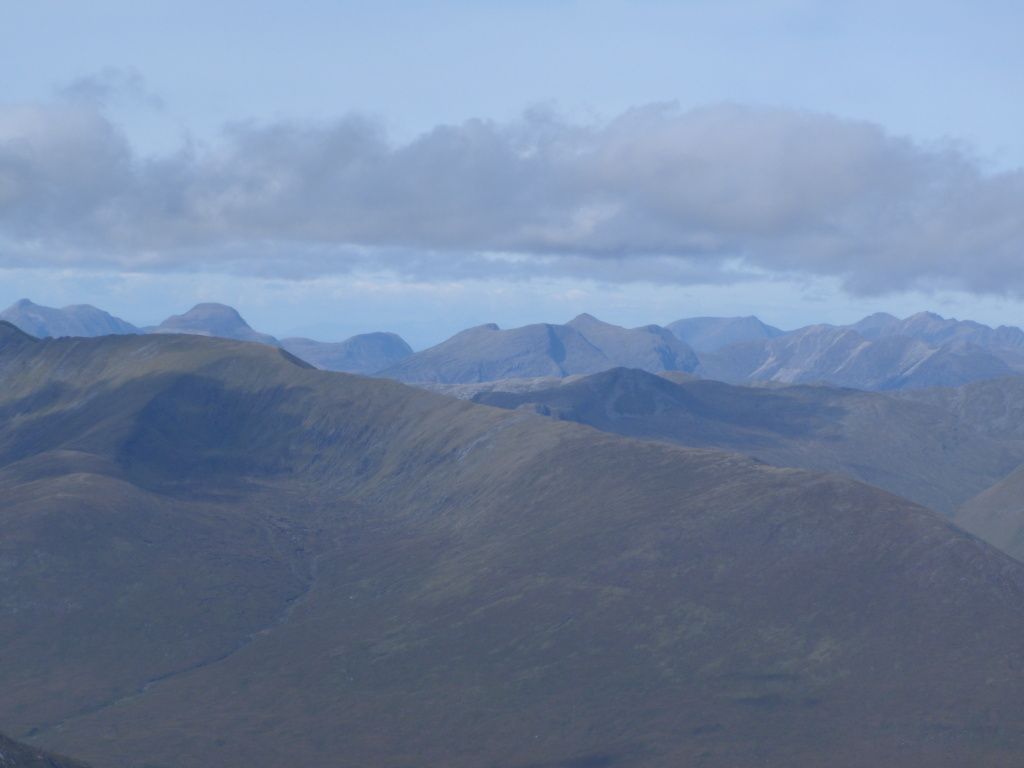 Its rather a steep descent from there, but there is a clear path, and soon I was winding my way up through the rocks toward An Riabhachan. Quite a pull, still feeling under par
but determination is a wonderful thing, and with such nice view it was easy to get distracted.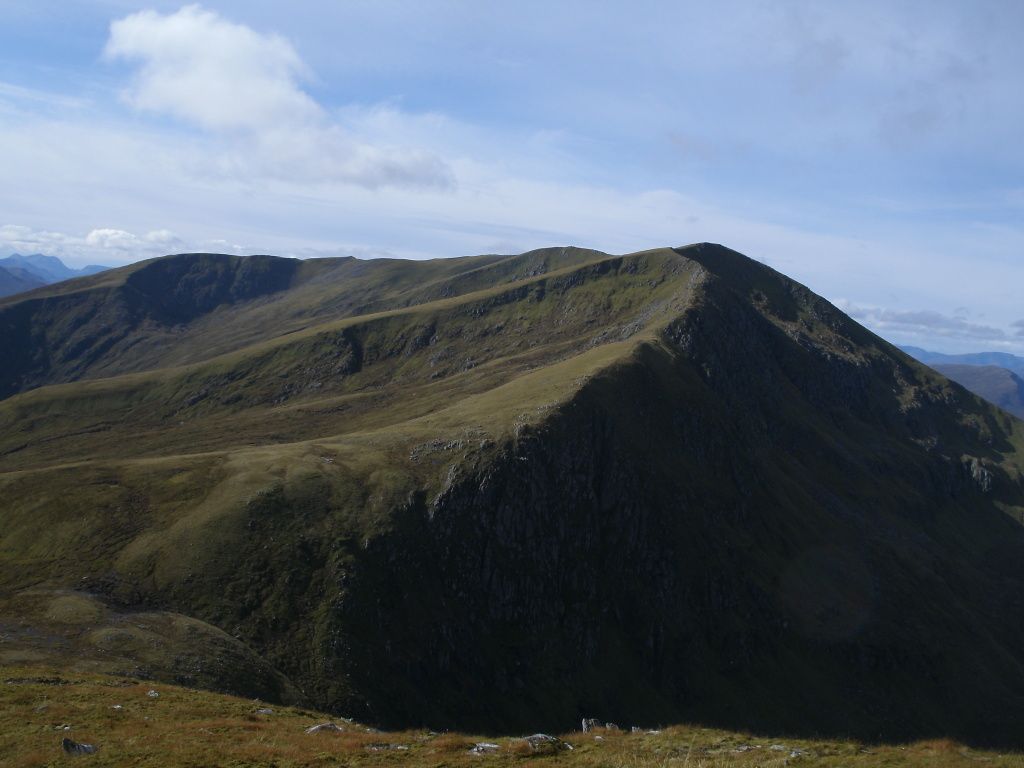 An Riabhachan has a long plateau, and I got confused by the array of cairns and tops.. I think the middle one was it, but at the time, it wasn't all that obvious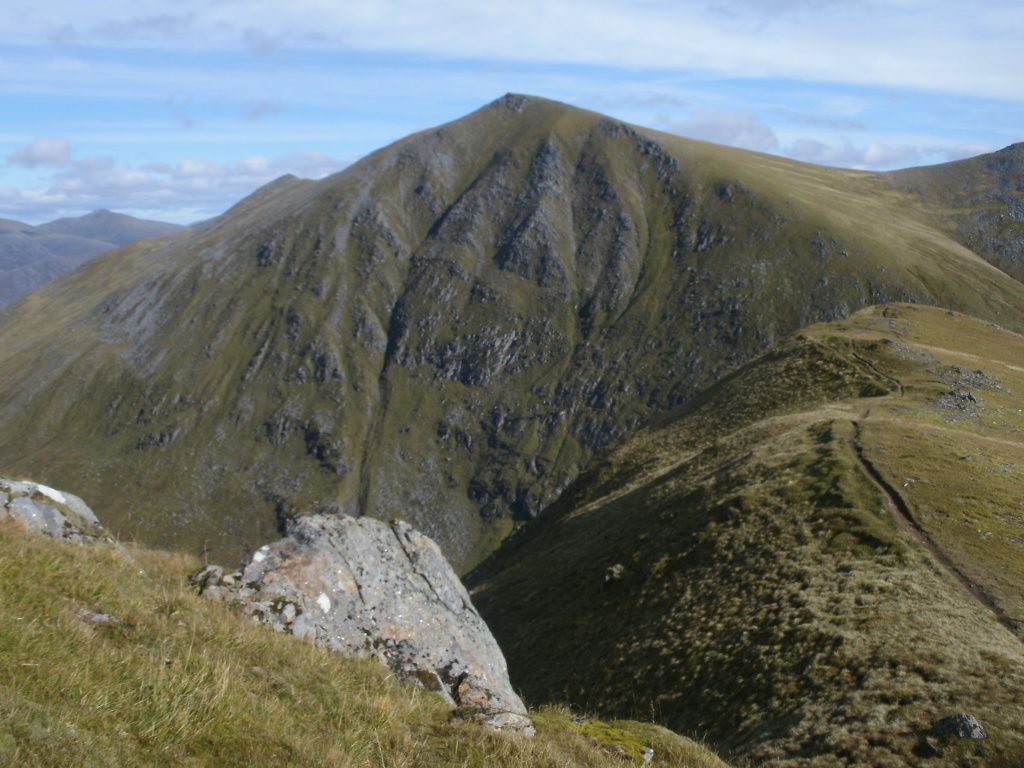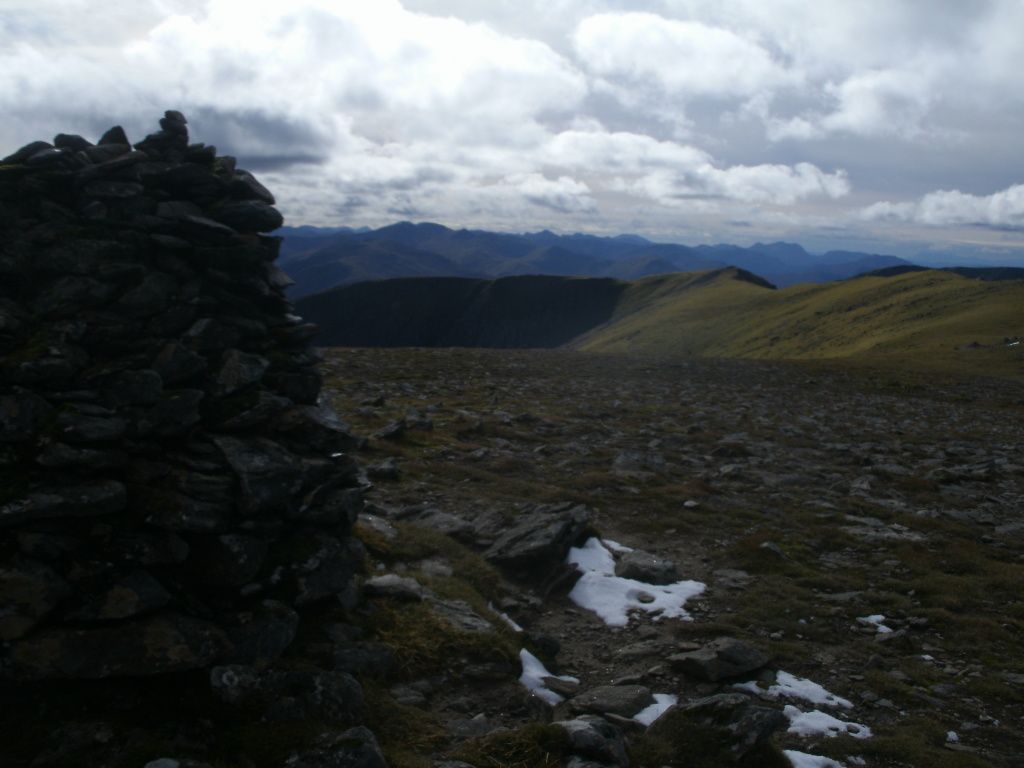 A sharp drop to a shoulder and then another sharp drop saw me down to bealach Bhoila. The way ahead again looking intimidating, so I tried not to look, and set to it..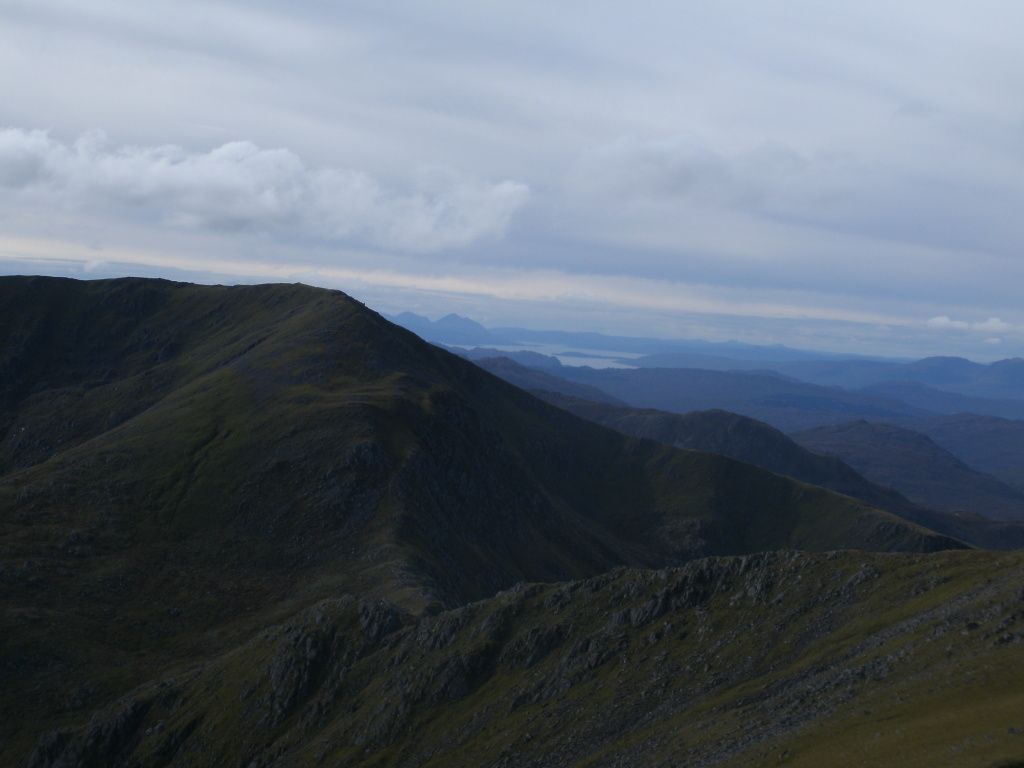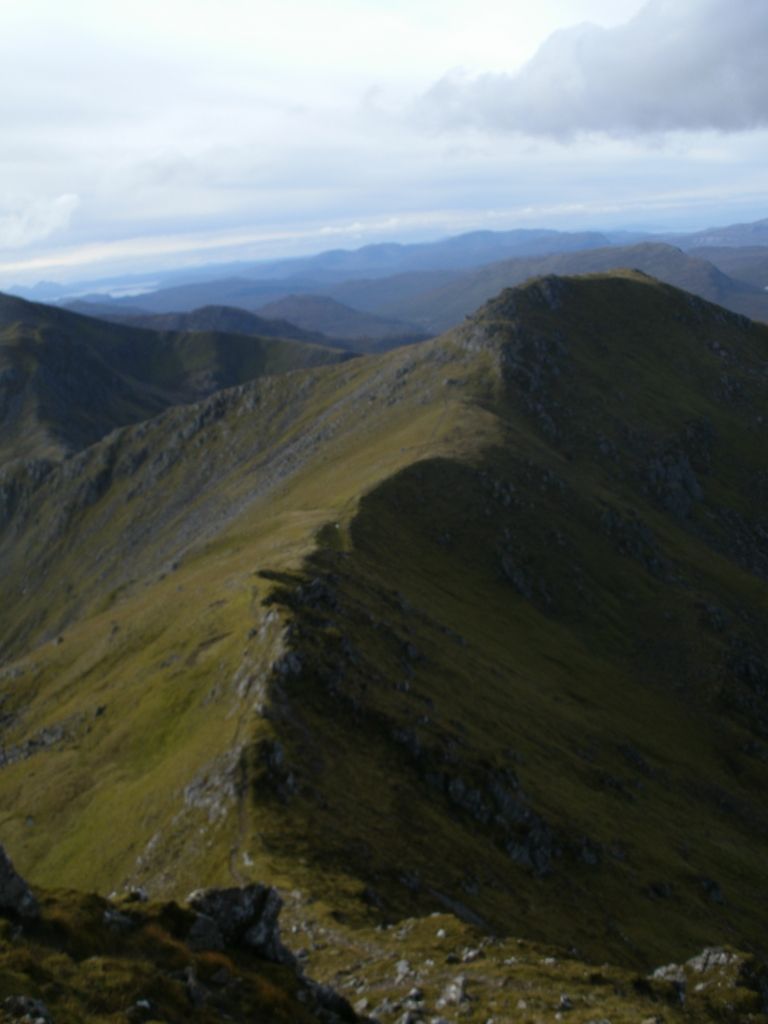 And as it turns out it wasn't so bad
I was soon on the An Socach's grassy summit. There were a few icy patches about, but it was still blazing sunshine...

I followed the path a short way, but I knew it would probably head down the ridge that curves round in the wrong direction for me, so I struck off to my right, hading down to a low ridge with Meal Shuas at the end. It was a steep slippy descent. I picked up the traces of a vehicle track along the wee ridge, and it struck me that I was probably right in the middle of prime stalking ground in the middle of the stalking season.. Hmm it was 4PM, maybe they would be heading home for their tea
i did see a big herd of deer, but no people, as I followed the track, off the end of meal Shuas, where the going got boggy and all the way down to the banks of the Allt Na Criche. there were ample camp spots about, but I waded the river and headed up the opposite bank, heading for the Allt Cam. I would be following this burn up to its source tomorrow, so I thought it would be nice to camp beside it. There is a track along, but I didnt use it, preferring instead to go over the peat hags so I could pick up some bog wood.. There would be a fire tonight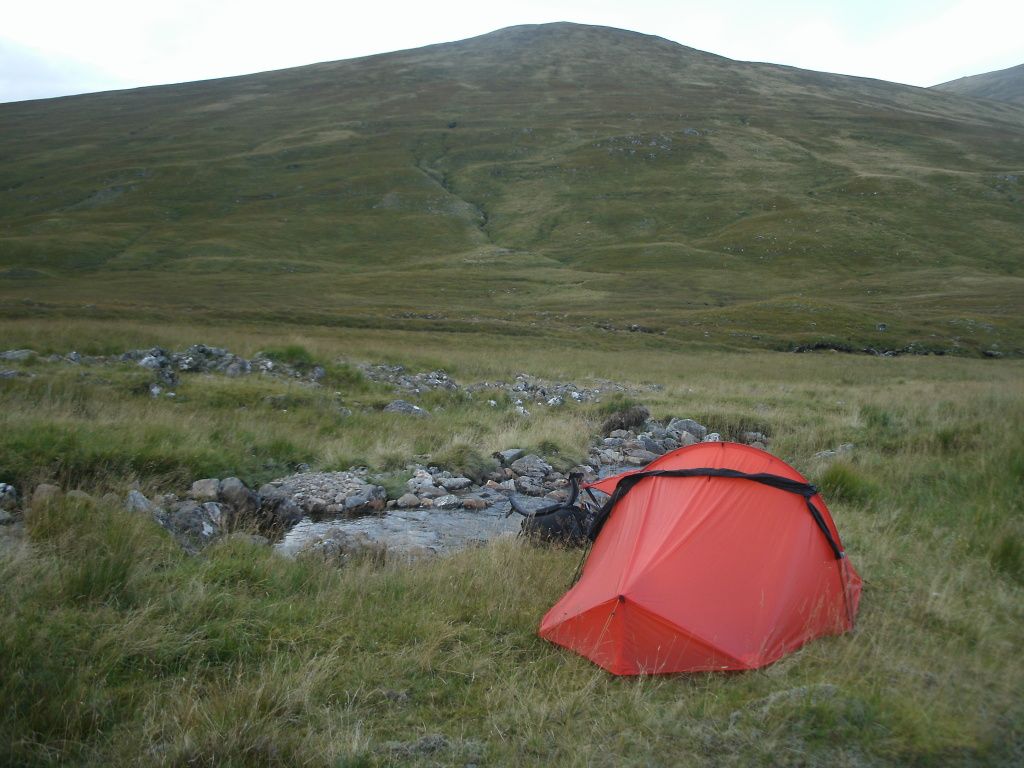 The fire was good, dinner was better, and I lay half in, half out of the tent watching the stars again until I fell asleep. I awoke in the middle of the night with an extremely cold face and frost in my hair! Oh jings, time to go inside me thinks
The calling of the stags that had been a novelty all day, at night was just plain annoying.. They should give em all asbo's I tell you, ruddy din!
Another later than intended start, saw me heading up the Allt Cam at about 9. There is a boggy track that goes a significant distance up, but then swings left over the hillside and I was forced off piste. The weather was another fine day although very hazy and a good stiff breeze. Bonny waterfalls..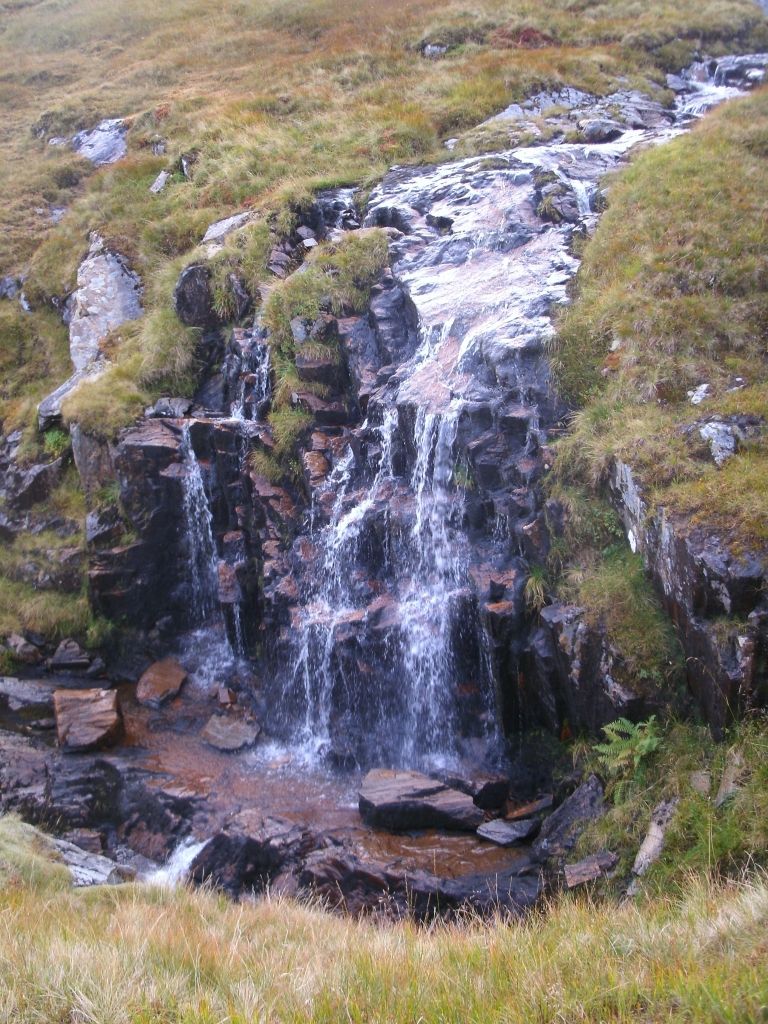 The going was tough, and although I had started the day with a spring in my step, deep moss, like quicksand soon sapped my legs of all springyness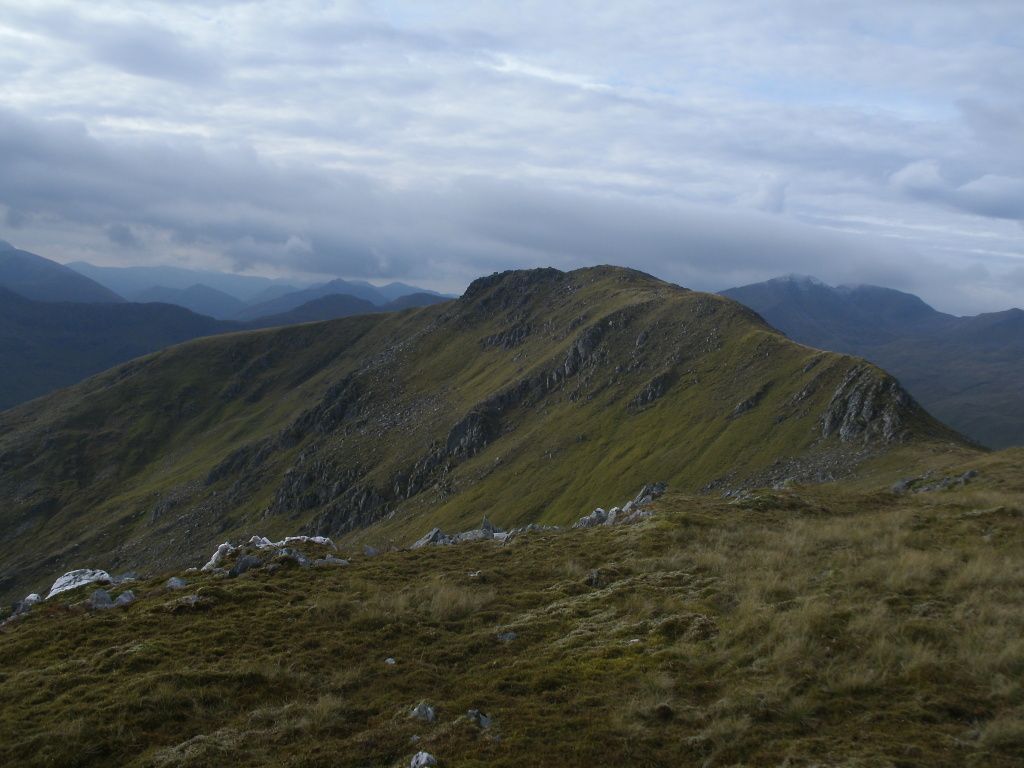 It was a relief to make the ridge, but I was completely unprepared for what lay before me. The entire ridge, looking huge and foreboding.. I surely wouldnt make it all the way round in just a couple of days? I would need a week! Well gawping wasn't going to get it walked and the hills werent going to climb themselves, so I set off. The first top was really close, Mullach na Dheirgain not much further! So a wee bealach, a short pull, and I was on the first munro of the day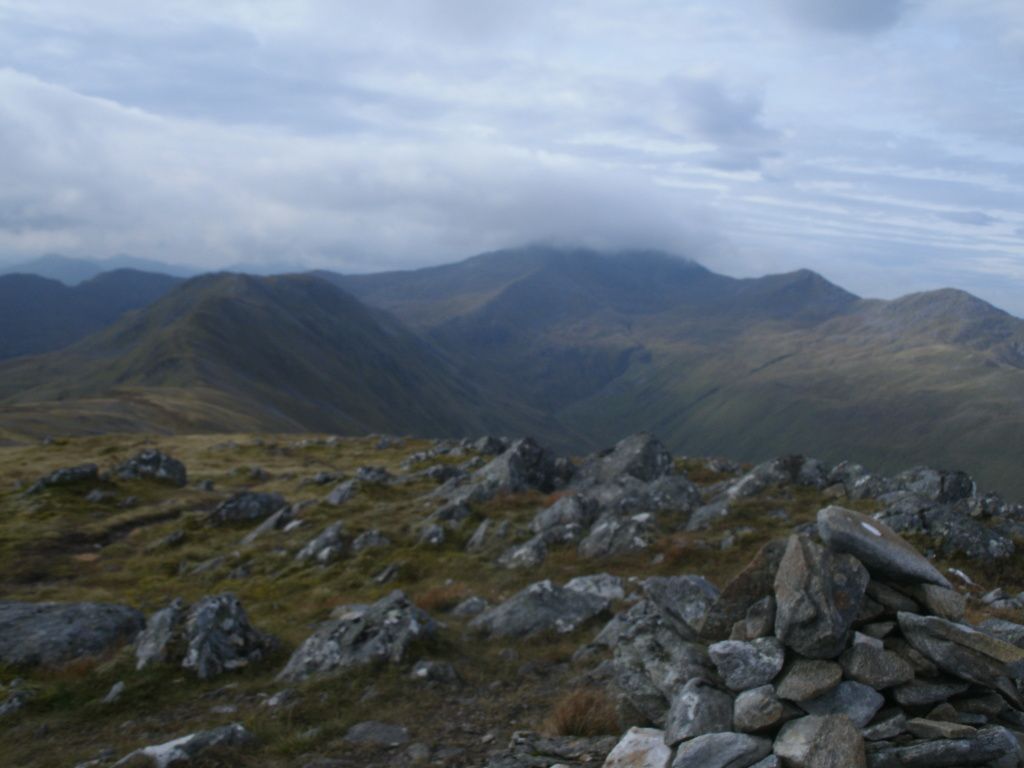 It seemed a long way over Carn a con dhu, its a lumpy, rocky little blighter, that fair sapped some energy, before I finally got a good look at (listen very carefully, I will type this only once
) Sgurr nan Ceathreamhnan. All yesterday it has stood up above the other hills all dark and icy looking with a veil of clag.. Looked like an effort.. but it was far easier than I thought, although the wind was getting up, and I was starting to get blown about a bit, rucksack acting like a sail
It was right hazy as well, looking over toward kintail..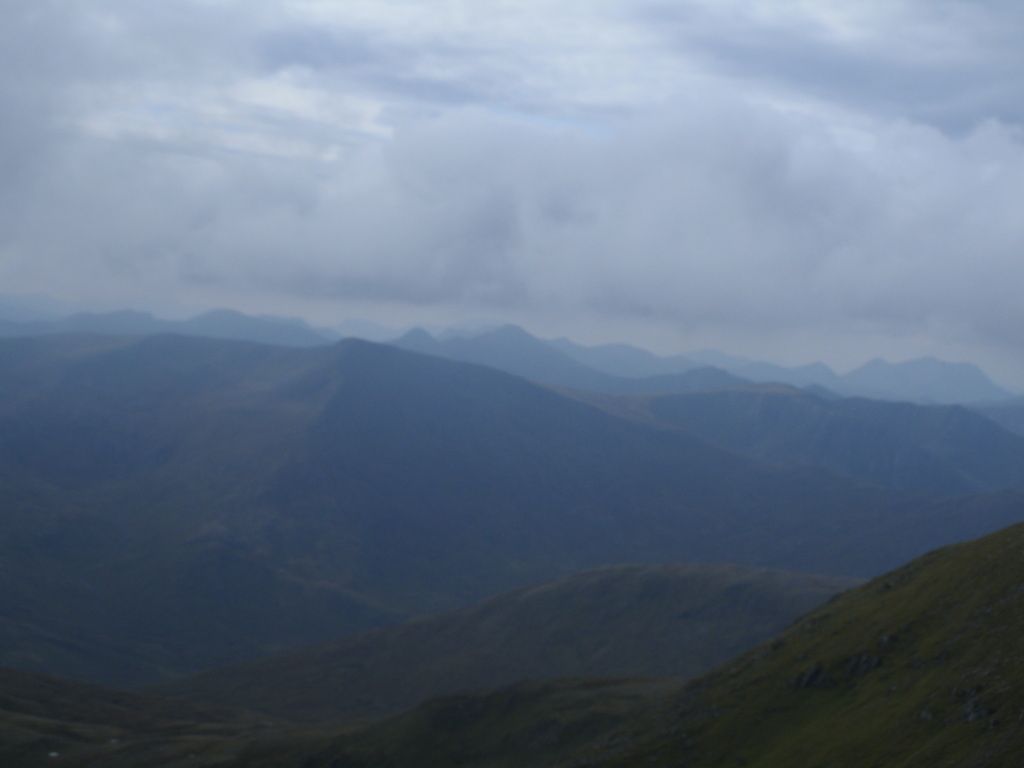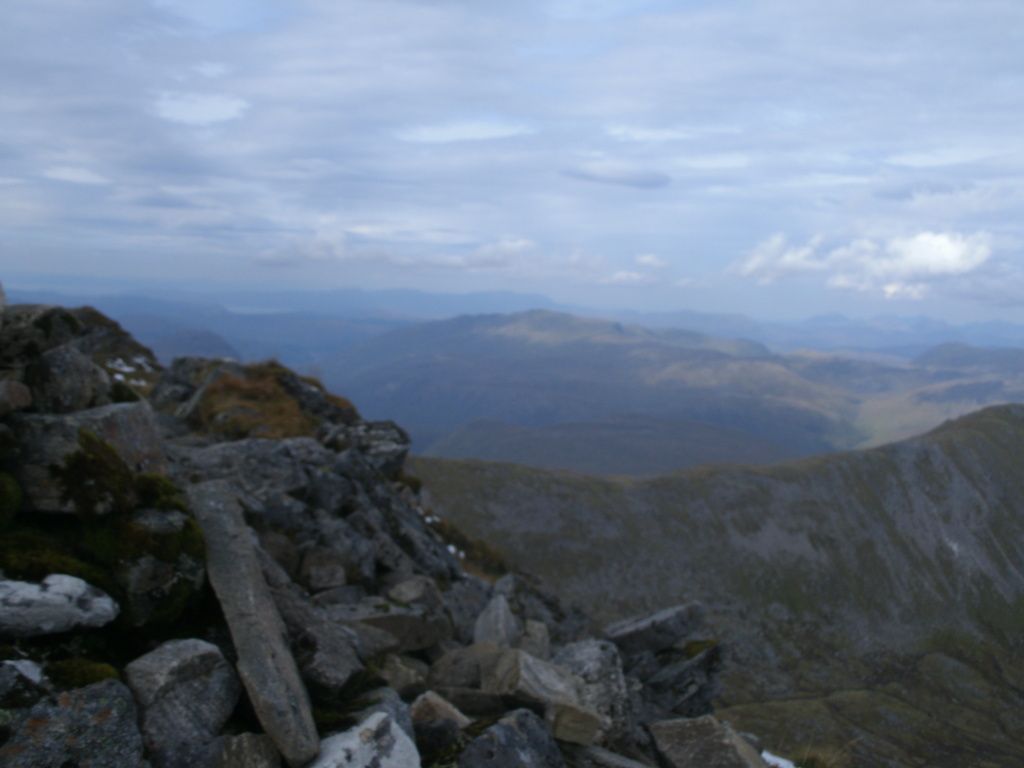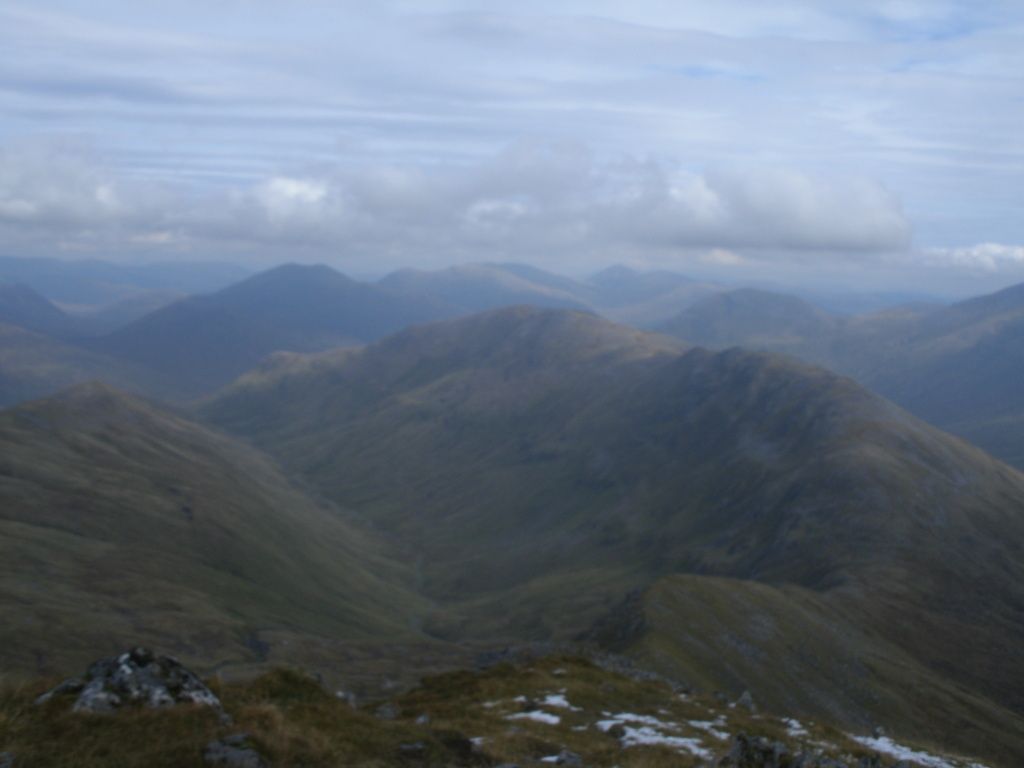 It was an easy descent, and the lumpy ridge that followed, posed no problems apart from to sap yet more strength. There was a top, then a lower craggy number before a climb up to another An Socach
.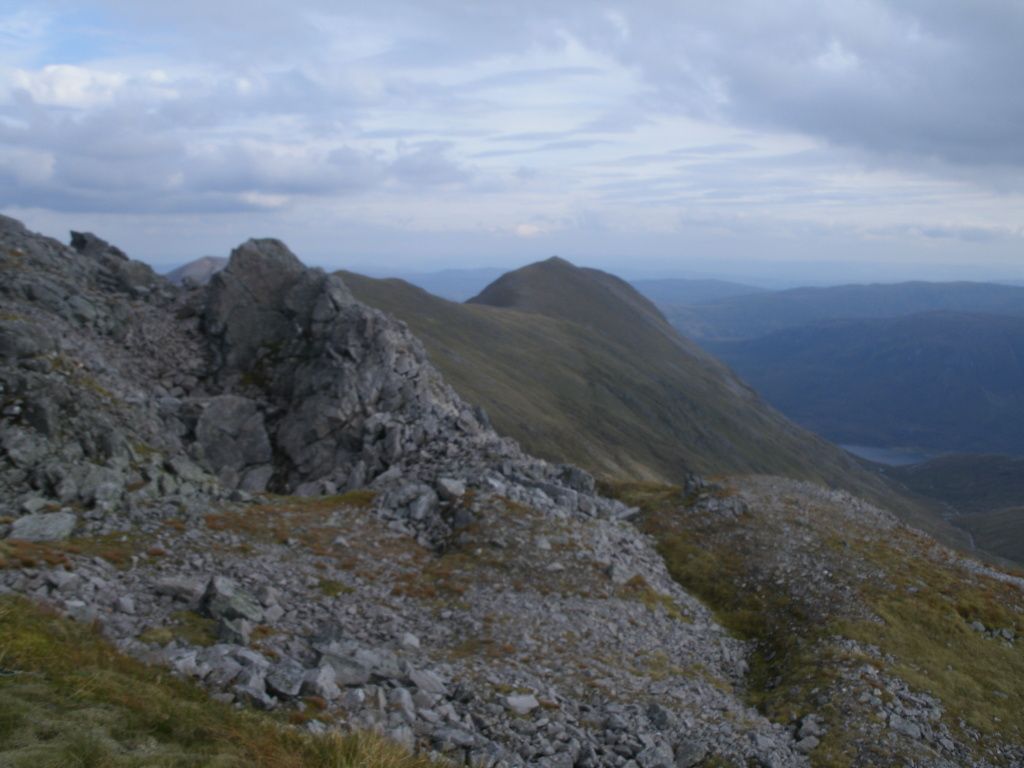 There is another minor top to walk over before a very low feeling bealach. Mam Sodhail, is a fair distance along the ridge, and there is a fine path that takes you up at a nice easy angle, unfortunately it doesn't lead to the summit, so I broke off at a place I thought would be an easy place to gain the ridge again. Clearly no-one else thinks it is a good place because no trace that others have been that way!
I went over a couple of minor tops, before a final pull up to the summit, passing a wee ruined hut that would make a good shelter.
The summit has a fairly sizeable cairn by anybody's standards. There is a wee shelter nestled in the middle. Apparently the site of the 1st ever trig point according to rumour... Nice views..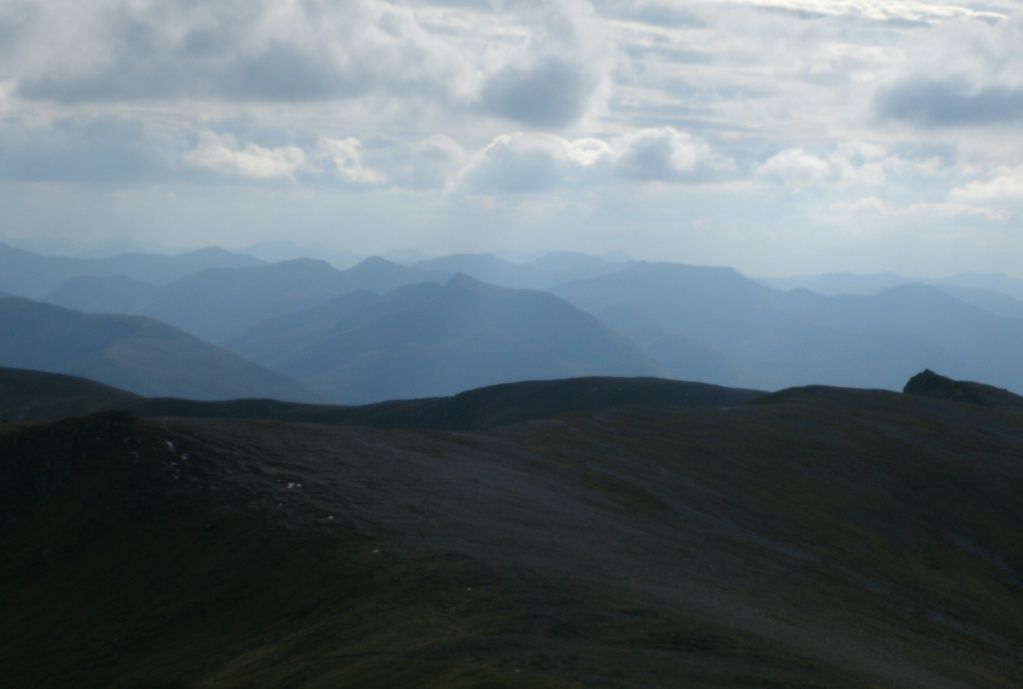 I went down to the bealach, but contoured round carn Eige, heading for beinn Fhionnlaidh.. I was too high, and ended up slip sliding around on an unstable boulder field
But made it round. I could see that this part of the ridge would make a good camp spot if I could get a spot out of this infernal wind! I met a couple of guys from Muir of Ord, and chatted to them for a while before ditching the backpack - it felt so good! And practically running up Fhionnlaidh.. Up and back in 20 mins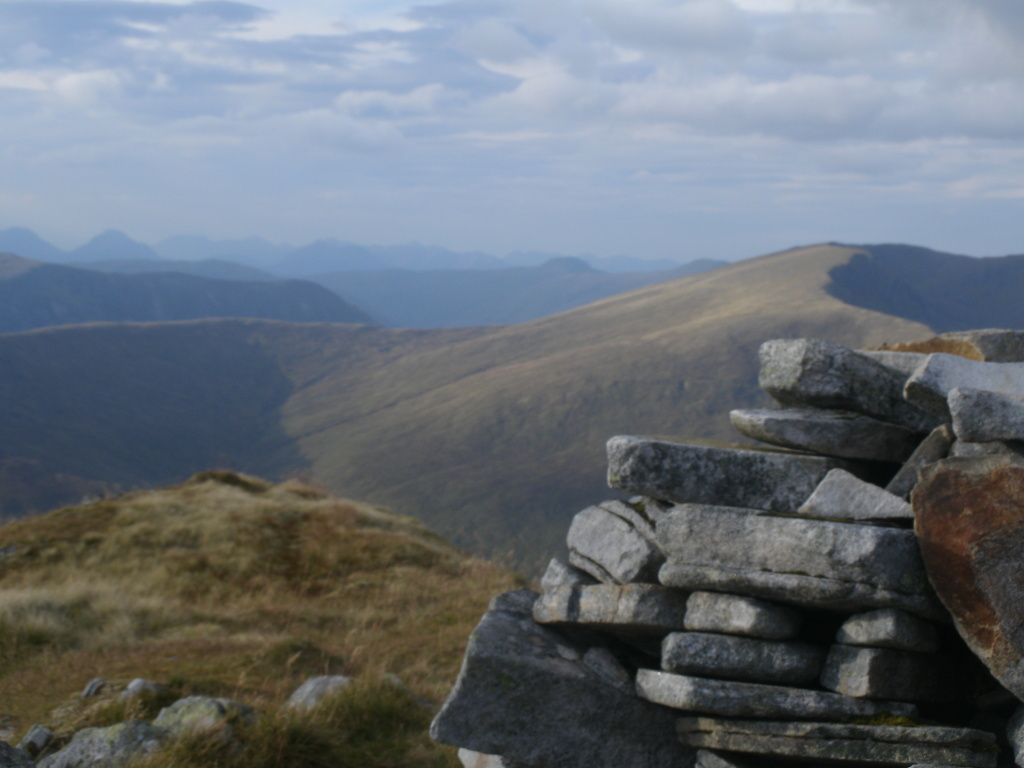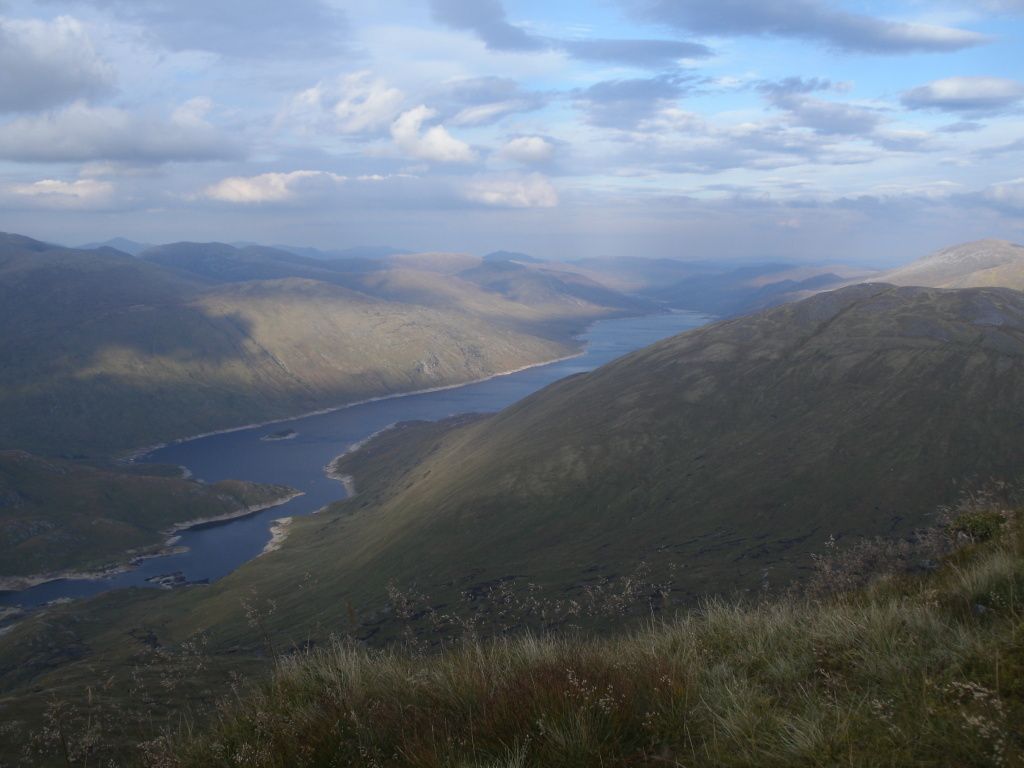 It was only about 5, but I felt like camping so I picked a spot in the lea of stob coire lochan, the minor top on the ridge there. It was quite sheltered, but the odd gust let me know that I was on a ridge.. I was too dehydrated and my thirst was insatiable.. I guzzled tea and water down, and couldn't finish my dinner. I had a huge blister on my big toe, and a toenail was loose.. Hmmm
I was falling asleep while I was cooking my dinner, so an early night, but it took me ages to get to sleep for some reason. Even though I was high, it was the warmest night of the weekend surprisingly, and I woke up too hot at one point.
I awoke early. The wind had got up almost to non walkable levels, and my tent was getting well buffeted! No point sitting in the tent though, I had to get back today, so I packed up and left at about 8.30. The clag was well down as well unfortunately, but at least it was still dry. I hadn't forgotten that I didn't have a waterproof jacket, and not knowing the weather for today had played on my mind.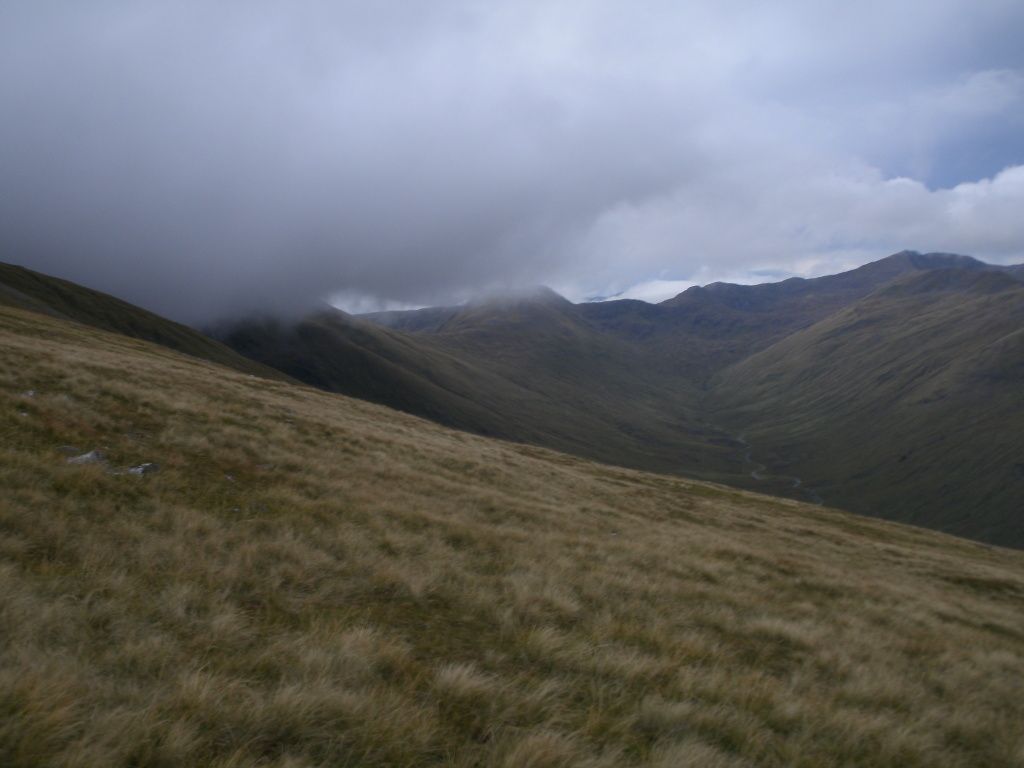 It was a really cold and blustery ascent of Carn Eige, at first pretty steep, but levelling off. I was wrapped up in all my winter gear, but still barely warm enough despite the climbing.. I made the summit for 9.. Oooh chilly!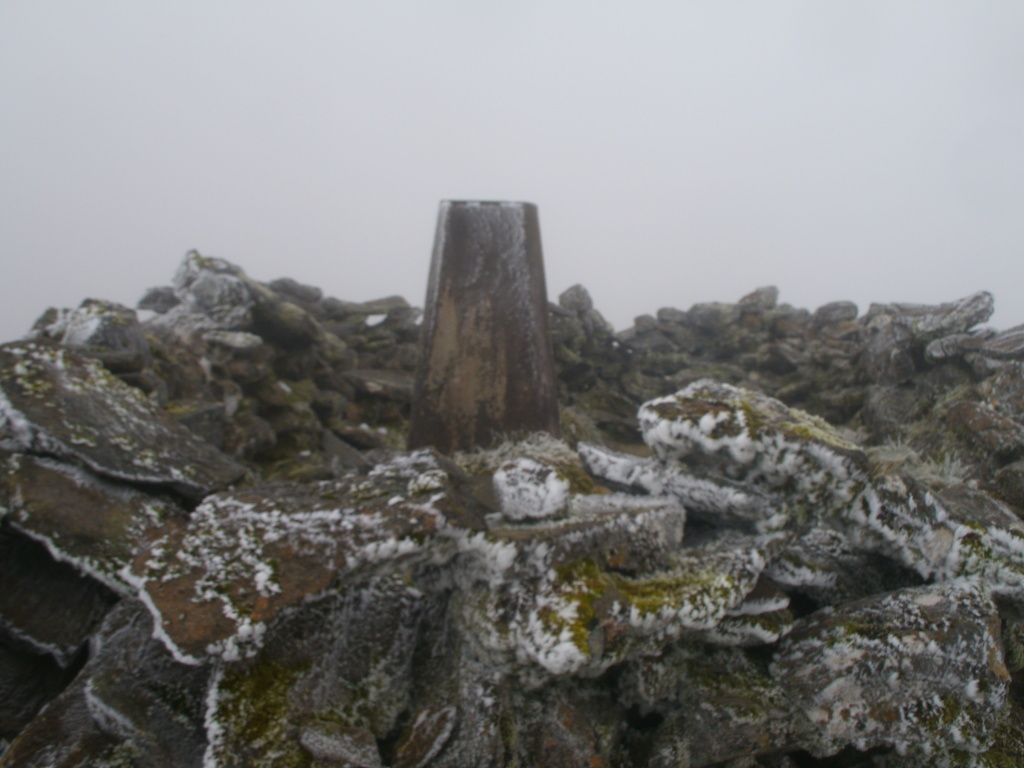 From then on, it was clag all the way. Along a grassy ridge, over a minor top. The next section of the ridge looked scrambly on the map, and in the fierce wind, with a sail on my back I didnt fancy it, so I kept low under the crags to rejoin the ridge before Stob Coire Dhomhnuill. Even this way saw some steep ground with some impressive boulders to clamber over.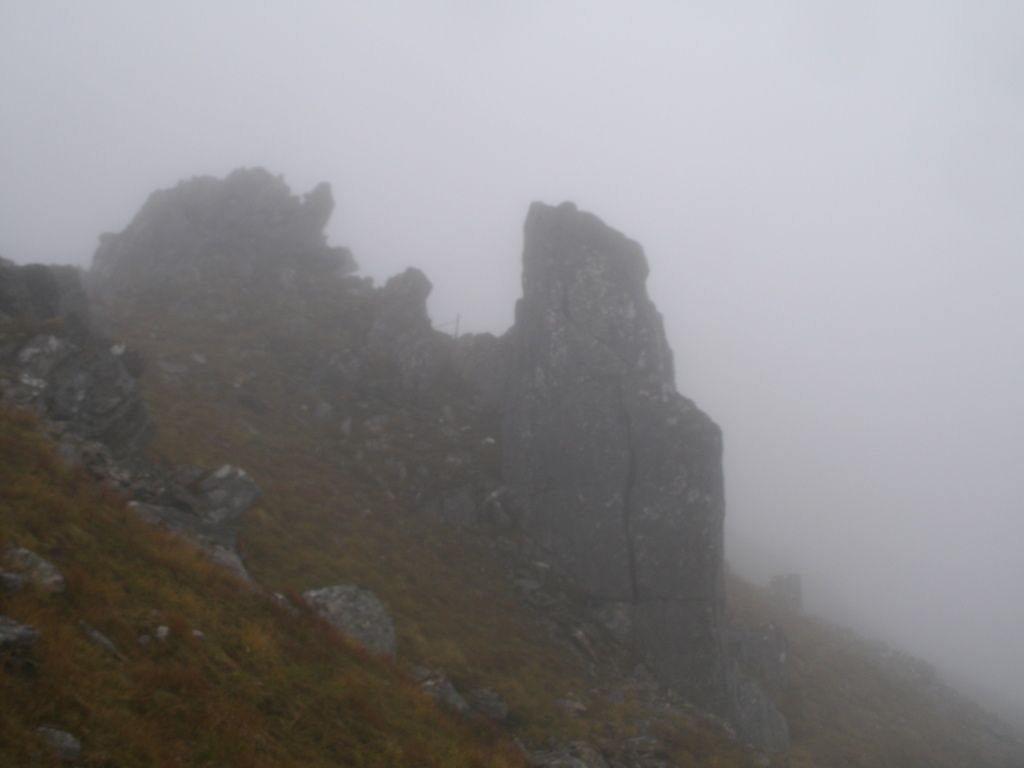 The ridge was narrow but grassy there, and the wind threatened to literally blow me off the hill, and boy was it icy! another bealach and it was up to Sron Garbh, but I followed the wrong path and skirted the hill, then descended! I was left to clamber up a steep rocky section. jings this clag was hard to navigate in.. Couldnt take my eye off the ball for a second
On the map, the drop off Sron Garbh looks like it could be tricky, but there is an excellent path that zig-zags at a very pleasing camber all the way down. It really was a pleasure, I think with even what looked like man made steps
Then I met a couple of young German lads who were walking from Shiel bridge to Muir of Ord. I lifted one of their packs and it was at least double weight of mine. I do hope they make it OK..
from the bealach there is a short pull up to a flat plateau, and again, I managed to follow the wrong path and end up going in the wrong direction. It was a featureless eerie place to be in the clag, and I was almost shocked when I made the summit.. It did look further on the map, or maybe I had made better progress than I had thought, although I doubt it as I was into the wind. first I saw the cairn, then the trig appeared. I hunkered down behind the wall around the trig. Not a good shelter - within seconds I was chilled to the bone
I descended east, A bit aprehensive about relying on a bearing so completely. I could only see 10 yards, and there were no features on the hill, just a neverending mass of rocks and moss. I eventually made it down under the clag.. The dam looked so close I could almost touch it! It was a great sight to see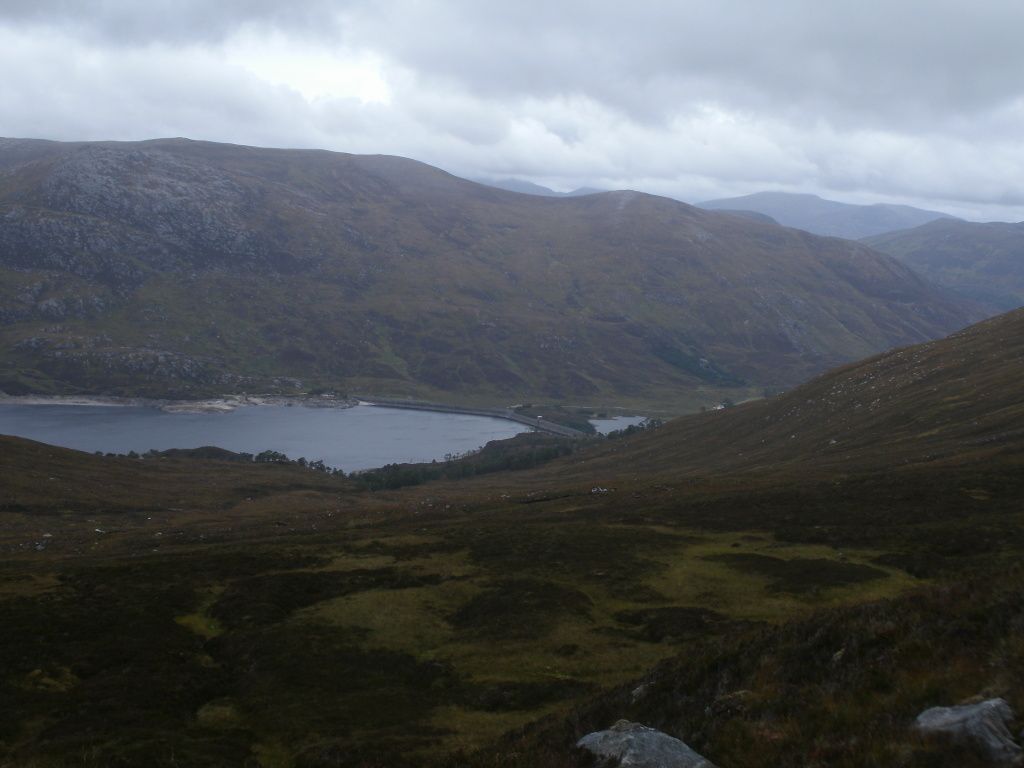 I still had to get down the glen though, and tales of deep heather and nightmare peat hags were at the forefront of my mind. I went to the lowest point of the coll, and tried to skirt round the eastern side of the glen keeping high. I think it worked because i avoided all the peat hags and quite a bit of the heather, but as I got down the glen, the heather was inevitable. I trudged on with tired legs through the thigh deep brush, and found a gate at the bottom of the glen through the deer fence. I had thought that I was almost there, but the heather got deeper, and the ground below it more uneven. I fell and twisted my knees and ankles a bunch of times in that few hundred yards, definately not the best note to end the trip on. I hobbled round the road back to the car at the other side of the dam, and got to the car about 3.. A good job because it got even windier, and the heavens opened just a short time after.. I guess my bad weather faerie has finally taken a hike - yaay!