Date: Sunday 7 October 2012
Time taken: 6.5hrs
Distance: 8km
Ascent: 1,137m
Back in June 2011, AlanS, Gammy, Stretch & co completed the Aonach Eagach. However, JB [likes a beer] couldn't make it that day and AlanS noted that he planned to go back at some point with JB. In my comment on Alan's WR, I said I'd also be interested if he'd be OK with my tagging along. Thought nothing further of it until, out of the blue early last month, Alan PM'd me to say he was going back up on Sunday 7 October and would I like to go ?
My thanks to Alan for setting up this trip and for his excellent help and guidance throughout the day – I certainly couldn't have done this on my own and was very glad he was with us.
Left Glasgow a little later than normal – great weather and some nice views driving over Rannoch Moor on the approach to Glencoe.
A little HDR on Stob Dearg
Parked up at the Achnambeithach car park just west of Loch Achtriochtan as this would be our planned end point. Alan arrived shortly afterwards with SavageAlice and we drove to the wee car park just west of Allt-na-Ruigh where we met up with JB and Springer. Alan had suggested beforehand taking smaller rucksacks if possible so that they didn't get in the way on the walk – turned out to be good advice !
All set and the five of us headed for the track which leads initially up to the side of the Allt Ruigh before going NW towards Am Bodach. With little wind and the sun rising further it was getting quite warm and layers were soon shed. We weren't in a hurry and took our time meeting quite a lot of other walkers on the way.
Arrived at Am Bodach and started to get glimpses of what was to come for the rest of the day.
After a break we headed off towards Meall Dearg – good views of The Chancellor but none of us was for heading down to it.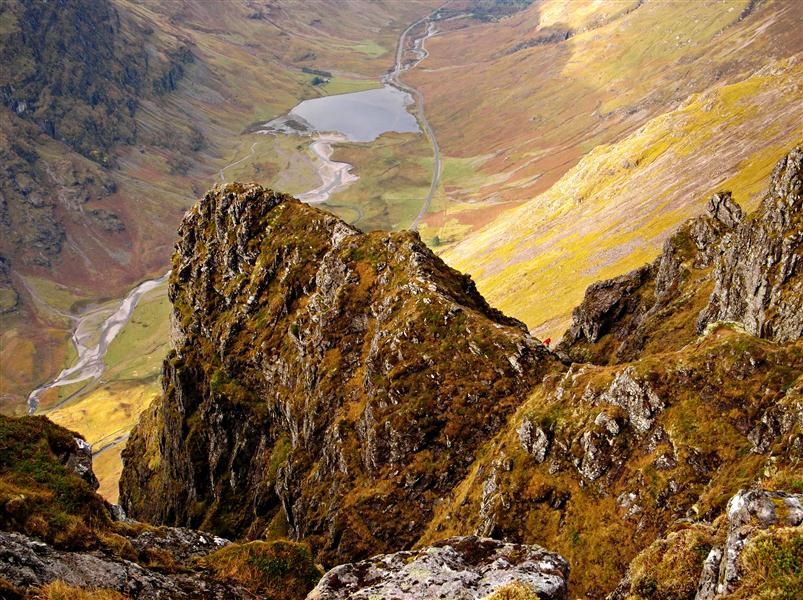 Further views on the way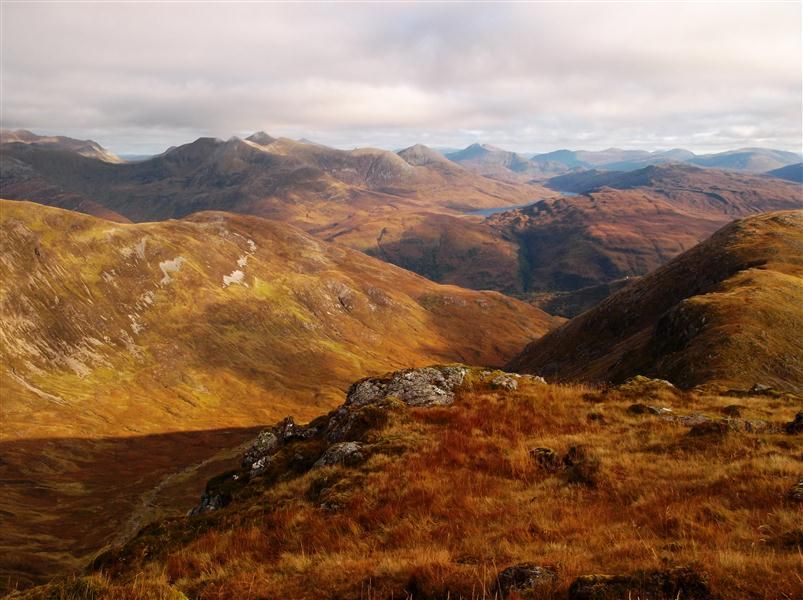 Not long before we encountered the first tricky downclimb but we very quickly established a pattern for the rest of the walk. Our guide, Alan, would go in the lead and we would then follow – each of us in turn helping the person behind to find hand and footholds as we proceeded.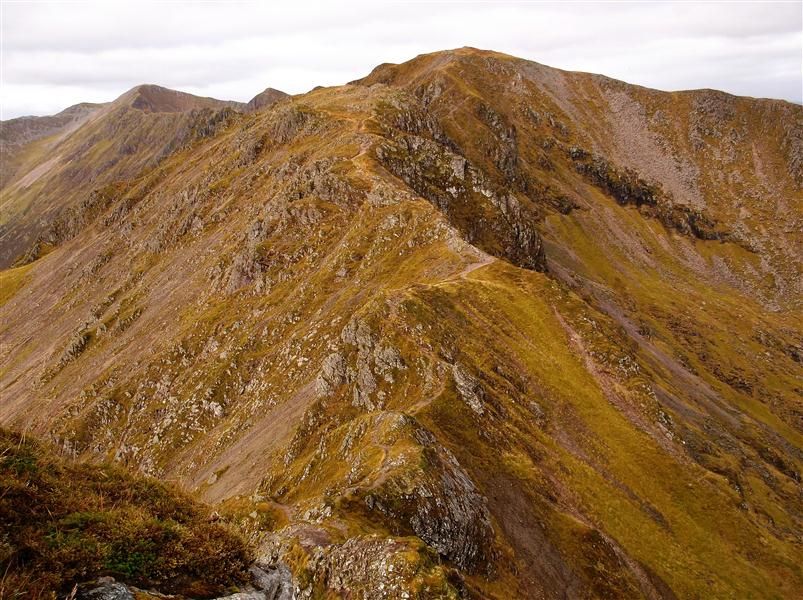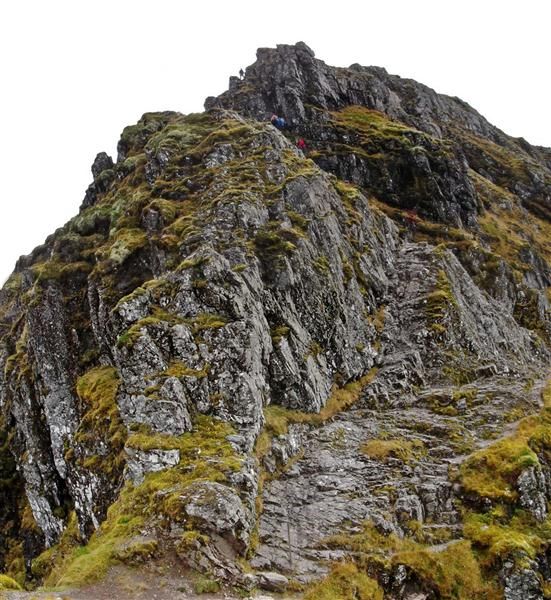 Unfortunately the good weather didn't look as though it would stay – not long before we were in the clag. On some sections this was probably a good thing as it partially hid the drops from view. That said, apart from a very slight amount of drizzle, the rain stayed off. Apart from the odd slippery patch here and there, we found the rock dry and grippable.
Walked up to the summit of Meall Dearg from where the "fun" really started.
There now followed a series of downclimbs, upscrambles, backside sliding and leg stretching manoeuvres on the way from Meall Dearg to Stob Coire Leith. I have to admit to learning a whole new set of words and meanings on this stretch. I used to think that chutes were bright coloured plastic things for sliding down, slabs were concrete blocks for the garden, pinnacles were found on roofs beside spires and chimneys allowed for the extraction of smoke.....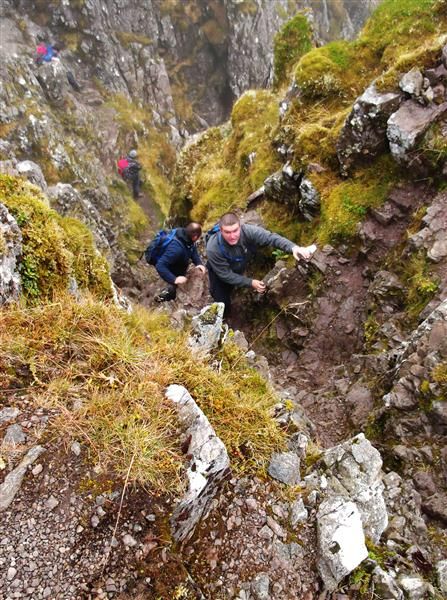 There was one point where I thought briefly about trying the bypass path. However, as everyone else was going up, I just decided that was the best bet – as before, it turned out not to be as bad as it looked.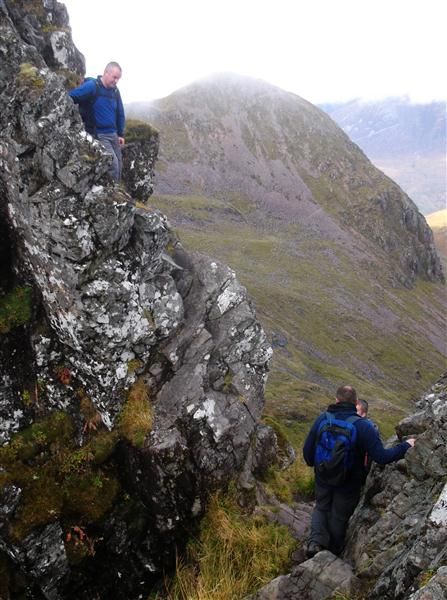 After a stop for lunch part way across, we arrived at Stob Coire Leith from where it was a relatively straightforward traverse to get to the second munro of the day, Sgorr nam Fiannaidh.
Stopped here for more food and a group photo.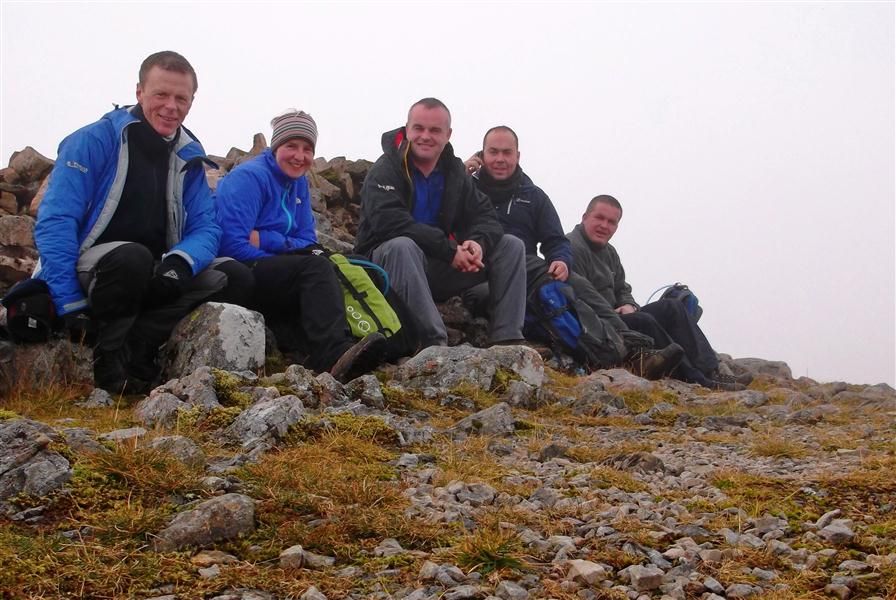 We then headed more or less due south initially down some fairly steep scree. Alan had assured us it would be quicker than going west towards the Pap of Glencoe track. Granted the quadriceps got a good stretch but it was actually an enjoyable way to descend as we half slid, half walked through the scree – as long as we remembered not to fall over (ice axes may have been useful as brakes....
).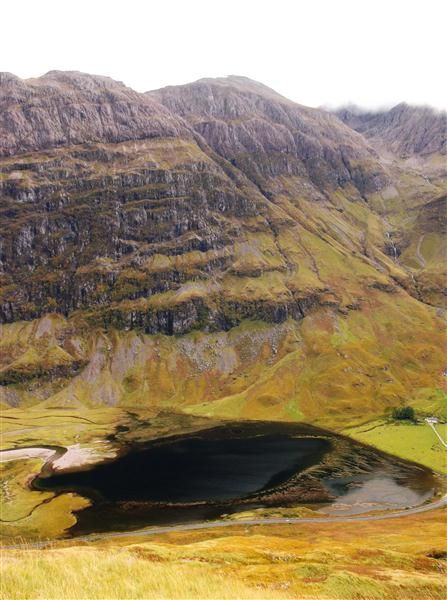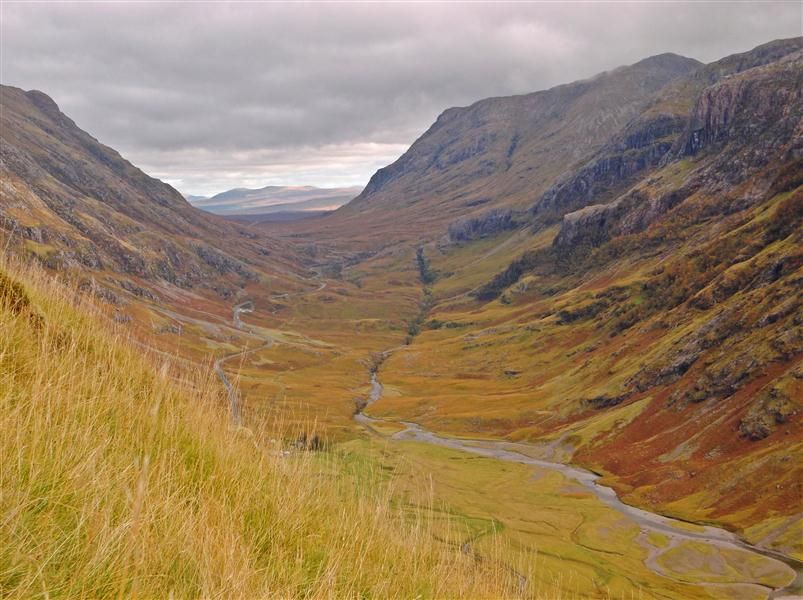 Back down at the roadside we got to the car in the nearby car park. Looking back, I think I'd built this up to be very difficult and had been quite worried about it. It actually turned out to be not as bad as I'd thought and was a very enjoyable day – made all the more so by the great company and Alan's expert guidance. Would I do it again he asked me at the end of the day……"perhaps.....but I'd have to have a long think about it", I replied.