So this weekend, I had arranged another trip away with my Dad in the van.
We arranged to meet in Killin, so I was off straight after work on Friday. We had a bit of trouble finding each other but hooked up about 7.30. We managed to get a fine chipper and some banter at the chip van afore heading to the pub to choose hills and routes. We settled on Glen Lochay and headed up there at 11, to a car park already habited by another van
The morning came, and was cold, damp and misty.. We set off about 9.30, I had realised by that point that the important things I had forgotten this trip, were my camera and GPS..
At the car park there is a sign that says there is no parking further up the road, but there is a few spaces as it turns out. never mind it wasnt far
We took a left, went over the bridge, over a style, then zigzagged our way through the trees on a track to the top of the big hydro pipe. That was the end of the paths and we set off up the hillside, which was boggy and really lumpy but fairly easy going. We were soon up in the clag, the wind was making the drizzle start to penetrate our clothing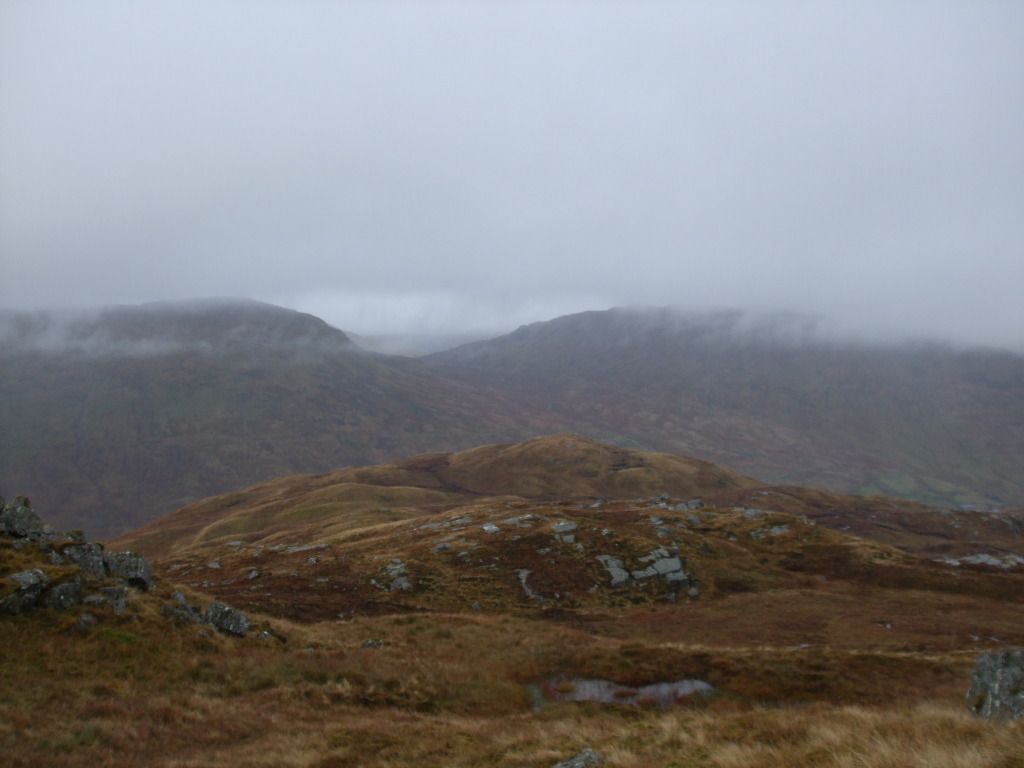 We stopped for elevenses at 11, under an overhanging rock that dripped on us a lot.. so we were soon cold and eager to get going again.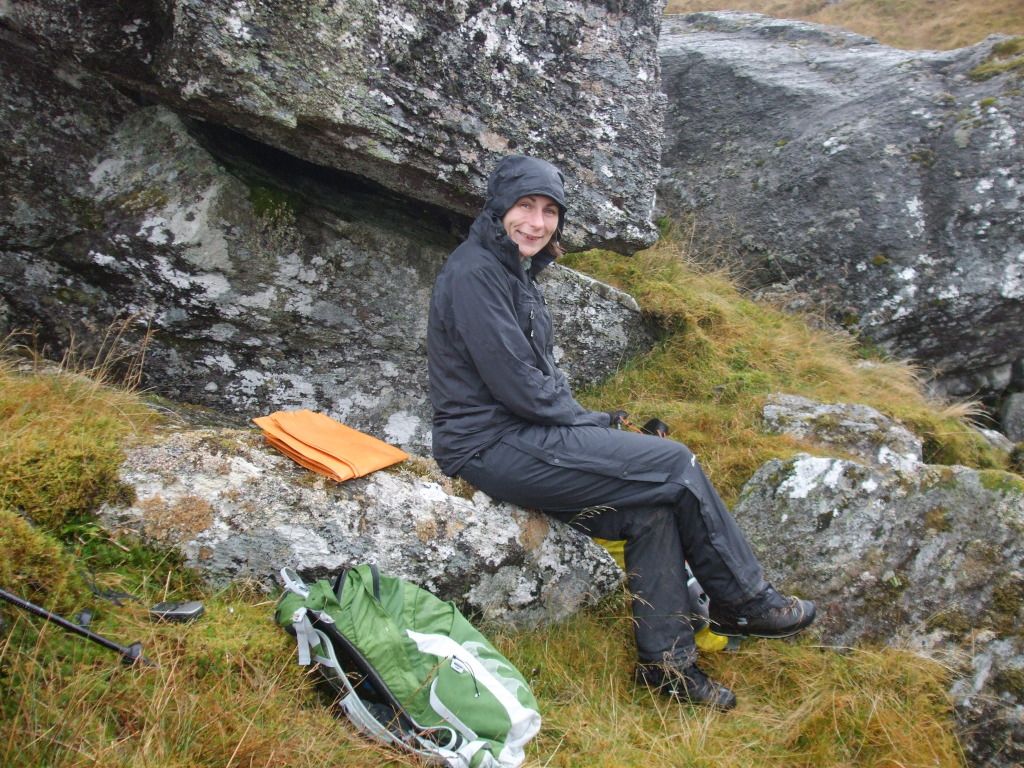 We hit the first top, then the next one that was a bit rocky, then the next which on the map looked like it should of been the summit of Sgiath Chuil, but there was no cairn! Hmmm we could only see 50 yards, so there was a bit of humming and haaing, before we decided to carry on, and finally found the summit
We retraced our steps a short distance and headed down the hillside.. I had thought there must surely of been a path, but we saw no sign of anything going in the right direction. It was a steep descent, hard on my Dads dodgy knee, and when we finally got back down below the clag, the location of the bealach was far from obvious
We stopped in the glen for lunch.. The rain was off, and we had no less than 4 stags squaring up to each other for entertainment. The roaring was constant, what drama
Soon it was time to head up the way again, we had discovered we were a bit south of the actual bealach, so we just chose a route up to a shoulder where we re-entered the clag and kind of skirted round onto the ridge. It wasn't far from there up to meall Glas summit, but the weather had taken a turn for the worse and we were pelted with large high velocity drops which made us circle the cairn and head back the way we came very quickly indeed
We retraced our steps, but carried on the ridge path up to beinn Cheathaich, which has a fine trig, and onward down the ridge. From the other side of the glen we had seen a track going down to the glen from the ridge, but it felt an awful lot further than it looked down to it. My dads knee was obviously giving him a lot of pain down the steep track, so we stopped for a rest and all of a sudden, the rain stopped and sunny patches appeared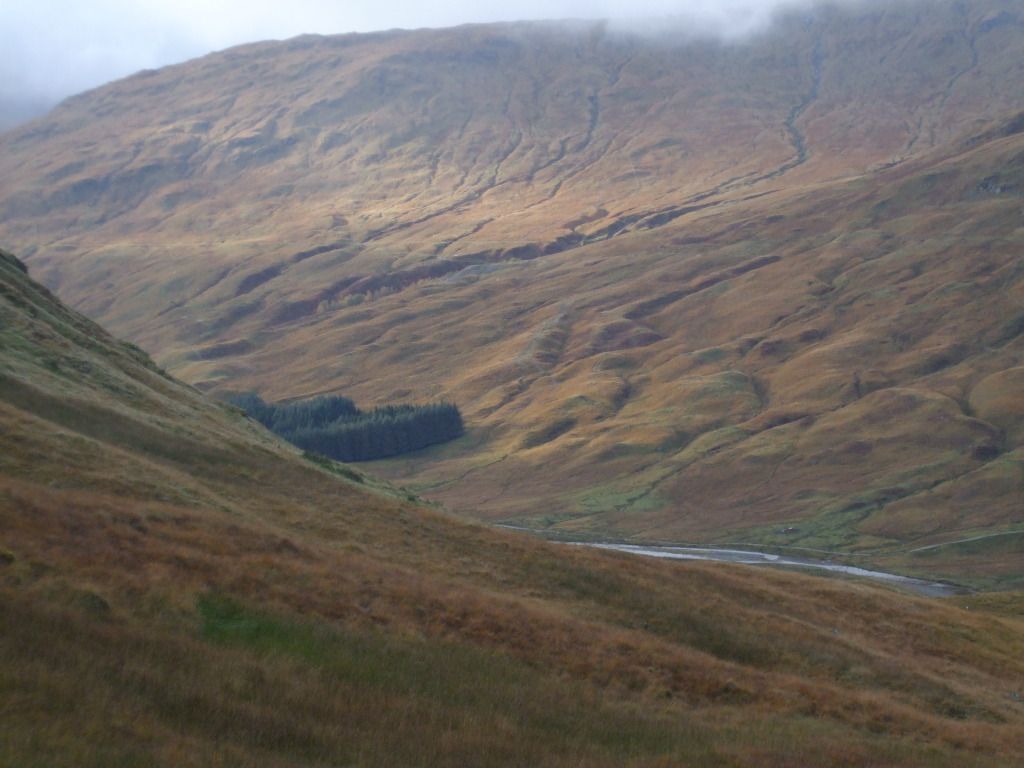 Everything suddenly looked brighter, and we descended down past Lubchurran and down to the ford. I took the speed approach across, Dad tried to pick his way. We were both squelching in our boots regardless
From there it was just a couple of miles back along the road to the van, warmth and tea
Oh it was right driechit day.. even if I had remembered my camera, I dont think there would of been a single picture worth posting
It was such a laugh as always with my dad though, wouldnt of missed it for anything