Some significant dates:
17th October 2008
- registered as a walkhighlands member
1st January 2009
- my first ever post on the site
7th July 2009
- my first ever trip report filed on the site (Glas Tulaichean, Carn an Righ and Beinn Iutharn Mhor from Inverey)
17th October 2012
- celebrated 4 happy years of using this wonderful site by doing Beinn Eunaich and Beinn a' Chochuil, leaving me just one short of the halfway mark.
I first came across walkhighlands sometime in the summer of 2008. I can't recall exactly when it was but I'm pretty sure it was in the July of that year as I researched both accommodation and walks for our week in Wester Ross at the beginning of that August. Certainly, I remember my visit to Skye in that July with a couple of colleagues and am pretty sure that I was aware of the site and had used it by that stage.
In March of that year I had done Ben Chonzie in atrocious winter conditions with a group of colleagues, under the leadership and supervision of a couple of far more experienced hillwalkers and mountaineers. It was in the early days of a number of teachers from the Perth Secondary school in which I work undertaking development work to create a small group of qualified leaders to work alongside the main Outdoor Education staff within the school to deliver OE to our pupils.
That group has now developed and evolved into a fairly small core, of which I am an enthusiastic and active member, undertaking NGB qualifications to enhance our abilities to deliver broader and more varied experiences to the pupils. Others who went along the side of Loch Turret and up onto the ice scoured and wind ravaged summit of Chonzie that day have since fallen by the way. For some, it would be one of the last times (if not the last time) that they set foot on a hill of that scale or anything close to it. Some still refer to it to this day as Mount Doom. For me, it was a defining moment in my life, which along with the discovery a few months later of this site, would change my life. Ben Chonzie, that much maligned mountain and southern outpost of the Munro Empire had sparked a dormant passion and become a kind of spiritual home.
Chonzie was not my first Munro. It was my third, but the previous two (Schiehallion and Ben More on Mull) had both been done more than 4 years previously. Within a couple of weeks of that day on Chonzie I'd done Mayar and Driesh (twice). And within a few months I'd set foot on the Cuillin (and indeed Skye) for the first time and had the mighty Spear of Slioch and one of the great primeval trio of twin-Munro leviathans of Torridon under my belt. On 18th October of that year I hit double figures on Ben Lomond, the day after registering as a walkhighlands member. And the rest, as they say ........
So much has happened in these 4 years, both in hillwalking and non-hillwalking terms. And as for this site, it has gone from strength to strength. I have made over 1700 posts, submitted 130 walk reports prior to today, won two prizes in the walk report of the month competition, and made many friends along the way, some of whom I have met at the now firmly established and legendary meets and others who I regularly arrange to meet up with as and when just to share a random day on the hills. And there are many more whom I have not yet met but count as friends of sorts, due to our shared passion for the mountains and the wilds.
And so to today..... 17th October 2012. My fourth anniversary. What is that anyway? I'll have to look it up!
Other commitments meant that my only windows of opportunity during this second week of the October school holidays were the Wednesday and Thursday. MWIS suggested that neither day would be any great shakes, but Wednesday, or at least the early part of it, would shade it. I considered the Creag Meaghaidh circuit, as the trio of Munros included in that walk would bump me to the magical 141 mark, but further west seemed to offer the best chances of avoiding the rain and clag for longest. I thought (as I always seem to do) of the Beinn a' Chasteil - Beinn nam Fuaran - Beinn Mhanach route from Auch, but despite recent assertions from Jambo235 that the Allt Coralan crossing was not problematic, I remained nervous and unconvinced. Achaladair and Creachain were also in the mix, a few recent reports from them having tweeked my interest, but ultimately I opted for the so-called poor neighbours of the Cruachan group as a plan had formulated in my head that if I could get away early enough and if the weather played ball, I could come out over Sron an Isean and Stob Diamh and get the Corbett Beinn Bhuiridh as well. I had turned my back on it the day I had done Cruachan and Stob Diamh in cracking conditions a few years back - probably a poor decision with hindsight.
I was away from the car and onto the Castles Estate Farm track at 8 o'clock on the dot, past the herd of longhorn and up the hydro access track that climbs steeply towards the Lairig Noe. If I was going to take the Corbett in, I'd have to do Beinn Eunaich before tackling Beinn a' Chochuil, but I was reluctant to leave the easy going of the track and take to the steep hillside of Eunaich.
Start of track to Castles Estate Farm
Beinn a' Chochuil (left) and Beinn Eunaich peaking out behind the nose of Stob Maol
Beinn a' Bhuiridh and Stob Diamh with ridge descending from Sron an Isean on the right
Beinn a' Bhuiridh and Monadh Driseig to the left
South east to a snowy Beinn Buidhe
In the end I followed the track across the new looking bridge on the Allt Lairig Ianachain before turning right and following it to the point where it ends at a little dam and an access tunnel into the Cruachan Dam workings under the hill.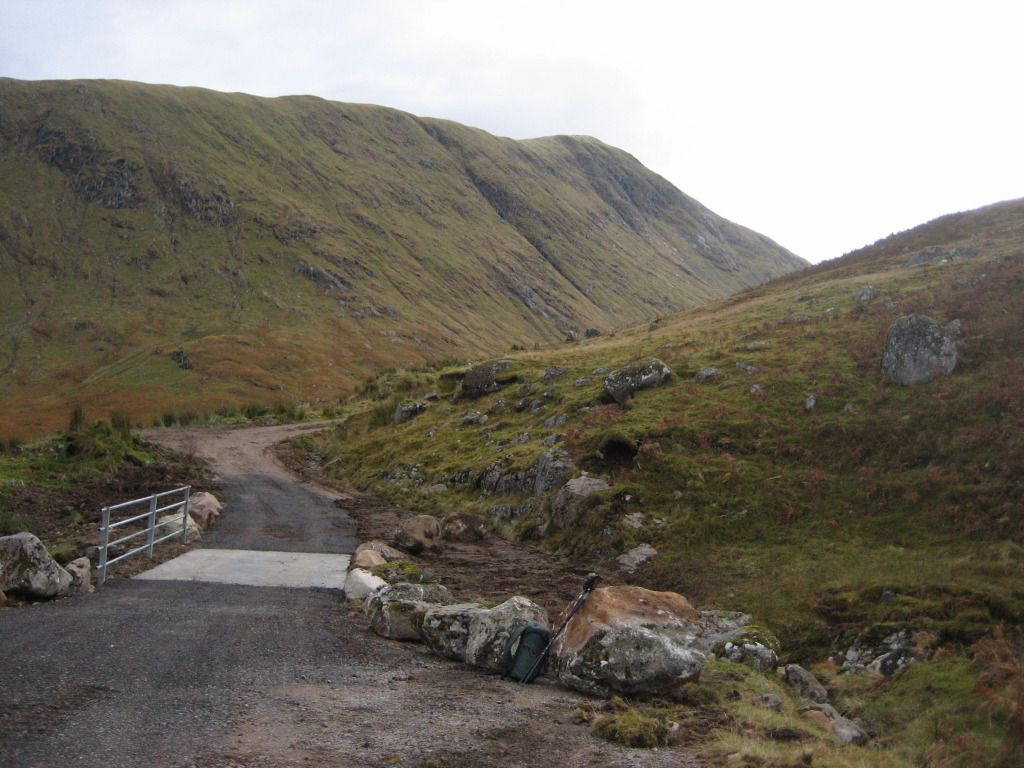 Sron an Isean from the bridge over the Allt Lairig Ianachain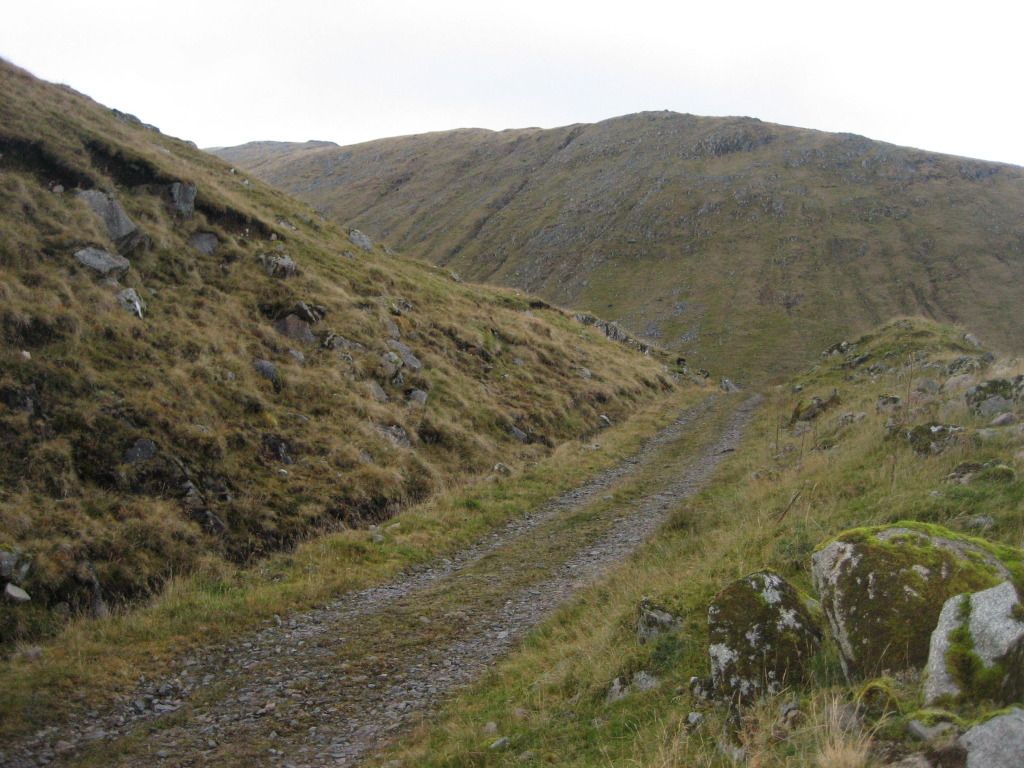 Beinn Eunaich from just before the end of the track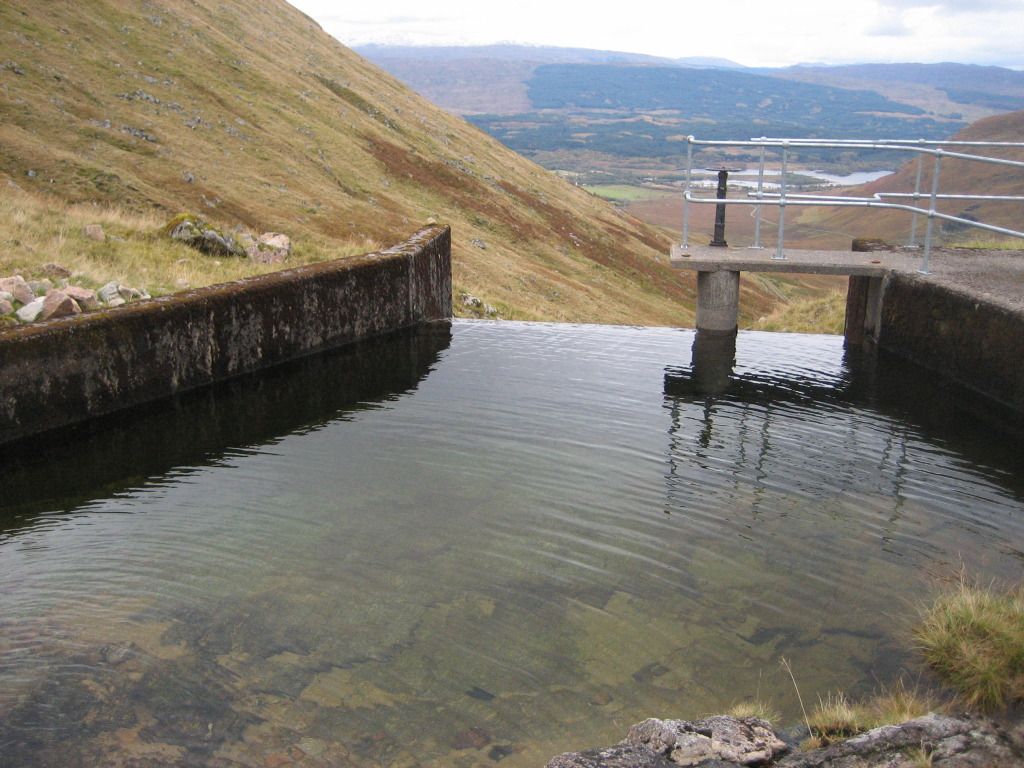 Loch Awe and Kilchurn Castle from the little dam
From here I took to the open hillside for the relatively short and straightforward ascent up to the bealach between the two Munros. Initially a little boggy, the ground had become nicely crisp by the time I reached the ridge at the bealach and was treated to a wide ranging view northwards over Loch Etive and the jumble of mountains stretching away across Glencoe towards Loch Linnhe, Ardgour, Nevis and Rannoch Moor.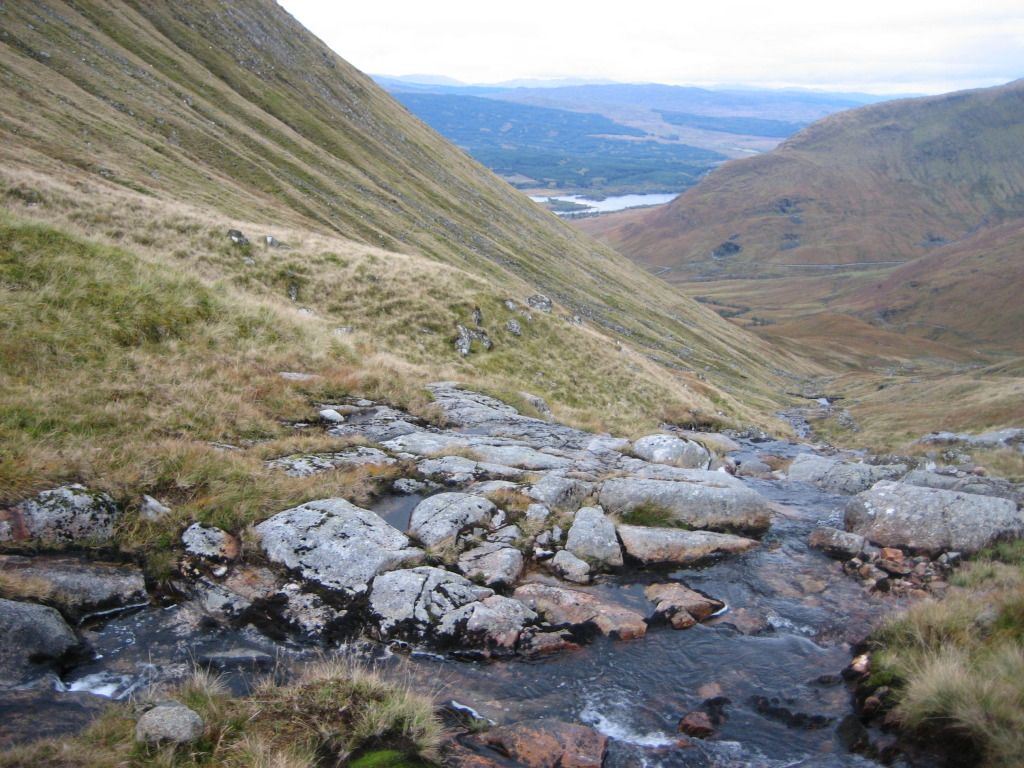 Looking down the Allt Lairig Ianachain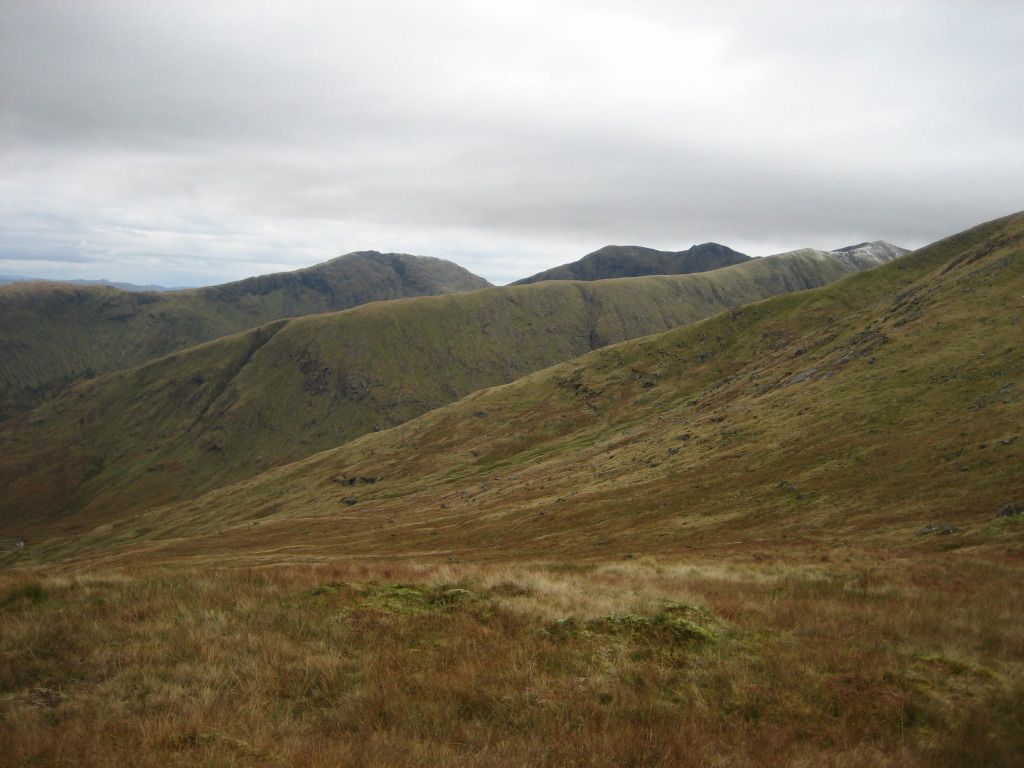 Buiridh, Diamh and Isean from just below the Chochuil-Eunaich bealach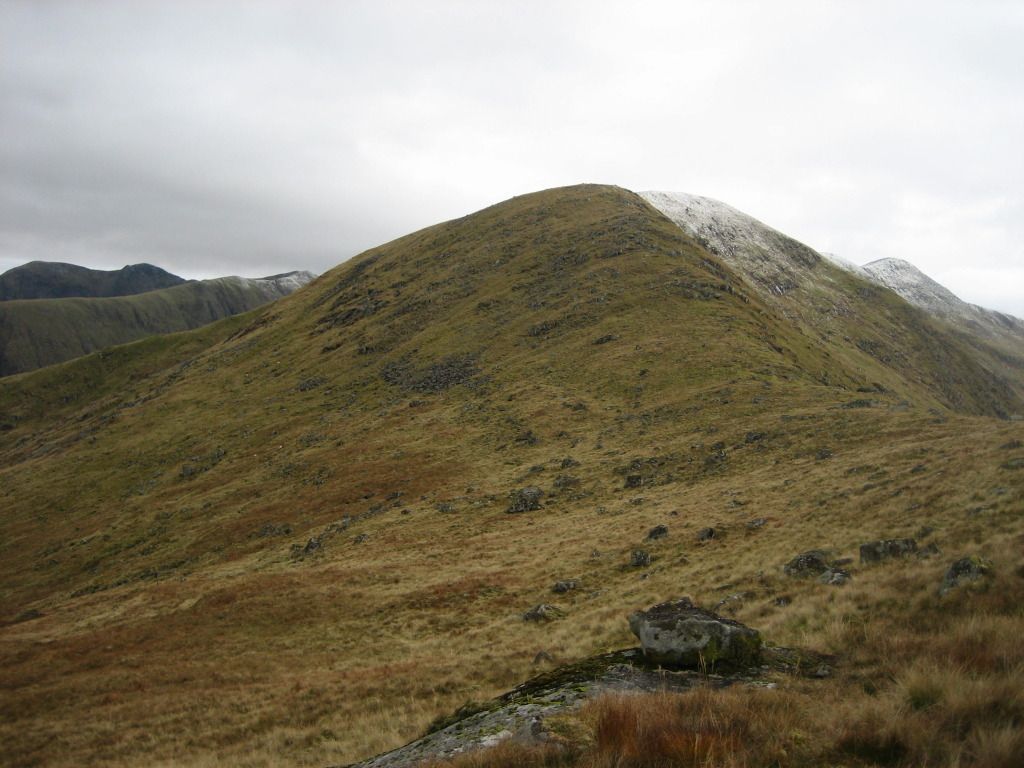 First really more or less full view of Beinn a' Chochuil
Cochuil now in more detail with Loch Etive coming into the picture
North from the bealach towards Starav and friends
I dumped everything here except the map, compass, camera and stand, a handful of wine gums and the clothes I was standing up in and scooted up the increasingly rocky and snowy ridge towards the summit of Beinn Eunaich.
Buiridh, Diamh and Chochuil from start of ascent onto Beinn Eunaich
My first snow of the winter on Beinn Eunaich
Back across the bealach to Beinn a' Chochuil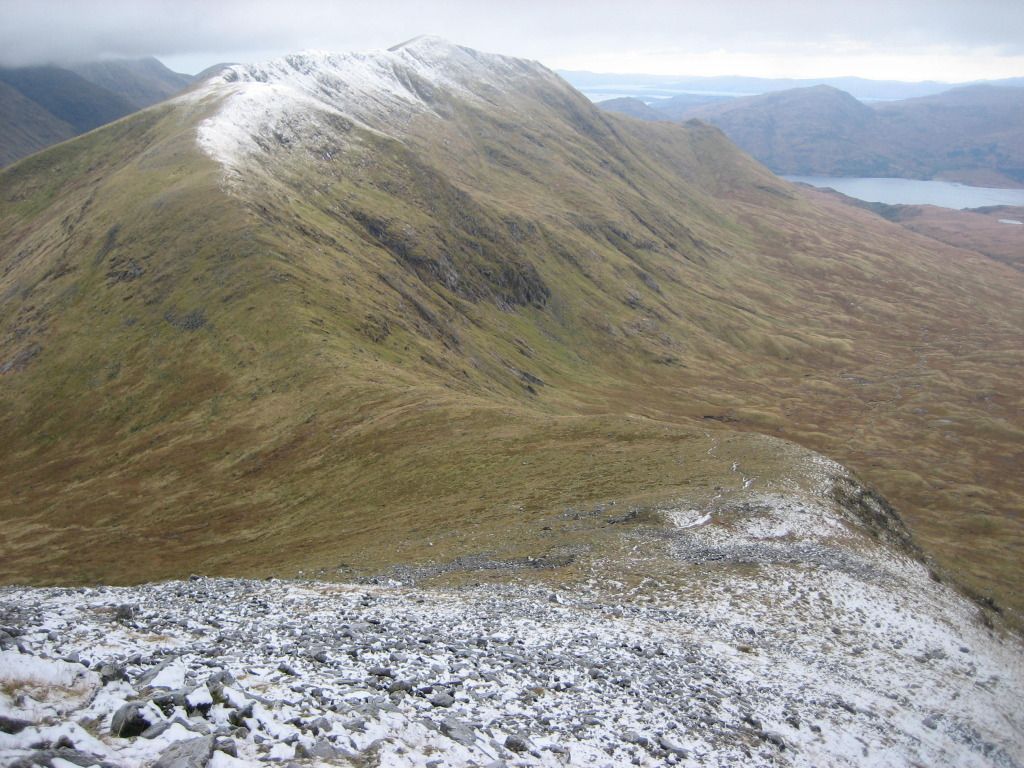 Getting above the snowline on Eunaich
For the past 20 minutes or so, the clouds had been massing over my intended high level route for the latter part of the day, and now Buiridh, Diamh and Isean were lost in the clag. Behind me, Chochuil was fast doing a vanishing act too and by the time I reached the summit cairn of Eunaich, there was nothing to see in the way of views except the very occasional and fleeting glimpse down into Glen Kinglass.
Glen Kinglass and distant Loch Dochard
Here comes the clag!
Where'd everything go?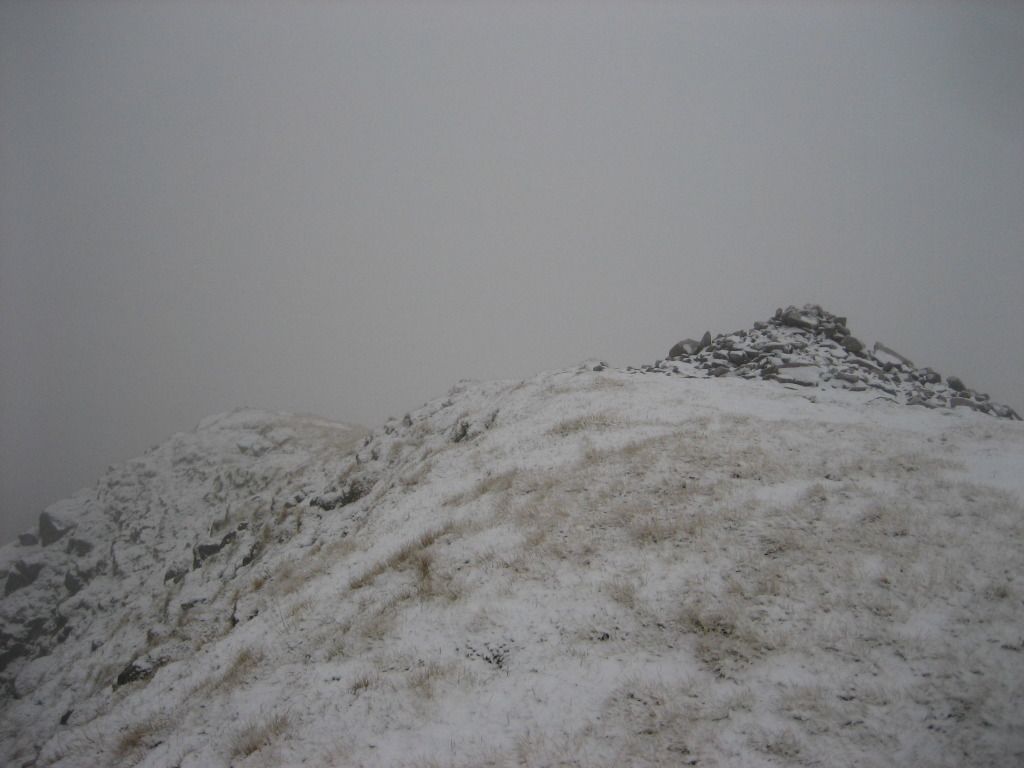 Reaching the summit
I took a few self-timed shots at the summit (on two occasions the camera did not stay upright for the full 10 second delay time) before retreating.
Number 139
My ascent route had vanished and although I knew roughly where it was, there were sufficient obstacles and dangers around for me to take a bearing anyway.
As I descended, the Law of Sod once again swung into operation and things cleared again, although to be honest, I don't know that I would have gotten greatly improved vistas from a clear summit in most directions anyway, so not to worry.
Tops sliced off by a perfect line of cloud
Back at my pack I hunkered down behind a large boulder and had a Snickers (nicely frozen) and a mug of the magic hot juice to fortify me for the ascent of Chochuil to come.
Eunaich from start of pull up onto Chochuil
If winter had given a few more than subtle hints to her imminent arrival on the ascent of Eunaich, she was blowing in all her fury on the ridge up to the summit of Chochuil, prompting me to stop just short of the cairn to get the heavy artillery out in the form of the Keela Munro jacket.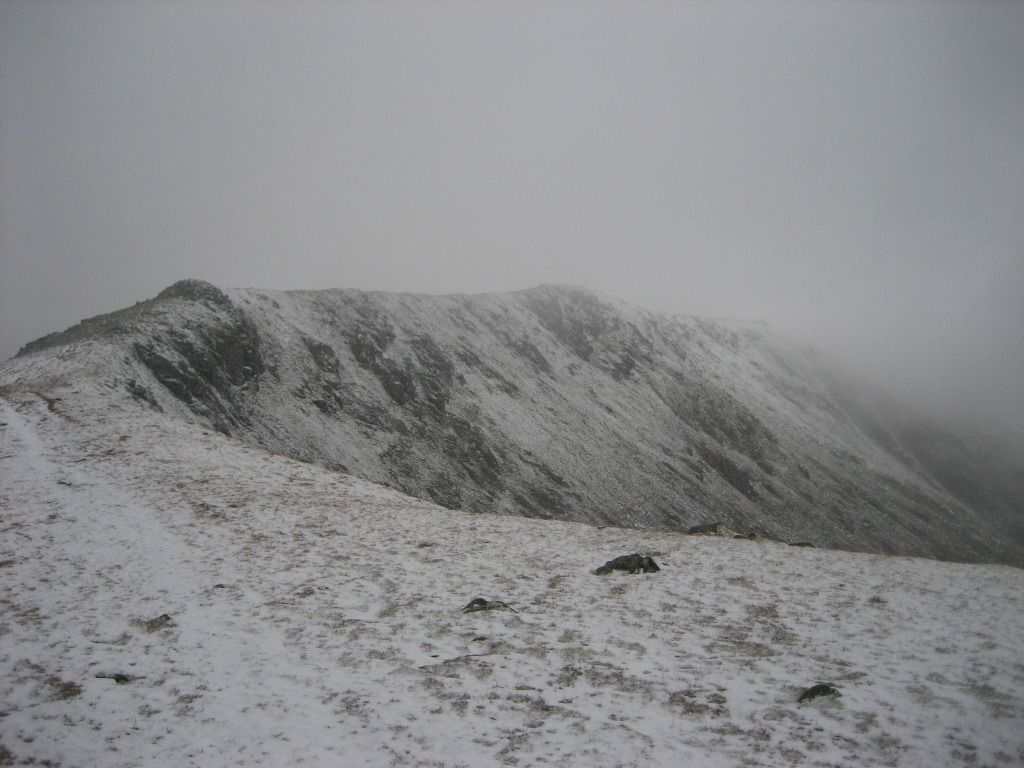 Really getting that winter feeling now!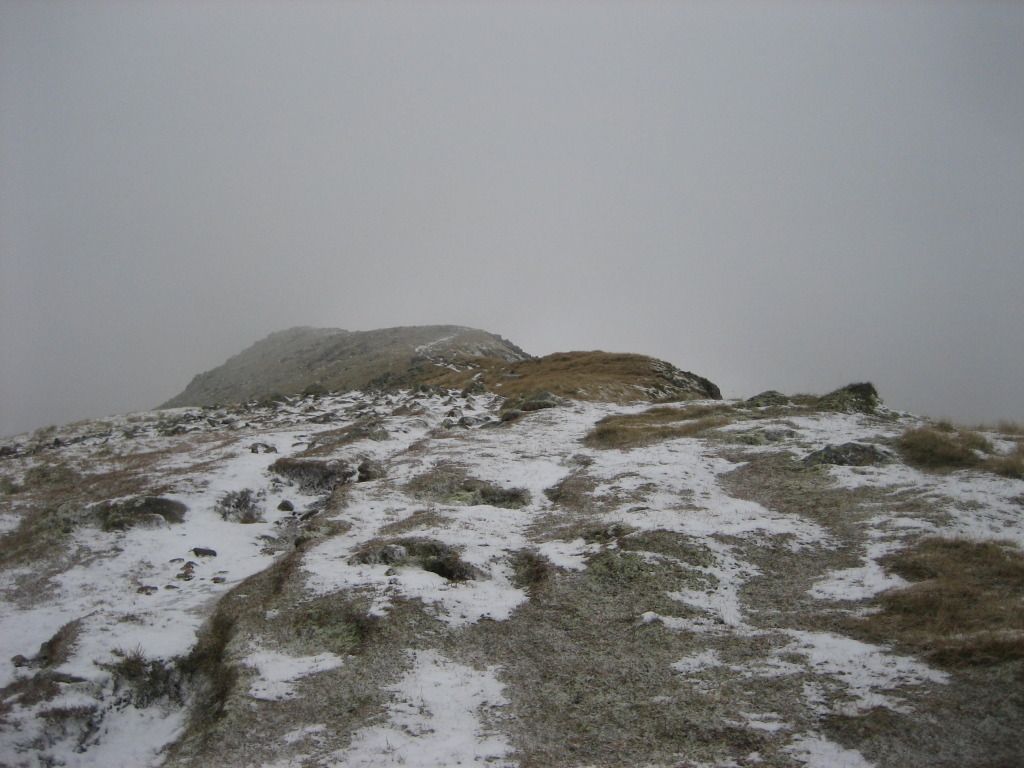 Over a false summit or two
I was all but resigned to dropping the idea of grabbing the Corbett on my way out, not because of a lack of time but more because I didn't fancy another several hours of having my face undergo a high level laceration - mental note to pack the snow goggles next weekend and on all future outings for the foreseeable future.
Summit and Loch Etive in the distance
Almost there!
I threw the 2-person survival shelter up next to the cairn and after a bit of delicate shuffling and repositioning, had myself braced against it with my legs doing a holding down job and a pole carefully propping up the ceiling to provide a little more headroom. On a couple of occasions I was a bit concerned that I was about to lose it but managed to enjoy a toasty 40 minutes or so enjoying a lunch of egg and bacon sandwiches, an apple, a Boost bar, more wine gums and the last of the magic juice.
Lunch in a bag
I carefully packed all my bits and pieces into my pack before making sure I had a firm grasp on the shelter and stood up and stuffed it into the pack. I was nice and toasty after my time in the shelter so managed to reel off another few summit pose shots before beginning my return to the car.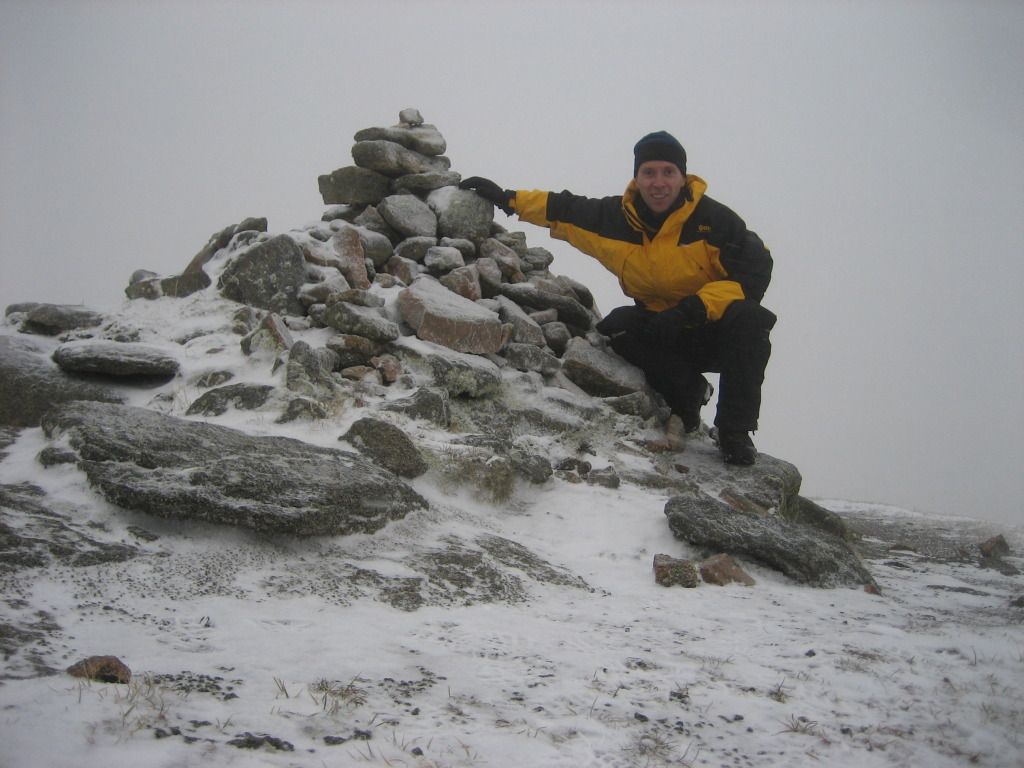 Number 140
I took a more or less direct line down towards the watershed of the Lairig Noe and took another faceful of lacerations from the tiny ice pellets being blasted across the hillside. The ascent up onto Sron an Isean had looked brutally steep all day, but now as I got nearer, I could see a number of acceptable ascent routes, albeit ones that would necessitate a slightly circuitous route to my right. But that was all academic anyway as I had decided I was heading back to the car with the main business of the day successfully concluded.
Descending to the Lairig Noe
I was a lot less bothered this time by my failure to get the Corbett under my belt. That's the thing about the hills. A hill missed is simply a future opportunity to anticipate and plan for and in this case, as I walked back down the hydro track towards Castles Farm, I began to formulate a plan to do a nightime walk up the track to the Lairig Noe for a wildcamp before heading up onto Isean and across to the Corbett.
I passed a group of contractors working at one of the tunnel entrances and the large group of cattle closer to the farm. They hadn't been bothered when I walked through them 6 hours previously but now they weren't happy and started to stampede away from me in panic. Clearly they don't like yellow!
So, one more to go to reach halfway and a planned outing next weekend with Robin. Then the Glencoe meet in November. Then who knows what next. There are no concrete plans beyond that, but there will be hills. And in another 4 years, what hills will have been conquered, what experiences shared, and what stories told....... ???