So this weekend, was another weekend away with Leithy.. We discussed locations and surprisingly, we were thinking about the same one – Glen Garry
We both drove over on Friday night.. I arrived first, in the dark, and checked out a few camp spots before I found one that was suitable.. Unfortunately in the search, I attempted to use a passing place to do a 3 point turn, and ended up going over the edge so Sunny was resting on her front wheels and underside, with her back wheels hanging in free air over a bog
Took me half an hour to get her back on the road, by collecting rocks and branches to build up under her back wheels.. Jings that was close!
I was just setting up the tent when leithy made an appearance, and the usual beers andbanter made for a good night
Saturday – 8.11 miles, 4,100' of ascent, 6 hours (4 walking, 2 larking about).
After a very late start, we set off up the glen to go and do Gleouraich and Spidean Mialach.. We chose to do the walk anticlockwise, partly because I always seem to get a dirty wet bum on boggy descents, and partly because the fine path down would be better for Leithy's dodgy knee
The tops were a bit claggy, but it showed all the signs of being a really bonny day, and as we set off we got fine views out over the loch.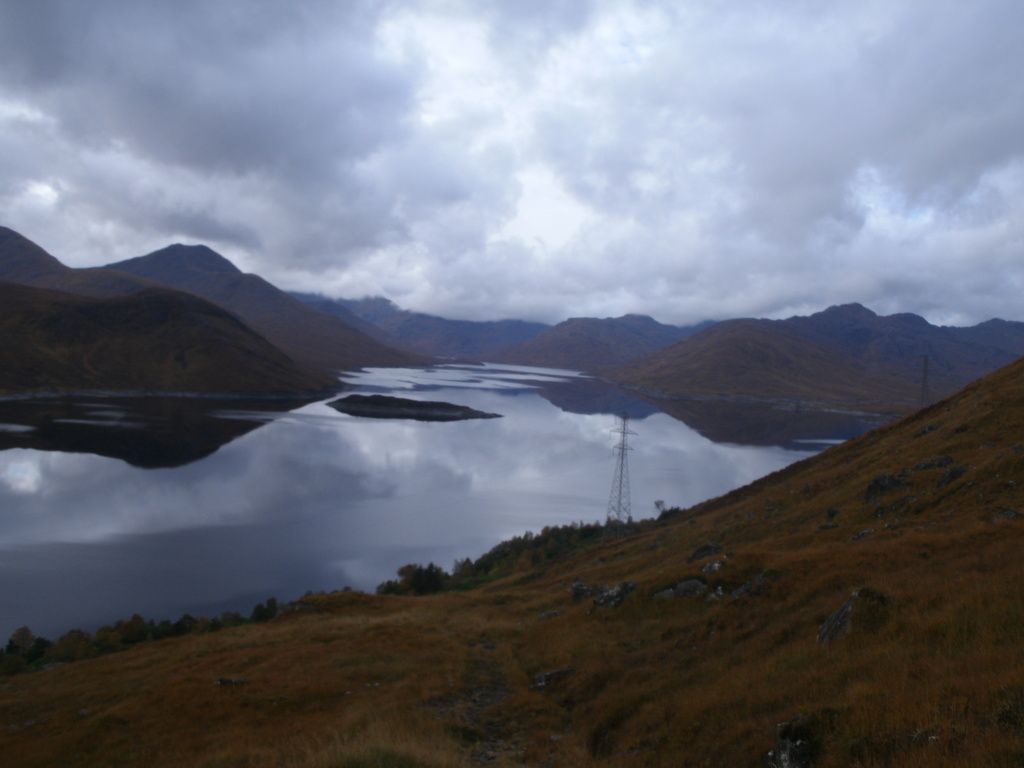 We stopped for lunch pretty early on, as the important thing I had forgotten this weekend had been breakfast
There had seemingly been a fair amount of rain on the preceding few days, but the boggy bits were negotiable, and the path was pretty decent all the way to the summit of Spidean Mialach, which has a nae bad wee shelter at the top.. So we had to stop again
All the stopping had us chilled, so jackets and gloves were donned for the descent down to the bealach. A couple of minor tops with cairns, and a group of walkers heading in the opposite direction were passed, afore the slightly steep and rocky section down to the coll.
The path continued upward, winding its way past craggy bits, we could see the clag rolling in though, and donned our waterproof jackets just in time for the deluge that followed. We made it over the first top and then had to stop to don the waterproof troos as well. It was rather disappointing we weren't getting any views to the north over Kintail, we just had a few glimpses when we were at the coll
It was an easy wander from there to the summit of Gleouraich, but the rain was somewhat heavier by then, and it was pretty darn cold, so not much of a stop and we were heading down the ridge, back toward the car. The descent goes over some fine interesting terrain for the first few hundred metres There is a lump on the ridge, which I felt compelled to go over instead of bypass on the path.. Pretty soon we were back down below the clag and started to get the views again..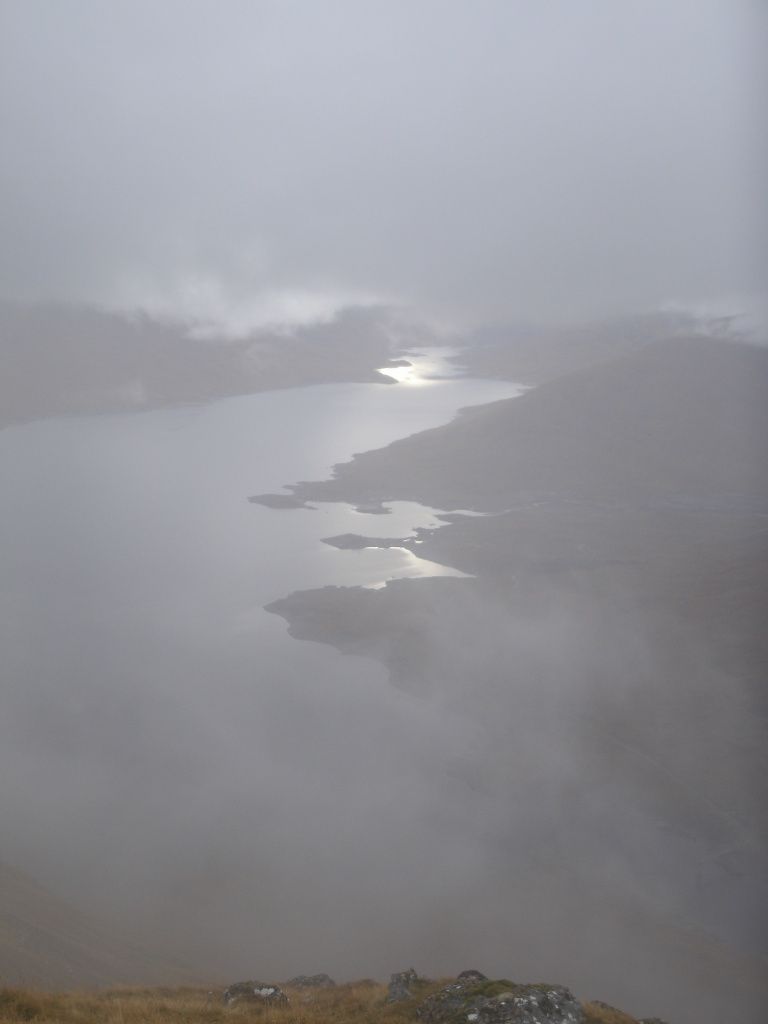 The rain was off so we had another stop sitting on a rather baffling short stretch of
wall, the purpose of which was somewhat unclear
It was a particularly good path
down - one of the hand dug Victorian numbers I love so much, but well maintained..
It zigzagged its way at a pleasant camber all the way back down. The last few metres
onto the road I got re-soaked fighting my way through the depressing rhododendrons that seem to of colonised that part of the glen. A fine walk.. Just disappointing that the clag made for limited views really..
In fine feckle, we headed back down the glen to our camp spot and had a particularly
fine dinner, but we weren't up too late after the night afore, and enjoyed a lengthy slumber, until a group of walkers got dropped off nearby in the morning (See foggieclimbers report
)
Sunday – 6.92 miles, 2,900' 5 hours (4 walking 1 larking about)
So Sgurr a Mhaorich was the target for Sunday.. We looked at a couple of routes, but
the initial feeling was to do a circuit of the ridge.. There was another route that went
over the back, but it looked silly.. We took both cars up, to save ourselves the couple
of km along the road, dodging stags as we went.
After parking Sunny in what turned out in the end to be the wrong location for the end point
It was difficult
to find the start point, but we found it by chance in the end, taking a wee quad biketrack up beside a rather sparsely grown plantation for a few hundred yards before going off piste, up the boggy hillside, and a gruelling, squelchy ascent up to the southridge.
The tops were in cloud, but it was a still, sunny day which made for very hot work. The ridge was lumpy, and it was hard to judge which lumps to climb, and which to bypass..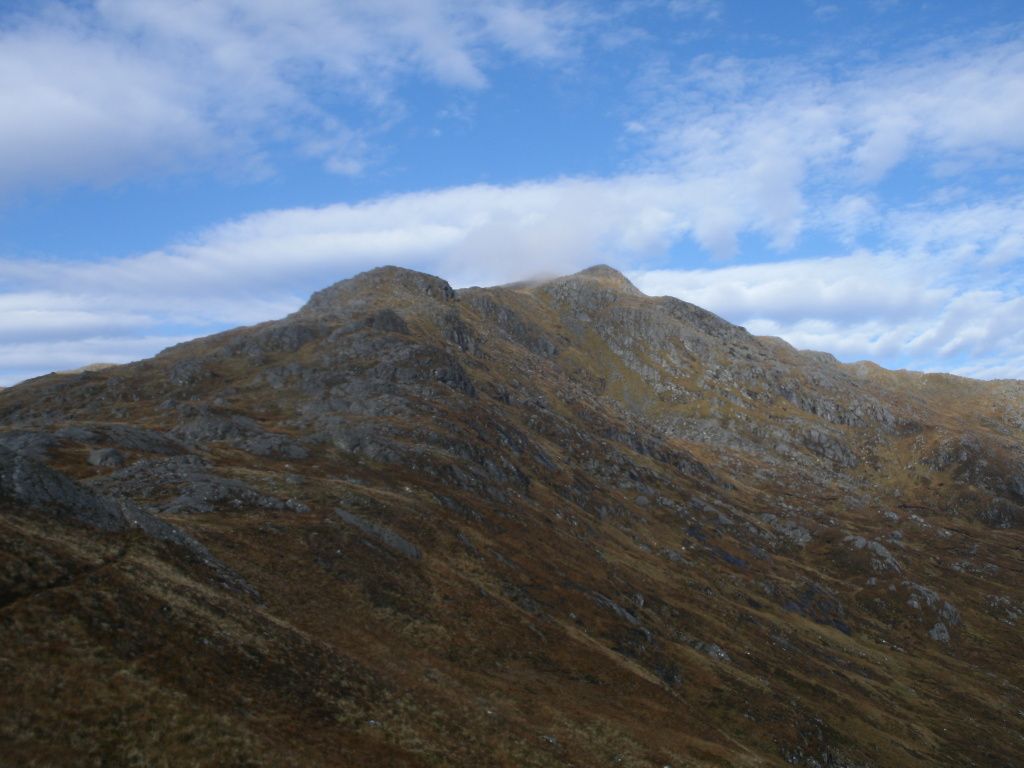 We had a few ups and downs before we spotted a path, and once wefound it, the going was far faster. The path was indistinct and hard to follow in places as it wound its merry way through the slabs and crags.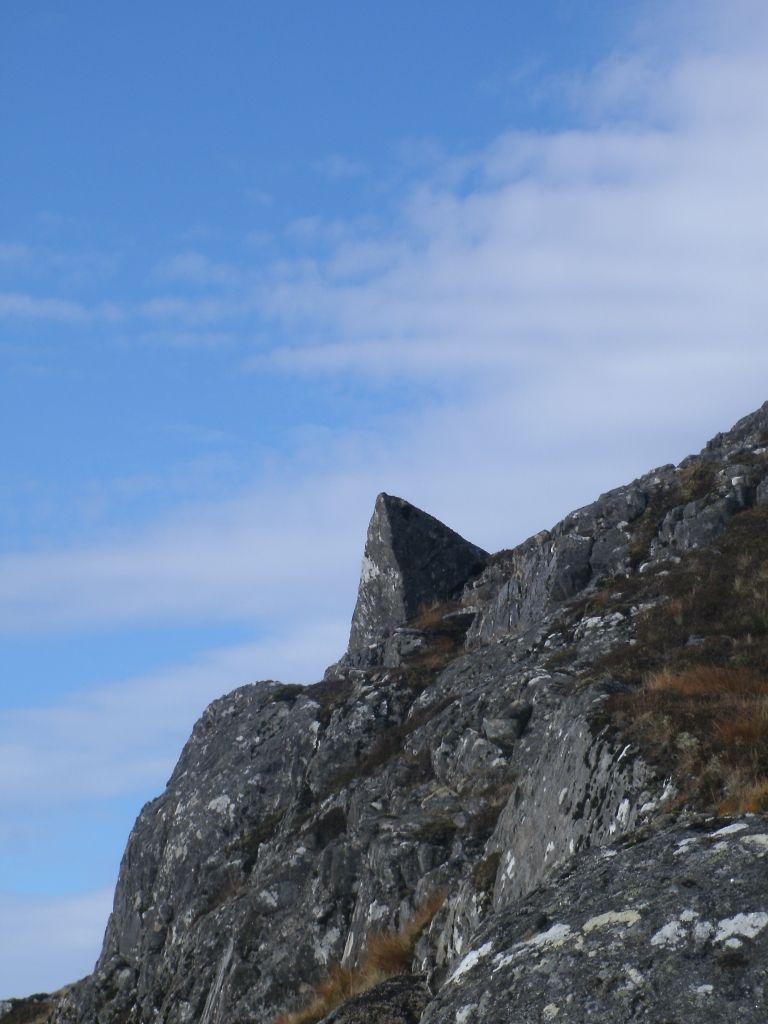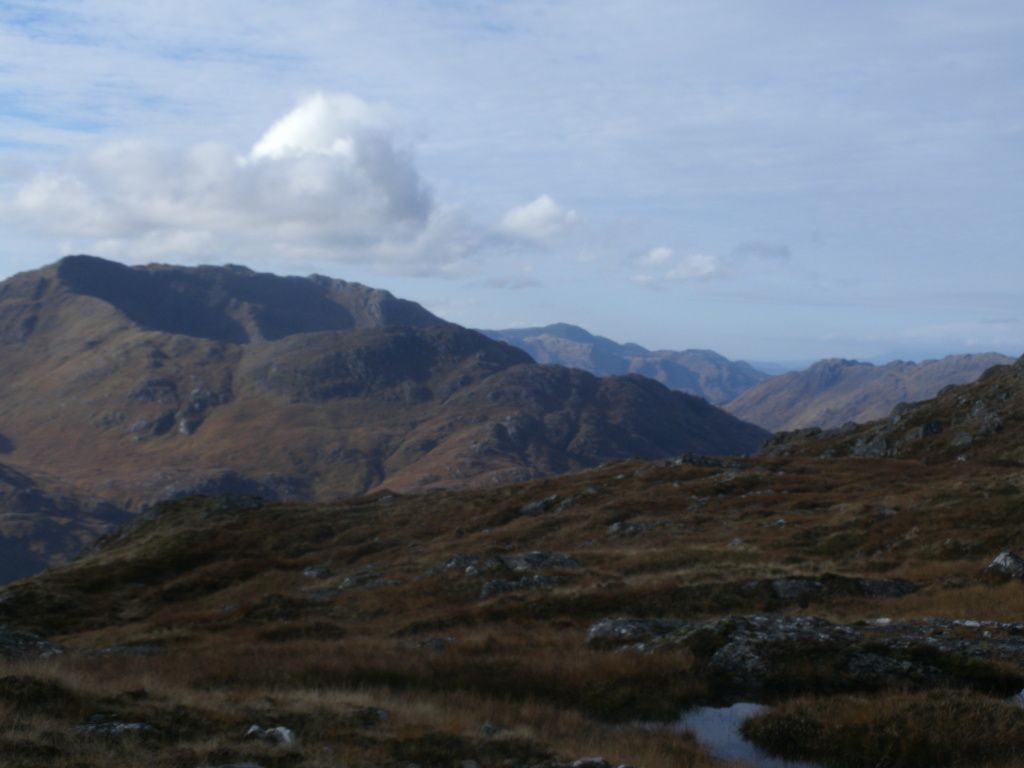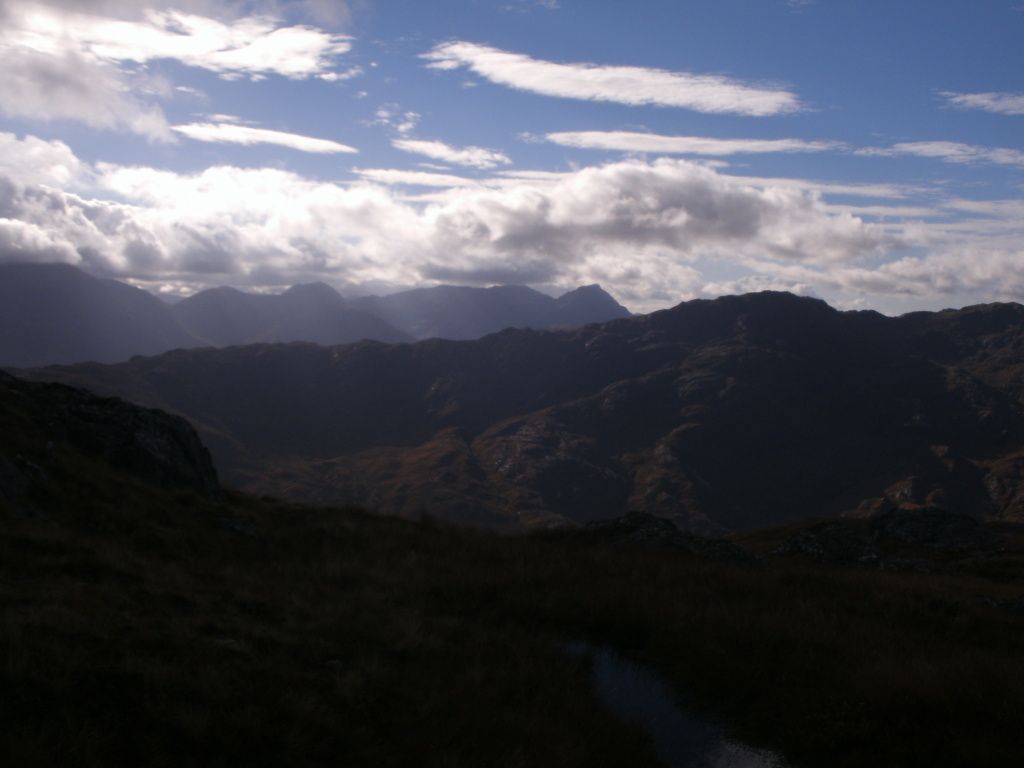 Another early lunch stop as we still didn't have any breakfast, and not much further up to the now clear summit. There were amazing views all around, even over to Skye and Eigg. We stopped for as long as we could, but a lack of shelter and a biting breeze, meant the stop was not as long as we would of liked.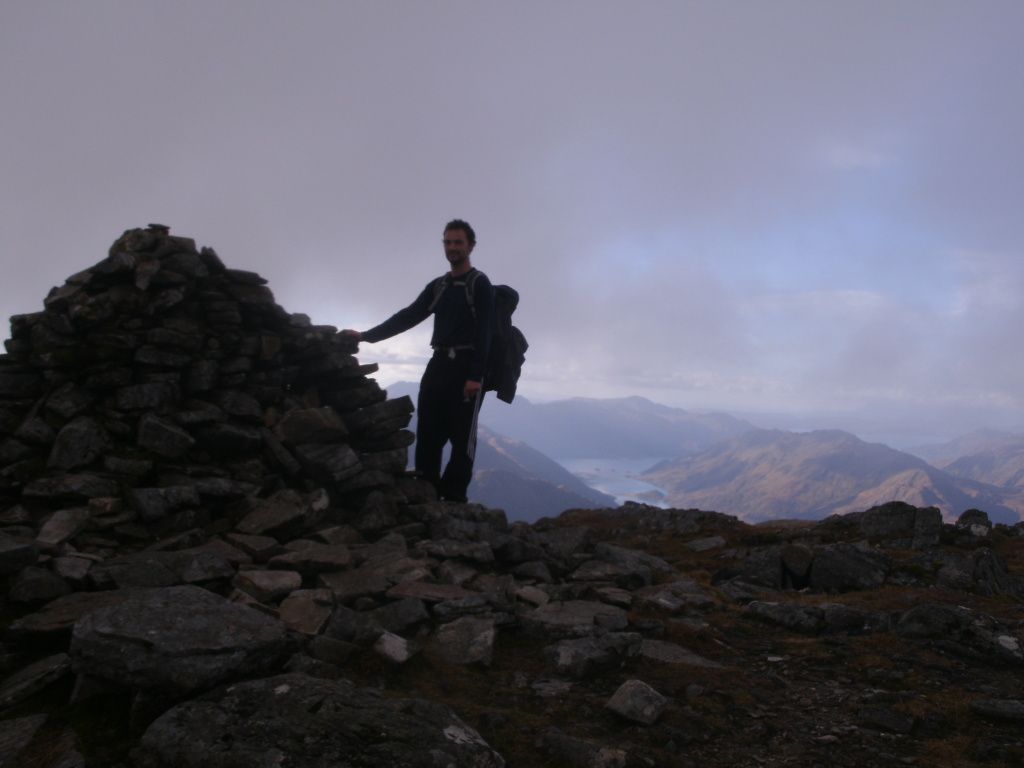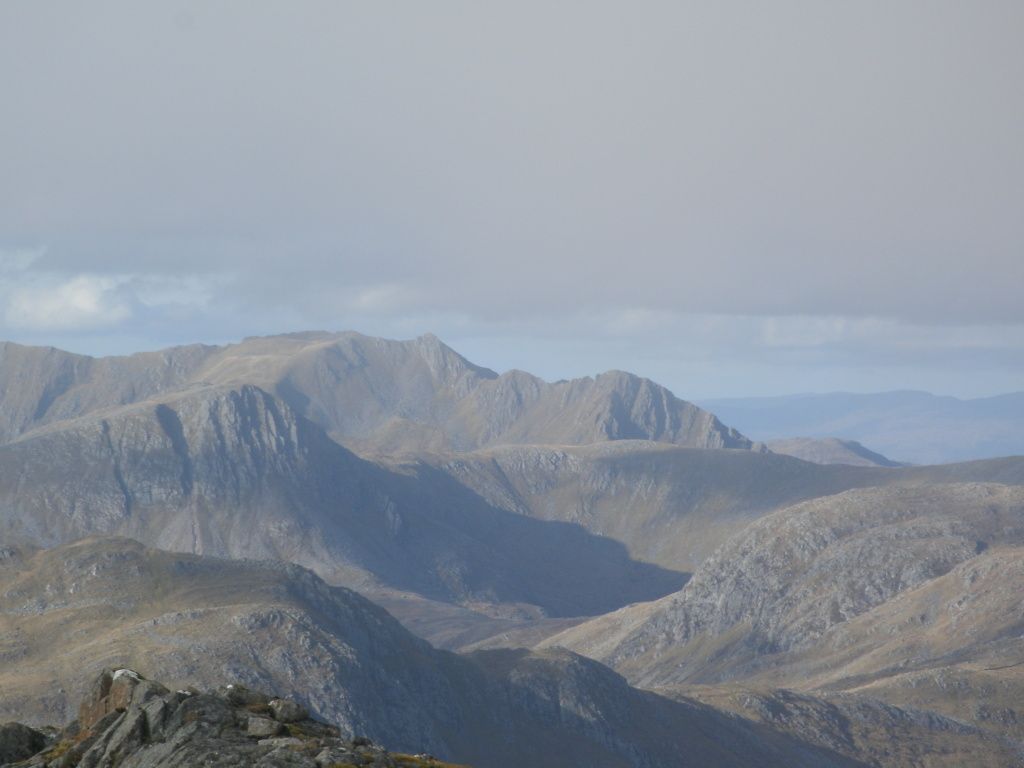 We took the southeasterly ridge as our return route, as the path looked like it would be easy on Leithy's knee. Although there is initially a wee bit of steepness below an impressive looking crag.
The ridge made for easy and interesting walking, past some sizeable boulders and down to a coll. The wee bit of ascent up to Sgurr Coire nan Eiricheallach was a good moment for me.. For the first time in what feels like months, I managed up without feeling poorly at all, and at my former usual pace
that made me really happy after some of my recent hillwalking struggles

The good path continued, and swung southward toward the road, across some rocky ground where we stopped for a while, not wanting to get back to the car on such a bonny day.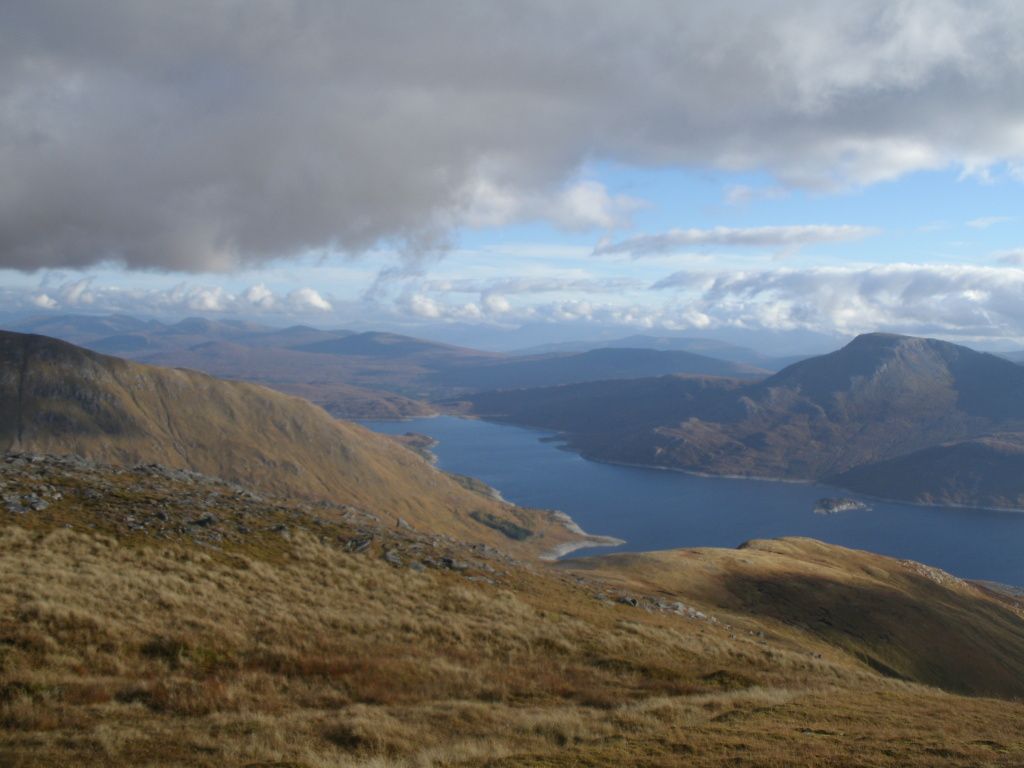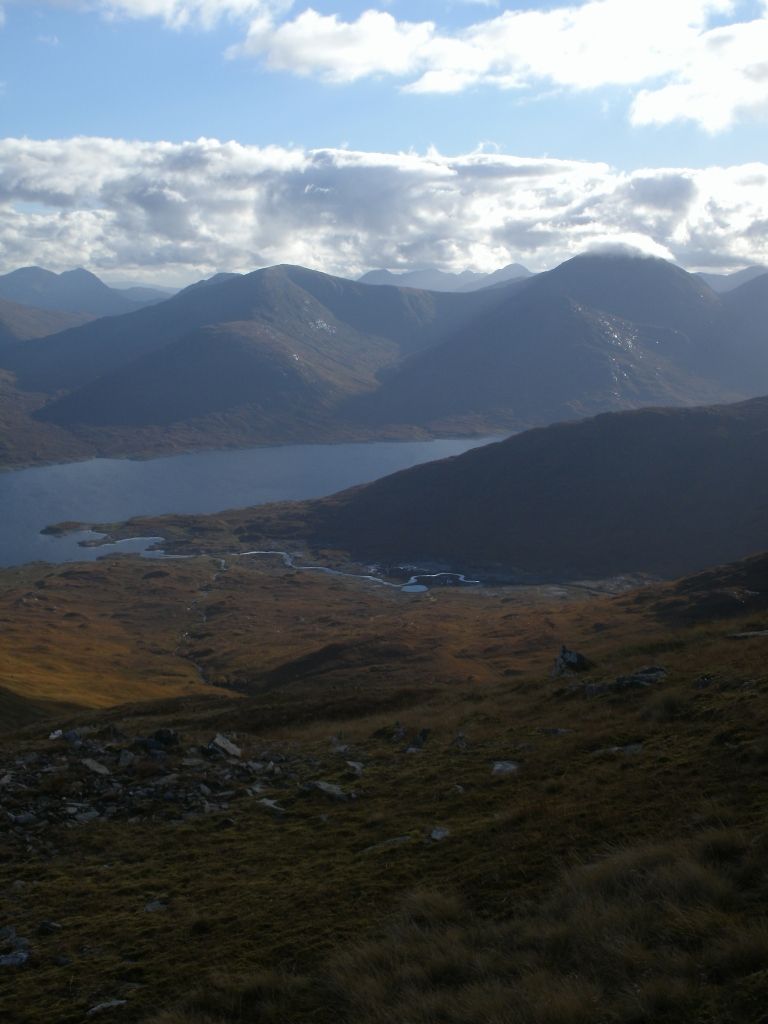 The path turned into another fine, hand dug well maintained zigzaggy number, and the going was easy. Spotted one of my favourite creatures - a hairy catepillar, who wasnt even scared enough to roll into a ball when I picked it up.. so cute!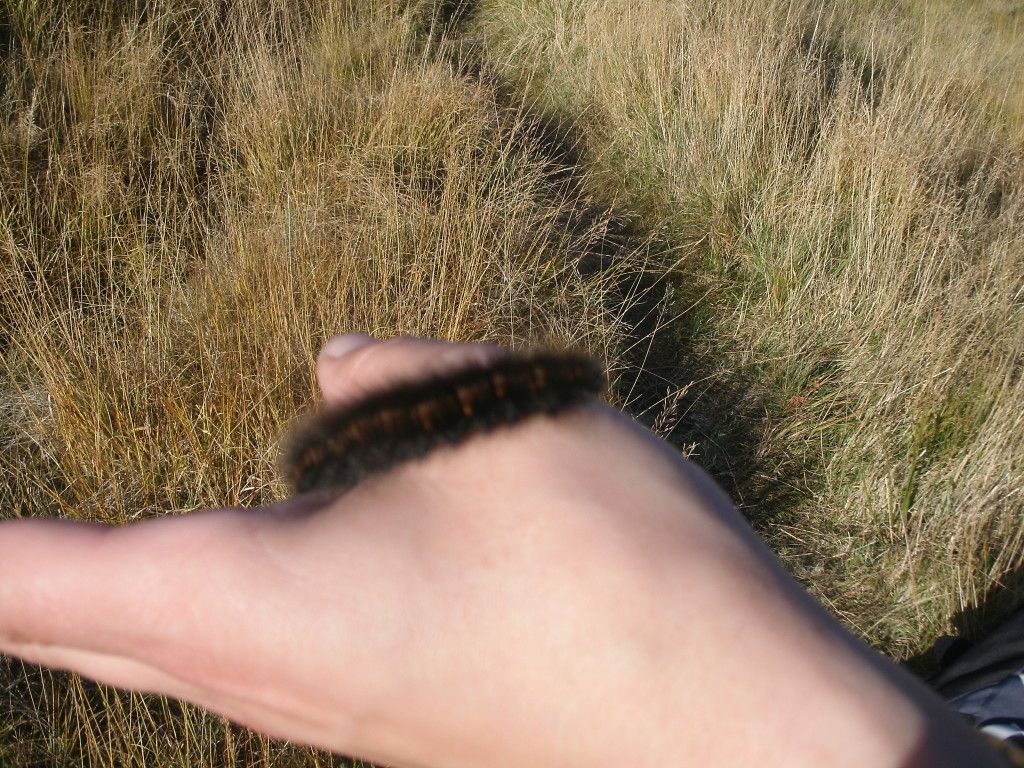 It wasn't long afore we disappointingly descended back down to the road
This was a really fine walk, and I rate it pretty highly.. Terrain is awesome, and our route was great.. Best day in the hills for a long time
So all that was left of the weekend, was to go back to camp for a cuppa afore packing up and heading
off at sunset for the long drive home.. I was gutted to leave tbh.. I honestly can't put it into words how good a weekend this was!