So this weekend, we thought we would go over and do the Glenfinnan munros. Three hills, a whole weekend, sounded simples, despite all the talk of bad weather.
As usual, I set off straight after work on Friday. Surprisingly, dougie and I arrived in the same secluded layby that was going to be the finish point, at exactly the same time!
I tranferred my pack to his car, and we headed up to the carpark beside the viaduct at Glenfinnan.
The walk up to Corriehully bothy was an easy stroll in the dark on a tarmac road. The viaduct felt like a looming presence, and there were some strange noises from the hydro scheme, but after the bright lights of the car, our nightvision was zero.
We arrived at the bothy to find it packed out with teenagers, with one older guy trying to grumpily sleep on a bench
We decided that it would be best to get the tent out, so we pitched it on a cracking spot right next to the river. I love walking into places in the dark so that you get the full impact of the glen when you awake in the morning!
After a good nights sleep, we awoke to some pretty heavy clag..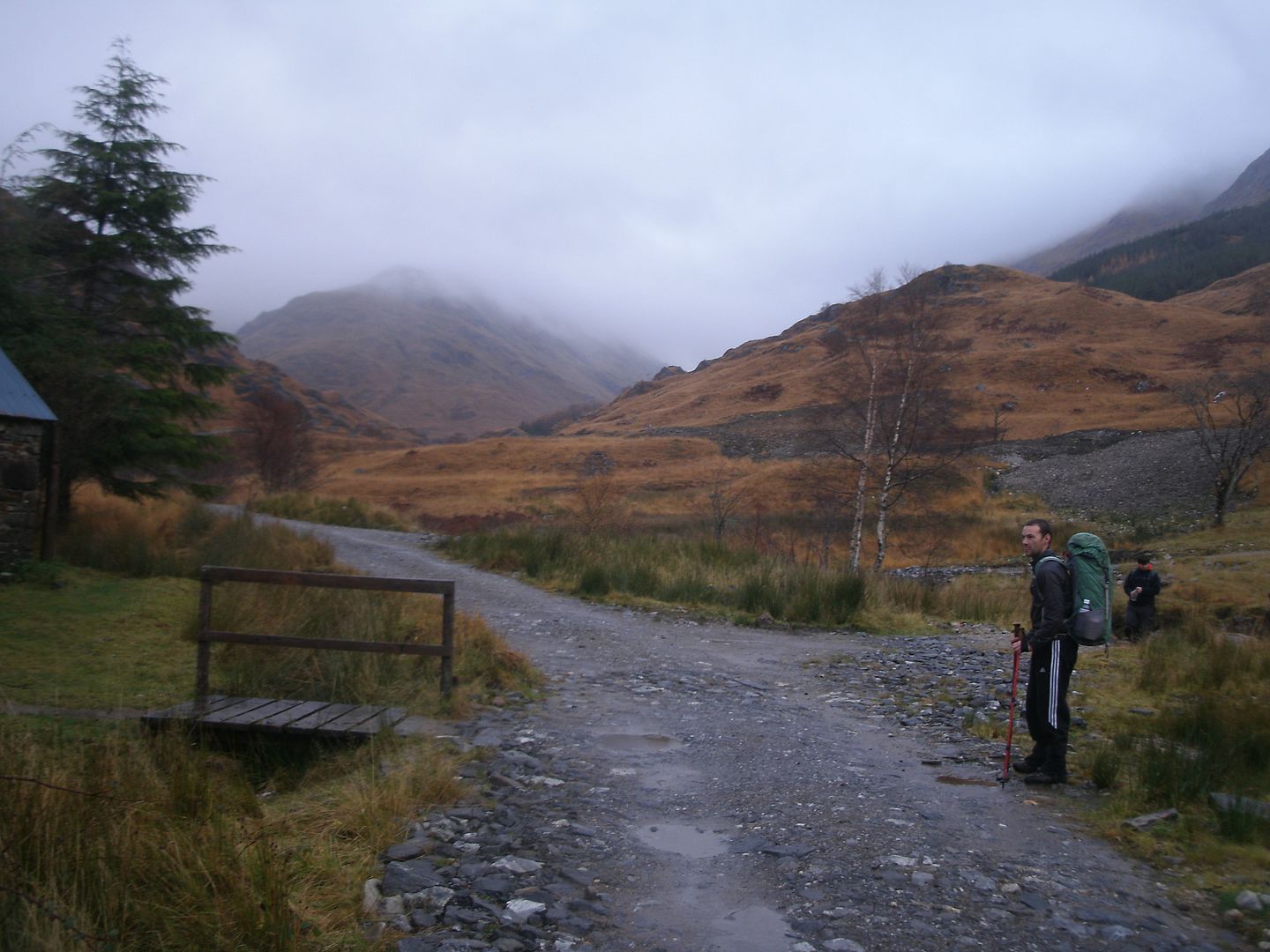 But we had expected less than perfect conditions, and weren't too bothered as we set off up the track, and found the handily signposted path up to the ridge, after just a short distance. The path was pretty well maintained, steady progress was made, and we soon had a view back down the glen to the viaduct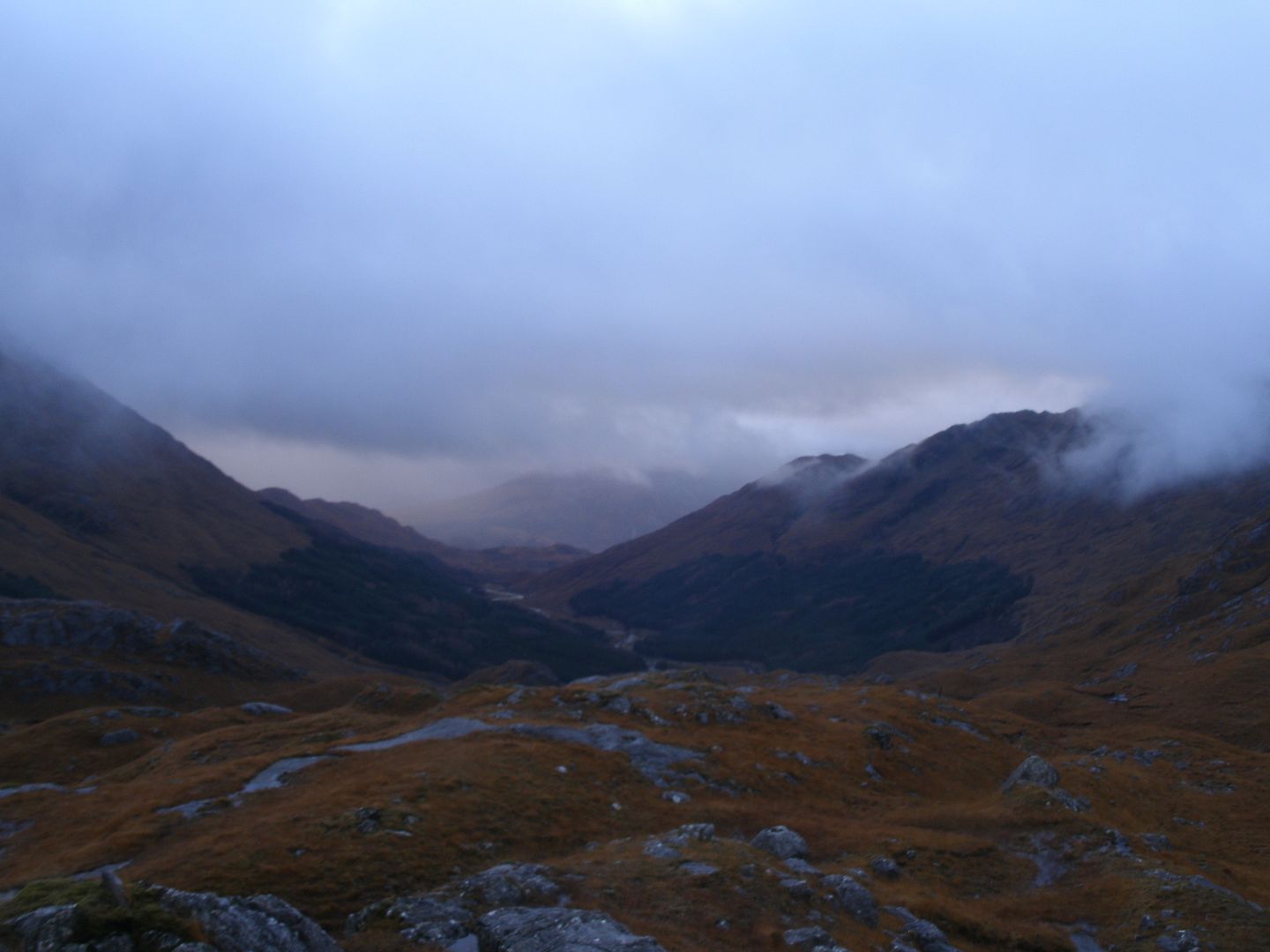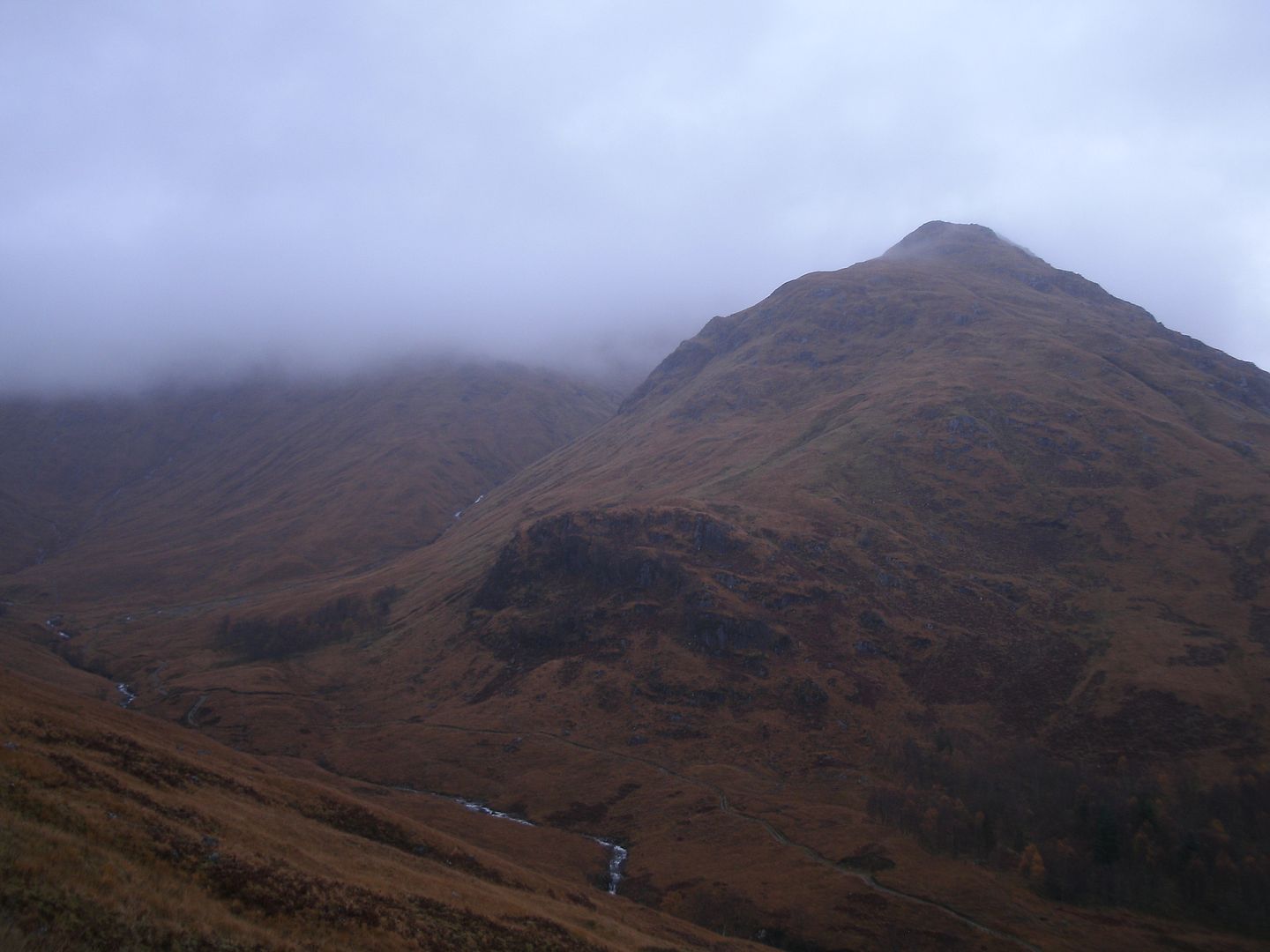 The weather was a lot warmer than we expected, so it was hot work ascending the ridge despite the showers that came and went. We were soon up in the clag, the going was mostly steep and rocky with the odd scramble to make things more interesting. Views were occasional and fleeting.. You know the kind of day where the views disappear every time you get the camera out?
Many false summits later, we finally hit the first icy summit. The 'severe windchill' that was forecast, finally putting in an appearance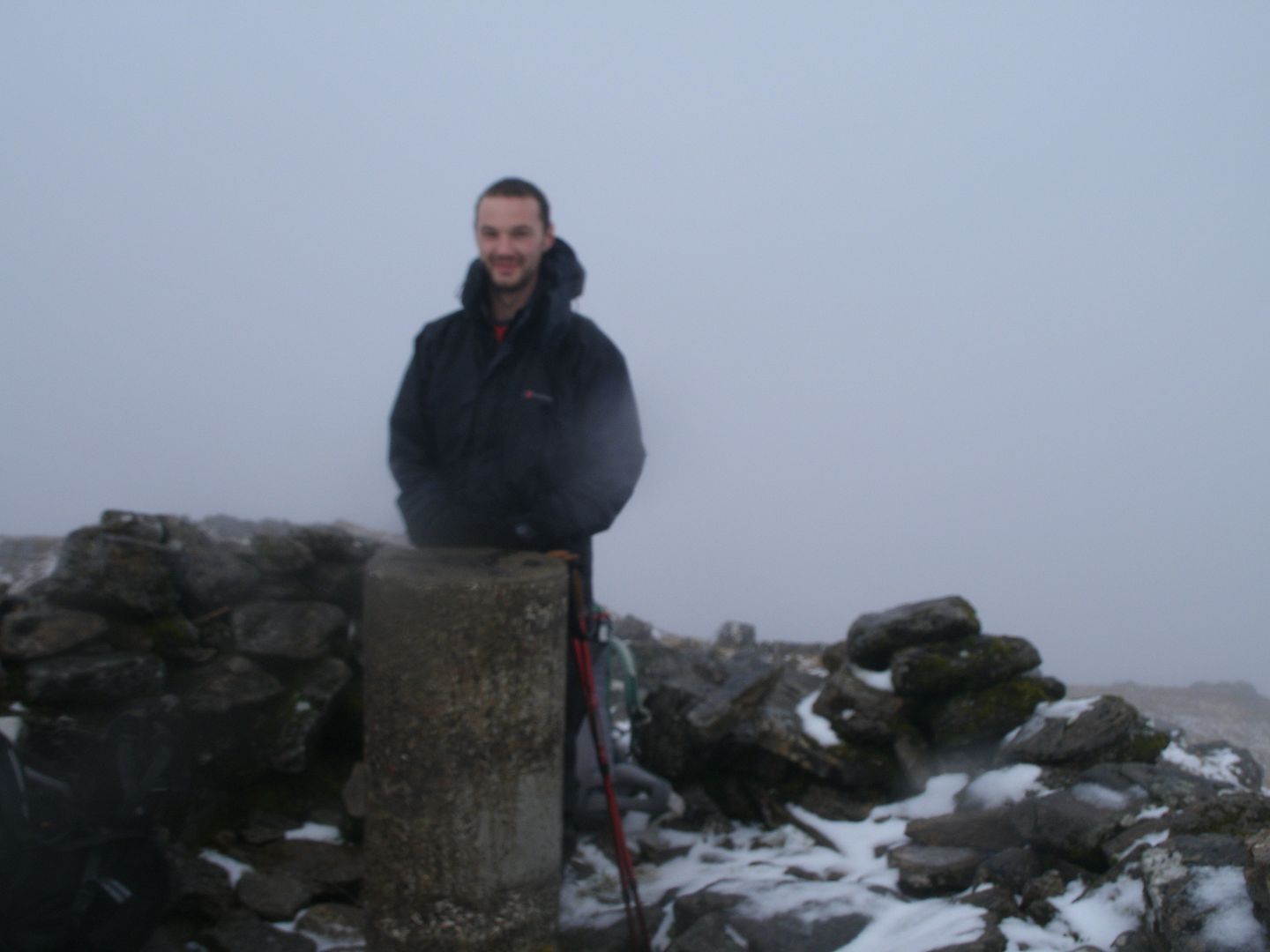 Onward along the ridge without much of a stop to get chilled, it felt a long way up and down a lot of minor bumps. We stopped in a bealach for lunch, but the rain, sleet, hail and snow became more persistent and the scrambles less fun. I had a cold which meant my drippy nose was almost unbearable
Oh the joys of this game are infinate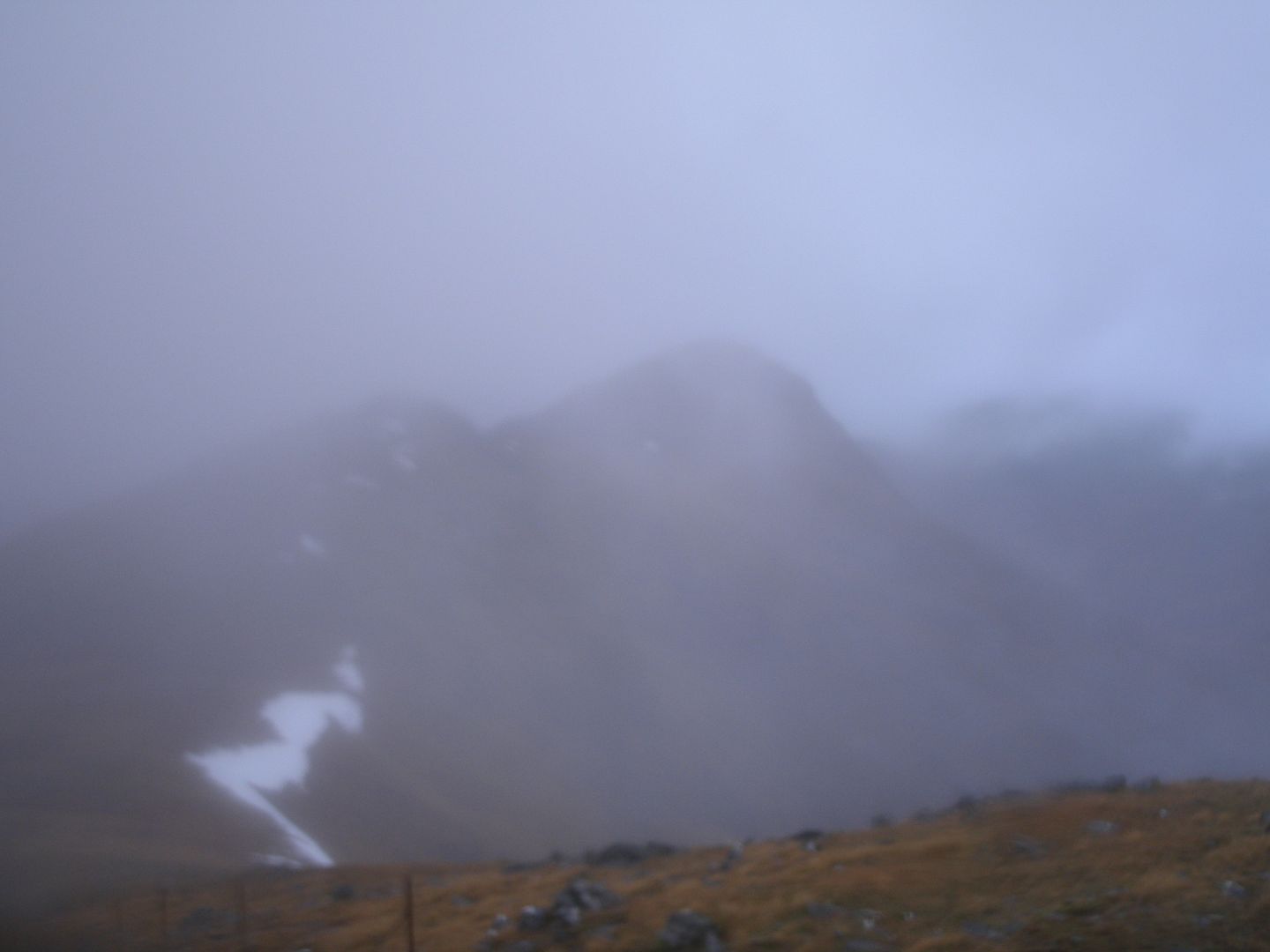 We knew we must be getting close to Sgurr Thuilm because it was getting colder and snowy again. The path curved round in a frustratingly long (but I spose easy cambered) route, and as we made the cairn, we were pelted with high speed hailstones. I was tired, needed to eat, but there was no chance of stopping
We retraced our steps a way before we finally picked a route down to Gleann a chaorainn, which now it was 3pm, we had decided would be our resting place for the night.
The descent turned out to be pretty horrific. We were in the lea of the hill, so we were spared the wind, but the rain beat down hard. The terrain was boggy, slippery and latterly steep and craggy. I was picking my way down a crag when I managed to somehow bash my knee. the pain was pretty immense and I fell into the bog below, writhing in agony. I felt bad for poor Dougie, I know what it feels like to see someone go down like that on the hill and it isnt pleasant. Fortunately after a few minutes I was back on my feet, albeit even slower moving than before. I don't think either of us have ever been so pleased to make it down into a deserted glen
Our campspot was picked when my knee gave way completely, so I lay in the bog while Dougie scouted nearby options.. We settled for a spot that was barely big enough, and only just flat enough, but it did us proud
After the faff of removing and stashing wet gear, we snoozed for an hour had tea and soup then slept some more until dinner later on. Definately one of our tougher days on the hill
The morning came, I was up early,but just couldnt get going - I just felt awful
Dougie woke at 9.30 and looked miffed I had let him sleep so late, but I knew that Gulvain was going to have to wait for another day, so I didn't think it mattered. The way I felt, even walking out the few miles was going to be a huge challenge. I rested until lunchtime in the hope that I would make a miraculous recovery, but eventually the time/light phenomenon dictated that we would have to go, or spend another night on the hill,and we were expected back..
The packing up took twice as long as normal.. Just a few hundred metres up to the bealach and it would be all downhill back to Corryhully along a track, sounds easy right?
Well those few hundred metres took over an hour. I had to stop frequently to steady myself against the nausea. I told Dougie at least 3 times that I would never make it
Oh what a drama queen I can be sometimes
We stopped at the watershed for a rest, before the seemingly long trek down the track. I remember startling a young Stag and trying to take a picture of him, but all I have on the camera is some blurs
The track crossed the burn several times, and all those dizzy river crossings were nerve racking. The time passed in a daze, and we were soon in familiar territory, heading past the bothy. The lights were on and it still looked busy
I really struggled those last couple of miles, had to stop frequently, and each time the pack had to come off and Dougie would have to help me on with it again after. What a star for not getting too grumpy with me!
I think I would still be out there if I had been by myself
So another trip that didnt go to plan.. Oh well, I'll nae forget it in a hurry and will no doubt laugh about it for a long time to come