As a Mr R. Burns from Ayrshire once said, "The best laid schemes o' mice an' men gang aft agley". And as a Mr I. Watson from the Glasgow area once said, "I'm never drinking on the Friday night of a WH meet again!" Well, Mr Burns certainly called it right. I can vouch for that. Mr Watson also had a point. I can vouch for that too, even if he again failed to stick to his promise and I joined him in his ill advised alcohol consumption activities in the Clachaig this particular Friday evening!
My best laid schemes for the Glencoe Meet had involved the Munro/Corbett combination of Sgor na h-Ulaidh and Meall Ligiche on Saturday and either Garbh Bheinn or Beinn a'Chrulaiste on the Sunday. Had both of these materialised, the weekend would have seen me hit two significant landmarks, namely 141 Munros and 50 Corbetts. But therein lies the issue - the former did not materialise. What did materialise on the Saturday was a pronounced and prolonged bout of general illness and nausea brought on by a rather ill-advised session on the Red Cuillin in the Clachaig followed by extra-time on Deuchars IPA and a penalty shoot out on the whisky in the bunkhouse.
Now, Mountainlove has done a more than satisfactory job of painting a picture of the scene that greeted her in the bunkhouse on Saturday morning, so I will not go there in this report, other than to reflect that it must have resembled a scene from the very Gates of Hell! To be honest, I barely registered a flicker of emotion when Alan Mountainstar informed me he had received a text message from Alan ScotJamie letting me know that the latter would not be able to keep to the plans we had made in the Clachaig to do Sgor na h-Ulaidh and Meall Ligiche. Whatevva! With hindsight, it probably wouldn't have been an appropriate route choice in the conditions, but I would still have liked to revisit the Bookil either Big or Wee and redo one of them via a different route and in different conditions to my previous visits. But it was not to be. Dirty glasses and/or pipes in the pub put the kaibosh on those notions and condemned me to a day spent either in bed or malingering around the kitchen area.
I did venture to the Clachaig for dinner in the evening which was washed down by two pints (only one of which was alcoholic), and I wisely avoided the clearly dodgy batch of Red Cuillin they had in! Before I retired to the hostel for an early night, I made plans with Nigel (Old Danensian) to do a two-car route on the Corbett Beinn a'Chrulaiste the following day.
Looks straightforward. Should be easy as ABC!
Nigel was at the bunkhouse for 9 o'clock the next morning and I was (comparatively) bright-eyed and bushy tailed, raring to go, and this despite rather iffy looking weather conditions.
We left my car at Altnafeadh and took Nigel's car round to the Kings House Hotel from where we took to the bog ridden slopes of the Corbett. Nigel was excellent company and we chatted a lot on our walk, sharing stories about our families, working lives and hill experiences. As mentioned by Nigel in his own report, there were enquiring text messages from home, mention of chicken and a minor navigational faux pas coming off the summit that was quickly detected and soon rectified with minimum fuss, although ABC did momentarily begin to look like XTC!
Then all that remined was the long descent down the west ridge to Altnafeadh, with the Big Bookil making her looming presence felt across the glen. Yes, I know, as Nigel pointed out, the Bookil is a bloke, but as with all mountains, I always think of it as a "she". What about you mountainstar????
Plans with Nigel about to become reality!
The Big Bookil doon the WHW
1,2,3,4,5..... bogfest working overtime!
Creise and Glen Etive
And all the world is Bookil shaped!
From a tad further on
Across to Meall a' Bhuiridh and Creise as height is gained
Rannoch Moor - now you see it.....
...... now you don't (much)
Don't you just love it when a plan comes together!
Thar she blows cap'n!
Nigel trying to take this all in!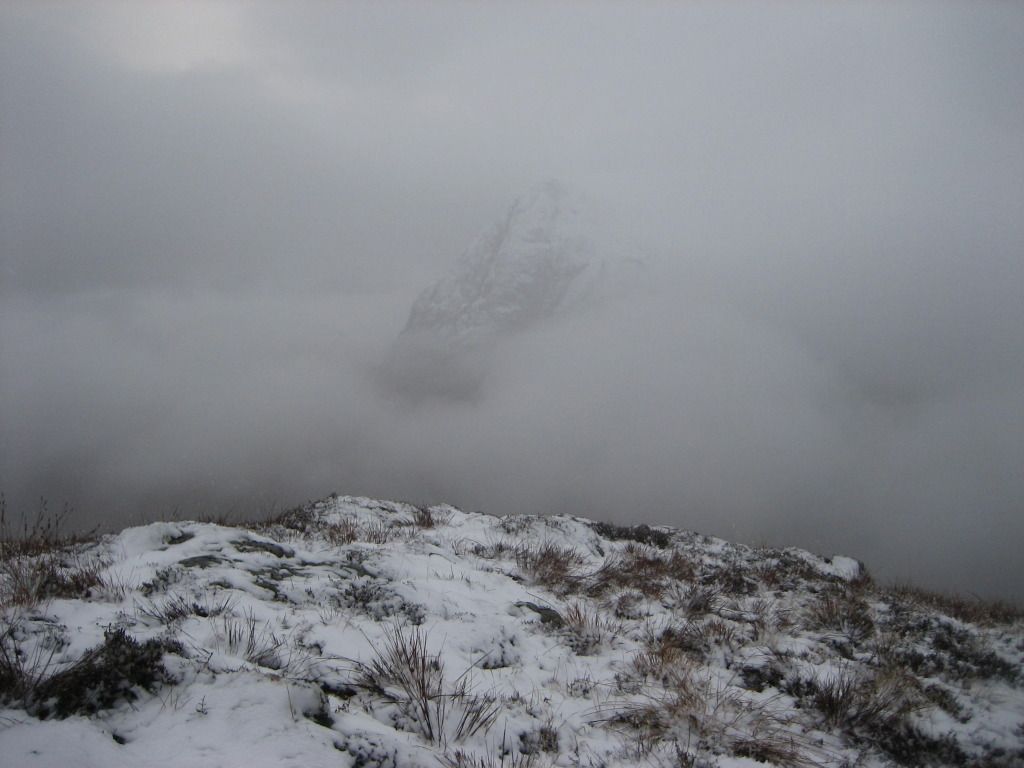 She's flirting with us now Nigel!
Back below the vis line and into Glencoe
Stob Dearg of Big Bookil
....... and again
..... and again again
...... and again again again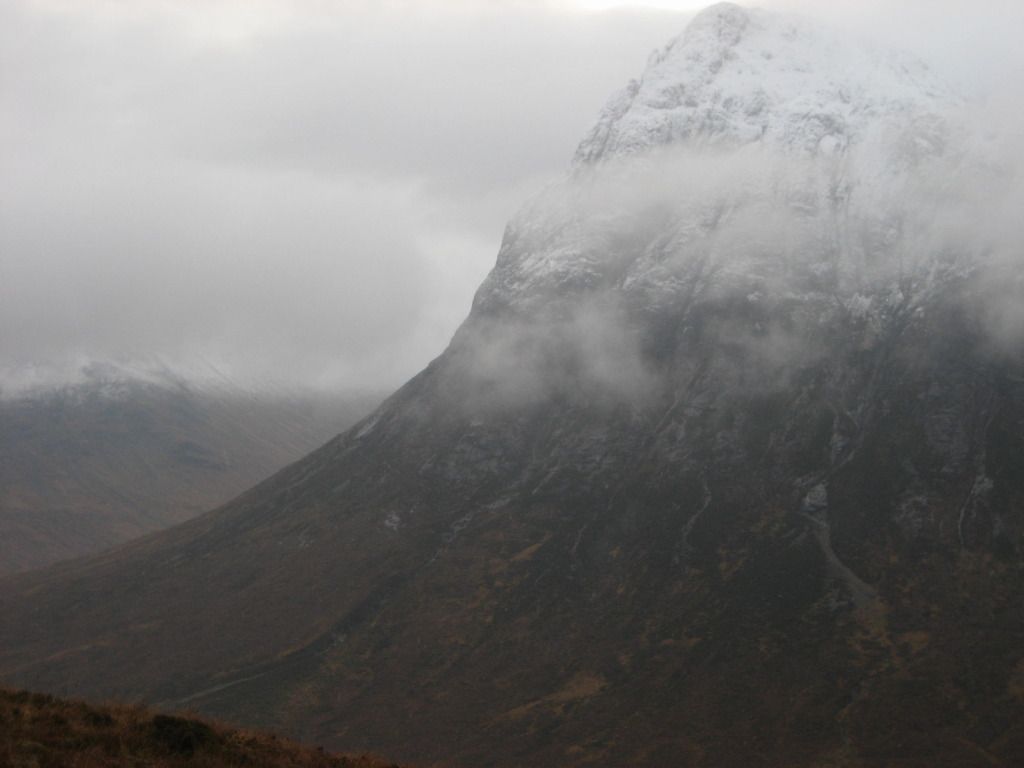 Can you see your rock Alan?
Who said Corbetts ain't worth doing?
Lairig Gartain and Stob Coire Raineach
Raineach clearing and revealing the Big Bad Boys of Bidean behind
Raineach from back at the roadside
Chrulaiste from the road
Nigel delays his meeting with the chicken to snap some deer
Deer Bookil