This weekend looked like it was going to be a cracker, almost a crime to bide in!
So I found myself frantically trying to keep Sunny on the road as I passed Loch Voil early on Saturday morning. There was just one car in the car park at Inverlochlarig, but as I did my faff, a couple more came in about.
I set off at 9, up the steep path – well not the path exactly because it was completely frozen under a couple of inches of ice, but close by the path on the hard frozen grass
Still managed to slip and hurt my wrist though
The weather was rather hazy, and a few snowflakes were falling. There looked to be clag up above, but the higher I got, the higher the clag got
It was very still though, which made for a lot of sweating, despite the cold temperature.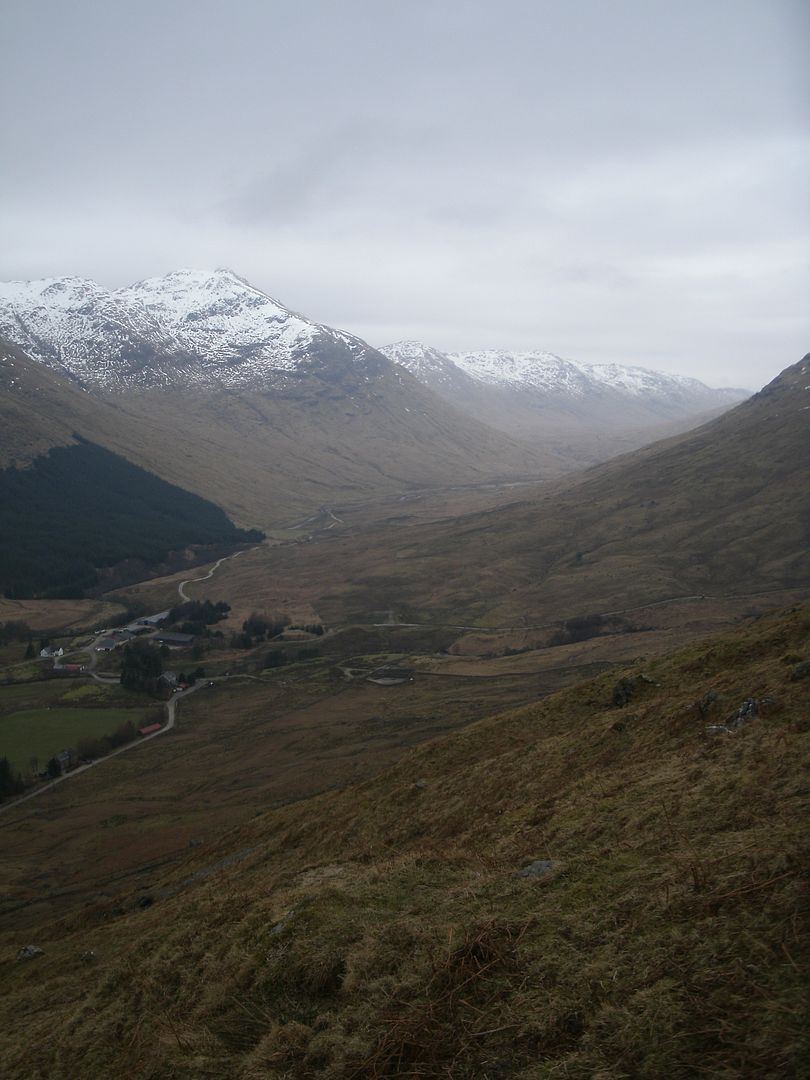 I made the ridge, the path disappearing under the snow, and pretty soon needed to get the crampons out. There were a fair few lumps along the ridge, I kept on thinking 'this must be the one' but then it turned out not to be. Should look at a map occasionally I spose..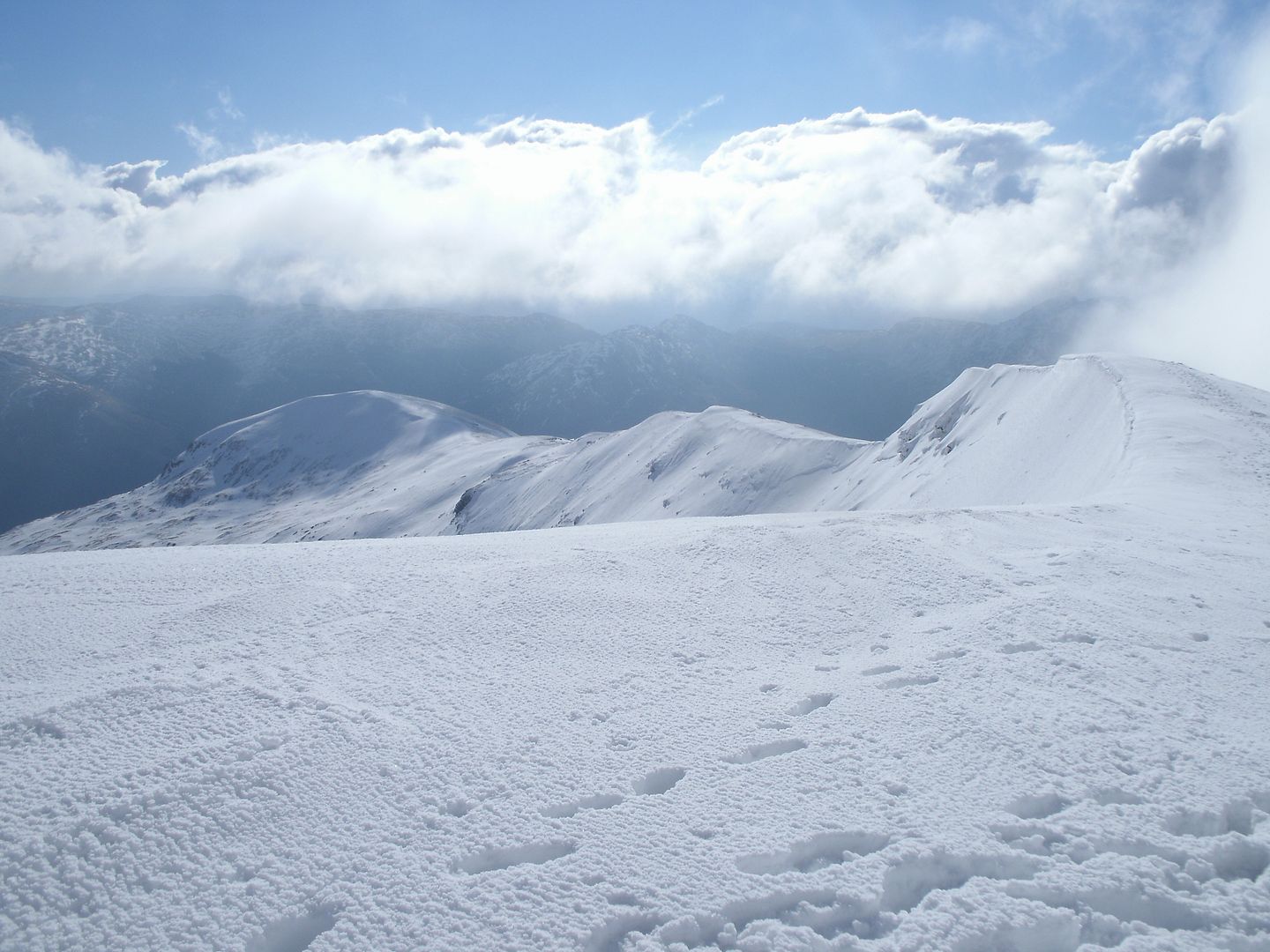 There were clag patches coming across regularly with brilliant sunshine inbetween, and the ravens circling up above. It was just lovely
I met a chap with a couple of dogs that looked vaguely familiar - a Rottweiler and a similar looking Ginger dog. He seemed to recognise me too, because he knew some surprisingly accurate information about me.. Slightly unsettling! I am surely not that memorable..
Then the clag withdrew enough for me to see Stob Binnein. Looked like quite a climb but it wasn't really. Unfortunately the summit was in clag when I got there and while I hoped for a stop, it was far too cold, and there were no views to be had
So onward a short distance, then the descent. Oh michty me it was icy, steep and ever so slighty terrifying
I picked my way down carefully, my crampon points barely scratching the surface of the snow, ice axe very much at the ready. It crossed my mind that if my weight wouldnt get my crampon points in, I had little chance of saving myself with my axe if I were to fall, but I didn't
I finally got stopped at the bealach for a cuppa and my piece. The clag was now nowhere to be seen, and the sun was out.
It had got busy, and there was a steady stream of fellow walkers coming down from Ben More.. Slightly inconvenient seeing as I was bursting for a pee.. Come back clag, all is forgiven!
I had rather a long stop, and texted Dougie to let him know how I was getting on. It had taken me a bit longer than I had expected to get this far with it being so icy. I had to be a bit more careful than usual.
I picked my way across the bealach, crampons not required here, but I couldn't be bothered taking them off just to put them on again in 10 minutes
Then it was the steep ascent of Ben More. This side of the hill was facing the sun, so far less ice was encountered, and despite the steep angle I made reasonable progress.
Looking back to Binnien, I could see a paraglider up above the summit. Sounded like he had some kind of engine, but I couldn't be sure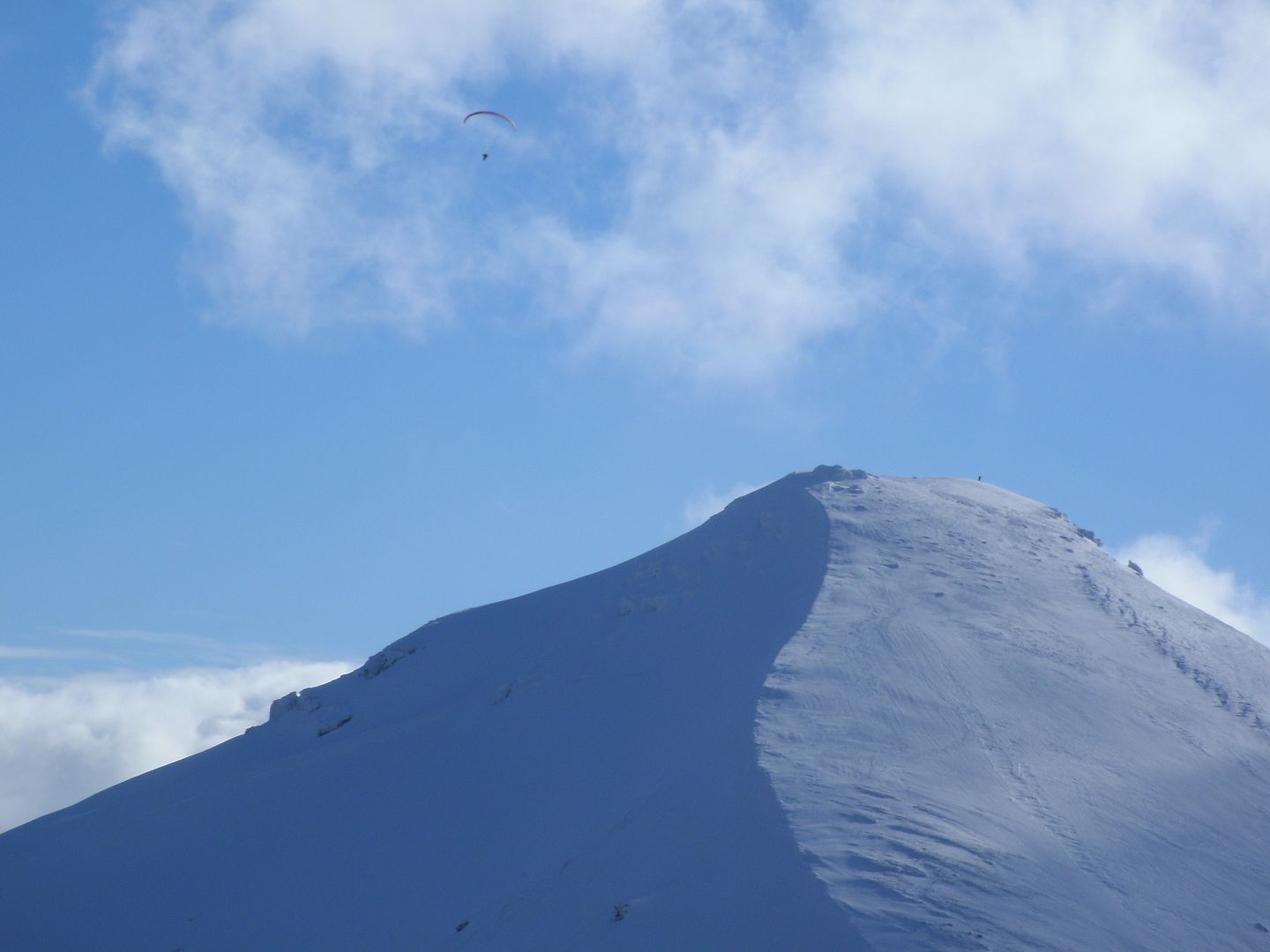 Up near the top there were a couple of steps that required some use of the axe, but before I knew it the trig came into sight, and so did some breathtaking views
I sat behind the cairn for quite a while, trying to figure out which hills were which. I could see across a significant amount of the country. Snowy peaks contrasting with the bluest sky ever!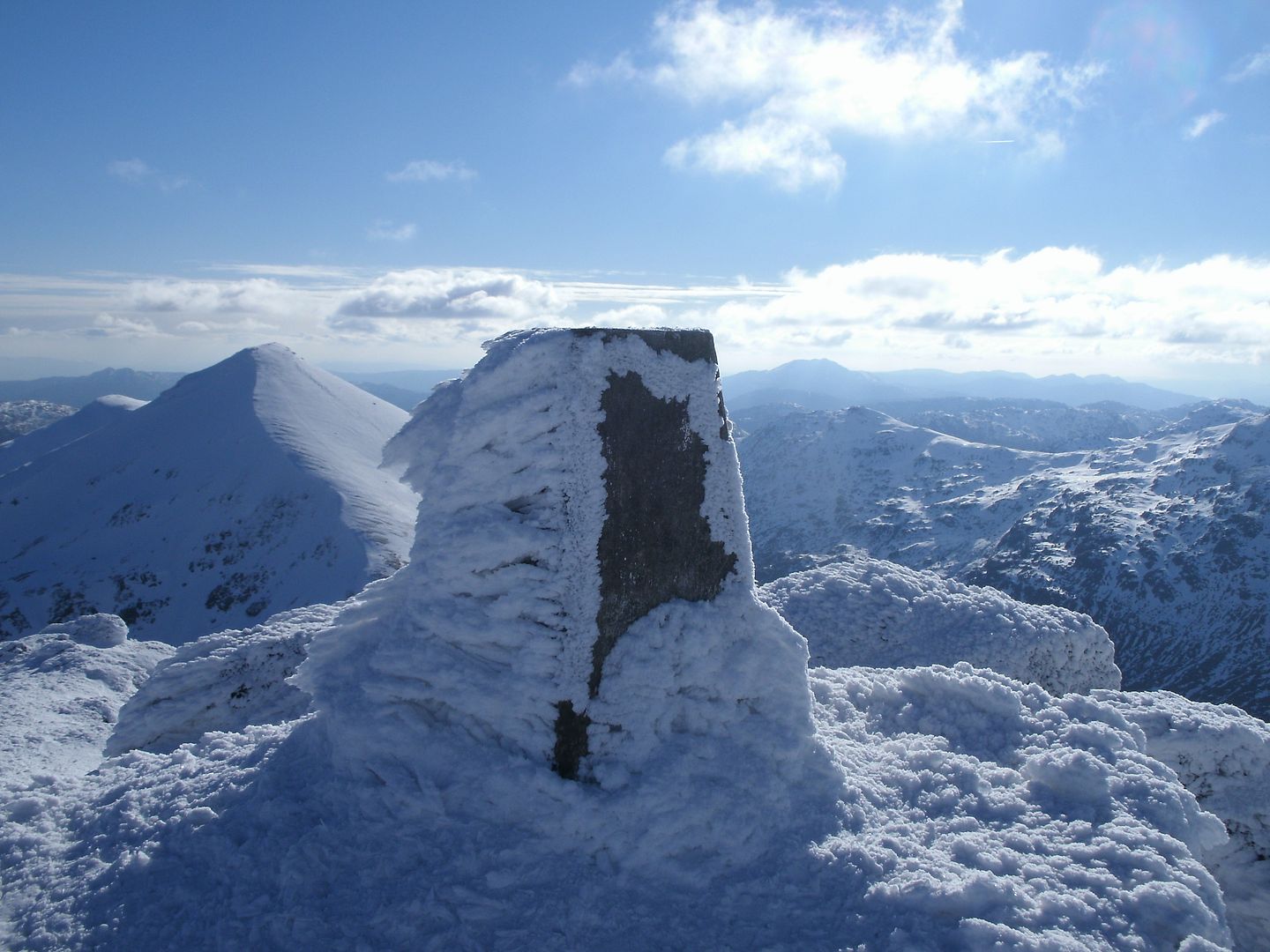 Eventually I tore myself away to make my descent. I knew it was going to be a steep knee-killer down the front to Glen Dochart
I couldn't find the path off the summit in amongst the snow and mass of footprints, so I shimmied down a wee gully next to the trig, where a couple of folk had climbed up, and headed toward the farm I could see far below. More steep icyness, but nothing near as bad as coming of Binnien. I suddenly got that unsettling feeling like I was coming to the top of a cliff
I had found a mass of footprints, but had lost them again, and I wondered f the path had gone off to the side, but I managed to find the way down between the crags and the path became a lot more prominent after that.
It was steep though, and I was forced to take my time, even though I knew the ice and my reluctance to leave Ben More summit had made me a little bit late for getting picked up.. The path was again filled with ice, so I was forced onto the only slightly less icy hillside where I slipped a few times.. Jings I was glad to get down to the track and some relatively flat ground!
Only a couple of hundred yards down, I met Dougie who had arrived and come looking for me, so a jolly wee caper down to the car.
After driving round to pick up Sunny, we headed up to Killin and round to Glen Lochay. We found a decent camp spot, in a field beside a lovely wee burn. Unfortunately the locals weren't completely happy with our presence and bleated loudly in protest. Funny looking sheep with impressive looking horns. We were careful to shut the tent up tight before sleeps that night!
The morning came, we slept on, and were up far too late to contemplate the Haesgarnich foray we had talked about.
We finally prised ourselves out of the tent about 11, and decided that the rather less ambitious Meall Ghaordaidh was the best option for the day. We drove back down the glen, but had troubles getting parked, there were so many cars.
We were soon on our way up the track which turned out to be fairly steep at points. At least the sheep were a lot friendlier round here..
We soon found the telltale baggers cairn and headed up the path, only to lose it almost straight away.. it didn't really matter though and we plodded up the featureless hillside - a pretty dull ascent to say the least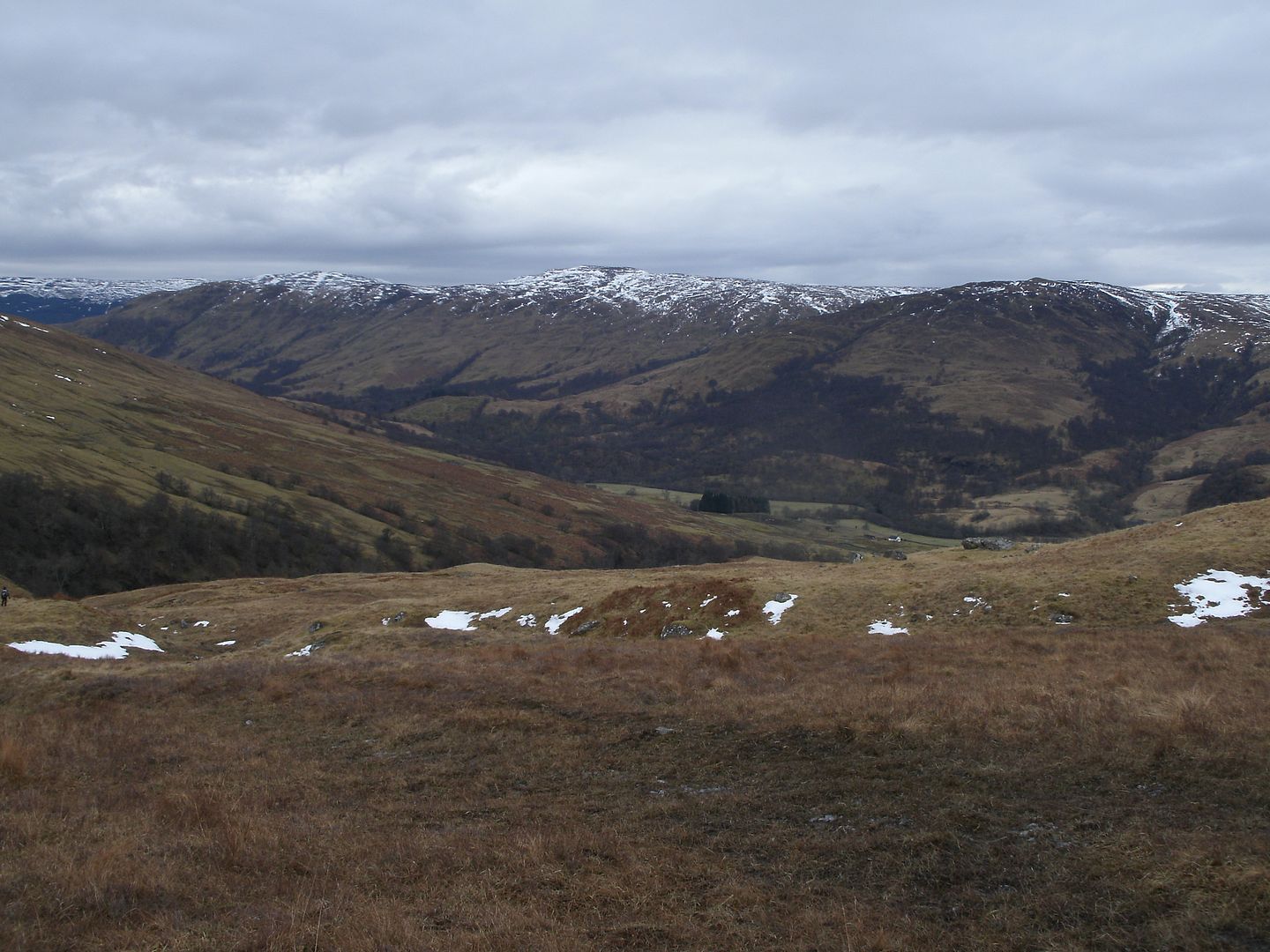 Then we got up to the ridge and it started to get snowy underfoot and a lot more fun.
The advantage to arriving late was that the majority of the other walkers were on their way down. We watched a group of guys capering and bumsliding their way down from the summit as we stopped to put our crampons on. From the amount of footprints I could tell it was a very popular hill indeed!
Finally we were on the last steep section that was infinitely more fun due to the snow. The sun was blazing as we hit the summit, but it was a cold breeze and we stopped slightly too long for lunch and got chilled. It was another beautiful vista which was hard to drag yourself away from.

We initially had the summit to ourselves, but then another chap turned up who had full ice climbing gear – a bit extreme for Meall Ghaordaidh! Then another couple, so with things getting busy, we reluctantly headed back the way we had come.
It was a speedy descent, about an hour including a stop. I amused Dougie with a comedy face plant
but other than that, it was an uneventful tramp back to the cars.
Well what a weekend it was weatherwise.. Anywhere above the snowline would have been amazing this weekend.. Hope you were all out having just as much fun as we did.