So this weekend, we were both anxious to get out.. Weather reports were different on every website, but we decided to go over Laggan way to bag a few outliers.
The usual rush to get away from work on a Friday led to pleasant, quiet drive over Speyside. We met up in Roughburn near the laggan dam, transferred my gear to Dougie's car and Left Sunny there overnight, while we drove up beautiful Glen Roy.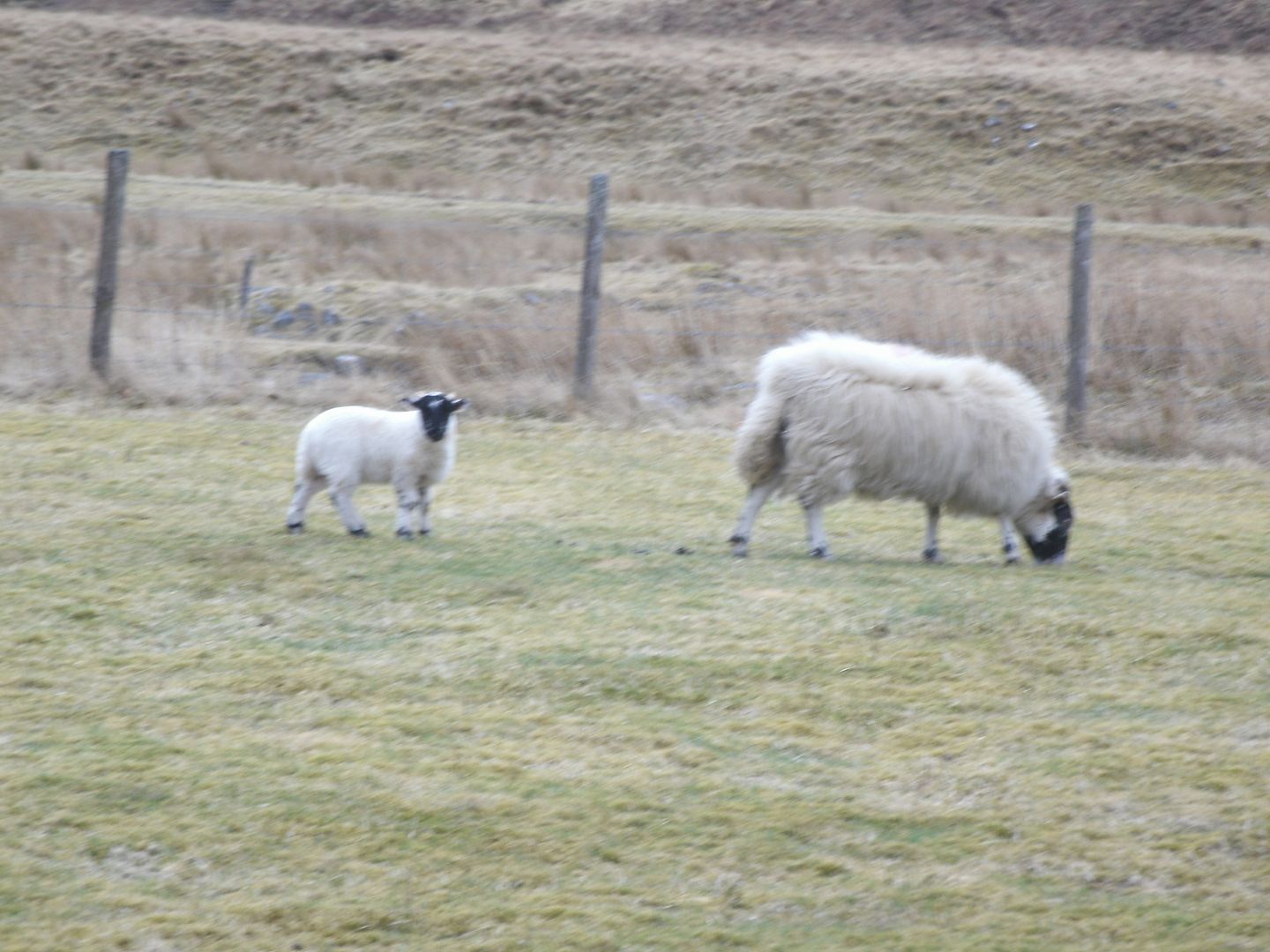 We found an idyllic campspot near the road end and had a really good night – the warmest camp in months!
We were up early in the morning.. I had done all the Creag Meagaidh hills from Glen Roy last year, and Dougie was sick of hearing about how lovely Agie burn is, so wanted to see for himself
It was just a short wander past the Lodge, up the glen before the turn off, up a rather neglected path that would have been grand once upon a time..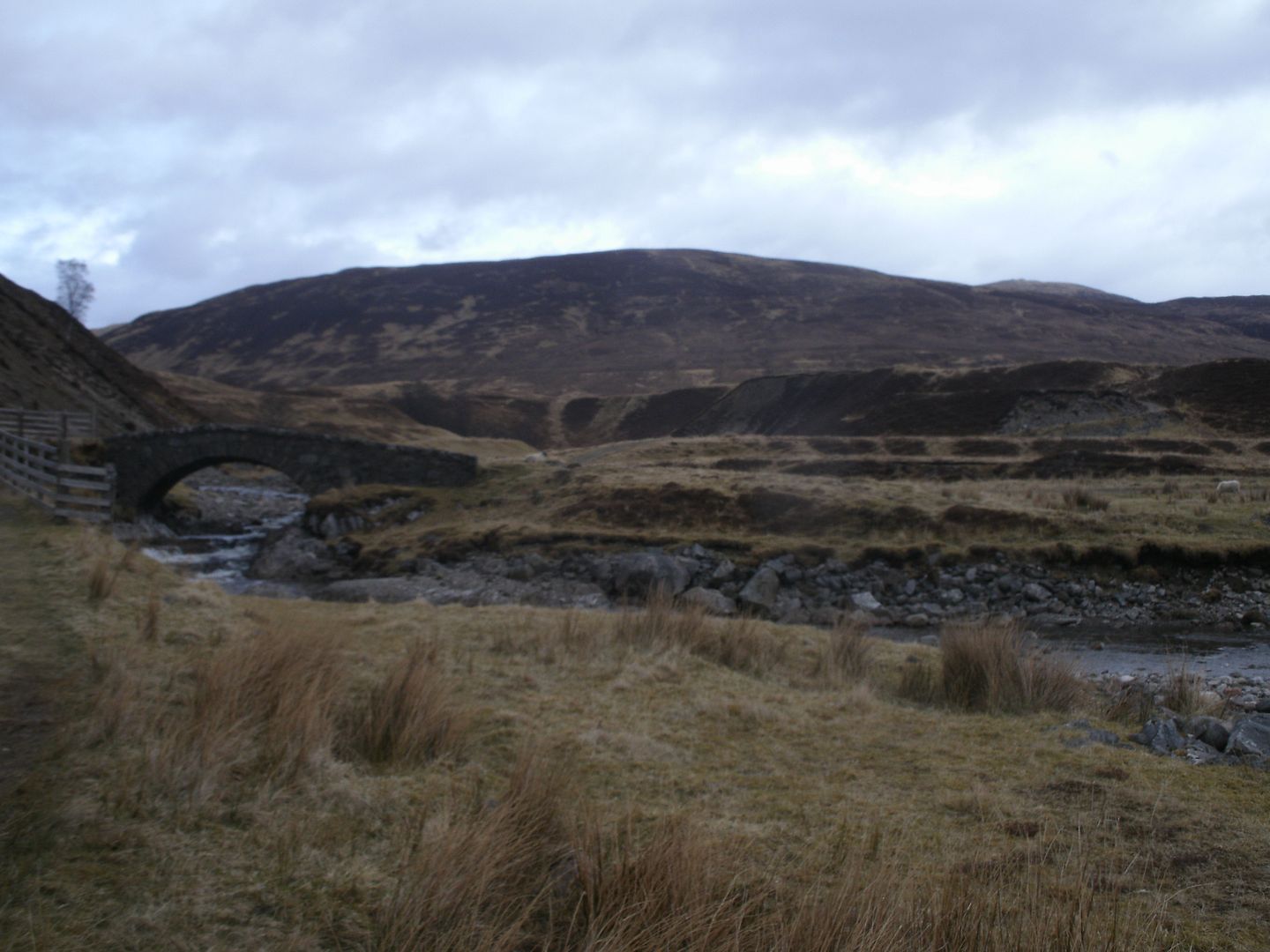 It takes a route over the shoulder of a hill, which gives a good view of the curious flat topped Moraine in Glen Roy, before the descent down to Dog Falls. I have harped on about how bonny they are previously, so I'll just say they are well worth a visit and leave it at that
I could tell Dougie was impressed
Not long after that though, the weather turned, and we were forced into doing the waterproof faff
We had hoped that it would stay bonny, but it wasn't to be...
After the fork in the river, we managed to cross – The rivers weren't nearly as high as I had feared, and we headed straight up the ridge of Beinn a Chaorain to the cairn marked on the map.

It was a boggy, wet slog. We tried to shelter at the cairn for some sustenance, but it was too cold, wet and windy to pause for long unfortunately.. Then as the ridge started to flatten out, the rain got worse, and Dougie started his mumphing
The clag was down low, so it was hard to judge progress. We passed a couple of groups of walkers in the mist, the going underfoot getting snowier. By the time we got to the first top though, the rain and clag started to clear, and we got the odd view over toward the Grey corries.
By the time we were descending from there the cloud all seemed to disappear and we could see the cornices to our left.. Wow! Keep away from the edge!
The summit was reached, where we sat and enjoyed the views a while until we were cold, and then set off back to the last top where we veered off down to the bealach. Some large patches of snow were still remaining there, which made the descent quicker than I remembered it being
I lost my map on this descent last time.. I kept my eyes peeled but no sign..
We stopped in a gully that looked sheltered, but turned out not to be. The sun was blazing but the wind was pretty darn chilly
From there it was across the boggy bealach, and up Beinn Teallach. – supposedly the smallest of the munros (as Dougie informed me) but I like it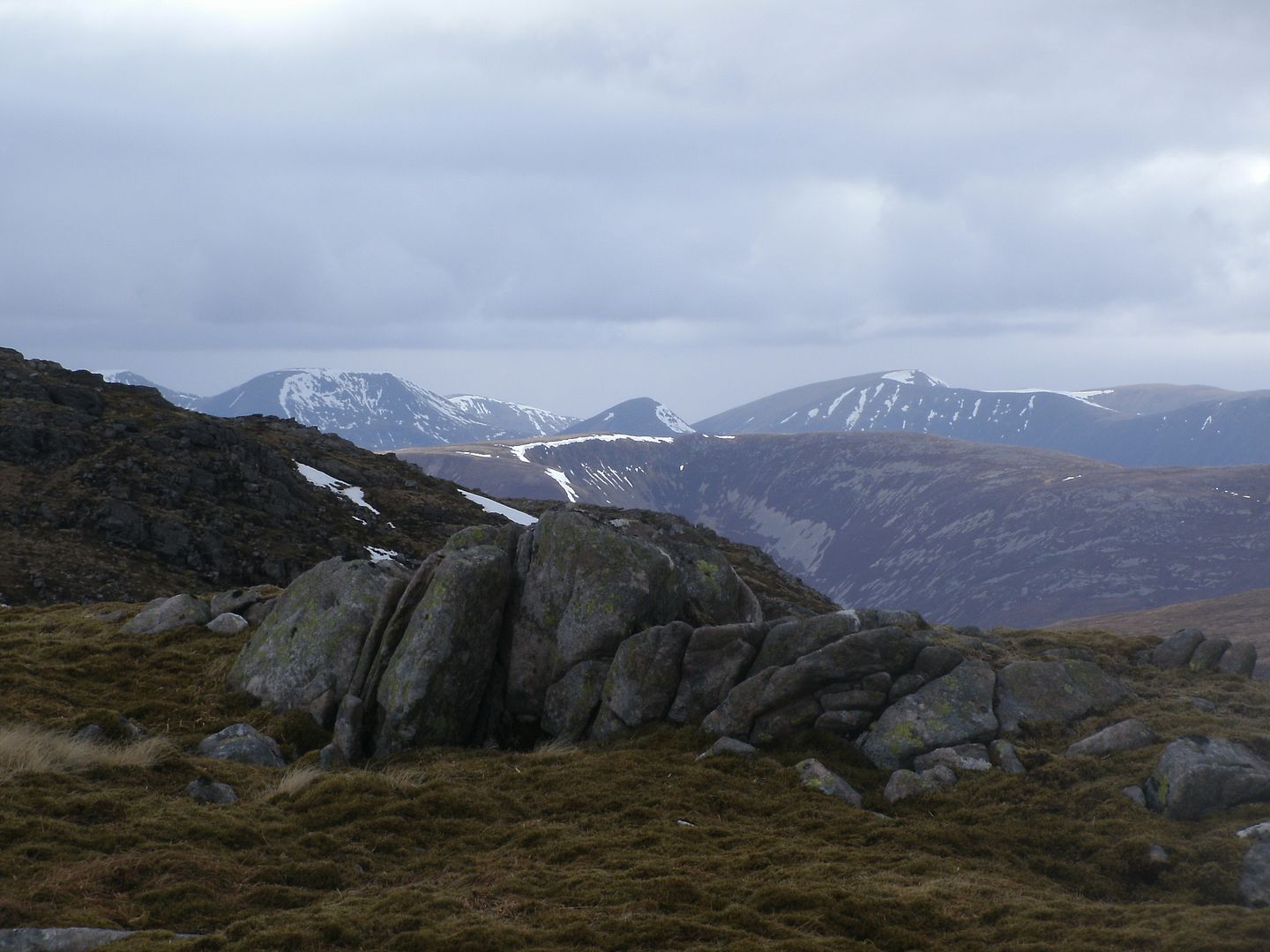 An initial tortuous climb led to a pleasant wander through rocky tors and outcrops. There are two summits.. The one with the biggest cairn I think isn't the highest point
We managed to shelter behind the cairn for a bit before an easy descent through springy heather and bogs down to the glen.
Then it was just a dicey river crossing and an amble down some forestry tracks when all of a sudden, we were in Roughburn
An excellent walk - Long enough to feel like I had stretched my legs, but not tough enough to feel tired
So we drove round to pick up the other car, then back to Laggan and up the glen on along the banks of the spey
There was quite a lot of wildlife in the glen. Groups of young stags, hares, partridge even a kestrel was spotted. I left Sunny near Spey Dam, and we continued in Dougies car to Garva Bridge. The wind was really getting up, and a few showers were coming across
We found a spot, just about clear of cow pats, right next to the river and didn't waste any time getting cosy inside. Another chap was also camping there for the night, and seemed to be having bother with his rather fancy Hilleberg tent.. I offered to help, but he seemed horrified at the thought, so I left him to it!
Not long after we got settled, the rain started and didn't stop all night. We had expected it and had purposefully picked a short walk for Sunday as it was due to brighten up at lunchtime. So a late night and a late rise saw the ground waterlogged
but the tent still watertight
Sunday lunchtime came and sure enough it brightened up!
So we hurriedly packed up and set off about 1PM in glorious sunshine, with a stiff breeze behind us helping us along. Our route took us over a new looking bridge above a churning gorge below.
Then we were only on the track a short distance before we were on a boggy undulating path that was to take us up the glen. It was a beautiful river with many pools and falls, and I hardly noticed how boggy it was underfoot
The path took us up a side burn, where it was so nice we decided to stop despite being neither tired nor hungry.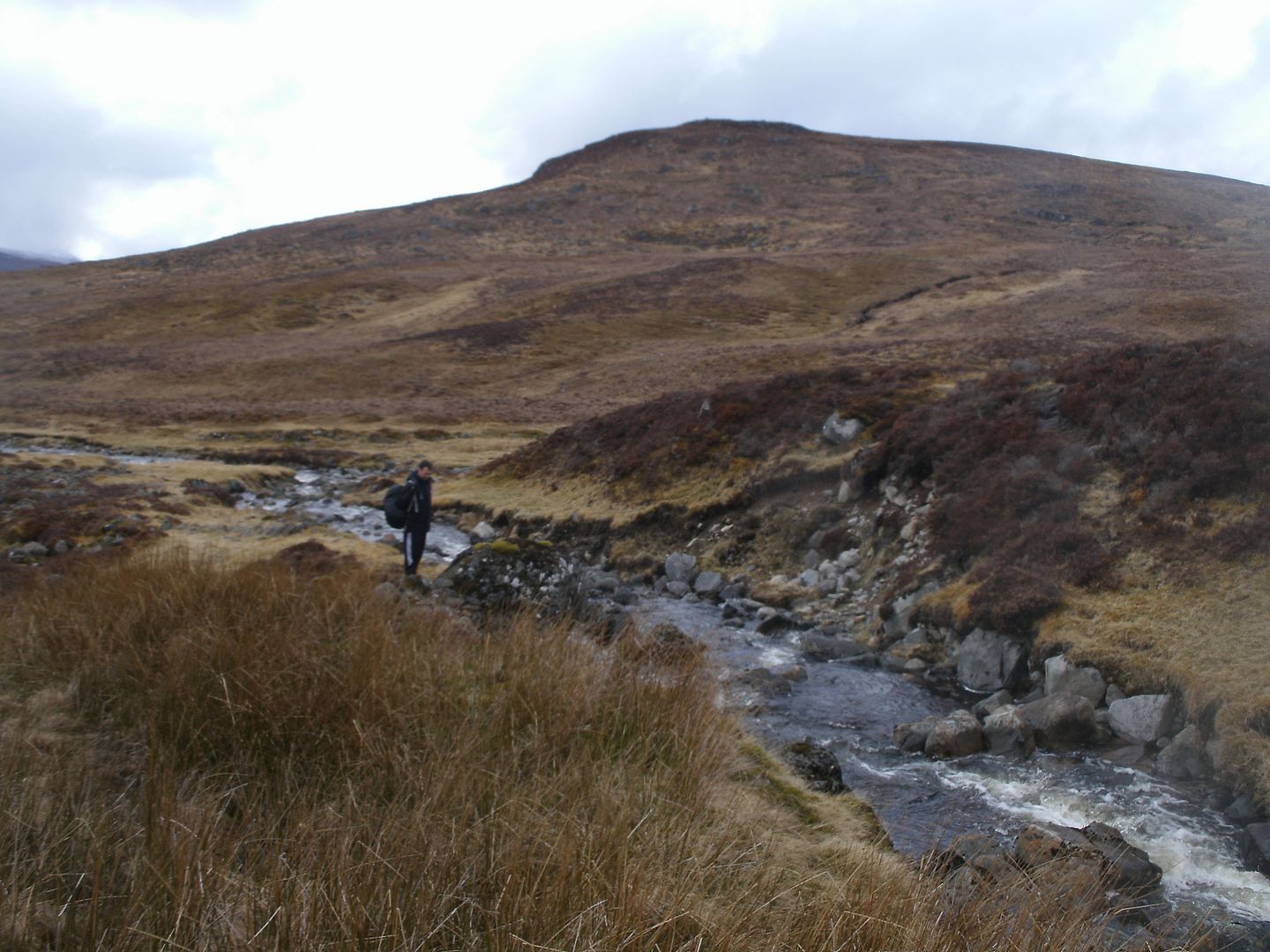 Not far after that though, the path fizzled out
so we took a direct route up to the ridge. Possibly a bad plan, because the Monadhliath is famed for its peat bogs, and this was one of them
So slow progress up to the ridge, where the heather was short and the walking fine.

As we got nearere the plateau though, the clag came rolling in, it got very windy and we were slightly surprised when it started snowing
The walk across the plateau seemed to take a while, but eventually a large cairn loomed out of the mists at us.
We stopped for a sarnie in the lea of the cairn – probably a bad idea because then we were cold
We carried on along the plateau for a while, finding some footprints and a path of sorts heading in the right direction
We both wanted off the top as quick as possible – it was really cold and horrible. We got to the end of the corrie and ran down a huge snow patch toward Glen Markie. Visibility was poor, and it was hard to tell which was the best descent route – peat hags in every direction!
We tried to weave our way between them and managed to find a wee stalkers path for a while but then all of a sudden it stopped snowing and we could see the Glen Markie path far below
Nothing for it but to negotiate the bog that was in the way.
We stopped in the glen but the weather gods must of spotted us enjoying ourselves and switched the rain on again
so we were forced to keep going down the glen. The river was impressive in size, and I'm glad we descended high enough up the glen to make use of the bridge, because we never would of got across otherwise. We met a well formed track and the walking got quicker as we zoomed down the glen. Some bonny coos enjoyed posing for some photos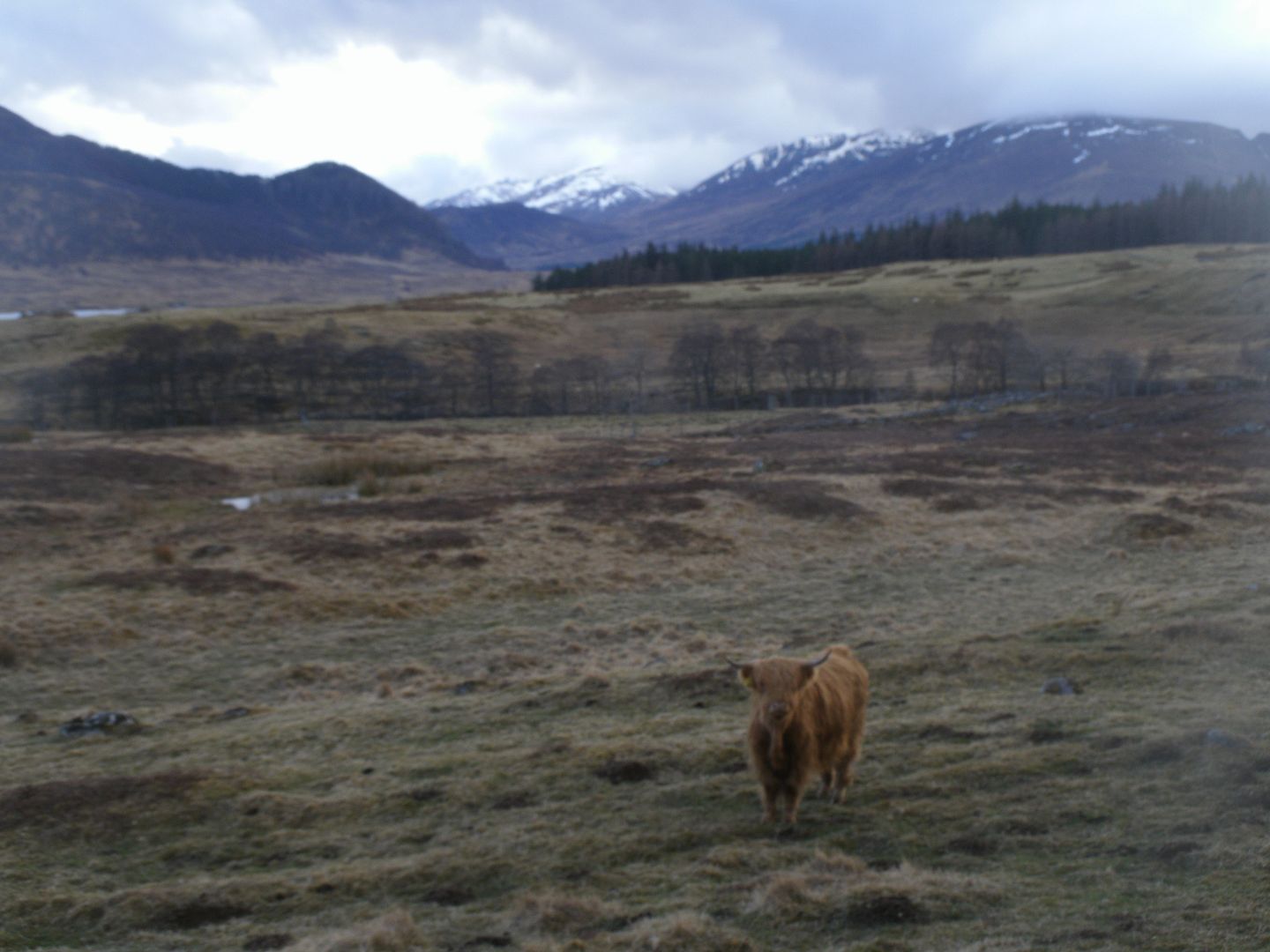 And before we knew it we were back at the dam,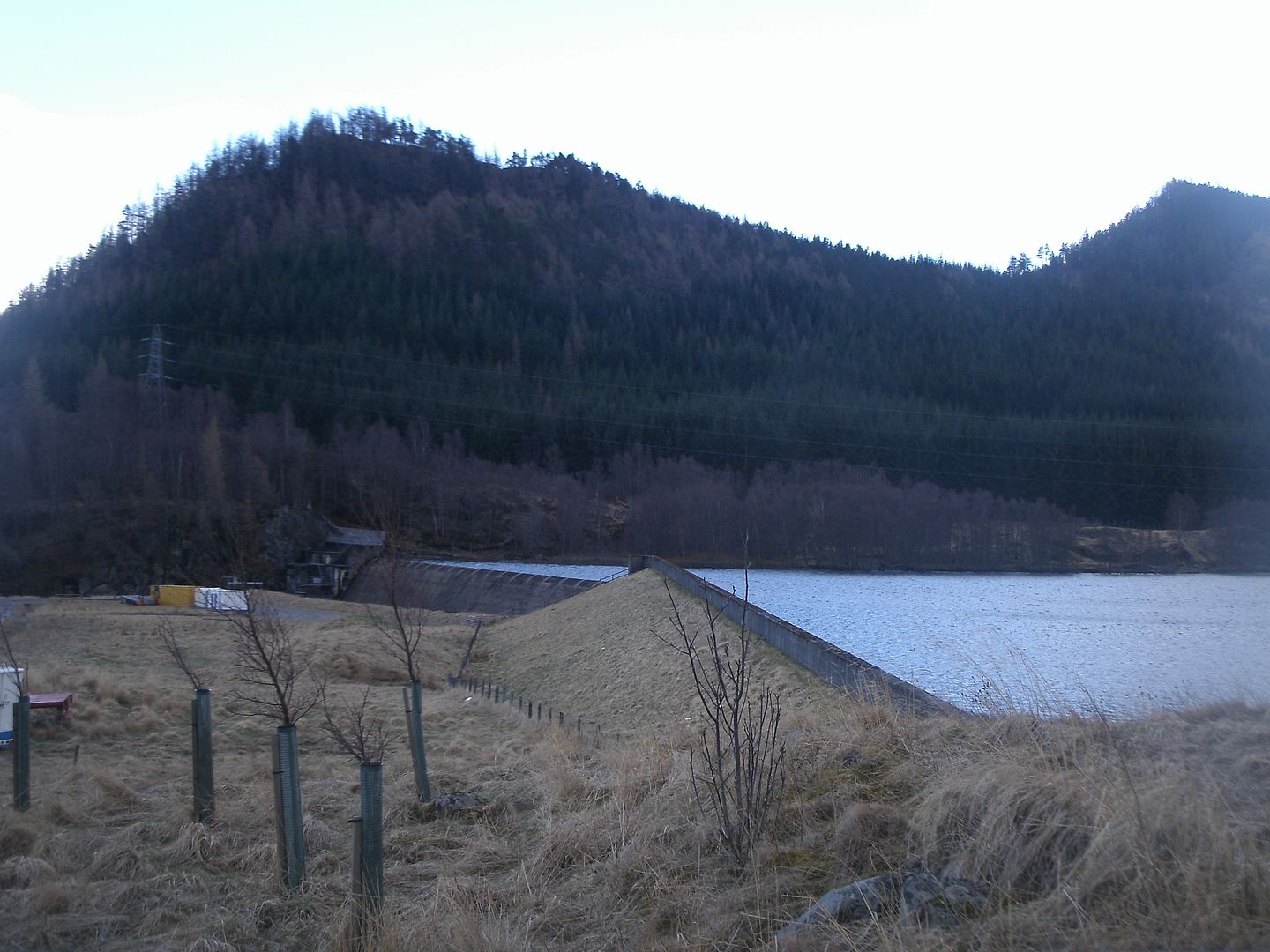 So a cracking weekend, in 4 seasons of weather. Growing to love this part of the world almost as much as some of my favourite places