Sat 30th August 2008
Finished work at 6am and drove north for the second week in a row to tackle Ben Klibreck this week. Travelling up the A836 from Lairg to Altnaharra, continue about 3km past the Crask Inn and park at the side of the road, there is room for a only a few cars - do not park in the lay-bys. A bridge here crosses the Vagastie river and a path continues eastwards, quite clearly at first, and following the course of a stream. Follow this path, passing a waterfall and on a further km to Loch Bad an Loch. The path is very wet underfoot. Cross the outflow of this loch at its southern end and follow the path - now very faint in places and little more than slightly flattened grass - for a further 2km, still eastwards and upwards towards Loch nan Uan and the steep slopes of Ben Klibreck. The path now is extremely wet underneath and the walk becomes a trudge until the path dissipates altogether. Make for the steep slopes in front of you and begin climbing. Hard going this. Around the 650m contour a good path is reached traversing the hill and the going is a lot easier from here on. After about a km or so of easy walking, a final effort is needed for the short pull up to the summit over a very rocky slope.
Ben Klibreck from the Vagastie bridge
from Loch Bad an Loch
the south western view overlooking an old stone shelter
2 trig points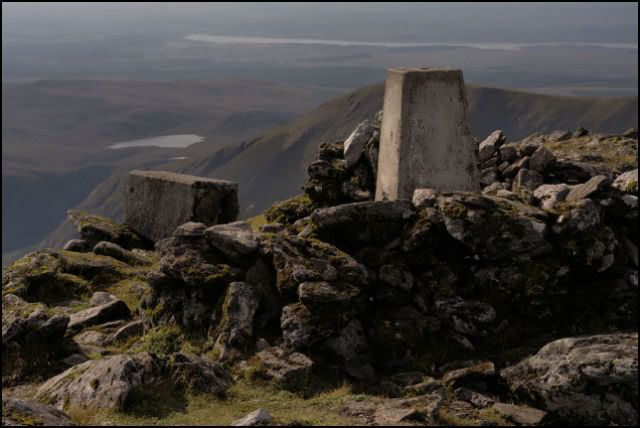 an ok day this, weather was great, the solitude on this hill compared to Ben Hope the week before is very satisfying and the views are ok, though not outstanding. Looking north east from here over Caithness is bleak. Not a hill I would be likely to climb again except maybe under snow for a different experience. It is very easy to combine this munro with Ben Hope in one day as there is only about a 30 minute drive between them.